20% open rates and 2% click-through rates are considered excellent returns
. Such figures may seem small, but achieving them may be more challenging than you think, especially if you're relatively new to email marketing. Regardless of how your business compares with these stats, you should always look for ways to increase the number of subscribers who open your newsletters so you get the most out of your email campaigns. There are many
strategies to create a successful email newsletter
, but you may not realize that a crucial factor that has a tremendous impact on success is timing.
What are Bad Times to Send Newsletters?
Night vs. Day
Let's look at data from Mailchimp's Email Genome Project, which analyzes millions of email lists and billions of email addresses to glean insights about the global email ecosystem: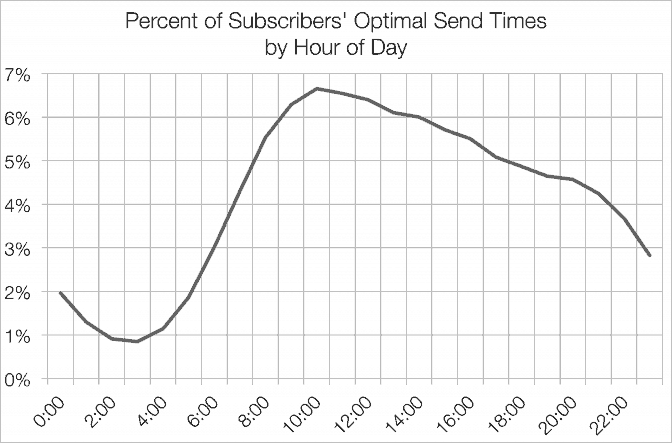 The graph plots the percentage of email addresses in Mailchimp's database with their optimal open-times. As you can see, the optimal time for 6% of email addresses is at 9am, and another 6% at 2pm. And the optimal time for the greatest percentage of email addresses, just over 6.5%, is around 10:30am. So, what does this all mean?
You have a much higher chance of having your emails opened if you send them during the day.
To explain this, it's actually easier to look at why certain times are less effective than to pinpoint exactly why 9am to 2pm seems to be optimal. Email open rates drop sharply if sent after 7pm. This makes sense because this is when most people officially switch off, have dinner, go out, or relax for the evening. Any emails sent after this time are most likely only going to be seen the next morning with a bunch of other emails, and possibly be ignored. And although email open rates dramatically rise starting at 6am, it's unlikely that anyone will take this crucial part of the working day to read a newsletter. One thing you should note is that while the Email Genome Project's most recently published stats are from 2014, the general email-consumption patterns they demonstrate are something that almost all studies agree on. Indeed, best practices in email marketing are relatively unchanged, and many of them are supported by the most recent studies of other email marketing providers, like GetResponse. What else do we know? Well, when looking at the hourly open rates of emails according to their subject matter,
outside of work hours, hobby and personal-interest emails do slightly better than work or government emails.
Entertainment topics also peak slightly earlier than work-related or serious topics, as they're often opened before starting the working day.
Weekend vs. Weekday
Another general consensus among the various statistics is that weekends are not a great time to send emails, and they generally have the lowest open rates of all days of the week. For example,
Mailchimp found that emails sent over the weekend have an average open rate of just 8-10%, compared with an average of 16-18% during the week
. This makes sense, as we don't usually associate the weekend with sitting at our computers to sift through emails. However, it does depend on what kind of industry you're in. For example, newsletters about hobbies and e-commerce do better than those about the government and nonprofits. This also makes sense, as people are more likely to pay attention to personal interests and shopping on the weekend than during work.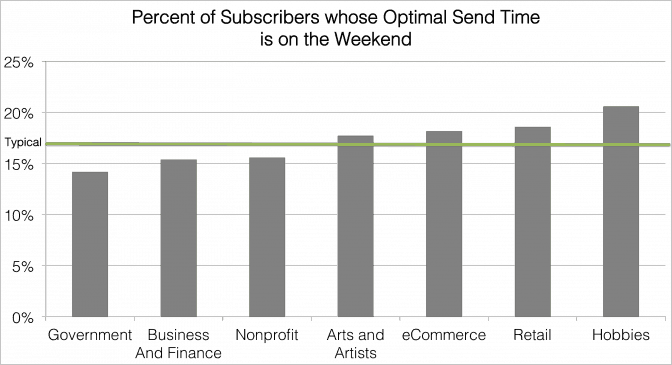 Emails definitely seem to be the furthest thing from everyone's mind on Friday, as it has the lowest open rates of any day
. This is to be expected, as everyone is either finishing up their work week or planning what to do on the weekend.
Avoid the Monday Blues
All weekdays are not created equal. For countries where the work week is Monday to Friday, Monday is easily the most dreaded day of the week. That's when we need to put the weekend out of our minds and get back into office mode. Most people just can't wait to get this first day back to work over with, and this same attitude seems to extend to our email inboxes.
After Friday, Monday is the worst-performing day of all the working days of the week
.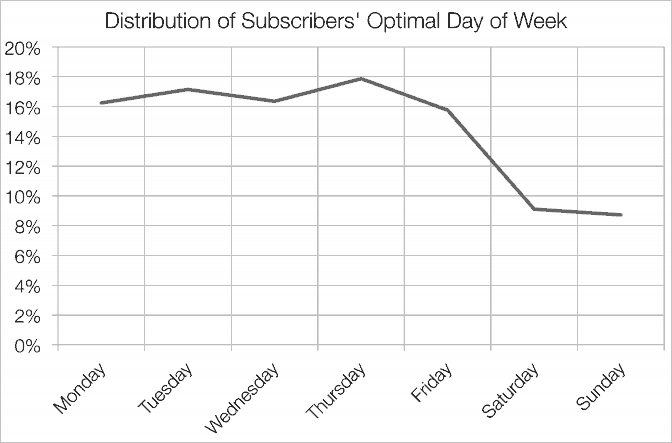 One generally accepted explanation for this is that most people usually have many emails left over from the weekend to catch up on. This means that people are far more likely to just go through their inbox and hit "mark as read" than actually read them. This is particularly bad for something like a newsletter where you want your recipients to take the time to go through the contents as well as click through to read further on your website. By contrast,
Thursday is usually the best performing day, at 18%. Tuesday is in second place, at 17%, and Wednesday's not far behind in third
.
But Don't Blindly Follow the Herd — Context is King
Although the above are the most commonly observed trends when looking at the efficacy of sending emails on different days and at different times, you shouldn't build your whole newsletter sending strategy on them. There are many other crucial variables that will affect just how well your emails achieve their goals:
Time zones. Remember to adjust your email times according to the timezone of the bulk of your user base. You could even incorporate this into your testing to come to conclusions for strategies based on your subscribers' time zones.
Mobile vs. computer. Keep in mind that 50% of all emails and 35% of business emails are opened on mobile devices. This means that you can't ignore the mobile segment of your audience. Although research is scarce, it's not unreasonable to assume their habits might be different from those of desktop users. Be sure to include this in your testing.
Industry. If you're in the leisure, travel, or entertainment industry, you might have better open rates and click-through rates after work hours or on weekends, as people plan what they're going to do with their time off.
Occupation of subscribers. It's evident that working hours significantly influence the timing and manner in which individuals engage with emails. Therefore, if you target bartenders, your outcomes could vary significantly compared to the outcomes for the majority of sectors in which individuals follow traditional nine-to-five work schedules.
Goals. What you want to achieve with your emails may play a huge role in how your timing performs for you. For example, if your emails are not work-related and you want users to click on some link to read content or fill in a survey, you might be better off sending these emails when users are not at work but casually browsing their mail. In support of this, MailerMailer found that Sundays had the best click-through rates (2.6%) even though Tuesdays had the best open rates.
So, What are the Best Times to Send Newsletters?
From this data, we can make some general conclusions as to which are the optimal days and times of the week to send emails. Approaching the topic very broadly, based on Mailchimp's research,
it seems clear that you can't go wrong by sending emails between the hours of 9am and 2pm on Thursday, Tuesday, and Wednesday
— in that order. But if you follow only what the broadest trends say and schedule your email marketing efforts solely around those times, you might lose out depending on your niche, who your audience is, what their email consumption habits are, and where they're located. For example, different areas of the world generally have different optimal send-times. For some help, you can check out sales tools like Yesware, which will tell you the best time (in your timezone) to send emails depending on where your email recipients are based. But ultimately, there are no hard and fast rules you can blindly follow to get optimal results. Instead,
your best course of action is to take a risk and test different schedules and strategies.
A simple A/B approach like you'd use for SEO does the trick wonderfully and will help you hone in on the optimal newsletter schedule for your subscribers. All the
best email marketing services
like Mailjet and Mailchimp have this feature. Mailchimp also uses its own algorithms to suggest optimal send times directly. This premium service analyzes your email recipients' click activity history to determine when they're usually best engaged in Mailchimp newsletters. To learn more about these platforms, check out our
Mailjet expert review
, or our
Mailchimp expert review
. If you still aren't getting the results you want, it might be more of a problem with how you construct your emails than with when you send them. For example,
maybe you need to come up with better buyer personas for your email campaign to make sure you're targeting the right people the right way
. Why? Because remember, arguably the most important factor of your newsletters' success is whether they help solve your target audience's problems, or resonate with their interests and values. If your emails are irrelevant to your subscribers, it won't matter what time you send them.
---
Sources
https ://mailchimp.com/resources/insights-from-mailchimps-send-time-optimization-system/
https://www.getresponse.com/blog/optimizing-your-campaigns-best-days-to-send-emails/
http://www.experian.com/assets/marketing-services/white-papers/email-marketing-quarterly-benchmark-study-q4-2013.pdf