To catch the eye of recruiters and HR managers, you need more than just a basic resume site that looks nice. You need useful features – like a contact form that really works and the ability to let your visitors download files.
As a freelance writer who basically survives on my online presence, I get it. And I'm not just compiling a list from other internet lists – I've personally tested dozens of website builders and am sharing detailed information, screenshots, and pro tips from my own experience with these tools.
You don't want to waste time creating your new resume website only to realize that your site builder is too restrictive, too complicated, or too expensive for you. Job hunting is stressful and time-consuming enough…so start here to set yourself up for success.
What I Look For in the Best CV and Resume Website Builders
Resume-specific templates: The fastest and simplest way to create a resume website? Use a website builder with ready-made templates specifically designed for resumes and CVs.
Design flexibility: These tools will allow you to personalize your online resume, whether you want a simple, single-page CV or a more decked-out professional portfolio.
Ease of use: None of these website builders will require more than a few minutes to understand how to use them.
Low-cost plans: If you're searching for a job, you probably don't have tons of cash to waste. These website builders have affordable pricing, and some even offer free plans.
Pro Tip: Since you won't be job-hunting for too long, you don't necessarily have to commit to a long-term plan, either; just choose a monthly plan and cancel as soon as you've landed the perfect job.
On the other hand, if you plan to freelance and want your resume to be available all the time, you can often save hundreds of dollars by signing up for one or two years at a time.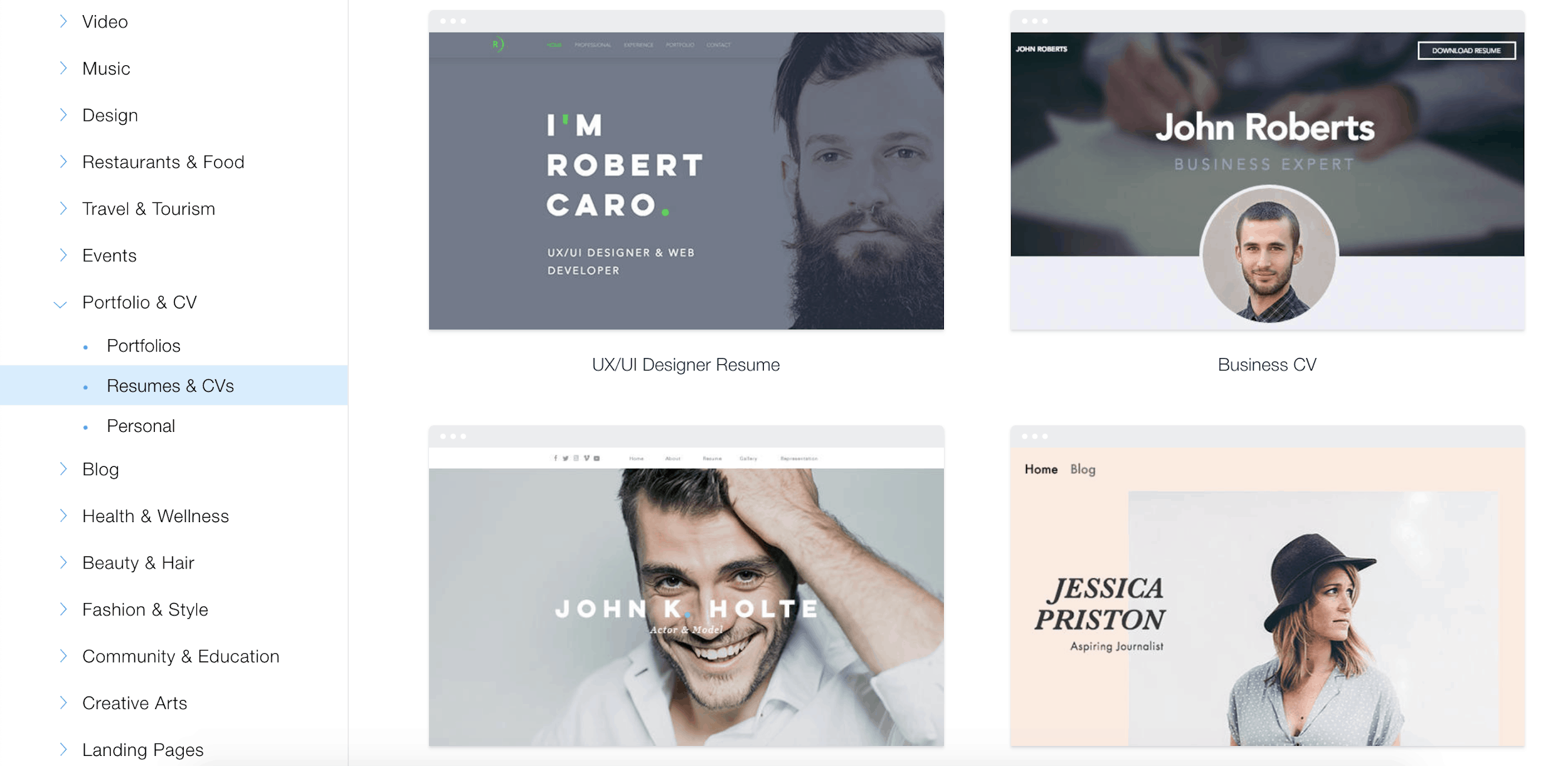 You'll find one of the largest selections of resume templates on Wix, giving you ready-made resume layouts that can fit virtually any industry. Because the most important sections are already there (e.g., skills, work experience, education, portfolio, and so on), all you have to do is fill in the blanks.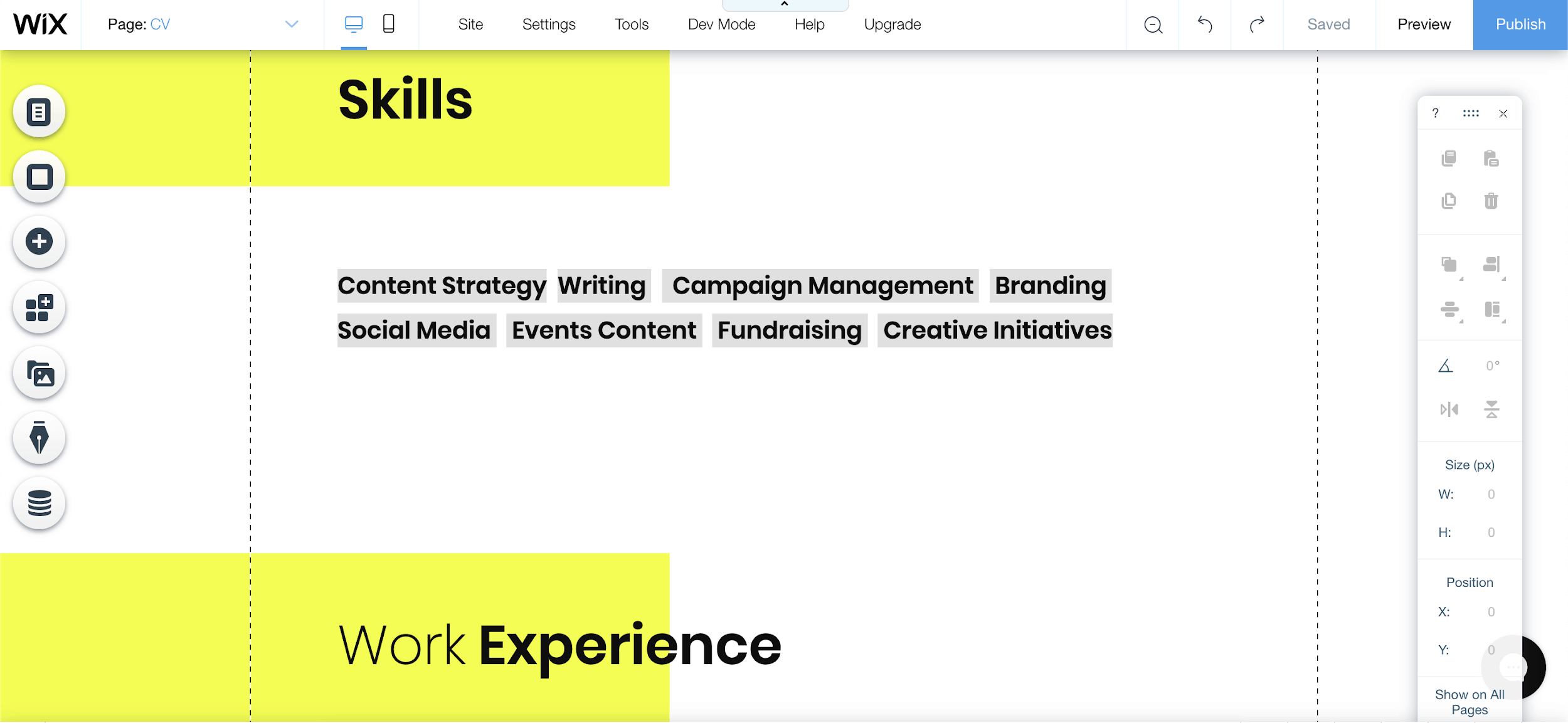 Even better, if you want more personalization, you can do that, too. With a drag-and-drop editor, Wix gives you very fine control over your website's design. You can edit images, buttons, and text, or you can keep it quick by using the options built into the resume template.
Heads up: Before you build your site, be sure you've chosen the right template. Once you've started editing, you won't be able to switch templates without starting over.
Another stand-out feature of Wix is the Wix App Market, which will help you customize your resume website to your specific job market and industry. (Some apps are paid, some are free, and some are paid but offer a free trial.)
For a resume or portfolio website, you might like these apps in particular:
Galleries – Add professional image galleries to showcase your photography, fashion designs, 3D renderings, or other media-focused work.
Scheduling apps – Allow recruiters to directly schedule an interview on your calendar.
Contact forms – Make it easy for companies and headhunters to contact you directly.
File downloads – Use Document by Wix (shown below) to allow site visitors to download your resume, degree verification, or professional certificates.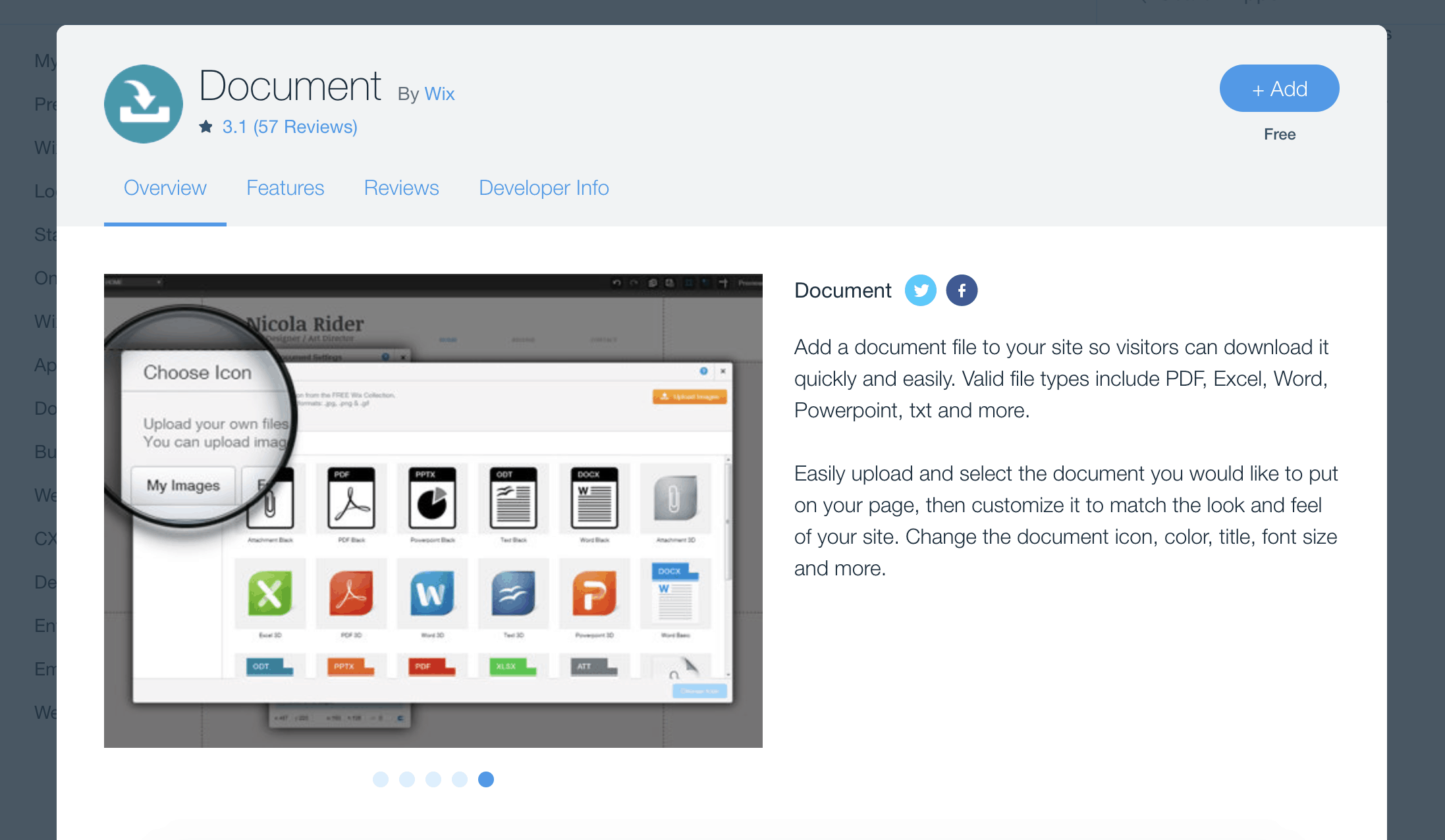 Along with these apps, you can add plenty of functionality directly from the Wix editor. You can create a blog (great for aspiring journalists or content writers), include buttons for LinkedIn or other social media, or add pre-designed testimonial strips.
Wix does offer a free plan, but like all free plans, it's more limited than the paid options. You'll be stuck with a Wix domain, your site will display Wix branding, and you'll get just 500 MB of bandwidth and storage. To look more professional, it's worth the low cost to upgrade.
If you want to create your website even quicker, you can also take advantage of Wix ADI (artificial design intelligence). By answering a few questions, Wix ADI will generate a personalized website for you. You can learn more about it in our in-depth Wix ADI review.
| | |
| --- | --- |
| Beginner-Friendly? | Yes |
| Number of Templates | 19 for resumes, 40 for portfolios |
| Mobile-Responsive Templates? | No – templates are mobile-friendly by default, but you'll need to use the dedicated mobile editor to ensure that your customizations look good on various screen sizes |
| Free Plan Available? | Yes – but includes Wix domain, Wix ads, and 500 MB storage |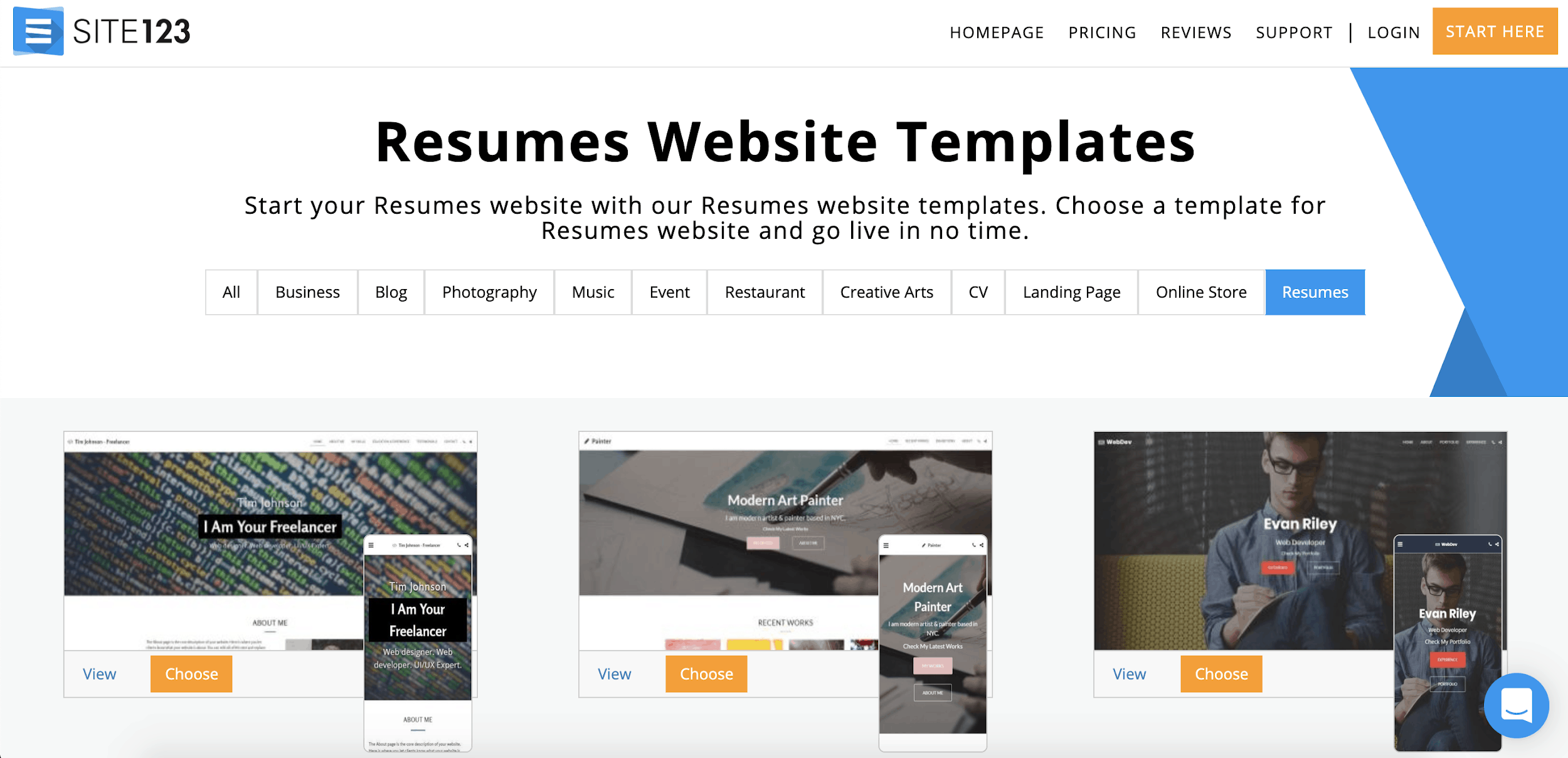 See all SITE123's CV & Resume templates
Site123 offers fewer resume templates and fewer customization options than Wix – however, this platform lets you create your online resume very quickly. That's one of the main reasons SITE123 got such a high ranking when I recently reviewed it.
You can choose from eight resume/CV-specific templates, each of which has different preset pages for skills, work experience, contact information, and so on. You can add new pages or change the design of existing pages from the editing bar on the left side of the screen.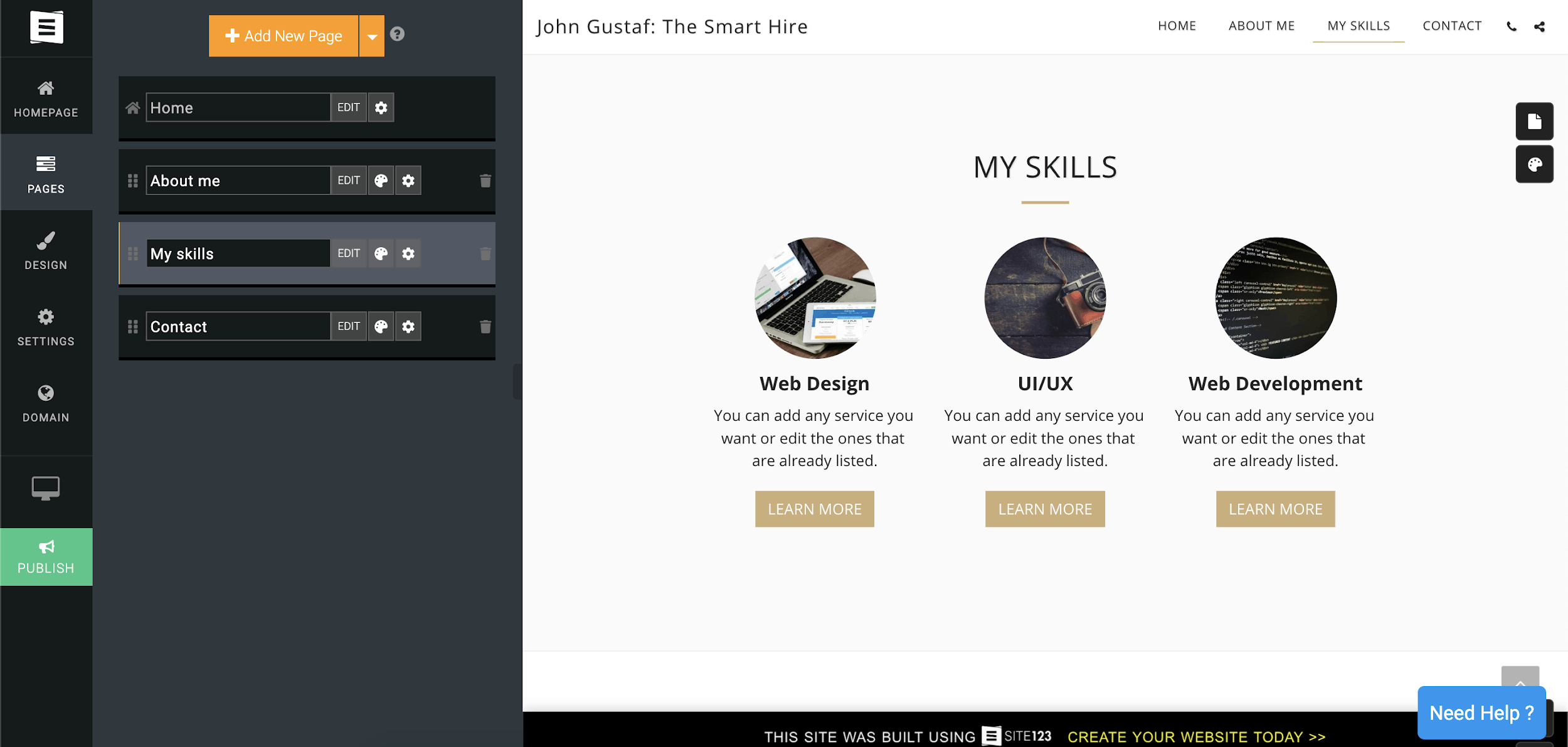 All SITE123's templates are mobile-responsive, so busy recruiters and hiring teams will always see an optimized version of your website – even on the go. You can make a few surface-level edits to your mobile site (like changing the menu color or text alignment), but the options here are less robust than what Wix's mobile editor offers.
Just like with Wix, you can either keep the basic setup of your resume template or customize it to suit you. Through the SITE123 App Market, plugin library, or editing bar, you can add features like:
Calendars to display your upcoming events or accept bookings for interviews
Galleries to showcase photographs of your work
Buttons to your LinkedIn profile or other professional social media
Ready-made content blocks for testimonials from clients or previous employers
Another great feature for a resume or CV site is the timeline page. Instead of typing out dates in a regular text box, you can showcase your relevant experience in a clear, visually engaging way (without having to design anything yourself).
Similar to Wix, SITE123 offers a free plan with a SITE123 domain, SITE123 ads, and restricted storage and bandwidth. It's worth upgrading to a paid plan because free users are much more limited. For example, you won't be able to install apps/plugins or make certain website edits, even to relatively basic features like colors and fonts.
| | |
| --- | --- |
| Beginner-Friendly? | Yes |
| Number of Templates | 8 resume/CV templates |
| Mobile-Responsive Templates? | Yes – and you can make limited edits to the mobile version |
| Free Plan Available? | Yes – but comes with SITE123 domain, SITE123 ads, just 100 MB storage, and limited customization options |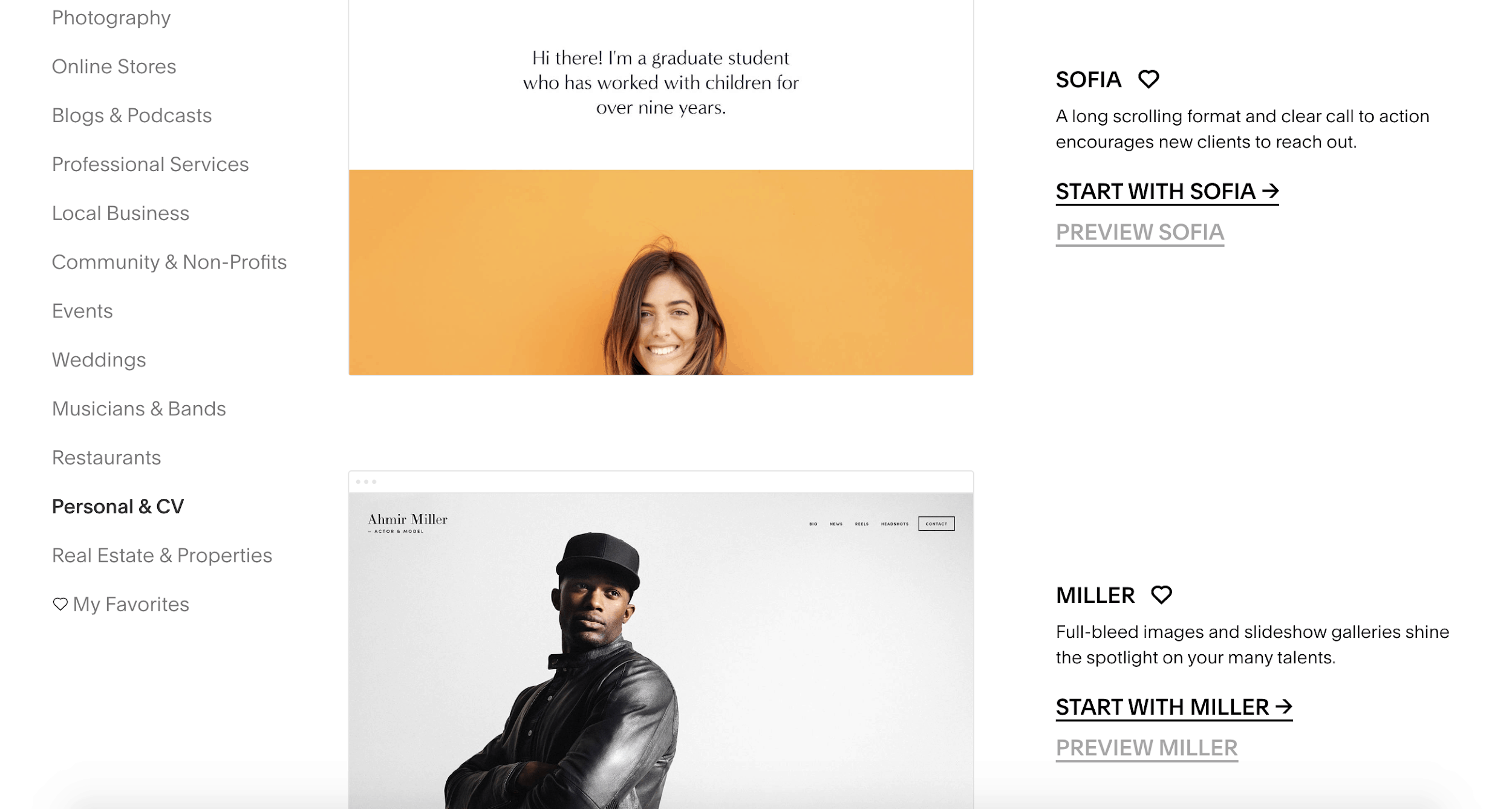 Squarespace has long been a favorite among the design crowd, as its templates are modern, clean, and aesthetically pleasing. With a focus on large, high-resolution photography, Squarespace is a great resume website builder if you're looking for a job in the creative arts, like graphic design, fashion, or photography.
Squarespace has 15+ dedicated resume/CV/portfolio templates, each of which comes with various key features ready for you to customize, including:
Testimonial blocks
Image galleries
Embedded videos
Blog-style writing portfolios
Resumes (both as on-page text and downloadable files)
Contact forms
Squarespace's website editor is intuitive, with all the possible actions shown at the top and left-hand bars. You can't drag individual components (like a header or paragraph), but you can drag entire content blocks to reorder them on the page.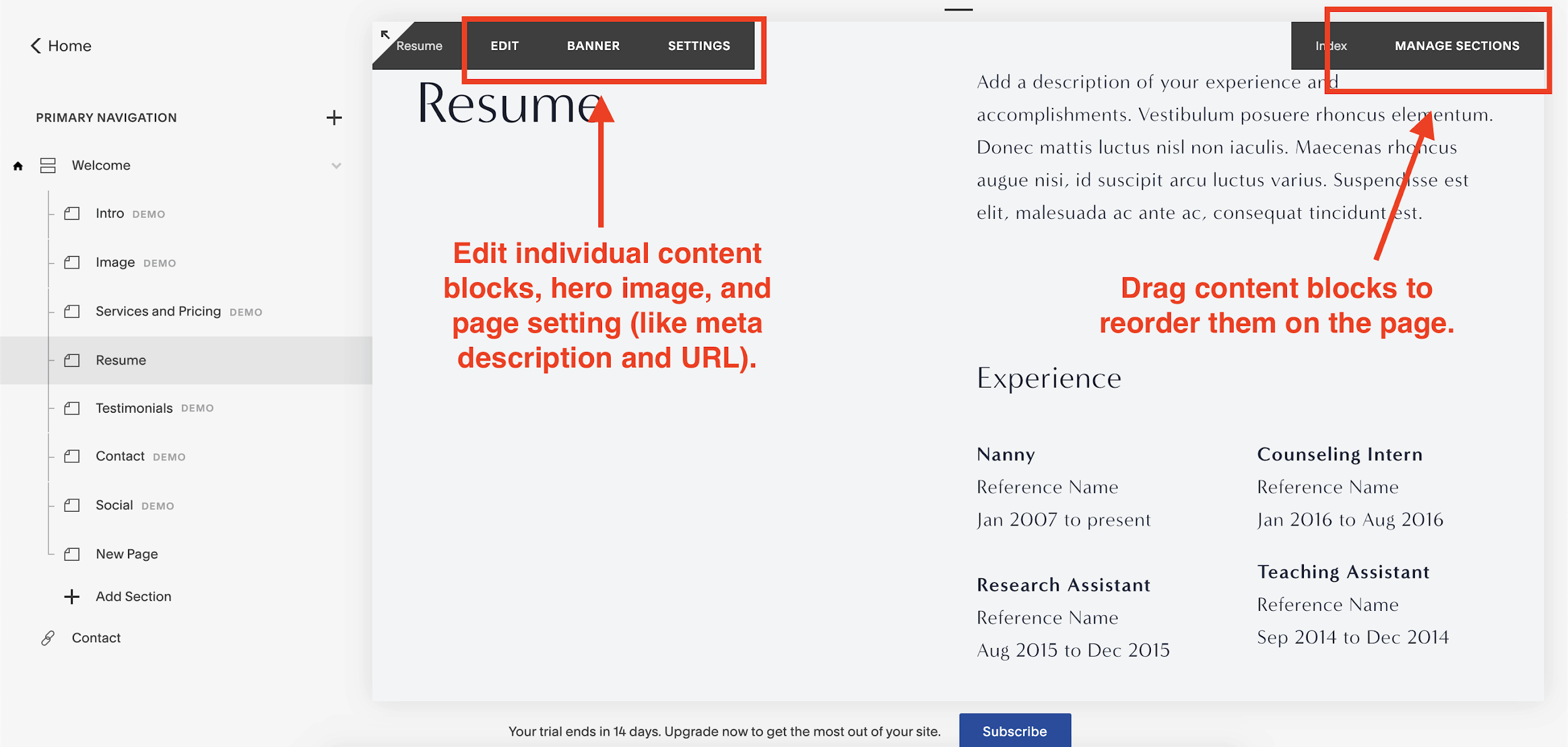 Instead of adding a button to your site, you can connect your Squarespace website to your LinkedIn profile, which will automatically publish your blog posts, images, videos, and events to LinkedIn. If you happen to be looking for a music production job, you can even push audio tracks.
Unlike Wix and SITE123, Squarespace does not have an app market, but it does have built-in integrations with many external apps. Depending on your industry, you can choose to:
Display your recent Twitter posts
Showcase your recent Instagram posts
Sync with Acuity Scheduling for appointments/interviews
Although Squarespace has no free plan, you can start with a 14-day free trial. If you want to publish your site, though, you'll have to upgrade to a paid subscription. Good news for job seekers still in school: You can get a 50% discount if you sign up with your academic email address.
The bottom line: Squarespace has an easy-to-use interface, modern website templates, and built-in integrations to make your resume website better. You won't get as many fine editing capabilities as Wix or as many preset page styles as SITE123, but you'll likely get more than enough functionality, all in a visually striking package.
Check out our expert review of Squarespace for more pros and cons.
| | |
| --- | --- |
| Beginner-Friendly? | Yes |
| Number of Templates | 15+ for resumes/CVs and portfolios |
| Mobile-Responsive Templates? | Yes – and you can make limited changes to the mobile version (on certain templates) |
| Free Plan Available? | No, but there's a 14-day free trial |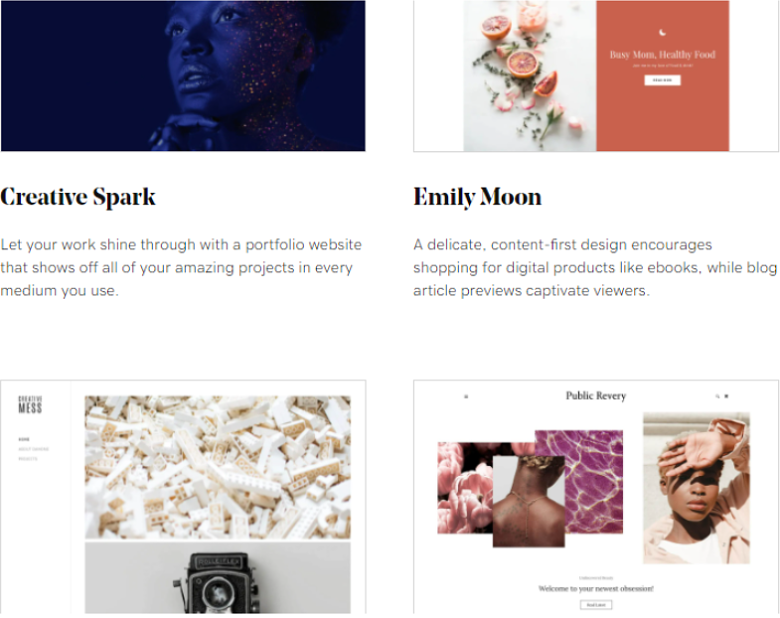 Although GoDaddy doesn't have a resume-specific template category, you can find plenty of attractive designs by browsing through Personal & Blog, Photography, Art & Design, and Music categories, depending on your industry. All templates are mobile-responsive, and you can edit them on the go via the GoDaddy Mobile App.
GoDaddy's point-and-click editor makes it easy to customize your site, and it comes with various key features for eye-catching resumes, such as:
Image galleries (carousel, grid-based, etc.)
Access to stock photos
Downloadable digital products
Embedded videos (YouTube and Vimeo) and audio (SoundCloud)
Integrated blog (with article previews, depending on the template)
Contact forms and email sign-up forms
Depending on the template you choose, you'll also be able to integrate reviews, event calendars, and more. The appointment scheduling feature is also pretty cool (one-time appointments are available on all plans, while recurring appointments come with the Premium subscription and higher).

Although GoDaddy's editor is super easy to use, its beginner-friendliness comes with a caveat, as you don't get much creative freedom. If you're not preoccupied with having complete control over your site's look, and you'd rather have most of the design choices handled for you, then GoDaddy is your go-to site builder.
GoDaddy doesn't have an app market like Wix, but it lets you connect various social media to your site, including Facebook, Twitter, Instagram, Pinterest, LinkedIn, YouTube, Yelp, and Houzz.
Compared to the other site builders on this list, GoDaddy offers the cheapest plan with a custom domain. It also includes on-the-go editing, 24/7 customer support, and limited social media and email marketing.
| | |
| --- | --- |
| Beginner-Friendly? | Yes |
| Number of Templates | 100+ |
| Mobile-Responsive Templates? | Yes – you can edit the mobile version independently |
| Free Plan Available? | Yes – but you can't connect a custom domain |
5.  SimpleSite – The Easiest Website Building Experience for Total Beginners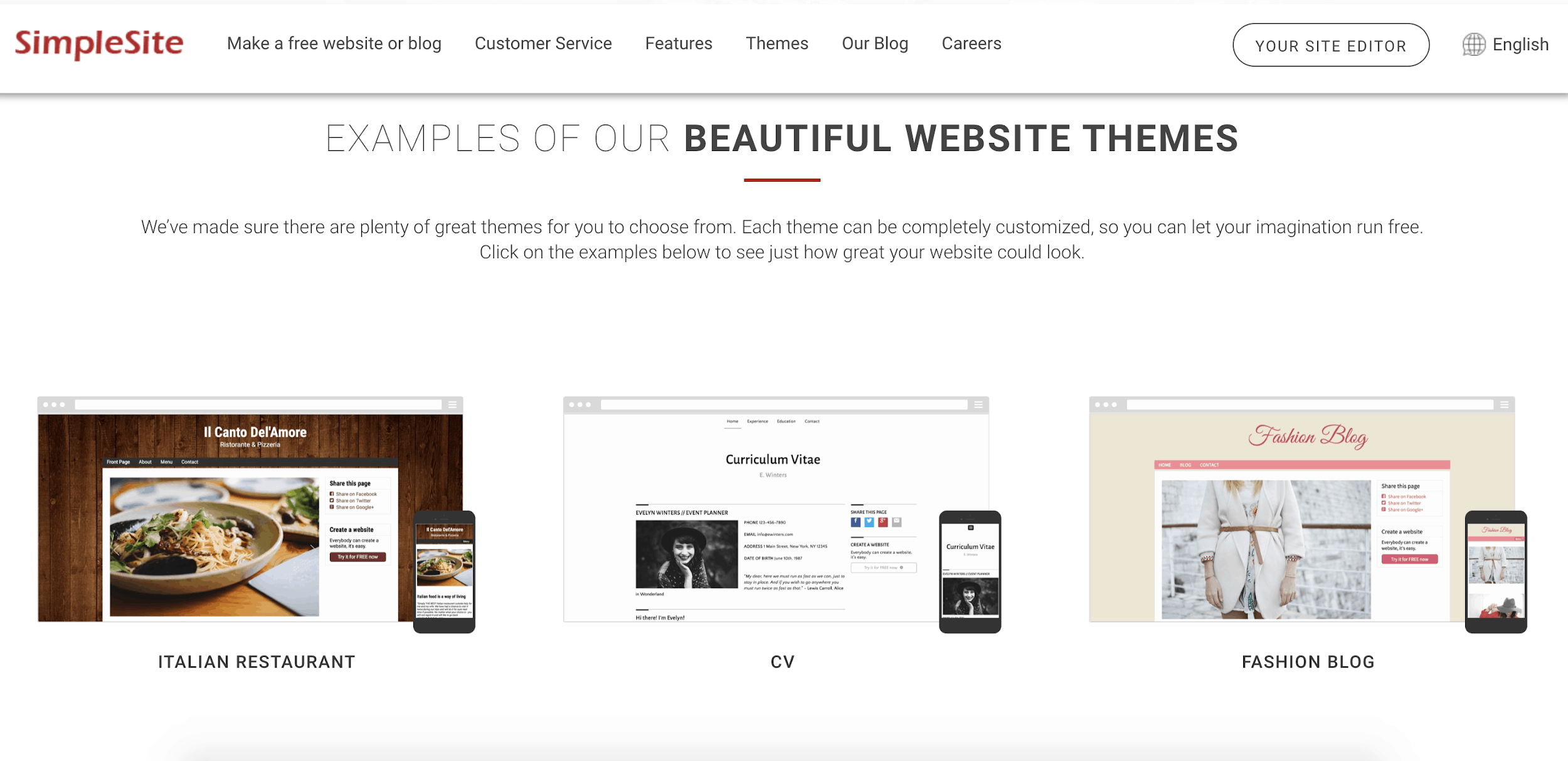 SimpleSite works differently than the other four website builders on this list. Instead of browsing templates and choosing one to customize, you'll enter several basic pieces of information (including your website type and name). Then SimpleSite will generate a website layout for you to customize.
Although you'll have much less control over your website theme, all SimpleSite themes are mobile responsive, so you won't have to worry about making changes for devices of different sizes.
In terms of website builders, SimpleSite is as basic as it gets. In the editing screen, you can make limited edits to your site's design – for example, by choosing from preset layouts and font pairs or setting a new background color, image, or animation.
Pro Tip: If you want your website to appear serious to potential employers, a background animation probably isn't your best choice – try a clean background that's not too busy, so it doesn't distract from the important information you want them to read.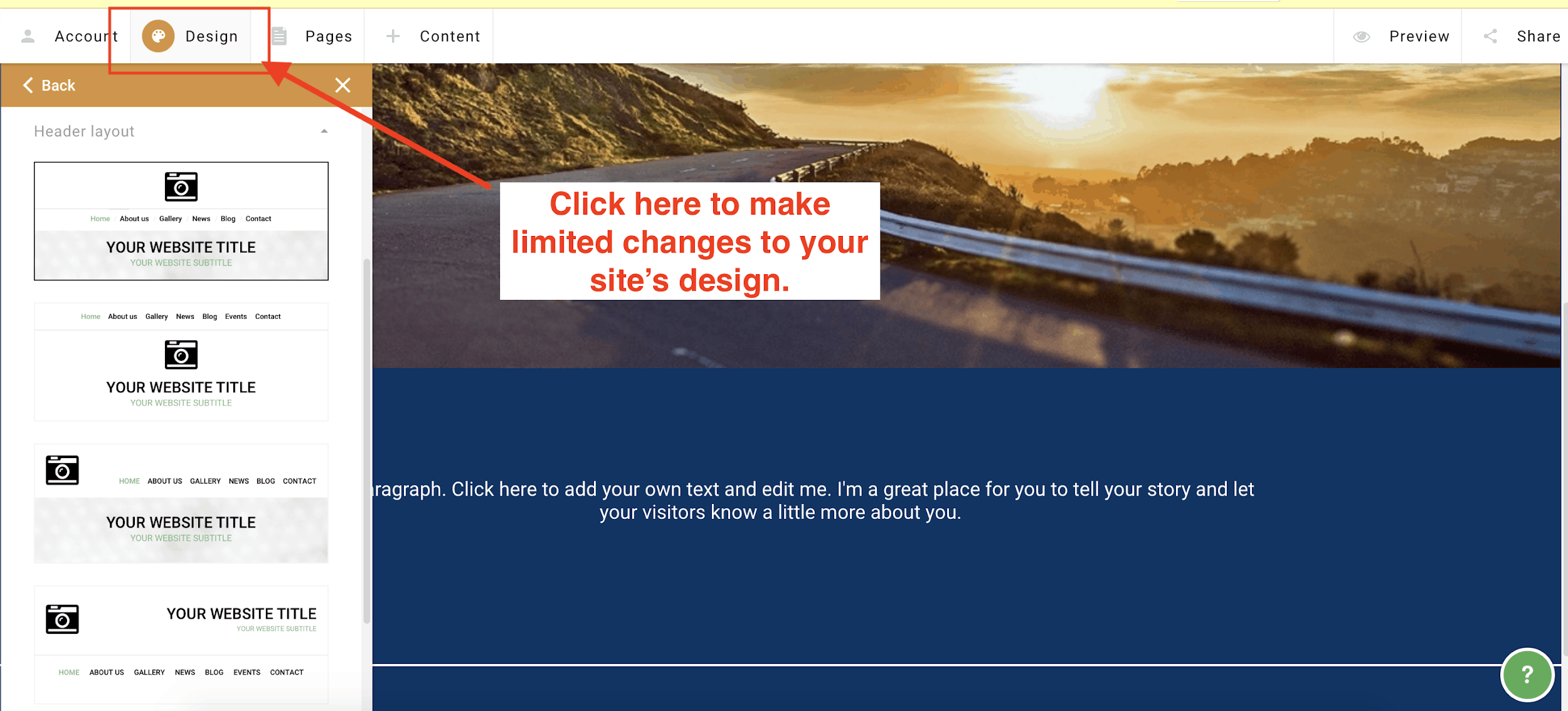 Compared to the other website builders on this list, SimpleSite is incredibly stripped down. However, there are a few options that can make your resume website more interesting:
Adding a contact form
Creating a photo gallery
Inserting a slideshow
Embedding a video from YouTube or Vimeo
Uploading a video
You can add icons for social media accounts like Facebook and Twitter, but there's no icon for LinkedIn. There's also no app store to add any extra features to your site.
You can create a simple online resume by placing and editing individual text boxes (as shown in the theme example below), but there are no templates for you to fill in.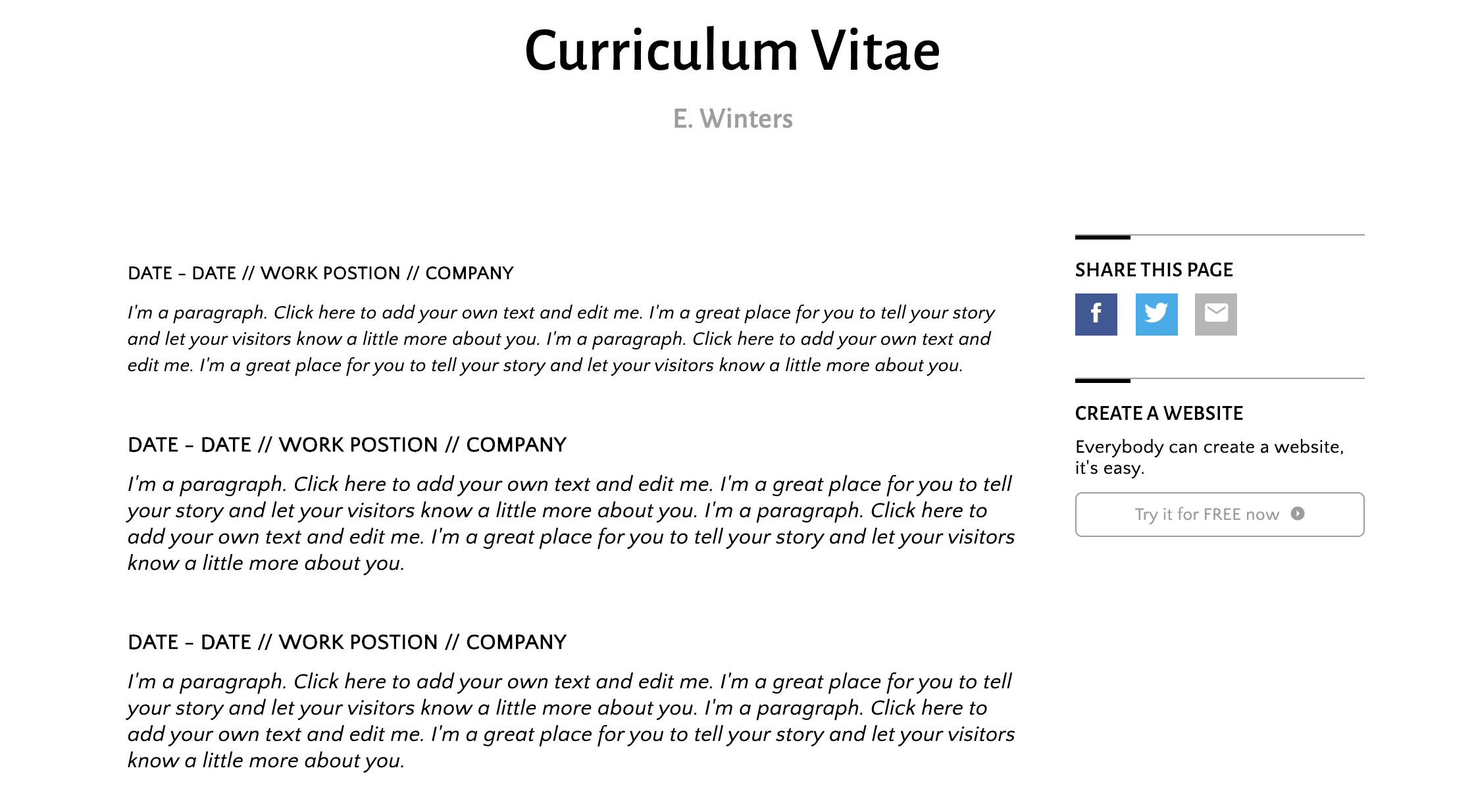 Like the other website builders, SimpleSite offers a free plan with a SimpleSite domain and branding, along with a limit of 15 pages for your site. That number should be plenty for a resume or CV, though upgrading would be worthwhile to get a custom domain.
For more details, check out ourexpert SimpleSite review.
| | |
| --- | --- |
| Beginner-Friendly? | Yes |
| Number of Templates | None |
| Mobile-Responsive Templates? | Yes – you can also edit the mobile site directly from your own mobile device |
| Free Plan Available? | Yes – includes SimpleSite domain, SimpleSite ads, limited design options, and up to 15 pages |
Final Recommendations on Building Your Online Resume or CV
We've sped through a huge amount of information, but the main takeaway is this: Every tool on this list can give you a professional-looking website in as little as an hour (or even faster, if you don't care to tinker with fine customizations).
Here are some personal recommendations:
If you want complete control over your online resume (without having to spend tons of time on it), I'd go with Wix. You can choose a relevant template, fill in your work history and other details, then drag and drop everything into the perfect place.
If you want something a little simpler but still robust enough to customize, I recommend SITE123. You won't get quite as many options as with Wix, but you'll have more than enough features to create an engaging resume for any industry.
One last piece of advice? Although most of these website builders offer a free plan, I wouldn't recommend using that option for anything but trial and error.
Once you're ready to share your website with potential employers, it's worth paying for an upgraded subscription. Not only will you look more professional (thanks to the custom domain), you'll also get added benefits like access to more apps, more storage, and more customization options. And a better online resume means better odds of getting hired.
If you're planning to use Wix, don't miss our detailed Wix pricing guide for some pro tips on saving even more.
Check out the comparison table below to choose the best resume website builder for you.
| | | | | |
| --- | --- | --- | --- | --- |
| | Biggest Pro | Biggest Con | Best Feature on the Cheapest Plan | |
| Wix | 50+ templates designed for resumes, CVs, and portfolios | You can't change themes after you start editing | 30 minutes of HD video upload | |
| SITE123 | Timeline page to display your work experience | Many customization options are reserved for paid users | 100 mailing list messages | |
| Squarespace | Push your blogs, images, or videos automatically to LinkedIn or other social media | Many of the best templates rely on large, high-res photography | Unlimited storage | |
| GoDaddy Website Builder | Great AI tools to help you get started | Limited customization options | Cheapest option for a custom domain | |
| SimpleSite | Fastest website-building experience | Very limited customization options | Add video backgrounds | |