If you're looking for the best way to get your resume online, a free website builder is a great option. But there are many to choose from, and they don't all have the features you need to display your experience, skills, credentials, and personality in the best possible way.
You can find a lot of website builder advice online, but it's mostly directed at bloggers and businesses. There's not a lot of advice about how to build a resume with a website builder, or what features you should be looking for.
To help you find the best tool for this specific purpose, we put dozens of builders to the test. Now, we bring you a list of the best website builders to showcase your resume.
The builders on our list offer templates specifically designed to showcase your achievements. They're quick and simple to use, and they even give you a mobile-friendly website. They make it easy to display everything that potential employers need to know about you.
What We Look For in the Best Website Builder to Showcase Your Resume
While doing our research, we put emphasis on specific criteria that will make your life easier.
Ease of use. You don't want to spend a lot of time trying to figure out how to complete a simple task.
Useful features for creating your resume. Features such as resume-specific templates or video embedding can help you create a great impression with your online resume.
Mobile-friendliness. Some potential employers will look at your resume while they're on the go, so you want to look good on any device.
Free or low-cost versions. You don't want to have to spend a lot of money to find a job.
Wix – The Most Flexible Website Builder
If you want complete control of how your online resume is going to look, Wix is an excellent option. There are nearly 20 templates in the Resumes & CV category, with layouts to fit just about any profession.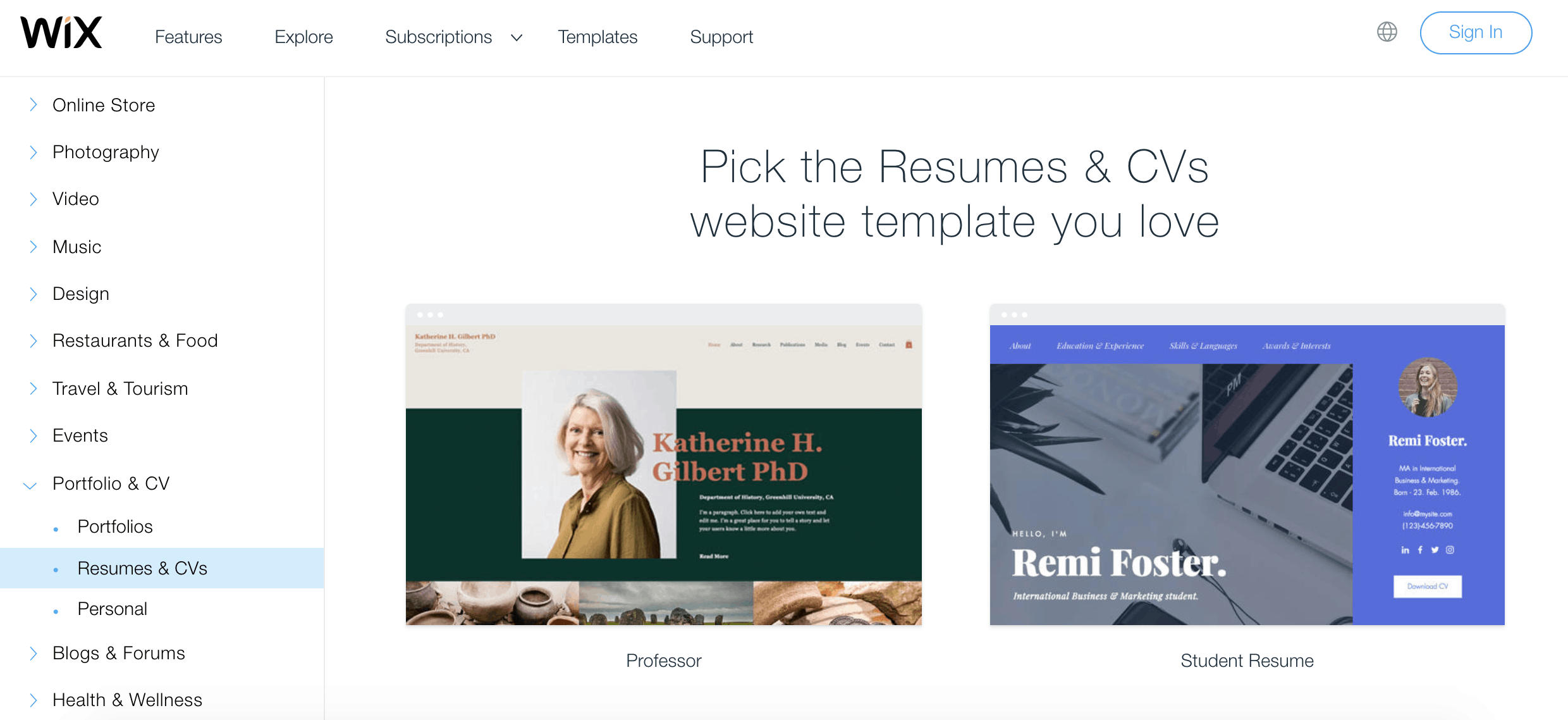 One of my favorite things about Wix is how easy the drag-and-drop editor is to use. There's a wide range of page elements you can just drag into place. You won't have to spend hours figuring out how to use the platform.
You can also build your online resume completely free of charge (although your website will display ads on the free plan).
Wix does have a couple of drawbacks, however. For example, once you've chosen your template, you can't change it — unless you're prepared to completely rebuild your website from scratch.
Wix's templates aren't mobile-responsive. However, they do come with a mobile version of your website, which you can separately to improve compatibility.
Features
Quick setup. When you choose one of the resume templates, all you have to do is fill in your details and experience. If you want to change the layout, it's easy to do with the drag-and-drop editor.
Great add-ons. It's easy to add extra elements, such as a contact form to help potential employers easily get in touch with you, or testimonial boxes to highlight positive reviews of your past work.
Portfolio options. If you're in a creative industry, such as photography, graphic design or media, there are great options for displaying your portfolio, including galleries you can customize. You can also easily embed videos.
Wix ADI. Wix's artificial design intelligence feature can create your resume website automatically. All you have to do is answer a few questions about how you want your website to look, and what it's for.
| | |
| --- | --- |
| Free plan available? | Yes, although your website will display ads |
| Resume-specific templates? | ~20 |
| Mobile-responsive? | No, but you can edit the mobile version of your website separately |
Want to learn more about Wix? Check out our expert Wix review.
GoDaddy – The Best for Low-Cost, Ad-Free Resumes
GoCentral, Godaddy's website builder, is a simple and straightforward way of getting your resume online. You get a 30-day free trial to try out all of GoDaddy's features — without having to enter any credit card details. Although there's no free plan, the costs are still quite low.
However, it's much less flexible than Wix, and customization options are quite limited. It's a great option if you just want to fill in the text you need, without having to worry about changing the layout.
GoDaddy offers around 40 templates overall. No matter which one you choose, you can have a professional-looking online resume in less than an hour. Yes, GoCentral is that easy to use.
Features
User-friendly editor. Building a stylish online resume is just a matter of clicking the right options and adding your own text.
Rich media enhancements. You can add videos and audio to your online resume to impress potential employers and stand out among your competitors.
Ad-free. GoDaddy doesn't display ads or branding on your website. This means your online resume will look more professional than with a free builder that splashes ads everywhere.
High-performing, mobile-responsive templates. Your website will load quickly and look good on any mobile device.
| | |
| --- | --- |
| Free plans available? | No, but there is a 30-day free trial |
| Resume-specific templates? | No, but the available templates are suitable for use as a resume |
| Mobile-responsive? | Yes |
For more info about GoDaddy, you can read our expert GoDaddy review.
Weebly – The Best for Building a Stand-Out Online Portfolio
Weebly is another popular drag-and-drop website builder. It's easy to use, and you can build your online resume for free. However, to get extra resume-specific features, you may want to consider upgrading to one of Weebly's low-cost plans.
With Weebly's paid plans, you get unlimited storage. This is particularly important if you want to include samples of your work in a portfolio as part of your resume website. You can upload videos in HD and display high-resolution photos of your work to grab your potential employers' attention right away.
One major drawback with Weebly, however, is that if something goes wrong and your website "breaks," there's no way of restoring it. It's also slightly less flexible than Wix, giving you fewer customization options. And it's a bit more complex to use than Wix or Site123, for example, so it's not the quickest solution.
Features
Online portfolio builder. If you have a portfolio to share alongside your resume, Weebly's premium online portfolio builder can make your website really stand out. Your work examples will be displayed in the best layout for their specific type (such as photographs, websites you've built, or articles you've written), and you can add more details about the projects you've worked on.
Apps to enhance layout. If you have a lot of information to display on your resume, Weebly offers the Accordion app. It helps put your information into an expandable, clickable format, so potential employers won't have to scroll endlessly.
Ability to switch templates. If you change your mind about the template you've chosen (or if you decide to change the direction of your career), you can easily pick a different template. You won't have to rebuild your website from scratch as you would with Wix.
How-to guides. Weebly gives you a nice range of tutorials that will help you build a resume online. You'll get advice on what to include and what to leave out.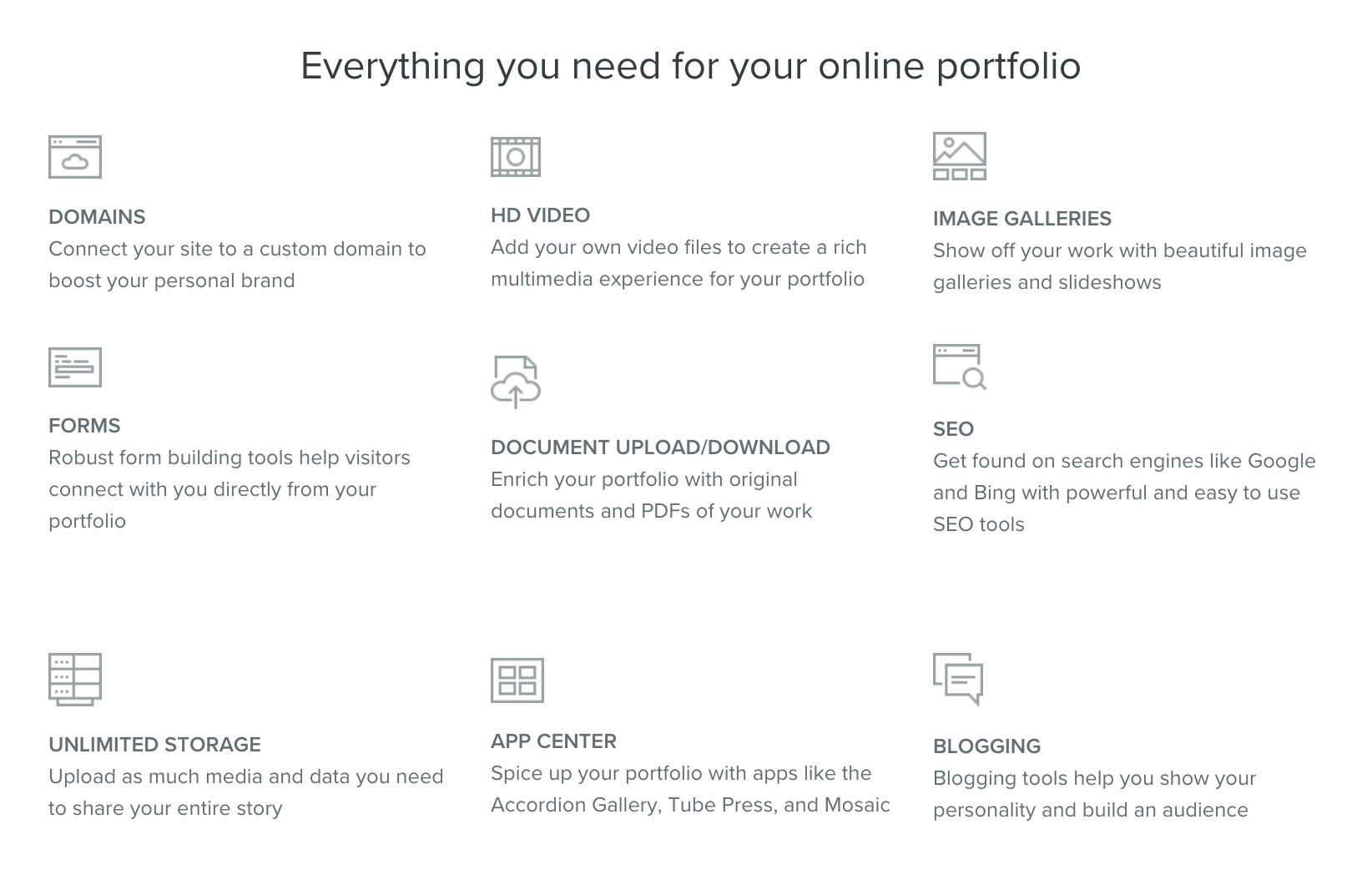 | | |
| --- | --- |
| Free plans available? | Yes, though the portfolio builder is subscription-only |
| Resume-specific templates? | No, but you can easily customize any of the seven portfolio templates to create an online resume |
| Mobile-responsive? | Yes |
To learn more about Weebly, read our expert Weebly review.
Site123 – The Best for Standout Single-Page Resumes
When you're building your online resume, Site123 gives you plenty of customization options, such as fonts, colors and website layouts. It's not a drag-and-drop editor, though, so while you can change the order of the sections on a single-page website, you can't change the elements' position on the pages.
Rather than giving you a gazillion templates to choose from when you first start building your website, Site123 asks you to choose the type of website you want to create. If you select "CV and Portfolio," you'll get a set of pages to showcase skills, education, testimonials (or references), and more. You can add, change, and delete pages as you like.
Features
Beginner-friendly interface. Site123 is one of the easiest website builders to use. The sidebar is where you select your design and settings and edit your pages. Adding text is as simple as using word processing software.
Single-page resume. You may want to showcase all your skills, work experience, and references on one page, so potential employers won't have to work too hard navigating your website to see everything they need.
Timeline tool. The built-in timeline tool makes it easy to display your education and experience in a visually appealing way.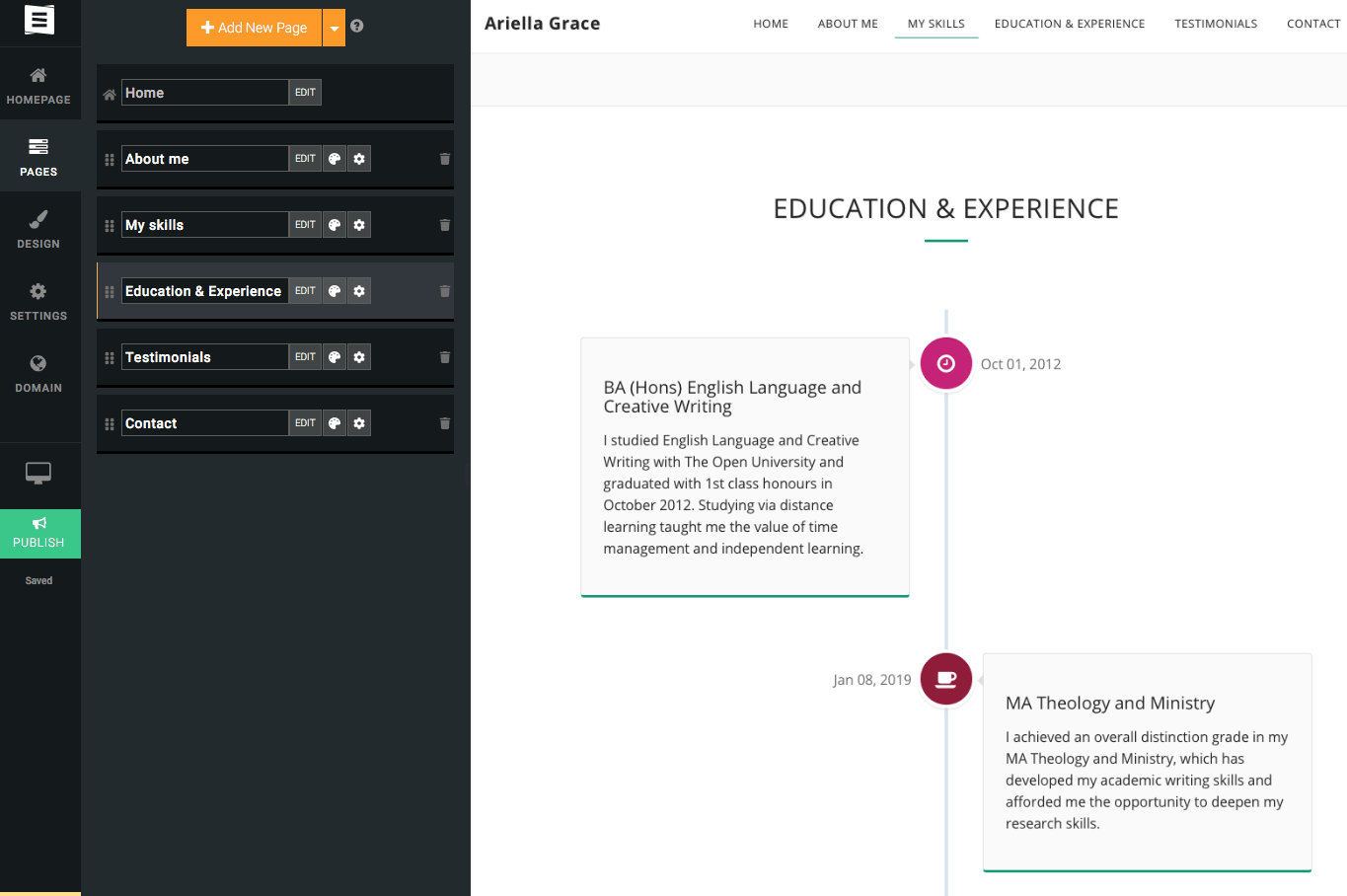 Multilingual website features. If you can communicate in multiple languages, you'll be happy to know that Site123 lets you easily create a multilingual website. You'll be able to reach more potential employers and increase your chances of getting hired, sooner.
| | |
| --- | --- |
| Free plans available? | Yes, but you can't add additional "apps" unless you upgrade. |
| Resume-specific templates? | Yes, there's a "CV & Portfolio" template, with various different layouts to choose from within the editor |
| Mobile-responsive? | Yes |
If you're interested in learning more about Site123, read our expert Site123 review.
SimpleSite – Beginner-Friendly Online Resume Creator
SimpleSite's mission is to make website building as simple as possible. It uses a wizard to get you started in minutes. Design options may be a bit limited in SimpleSite's free plan, but you can still create a professional-looking online resume.
If you don't have a technical background, you'll appreciate the simplicity. You can customize colors and backgrounds, and you have the option of a video background for your website, too. It's easy to add content such as text, images, and video.
Features
Click-and-add editor. With SimpleSite, you can create your online resume in minutes. You simply click the option for the element you'd like to add (e.g., images, text, or videos).
Unlimited video and images. If you subscribe to the Pro plan, you can upload as many images and videos as you want. This can be perfect if you want to upload introductory videos or if you have images of your work you want to share as part of your resume.
Free image library. You can add visual elements to your website without having to source and upload your own images.
Mobile-responsive site with previews. All of SimpleSite's websites are mobile-responsive, and you can preview how your website will look on mobile devices from within the editor.
| | |
| --- | --- |
| Free plans available? | Yes, although you'll see ads and the amount of media you can add is restricted |
| Resume-specific templates? | No |
| Mobile-responsive? | Yes |
Want to learn more about SimpleSite? Read our expert SimpleSite review.
Showcase Your Skills with a Stand-Out Resume Website
Whether you're scouring the market for a new job, looking to advance your career, or trying to change your career direction, you want a website builder that gives you the best chance of standing out from the competition.
If you're a creative (such as a writer, photographer or graphic designer), then Weebly's online portfolio builder is a great option. It's specifically tailored to maximize the impact of your work, alongside your work experience, education, and references.
For a truly simple means of building your online resume, Site123 stands out with its one-page layout and timeline tool for displaying your details in a visually appealing way.
On the other hand, if you want complete control over every aspect of your website, including column widths and where elements are placed, then Wix is the best option for you.
Use our comparison table to find the best builder for you.
| | | |
| --- | --- | --- |
| | Standout Feature | Ease of Use |
| Wix | Flexible design with unrestricted | 4/5 |
| GoDaddy | High performance (page loading speeds) | 2/5 |
| Weebly | Online portfolio builder to emphasize your work | 3/5 |
| Site123 | Timeline tool for displaying your experience and education | 4/5 |
| SimpleSite | Unlimited video and images on pro plans | 5/5 |