Word is simply not designed to be your only safety net from typos and grammatical errors
. I've learned this the hard way. When writing an article about tax returns, I accidentally wrote that you can "defecate" assets, such as equipment, on your tax returns. Microsoft Word never told me that I made a really embarrassing mistake because technically, the word was not misspelled, just terribly misused. So, the error wasn't spotted until the article was online. That was not a good day. But even minor mistakes that don't involve bodily functions can make a bad impression. People make assumptions about you based on your writing – from business documents and resumes to emails, school papers, social media posts, and even online dating profiles.
And if you are serious about your writing – which you should be – then you need a tool that not only catches mistakes, but helps you write great content. Although I own a successful freelance writing business, I am the typo queen. Several years ago,
I began using Grammarly to help me submit clean copy to my clients
. After using the free version for a bit, I quickly upgraded to the paid version for the extra features.
What I Like About Grammarly
Here are the top reasons why Grammarly is my go-to tool:
Grammarly's Got You Covered
You write lots of different types of content throughout the day, both professional and personal, and everything you write needs to communicate your message and be error-free. It's a pain, however, to copy your text into a separate tool. I know that when I rely on that method, I get in a hurry, forget (or purposely skip the step), and then make an embarrassing mistake. But with Grammarly, you have no more excuses.
With a click of a button – ok, a few buttons – you can install plugins for both Word and your browser
(Chrome, Safari, or Firefox). This means that you can run the tool on everything you write in a browser – product reviews, social media messages, and even online dating profiles – as well as what you write in Word. The next time you go to write something, you will see the Grammarly icon displayed in the text box. As you write, the tool checks your writing in real time and underlines any errors in red. You also see a red circle with the number of errors you made displayed in the text box.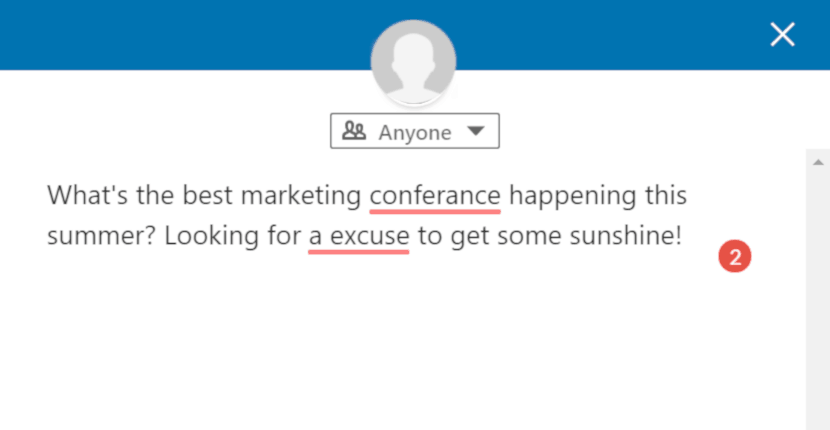 Once you are done writing – or as you are writing, if you prefer – you can click on each red underline to get more information. If it's a simple mistake, such as spelling or basic grammar,
Grammarly gives you suggestions to correct the issue so you can click the replacement and be on your way
. You can also ignore the error or, if it's not a spelling mistake, add it to your dictionary.
Grammarly Understands You
Great written communication means writing for your audience and for what you're trying to accomplish. You write very differently if you are writing a research paper for your graduate classes than you do for a social media post.
My absolute favorite part of Grammarly is how much you can customize its comments
. Just click Set Goals, and then click on the settings that you want the tool to use.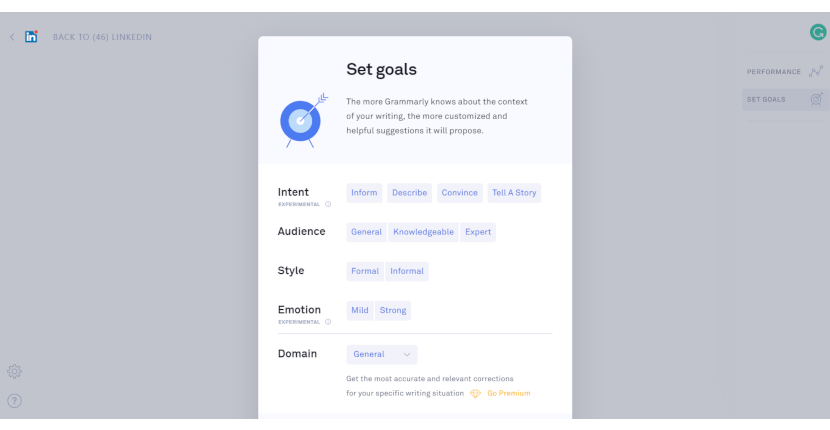 I really like how the settings are pretty much the same choices writers make in their heads when they write. It's another example of how
Grammarly was developed with writers and the writing process at the forefront
. For example, your intent really drives your writing. And Grammarly lets you select if you are trying to inform, describe, convince, or tell a story. It then uses that intent to make recommendations as it reviews your writing. If you are writing for an expert audience, then it's acceptable – actually, it's expected – to use terminology your audience already knows, without defining it in the text. When you select the Expert setting for Audience, the tool will overlook jargon and terminology. The Domain setting is just as helpful, although I wish they used a more writer-friendly word, which lets you select the type of writing. Your writing is vastly different if you are writing a technical report or a story for your creative writing class (or just for fun).
When you select the type of writing, Grammarly then tailors its suggestions to fit that specific type
.
Got a Minute? That's All It Takes to Learn
Grammarly is easy to use. Actually, it's super easy. You don't need to attend a class or even read much (or any) of the documentation.
If you've used Word, you will pick up Grammarly in a matter of minutes or less
. You can always check to see if the tool is installed on the browser you are using, by checking for the G icon.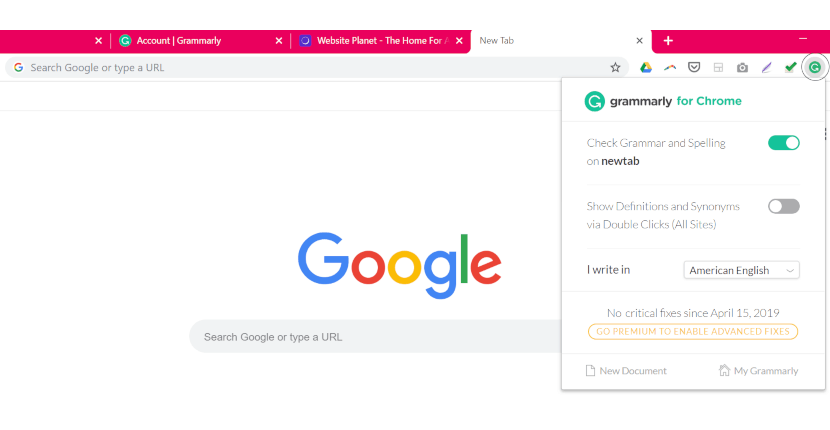 When the tool detects a possible mistake in a browser text box, such as on LinkedIn or an Amazon review, it underlines the word or phrase in red, and you can decide what to do. If you want more detailed information, you can paste the text into the Grammarly tool. The stats then show on the right side of the screen. You can view All Alerts or choose to view only one type – Spelling, Grammar, Punctuation, Variety, or Vocabulary.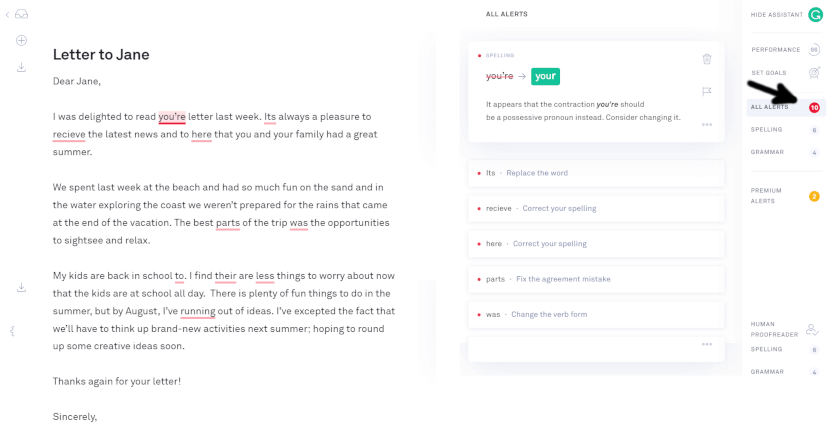 You can see how your writing stacks up against others by clicking on the Performance button and reviewing the details. The number on the button indicates the percentage of how your writing ranks against other Grammarly users with similar goals. The tab gives you more details about readability, read time, sentence length, and speaking time. You can also download the report into PDF format.
Grammarly Turns Writing into Teachable Moments – If You Want
Sometimes you are under a deadline and just want to get it right. Grammarly knows this, and you can just select the corrected word or phrase without wading through additional information. Quick, easy, and painless. But other times, you want to learn about the mistake and understand the "why." Just click on the See More in
Grammarly
option, and
you can see the reason and explanation of why Grammarly flagged it as an error
. This is especially helpful for students or non-native English speakers.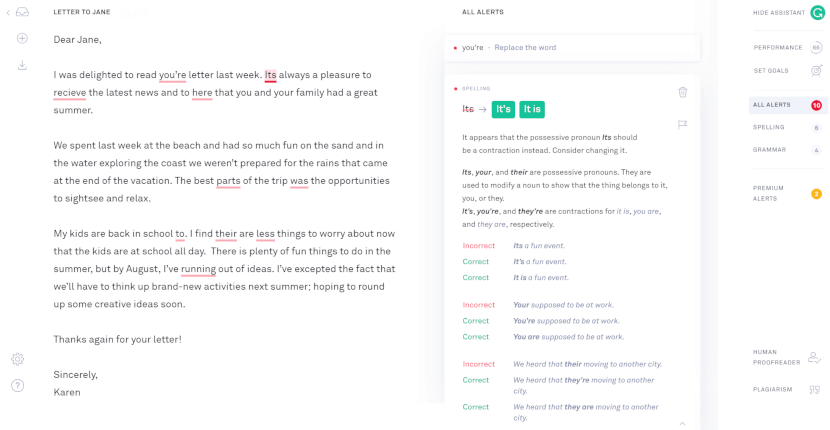 Anyone who didn't pay attention in grammar class many years ago, or just forgot all those rules in the meantime, can learn a heck of a lot from the information Grammarly provides. Even as a professional writer, I got a refresher lesson on what participles and interrupters are.
More Than Just Spelling and Grammar
Your writing can be grammatically perfect, but still not be great. The free version only highlights spelling and grammar mistakes in red. But
the paid version provides guidance that can make your writing much stronger
 – by identifying overused words, jargon, and passive voice. When I ran this article through Grammarly, I learned that I had grossly overused the word "tool." Grammarly suggested another word each time, so I could just review and click instead of spending lots of time racking my brain for alternatives.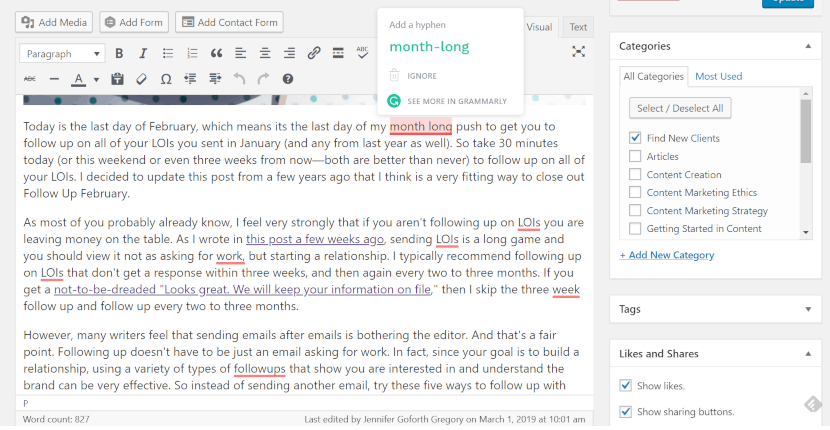 I'll Take Some Grammar to Go, Please
Composing emails – or typing anything, really – on your phone is hard. Not only is it easy to make a typo, it's easy to write poorly, thanks to fat finger syndrome, small screens, and being in a hurry. You can download either the free or paid version via an app on your phone.
Grammarly then gives you real-time advice and corrections just as it does on a laptop, whenever you type on your phone
. As a business owner who often answers client emails from wherever I am, I found that the app helps me compose professional replies as well as social media posts, even when I'm not paying close enough attention.
I highly recommend downloading the mobile version
 for anyone who writes anything at all on their phone – which is pretty much everyone.
It's a WordPress World (We Just Live in It)
I've always found the spelling and grammar check in the WordPress editor to be lacking (and that's putting it kindly). So much so, that before I started using Grammarly, I would copy my blog posts into Word to run a spelling and grammar check. So I was super happy when I found out that there was a
Grammarly plug-in for WordPress
. Instead of copying my posts, I can get feedback from the tool and make changes without ever leaving WordPress. Not only are my posts stronger, this means one less tab open on my computer. The plug-in for WP works just the same as in Word and offers the same functionality.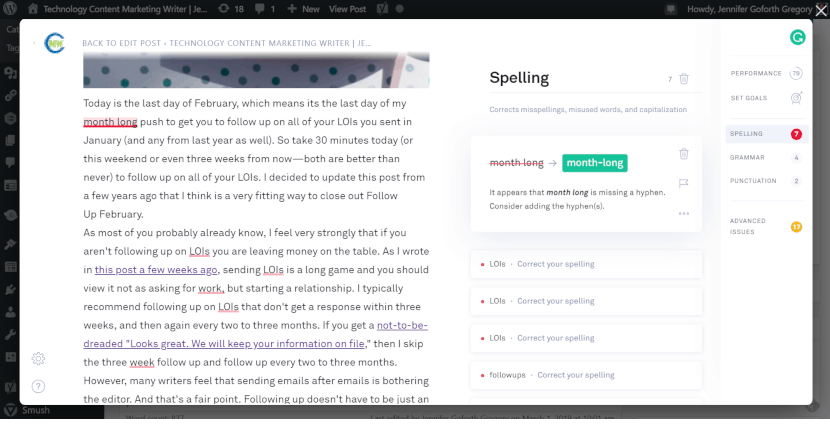 Nobody Puts Google Docs in a Corner
Many of my clients are Google Docs addicts, but I used to dread it because the proofreading tools really stunk. So, yes, I did my copy-and-paste routine, which is a pain. It also opens me up for version errors, which have happened more than I am going to admit. Recently, Grammarly added a
beta add-on for Google Docs
and I tested it out last week. It's a huge improvement over Google Docs without Grammarly. But it's a little buggy still (see a couple of the many errors I found below) and sometimes it can be pretty slow. I'm hopeful that the next version will be on par with the rest of the add-ons.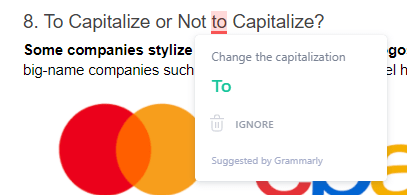 NOT to capitalize, Grammarly…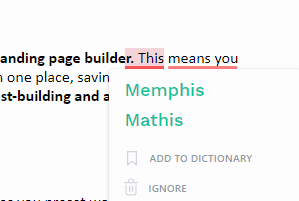 Say WHAT?

What I Don't Like About Grammarly
While I find the tool to be very useful and make it a part of my regular writing process, I wouldn't be doing my job if I didn't point out a few (very) minor issues that I have. Note that none of these are crucial, and I had to stretch a bit in the name of fair and balanced reporting.
Many of the reviews on Grammarly mention that it's expensive, but I disagree – especially if you do a lot of writing, which keeps your cost per use very low
. And the value is even higher if you would otherwise hire a copy editor or proofreader.
All Right, Grammarly, We Get the Idea
Before I upgraded to the paid version, I felt like every time I clicked a button I was asked to upgrade to premium. Yes, I understand the reason, but it was slightly annoying since at the time I had no plans to upgrade. But I guess the advertising paid off, because I did actually upgrade within a relatively short period of time.
A Little Like Kudzu
If you are from the south, you know exactly what I'm talking about. For everyone else, kudzu is an invasive plant that gets in every spot and crevice in a yard once it starts growing. At first, I was thrilled to have my spelling and grammar checked every time I typed text anywhere. And it was super cool to have to have the bios I wrote for my foster dogs checked in the browser without having to copy them into Word. But it quickly became a bit annoying when I realized that "everywhere" meant every letter I type on any website on my computer. This meant that I was given suggestions while chatting with friends on Facebook Messenger or when I left a note for the UPS man about where to leave a package if I wasn't home. I originally thought there wasn't an option to remove Grammarly from specific websites. But my wonderful editor pointed out that this already exists.
You just click on the Grammarly icon in your browser and turn off Grammarly for that specific website
. Now I can take Grammarly off my Facebook Messenger.
Well, Nobody's Perfect
So, maybe my expectations were a
little
high, but I had hoped that Grammarly would catch all my typos – it doesn't. Sometimes it will make an incorrect suggestion, such as adding an article that isn't needed. I often drop words when I write, and I found that
Grammarly doesn't always catch my missing words
. So while it does catch many of my mistakes and provide suggestions to make my writing stronger, I still need to carefully proof my own work. And I can't mindlessly Accept All suggestions, but need to evaluate all suggestions.

No Wi-Fi? No Grammarly for You
This one was a biggie for me. Sometimes I like to work in places without wireless, such as on an airplane. But Grammarly relies on the internet to work;
you can't use the tool without wireless access
. While it's not the end of the world, it is a bit annoying. So keep that in mind when planning to work on writing projects in places that don't have wireless access.
But What About Other Grammar Checkers?
Grammarly isn't the only tool of its kind on the market. There are a
number of very good grammar checkers available
, both for free and a fee. I've used several of its competitors and talked to many writer friends who have used others. But Grammarly is the only one I use consistently. And in all honesty, it's the only one that I can recommend using without an additional tool.
The main reason is that Grammarly catches more mistakes
. Hands down, no question. While it's not perfect, it absolutely, positively catches more errors than any other tool I've found. And since that really is the whole point of grammar checkers, that fact alone is enough to make me a Grammarly fan. I also found the add-ons to be very helpful to make sure my writing is professional everywhere. I was surprised to find that add-ons aren't standard among these types of tools. The add-ons for Ginger, for instance, are in the free version and are very usable. However, browser extensions and add-ons are only in the paid version of ProWritingAid. While After the Deadline has browser extensions, they are hard to use. Not to mention that the tool doesn't include a Word plug-in. Since I do most, if not all, my writing in Word, this means I always have to take a separate step, which adds up quickly over time. That said, there are several things that I liked about the other tools:
Hemingway
Full disclosure: I've been using Hemingway for years. Hemingway is really a writing tool –
it points out lots of ways to make your writing stronger
. As a professional writer, I find that Hemingway is only second to a real live person for helping my writing be stronger overall. However, it doesn't catch typos or misspelled words or grammar mistakes or all the other errors I can make when I am writing. But Grammarly fills in its gaps. While it's technically in the same category as Grammarly,
they really have different purposes and strengths
. And that's exactly why I use both. When I use them together, my writing is a lot stronger.
Ginger
I liked Ginger. A lot. But I found it annoying that
I could only correct a limited number of errors with the free version
. Grammarly's free version really is a complete tool that lets you do everything you need to do. Ginger's free version felt more like a limited functionality version designed to get you to upgrade. On a positive note, it catches a lot of errors –
but not as many as Grammarly
. I liked that it gave me some feedback explaining the issues it found. However, the explanations were very short and not nearly as educational as those that Grammarly provides. I also liked that Ginger's premium version includes a translation feature.
Whitesmoke
On paper, Whitesmoke seems like an equal to Grammarly. And in some ways, it is – it has many of the same add-ons, high accuracy, and includes a mobile version. It also includes extras, such as a plagiarism checker and translator. While there is
no free version of the tool
, even its highest-priced version is less expensive than Grammarly. And the lowest cost version includes no add-ons, which are included with the free version of Grammarly. But the word "clunky" kept coming to mind when I used it. So I decided to go with Grammarly instead.
Should You Upgrade to a Paid Grammarly Account?
Yes, I know that "it depends" is a cop-out answer. And that every third article online these days uses that exact phrase. But if you write as part of your job as well as for typical personal reasons,
then the free version of Grammarly is perfect for you
. It works in all of the places that you write text. And the level of checks is perfect for the average person. After spending a fair amount of time comparing both the free version and the premium version in real-life and after examining the Grammarly marketing materials, the biggest benefit that I found is that
the premium version offers you more suggestions for improving your writing in addition to fixing your mistakes
. Additionally, it checks 400 rules instead of the 200 checked in the basic version.
The premium version also has some additional tools
. After you have written your document, you can immediately check your writing to see if you have accidentally plagiarized something. Grammarly Premium also includes a translator. While both of these tools are available for free in other places,
it's super convenient to have them in one place
. If my friends were to ask me who would benefit most by using Grammarly, I would tell them that the following three types of people would benefit from the premium version:
Professional writers: If most of your job is writing, then you should absolutely pay to upgrade to the premium version. And definitely, if you are a professional writer or freelancer, it's a no-brainer. The level of checks and additional catches cover the types of mistakes that matter to professional writers. Additionally, the premium version lets you choose the type of writing, from academic to casual to business, which can help you make sure your writing is geared toward your reader.
Students: If your grade depends on your writing ability, I think that students in majors that are writing-intensive would also benefit from the premium version. The biggest advantages are writing suggestions and extra rules.
However, many professors use a plagiarism checker and it's possible to get a high score on these tools without actually having plagiarized. By having a plagiarism checker in your grammar checker, you can easily remember to run the check yourself and then reword quotes and case studies that can cause your text to be flagged as plagiarized.
Non-native English speakers: I had a French friend of mine look at the premium version of Grammarly and she agreed that she would find the features to be very helpful. In addition to the extra rules, having a built-in translator can help you figure out the correct word in English if you are stuck.
Verdict: I Need a Tool Specifically for Writing
I predominantly use Microsoft Word for nearly all my personal and work-related writing. I also incorporate a handful of projects in Google Docs to add some diversity. Microsoft Word serves as the primary standard for crafting and composing documents. While Microsoft Word has some features to help improve your writing, it is built and designed to help people write, format and design documents. The spelling checker, thesaurus, and grammar checker are additional features, not the main purpose of the tool. But Grammarly's sole purpose is to help your written communication be error-free and as professional as possible.
The team designs every feature for the writing process, and keeps the tool updated with the latest technology and trends
. And yes, it prevents the need for debating and analyzing grammar rules, so that you have to think about third-grade lessons as little as possible. Microsoft Word is great for word processing. But your writing determines how people perceive you – both professionally and personally. Grammarly takes just a few minutes to install and even less time to use.
If you're someone who writes anything at all – and that includes just about everyone – then I highly recommend adding Grammarly to your toolbox
.