as little as $5 per project
. Each has their own style and niche, with packages that suit a range of budgets, time constraints, and project requirements. With these experts, you won't have to sacrifice quality for price.
Read on to find out who made my list, how you can hire an expert game designer using Fiverr, and how you can sell your own services too.
9 Best Freelance Game Designers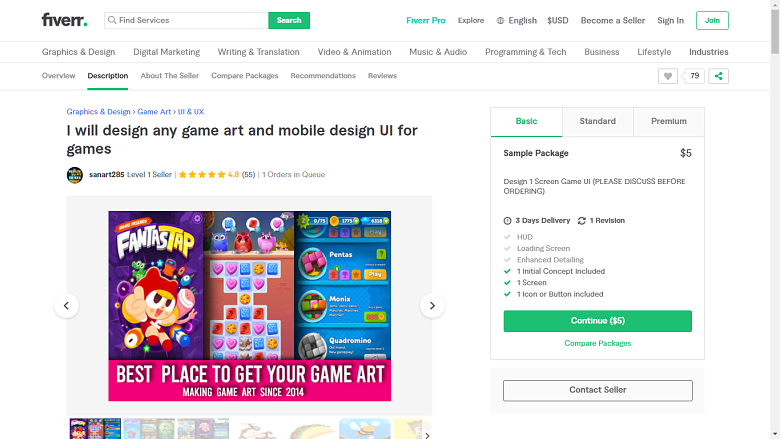 Sanart285 is an experienced, multilingual designer in both UI and UX for all types of games. They have experience with both realistic and cartoonish art, so you can choose which style matches the look and feel of your product.
For just $5, Sanart285 will create a one-screen game user interface in three days.
 They can develop concepts and designs for consoles like XboxOne, PS4, and Switch, or traditional PC and mobile games.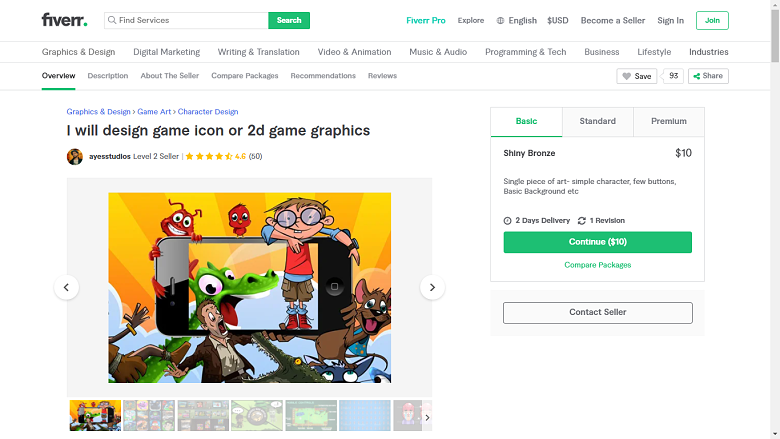 Armed with a master's degree in computer application, Ayesstudios is an expert at creating characters, backgrounds, and icons for 2D games.
Their basic package offers a single art design in the style of your choosing for just $10
, with a two-day turnaround. Ayesstudios has been on Fiverr since 2017, racking up a 4.9-star rating and over 140 positive reviews.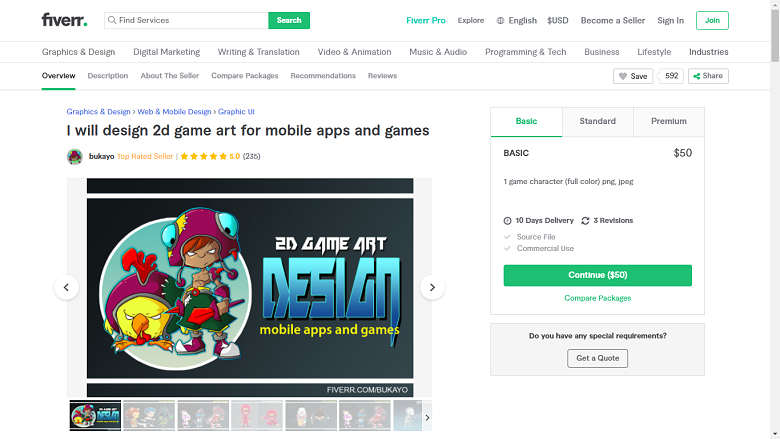 If you have a bigger budget, consider hiring Bukayo for your game design project. For $50, which is still an absolute steal, you can commission him to create a detailed, full color character of your choice. Although this professional's packages are on the pricier side and they take longer to deliver, I think that their portfolio, customer reviews, and coveted Top Rated Seller badge support their expertise. Upgrade to get more characters designed or
check out one of Bukayo's other gigs – they offer maps and background design for games too.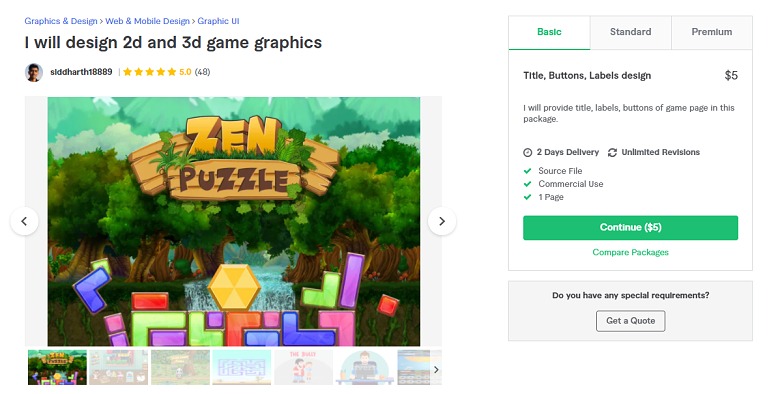 Siddharth18889 specializes in 2D and 3D game design and graphics. Their basic package is just $5, and includes deliverables for the title, labels, and buttons for a single game page.
 If you'd like a full design with up to five pages, you can purchase their premium package, ready in just one week
. Each package tier comes with unlimited revisions, so you can work together to make sure you're happy with the final product. Siddharth18889 also has an incredible five-star rating from over 200 reviews.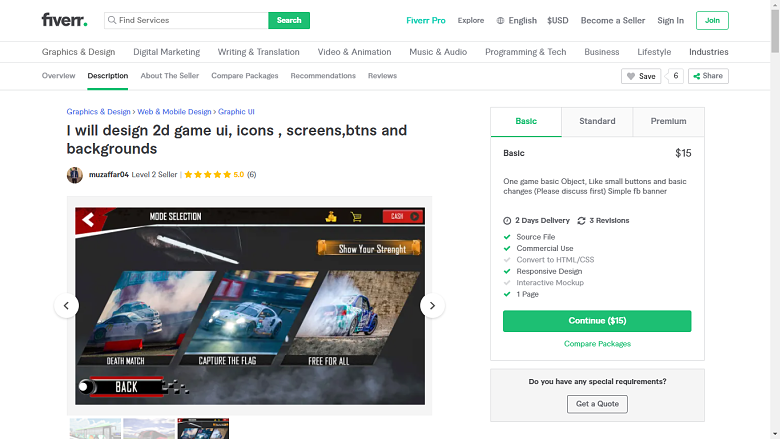 With a bachelor's degree in computer science,
Muzaffar04 has experience developing menu screens, condition maps, and character plans for mobile and PC games
. They have a package option for correcting simple design errors, or if you need your entire game created from scratch, they offer a higher-tier package with nine pages of graphics. A great communicator, Muzaffar04 is also gifted at art conceptualization, which means they can work with you to create your dream product.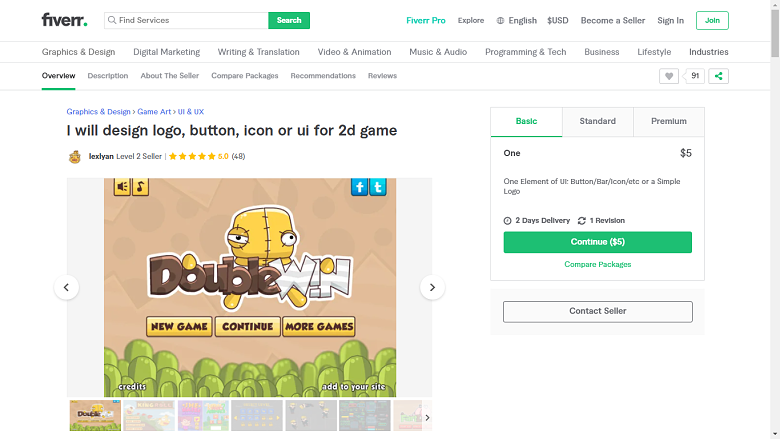 Details like buttons, icons, and dialog boxes can't be overlooked.
Fortunately, Lexlyan has a basic package to design one UI element for just $5
. If you pay an extra $15, you can hire them to create all the small features for your game, including a loading bar and checkbox. Although relatively new to Fiverr, Lexlyan has a 5-star rating and more than five years of experience in game development.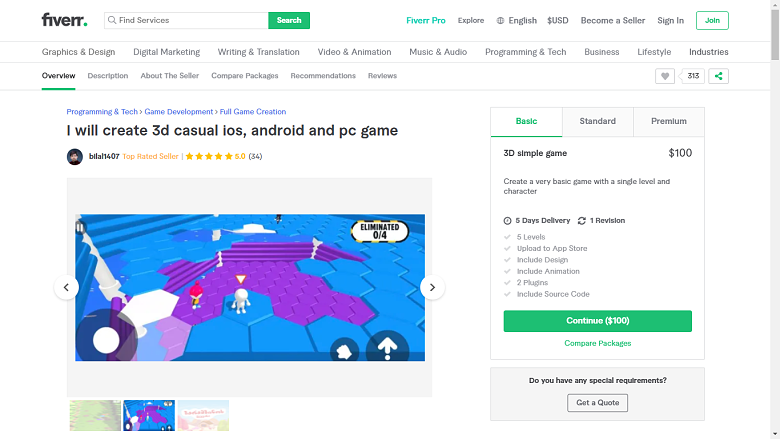 If you need a fully designed casual game, consider hiring Bilal1407 to do the job. As a "passionate game developer," they make easy-to-play 3D products for PC, and iOS, and Android operating systems.
You'll need a slightly bigger budget to hire this freelancer, but in return, you'll receive a full-service package
 for a basic game rather than having to hire multiple people or pay for designs bit by bit. Plus, Bilal1407 is a Top Rated Fiverr seller with glowing reviews.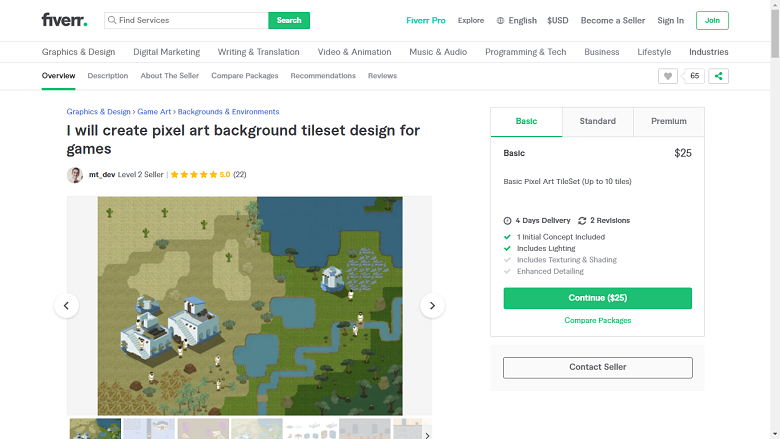 Mt_dev designs pixel art tilesets for 2D mobile and PC game backgrounds. This is a rare skill, and finding an affordable pixel art designer like Mt_dev can be challenging.
For $25, you can purchase a basic tileset of up to 10 tiles with lighting
. You can pay more for a larger tileset and details like texturing and shading, or even request a custom order – all delivered in under a week. If pixel art is something you're interested in,
I've also found the nine best pixel artists for hire on Fiverr
.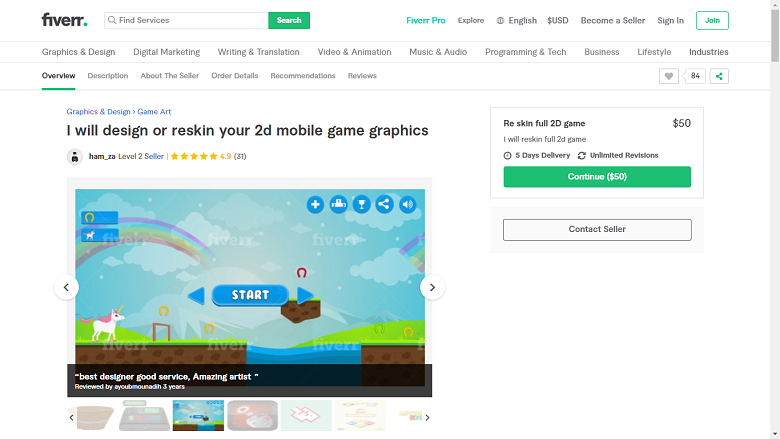 If your product needs a visual upgrade or full overhaul, Ham_za can help. This seller reskins 2D games that are in need of a makeover. Of nearly 200 positive reviews, previous clients highlight their patience and desire to capture their vision. For $50, they will reskin your old graphics in five days and do as many revisions as necessary.
How to Hire a Freelance Game Designer on Fiverr
Whenever I'm looking to hire a freelancer, I use Fiverr – a popular marketplace that features creatives across a variety of industries. Located all over the world, Fiverr sellers bring a wealth of experience and originality to the easy-to-use platform. To look for potential freelancers,
head to the Fiverr homepage
. Type "game designers" into the search bar to pull up relevant gigs.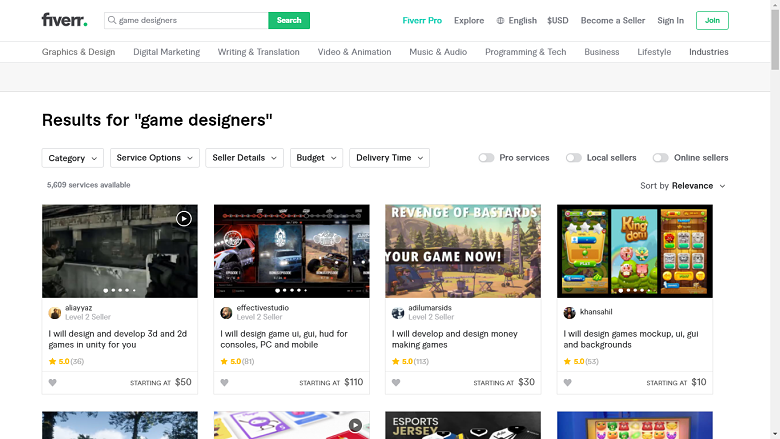 When you see an interesting offer, click on it to see the full gig details – here you can see important information like the detailed
About This Gig
 section, customer reviews, and the creator's portfolio. The initial view shows the details for a seller's
Basic
 package, but you can use the tabs in the box on the right to toggle between package tiers and pricing. Click
Compare Packages
 to view services and pricing in a table format instead.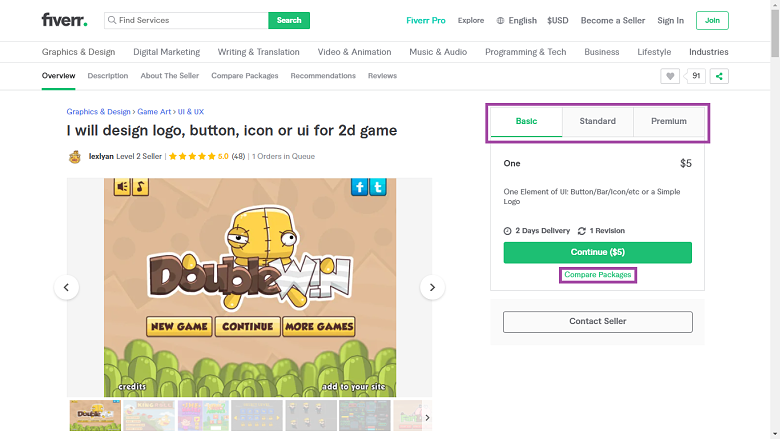 If you'd like to ask the freelancer about a service they offer or a custom quote, click the
Contact Seller
 button. Note that you'll need to sign up for an account to send a private message.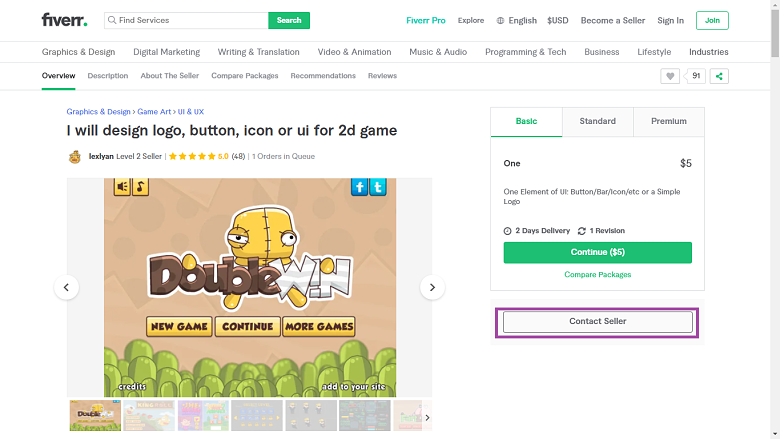 When you've reviewed all the information and are ready to book this gig, click the
Continue
button. This will take you to the payment preview page before needing to enter your payment information. On the payment preview page, you'll see the final cost along with the services in the package you chose.
If the freelancer offers add-ons, like multiple revisions or animation, you can select these (for an extra cost) here
. Click
Continue to Checkout
 to enter your payment details and finish the hiring process.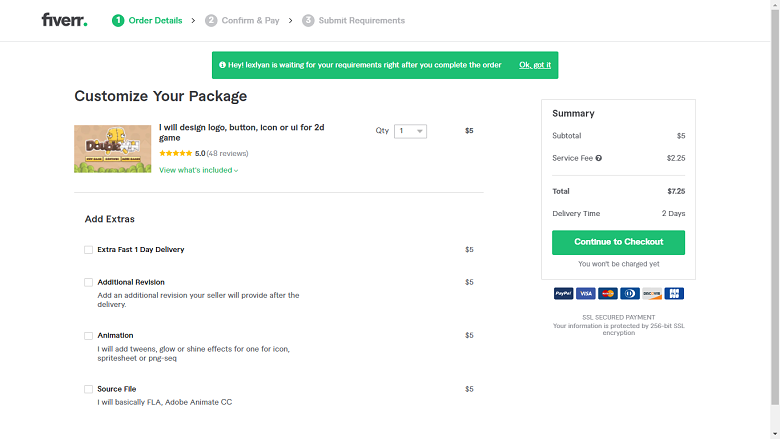 What to Look For in a Freelance Game Designer
Not all game designers are created equally. So how do you make sure that someone is the right fit for your project? When there are thousands of options to choose from, you need to make sure you're hiring the right person. If you're looking to hire a freelance game designer, here are some things to consider and look out on a seller's profile:
Relevant experience with popular design tools: Does their profile mention software like Marmalade, Unreal Engine 4, Adobe Suite, Unity, and/or Visual Studio? Some freelancers include this information under their portfolio or in their description or listed skills.
Design skills for your desired platform: Are they a 2D or 3D professional? Do they create designs for any platform – like consoles, PC, and mobile – or only specific ones?
Genre of the designer's work: Some creators work in all gaming genres (racing, action, shooter, etc.), while others are more specialized. If you can't tell from the seller's portfolio or profile info, you can send them a direct message for more information.
Complexity of your concept: The more intricate and detailed your needs are, the more advanced the freelancer's skill set should be. Check their profile for how many years of experience or training they have and scroll through their portfolio to assess the quality of their work.
Your budget: if you have a limited budget, you can use the Budget search filter to only look for creators with appropriate pricing.
An outstanding seller communication rating: The higher the rating, the more likely you are to have a positive, professional experience and receive a high-quality design.
Are You Looking to Sell Your Freelance Game Design Services on Fiverr?
Becoming a Fiverr seller is almost as easy as hiring one. If you'd like to sell your game design services, Fiverr can help you attract clients and maintain a stable income. When you create a seller profile on Fiverr, you don't have to go looking for clients – they come looking for you. And unlike other freelancing websites, Fiverr doesn't charge you a costly subscription fee for using their platform – we cover this all in our in-depth
Fiverr review
. To sign up for an account,
go to the Fiverr homepage
 and click
Join
. You can sign up through Facebook, Google, Apple, or email. If you'd like more information first, click the
Become a Seller
button in the main menu.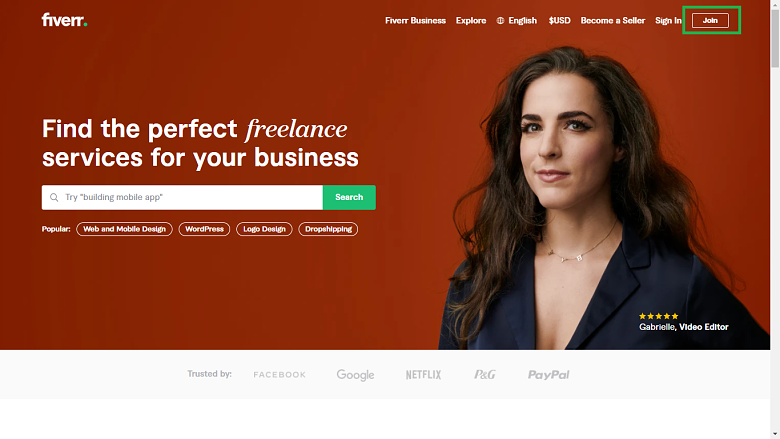 Once your account is verified, click the circle icon at the top right of the screen to access your profile. There, you'll be able to upload a photo, connect your social media accounts, and add relevant skills.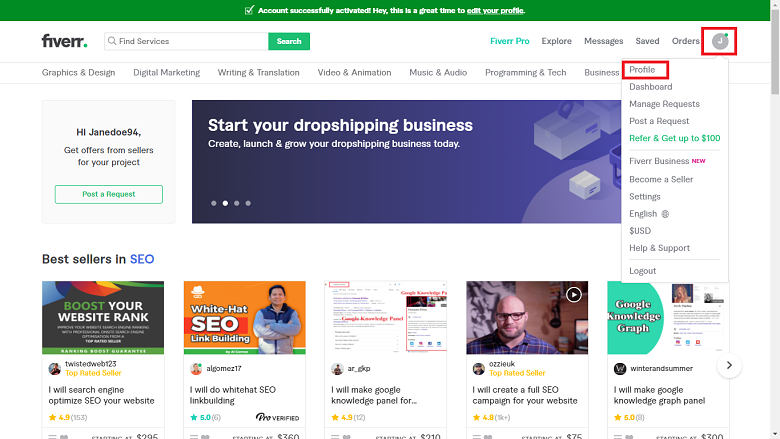 Once you've customized your profile, click the
Create a New Gig
 button to create your first gig.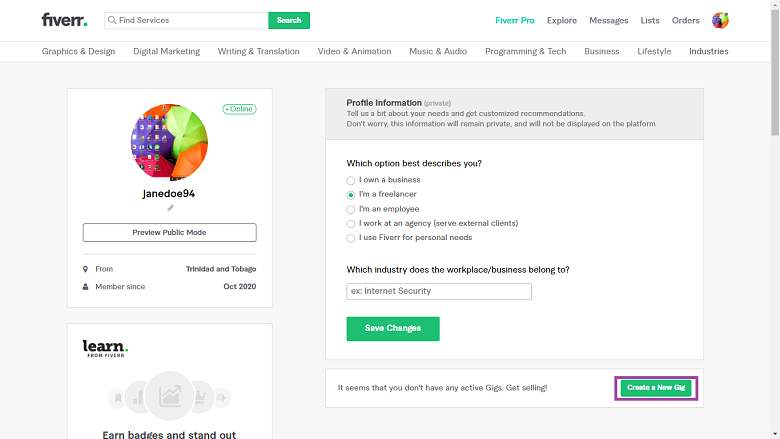 First, you'll need to choose a gig title and category, and add search tags related to your services, like "game," "designer," and "2D." Then you'll choose a name for each package and list the services. You can include how many screens, revisions, and icons/buttons you'll include and decide on pricing for each package. While you're setting this up, take a look at our top tips for
how to create a successful Fiverr gig
. Click
Save & Continue
 to add a gig description and photo to your portfolio. Once you're happy with it, publish your gig so that buyers can find and hire you for work.
A pro tip for a better seller profile: become a buyer first. Switch to a buyer profile, search for freelancers, and commission one for a project –
even for as little as $5
. You can choose something simple like a logo design or an edit on a family photo, just to get an idea of what makes a seller stand out from the crowd.
You Don't Have to Sacrifice Quality for Price
Fiverr makes it easy to find a quality game designer at an affordable price. From thousands of creative professionals, you can search by specific gaming platforms, genres or even certain skills, such as 2D or 3D experts. For example, if you've got a niche requirement, I found these sellers on Fiverr too:
You can use the budget or timing filters to discover the ideal expert for your project if you have a greater concern for either. Fiverr's Seller Levels, which assess freelancers according to customer satisfaction and delivery, give me confidence when I spot one of those special badges on their profile, making me more inclined to hire them.
FAQ
Where can I find freelance game designers?
Fiverr is a top freelance website for finding talented professionals in a range of industries, including game design and development, and it scored an impressive 4.9 out of 5 in our Fiverr review. It currently hosts over 5,000 game design gigs.
How much do freelance game designers charge?
Freelance game designers charge based on their location, experience, and project specifics – but on Fiverr you can hire someone for as little as $5 per gig.
What skills do game designers need?
A game designer should have experience with current design tools, such as Adobe Photoshop, Unity, and/or CorelDRAW. They should be excellent communicators and able to either understand your concept or develop their own. Before hiring a game designer, consider their portfolio of work, genre, all of which you can easily find on Fiverr, and whether their specific skills match your project's needs.