The trick is to find a developer who won't cost the earth and can turn your vision into a reality.
With so many Android developers around, you might find it challenging to locate one with experience in the type and style of app that you need. That's why I've compiled a list of nine of the best freelance Android developers I've come across. Each developer has a niche specialty and well-honed skills, so you're sure to find someone to suit your particular project. I also found an amazing freelancer hiring solution that makes finding an affordable Android developer as easy as can be.
Some developers on this list offer their services for as little $5
! Keep reading to find out which ones made the cut.
---
9 Best Freelance Android Developers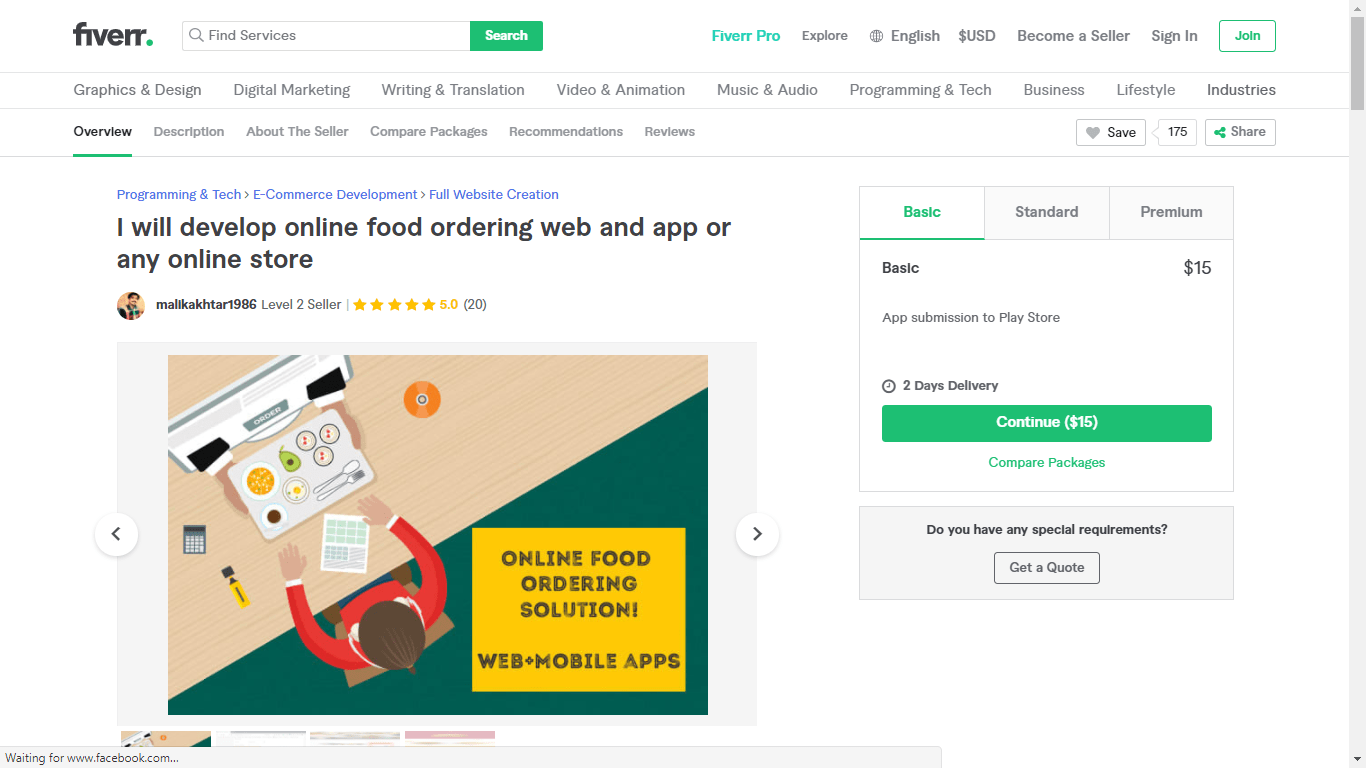 Malikakhtar1986 can create a detailed online food delivery app
 for your restaurant or food truck to allow customers to pre-order meals or request deliveries. He's really good with custom orders, so contact him to talk through your idea and receive a quote. Malikakhtar1986 can help you through the whole app development cycle, from planning to development and bug-fixing, and has everything in place to submit your app to the Play Store once it's complete.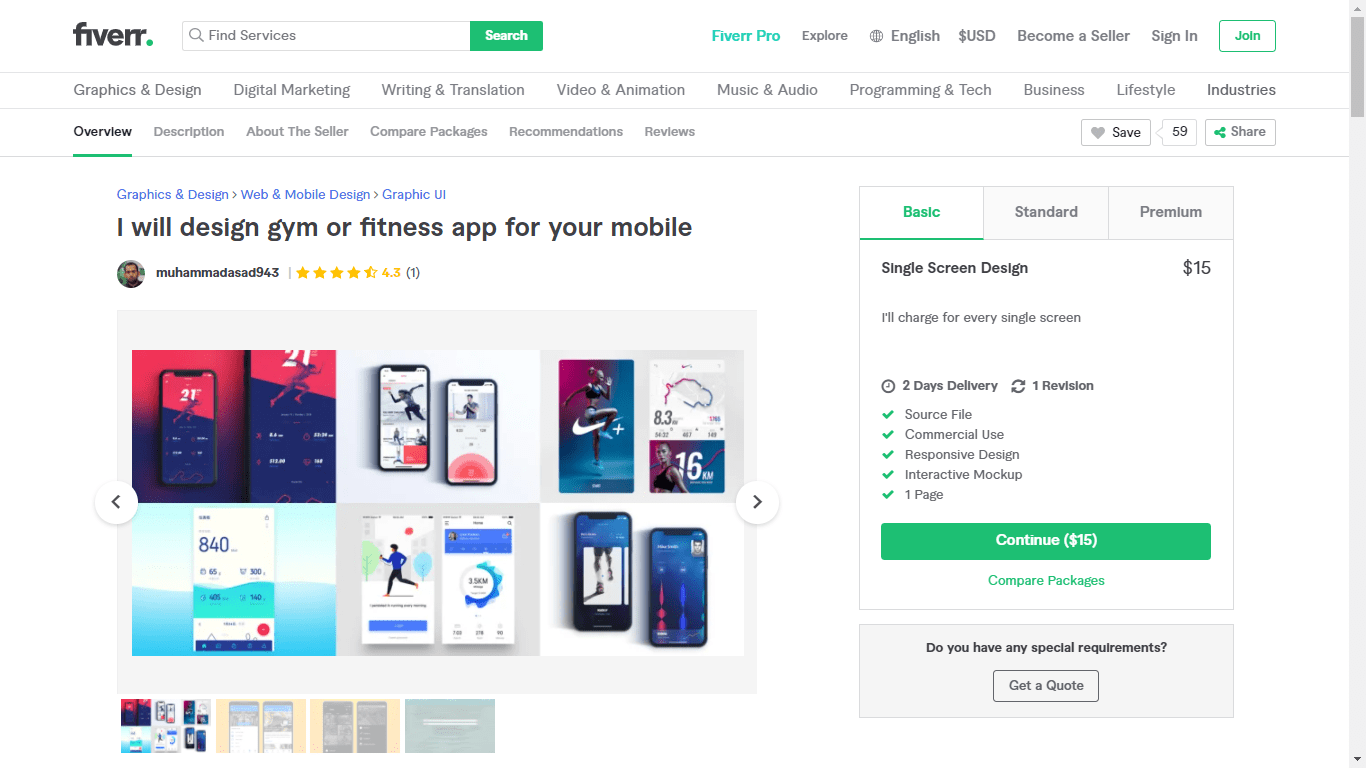 Muhammadasad943 builds user-friendly, intuitive Android apps for fitness, health, and overall wellness. You can opt for a single page app or a full-scale, 10-page application.
Each package includes an interactive mockup, the source files, and approval for commercial use.
 He offers unlimited revisions at no additional cost, which really gives me peace of mind – it's also pretty rare to find someone offering unlimited revisions for such a low price.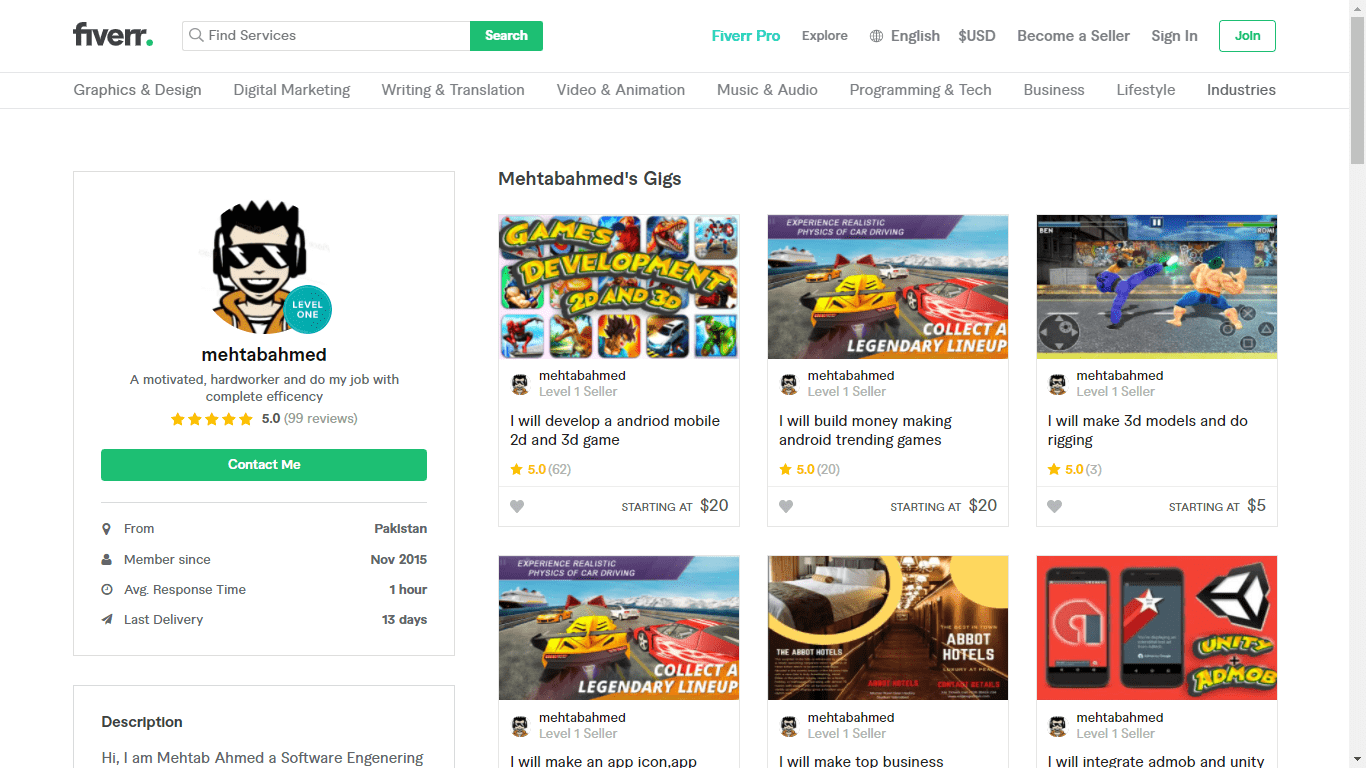 Games are one of the most difficult types of Android apps to develop. Mehtabahmed covers a wide range of 2D and 3D game types, from racing to card games.
In the basic package, he offers 10 game levels, animation and design, and two plugins
. What I really like about Mehtabahmed is his breadth of experience and skill. Mehtabahmed has been a Fiverr freelancer since 2015 and is one of the few developers with both substantial practical experience
and
 a degree in software engineering.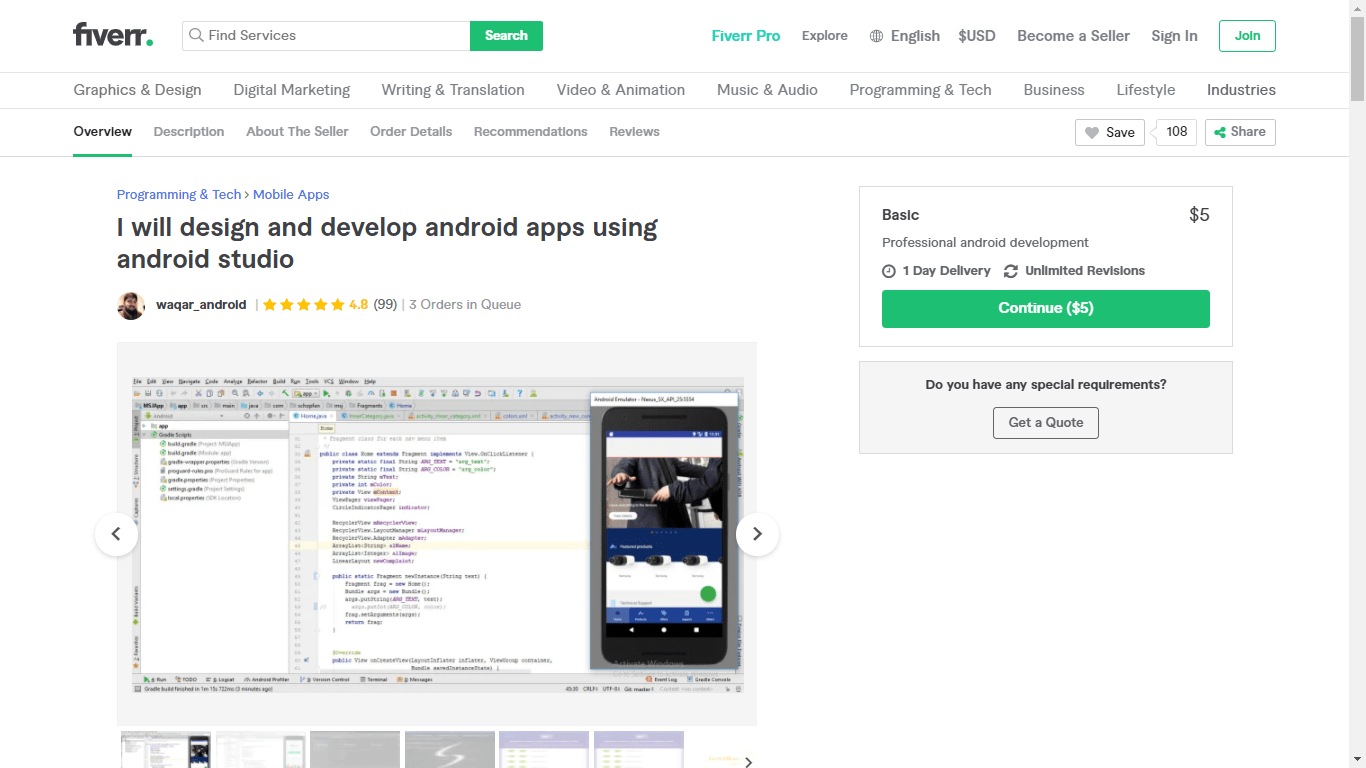 If you have an idea for a social media or e-commerce app, Waqar_Android will be able to help.
 He can create a range of app types, but specializes in these areas. While he only offers a basic package for Android Studio development, you can talk to him to put together a quote for an advanced project. One thing I really like about Waqar_Android is that he will happily work on full or partial projects, depending on what you need.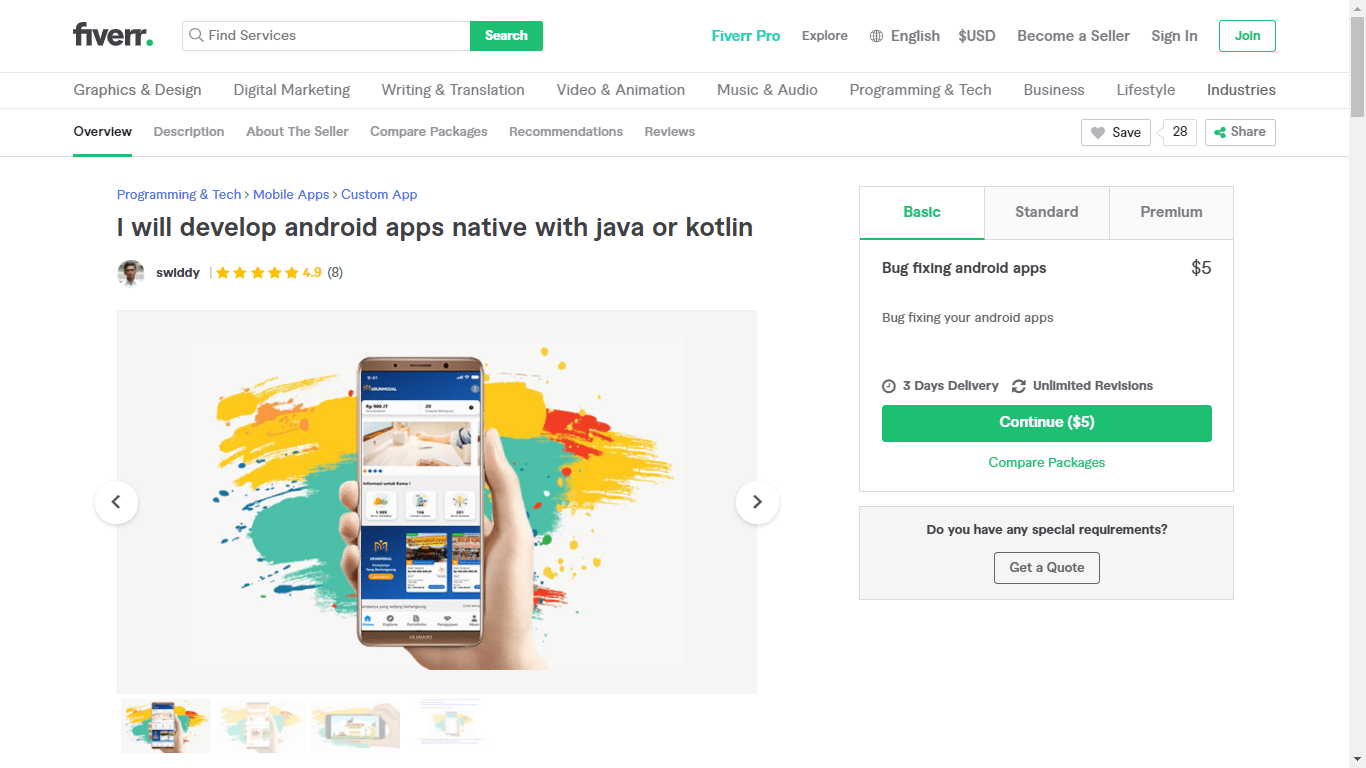 Finding and fixing bugs in app code can be frustrating and exhausting. Freelancers who can take this burden off your shoulders are rare, so when I found Swiddy, I was thrilled.
Swiddy specializes in customizing existing apps and analyzing code for bugs or glitches.
 If you're having confusing issues with your app, you can hire Swiddy to locate and resolve these problems quickly and effectively.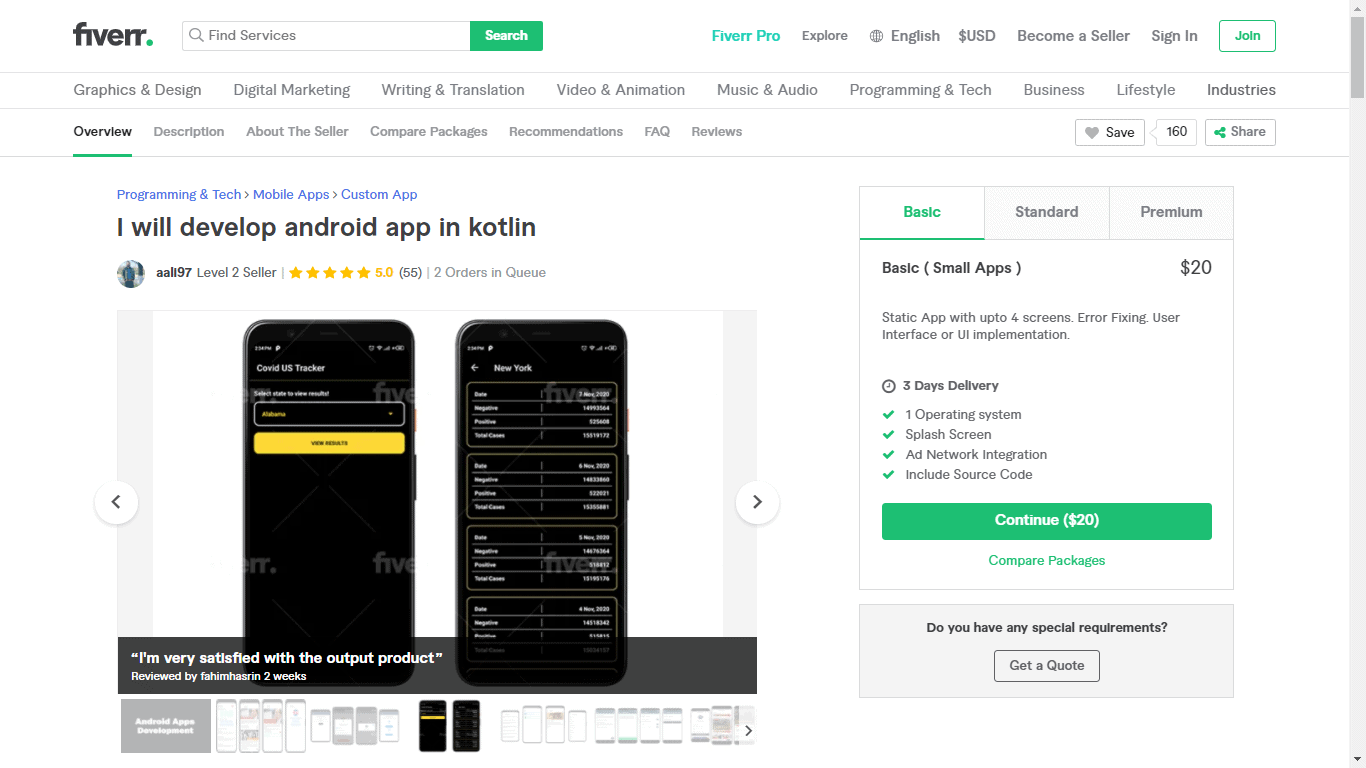 Aali97 can develop Android apps in either Kotlin or Java, and he's experienced in coding static apps, which is handy for customers who won't always have internet access. He has a great reputation with nearly 100 five-star reviews, partly because of the unusual extras in the packages he offers. 
Even his Basic package includes ad network integration and the source code.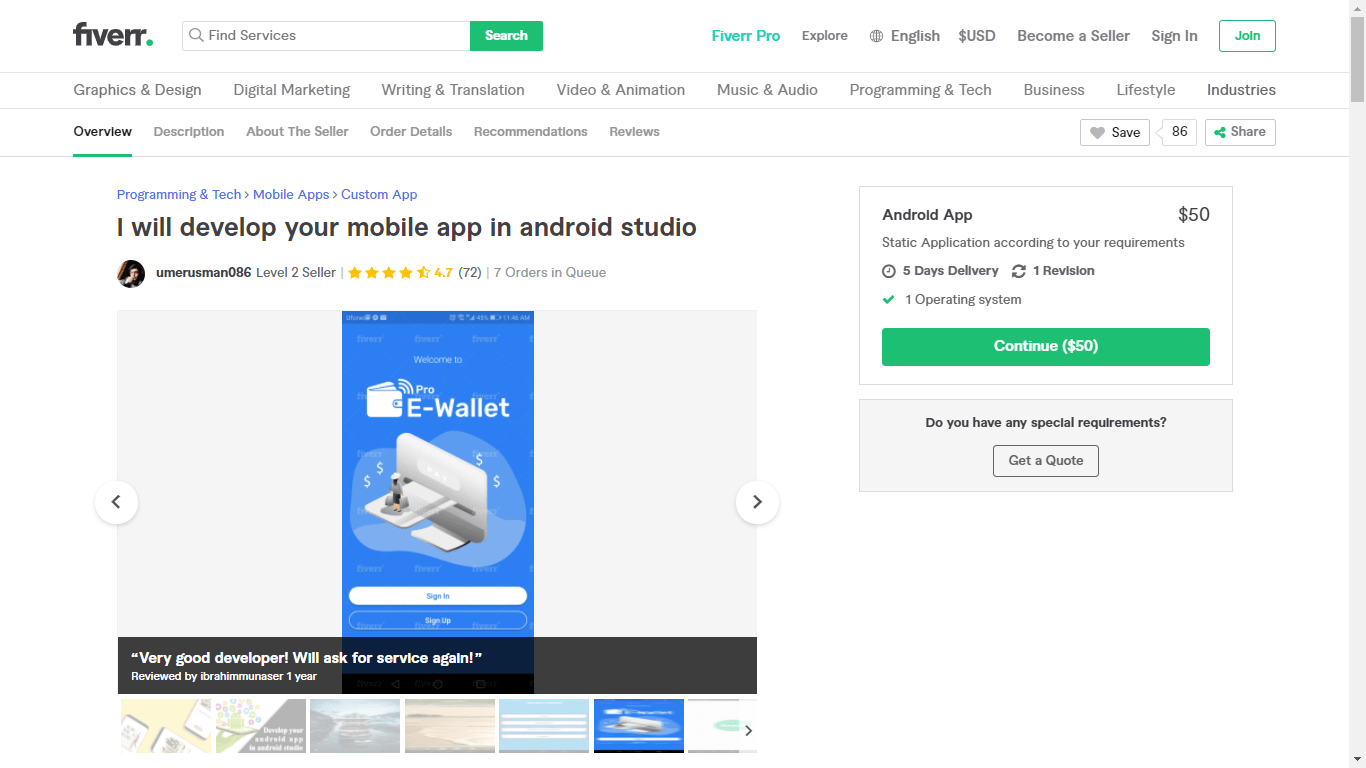 Umerusman086 offers a basic static APK development package, but will also give quotes for more advanced or complicated work. He can develop new apps, convert your website to an app, or modify an existing app to better fit your needs.
I especially like that he offers video conferencing as part of the collaboration process
 – sometimes sitting down with screen share to develop ideas is the fastest way to bring a concept to life. Umerusman086 offers a single revision as standard, but if you do the work beforehand to make sure he understands what you need, this should be plenty.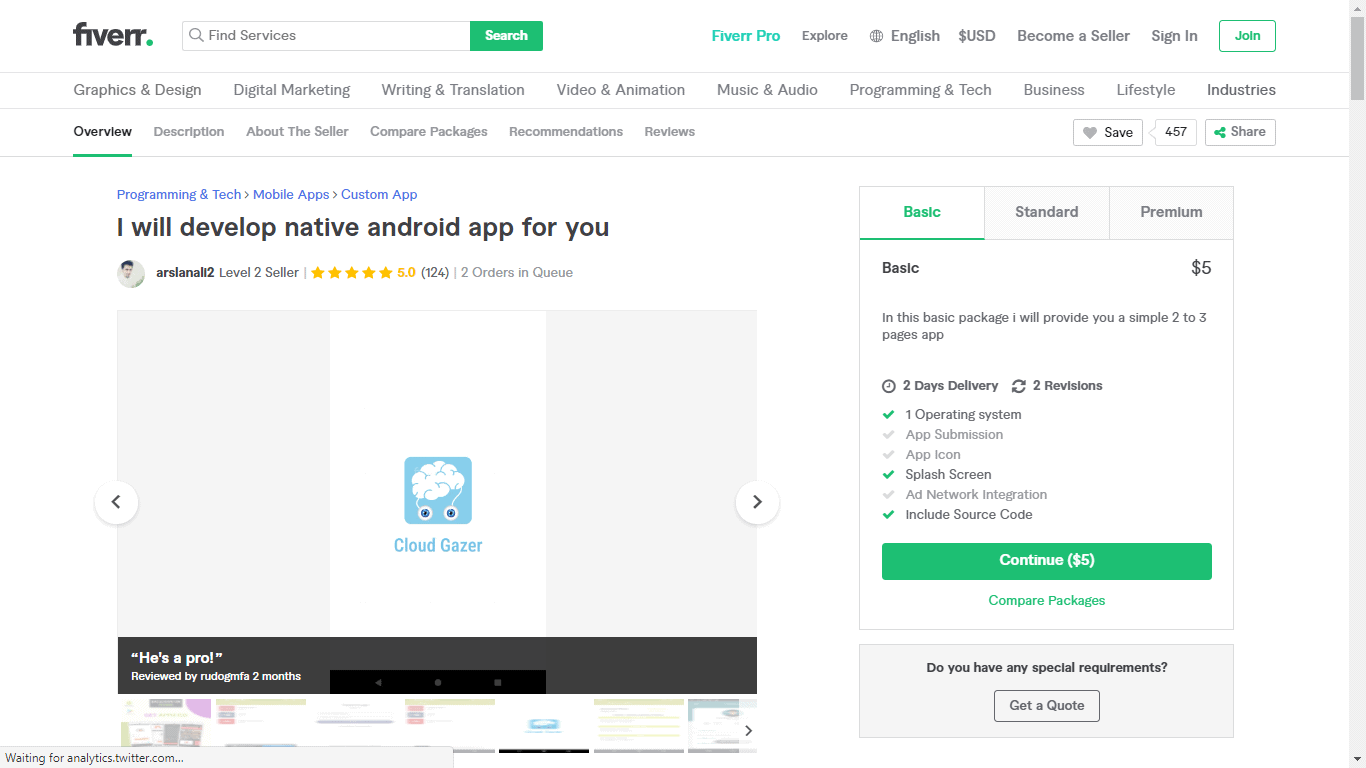 Arslanali2 works primarily with REST API integrations and SDKs, making him a good choice if you need your app connected to an external service or social media platform. He is also experienced in adding advanced app features such as in-app purchases, video streaming, and NFC or RFID integrations. 
I was particularly impressed that his app packages all include the source code, and that
he has the experience to help with the marketing side of things too.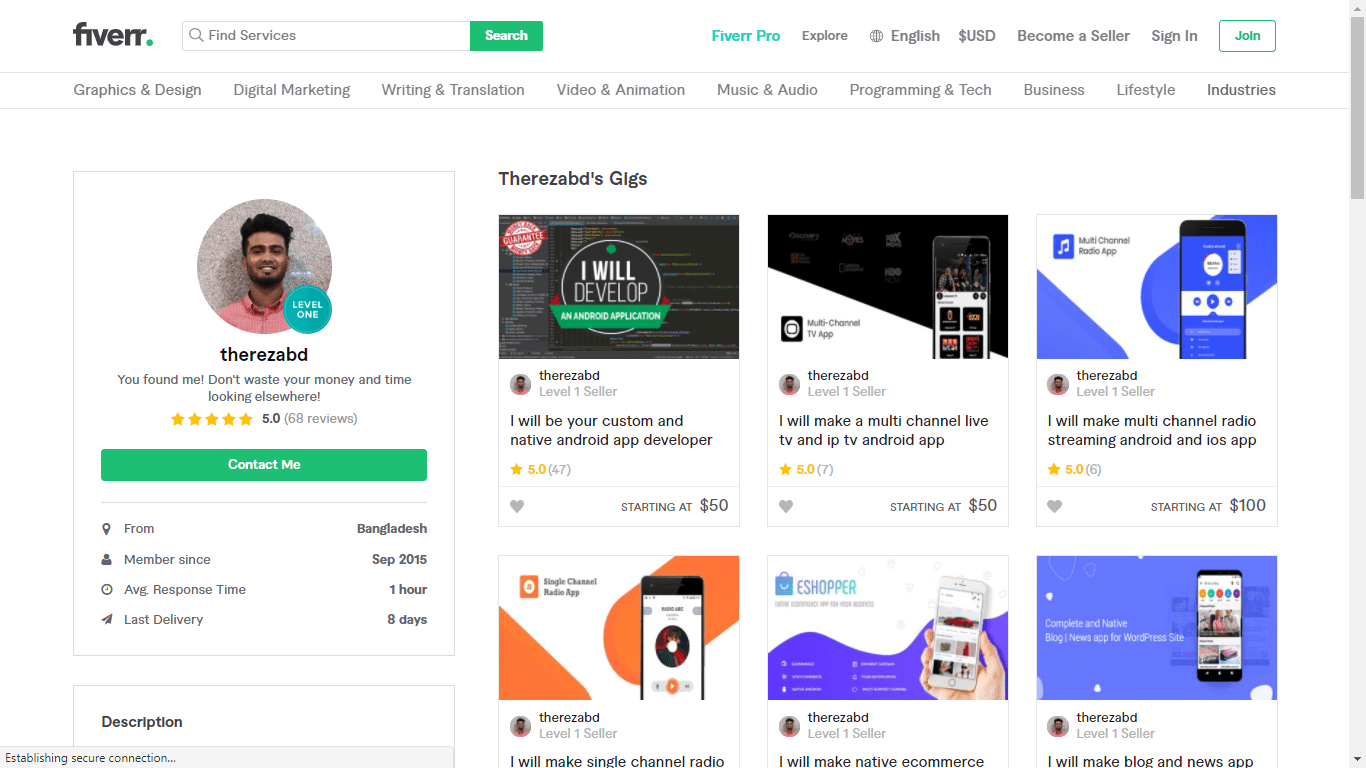 Therezabd offers numerous Android development gigs. I think the most notable are the multi-channel radio and IP TV streaming apps, because these require a lot of care with performance and resource usage. He also offers more standard blog and e-commerce apps. What I really like about Therezabd is
his focus on writing maintainable, reusable code – this is really important when you need to update your app.
How to Hire a Freelance Android Developer
If I had to pick one key to hiring an affordable freelance Android developer, it would be this: Fiverr, the popular freelance hiring platform.
Talented professionals offer their services on Fiverr, and packages begin at just $5
. This means you can hire an experienced Android developer for much less than you might expect, let alone the thousands of dollars you could otherwise end up paying. Hiring through Fiverr is incredibly easy. Simply head to the Fiverr homepage and type "Android developers" into the search bar. If you have specific requirements, like the language used or the type of app, try narrowing your results by including these in your search: for example, "fitness Android developer."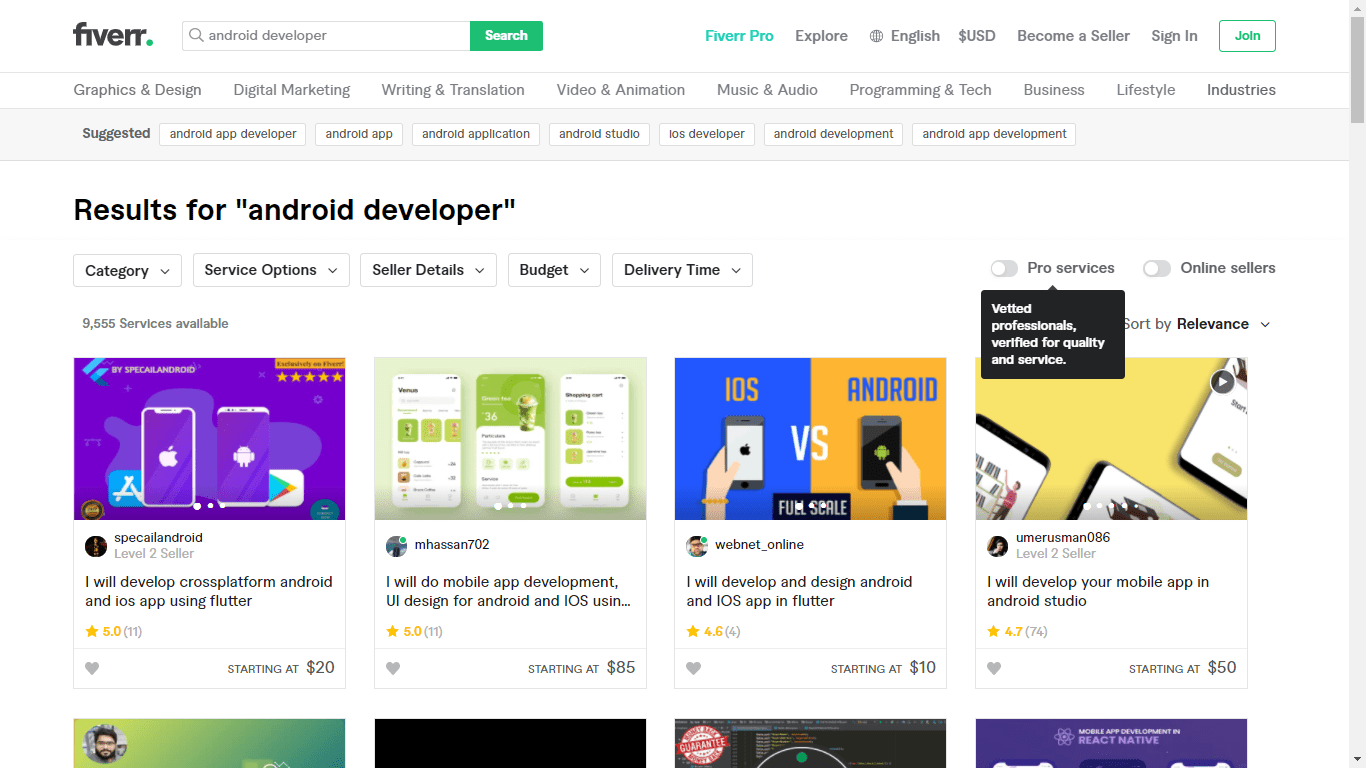 When you see a gig that you'd like to explore, click on it to open it in full view. The details for the gig, including package pricing and the freelancer's portfolio, will be displayed here. Review all the included information so you understand what will and won't be included.
Some things to look for include whether the freelancer will help you submit your app to the Play Store and if commercial use is included.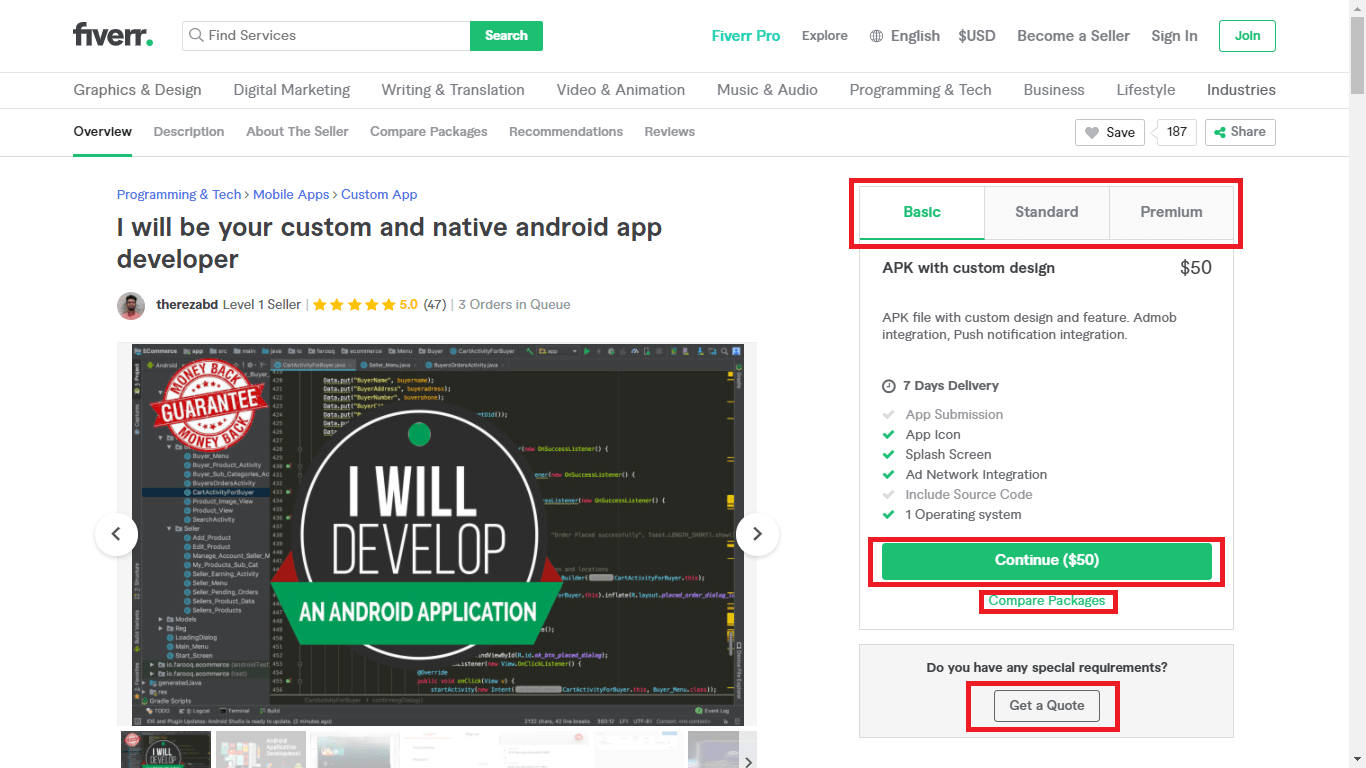 Click
Compare Packages
 to see the prices for each package tier in table form. To see each package's information separately, click on the package tab at the top right of the screen. If you don't see the services you need listed in either of the gig's sections, click
Get a Quote
 (under the package section) to contact the seller directly for special pricing. If you're ready to hire your freelancer, click
Continue
 to head to the payment preview page.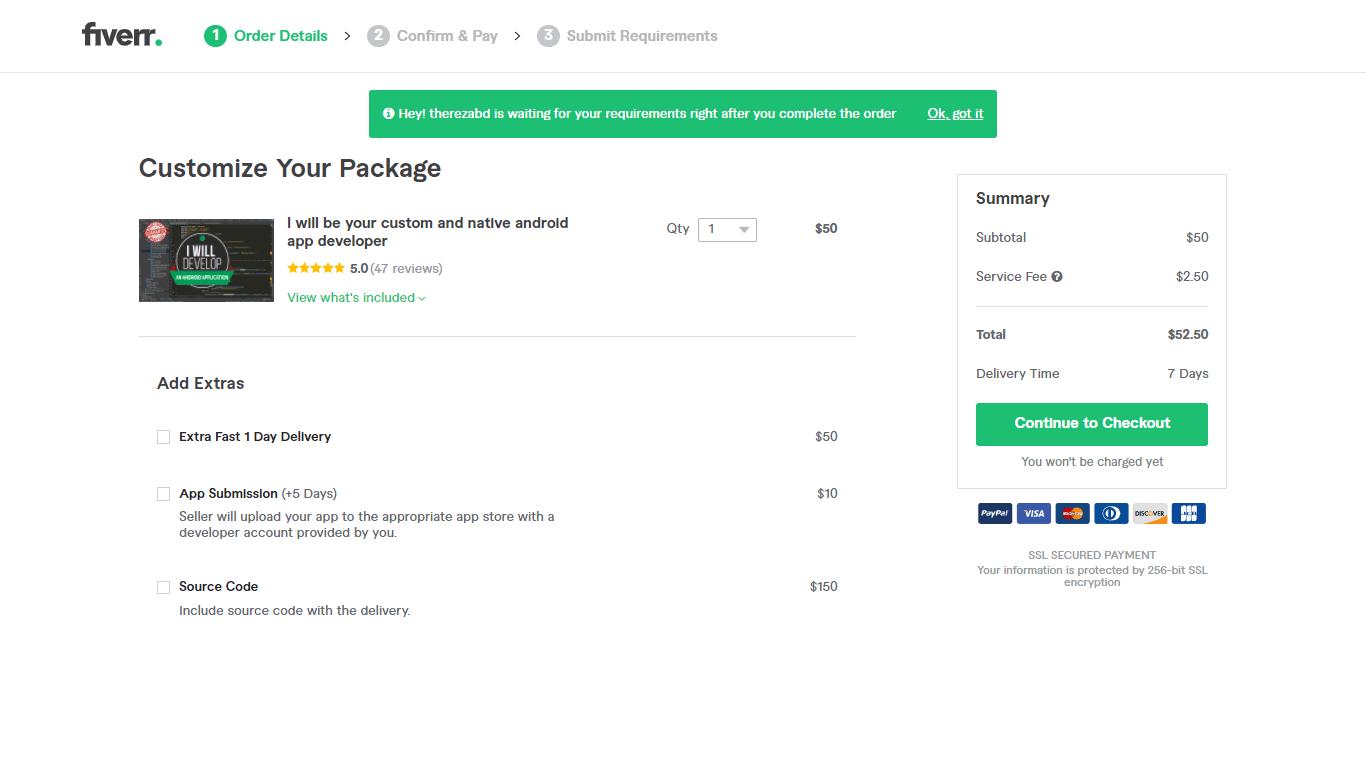 The payment preview page displays the final pricing and list of services for the chosen package. If you're satisfied with the details, click
Continue to Payment
 to enter your payment information and finalize hiring your selected freelancer.
What to Look for in a Freelance Android Developer
If you're not knowledgeable in coding or application development, then knowing what to look for in an Android developer may be a bit tricky. No two Android developers have the same skills or development style. However, there are characteristics of proficiency that are standard no matter what the background of the developer may be.
Extensive background in multiple coding software systems: verify that they have a background in software and coding programs like Java, Android SDK, Android Studio, SQL, and XML in the 'Skills' section of their profile or the gig description.
Specialist knowledge: look at customer reviews, their profile description, the "About This Gig" section, and portfolio media to see if the freelancer has experience working with apps that have similar functionality to the one you want to create.
Experience in graphic design: explore gig details for information on experience in design through software like Photoshop. While graphic design isn't an essential skill – you can always hire a specialist graphic designer if need be – it certainly cuts down on costs if you can find someone who can do the lot.
Timely responses to inquiries and concerns: review the sellers communication ratings, located above customer reviews, to gauge their responsiveness.
Quality deliverables and positive customer reviews: use a freelancer's customer review ratings and reviews to determine how well they meet customer requirements, efficiently and without error – and how they fix issues that are raised.
Are You a Freelance Android Developer Looking to Sell Your Services on Fiverr?
If you're an Android developer and you'd like to sell your services on Fiverr,
the signup process is straightforward and fast
. Fiverr is an excellent platform for both buyers and sellers alike. To get started,
head to the Fiverr homepage
 and click the
Join
button in the top-right corner. Decide on a professional-sounding username and enter a password to create your profile.
Once you have verified your account, you can begin personalizing your profile. Upload a photo to your profile and add any academic achievements, skills, or educational background that are relevant. You can also link social media accounts like Instagram or LinkedIn, and other services like GitHub.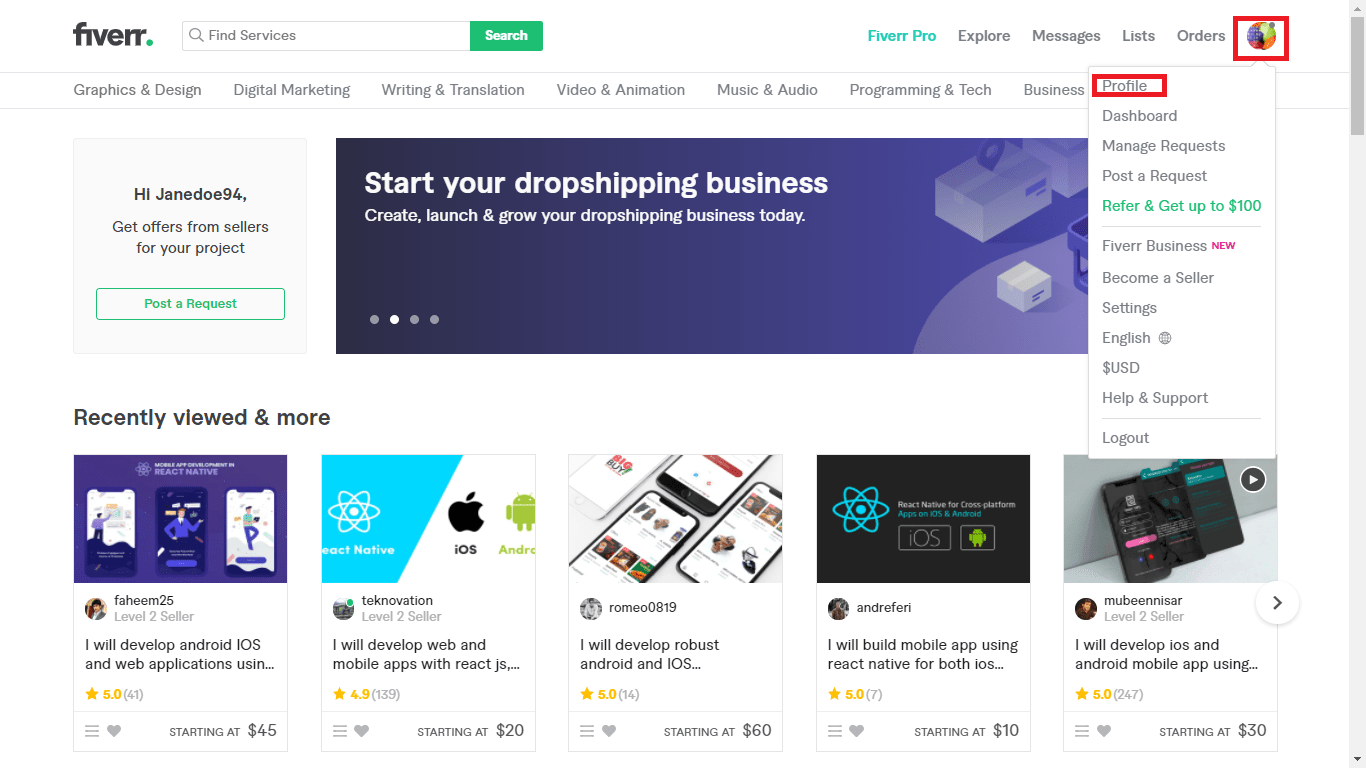 What type of seller are you? Choose your type of business from the available options and select the Software option from the dropdown menu. There's no dedicated Android developer option, but you'll be able to get more specific with your profession and skills as you get further into personalizing your gig.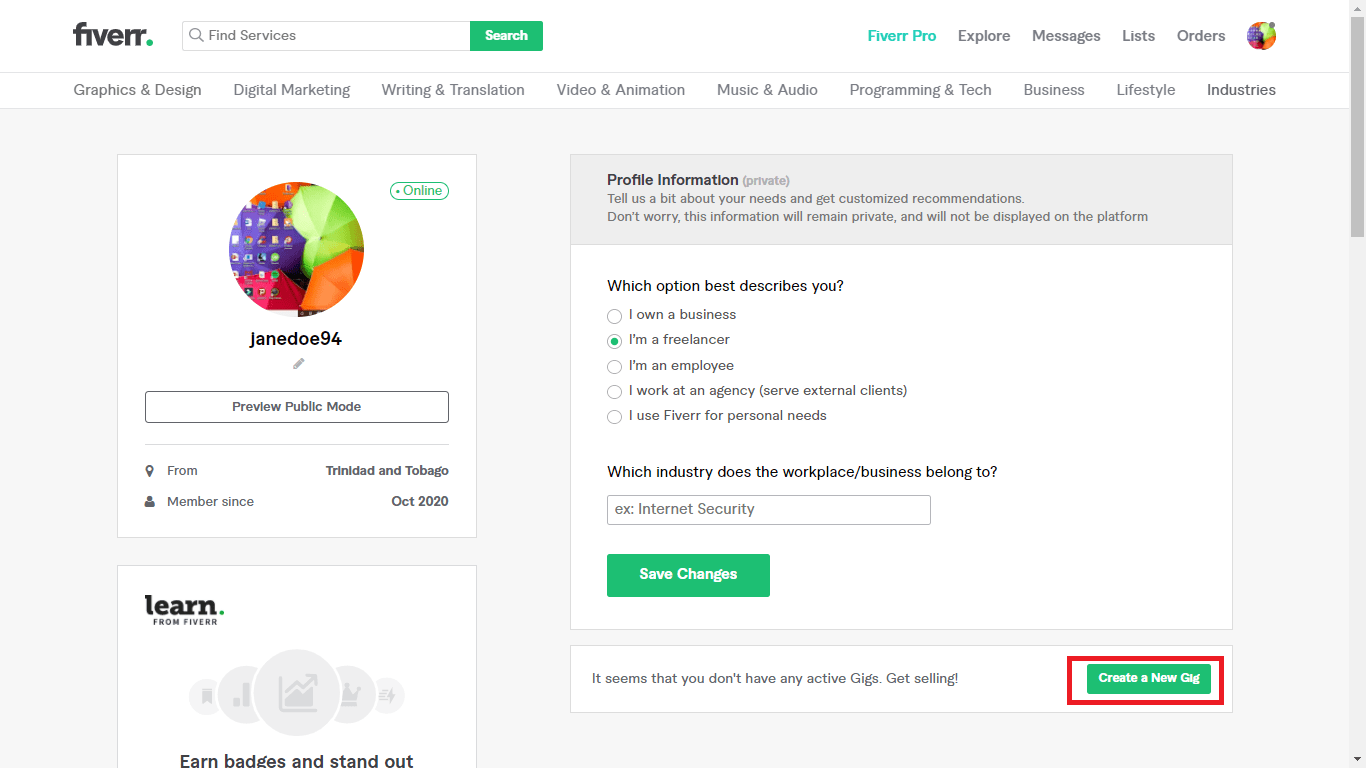 To begin selling your services, you'll have to create and publish a gig. Do this by clicking
Create a New Gig
in the bottom-right of your main profile page. Enter a gig title, category, and any search tags – for example, languages you're proficient in or app types you specialize in – that buyers can use to find you.
For the category, choose Programming & Tech, scroll down to Mobile Apps, and select your type of service, like bug fixing or app improvements.
 Write up a detailed description for each package tier and include any package add-ons you want clients to be able to choose. These could include multiple revisions, rush delivery, or commercial use permissions. Publish your gig and you'll immediately begin showing up in buyer searches.
You can offer up to seven gigs at a time as a new user, but this limit will increase as you spend more time on the site.
The best way to get a feel for the buying process with Fiverr is to
become a buyer yourself
. You can choose from thousands of $5 gigs, so feel free to get creative as you search for a fellow freelancer to hire. Once you commission a gig, you'll gain a better understanding of how to detail your gig to provide buyers with a great experience.
Final Thoughts
Most Android app development options leave you at risk of bleeding money for weeks with minimal guarantee of gaining a workable result. That's why I really like this platform. Fiverr gives you
access to thousands of skilled Android developers
, many of them hirable for just $5. Access to this sort of talent at these prices just isn't possible on any other legitimate platform. But, don't take my word for it. You don't need an account to search for freelancers, so you can explore Fiverr completely commitment-free. You'll only need to create an account when you decide to hire a freelancer.
FAQ
Where can I find a freelance Android developer?
Fiverr is your key to finding affordable and skilled freelance Android developers. It's among the top freelance websites for hiring experts in a variety of industries. The platform is easy to use, can be browsed commitment-free, and is ideal for buyers seeking economical hiring solutions, especially when you can hire an Android developer for only $5.
How much do freelancer Android developers charge?
The amount a freelance Android developer charges differs depending on their experience, location, and variety and quality of their skill set. Fiverr freelancers can offer packages that begin at just $5, but package costs are set by individual freelancers and can range into hundreds of dollars for more complex requirements.
What skills do Android developers need?
A skilled Android developer should be proficient in at least one programming language, know how to successfully submit apps to the Play Store, and be able to talk through your requirements with you. They also need experience in creating the type of app you want, so that they understand what's required.