Some are too basic and don't give you access to useful features like form customization and analytics.
Others are overly complex, either requiring you to know how to code or making you pay for a whole bunch of features you don't need. You don't want to end up wasting your time and money. That's why
I tested all the major WordPress form builders on the market and reviewed the seven best options below.
Read on to find out which is the right one for your specific needs.
In a Hurry? Here Are Our Top WordPress Form Builders
Ninja Forms – Easiest to use thanks to its drag-and-drop interface
FormCrafts – A good pick if you're going to create forms that can accept payment
Formidable Forms – The best choice if you want a customized form and aren't afraid of coding
What We Look For in the Best Online Form Builders for WordPress
As a business owner, I've been using forms for a variety of reasons for years – collecting client data, receiving support requests, and managing event registrations. While looking at form builders for WordPress, I used the following criteria to choose the seven best options based on my experience:
Ease of use: Some features make a form builder more intuitive to use, such as a drag-and-drop interface or a form builder wizard.
Templates for different types of forms: The best design for a form will depend on how you want to use it. You may need different templates for creating quizzes, conducting surveys, or accepting payments.
Customization: Not every form template will be perfect for your situation. Being able to change the layout, the number of fields, and other elements can help personalize the form for your needs.
#1 Ninja Forms – The Easiest Form Builder to Use
Ninja Forms is one of the most popular form builders for a reason – it's simple to use but also flexible enough for advanced users
, and it has a decent
free plan
. The first thing that stood out was the simple drag-and-drop interface. I found it straightforward to change the form fields and labels.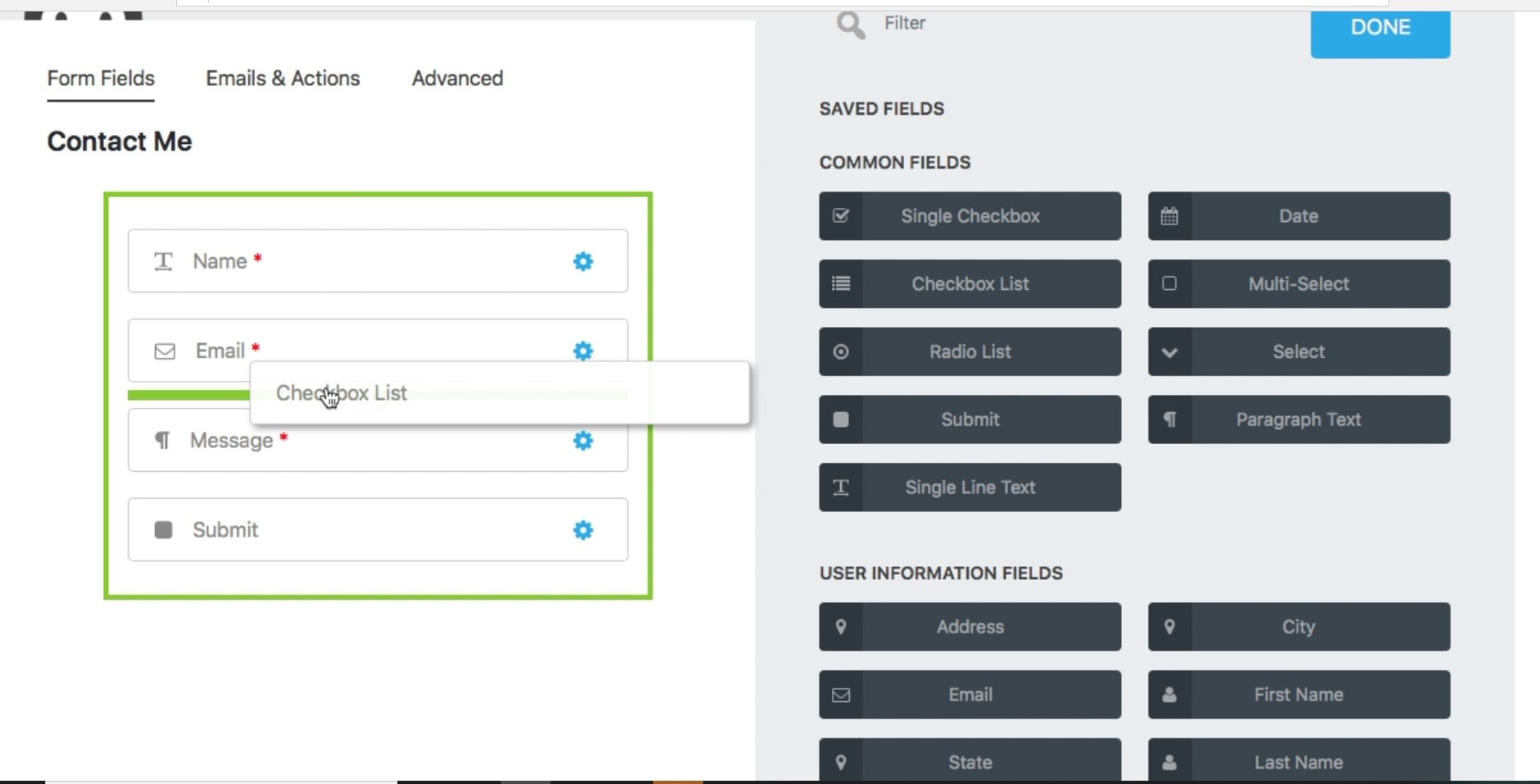 Ninja Forms automatically customizes the look and feel of the form to match your WordPress website, which can be both good and bad.
It's great if that's what you want – no tweaking required for your form to seamlessly integrate with your website. But it can feel limiting if you want more flexibility without having to use developer tools. A few other features worth noting:
Add-ons: Ninja Forms offers the option to create your own plan with add-ons, such as e-commerce, CRM, and content management. By creating your own plan, you don't have to pay for features you may not need. You can purchase each add-on individually or gain access to all 40 with an Agency-level subscription.
Developer tools: If you're familiar with coding, you can bypass the editor and use development mode for customizations with HTML and JavaScript. Other options include field mapping for newsletter integrations and actions for form settings.
Export submissions: With one click, you can export your form submissions into PDF, Google Sheets, or Excel – making it easy to use the data. For example, you can set up a registration form to export new information into a Google Sheet instead of having to enter the data manually.
Payments and donations:
On paid plans, you can add a button that lets you receive payments (PayPal Express, Stripe, Recurly, and Elavon) directly from any form. Even better, the feature offers flexibility – you can receive single payments, sign people up for a subscription, or let users enter an amount.
| | |
| --- | --- |
| Free Plan? | Yes |
| Money-Back Guarantee? | 14 days |
| Customer Support Channels | Ticket system and documentation center |
| Beginner Friendly? | Yes |
Read more in our
Ninja Forms review
.
#2 FormCrafts – Great for Accepting Payments
If you're new to form building or want basic but professional-looking forms, FormCrafts is a great option. However, if you are an advanced user, you may become frustrated at the lack of customization features.
One thing that stood out with this tool is that it allows you to receive payments, even on the free plan.
You are limited to using Stripe, however, unless you upgrade. Unfortunately, the free plan has restrictions on capacity, with only 3 forms and 50 submissions allowed. If you upgrade to the Startup plan, it offers good value for small business owners, with 10 forms and 500 submissions. Unfortunately, the free plan isn't very functional, with only three forms and 50 submissions allowed. If you are a small business owner or have minimal form needs, the Startup plan is a good value, with ten forms and 500 submissions. All four paid plans include the WordPress plugin. While the plugin is easy to use, the add-ons can add up (pun intended) quickly, so be sure to evaluate what you really need. Some of the best features:
Analytics: The visual dashboard lets you see your forms' performance, including information such as conversion rates, payment information, and form data. Change the time period to see the exact details you need – weekly, monthly, or custom.
Math formulas: By using simple field formulas, your form can do the math for you – calculating costs, determining size, or adding up participants. This feature also works with the payment add-on.
Conditional logic: You can personalize the form layout and data requested based on a respondent's entries. You can also use this information to send customized emails.
One-page payment: To keep customers from abandoning their cart, FormCrafts helps you create one-page checkouts. If you have the Stripe add-on, you can also accept coupon codes.
| | |
| --- | --- |
| Free Plan? | Yes |
| Money-Back Guarantee? | No |
| Customer Support Channels | Knowledge Base and Email |
| Beginner Friendly? | Yes |
Read an expert's opinion in our
full
FormCrafts review
.
#3 Formidable Forms – Top Form Builder for Techies
If you want to customize your forms and aren't afraid of diving into the tech details, you will love the flexibility of Formidable Forms.
 It's simple to access the HTML code in the tool and take your forms up a few notches. Formidable Forms has all the features you would expect – auto-filling of form fields, options for file uploads, and more than 30 field types. The only downside I found was that you have to pay for an entire year – there is no monthly option available. While there is a free version (called Lite), it only offers limited functionality and doesn't support many commonly used features, like calculator fields, surveys, and scheduling. Some interesting features of this tool:
Repeater fields: Respondents often need to add information to forms, such as additional people for event registration or employment history for job applications. Instead of crowding your form with optional fields, repeater fields enable your users to add as many fields as they need.
Customized autoresponders: You can create several customized responses in advance that are sent to respondents after they complete a form.
Scheduler: If you want to include a limited offer or event, you can set an open and close date for your form. With this feature, you won't need to write any more sticky notes to remind yourself to remove a form.
File uploads: Form options allow users to add PDFs, photos, Word docs, and other files. This file upload feature is great for when you need to collect resumes, cover letters, or content submissions.
| | |
| --- | --- |
| Free Plan? | Yes, Lite |
| Money-Back Guarantee? | 14 days |
| Customer Support Channels | Ticket system and knowledge base |
| Beginner Friendly? | Yes, but less than other form builders |
See more in our
Formidable Forms review
.
#4 SurveyMonkey – Best Choice for Gathering Data
One of the best features of SurveyMonkey is SurveyMonkey Genius, which analyzes your survey, scores it, and tells you how to make it better
. Its AI (artificial intelligence) can also help you pick the right questions to begin with, and suggest how to phrase your answer options. If you are offering a piece of content (a whitepaper, e-book, or webinar recording) in exchange for completing a form, you must use SurveyMonkey's developer tools.  For that reason,
I don't recommend using this tool for distributing content unless you are a developer
or are familiar with their API. SurveyMonkey offers specialized products for an extra cost. My favorite is Wufoo, which collects payments. Also, SurveyMonkey CX can analyze customer satisfaction with Net Promoter Scores (NPS).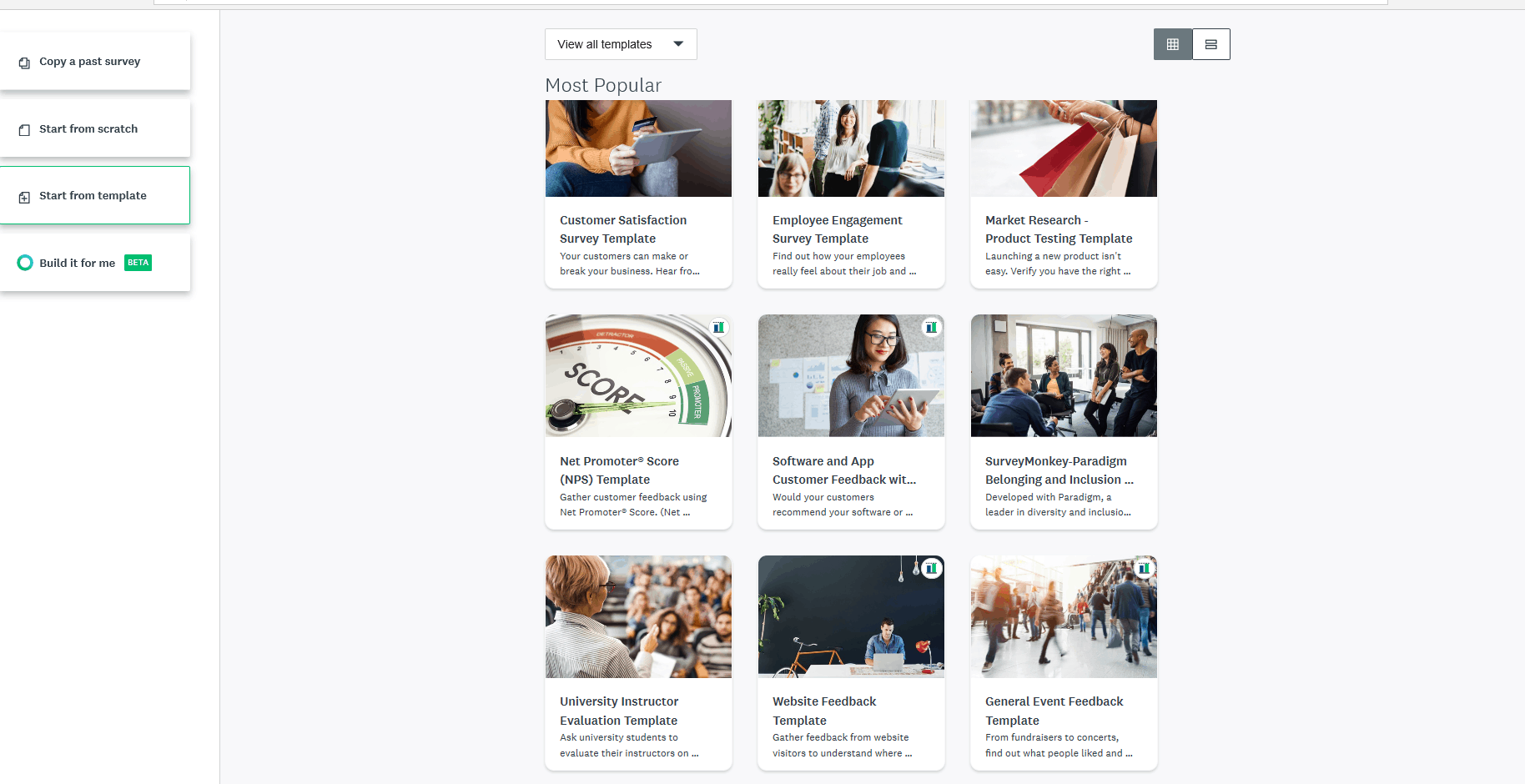 Other features you may need include:
Charts and graphs: You can wow your boss with visual representations of your data – no designing required. The customizable design makes it simple to use your company logo and colors.
Export results: SurveyMonkey lets you view the results of your survey in the dashboard. However, if you want to export those results, it supports several formats, such as PDF, TXT, CSV, or PPT.
Sentiment analysis: Available on the Premier, Team Premier, and Enterprise plans, this feature reviews open-ended comments and provides insights on users' perspectives. You can filter results by sentiment or by question. For example, if many respondents use the words "unhealthy lunch options" in open-ended questions about a conference, the tool will note this.
Customizable templates: Several dozen templates are available to use as a starting point. All are easy to customize – no coding required.
| | |
| --- | --- |
| Free Plan? | Yes |
| Money-Back Guarantee? | No |
| Customer Support Channels | Phone, email (via contact form), help center |
| Beginner Friendly? | Yes |
Learn more in our
expert
SurveyMonkey review
.
#5 Cognito Forms – Full of Free Features
When I first opened Cognito Forms, I actually smiled.
The interface is clean, simple, and you automatically know what to do.
The three tabs at the top of the tool are easy to navigate; they help you build and publish forms as well as view entries. I also found the tooltips helpful; the tool predicted tasks I was trying to complete and gave suggestions based on the prediction.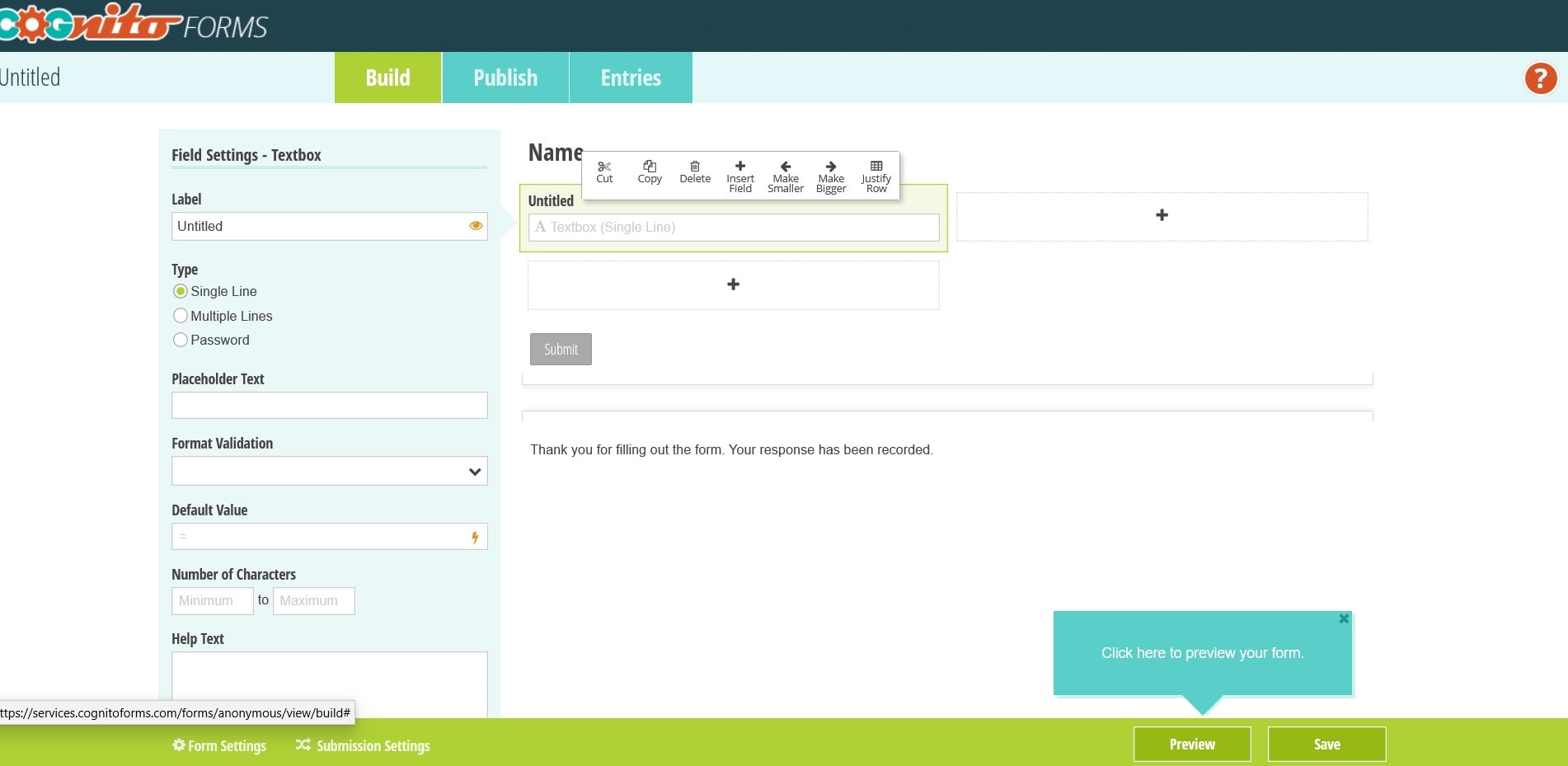 Of all the form builders I reviewed, Cognito Forms had the most features on the free plan.
It even offers conditional logic on the free plan, which most form builders reserve for paid plans. All of the plans offer unlimited forms, but the number of entries allowed, as well as the amount of storage, vary widely. I found the templates to be some of the most attractive of all the form builders I tested. The forms I created looked professional and clean. With over 50 templates, I had a wide variety of options to choose from, ranging from Deck Your Desk Contest to Credit Card Authorization. Other great features include:
Lookup field: With the Team plan and above, you can save time by automatically pulling data from one form into another. You can then pre-fill dropdown lists, calculate data, or even dynamically change text in another form.
Analytics: Cognito Forms connects with your Google Analytics account. I found the page view counter for multi-page forms helpful to see where people were dropping off.
Data encryption: If you plan to collect sensitive information, such as credit card details or driver's license numbers, the Team and Enterprise plans both offer encryption. This makes it much harder for hackers to steal data and respondents more comfortable to share their information.
Card on file: People hate having to go and find their credit card. This feature lets you safely store a customer's payment information so they can click a button to buy a product in the future.
| | |
| --- | --- |
| Free Plan? | Yes |
| Money-Back Guarantee? | No |
| Customer Support Channels | Forum or email |
| Beginner Friendly? | Yes |
Check out our
full
Cognito Forms review
for more information.
#6 WS Form – Free Contact Forms Right from Your WordPress Dashboard
One thing I like about WS Forms is its easy-to-navigate interface right from the WordPress dashboard.
You can choose from 16 free templates and a range of Pro templates for e-commerce, invoicing, and bookings. If all you want to do is set up a contact form on your website, then the free version of WS Form will do the trick. For more design options and features, such as e-commerce, you can upgrade to the WS Form Pro Edition. The Pro Edition offers a wide range of functions across three plans; Personal, Business, and All Access.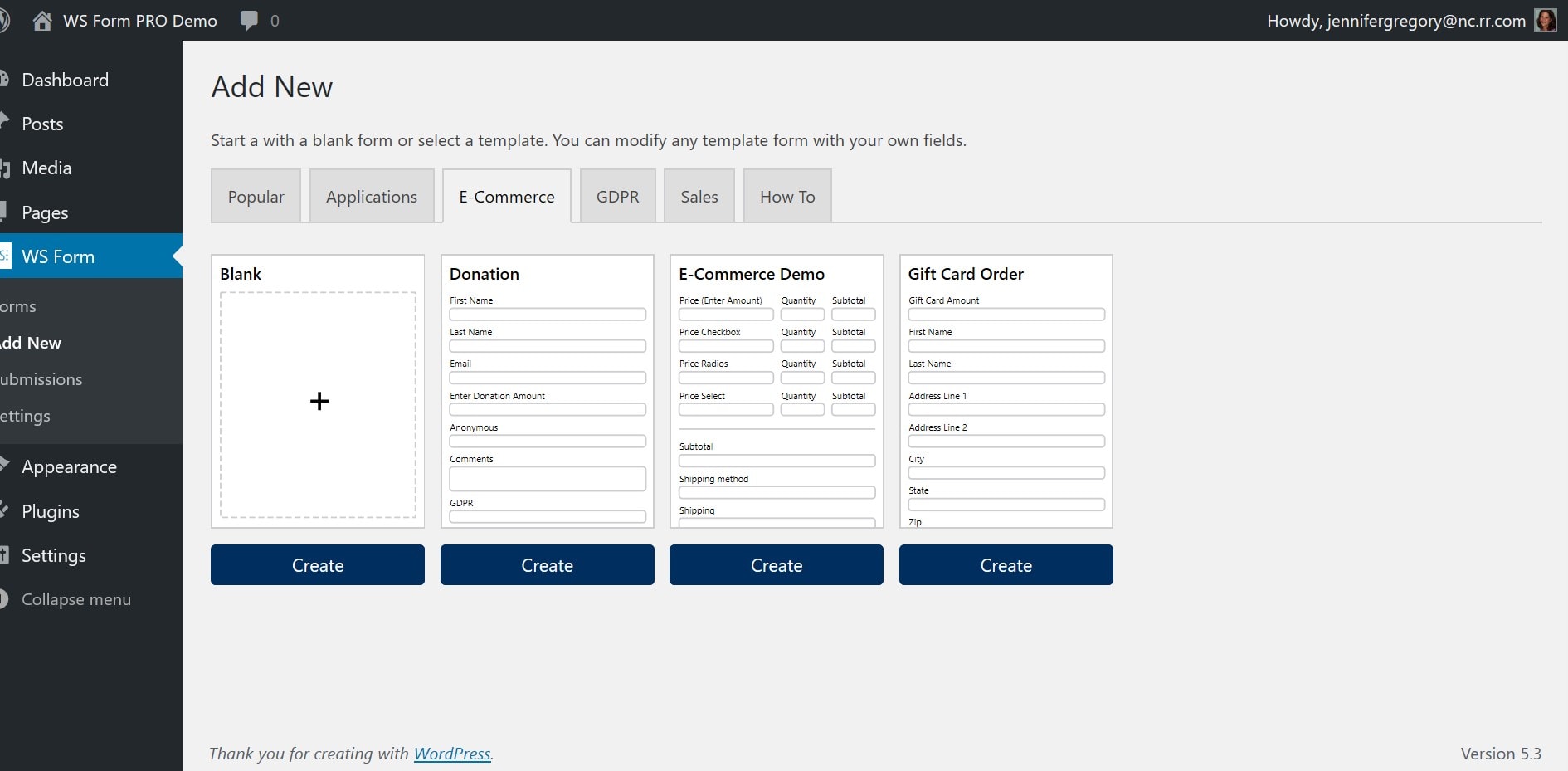 A potential downside to this WordPress form builder is its lack of design customization options. The WS Form templates adapt to your WordPress theme, and to change the way they look requires knowledge in CSS. If you want more control over the design of your forms, this builder may not be right for you. Standout features:
Developer tools: With the Pro version, you can troubleshoot with the debug console and dive into the HTML of a form. If you don't want to worry about code, however, you never have to touch these tools.
Conditional logic: The Pro plan allows you to change the form fields based on user responses. You can change the text on the form as well as personalize emails using the data collected.
Submission management: From the WordPress console, you can do everything you need with the form responses – send, review, print, and export.
Responsive forms: All forms you create with WS Form show up just as nicely on mobile devices as desktops with no extra step required.
| | |
| --- | --- |
| Free Plan? | Yes |
| Money-Back Guarantee? | No |
| Customer Support Channels | Knowledge base and email |
| Beginner Friendly? | Yes |
For more information, see our
in-depth
WS Form review
.
#7 Gravity Forms – Affordable Tool for Businesses
I am conflicted about Gravity Forms. On the one hand, it offers a lot of advanced features with the Basic License. You can even create surveys and set up order forms.
However, I found this tool harder to use than others
. Instead of a standalone interface, it only works in the WordPress dashboard. While that worked for WS Form, it was more difficult to add form fields and find what I needed with this tool.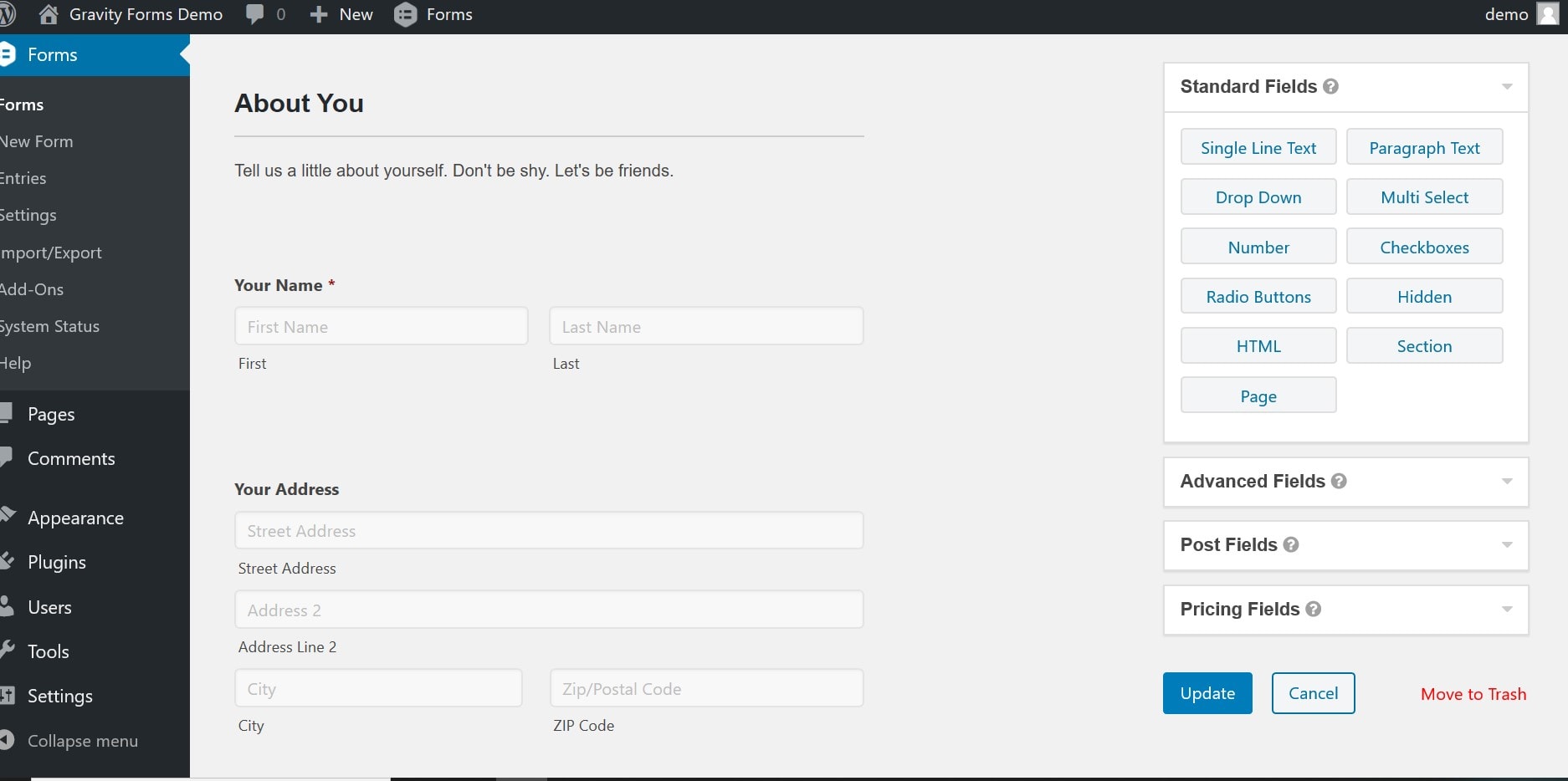 Gravity Forms doesn't have a free version; however, the prices are affordable, especially if you only have one website.
You can also get a demo to test out its features before you buy it. A few outstanding features:
Limit submissions: If you want to restrict form entries (for instance, for an event with limited seating), you can set the form to close automatically after a chosen number of submissions.
WordPress post creation: Gravity Forms allows you to create a form as a WordPress blog post, or add a form to an existing post.
Save and continue: This feature allows respondents to save their progress and finish a form later, which is especially helpful for multi-page forms.
Unlimited forms on all plans: You can create as many forms as you like with over 30 fields and no restriction on submissions.
| | |
| --- | --- |
| Free Plan? | No, but there is a free demo |
| Money-Back Guarantee? | No |
| Customer Support Channels | Knowledge base and ticket system |
| Beginner Friendly? | Yes |
Read our
Gravity Forms review
for more information.
Getting Started with WordPress Form Builders
By now, your head is probably swimming with form builder features and knowledge. So what's the best option for your needs? Here are a few quick recommendations:
If you are new to creating forms, then Ninja Forms is a great place to start.
If you want to create a survey-style form, then SurveyMonkey is your best choice.
If you are looking for a free option that gives you enough features to impress your users, try Cognito Forms.
Ultimately, you should contemplate the features that hold the highest importance for you, considering your utilization of the form builder. Do you prioritize ease of use, or does customization matter more to you? Evaluate the advantages and disadvantages meticulously, enabling you to arrive at the most fitting decision.