But you can't afford to pick the first logo maker that comes up on Google.
The abundance of choice can be overwhelming.
I tested all the major design services available right now and was only impressed by a handful.
Most don't deliver unique enough designs to help you tell your story and stand out. Others are just too expensive. Identifying the top performers is key to saving time and getting great results for cheap. And that's exactly what I did.
Hiring a business logo expert on Fiverr was easy and affordable.
The Wix Logo Maker tool also helped me craft one-of-a-kind, high-quality logos with minimal effort. Keep reading to learn more about my top picks.
Short on Time? These Are the Best Business Logo Makers in 2023
Fiverr – Massive freelance platform to hire logo designers AND an advanced logo maker to do it yourself
Wix Logo Maker – Super customizable DIY tool with thousands of elements for every type of business
Looka – Beginner-friendly experience with many extras and a fail-safe way to get a professional logo
What We Look For in the Best Business Logo Makers
I zeroed in on a few essential elements to compare the services fairly and find the best business logo makers. The main criteria I focused on were:
Beginner-friendly interfaces. My top recommendations are easy to use, even without design experience. DIY tools should be able to create logos in a few minutes, while freelance platforms should consistently deliver orders within 2-3 business days.
Free-to-try tools. If you decide to go the DIY route, you should be able to try a logo maker at no cost to determine if it's the right tool for you. Extra points if you're also able to download a free sample.
Customization. You want enough design features and editing options to make a unique business logo true to your brand's vision. The more you can change (e.g., fonts, shapes, colors, layout), the better.
Cost. Business logo platforms should offer various products so you pay only for what you need. All the services on my list offer affordable deals and packages.
Added functionality. Designing your logo is only the beginning. I appreciate platforms that encourage you to take things further with social media kits, prints, and marketing tools.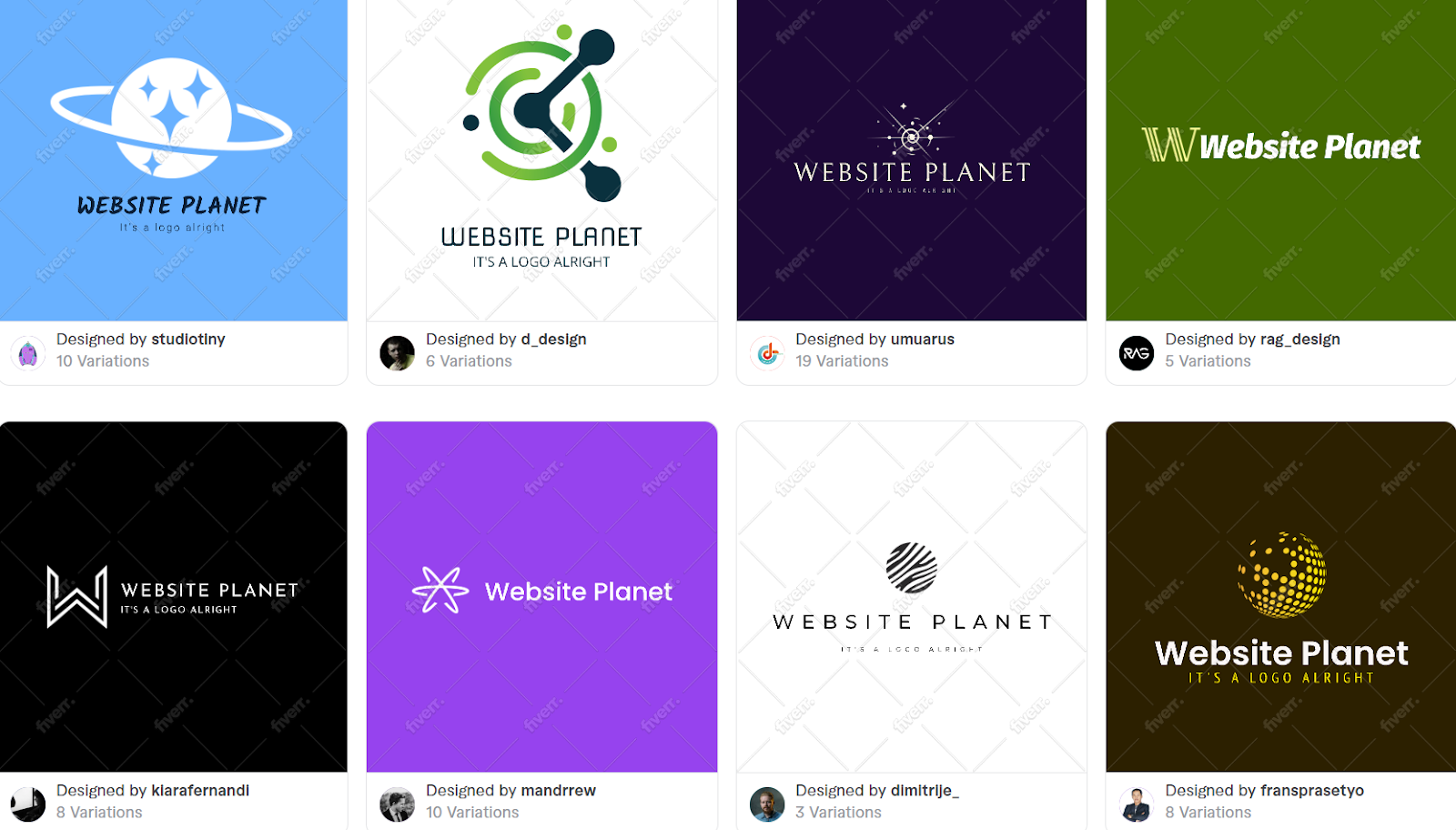 Fiverr is my go-to platform for all things logo.
It features affordable prices, a user-friendly interface, and thousands of freelancers specializing in business logos.
If I know what I want and need to get it done ASAP, I use the advanced filters to find the right fit. I like how Fiverr also features
a fully functional logo maker
.
If you're open to new concepts and ideas, Fiverr's Logo Maker is great for experimentation.
Like the freelance platform, it's easy to use and can come up with neat designs. The AI wizard asks questions to pinpoint your brand's aesthetic and offer more relevant results. Customization isn't too extensive, but creating a great-looking logo with this tool took me less than 15 minutes.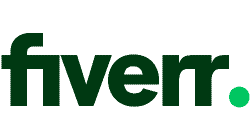 Save up to 20 % on your Fiverr Logo Design plan!
Limited-time offer - Don't miss it!
656 users used this coupon!
Features
Diversity. Fiverr's massive pool of freelancers is pretty impressive. No matter your business, you'll find someone with experience to deliver on your request.
Vetted experts. You'll see a "Pro" switch when searching for business logos. Click it to see gigs only from highly qualified professionals that Fiverr has rigorously hand-vetted.
Low cost. Whether you hire someone directly or use the logo maker, Fiverr is an affordable option. Gigs start at $5, but even if you hire an expert and add extras, you'll still pay much less than you would at an agency.
Secure payments. Payment on Fiverr is only released once your order is delivered. If you're unsatisfied with the result or your freelancer is unresponsive, you can quickly request a refund and get your money back.
Read our
expert Fiverr review
for more details.
Free to try

✔

File Formats
Depends on seller
Advanced Customization/Brief

✔

Starting Price

$

5.00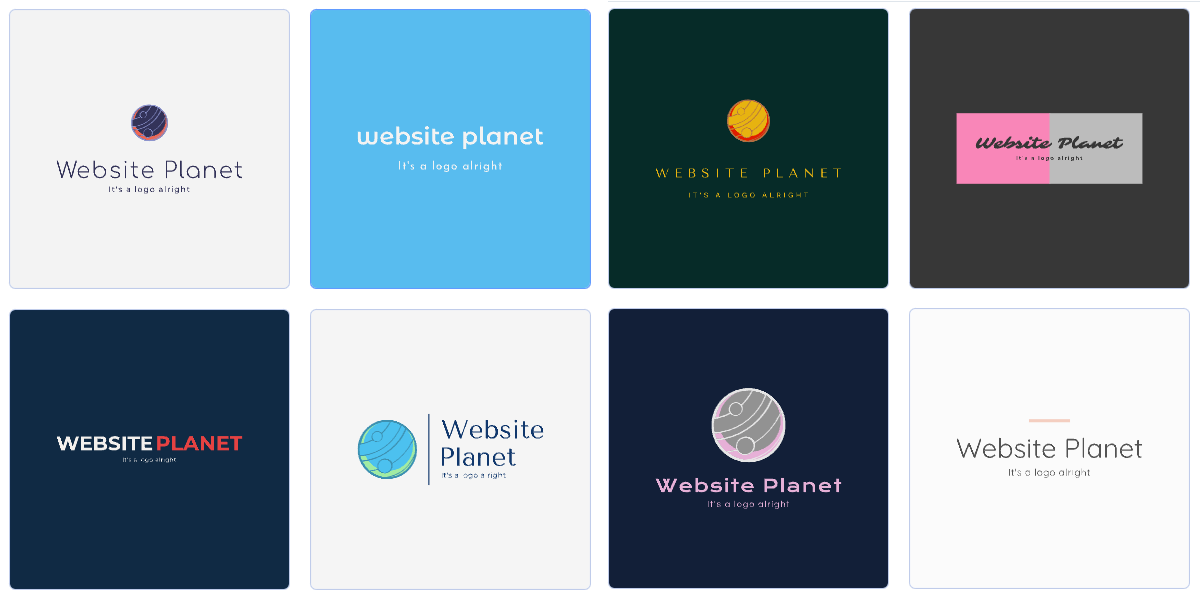 Wix Logo Maker offers top-notch results without draining your wallet. It's a top performer delivering high-quality logos that align with your brand and creative flair. Just
answer some quick questions
,
specify your style preferences, and let the platform do its magic.
What sets Wix apart is its laser focus on customization.
You can tweak anything, from colors, fonts, symbols, shapes – your imagination is the limit. The base element library is vast, and If you spend enough time customizing things, you
will
create something unique. That said, you really do need to get hands-on if you want to produce the best designs – I found the design wizard doesn't always provide great results on its own. Of course, Wix is primarily a website builder, and some packages include both services. The logo maker stands on its own, but if you're also in the market for a website, Wix is the obvious choice.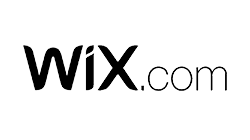 Get your first Wix Logo Maker logo for just $20.00!
Customize & download the perfect logo at a discount.
1487 users used this coupon!
Features
Versatility. After your logo is ready, Wix easily incorporates it into various branding channels, including business cards, print, and websites.
Free Low-Resolution Samples. A rarity in the world of logo makers, Wix offers free low-res samples suitable for social media profiles or YouTube channels.
Expert Design Assistance. For those who find the DIY approach overwhelming, Wix offers professional design services at an additional cost. You can hire them to help you with the logo maker or create something entirely new from scratch.
Brand guide. Wix gave me a brief brand guide with all my logo files. It included the hex values for my chosen colors and the names of the typefaces I picked.
Check out our
detailed Wix review
to learn more.
Free to try

✔

 + free sample
File Formats
High-Res PNG files (5000 x 5000 px)
Advanced Customization/Brief

✔

Starting Price

$

20.00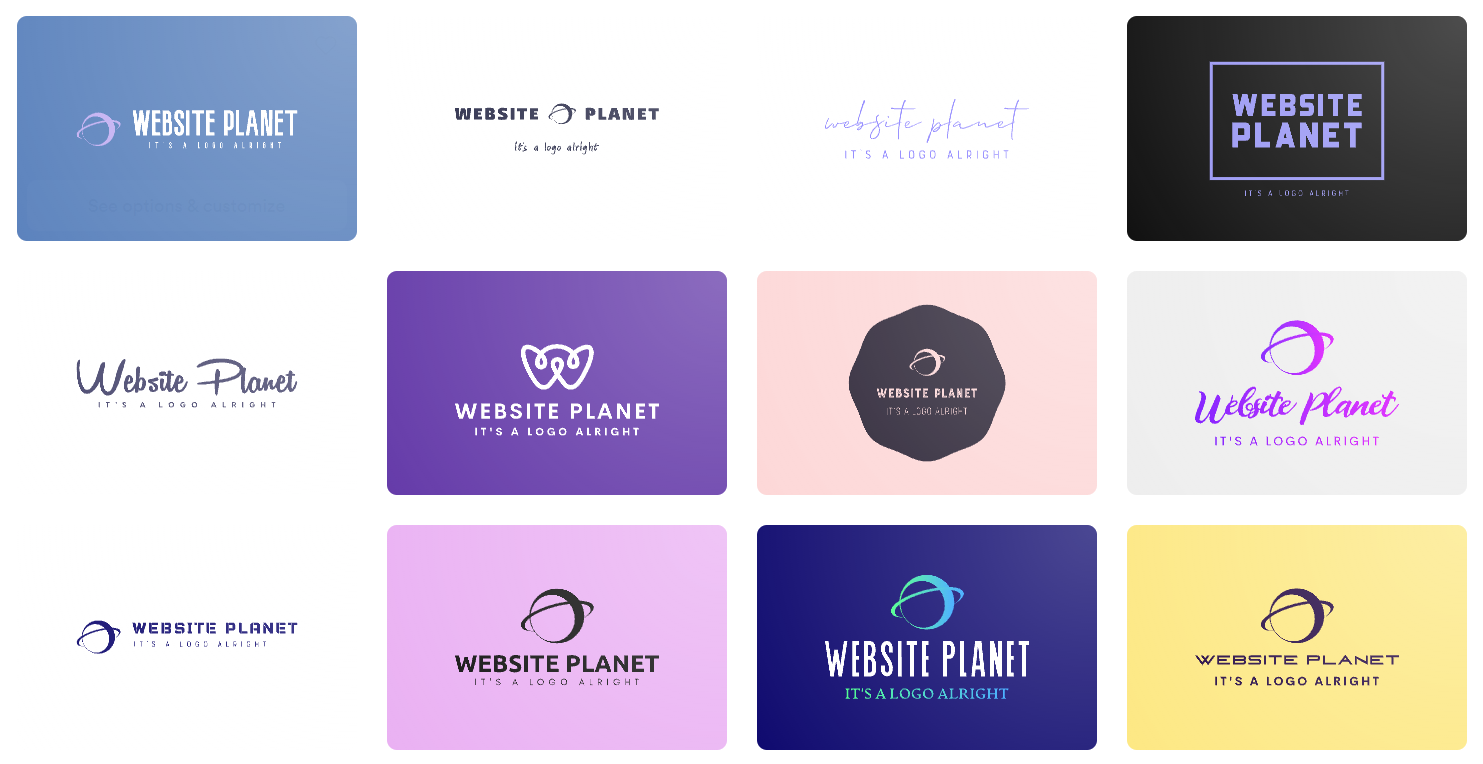 Looka delivers dynamic, eye-catching business logos within a few minutes. Its
AI-powered setup wizard
 is quick and effective, consistently generating solid designs that fit your brand's personality. The user experience is remarkably straightforward.
I had a great-looking logo ready in under 15 minutes.
While customization is limited compared to some platforms, Looka's default elements are both visually appealing and business-appropriate. I even tested the editor by intentionally attempting to misalign stuff, but Looka's foolproof system kept everything in place. If you have little experience with logo makers and want a design that'll look nice no matter what, give Looka a go.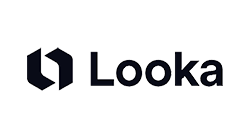 Get 10 % off Looka annual plan
Define your brand identity without breaking the bank.
Your Looka with your first % on 31/12/2023!
70 users used this coupon!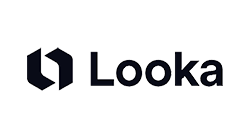 Get 10 % off Looka annual plan
Copy and paste this code at Looka
Features
Free edits. Looka will let you edit your logo for free for the first 72 hours after purchase. This is ideal for those "oops" moments that all designers are familiar with. It is also an excellent feature for the indecisive among us.
Format Freedom. All packages include over 15 high-res file types like SVG, PNG, EPS, and PDF, adaptable for any use case. Black-and-white, transparent, and other color/background combinations are also available.
Brand Kit. You'll receive a brand kit with over 300 matching templates that extend to 20 asset types, including invoices, flyers, and email signatures.
Beginner-Friendly. There's a searchable knowledge base accessible right from the "Help" window, conveniently located at the bottom-right corner of every page. You don't even have to leave the editor to find quick answers to common questions.
Our
updated Looka review
explores these features in depth.
Free to try

✔

 + free edits
File Formats
JPG, SVG, EPS & PDF
Advanced Customization/Brief

✔

Starting Price

$

96.00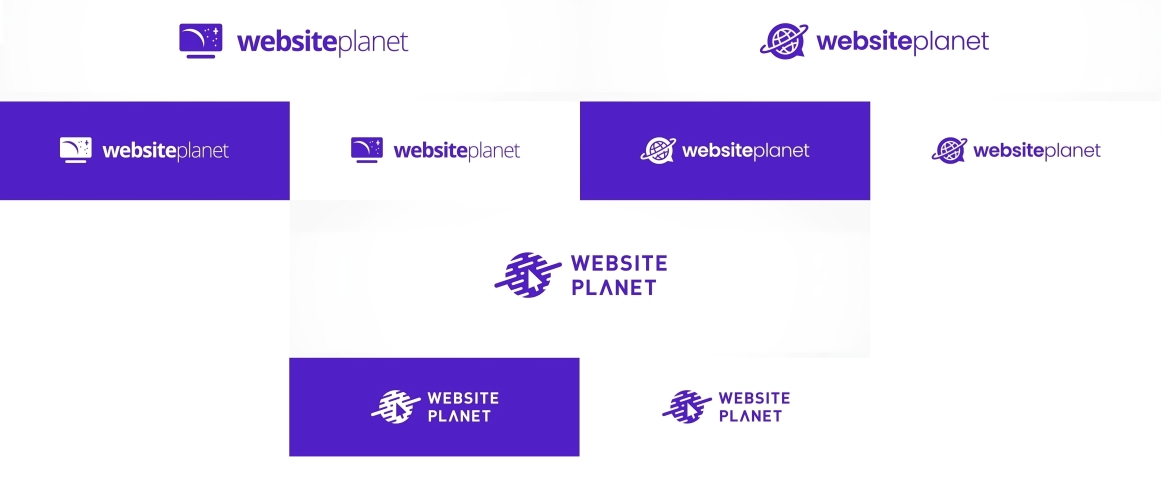 When you submit a design request on DesignCrowd, multiple designers work on your business logo, offering a wide array of options.
While more expensive than using a DIY logo maker, DesignCrowd provides value through the quality and variety of its design submissions.
Working with artists one-on-one is also an option.
Designcrowd offers packages catering to various needs
, from focused, single-designer projects to larger 7-day design contests with over 150 participants. If you have the budget and want to tap into as much talent as possible, this is how to do it. More expensive packages allow you to receive submissions faster and allow contests to run longer.
Features
Top Talent. The "Top Designers" add-on allows you to specify that only high-rated designers can participate in your project. That way, you'll only receive submissions from the best.
Privacy Features. DesignCrowd offers multiple privacy options like search engine blocking and NDAs to ensure your project stays under wraps.
Money-Back Guarantee: As long as your contest isn't listed as "guaranteed," you can ask for your money back within 60 days of your order.
Plenty of Revisions. If you pick a logo, you can ask for revisions within 7 days – no matter the package. More expensive packages come with more revisions.
Read our
expert DesignCrowd review
for more.
Free to try

✘

File Formats
EPS, JPG, PNG, Adobe Illustrator vector file
Advanced Customization/Brief

✔

Starting Price

$

109.00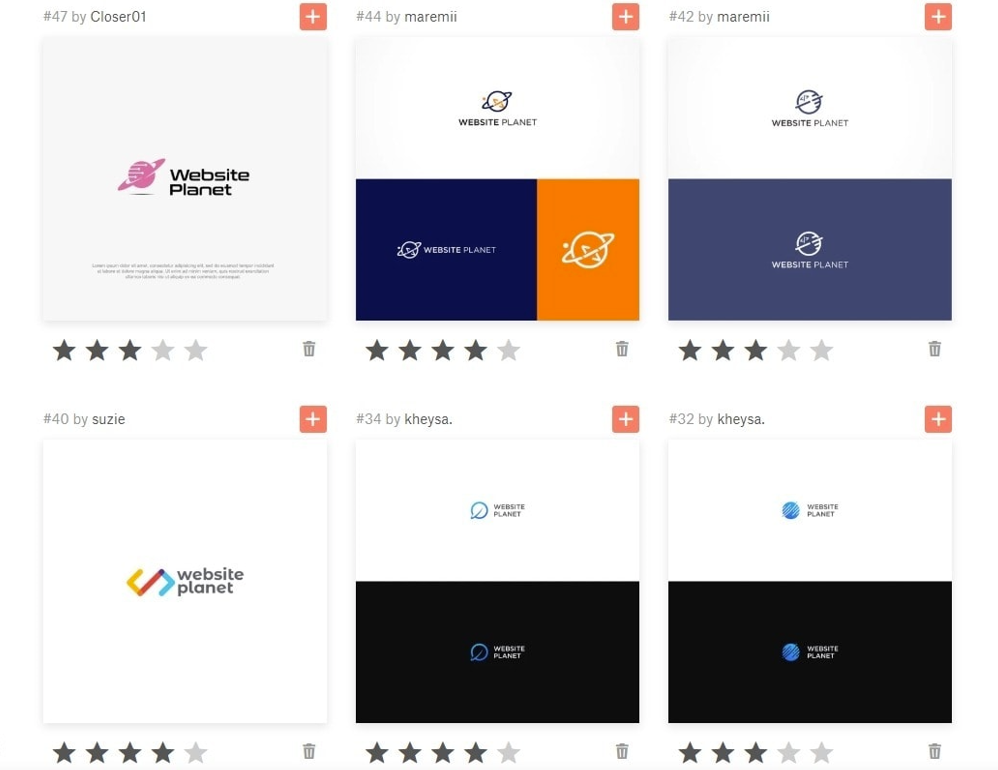 Similar to DesignCrowd, 99Designs is primarily a contest platform.
It's more pricey than Designcrowd but doesn't lock its best-performing artists behind an add-on.
If you purchase one of the most expensive packages, you'll automatically be able to access the platform's top performers. Based on my own testing, I found this resulted in at least a few great-looking business logos.
The user experience on 99Designs is also pretty smooth, mainly because it does
just
design.
It won't help you build a website or print your design on mugs and T-shirts for you. With fewer services available, I found the interface was much cleaner than Designcrowd's, so I spent less time looking for things. The "Pro" service that enlists the help of a dedicated manager and unlocks premium support sounds good – the high fee, not so much. 99Designs offers great quality overall, but its high prices place it out of reach for startups and smaller businesses.
Features
Private Contest. 99Designs allows you to hide your contest from search engines and prying eyes for an extra cost. This add-on is perfect for top-secret projects you don't want competitors to know about.
Simple Brief. 99Design's step-by-step wizard is especially good for logo design. The platform lets you browse similar logos, and you can define the look and feel of your brand with sliders.
Guaranteed Status. This free add-on marks your project as guaranteed, meaning you have to choose a winner at the end. Activating this will result in more and better designs.
Money-Back Guarantee. Much like Designcrowd, you have 60 days to ask for your money back if your project isn't guaranteed. This is great if you remain unconvinced or are just looking for ideas.
Check our
in-depth 99Designs review
to learn more.
Free to try

✘

File Formats
Depends on designer
Advanced Customization/Brief

✔

Starting Price

$

299.00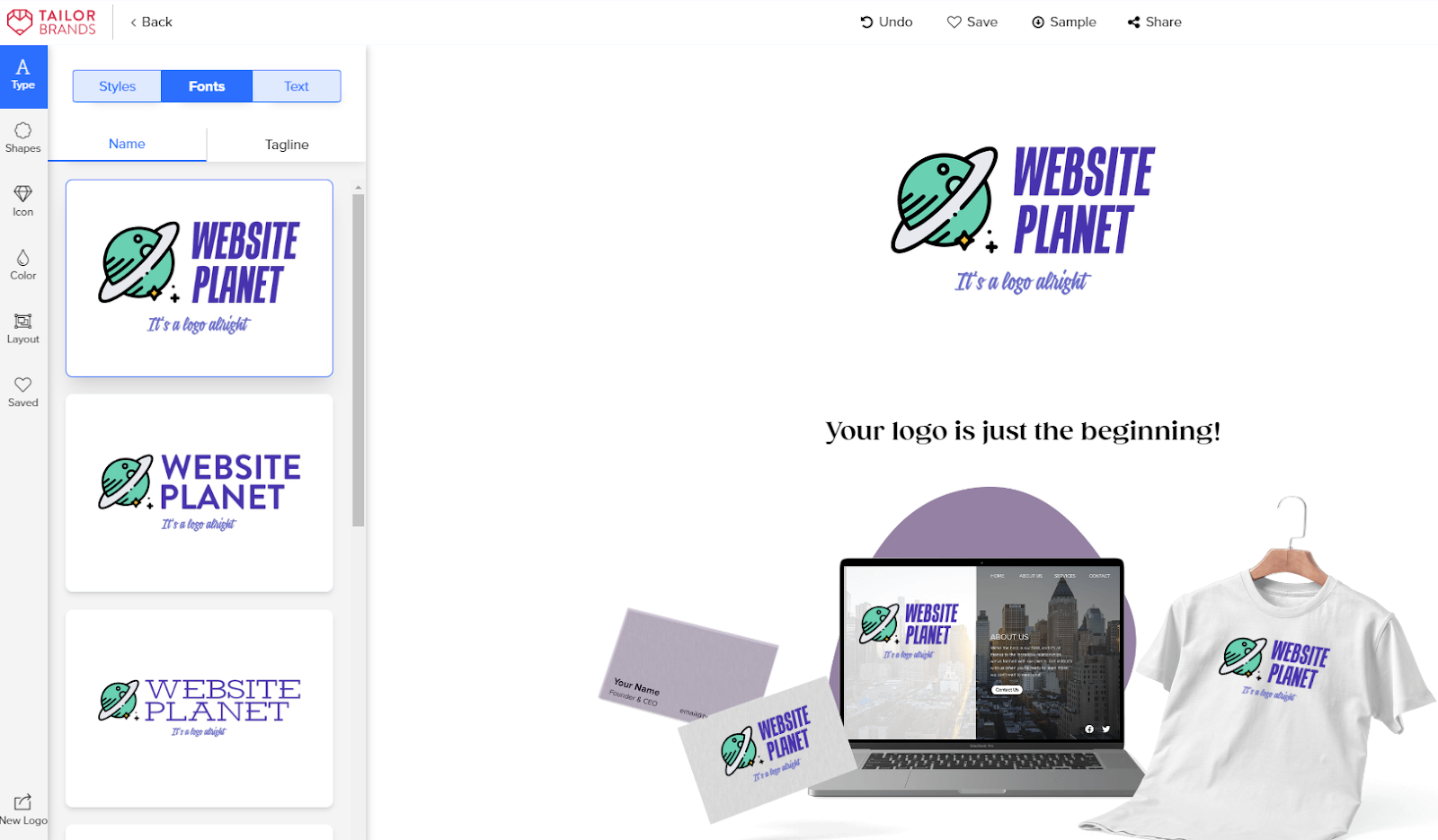 Tailor Brands' tool relies heavily on AI and delivers excellent results – but you need to answer all of the wizard's initial questions.
Otherwise, you'll end up with a much less relevant design. I like how I got a choice in the style of my business logo. Most tools won't let you have a say, but Tailor Brands allows you to pick between a name-based, icon-based, and initial-based (monogram) design right at the beginning.
The platform also stands out by offering a range of other branding services.
These additional services range from social media integration to business essentials like domain name suggestions, website creation, and business email setups.
Features
Saved Versions. Tailor Brands stores different iterations of your logo, so if you change your mind or want to revert to an older version, you can do so easily.
One-Button Logo Sharing. Aside from your sample, Tailor Brands gives you a shareable link (or QR code) with detailed previews of your logo on desktop, mobile, T-shirts, mugs, and business cards.
Mobile Accessibility. Tailor Brands offers a responsive mobile app, perfect if you need to manage your logo design and branding on the run.
Domain and Email Services. Beyond design services, the platform offers to help find suitable domain names and set up business emails, providing an all-in-one solution for your basic business needs.
Learn more by checking out our
in-depth Tailor Brands review
.
Free to Try

✔

File Formats
JPG, PNG
Advanced Customization/Brief

✔

Starting Price

$

9.99
Quick Guide: How To Get Your Fiverr Logo
Fiverr's Logo Maker is both capable and pretty straightforward to use. Follow these steps to get an affordable, great-looking business logo design from Fiverr in under 15 minutes: 1.
Visit the Fiverr Logo Maker page.
Type your brand name in the empty field and click the "Make Your Logo" button. 2.
Add a slogan.
You can skip this step and edit your slogan from inside the editor later. 3.
Give more information.
These are useful details about your industry, any specific elements you want your logo to include, and your preferred logo styles. Use the sliders to define your brand's personality. 4.
Create an account.
Once that's done, take your time to browse and pick a logo that stands out. Select a variation you like. 5.
Customize your logo.
Use Fiverr Logo Maker's advanced tools to change your logo's font, style, shape, color, background, and overall layout. 6.
Buy and download.
Once satisfied with what you've got, click the "
Buy & Download
" button, choose a package, and follow Fiverr's instructions to pay for your design.
Try One of The Best Business Logo Services in 2023
Thousands of websites promise quality business logos, but only a few deliver consistent results at a great price. Don't leave things to chance by picking a random DIY logo maker. For an affordable and visually impressive logo design, Fiverr and
Fiverr Logo Maker
 top my list, offering a blend of simplicity, functionality, and affordability – perfect for startups or budget-conscious businesses. If high customization is what you're after,
Wix Logo Maker
 provides a tailored approach best for managers and small business owners who know what they want. For a comprehensive package with additional branding elements,
Looka offers a one-stop solution
 for all your digital and print design needs. Here's a quick recap of everything we've looked at so far:
| | | | | |
| --- | --- | --- | --- | --- |
| | Pricing | Best Feature | Best For | |
| Fiverr | $ | Thousands of freelancers, easy logo maker | Small, budget-conscious businesses | |
| Wix Logo Maker | $ | Advanced customization options | Those who appreciate maximum design freedom | |
| Looka | $$ | Powerful AI and branding solutions | Small business owners with little design experience | |
| DesignCrowd | $$ | Affordable design contests | Businesses that want to run contests without paying a premium | |
| 99Designs | $$$ | Top-quality designs through large contests | Established brands that can afford to spend more | |
| Tailor Brands | $$ | Robust AI wizard | Small businesses with a specific logo style in mind | |
FAQ
How do I create a logo for my business?
Fiverr is an excellent platform for logo creation, offering a range of options from freelance designers to its own robust logo maker tool. Its user interface is intuitive, and all its services are affordable – and especially valuable to smaller businesses.
How much does it cost to create a logo for my business?
The cost of creating a logo can vary depending on your needs and the platform you choose. On Fiverr, you can get a decent logo for as low as $5. Wix Logo Maker charges around $20 for a single design, and design contests can be significantly more expensive.
How do I create a logo for free?
Most logo makers on my list will let you create a logo for free – but you have to pay to download it. Wix Logo Maker actually offers a free, low-resolution version of your logo that's big enough for social media profiles, including Google, X (Twitter), and YouTube.
Do I need a name for my logo?
Not really. It all depends on your brand personality and preference. Although many logos are text-based, numerous companies opt for icon-based logos that include little-to-no text. Initial-based and monogram logos are also popular, especially among freelancers and solo entrepreneurs. Whether your logo needs a logo or not, you can get started on creating one with any of these top logo design services.