While I usually recommend using an online logo maker for a personal logo, it's not a great solution for a business.
If you want new clients to take you seriously, you need a logo that's going to look professional and reflect your particular brand. My colleagues and I have
tested all the top logo design services
out there, and I have some good news for you. You can actually hire an experienced freelance designer to create your logo for less than what you'd pay for a basic logo maker package, and you get better quality, too.
Jump down now to find out how.
If you prefer to do your own thing, I'll also share some of my favorite DIY logo makers – these are the ones that offer advanced customization options and provide you with all the file formats you need.
Business Logo Design Services – Our Top Picks:
Fiverr – A freelance platform featuring skilled logo designers at reasonable prices
Wix Logo Maker – Drag-and-drop simplicity with lots of customizable options, including resizable icons, flexible layouts, and plenty of font choices
Tailor Brands – Speedy logo creation tool driven by artificial intelligence (AI), with a massive icon library and adjustable color palettes
Looka – Intuitive, AI-powered platform that generates dozens of logo concepts based on your business niche and design preferences
DesignEvo – Robust design platform that lets you create logos from premade templates, or from scratch if you have design experience
LogoMaker – Clean and simple design tool to create eye-catching logos and branded promotional products
What We Look For in the Best Logo Design Services
Beginner-friendly interfaces: These tools should be easy to use, even if you have no previous design experience.
Free-to-try tools: If you decide to go the DIY route, you should be able to try a logo maker at no cost, so you can decide if it's the right tool for you.
Customization: You want enough design features and editing options to make a unique logo that's relevant to your brand.
Pricing options: Business logo platforms should offer a variety of product packages, so you pay only for what you need.
High-quality results: No matter which tool you use, you should end up with a clean, professional business logo that gets you noticed.
DIY logo makers offer a nice mix of affordability and control over your design, but working with one can eat up a lot of time if you don't have a lot of design experience. Not only that, but you could end up with a logo that's very similar to someone else's. Your best bet is to
hire a logo designer on Fiverr
 to create a custom business logo just for you – and doing so can cost a lot less than you'd expect.
Fiverr
features a wide range of creative services for hire, with gigs that start at just $5
. With only a small investment, you can free yourself up to build your business, while an experienced designer creates a unique logo tailored to your needs.
Some Key Features Fiverr Has to Offer
Designer profiles display their work samples, with customer reviews to help you choose the right logo creator for your needs.
With Fiverr's mobile app, you can quickly exchange messages with your designer, even while you're on the go.
Search filters help you narrow down options by project type, location, delivery speed, and more.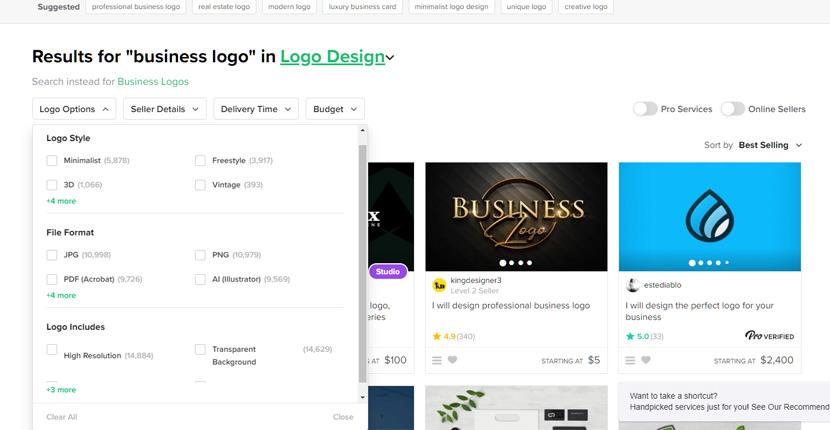 Pro-Level Design Services
If you're looking to hire one of the best logo designers available, Fiverr's Pro services feature highly vetted talent, ensuring that you'll receive premium-quality results. Although Pro-level services start at higher prices than standard Fiverr gigs,
these designers will go the extra mile to knock out a logo that's uniquely yours, and revise it until you're 100% happy.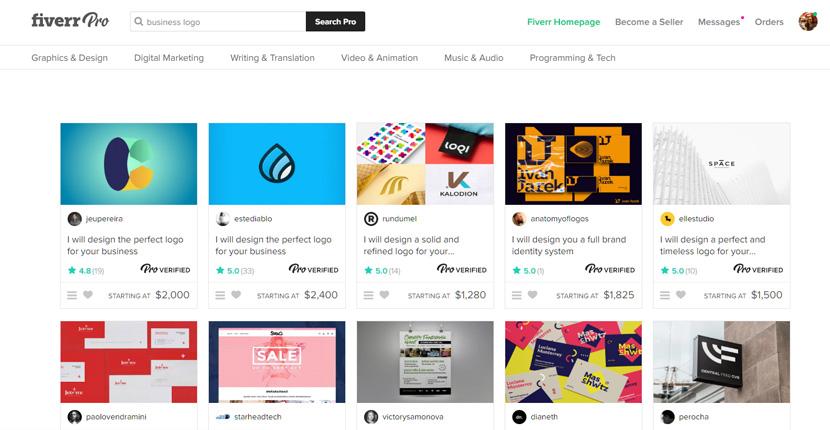 Fiverr is also a safe place to do business – your funds are held by the site until you've approved the final delivery of your logo design. Only then is the designer is paid for the completed work.
This process ensures that you won't get scammed or ghosted during the design process on Fiverr, or left without a finished product (or refund).
Business Logo Examples by Fiverr Designers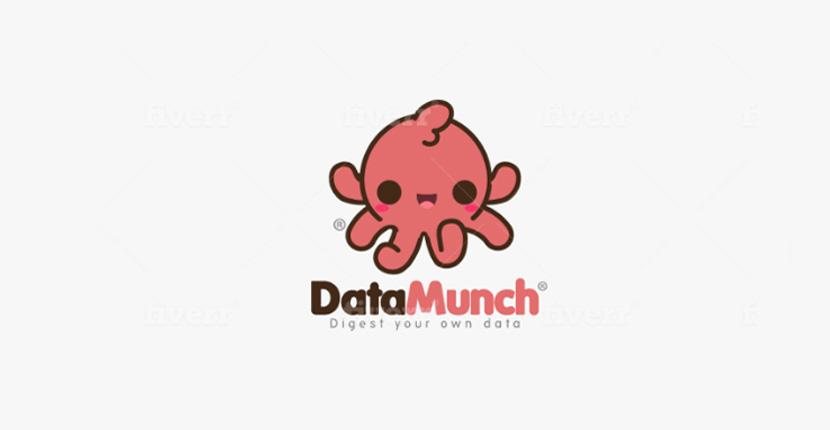 Logo by tnknwrks
(hire tnknwrks for $5)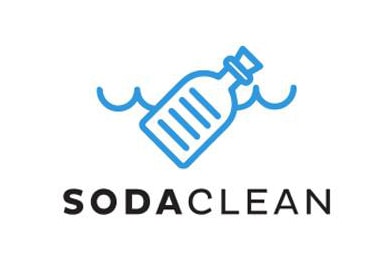 Logo by sl_logomarket
(hire sl_logomarket for $25)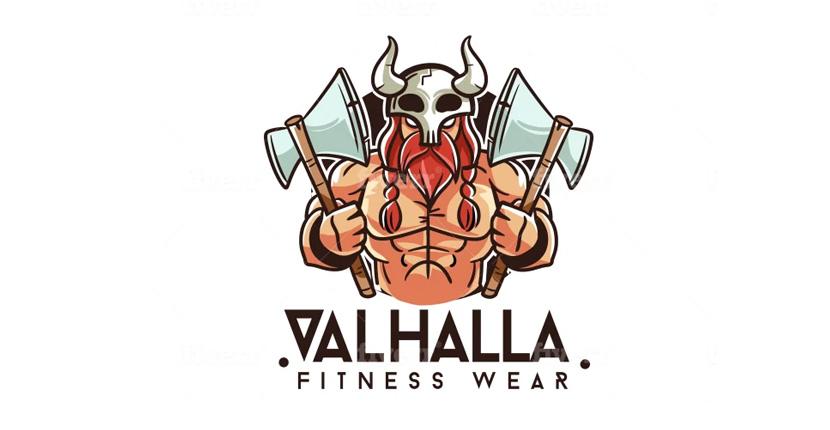 Logo by juancharles
(hire juancharles for $35)

One of my Website Planet coworkers just put all the major top logo design services to the test, with a big prize on the line: the winning design will become our new official logo! To learn about his experiences with each service, and find out which one we chose as our winner, read his
in-depth logo design platform comparison
.
DIY Business Logo Services
If you want the control of designing your business logo yourself – or even just want to try out ideas before hiring a designer –
 a good DIY logo platform will guide you through the process
. Here's my rundown of the best tools and services for the job. Read on for all the details, including sample business logos I made using each DIY site.
Known for its popular website builder which gets
great user reviews
, Wix also offers a standalone logo maker that integrates seamlessly with its other services. So it's great if a logo is all you need, and even better if you need a new website to match your brand. Getting started with Wix Logo Maker is simple. All you have to do is
go to the Wix Logo Maker homepage
 and sign up with a business or personal email address, or you can use an existing social media account if you prefer. Once you're logged in,
the AI-powered wizard walks you through a series of simple questions, then quickly generates sample logos for you to review.
The sample logo concepts might not wow you right away, but remember, they're just a starting point. Just choose the design that's closest to your vision, then customize it with the icon, fonts, and colors you prefer. You'll have
plenty
of choices to make the logo your own, which is a big reason why
Wix Logo Maker gets rave reviews
 from all kinds of professionals.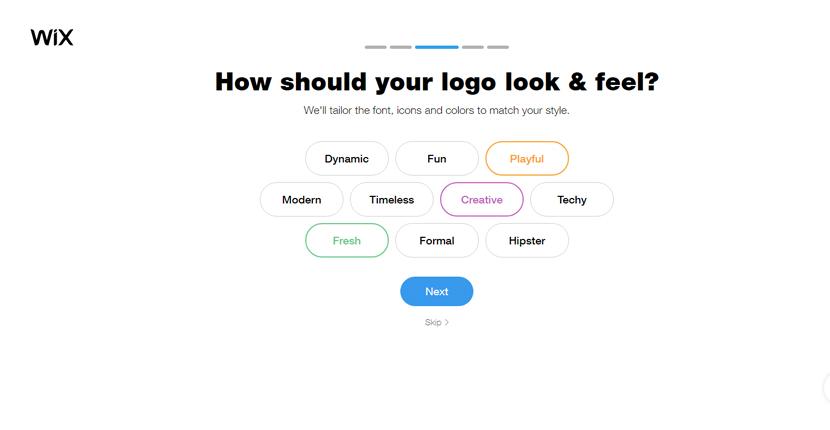 Wix Logo Maker really lets you tap into your creative side –
you can experiment freely by
previewing color palettes, icons, and layout adjustments without any risk of losing your existing design.
That's a big advantage over tools where you can only see new possibilities by actually changing (and possibly wrecking) your logo.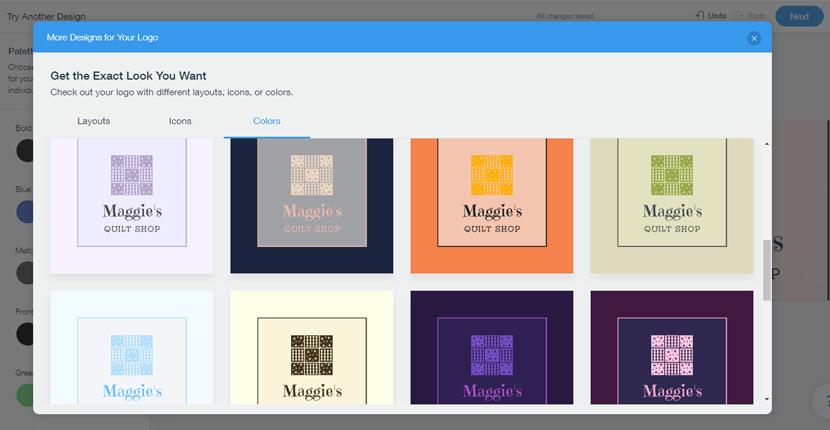 Wix Logo Maker Features
An alphabetized list of font choices, including serif, sans-serif, handwritten and decorative typefaces
A wide selection of premade color palettes with an optional color picker tool
Drag-and-drop editing that makes it easy to move logo elements around and resize them – and you get those all-important Undo and Redo buttons
Product previews let you see how your logo would look on websites, social media, and promotional materials
Business Logos Made with Wix Logo Maker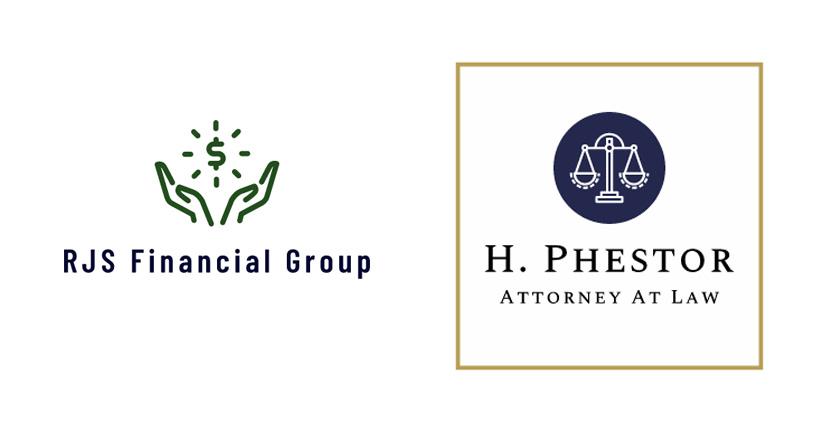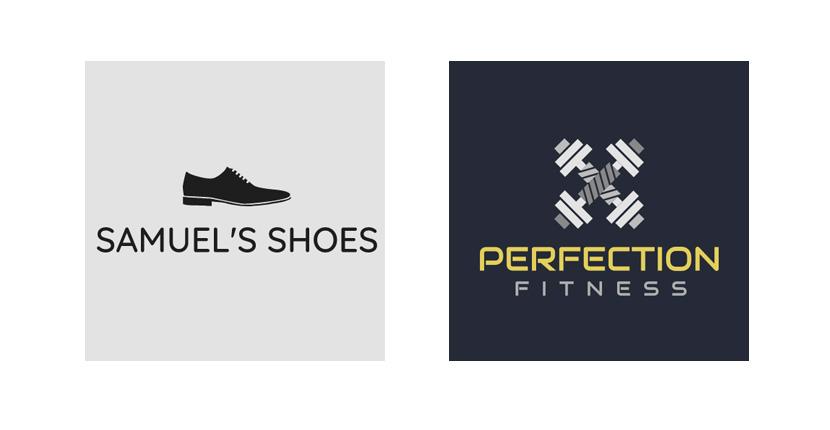 Wix Logo Maker Quick Snapshot
| | |
| --- | --- |
| Offers drag-and-drop editing? | Yes |
| One-time purchase or subscription? | One-time purchases for logos plus additional subscription plans for other services |
| What do you get with a basic package? | Standard PNG logo files with commercial and non-commercial rights |
| Does it offer free logo downloads? | Yes, as low-resolution JPEG preview files |
| Can you save a logo for later? | Yes, you can come back to edit or purchase your logo anytime |
If you want to put your company logo together quickly, Tailor Brands might be the right fit for you. Like Wix Logo Maker, this tool begins by asking you a series of design questions. You can skip any question, but the more information you provide, the better your chances are of getting a logo you like. To get started, you can choose from three different logo styles: name-based, icon-based, and initial-based.
Whether you prefer a no-nonsense company logo or a high-impact design, there's a good chance that Tailor Brands can give you the look you want.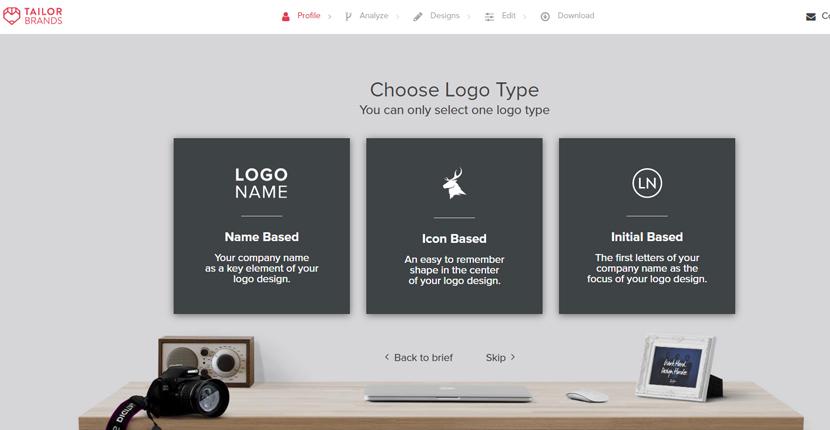 If you go with icon-based, you can choose from a wide variety of icons and abstract shapes. This is one of the reasons that
Tailor Brands gets such great reviews.
The logo maker also tailors (pun intended) your font options based on your preferred design aesthetic, enabling you to put your logo together quickly.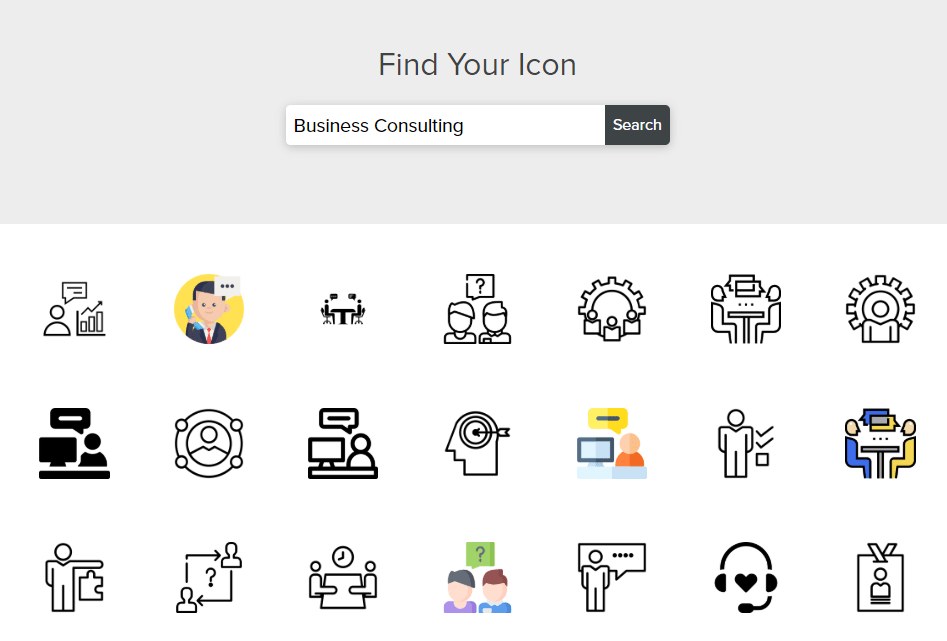 Unfortunately, this design efficiency does come at the cost of losing some flexibility. You'll have limited layout and text placement options, but you can modify the colors of solid-color icons and text elements.
Tailor Brands Features
Choice of several suggested color palettes, or you can use the color picker tool
Suggested logo designs include helpful analysis about colors and fonts
A vast icon library that lets you highlight a specific industry or overall business vibe
Premium-level packages include social media tools to help you engage with customers on popular social sites
Business Logos Made with Tailor Brands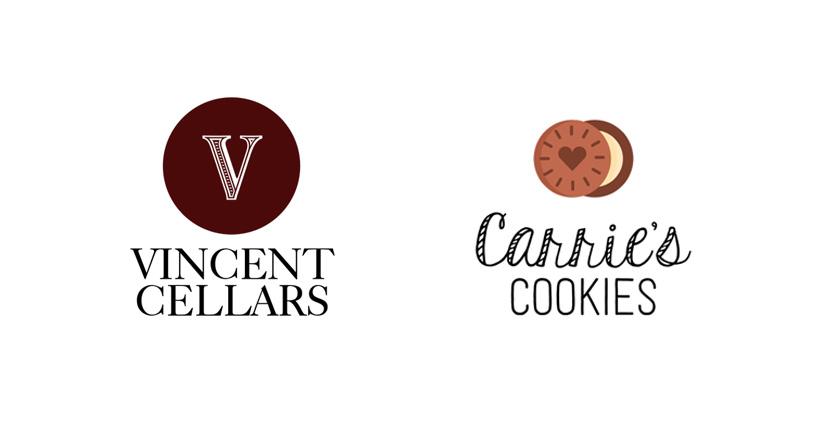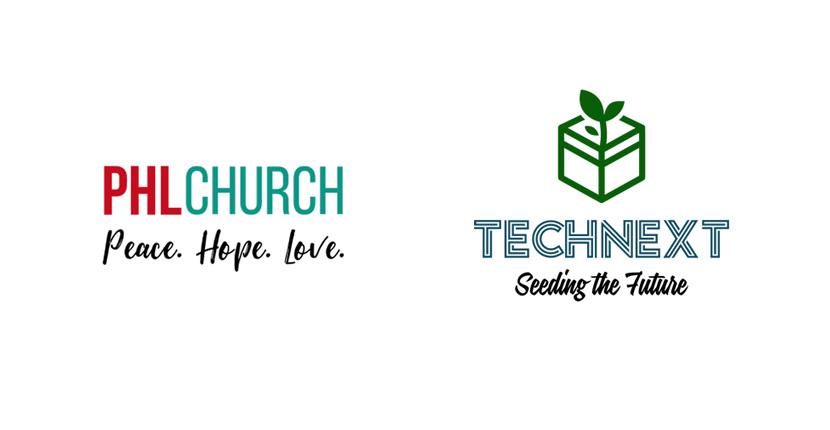 Tailor Brands Quick Snapshot
| | |
| --- | --- |
| Offers drag-and-drop editing? | No |
| One-time purchase or subscription? | Ongoing subscription plans – and you own your logo even if you cancel your subscription |
| What do you get with a basic package? | JPEG and PNG files with full ownership rights, resizing and watermark tools, seasonal logo generator, and a brand book |
| Does it offer free logo previews? | Yes, a small watermarked JPEG file |
| Can you save a logo for later? | Yes, you can save, edit, and purchase your logos anytime |
Like the previous two business logo creators, Looka offers an AI-powered design experience. However,
Looka's AI is a bit more ambitious, aiming to get your design most of the way home before you have to do any tinkering – and doing a pretty decent job of it, overall.
The wizard asks you a series of design-related questions about your industry, color preferences, and which pre-generated logo concepts you like best. The more information you provide Looka, the better the results you'll get.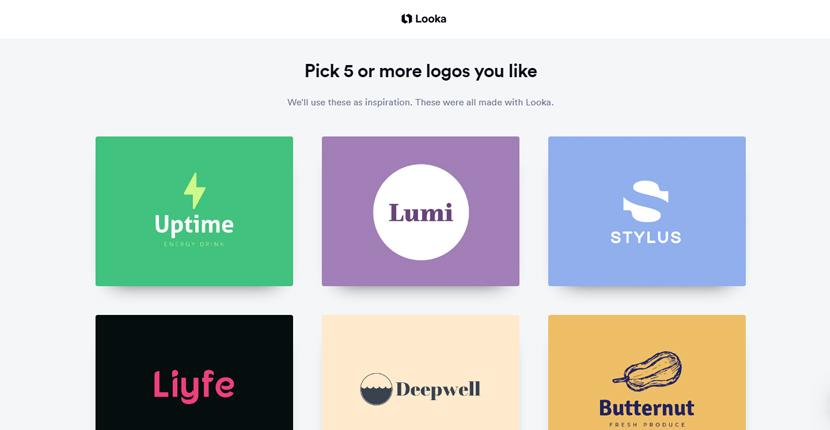 The logo editor isn't overly fancy or feature-packed, making it easy to find the essential tools you need to create a high-quality logo. On the downside, this simplicity leaves you with limited layout choices. However,
you can choose from a lot of shapes, symbols, and borders, plus a few gradient color options you won't find on other design sites.
I've seen a lot of
glowing Looka user reviews
 that highlight this variety of design elements.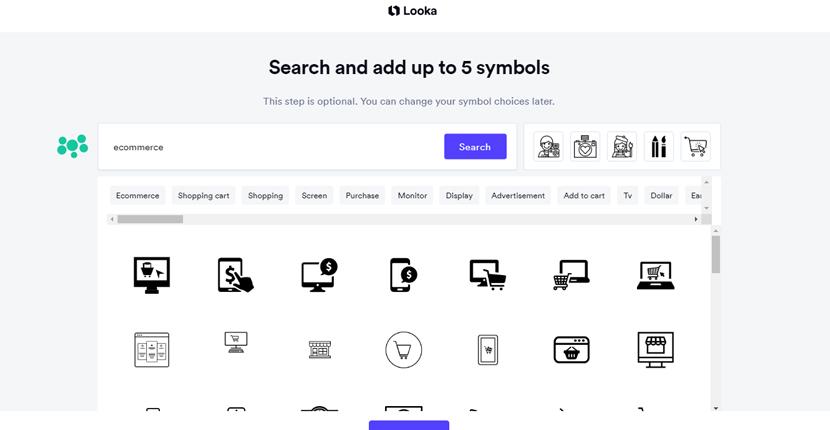 Looka Features
A wide selection of icons covering many industries and keywords
An Inspiration Variations library of design concepts that you can browse and incorporate into your own logo
Helpful previews of how your logo would look on signs, apparel, printed products, and stationery
Easy to revert to a previous version of your logo using the History menu option
Business Logos Made with Looka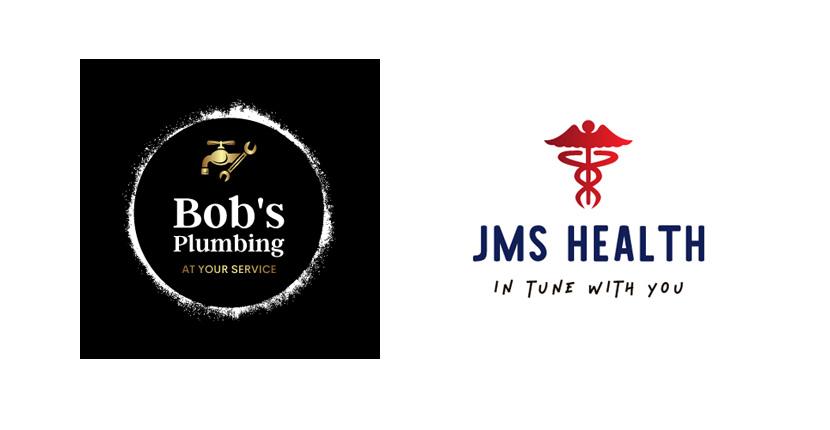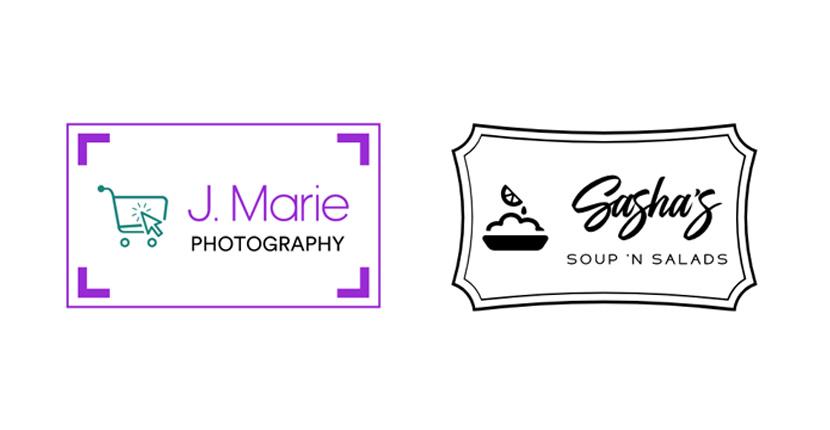 Looka Quick Snapshot
| | |
| --- | --- |
| Offers drag-and-drop editing? | No |
| One-time purchase or subscription? | One-time purchase |
| What do you get with a basic package? | One PNG with colored background (not transparent) |
| Does it offer free logo previews? | No, only a sample ZIP file with previews of Looka's various logo products (not your own) |
| Can you save a logo for later? | Yes, you can save, edit, and purchase your logo anytime |
DesignEvo makes it easy to create a professional-looking logo based on one of the premade industry-themed logo templates. The templates are neatly categorized to help you quickly find designs that are most relevant to your business. As the most advanced logo maker on this list, DesignEvo also lets you do something the other platforms don't:
You can create logo designs completely from scratch using a blank template
. Pick the fonts, colors, and icons that best represent your brand, and soon you'll have a logo that's all your own.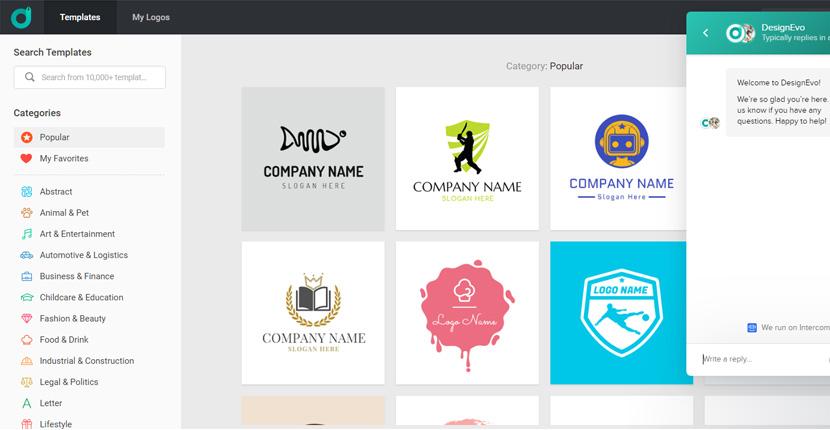 While the font choices aren't as extensive as those offered by our top three,
you can make all sorts of tweaks that aren't possible with other logo makers, such as text outlines, shadow, and glow effects
. You can even recolor individual icon shapes however you wish, a rare feature that helps explain
DesignEvo's many great reviews
.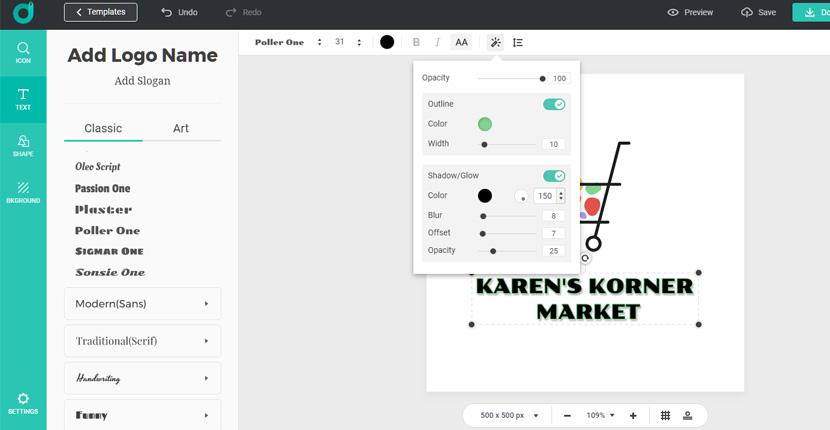 DesignEvo Features
Thousands of professionally-designed logo templates to choose from
Options to add multiple icons and design elements to a single logo
Smooth drag-and-drop repositioning and resizing of any logo component
Loads of tutorials to walk you through the logo design process
Business Logos Made with DesignEvo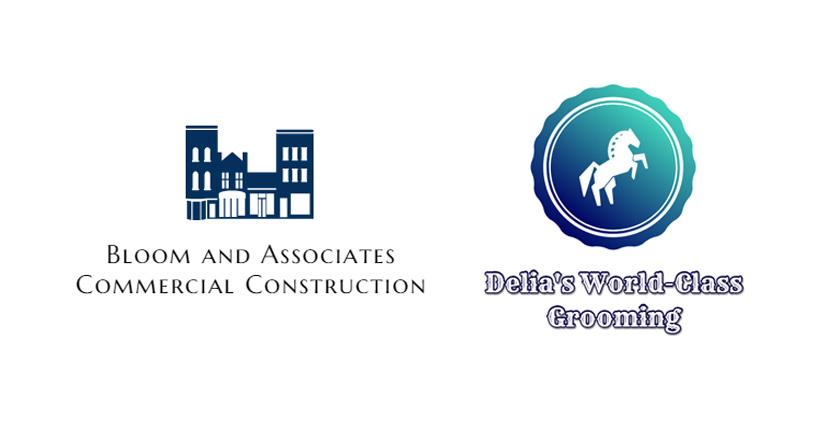 DesignEvo Quick Snapshot
Offers drag-and-drop editing?
Yes
One-time purchase or subscription?
Free option, plus one-time package purchases
What do you get with a basic package?

The Free package gives you low-resolution JPEG and PNG files with limited edits, plus 300px high-resolution JPEG and PNG files. BUT you must give credit to DesignEvo, and you have no copyright ownership.

The Basic paid package gives you more file options, but you'll need to upgrade to a Plus plan for full ownership rights.

Does it offer free logo previews?
Yes, you can download a free low-resolution image, but you must give DesignEvo credit if you use it on social media or your website.
Can you save a logo for later?
Yes, you can save, edit, and purchase files anytime
If you're not looking for all the bells and whistles that the big players in logo design offer, you might prefer a more low-key tool like
LogoMaker
. You can customize premade logo concepts, or go through a quick step-by-step process that helps to narrow down your selection of editable templates featuring industry-related artwork. You'll have a choice of four basic design options: initial-based logos, icon-based designs, badges, and text-only logos.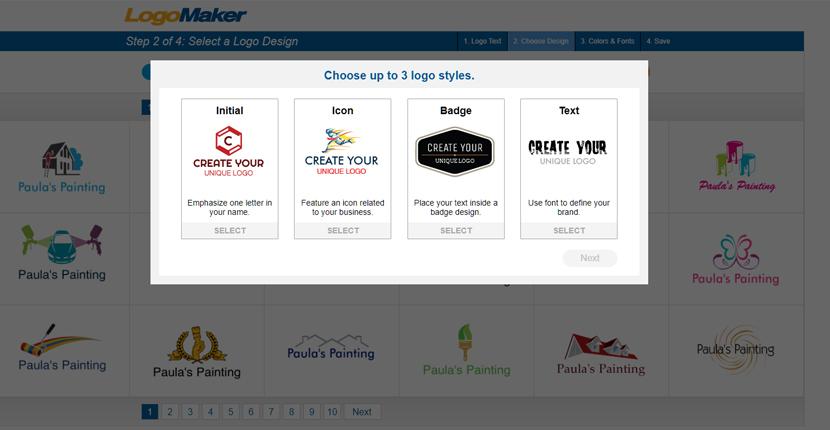 The site looks and feels a little dated with some rather generic illustrations thrown into the mix. But
if you don't want to spend a lot of time fussing over customization details, you can still put together a decent-looking logo.
Another plus, at least if you're looking to produce a lot of promotional materials and company swag: You can order a variety of printed products with your logo directly from LogoMaker.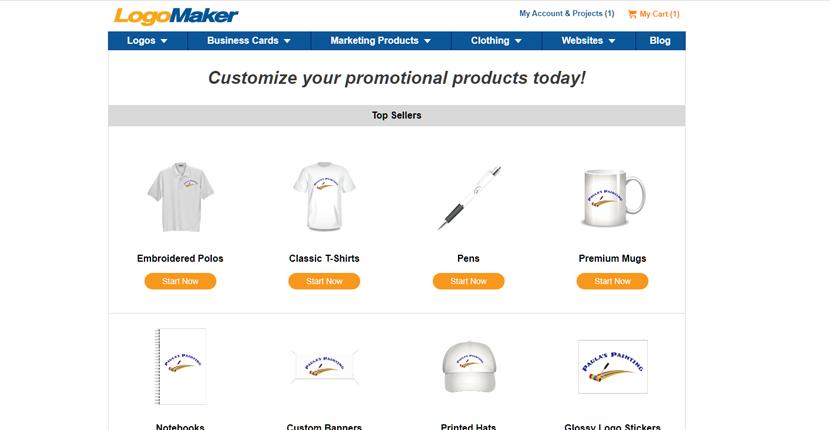 LogoMaker Features
Select fonts can be set in bold or italic style for added emphasis
Lots of industry-related logo templates to choose from
A choice of font variations, including curved and angled text adjustments
Color picker tool includes popular color swatches with support for HEX codes and RGB color ranges
Business Logos Made with LogoMaker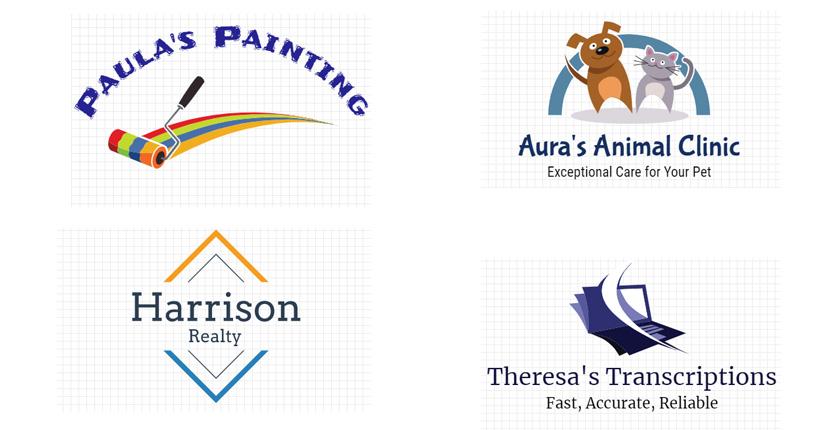 LogoMaker Quick Snapshot
| | |
| --- | --- |
| Offers drag-and-drop editing? | Yes |
| One-time purchase or subscription? | One-time purchase for logos, or you can pay for additional services by subscription |
| What do you get with a basic package? | High-resolution JPEG and PNG files, PDF, PSD, and SVG files, plus the EPS source file, along with logo color variations |
| Does it offer free logo downloads? | No, although you can screen-capture designs with a gridded or watermarked background behind them (see logo samples above) |
| Can you save a logo for later? | Logos are saved for 5 days only, so if you want to purchase the source files, you need to act fast or remake the logo later |
Some Closing Thoughts on Business Logo Design Services
Okay, that was a lot of information to digest, but I hope I've given you a better idea of the logo design possibilities out there.
With your professional image on the line, you don't want to settle for a bland, forgettable logo.
And you shouldn't have to, even if you're not ready to invest a lot of money into a complete branding kit. While you can use any of the DIY logo makers I recommended above to create your own logo, this can eat up a lot of your time, and you won't really have a way of knowing if your logo is completely unique.
Hiring a freelance designer on Fiverr
 is a great solution – the prices are often much cheaper than basic logo maker plans, and you'll get a custom logo nobody else will have. If you prefer to do things on your own and you're looking for a fairly complete design and marketing package,
Tailor Brands
 and
Wix Logo Maker
 offer you a suite of business tools and social media solutions along with your logo design. If you'd rather have a logo with "shiny" design elements like text shadows, gradient-colored badges, and decorative symbols,
DesignEvo
 gives you the most flexibility of all these logo design tools. You might need to spend some time learning from the tutorials, though. As a final rundown, this table gives you a quick summary of what each logo maker can do to help you create the perfect company logo, along with any additional services offered.
| | | | | | |
| --- | --- | --- | --- | --- | --- |
| | DesignEvo | LogoMaker | Looka | Tailor Brands | Wix Logo Maker |
| Customer support options? | FAQ section, email support, tutorials | FAQ/support center and ticket support system | Help center, live chat, email support, blog posts | Help center, live chat, or email support | Help center with email and phone support |
| Can you edit a logo after purchase? | Yes, you get unlimited edits with purchased logos | You have up to 5 days after purchase, but your edits replace the previous version. You can also purchase a 1-year Unlimited Changes package. | You can edit logos for up to 72 hours after purchase | Yes, but with customization options limited to color, layout, and tagline | Yes, but you'll need to repurchase the revised version separately |
| What other services does the site offer? | Logos only | Domain names and websites, business cards, promotional products | Websites, print-ready business cards, social media kits | Social media tools, websites, holiday logos, print-ready stationery | Websites, business cards, social media kits |
| What is the refund policy? | 7-day money-back guarantee from the date of purchase | A bit unclear, but the site states that there is a money-back guarantee | No refunds on logo purchases | No refunds on logo purchases except for extreme cases (e.g., files corrupted) | Logo purchases are not refundable |
If you're debating between using a business logo generator or hiring a design professional on Fiverr, you can learn more about your options by reading our in-depth reviews of the
top logo design services
. Then test out a few DIY logo makers and see how you like the results. Don't be shy about asking your customers and esteemed colleagues for their input, too. Chances are that many of them have gone through the logo creation process at some point. Investing some time to get the logo you want is well worth it.
Even if you revamp your branding later, you'll still have a memorable image that helps your business stand out.