Email marketing remains one of the most effective marketing techniques for small and medium businesses. There are lots of platform options currently available that combine functionality and ease of use, so even inexperienced marketers can drive ROI with newsletters, product offers, and more.
Many SMBs rely on Mailchimp or GetResponse to build and track the results of these kinds of campaigns. Choosing the right one for you will depend on your specific needs and budget.
To help you decide, we've done the hard work for you, looking at Mailchimp vs GetResponse in multiple categories, including:
Mailchimp Highlights
Mailchimp has everything required for basic email marketing functionality. Many SMBs use it for their campaigns because it strikes a good balance between a comprehensive feature list and a relatively simple interface. Mailchimp gives you:
Hundreds of e-commerce integrations, including Magento, Shopify, and WooCommerce
The ability to easily use KISSmetrics and Google Analytics to track and report success
Professional and responsive landing page templates
GetResponse Highlights
GetResponse isn't as well-known than Mailchimp, but it offers just as many features. It also has a lot of design assets and functionality that will help SMBs looking to create high-quality emails without the benefit of a large marketing or design team. GetResponse provides:
A library of hundreds of professionally designed images
The ability to embed videos and payment processing options directly into emails
Drag-and-drop email marketing automation workflows
Feature List
Mailchimp and GetResponse are both in the upper-tier of email marketing solutions. Either one offers much more than the basic functionality of entry-level solutions. However, they do have differences in capabilities, and even more differences in what you'll pay to get access to them.
User Interface
Mailchimp is easy to use, once you know how to use it. GetResponse is not as easy to use as it should be, even if you know how to use it
Mailchimp's user interface is a tale of two experiences. On the positive side, its drag-and-drop template and email editor is a nice balance of functionality and simplicity. Functionality is easy to find and easy to implement. But on the negative side, finding the right template or editor is not as intuitive as it should be.
For example, the choice between building "campaigns" and "lists" is very confusing at first. Because it seems natural to use email marketing software to build email lists, many new users waste time in the "lists" tab, which has limited design functionality, before realizing that the full suite of design tools they want is actually found under "campaigns." This type of confusing labeling of functionality is all too common within the interface, and can be very frustrating until you know where to find exactly what you're looking for.
The menus on GetResponse's main webpage separate functionality by category, a logical decision that makes it fairly easy to navigate through the platform at a high level. For example, at the top of the main webpage, you'll find options like "Forms & Surveys," "Email Marketing," and "Landing Pages."
But that changes when you get down into the more specific functionality. GetResponse's content creation engine operates on the "drag and drop" editor model, and it's fully functional, allowing you to place text, images, social buttons, and more into the body of your emails quickly. But the editor's navigational design and layout fall short of expectations.
The reason is the menu options are stacked vertically in a single column, with sub-options collapsed into the menu headings. The result is an experience which, even if you know where everything is, requires way more clicking and scrolling to get to than it should.
List Management and Segmentation
Mailchimp gets granular, but at a cost – GetResponse is granular segmentation, made easy
Mailchimp makes segmentation as easy as possible for you by giving people the option to segment themselves by joining groups you create right from the conversion page. You can also segment them yourself by location, purchase history, and engagement level. Advanced segmentation features let you combine these variables with combinatorial logic, creating an extremely precise way to target emails. It's a great way to make sure you're appearing in a contact's inbox only when your message is relevant.
For example, if you have a product promotion running for residents of a single state, you can target only subscribers from that state who have previously made a purchase.
The downside is that the advanced targeting features are available only in Mailchimp's "Pro" plan, which also comes with its highest price tag.
GetResponse's segmentation capabilities are as complete as possible. You can make lists based on attributes like personal information, location, and engagement. But you can get even more granular and segment by a contact's current place in an automated workflow, the last time you sent an email, and the content asset they used to subscribe to the list.
Adding to the granularity is the ability to do hierarchical segmentation by segmenting within subgroups. For example, you could create a list of subscribers who joined from a certain social channel, and then filter that list by location or purchase history.
Analytics and Reports
Mailchimp reports provide actionable, element-based understandings of individual campaigns. GetResponse makes it easy to see the effects of your automated workflows
Mailchimp's full content-driven analytics reports give you much more than the basic overview of email opens, clicks, and unsubscribes (although it gives you that, too). It also generates "click maps" that show you where engagement is taking place, so you can see which techniques you should iterate and which ones you should abandon.
Mailchimp also creates reports that are user-driven. You can see how a specific user is interacting with your content and use it to gain insight into his or her habits, so you can apply any lessons to subscribers who fit a similar profile.
One place where Mailchimp falls short is making it easy to A/B-test the ROI of an email. Although e-commerce stores can see a direct relationship between email sends and sales, there's no single dashboard or report to show how the results of different iterations of emails compare.
GetResponse gives you in-depth analytics and reporting about ROI, different versions of an email, and social sharing. But where it really stands out is in its automated workflow tracking. This feature lets you see not just the impact of an individual email, but also of your email sequence as a whole. For example, if you want to determine the optimal length of a campaign's email workflow, you can try using the emails themselves as controls, and then shuffling their order and tracking the variations in results.
In addition, GetResponse offers a single dashboard showing not just how users interact with an email itself, but also subsequent actions such as conversions. Unlike Mailchimp, this functionality makes it easy to compare not just engagement, but actual ROI between two versions of an email.
A/B Testing
Mailchimp has comprehensive testing functionality, but limited iteration capabilities. GetResponse has all the functionality and iteration you need, and makes it easy to use it
Mailchimp's A/B testing is comprehensive. You can do basic A/B tests like subject line, time of day, and templates. There's also functionality to test the results of different configurations of the segmentation capabilities. And you can look at how multiple campaigns stack up against one another in a single, easy-to-read dashboard.
However, there's a big limitation. Only three versions of a variable can be tested. This may be enough for organizations with a clear vision of their content strategy, but for those who are less sure of what works, it can be severely limiting to finding the most effective version for your email content.
GetResponse lets you A/B-test the basics as well, like subject lines, time of sending, and the "From" field. Where it stands out, however, is in how it automates actions based on results for increased optimization. For example, it will create new segmentation lists based on engagement while a campaign is running. Also impressive is the visual depiction of results in easy-to-read charts and graphs featuring clean, bright visuals.
In addition, it offers much greater iteration possibilities. You can test up to five variations of any individual element, a huge increase over Mailchimp. Businesses still at the beginning stages of testing their messaging will greatly benefit from this additional quota.
Automation
Mailchimp automation is powerful, but cumbersome. GetResponse automation creates iterated tracks based on conversion goals
E-commerce SMBs will find MailChimp's automation capabilities to be more than enough for their purposes. You can automate email sending to subscribers who abandon their shopping cart, connect a blog or RSS feed to automatically inform customers of new product offers, and build customized retargeting workflows.
Where it falls short compared with GetResponse is the interface design. You can't add automations to work off of an email campaign. Instead, you must create an entirely separate automated email campaign, and then circle back to attach it to a list. In addition, an automation can only be scheduled to send to one list at a time, requiring you to set up a new automated campaign to attach to every individual list, even if that automated email is an identical copy of the one being sent to another list.
The result is the need to create lists of automated emails to attach to all the other segmented lists created from your larger subscriber list. Confused? Yeah, exactly.
In contrast to Mailchimp's content-driven automation, GetResponse lets you create automation tracks based around personas and conversion goals. Instead of attaching emails to lists, you can create automated email workflows and then slot lists into them. This approach is not only easier, but it places the focus where it should be.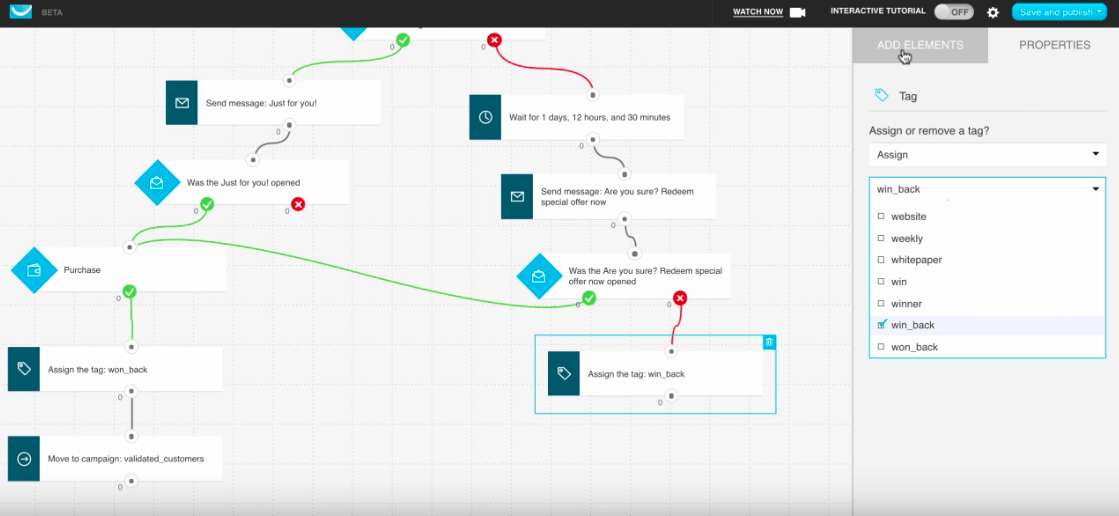 In addition, the automated workflow builder is very clean and visual, making it easy to see exactly what will happen when contacts are enrolled in it.
Deliverability Rates
Mailchimp's trusted servers work to get your messages delivered. GetResponse partners with internet service providers (ISPs) to increase deliverability
Mailchimp follows all the industry best practices to ensure deliverability. In addition, its status as one of the world's most used and trusted email marketing systems gives it an excellent server reputation that emails sent from it can piggyback on. There are also additional tools for you to use for custom deliverability issues such as sending within the European Union block of countries.
GetResponse's commitment to anti-spam includes the shuttering of accounts that commit a violation, a practice that has given it a stellar reputation within the industry. That reputation has led to a number of "whitelisting" agreements with almost all of the major ISPs like Outlook and Yahoo.
Integrations
Mailchimp has a lot of integrations, but it's not easy to know what they are. GetResponse doesn't have as many integrations, but they have all the most popular ones
With more than 400 integrations available, e-commerce SMBs will find a lot of the Mailchimp integrations they're looking for, including Magento, Shopify, and WooCommerce. The problem is that the discoverability options are zero. In other words, if you want a specific integration that you heard about elsewhere, MailChimp probably has it. If you have a problem and are looking for a solution, MailChimp can't help you find it.
GetResponse doesn't have as large a library of integrations as Mailchimp. However, SMBs will have no trouble finding the most important ones that are commonly used such as WordPress, SalesForce, and Adwords.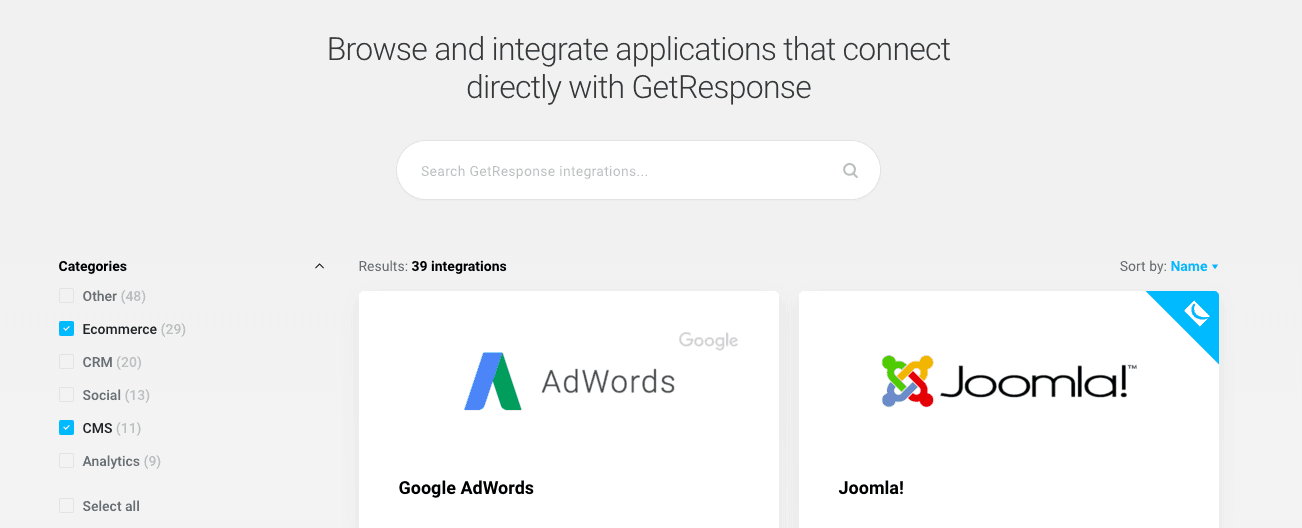 But crucially, GetResponse has discoverability options for SMBs looking to see what might be out there beyond what everyone else is using. Filters allow you to see integrations related to things like e-commerce, CRM, or analytics.
Pricing
Mailchimp's full functionality comes at a price. GetResponse grows its feature list and price with your business
Mailchimp has a "Free" plan that lets you set up an email list and get basic functionality for nothing. Its introductory "Essentials" paid plan is very reasonably priced as well, and lets you have an unlimited number of subscribers. If you're looking to set up a basic email list, you can do it for relatively cheap.
The problem is how much functionality you get for your money. If you decide you want multivariate testing, intermediate reports, or advanced segmentation functionality down the road, there's no middle-tier price point. Your only option will be the "Pro" plan, which will cost you 20x the "Essentials" plan. Take a look at them below:
GetResponse has four different plans which, unlike Mailchimp, allow you to progressively increase your costs along with the size of the list you're paying to manage.
However, there's some functionality that's available only if you pay for a minimum number of subscribers. For example, if you want to score leads or automate segmentation, you must pay a price for a list size of at least 5,000, even if you're just starting out and have only a few hundred current subscribers.
This means that some SMBs starting out will find themselves paying for services they aren't using. Take a look at GetResponse's pricing plans below:
Overall Winner: GetResponse
Both GetResponse and Mailchimp are top-tier email marketing services used and trusted by countless SMBs as two of the best email marketing services available today. The overall design and usability of Mailchimp is better, but GetResponse's testing and automation features are more comprehensive. The real differentiator is price. Whereas GetResponse will grow with your business, Mailchimp limits functionality until you're willing to pay 20x more to get it.
It's also worth mentioning that GetResponse's customer service is available to SMBs that sign up for cheaper plans. By contrast, Mailchimp offers pro support only to users who've signed up for the most expensive plan. So, if you're unfamiliar with email marketing and looking to get help, GetResponse will give it to you even if you aren't currently their best customer.
For SMBs looking to start at a low price point and get help along the way to needing more functionality, GetResponse is the better choice.