Mailchimp might be a better-known email marketing service (EMS), but how does it compare to the titan that is GetResponse?
I spent dozens of hours testing both on the quality and quantity of their features, ease of use, and value for money.
So, is Mailchimp's hype deserved? Well, it all depends on what you want out of your email marketing service.
Although GetResponse is arguably more capable in terms of automation, CRM, and segmentation, Mailchimp has an intuitive interface and is easier to use.
If you're looking for a robust EMS that can do it all, you really can't go wrong with GetResponse. That said, Mailchimp's tools and processes are much more streamlined (there's even a clever AI that offers all kinds of personalized suggestions) – something beginner marketers will definitely appreciate. Ultimately, it boils down to your specific needs. Read on to discover which platform is the best solution for
your
business.
Features
GetResponse Offers an All-Inclusive Buffet of Email Marketing Tools
Straight off the bat, it's pretty clear that
GetResponse offers tons more features than Mailchimp
– just take a look at our
GetResponse review
.
GetResponse not only provides all of the core features you'd expect in a functional EMS, but it also offers
live chat for your website, in-built stock photo and GIF libraries, and a perfect timing tool
that schedules your emails for the time your audience is most willing to listen. I'll cover pricing later on – and I have a
lot
to say about the price of Mailchimp – but, given that both base-tier plans cost roughly the same, it's clear that
GetResponse offers far more bang for your buck.
Email Templates
Email templates are the bread and butter of any EMS, and – at least when it comes to quantity – both Mailchimp and GetResponse are comparable here.
Mailchimp has a little over 100 templates, and GetResponse around 124.
That said, the number of templates GetResponse offers was, honestly, pretty confusing.
The pricing page claims GetResponse has 220 email templates, but I couldn't find more than the 124 I counted
anywhere else, or even the ability to turn landing page templates into email ones. The only explanation I can think of is that some older templates were culled, but the pricing page wasn't updated. And
that's
before you realize there's a live GetResponse page claiming it offers 500+ email templates – but I couldn't find the majority of them. Something tells me that the website doesn't always get updated when the EMS changes. Despite this confusion, when you consider the
quality
of GetResponse's templates, we start to see how it pulls ahead of Mailchimp. In fact, I'd say
GetResponse's templates are leagues ahead of Mailchimp's.
Let me show you what I mean.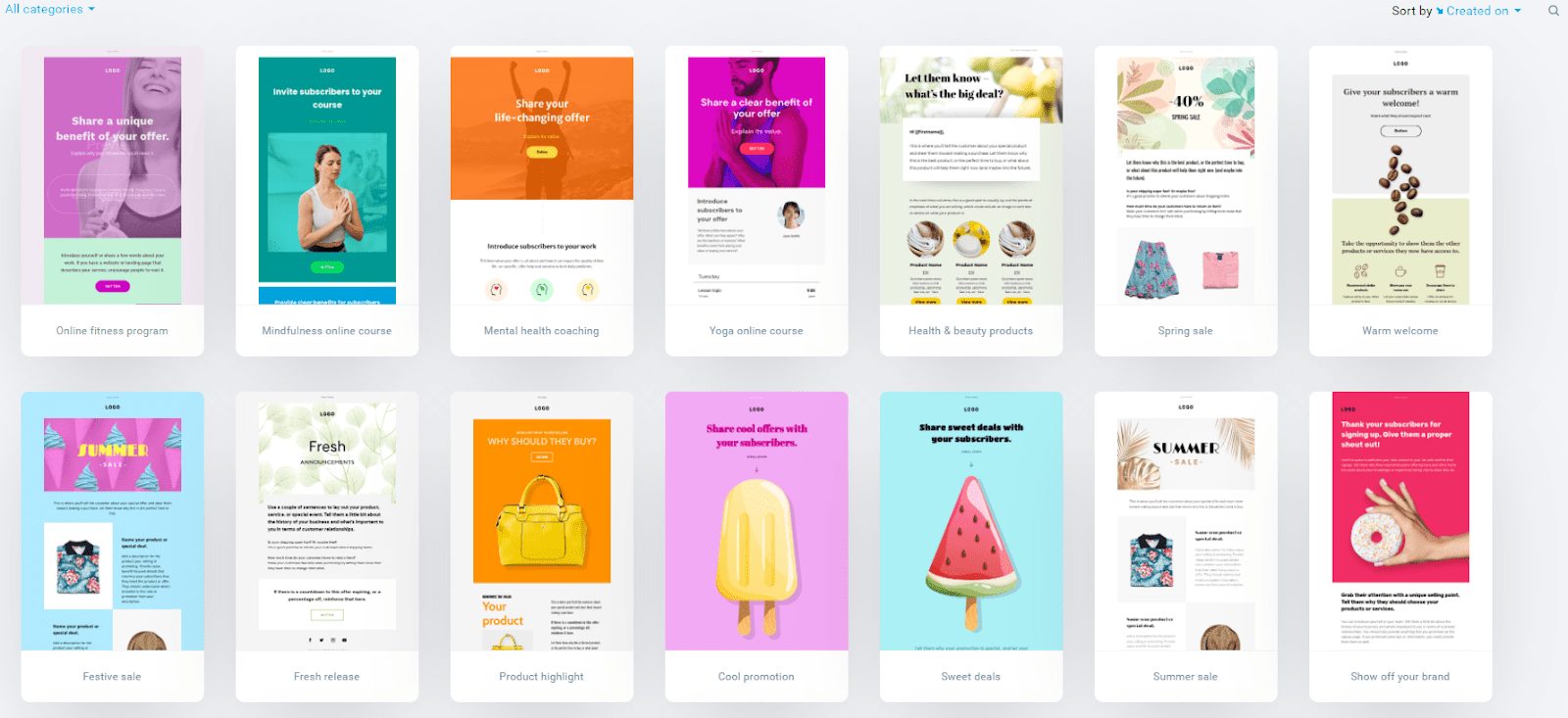 On one hand, you have a selection of modern, clean templates from GetResponse. Some are simpler than others, but
they're all nicely designed and seem to be formatted for mobile devices first
. By comparison, here's what Mailchimp offers: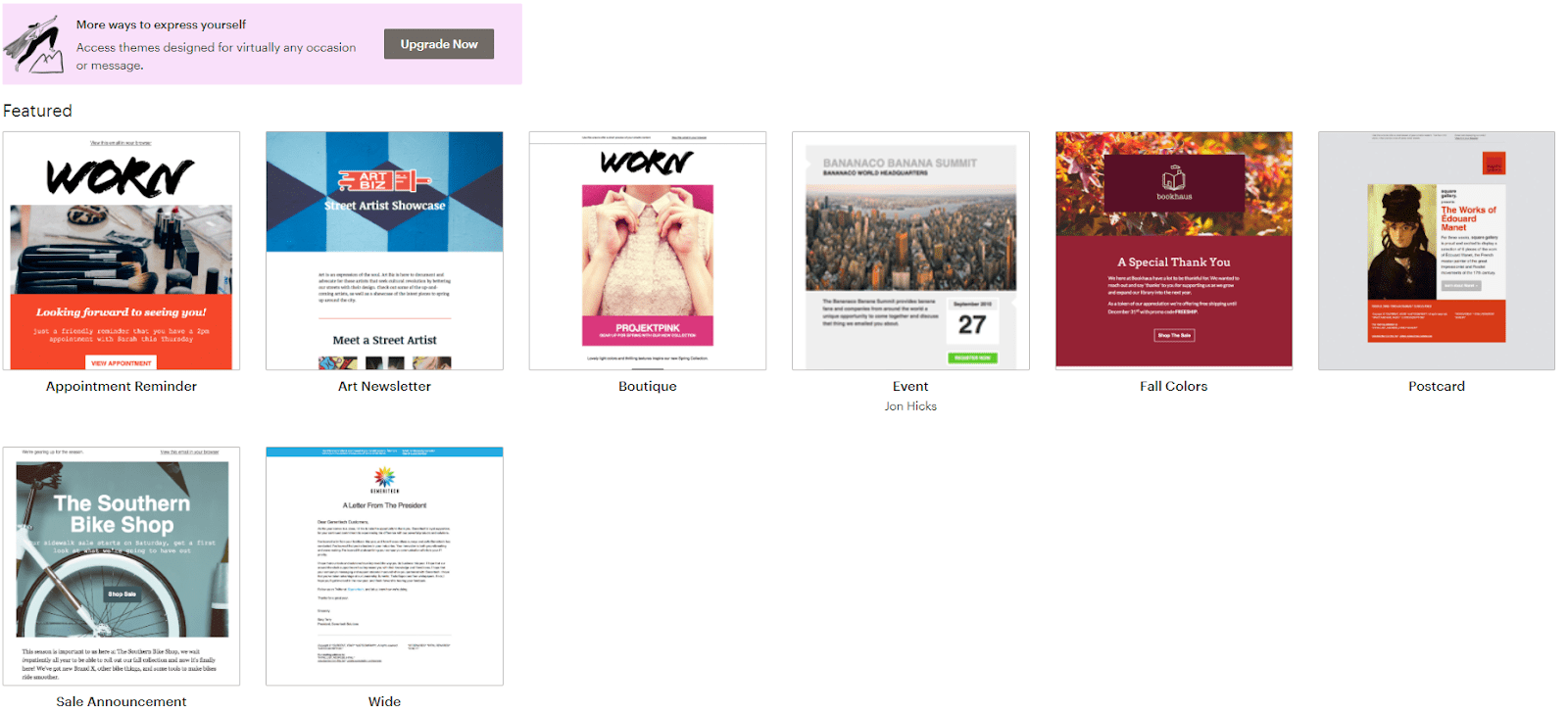 Yes, I know I'm comparing Mailchimp's free plan to GetResponse's entire collection in these screenshots. But it isn't just the free plan –
all of Mailchimp's email templates are seriously outdated.
Some of them were probably designed around the time we were still driving to Blockbuster to pick out a movie. Could you customize them to be more modern? Sure.
But that's going to take a lot of time out of your day
– plus there's a good chance if you're looking at templates that you don't want to have to do any design work yourself.
Automation
Both Mailchimp and GetResponse offer automation options, although it's worth noting that this feature is only available on certain plans. Mailchimp offers simple one-step autoresponders on its free plan, but
you'll need GetResponse Plus or Mailchimp Standard to unlock multi-step automation.
Multi-step automation is called a customer journey in Mailchimp
, which you can access from the automation dashboard or from the handy "Create" shortcut button at the top of your menu. You can try this feature out on the free plan, but to activate it, you'll need to upgrade to the Standard or Premium plan.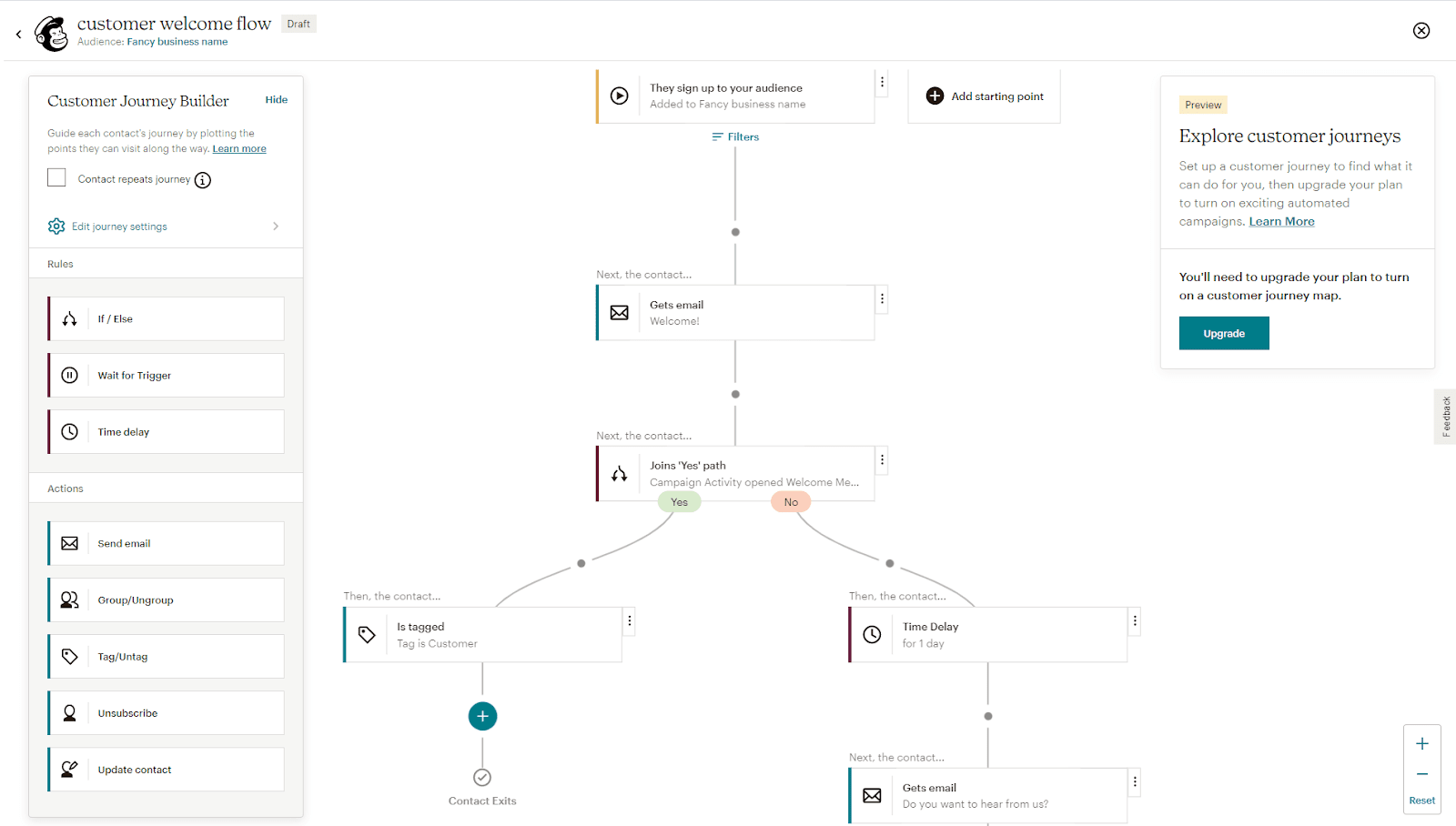 This builder is pretty easy to use, once you realize it's not drag-and-drop like almost every other automation builder out there.
Aside from that, it's remarkably simple.
There are three rules and five actions…and that's it. On the other hand, GetResponse's automation is really easy to find because it's listed, quite simply, as "Automation" in the menu. Once you hit "Create",
GetResponse gives you 43 different automation templates
 or the option to build your workflow from scratch
.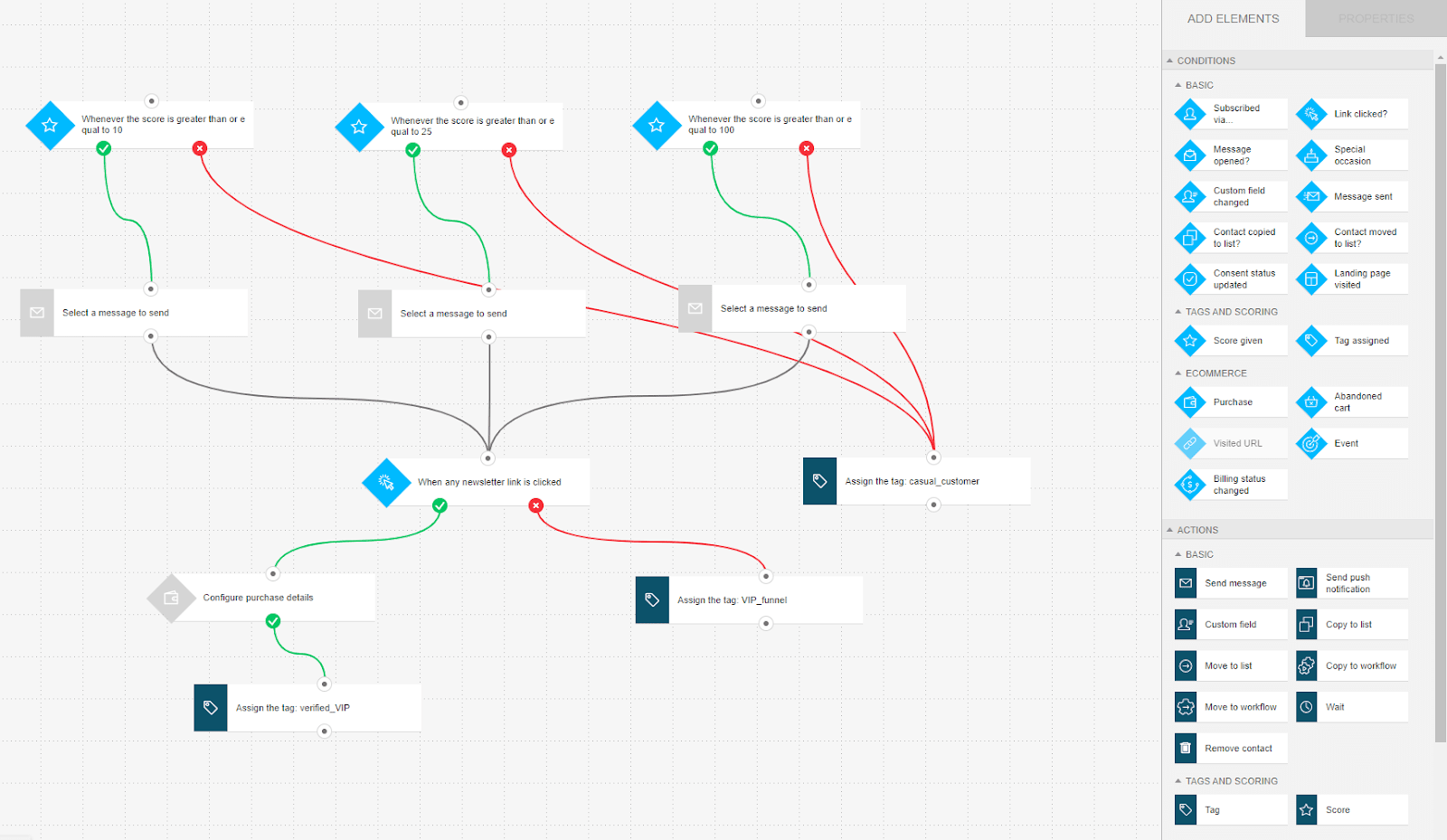 I loved playing with this builder because
it gave me free rein to build almost any automation I could think of.
There are 17 different conditions, 11 different actions, and even 7 filters you can apply to ensure only certain contacts make their way through the conditions you set. All in all, this automation builder is a lot more user-friendly than Mailchimp's.
The color-coding makes it easy to understand which paths lead where,
and you can freely move all of the elements around to help make it easier to read.
Integrations
Mailchimp offers just under 300 integrations. It's not easy to find them, though
, because you'll only find 27 listed in your dashboard. You have to click "Find a new integration" at the top of the page, and scroll down the page that opens, to find the full list. That said,
Mailchimp does offer integrations with almost all of the software you'd want to use alongside it
. There's Magneto, Prestashop, and Stripe for e-commerce, OpenTable and Calendly for bookings, and Eventbrite for event management. The only thing it's missing is, weirdly, a PayPal integration.
GetResponse only offers 74 integrations, but these seem more carefully hand-picked than those offered through Mailchimp.
You can integrate GetResponse with the same platforms I mentioned above for Mailchimp, but you'll also get PayPal, WooCommerce, Shopify, and Etsy. If either GetResponse or Mailchimp doesn't offer a native integration,
both can be used with Zapier,
a third-party app which opens up thousands of automation options.
You can also connect GetResponse to any custom apps that you've built.
This might not be applicable to every business, but it's a handy workflow addition if you use custom software.
Autoresponders
Admittedly, autoresponders kind of overlap with automation as a feature – after all, you're essentially building an email to be sent out automatically when something triggers it.
The best way to describe an autoresponder is as a simple, one-step automation.
But I want to talk about this feature separately because
you can use Mailchimp as a free email autoresponder
. A big plus of this platform is that these simple automations are available on the free plan.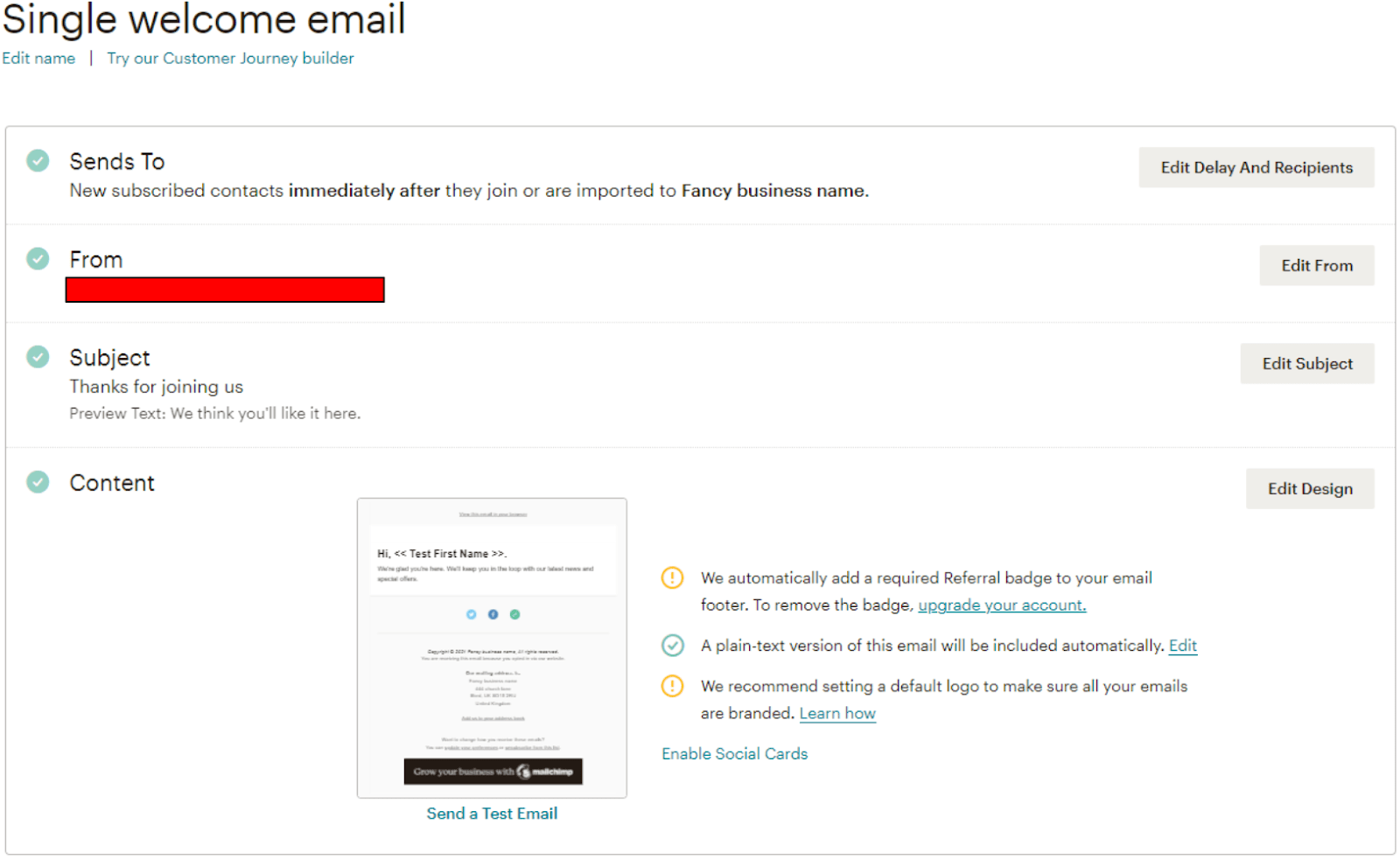 Mailchimp's autoresponder tool is simple, but it does the trick.
It also offers a decent number of autoresponder triggers.
You can choose from welcome emails, birthday emails, blog post updates, and even thank you emails for first-time customers. My only gripe is that
it's not clear which automation options are single-step from the automation dashboard.
To find them, you'll have to click "Create" at the top of the page, and select "Classic Automations". Once you've activated your autoresponder, you then have to go back into the "Customer Journeys" tab to see how it's performing. This is a bit of a faff, but once you know where stuff is, it's not that big of a deal. GetResponse also offers autoresponders. These are listed in the menu, and
there's a lovely, easy-to-read dashboard that makes it easy to see which of your autoresponders are active and how well they're doing
.

Unfortunately, GetResponse only offers two autoresponder triggers.
First, when a new contact signs up, and second, a specified duration of time. I imagine you can use a time trigger to send a specific email when you create a new segment, but otherwise, this is pretty limited.
Features Winner: GetResponse
After testing both of these EMS platforms, I have to conclude that
GetResponse's features are superior in both terms of quantity and quality
.
Mailchimp does offer some good features on its free plan, but this is, of course, limited – after all, it wants you to sign up for a paid plan. And while the features on the paid plans offered by these EMS providers are roughly comparable,
GetResponse simply offers more from the get-go
. It provides live chat for your website, an in-built stock image library, and a perfect timing feature to optimize when your emails reach your contacts. Not only that, but
the email templates are far more modern and the automation builder gives you many more options.
Ease of Use
Mailchimp Looks Pretty, but GetResponse Understands User Intention
GetResponse's dashboard is super easy to read
, and the menu is neatly tucked away in the header so your workspace isn't cluttered. You can also customize the blocks, or widgets, you have displayed on your dashboard, which is a nice touch.

By comparison, Mailchimp's dashboard looks slightly more cluttered. But it's still pretty simple to read, with the menu running down the left-hand side of the screen.
It can take a bit of time trying to decipher what the menu icons mean,
but when you hover over them, there's a helpful explanation of what each represents.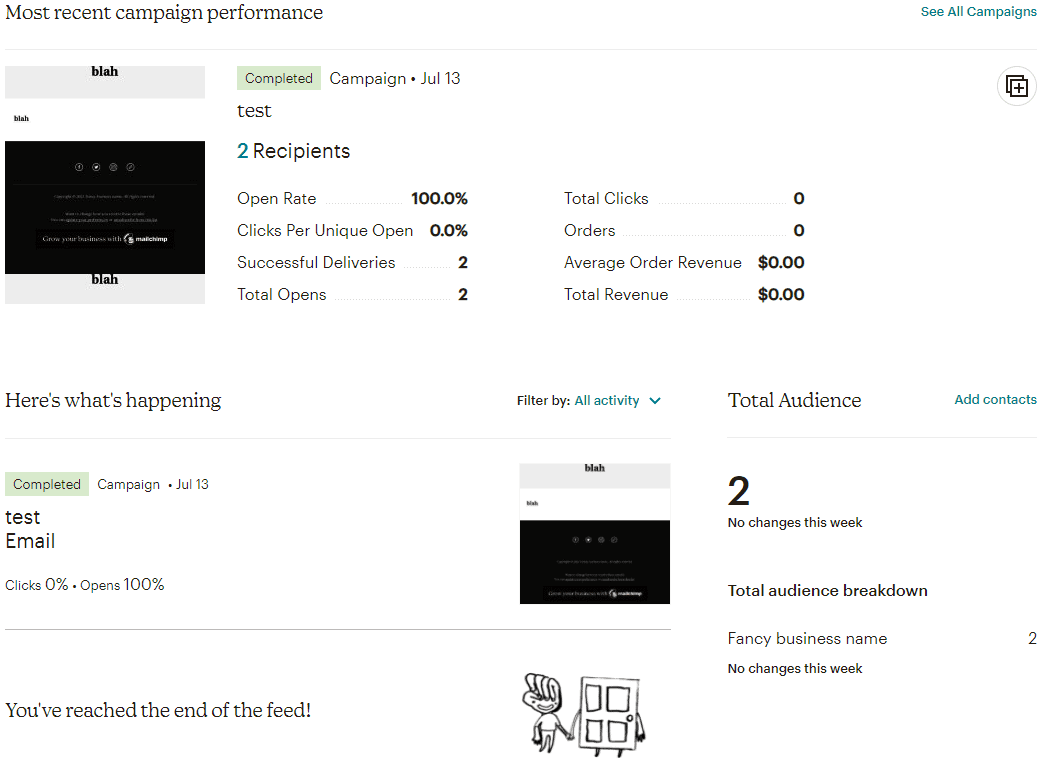 There's just one other thing that bugs me about the Mailchimp dashboard. As I mentioned earlier, Mailchimp's autoresponders and multi-step workflow builders can be found under the "Customer Journeys" section of the Automation tab. This is a real bugbear of mine.
The concept of a customer journey is a general marketing term,
not one that's specific to email marketing. It's how a customer communicates with your brand
across different channels.
Email marketing is only one part of that. However,
autoresponders are specific email marketing tools.
Grouping them, and email automation tools, under "customer journeys" is unnecessarily complicated. I honestly think this highlights a bigger issue with Mailchimp.
A lot of what it offers is style over substance.
There's no need to rebrand automation under your own terminology unless you're offering something significantly different to your typical email automation tools – which Mailchimp isn't.
Editors
Another example of Mailchimp's whole style-over-substance thing comes into play with its editors.
Both Mailchimp and GetResponse have drag-and-drop editors for emails and landing pages.
Both editors are also fairly similar on the surface, but with a few key differences.
Mailchimp's email editor allows you to set the email's overall style
so you don't constantly have to change your font size, colors, or anything else to fit your brand design.
GetResponse only allows you to style the header and footer of your email, so Mailchimp comes out ahead here
.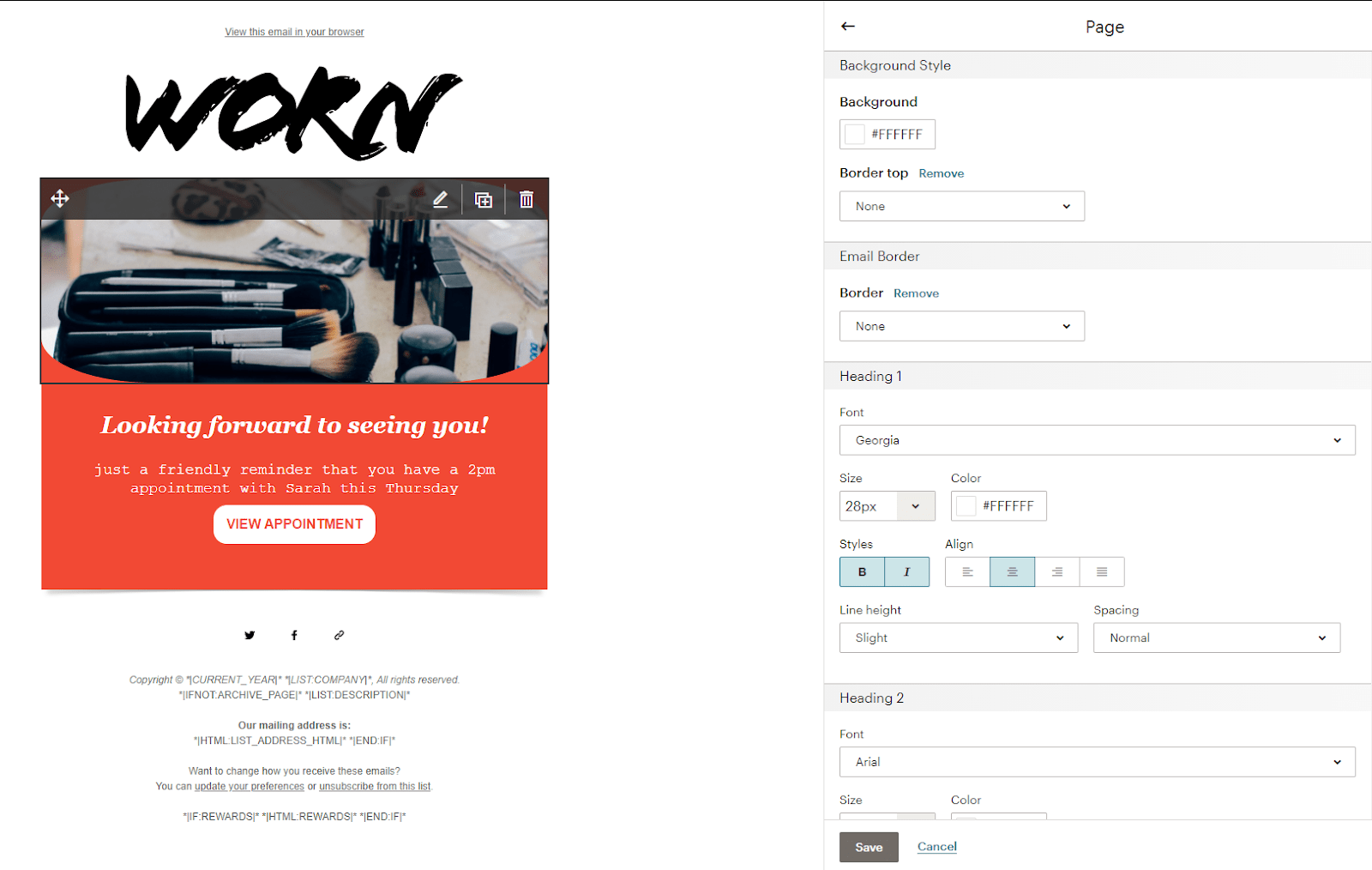 However,
GetResponse's editor operates far more smoothly than Mailchimp's
– we go into it in more detail in our
GetResponse review
. Plus, the editor tells you what type of block you're hovering over – such as text, button, or image – which Mailchimp's doesn't.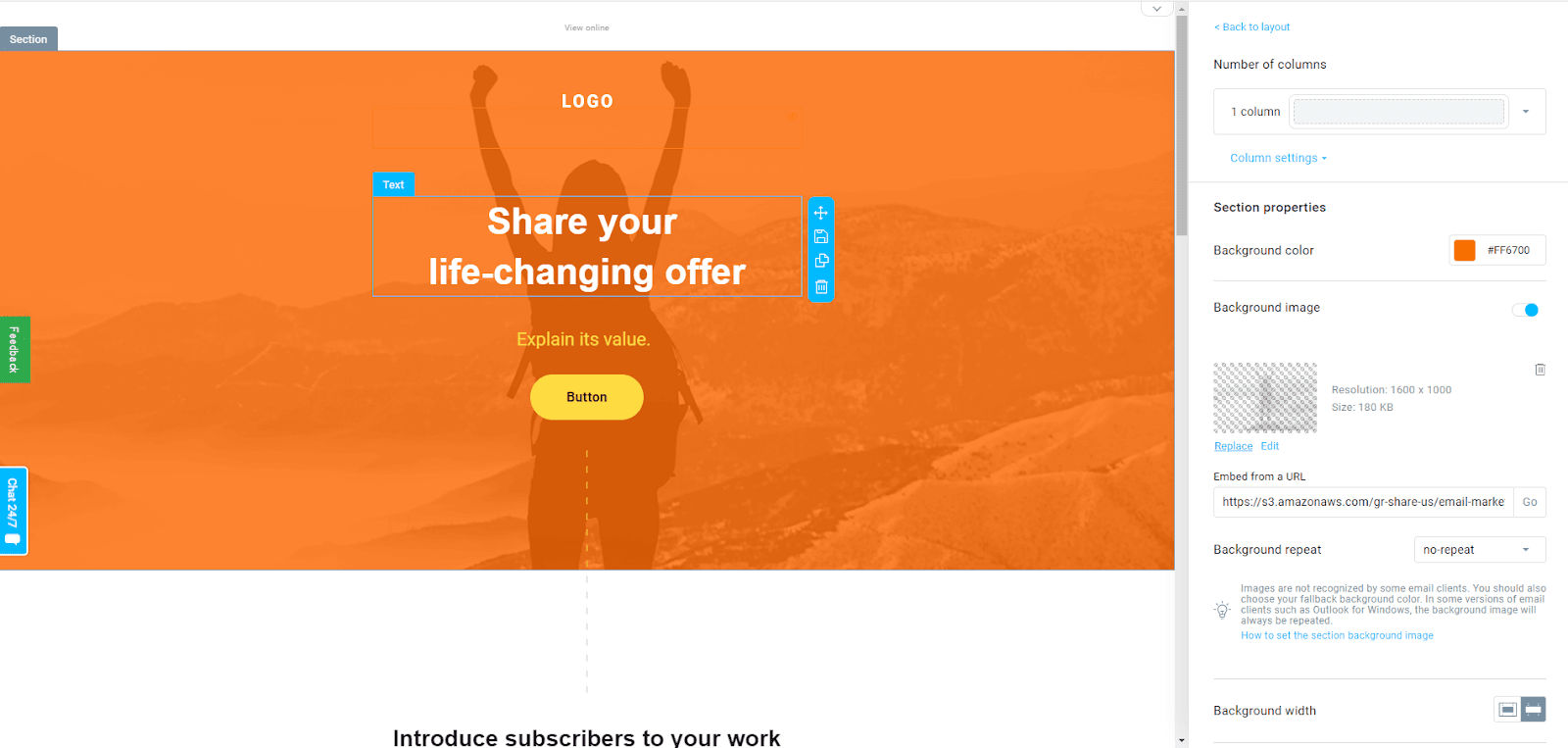 GetResponse also offers an in-built image and GIF library with its editor
, along with 2GB worth of image storage, which can save a ton of time when you're designing multiple emails at once.
My biggest complaint with Mailchimp is that the automation editor is point-and-click
. Why is this editor different? There's no real reason for it, and i
t makes for a confusing user experience.
There's no indication it's point-and-click, either. If anything, the neat boxes in the sidebar make it look like a drag-and-drop situation. I'd have at least hoped for a tutorial. By comparison, GetResponse's editors are all drag-and-drop, making it much easier to use.
A/B Testing
Both GetResponse and Mailchimp offer A/B testing, but if I'm honest, it's like comparing a fresh, crisp apple straight from the orchard with the last, bruised apple in the supermarket.
The latter will do in a pinch, but it's not the one you really want.
Mailchimp's A/B testing is there, and it's functional.
But you're limited to testing three variables at once:
your subject line, your "From" name, and your content. Comparatively,
GetResponse allows you to test up to five subject lines or five content variations
.
Ease of Use Winner: GetResponse
All in all,
GetResponse seems to have put more thought into user experience than Mailchimp.
The dashboards are easier to read, and being able to customize my homepage was a nice touch.
Deliverability
Both Mailchimp and GetResponse Do a Pretty Good Job
Okay, before I get started on this section, I need to point out that
I don't buy into the normal deliverability tests that some other sites use
. No shade if you find that helpful, but in our research, we've found that these percentages don't tell us all that much.
One of my colleagues did a fantastic job of explaining why deliverability results can't be trusted and what you can realistically do to actually boost your deliverability.
But basically this means that I won't be giving you a percentage rate in this section – I'll be doing better, and looking at what Mailchimp and GetResponse actually do to improve the odds of your emails reaching your contacts' inboxes. So, let's take a look at our first port of call:
anti-spam policies.
Unless you're paying for a dedicated IP address for your email marketing – more on that later – you'll be sharing an IP with potentially thousands of other EMS customers.
If just one of those customers uses the IP address to spam recipients and the IP address gets reported, the entire IP address can be blacklisted by email servers.
This means that your emails can get thrown into the junk folder along with emails from overseas princes and lonely, rich widows, even if they're perfectly legit. So,
whichever EMS you use needs to have a solid anti-spam policy
to make sure you're not at risk of being blacklisted. The good news is that
both GetResponse and Mailchimp do a good job with this
(read our detailed
GetResponse review
and
Mailchimp review
to find out more). Both platforms are vehemently anti-spam and remind users of their obligations under CAN-SPAM, GDPR, or any other applicable data protection laws. The main difference between them is that
Mailchimp prohibits affiliate marketing, and GetResponse doesn't.
This might not be a dealbreaker for you, but it's worth noting that affiliate marketing
can
increase the risk of an email being marked as spam.
Another key factor in deliverability is
DKIM authentication
. This drops a chunk of code into your email that tells email providers that you own the domain of, say, fancylegitbusiness.com, so these providers can be sure communications from you are legitimate.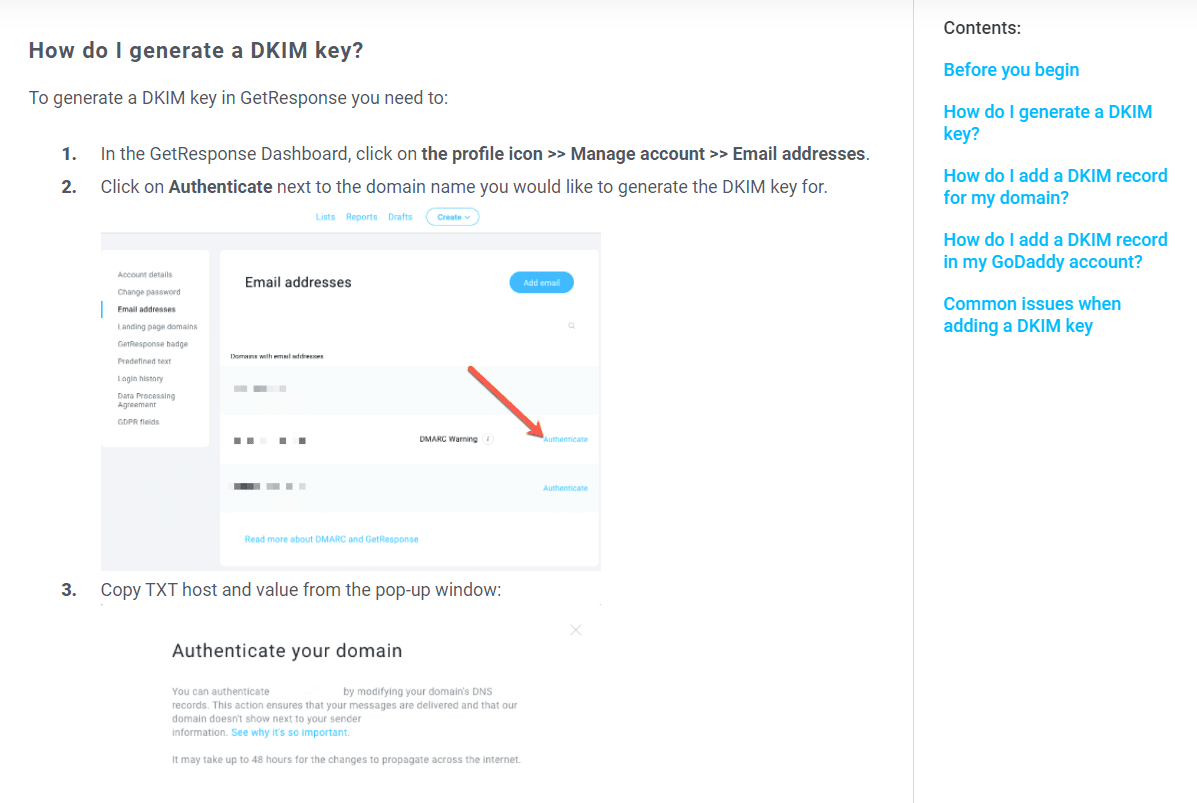 Both Mailchimp and GetResponse offer DKIM authentication tutorials
to help you connect your domain name to your EMS account, and they're pretty easy to follow, too.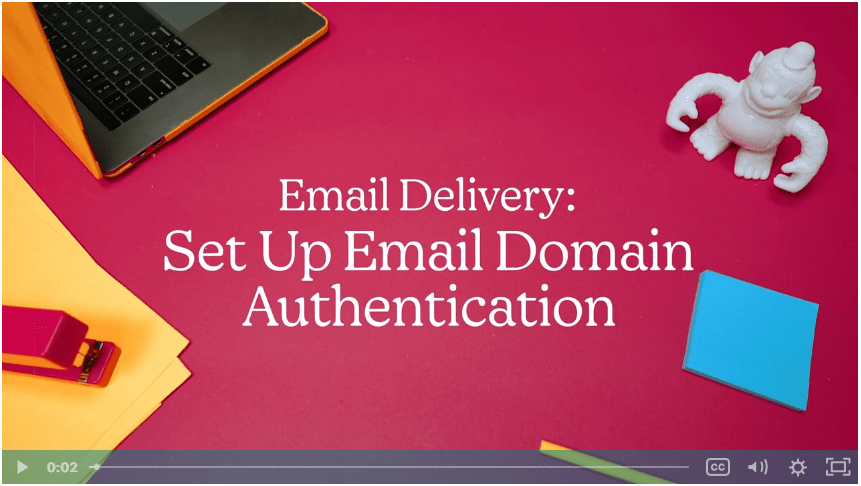 Like I mentioned earlier, using a dedicated IP address can also improve your deliverability. It's not a complete solution because there are so many factors that go into deliverability, but it greatly reduces the risk of your email IP address being blacklisted for spam.
Mailchimp doesn't offer a dedicated IP address,
even on its super-expensive Premium plan. This sucks because most other providers will offer a dedicated IP once you get to that point. Although it's only available on the most expensive Max plan,
GetResponse does at least offer a dedicated IP address if you're prepared to pay for it
. If having a dedicated IP address is a deal-breaker for you, but you don't want to fork out for an Enterprise-level plan just yet,
take a look at
Benchmark
 – it offers a dedicated IP address as a paid add-on for every tier.
In the battle for deliverability, it's a tie between GetResponse and Mailchimp.
Sure, Mailchimp doesn't offer a dedicated IP address, but it also doesn't allow affiliate marketing on its servers like GetResponse does.
Reporting and Analytics
Basic, Beginner-Friendly Reporting
With any EMS,
you'll want plenty of information that you can use to optimize your email marketing campaigns
. As GI Joe loved to tell us in the 80s, knowing is half the battle, and you need to know how your contacts are interacting with your marketing. As we talked about in the last section, you'll also want to know that your emails are getting to the people who signed up for them. When you're paying per contact,
you need to know who on your list consistently bounces emails back to you.
Both Mailchimp and GetResponse offer decent analytics options, even if they are basic. Not that basic is always a bad thing.
When you're new to email marketing, or you don't have that much time to dive into your reports, basic is great.
It helps you understand what you need to know, and quickly. So, how easy are these basic reports to navigate? I like GetResponse's analytics dashboard. It's easy to read because it's broken down into numbers, graphs, and charts. It's also not super overwhelming since it doesn't provide endless streams of data.
You can even re-order the blocks so you can see the statistics that matter the most to you first.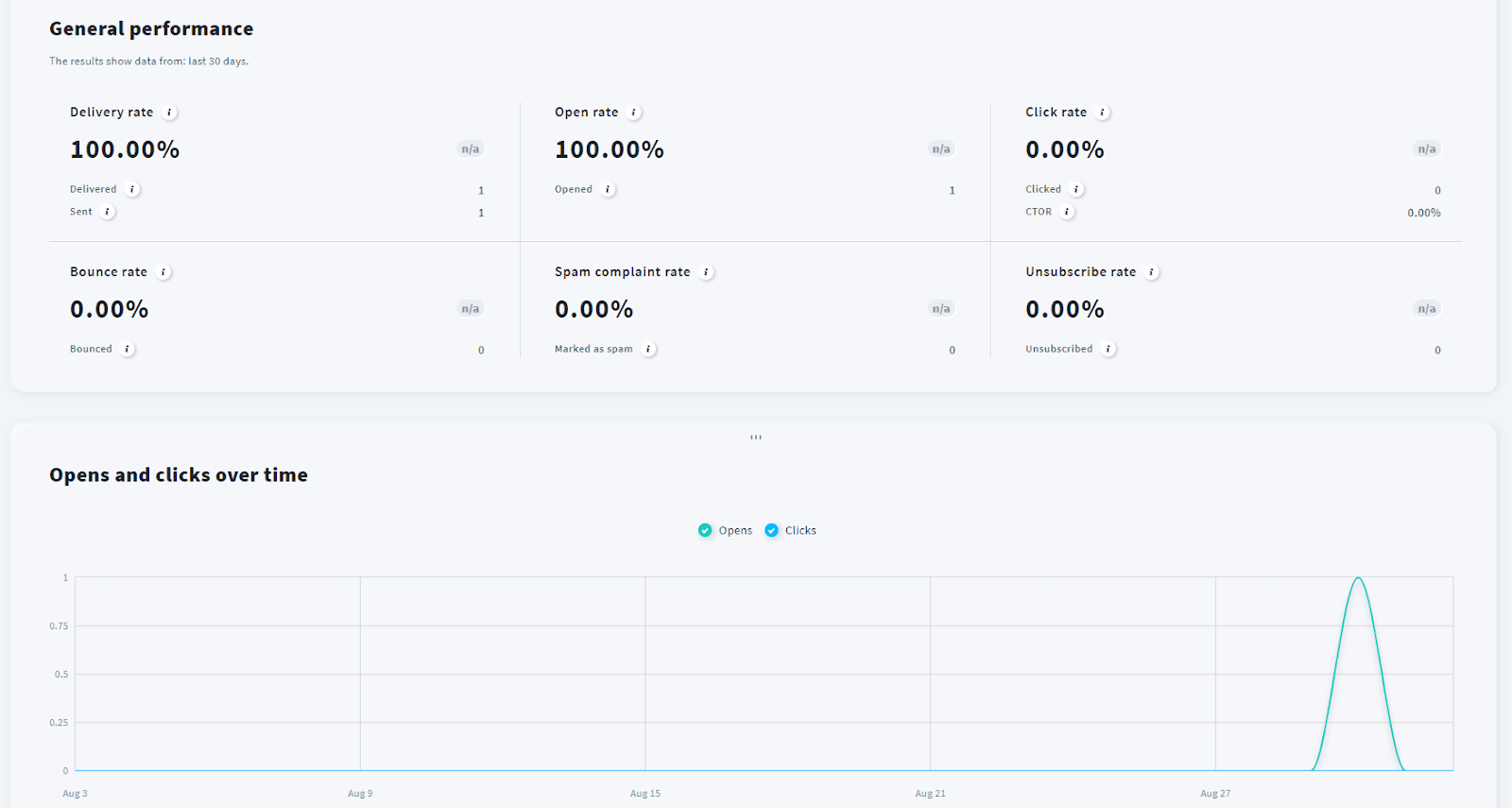 By far, my favorite part of this dashboard is the ability to hover over statistics to learn what they mean.
This makes it easy to understand how your campaigns are doing,
even if you don't have a background in marketing. You can also
filter your analytics by date and campaign and download your statistics as a PDF, XLSX, or CSV file.
Or, if you'd prefer to see a single campaign's analytics, you can click through to see the statistics from the Newsletters tab. Alternatively,
you can see a snapshot of your latest newsletter's analytics from your dashboard
, or add widgets that let you see your conversion statistics, open rates for your autoresponders, or how many contacts have reached the end of your workflows. For me, this was another example of how GetResponse put user experience first.
With Mailchimp, you can only see statistics on each individual email.
To download reports, you have to click on a dropdown menu next to each email on the Reports tab. You can download multiple reports at once, sure, but they're not grouped like they are with GetResponse.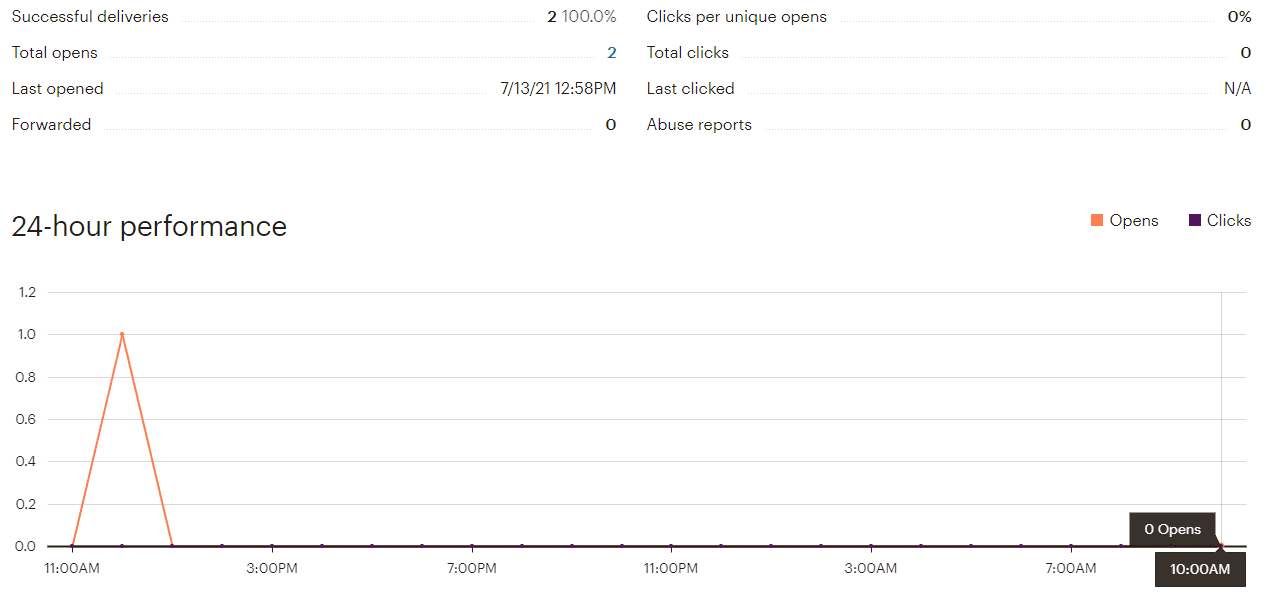 Mailchimp's dashboard isn't customizable like GetResponse's, but it easily makes up for that by
offering more information about where users clicked on your email.
I really liked the click map feature, which shows you where links are and how many clicks those links had. This could be really useful in helping you to optimize your email layouts.
Mailchimp also offers
geolocation and social reporting,
so you can see where in the world your contacts opened your emails and even whether they tweeted your email. Geolocation reporting in particular is really useful – so it's a shame that GetResponse doesn't offer this feature. In all fairness,
both Mailchimp and GetResponse's analytics offerings
are likely to be more than enough for beginners.
But, once you've gained some experience and want to optimize your campaigns further, you'll likely find this level of information restrictive. If you need more detailed insights into how your campaigns are performing,
I recommend looking into ActiveCampaign
.
The reports aren't as visually appealing, granted, but you'll get additional insights like the date and time your emails are opened, how well your forms have performed, and the ability to track custom goals – just take a look at our detailed
ActiveCampaign review
to see what I mean. Again,
it's a tie between Mailchimp and GetResponse with analytics.
Honestly, this one comes down to personal preference. GetResponse's analytics features have been built to make it as easy to read and build reports as possible, but Mailchimp offers a few extra features that can be helpful.
Reporting and Analytics
GetResponse
Mailchimp
Easy-to-read analytics dashboard

Yes, plus you can reorder blocks as needed and combine analytics for multiple campaigns

Y

es, but you have to click through each campaign individually

Visual representation of analytics

Yes – graphs and pie charts

Yes – graphs and a click map

Geolocation analytics

No

Yes
Who wins?

✔

✔
Pricing
Free Trial vs. Free Plan
Both Mailchimp and GetResponse offer free forever plans
, but there's a big difference between how useful each of these plans are. On Mailchimp's free plan
you get 10,000 email sends a month for up to 2,000 contacts,
which is pretty generous compared to other free plans
.
But if you've got a sizeable contact list, you'll need a paid plan. You'll also need a paid plan for anything beyond basic email marketing – the free plan only offers 7 email templates, basic autoresponder functionality, and the ability to build landing pages and sign-up forms.
Still, if you're a small business, the Mailchimp free plan will probably be plenty for you.
By comparison,
GetResponse's free plan is hardly useful unless you're just starting out with email marketing.
Unlike with Mailchimp's free plan, there's no automation, no segmentation, and no integrations. The only real saving grace is that you can send unlimited emails up to 500 contacts. So, unless you're absolutely sure you don't need anything more than the bare minimum, I'd recommend taking advantage of GetResponse's generous free trial.
GetResponse's 30-day trial allows you to access its entire suite of features – including those only available on the MAX plan.
So, you get a month to play around with building webinars, transactional emails, and unlimited marketing automation. There's also no limit to how many contacts you can have or how many emails you can send. This is a pretty decent approach if you're not sure which features you'll need access to, but I would also advise caution here.
Once your free trial is over, you might find you love a specific feature, but that it's only available on a plan outside your budget.
You don't need a credit card for the free stuff from GetResponse or Mailchimp either
, so you don't need to worry about sitting on the phone for an hour to cancel your plan before you get charged. That's definitely a win. In short, if you're working with a limited budget, Mailchimp's free plan is definitely the better of the two. But, if you're looking for something that gives you room to grow and develop your email marketing skills,
definitely take out a free GetResponse trial and see if it works for you.
Paid Plans
The paid plans are where things get complicated. In my opinion,
Mailchimp is an extremely expensive service for the features it offers.
First things first –
there's no such thing as unlimited email sends with Mailchimp, even on the Premium plan.
This seems stingy, to be honest, as almost every other EMS only limits the size of your contact list, not your email sends. It's also worth mentioning that
both Mailchimp and GetResponse will automatically charge you if you go over your contact limit.
GetResponse says they'll add a "list extension fee", so you need to watch out for that. And with Mailchimp's pricing structure,
you'll be charged an expensive extra monthly fee for those contacts unless you upgrade to the next tier.
For example, let's say you're on the Essentials plan with a cap of 1,500 contacts, and end up going over. You'll be charged an extra
$
20.00
/month per additional 500 contacts. Given that the next tier up gives you 1,000 more contacts for a dollar more, you can see how this can get expensive.
It's effectively an overdraft for your email contacts.
Neither EMS offers a money-back guarantee,
but GetResponse's pricing structure offers a small discount for paying yearly. With Mailchimp, you're stuck with monthly payments. Let's compare the mid-tier plans from these EMS providers:
Mailchimp Standard
GetResponse Plus
Price for 2,500 contacts
$51.99/month

$

19.00

/month
Email limit

30,000

Unlimited

Automation

Yes – autoresponders and Customer Journey builder

Yes – 5 custom workflows, plus autoresponders and abandoned cart emails

Contact Segmentation

Yes – five audiences, plus tons of segmentation options

Yes – tons of segmentation options, plus automated segmentation on contact sign-up and as part of automated workflows

Support

24/7 email and live chat, plus knowledge base

24/7 email and live chat, knowledge base, webinars
Simply put, GetResponse offers you more value for money
. You'll also get access to webinar software on this plan, which Mailchimp doesn't offer at all. That might not be a key feature for you, but it can be a good marketing avenue for some industries.
Support
There's No Competition When Mailchimp Treats Support as a Paid Extra
Good customer support can make or break any EMS, particularly if you're new to email marketing and need someone to help you figure out what you're doing.
If you want to access customer support at Mailchimp, be prepared to pay.
You can only use email support for the first 30 days with your free account, and phone support is only available on the Premium plan. For all other plans,
you'll get 24/7 email and live chat support
, as well as a decent knowledge base plus a very basic helpbot. And when I say basic, I mean basic: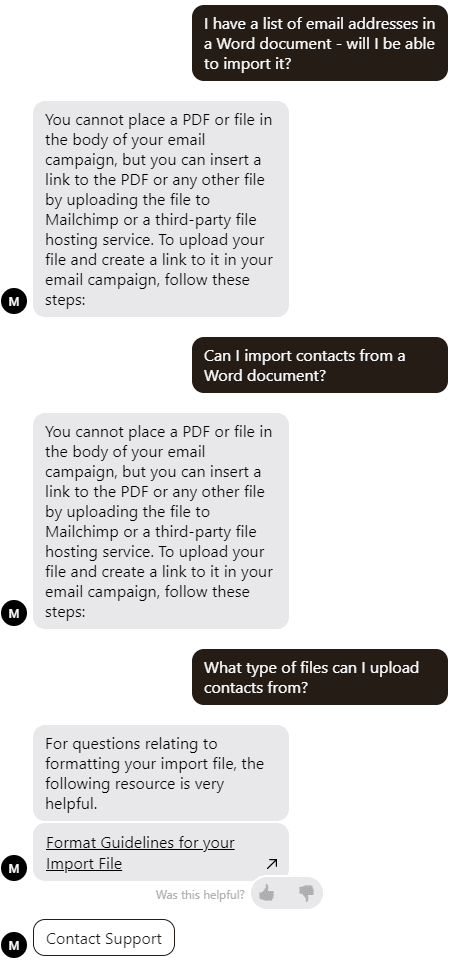 Mailchimp's email support was decent, however.
It took the customer service agent 8 hours to get back to me, which I was really happy with. However, in full transparency, my colleague had a very different experience with the email support when he tested it out in our
Mailchimp review
. Honestly, it's a shame this support channel isn't available for more than a month on the Free plan, because I appreciated that the customer service agent included a quick evaluation of cost and a link to the comparison tool.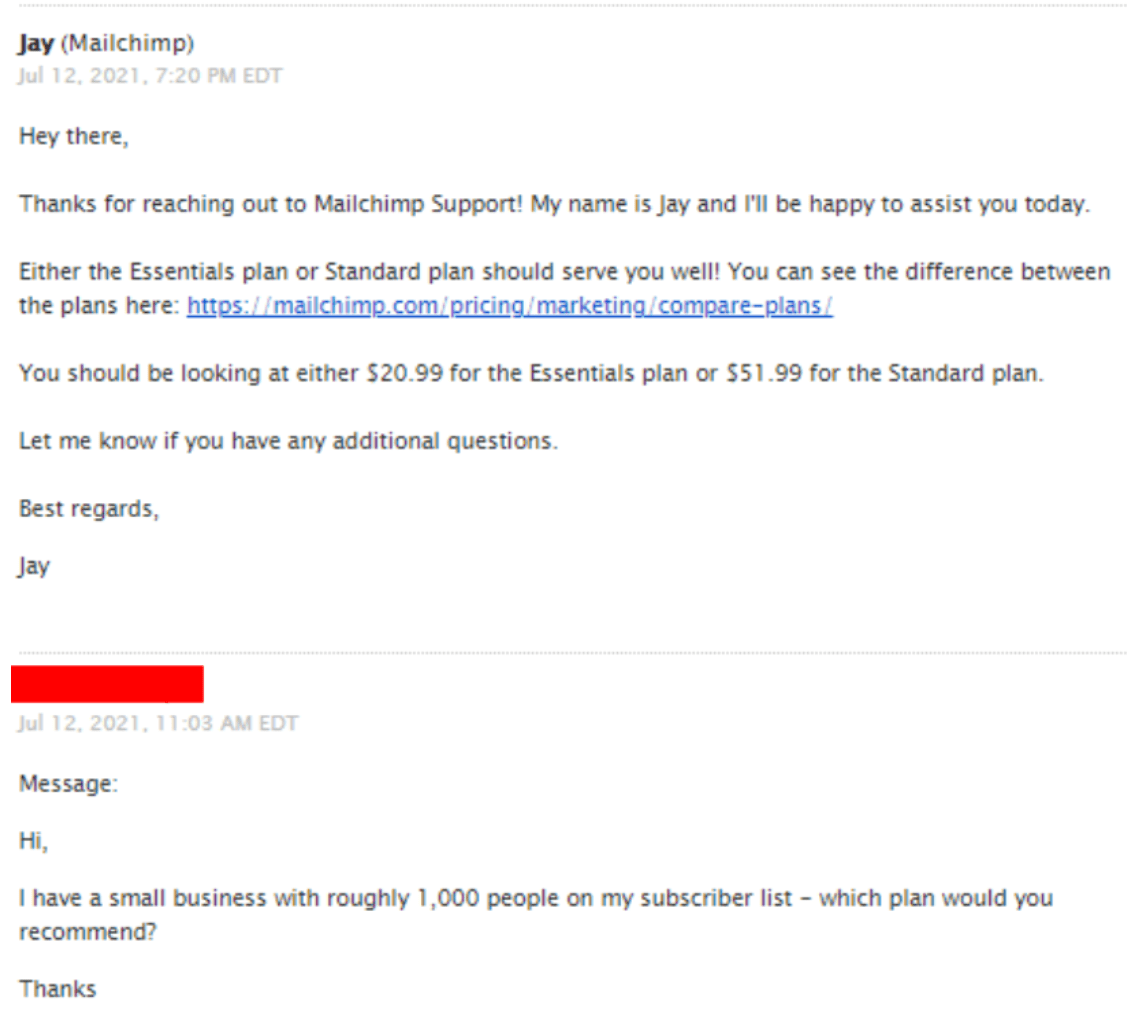 GetResponse offers 24/7 email and live chat, a knowledge base, and webinars on all plans.
You also get access to a "customer experience engineer" to handle your questions, phone support, and Slack support with the MAX plan. The knowledge base is a lot more extensive than the one Mailchimp provides,
offering webinars covering both features and general email marketing tips
.
GetResponse's live chat is also impressively fast,
and I got my questions answered in no time at all.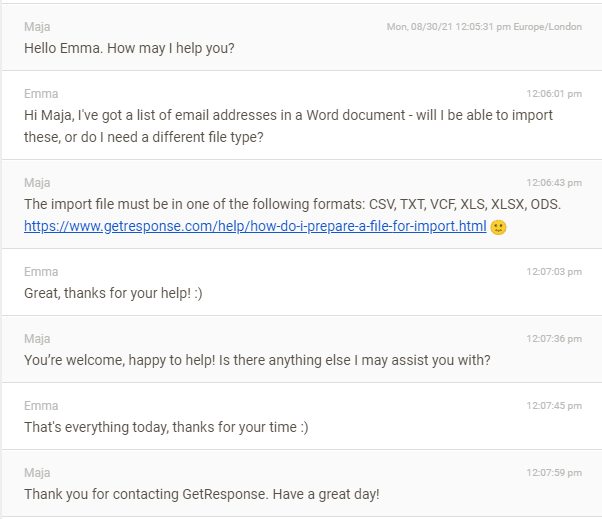 Thankfully, GetResponse's email support line showed me that my optimism was well-founded. I asked which plan they recommended for a small business list of 1,000 contacts, and
I had a response to my question within 7 hours.
I also liked that the agent gave me a summary of which plan I might like based on a few key features relevant to my needs.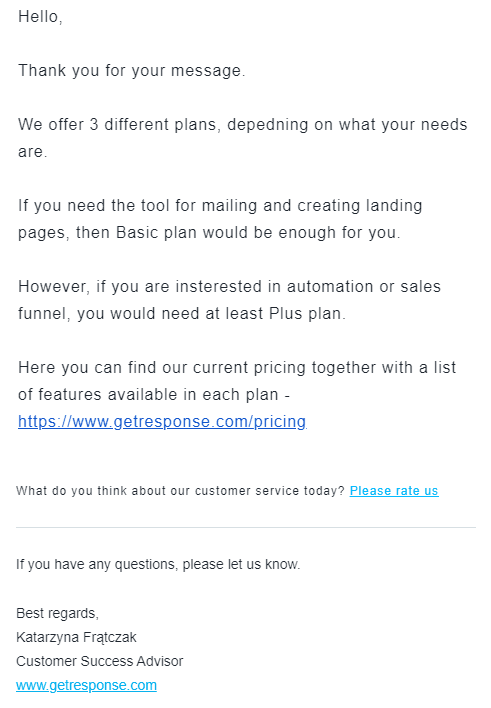 The win for this section goes to GetResponse
. It offers super-quick customer service response times, and the inclusion of training webinars is fantastic for anyone new to email marketing. Mailchimp's support might be decent enough – as long as you're not using the helpbot –
but the fact that support is only available if you pay
can leave a lot of email newbies in the dark.
GetResponse vs. Mailchimp: Which EMS Comes Out on Top?
The overall winner here is GetResponse.
It offers a ton more features for your money, and there's a significant focus on user experience that I just didn't find when I was testing Mailchimp. From its modern, mobile-friendly templates to the advanced complex workflow builder, a lot of thought has gone into making this EMS as easy to use as possible.
Mailchimp works well if you just need a free email autoresponder, but I can't in good conscience recommend any of its paid plans.
When you reach the point where you're considering paying for a plan, then I recommend GetResponse all the way.
GetResponse
Mailchimp
Features

Easy to use, modern, but basic in some places

Some features look and feel dated, and features are limited – even on the paid plans

Ease of use

Great user experience with a simple UI and plenty of customization

Shiny design, but UI can be confusing

Deliverability

Good anti-spam policy, but does allow affiliate marketing

Good anti-spam policy, but no dedicated IP address – even on expensive Premium plan

Reporting and Analytics

Easy to read and understand, but might be too basic for your needs

Easy to read, but you can't easily group together campaigns for your reports, and analytics are pretty basic

Pricing
Limited free forever plan, 30-day free trial of all plans, then starts at

$

0

/month. MAX plan must be purchased via custom quote

Forever free plan, or paid plans rang from

$

20.00

– $670+/month
Support

24/7 live chat and email, knowledge base, webinars, and additional support channels for MAX customers

24/7 email (30 days only on free plan) and live chat, knowledge base, additional phone support for Premium customers
FAQ
Is GetResponse better than Mailchimp?
GetResponse is better than Mailchimp because it offers a ton more features for a lower cost. It's also more user-friendly and designed to help beginners understand email marketing. Plus, when you need a paid plan, GetResponse offers far better value for money. You can get yourself a discount on GetResponse from our coupons page, too.
Which one should I choose, Sendinblue or GetResponse?
That depends on what you're looking for from an EMS. Sendinblue has a fantastic free plan with 300 email sends a day, perfect if you don't have a marketing budget. However, GetResponse offers modern email templates, great A/B testing tools, and a beginner-friendly automation builder.
Is Mailchimp better than Sendinblue?
Sendinblue is far better than Mailchimp because its free plan is far less restrictive. While it might offer fewer email sends, you're not limited on your contact list size, and you get over 60 email templates on the Sendinblue free plan – Mailchimp only offers 7.
What is the best alternative to Mailchimp?
This depends on what you want from an email marketing provider. Sendinblue's free plan is fantastic, and GetResponse and ActiveCampaign both offer more email marketing features for your money, which is why they're above Mailchimp in our top 10 email marketing services in 2023 list.