ActiveCampaign and AWeber are both big names on the market, and both pack plenty of features – enough to satisfy even the most demanding user. Honestly, both are great services. Still,
depending on your specific needs, one might be better for you than the other
. Remember, no email marketing platform does
everything
perfectly.
I spent a ton of time testing both platforms and found that, overall, ActiveCampaign offers a slightly better deal in most cases
, although you'll have to read on to which where…
That said, AWeber won the analytics battle hands down, and I'd say it's a better choice for marketers with small email lists.
That's because you can actually use AWeber without spending a dime, as it comes with a free plan. If you want to test both platforms yourself, I'd recommend taking a look at ActiveCampaign's 14-day trial, which unlocks access to most of the platform's premium features. Read on to find out why it came out on top in my comparison – or, if you're ready to commit, check out
ActiveCampaign's latest deals
 now.
Features
AWeber Does a Lot, but ActiveCampaign Does More
I was pleased to discover that all of the main features I was looking for were offered by both platforms – in the end, my ActiveCampaign vs AWeber comparison came down to the small details.
ActiveCampaign and AWeber match each other point-for-point on most features, including integrations, personalization, landing pages, and A/B testing.
The first minor difference concerns email templates.
AWeber offers about 700 email templates, but most feel outdated and out of touch with modern design standards. There are some hidden gems in the selection, but finding them takes time. By contrast, with an
ActiveCampaign plan
, you only get about 125 email templates – but all are unique and exciting, with modern, minimalistic designs that stand out.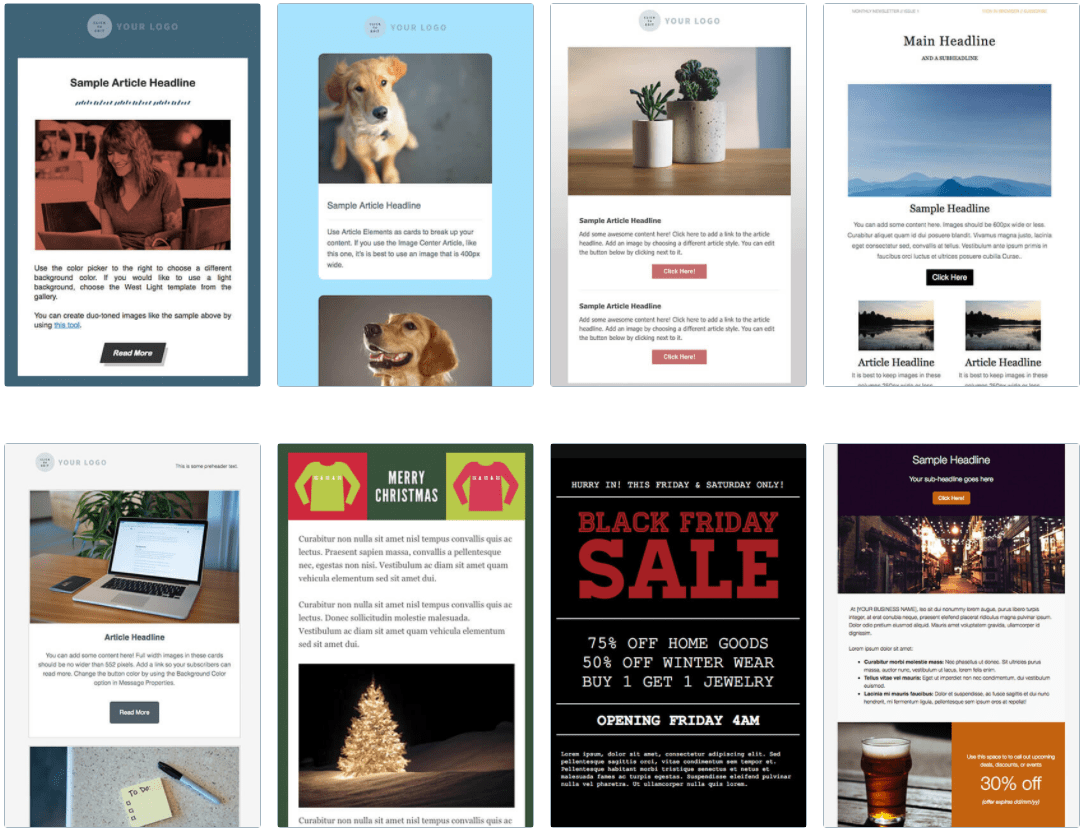 If your goal is to design advanced automation workflows,
ActiveCampaign will help you do more as it offers a better set of automation tools
(just read our
ActiveCampaign review
)
. With pre-built automation templates, contact scoring, automation split-testing, and other advanced tools
, you'll be able to capture and nurture the right leads at the right time. By comparison,
AWeber has a basic automation system
similar to those you'd find on most email marketing platforms. Not bad – but not as good as ActiveCampaign's.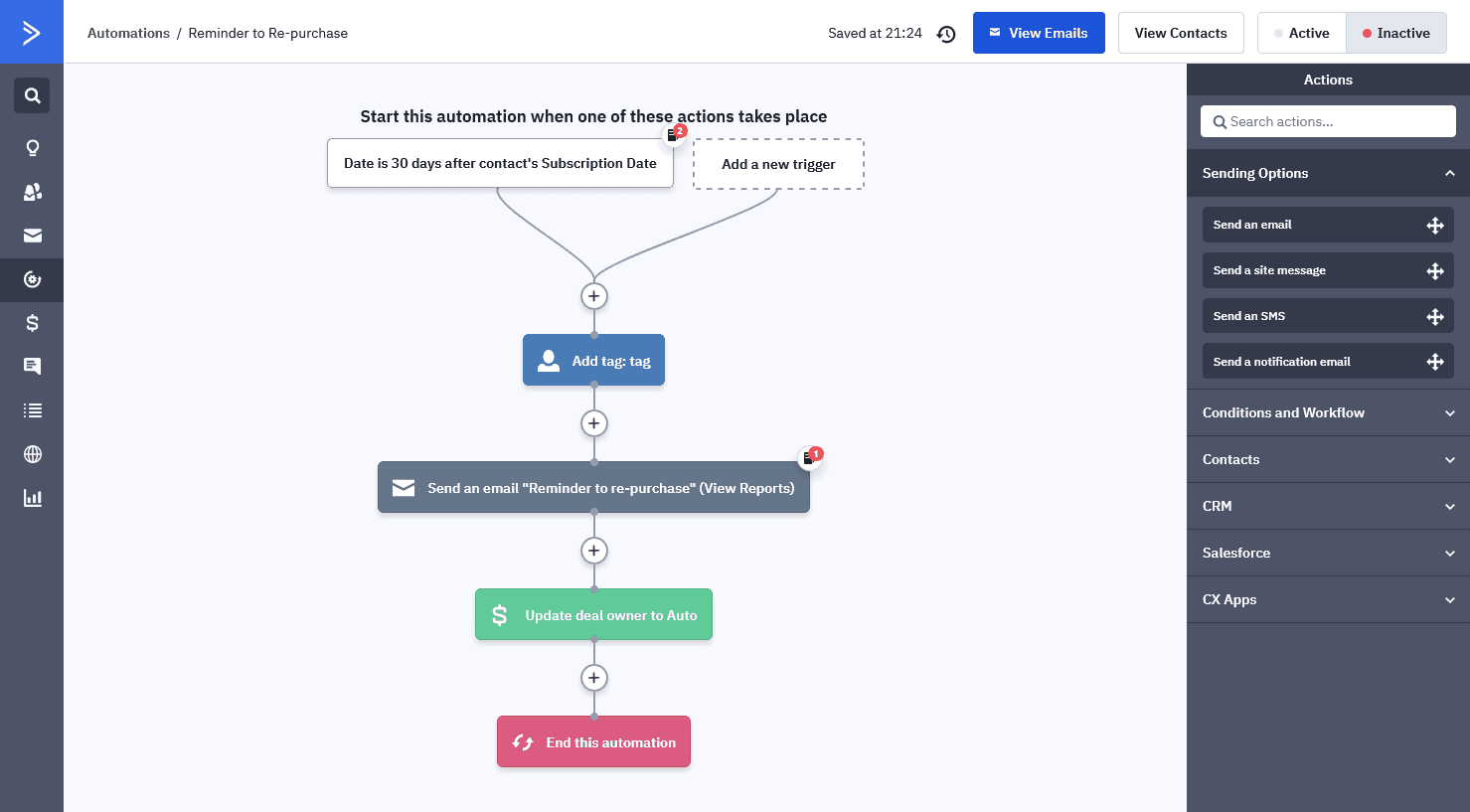 Besides offering better email marketing automation,
ActiveCampaign also boasts a robust customer relationship management (CRM) tool.
You can use this to automate sales processes by creating pipelines and tracking customer journeys. With advanced lead scoring, you'll know more about your prospects, so you'll be able to design better email campaigns and strike better deals. AWeber doesn't come equipped with a built-in CRM tool – you'd have to use a third-party integration if a CRM is important to you. On the other hand,
if you often create content in right-to-left (RTL) languages such as Hebrew or Arabic, you'll probably want to go with one of AWeber's plans.
Both platforms perform well and get the job done. But
ActiveCampaign takes email marketing to a whole new level with an impressive set of advanced features.
Ease of Use
Both Platforms Are Easy to Use, But ActiveCampaign Offers a Better User Experience
Both ActiveCampaign and AWeber feature easy-to-use drag-and-drop email editors
that simplify the email design process.
However, with ActiveCampaign, I felt like I always had a better idea of where to go next
– AWeber's menus can be a bit confusing.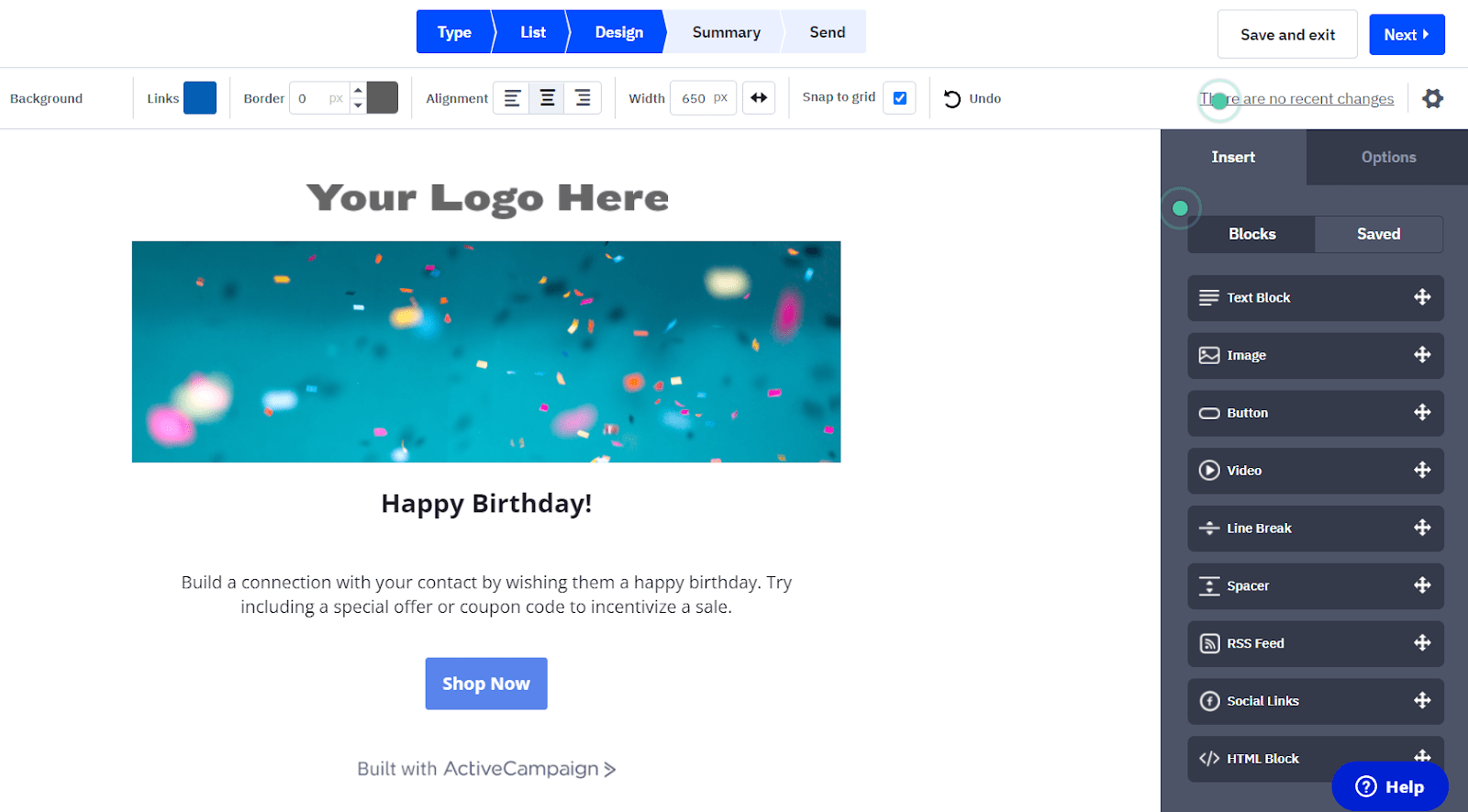 For example, if you want to access AWeber's automation tool, you have to click on
Messages
and select
Campaigns
from the dropdown menu. Although I understand this decision, I believe it would make more sense to give automations their own dedicated tab on the main menu. Importing lists is easy on both platforms, but unfortunately,
ActiveCampaign only supports files in CSV format –
although it does score extra points for making it easy to import contacts from third-party services, such as Asana, Basecamp, Google Contacts, PayPal, Zapier, and more.
AWeber gives users plenty of import options
, including XLS, TSV, CSV, and comma-separated TXT files. Both platforms offer advanced segmentation, but
ActiveCampaign's search function comes with a few more options
, including advanced searches based on boolean logic.
ActiveCampaign also has a built-in cleanup feature
,
making it easy to automatically remove unengaged contacts from lists.
Overall, I finished tasks and got things done a bit quicker when using ActiveCampaign.
The interface is also cleaner than AWeber's, and moving from one process to another felt a lot smoother.
Deliverability
Both ActiveCampaign and AWeber Promise High Deliverability Rates
Setting up well-thought-out campaigns and creating compelling emails is just part of the email marketing process. Those carefully crafted emails also need to reach their destination – your subscribers' inboxes. Many review sites offer deliverability rates based on self-run tests and anecdotal evidence.
But the truth is that arbitrary deliverability rates don't tell the whole truth.
Such tests are difficult to replicate because there are way too many variables to consider. They say more about the marketer than they do about the email marketing platforms in question.
Instead of relying on tests, it's better to judge platforms based on specific actions and measures they take to ensure higher deliverability rates
. Users have much more control over their results than they think. We've put together a detailed guide on
how to actually boost your deliverability
if you want to know more – but, in short, there are four things you should look out for:
DKIM authentication: A way to prove that the emails you send are really coming from you. Both ActiveCampaign and AWeber offer DKIM authentication – all you have to do is follow their respective guides to set it up.
Anti-spam policy: Strict anti-spam policies benefit all users. Because IPs are usually shared, shady practices affect deliverability rates across the board. Both ActiveCampaign and AWeber are strict with their anti-spam policies, but AWeber wins an extra point for passing the junk email test* – ActiveCampaign didn't.
Affiliate marketing: Affiliate marketing makes the online world go around, but promoting unrelated products and services is the best way to have your email marked as spam. ActiveCampaign and AWeber allow affiliate links, but those links should offer your contacts value, and they shouldn't be the primary focus of your email.
Private IP: A private (or dedicated) IP means no one else's email practice are affecting your deliverability rates. To qualify for a dedicated IP on ActiveCampaign, you need to have at least 100,000 subscribers – which means you're already spending hundreds of dollars a month. On the other hand, AWeber doesn't offer a dedicated IP, which can prove problematic, especially once your audience begins to expand.
*The junk email test involves uploading known spam addresses to a contact list and checking whether the system will automatically block them or filter them out. This one's a draw. AWeber scored an extra point for passing the junk email test, but so did ActiveCampaign by offering a private IP.
Reporting and Analytics
ActiveCampaign's Analytics Suite Is Good, but AWeber's Goes above and Beyond
Marketers live and breathe statistics. How else can you tell whether something's working or if changes are in order? If you want to know more about your prospects and develop better email marketing campaigns, you need to pick a tool that can generate all kinds of detailed reports. Let's take a look at ActiveCampaign first.
With the click of a button, you can immediately generate reports on email campaigns, automation workflows, and contact activity.
You can even receive reports on self-defined goals – after you set goals, the system will let you know whether or not you've met them. All the information you need to create a better strategy is there. If you've done the work and collected the relevant data, ActiveCampaign can tell you who opened your emails, as well as when and where they opened them.
Meanwhile, AWeber comes equipped with one of the most extensive reporting tools on the market – in fact it scored very highly in our AWeber review for analytics alone.
Even on its
free plan
, you can generate as many reports as you can with ActiveCampaign.
Upgrading to the Pro plan will grant you access to even more advanced statistics
such as detailed information about your audience and account, or invaluable email sales tracking.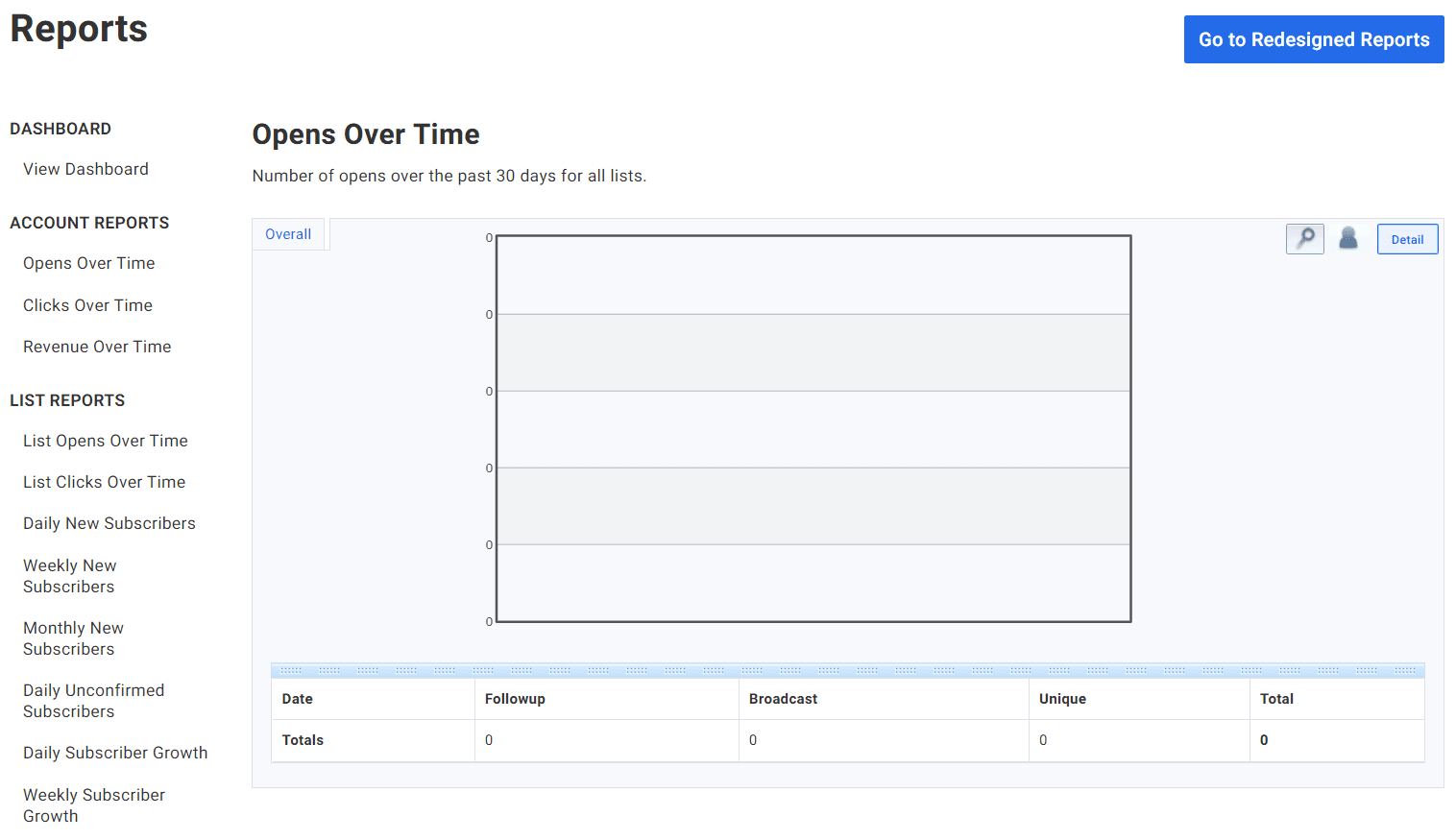 What sets AWeber's analytics suite apart from the competition is its ability to guide marketers and help them take action.
You're not just passively absorbing information about your contacts and campaigns. With AWeber, you can create new segments and update lists directly through the reports tab. For example, if your winter holiday promotion email did well, you can quickly target those who opened it with a follow-up campaign.
ActiveCampaign fought well, but this round goes to AWeber.
Pricing
AWeber Has a Free Plan, but ActiveCampaign Is Cheaper Overall
Both platforms are competitively priced, but
ActiveCampaign's plans are a bit cheaper. On the other hand, AWeber offers a robust and feature-packed free plan
– ActiveCampaign doesn't, although you can still benefit from a 14-day free trial.
Here's What You Get for Free
On AWeber's free plan, you'll be able to send up to 3,000 emails to a maximum of 500 contacts every month.
All things considered, it's a good deal for beginners and marketers with relatively small lists. Without spending a single dollar, you can gain access to AWeber's basic automation and reporting tool, as well as all of its templates and stock images.
ActiveCampaign doesn't offer a free plan, but you can test its premium features with a 14-day trial.
Just note that you'll only be able to send 100 emails to 100 contacts during the trial period.
Here's What You Get If You Pay
AWeber offers one simple paid plan that scales based on your total number of contacts.
It starts at
$
12.50
/month for 500 contacts and scales up to $149.99/month for 25,000. The Pro plan unlocks behavior automation, advanced reporting, sign-up form split testing, and more. ActiveCampaign offers four different plans, with the entry Lite plan starting at
$
29.00
/
month for 500 contacts. The Plus plan – with features comparable to AWeber's Pro plan – starts at
$
49.00
/
month for 500 contacts.
ActiveCampaign charges quite a bit less proportionately than AWeber.
In other words, the more contacts you add to your list, the more you save by opting for ActiveCampaign.
Both services offer discounts if you sign up for an annual plan
– but make sure you take advantage of AWeber's free plan and ActiveCampaign's free trial before committing to this, so you can be sure the service is right for you. Take a look at this comparison table to see which plan better suits your needs:
ActiveCampaign Plus
AWeber Pro

$

49.00

/month

$

12.50

/month
Templates

125+

700+
Advanced Automation

✔

✔

Advanced Reporting

✔

✔

Sign-up Forms

✔

✔

Landing Pages

✔

✔

Sales Tracking

Built-in CRM tool

Basic sales tracking

Support

Live chat, email

Live chat, email, phone
Support
AWeber's Representatives Reply Faster than a Millennial on Instagram
I contacted both support teams with the same question:
"I have a small business with roughly 1,000 people on my subscriber list – which plan would you recommend?"
My interactions with AWeber's support team have always been more than pleasant.
I've only had to use their live chat feature, and I've always had a response in less than a minute. This time was no different.
A representative was with me in a matter of seconds: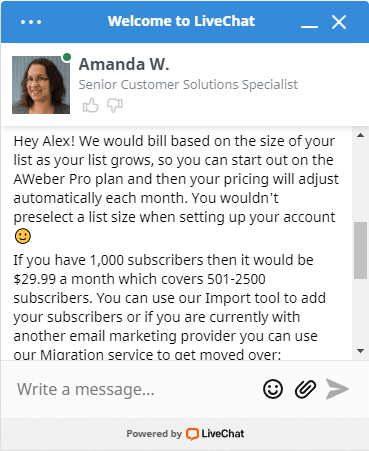 Not only did Amanda answer my question, but she also let me know that I can take advantage of their free migration service to move over any existing contacts – great stuff. AWeber also offers phone support on all their plans, available from 8am to 8pm ET Monday to Friday. I tried to connect to ActiveCampaign's live chat, but the site redirected me to a query page that operates through email – maybe because I was using a trial account. Be that as it may,
an ActiveCampaign representative got back to me within a few minutes:

Now, Darren didn't exactly answer my question, but
he was eager to set up a call with me to discuss my hypothetical business needs. This came as a happy surprise, considering that phone support is only available with the expensive enterprise plan
. I definitely wouldn't complain if my hypothetical business was real and I was weighing my email marketing options. Thanks, ActiveCampaign.
Both support teams are fantastic, but AWeber narrowly wins this round by offering phone support on all its plans.
ActiveCampaign Reigns Supreme
The AWeber vs ActiveCampaign battle was hard fought, but ActiveCampaign claimed victory once more.
There's a reason ActiveCampaign ranks first on our
list of the 10 best email marketing services
. ActiveCampaign just edged ahead in almost every round. It's an easy-to-use, feature-packed email marketing platform with advanced automation and great deliverability rates. With its free plan,
AWeber might be a better option for marketers on a budget, but ActiveCampaign ends up costing less as lists grow
. Here's a recap of everything we've covered so far:
Native RLT Language Support
No
FAQ
Is ActiveCampaign Better Than Mailchimp?
Yes, ActiveCampaign is a better email marketing platform than Mailchimp. Although Mailchimp is an easy-to-use platform with a free plan, it can't compete with ActiveCampaign in terms of features, analytics, and customer support.
Why Is ActiveCampaign the Best?
No email marketing platform is perfect. ActiveCampaign is no exception (take a look at our ActiveCampaign review to learn why), but it performs consistently well on many fronts. Its excellent automation tools, great support, and high deliverability rates make it an ideal choice for both new and seasoned marketers.
Which Is Better GetResponse vs AWeber?
Both platforms make it into the top 5 of our list of the best email marketing services. They're both great, so it all depends on what you want to do. GetResponse is an excellent solution for small businesses looking to scale. AWeber is a top competitor with a free plan, ideal for marketers who value detailed reports and maximum integration functionality. Check out our comprehensive GetResponse review and AWeber review before you make a decision.
Is ActiveCampaign a CRM?
ActiveCampaign is an email marketing platform, but it comes with a built-in sales CRM tool. It helps you automate contact management, create pipelines, score leads, and keep track of important tasks. If you're looking to make the switch, just make sure you check out these limited-time ActiveCampaign coupons and deals first.