you need email templates that look great on any device and make your brand shine
. The email template you choose should also allow you to make simple customizations, even if you aren't an experienced designer. With these needs in mind, I tested out AWeber's email templates for my digital agency clients.
 I found several winners that feature responsive design, provide easy customization, and allow straightforward e-commerce integrations
 – and they're all included on
AWeber's free plan
. But I didn't stop there. I also identified several AWeber templates that I don't recommend using and found some
GetResponse email templates
 I would use instead. Check out my picks for the best AWeber email templates and try them for yourself.
What Kind of AWeber Email Templates Are Available?
If like me, you're more of a marketer and less of a designer, then you'll appreciate the wide selection of premade templates that AWeber offers.
Out of AWeber's 700 mobile-responsive templates, you can access about 200 of them with a free account.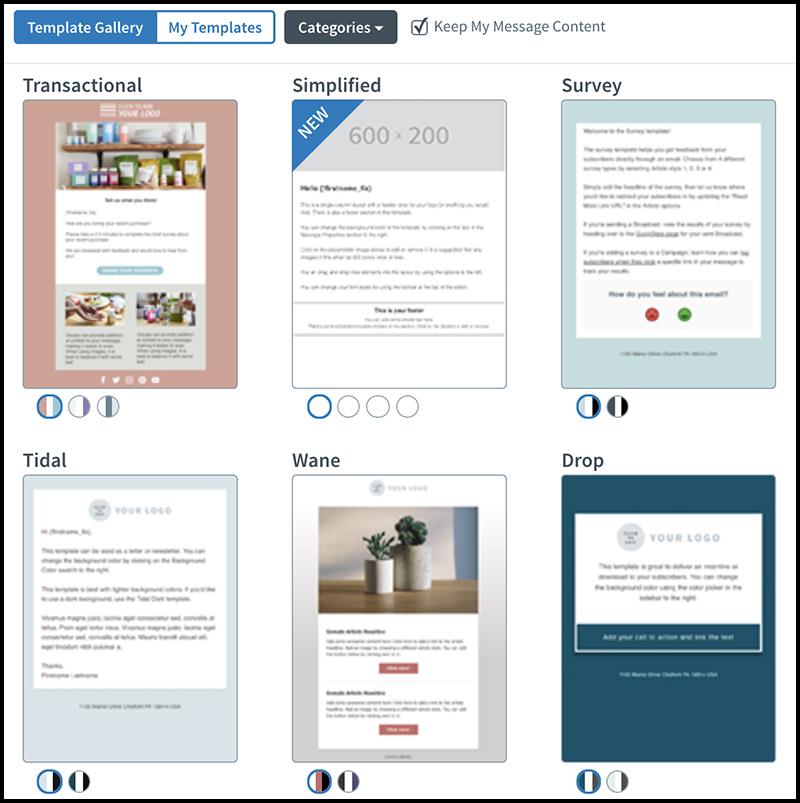 Since you can sort the templates by categories, I found it easy to pick out templates for promotional emails, holiday messages, corporate news releases, and more.
 Altogether, there are over a dozen template categories
. The e-commerce, blog, and promotional categories have the most options, and there are some smaller groups of templates for industries like automotive, food, and travel.
 I also spotted AWeber-compatible templates on ThemeForest and TemplateMonster
, giving me even more options for premade designs.
AWeber also offers several methods for creating custom templates that let users of any skill level develop tailor-made emails.
With AWeber's drag-and-drop editor, you can create your own custom templates – you can see how we got on with it in
our detailed AWeber review
. With AWeber's HTML templates, you can alter any line of the HTML code to customize every element of your emails. Using the import option, you can upload existing templates to AWeber, if you have templates you've already created in another email marketing platform.
List of the Best AWeber Email Templates
After using dozens of AWeber templates, I've identified some clear favorites. Take a closer look at five of my top picks, or to see all of AWeber's templates,
go to the AWeber homepage
.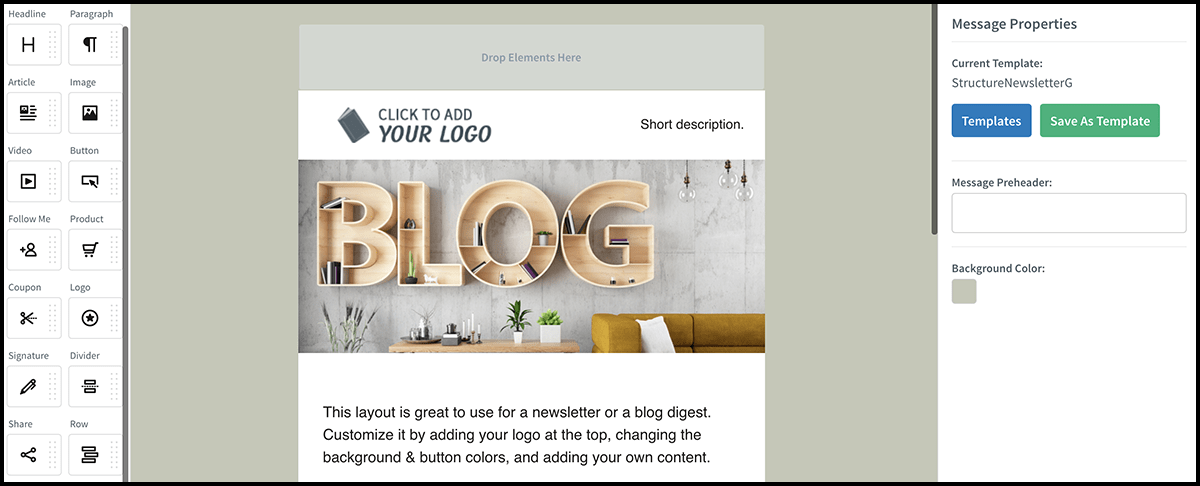 Any email marketing service I use has to have a simple template that I can use for updating subscribers.
Newsletter
 works well for this, since it has space for my logo, a primary image, a main message, and several links to blog posts or other news. I like that
I can place the content blocks in any order I want
, and I can also add extra elements. For example, I can add a headline at the top or a button at the bottom to draw extra attention or encourage clicks.
The default Newsletter template also has social icons
, which is ideal for encouraging subscribers to connect through other channels.

Because
the Newsletter template offers full drag-and-drop capabilities
, I can do almost anything with this template. I can add products, coupons, or any other design elements. I can also take full advantage of AWeber's gallery of more than 6,500 stock images.
2. Daily Deals – The Best Template for E-commerce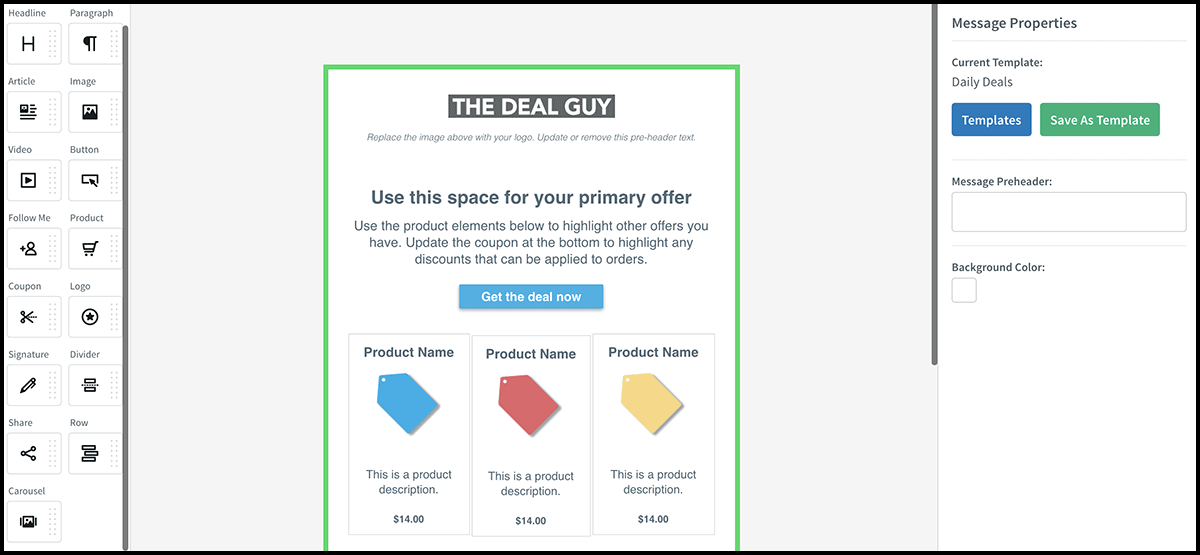 Since most of my clients have online stores, I'm always on the lookout for high-performing e-commerce emails. I like
Daily Deals
 for e-commerce because it's designed to drive sales without weighing down the message with unnecessary text.
I appreciate that the layout makes it easy to add my clients' featured products, especially after integrating their Etsy or BigCommerce store.
 If I need to highlight just one or two products, I like that the template allows me to delete the default columns. Because my clients often have online discounts, I also like that
Daily Deals
leaves space for coupon codes and offer details.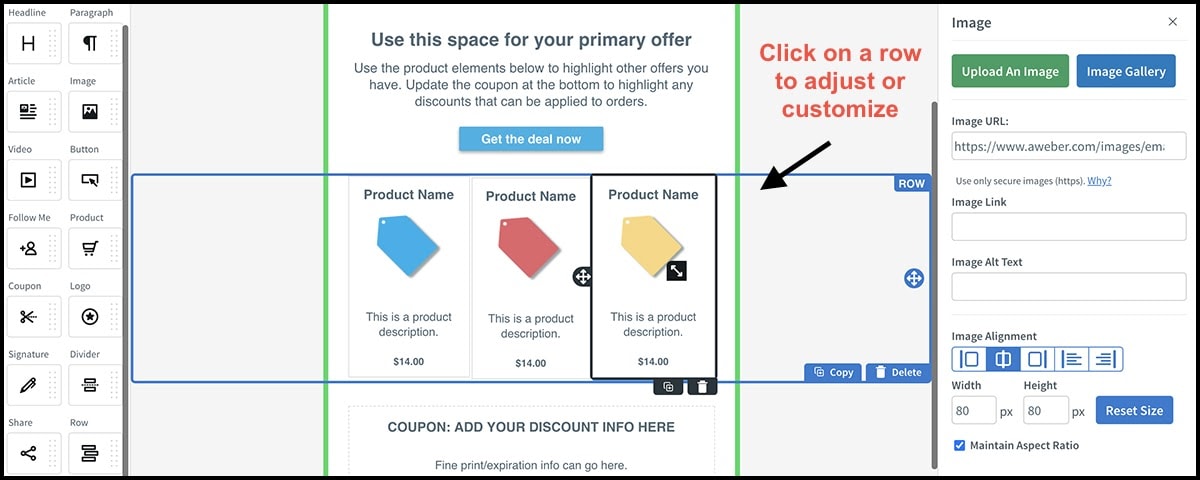 Although this template comes with a generic logo, I can replace the default with my clients' logo in seconds.
I can also adjust the padding, alignment, and branding to meet my clients' needs.
3. Notification – The Best Template for Time-Sensitive Offers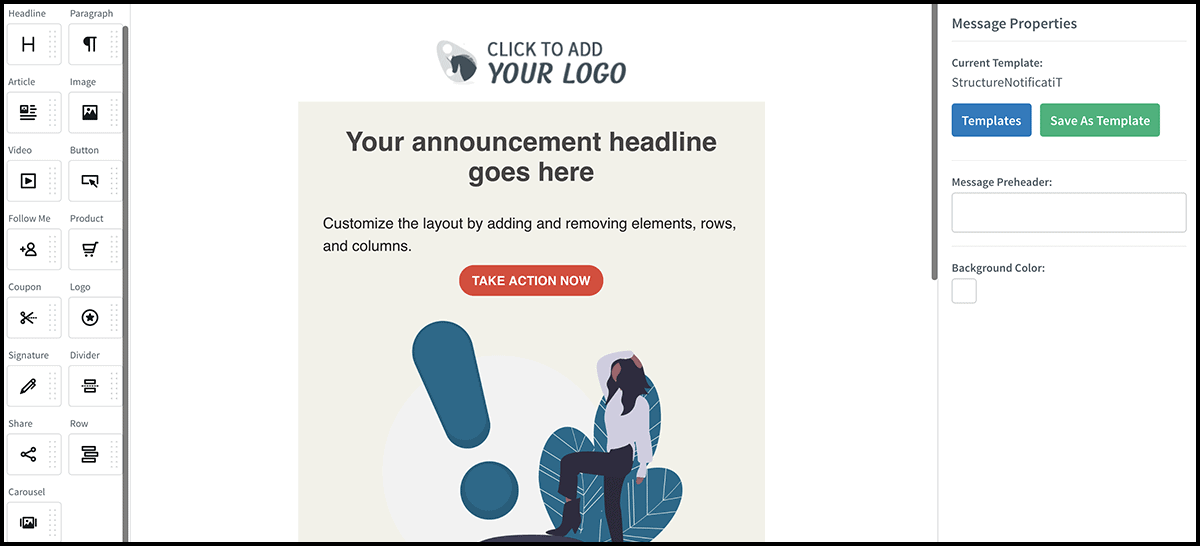 From special offers to limited-time discounts, I send out a lot of emails that need to drive action quickly.
Notification is a great template for time-sensitive offers because it has two well-placed buttons that encourage subscribers to click through
. I appreciate that this template keeps the body text relatively limited. Instead,
the focus is on the attention-grabbing headline and the brightly colored buttons
. Since a sense of urgency can prompt subscribers to click, I also appreciate that
Notification
 includes offer expiration details. Because I would most likely choose
Notification
 for sales-focused emails, I appreciate how easy it is to add products with the drag-and-drop editor. I can also add coupons and videos to make my offer more compelling.
4. Event – The Best Template for Online or Offline Events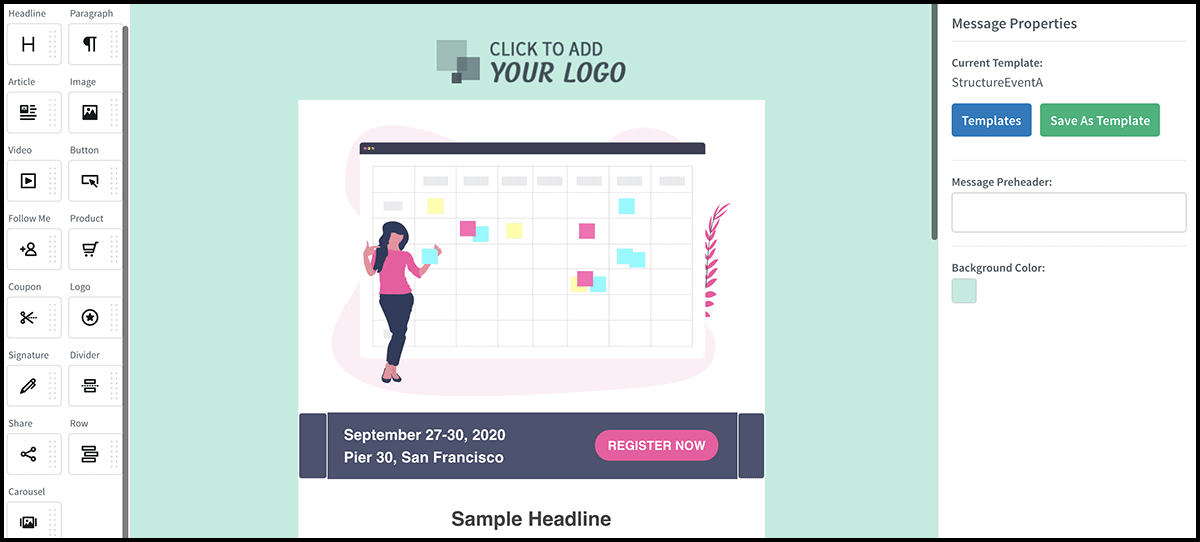 When my clients host online or offline events,
I need to send
emails that drive ticket sales and increase attendance
.
Event
 is a great fit for this type of email, since it's designed with these goals in mind. I appreciate that
Event
 delivers the message effectively by highlighting essential event details and encouraging registrations. I also like that the layout has space for text about the main event and separate areas for descriptions of individual times or dates.
The template is also packed with calendar graphics
, which I'd consider keeping in place if I need some stock imagery. If my clients have branded images to use instead, it would be simple to replace them with custom graphics or even change their sizes.
5. Transactional – The Best Template for Automated Emails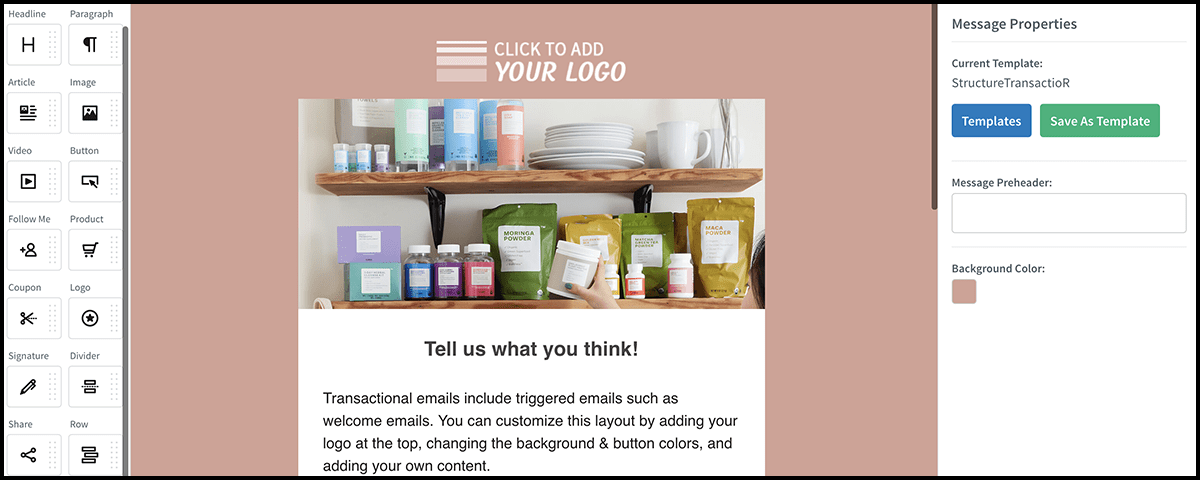 In addition to newsletters and announcements, I send a lot of transactional emails, such as welcome series and thank you messages. The
Transactional
 template is an excellent pick for this purpose since
the layout is designed to include a main message like "Welcome aboard!" before pointing subscribers to related content
. The design is relatively simple and straightforward, but it works for this type of email. If I need to add a product block or another link to my e-commerce store, I appreciate that I can drag and drop any necessary elements.

I also like that
I can add personalized or dynamic content to Transactional
. This feature lets me connect with subscribers and provide them with information that's relevant to their customer journey or past purchases. So how do my top picks compare? I created a table that rates each option in terms of design and ease of use and highlights the best aspects of each template.
| | | | | |
| --- | --- | --- | --- | --- |
| Template | Perfect for | Design | Ease of Use | Standout Features |
| Newsletter | Updates | 9/10 | 9/10 | Design allows you to share multiple news items |
| Daily Deals | E-commerce | 8/10 | 9/10 | Product blocks can promote your e-commerce store |
| Notification | Offers | 9/10 | 9/10 | Coupons and offer details add a sense of urgency |
| Event | Registrations | 10/10 | 9/10 | Registration buttons can prompt action or sales |
| Transactional | Automations | 9/10 | 9/10 | Easy to add dynamic or personalized content |
AWeber Email Templates to Avoid
AWeber has dozens of nicely designed, user-friendly templates. But I wouldn't use all of them for my clients' emails. In fact,
I would avoid these default templates.
Instead I'd have a look at
these GetResponse template alternatives
: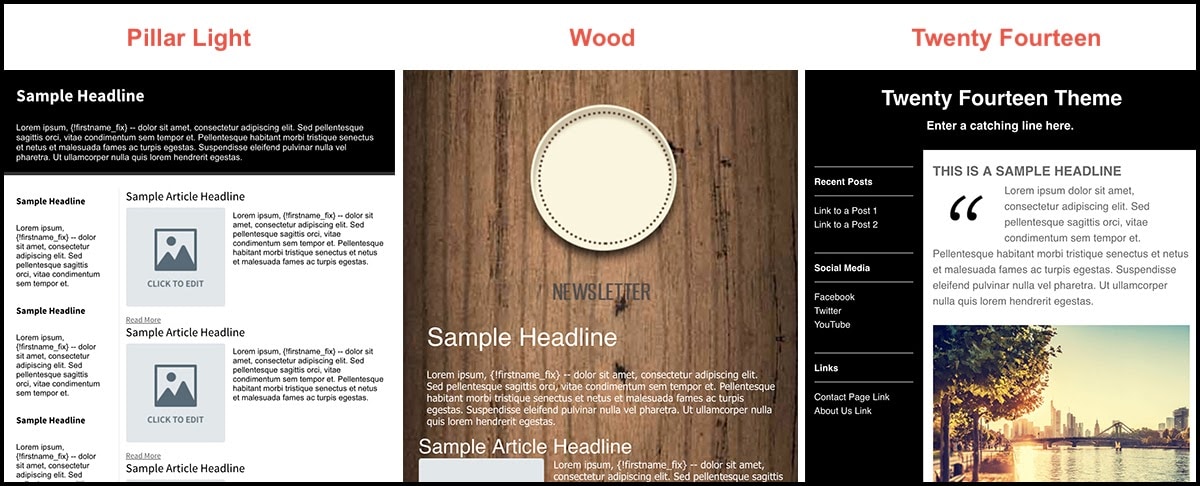 Pillar Light: With its multiple columns and numerous text blocks, this template is far too busy. It would be challenging to read with a desktop email client and virtually impossible to understand on a mobile device.
Wood: A great image can make a big impact in an email. Yet I usually avoid email templates that force images to play the main role. Many emails subscribers don't see or download images automatically, so they would miss a big part of the message.
Twenty Fourteen: As its name suggests, this email template looks incredibly outdated. The layout reminds me of a 2014-era blog homepage, complete with a distracting sidebar and an overwhelming number of links.
How Do You Build a Custom AWeber Email Template?
Although I often use premade email templates, I occasionally need to create a custom layout for a specific purpose.
AWeber makes it relatively easy to design my own templates, even with limited design skills.
 Follow these steps to build custom email templates with AWeber: 1. Select "Start with an AWeber template" and give your template a name.

2. Add essential details like your logo or social share buttons.

3. Replace the existing blocks or add new ones by dragging and dropping from the left menu. If you'd rather get some help with creating a custom template,
AWeber offers design services for an additional fee
. You can reach out to the AWeber team to discuss your needs and get a custom template tailored to your brand.
GetResponse Templates You Should Also Consider
While AWeber's templates are great for most uses, they don't include designs for every business type.
If you need email templates for an industry like fitness, health and beauty, or online coaching, I'd recommend checking out the GetResponse template gallery.
I like that GetResponse offers a wider range of template categories because they're more tailored to many of my clients' needs and industries. As a result, I feel confident that I've chosen the right design, saving me time and eliminating unnecessary layout changes.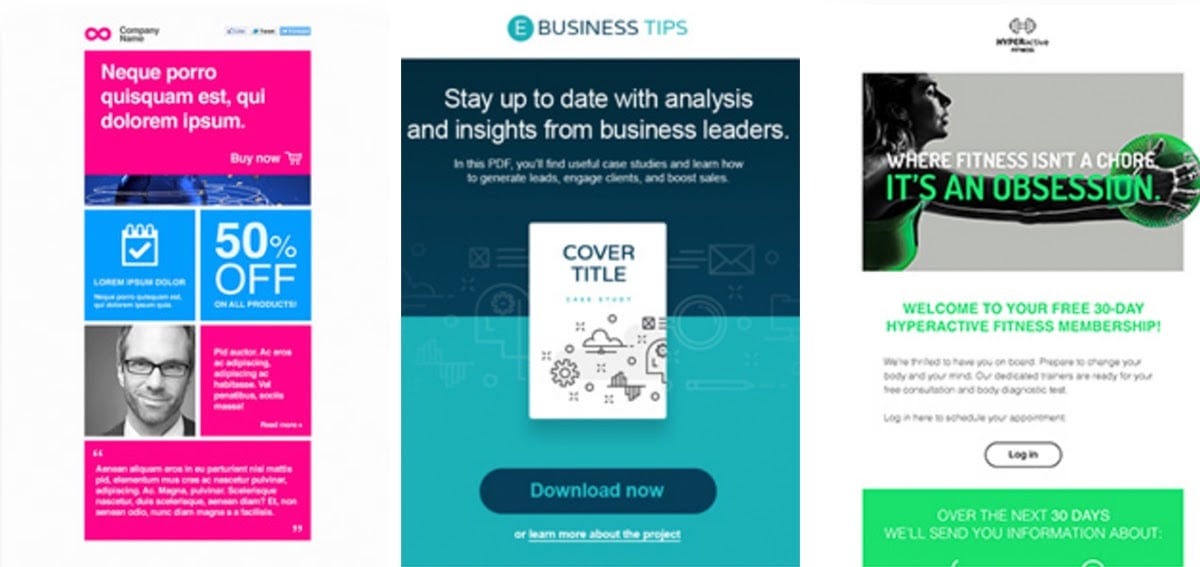 Altogether,
GetResponse has about 500 email templates
, which is fewer than AWeber. But I think GetResponse has just as many that I would actually use for my clients. Virtually all of GetResponse's templates are responsive, and their bold color schemes are designed to draw attention, even in crowded inboxes. Since GetResponse integrates with all major e-commerce platforms, such as Shopify and WooCommerce, I find that these templates are great for driving sales.
When I want to design my own, I think that GetResponse's drag-and-drop builder is easier to use than AWeber's –
it scores impressively high for ease of use in
our GetResponse review
. GetResponse also has a powerful image editor that streamlines the design process and helps my photos and graphics look sharp in any template.
Are AWeber Templates Right for You?
AWeber offers a broad range of customizable templates, making the discovery and adaptation of suitable email options for various purposes a straightforward task. By saving preferred designs to the My Templates gallery, you can efficiently create a personalized library of email templates for both personal use and client projects. However, design and customization options can be limited. Although AWeber's drag-and-drop editor has basic functionality, it isn't as easy to use or as intuitive as some other providers, including GetResponse. If you're a creative or if you want more design-focused emails, another platform may offer options that better meet your needs. Take a look at
our review of AWeber
before you make up your mind, and if you're unsure, our list of
the best email marketing services in 2023
 has some great alternatives.
AWeber is great for simple email templates and customizations. If you need more cutting-edge templates, go with GetResponse, which offers more advanced design capabilities.
FAQ
Can I create a custom email template with AWeber?
Yes, you can create custom email templates with AWeber. The drag-and-drop editor is easy to use, even if you aren't an experienced designer, and you can try it all out for free on the AWeber free plan.
Does AWeber have newsletter templates?
Yes, AWeber has newsletter templates. You can see my favourite newsletter template in this article. You can also link your blog's RSS feed to your AWeber account and use the blog broadcast feature to send out periodic newsletter updates. If you don't like the look of AWeber's newsletter templates, check out our list of the best email marketing services for the best alternatives.
How do I use an AWeber email template?
You can browse the AWeber template gallery or create your own custom template. You can save your favorite templates so you can use them for your newsletter, promotional, or transactional emails.
Are AWeber's email templates free?
You can access about 200 email templates with a free AWeber account. To access all 700+ AWeber email templates, you have to sign up for a paid account, but before you do that, save yourself some money and take a look at our AWeber coupons.