Visual content marketing is becoming really important as we continue into the digital age. For that very reason, we've put together a list of 50+ visual marketing statistics that you need to know in 2021.
Why do you need to know them, I hear you ask? Because great visual content drives viewer engagement with your marketing materials, elevates your brand image, and eventually pays off with big profit margins.
In this article (which contains lots of images), you'll find everything you need to know on the status quo of visual content marketing: from the best channels to the best types of visual content. 
We'll even cover some of the biggest trends for the future of visual content marketing. So don't go anywhere!
Overview
First, let's take a look at some general statistics about visual content marketing. What works, what doesn't, and everything else in between.
1. Visual Content is Engaging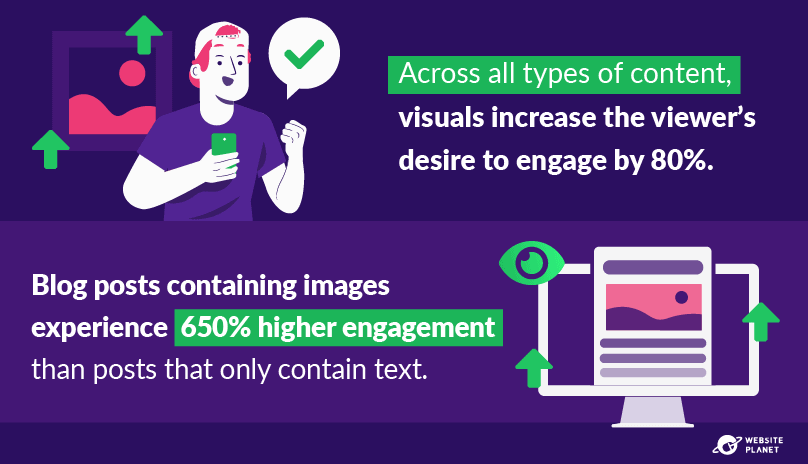 That's right, visual content spikes the viewer's interest and draws them in to engage further with the content.
That's why visual content generates more traffic, likes, followers, customers, visit-time and revenue than text-only content. It works like a magnet that draws people in, and images are infinitely more fun to look at than a big block of text.
Why is that? The next stat might go some way towards explaining…
2. First Impressions are Key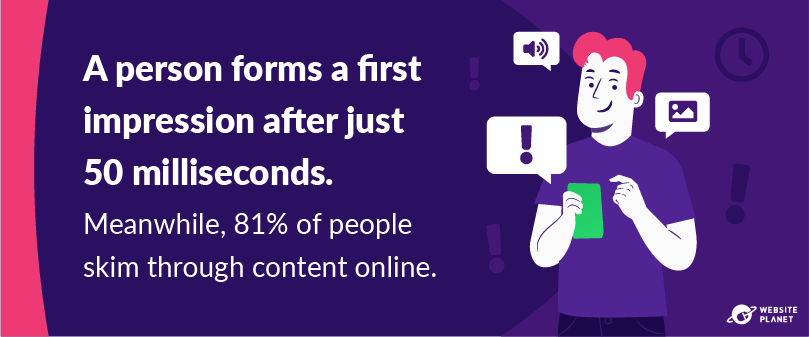 90% of information transmitted to your brain is visual. It's no surprise, then, that people respond to visual content so well. It's also a reason why your brain has evolved to be pretty good at evaluating things in an instant.
In which case, it's imperative you make a striking first impression with your content. You have a small window of opportunity to grab the viewer's attention, so don't mess it up!
The statistic also highlights why there's something to be said for keeping it simple. If your infographics or images provide value to the viewer quickly, you're onto a winner.
3. Visual Content is Remembered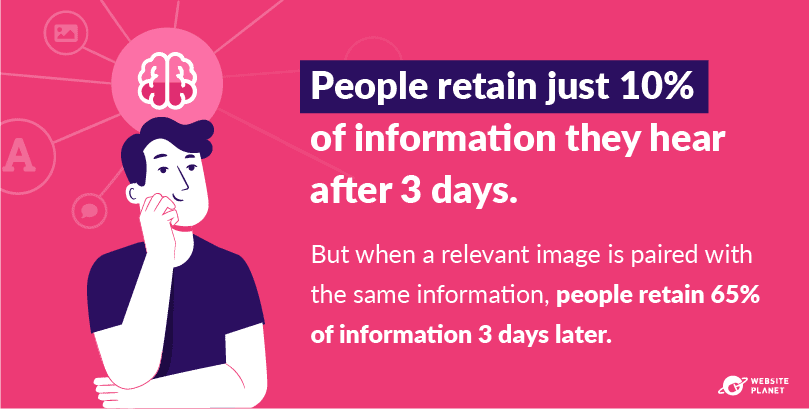 Visual content is remembered, which is another great positive. It stays with viewers for longer.
This is especially important if you're creating informative content, but really it's important for every type of marketing-based content.
Visual content will mean someone remembers your brand for longer, or the offer you highlighted in a post. They'll be more likely to re-engage with your site or social media account in the future, and they'll be more likely to remember the value that you provided them on a certain topic.
Ultimately, if a viewer remembers your brand, they will remember to tell others how good it is!
4. Color is Vitally Important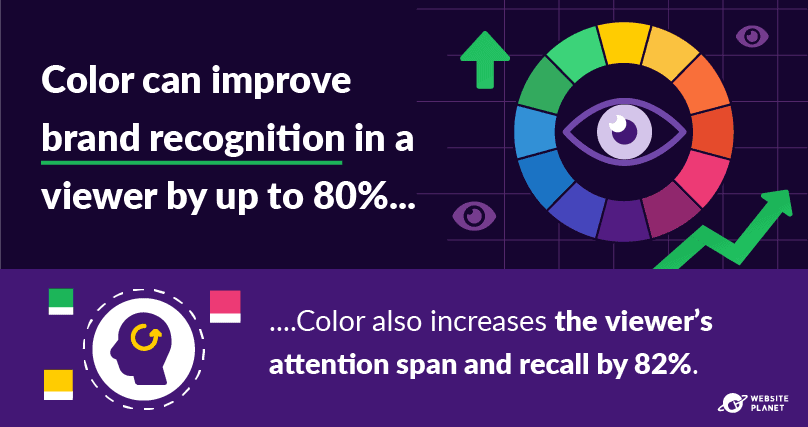 Did you ever have to create a poster in school? The teachers would always tell the kids to "use bright colors" to grab the viewer's attention.
Well, that effect still holds true in any form of visual marketing. Color can grab the viewer's attention, and ultimately help them recognize your brand and recall your message in the future (so definitely keep your colors consistent).
One study, aptly called the 'Impact of Color on Marketing,' even found that color can be used to achieve different psychological effects: to decrease or increase appetite, lift someone's mood, or calm them down. 
So, unsurprisingly, color is really powerful — and super-important in visual marketing.
5. Tell Stories About Your Brand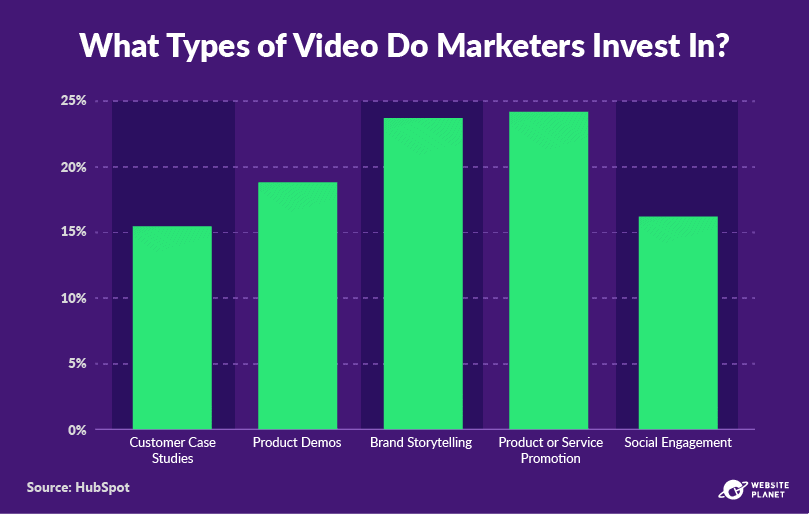 Storytelling is the secret sauce of advertising, and learning to tell stories with your visual content is a really important part of growing your brand.
Brand stories are a big part of video advertising, but in reality, they're a big part of every type of visual content.
By presenting narratives and intrinsically linking them to your brand, you create an emotional connection between the customer, your brand's values, and eventually your products.
Stories are the basis of all human interaction, so use them. You only have to look at the way Nike's TV adverts place viewers within a narrative to see that it really does work.
6. Every Story Needs a Protagonist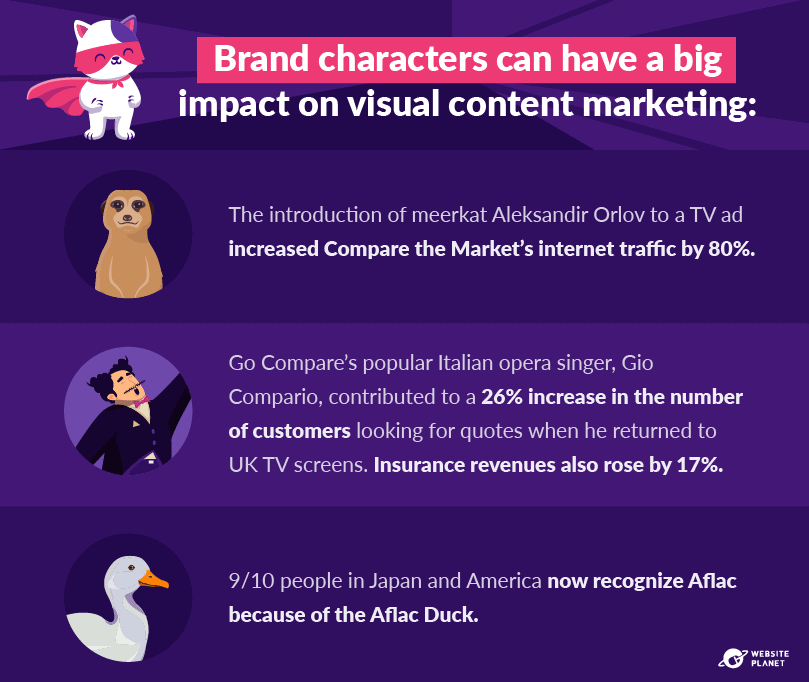 Placing a character at the center of your visual content strategy still wields major results, as can be seen in recent examples, such as
Go Compare
's use of Gio Campario.
Every story needs a protagonist. Adding a character not only helps you tell compelling stories in your adverts, it helps tell customers lots of information about your brand.
Characters promote an emotional response from viewers, they communicate your brand values, hook your target audience, improve brand recognition, and drive conversions.
7. Solve Customers' Problems

This is another golden rule of marketing, and one you need to be thinking about everytime you create a piece of visual content: solve your customer's problems.
If you resolve issues — whether that's through your content strategy, your infographics, or your visual marketing materials — you will undoubtedly profit in the long run.
Don't just
tell
people about your product/service,
show
them how it will make a difference to their life with your visual content.
8. Content Priorities Post-Covid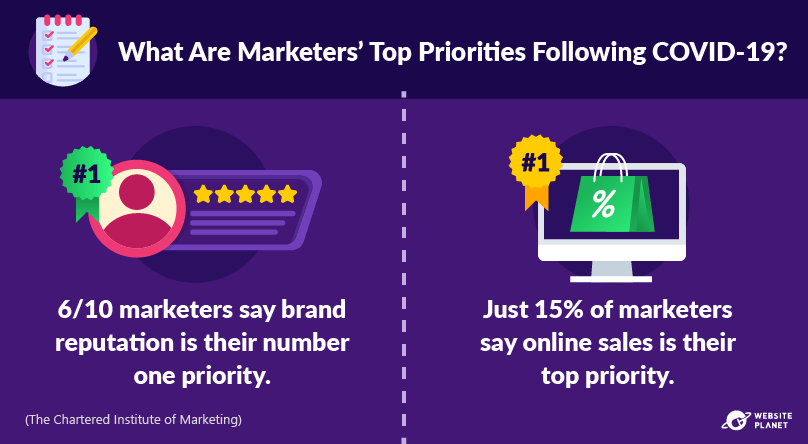 So, what are the main priorities for marketers following the COVID-19 pandemic? According to a CIM survey, rebuilding brand reputation is number one.
Many sectors have been down and out because of lockdown. It's no surprise, then, that marketers think it's crucial that they elevate the image and recognition of their brand after a period of non-existent business.
Improving brand reputation will indirectly lead to more sales down the line. You should think about this when you plan your visual content. What's the best way you can elevate the status of your business?
9. Marketers' Biggest Challenges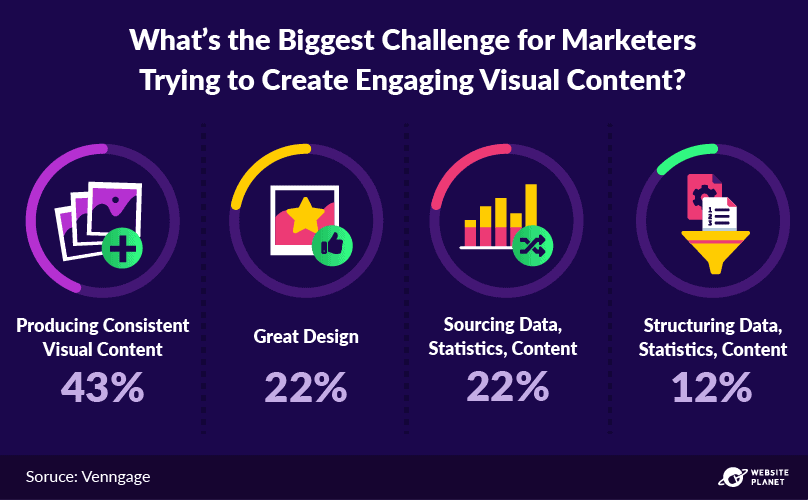 Creating engaging content is hard. 36.7% of marketers cite visual content creation as their biggest challenge.
Why is it challenging? Because there are a number of different elements that go into creating a fantastic piece of visual content for your marketing strategy.
Design, research, and structuring data are three areas that visual content marketers find difficult. Delivering on your visual content consistently remains the hardest part of the job.
10. Marketers Need to Create Quality Content

FYI, don't do that. In Venngage's study, 11% of marketers said they spent more than 20 hours a week creating visual content. I can assure you they achieved better results.
That's because visual content is so important for your brand. It's difficult to get right, and creating bad content could actually be detrimental to your brand's image.
Bad marketing is like bad PR. Some readers might remember Taco Bell's Chihuahua adverts in 2000. The adverts were so far off the mark that their presence led to a 6% drop in sales. Ouch.
11. Don't Cut Corners on Spending
You don't have to spend loads on visual content to get better results. Any use of visual content will provide you that. But you should want to spend more on visual content.
That's because the most engaging forms of visual content don't come cheap. Video is widely regarded as one of the best content types, and it can cost anywhere from $1,200 to $50,000 to produce.
While many businesses cannot afford to produce video all of the time, those that do are rewarded for their efforts (and their spend).
12. How is Visual Content Produced?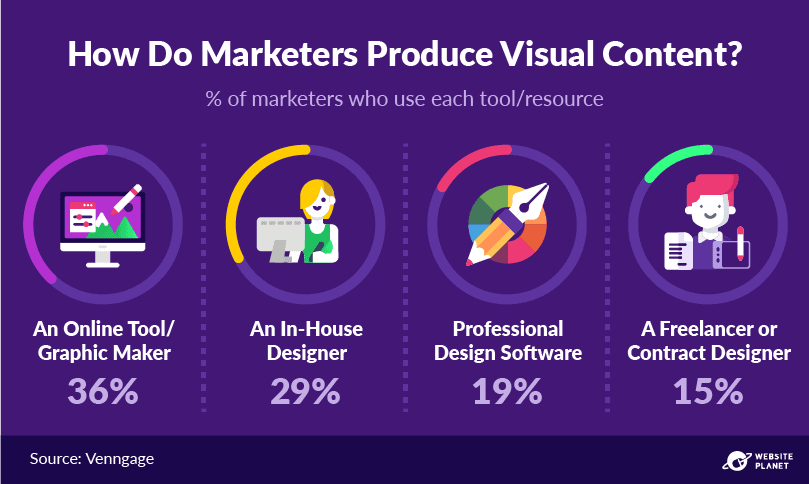 Many marketers do-it-themselves, with online tools the most popular way of creating visual content.
That owes to the quality and usability of popular graphic design tools, which are used more often than professional design software by marketers.
In-house designers are still used a lot, and are the best option if you want consistency and quality across your visual content.
13. Visual Content Is Important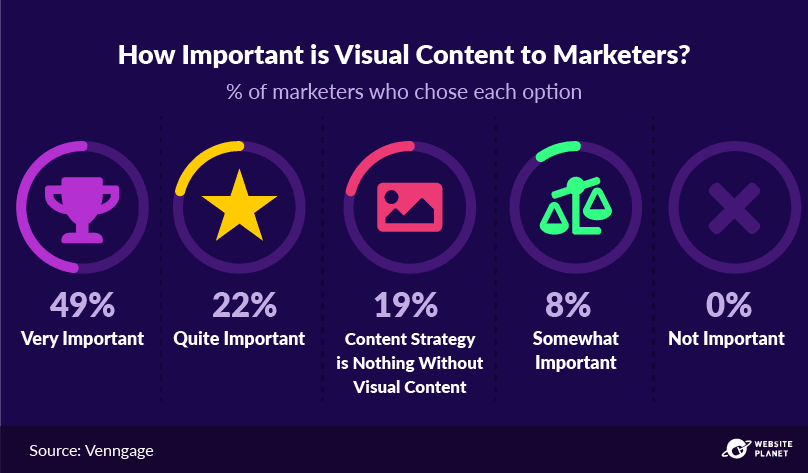 Like, really important. That's why every respondent in Venngage's study said that visual content is a significant part of their strategy, in one way or another.
Visual content is so effective that marketers can't imagine life without it. In other words, you're the odd one out if you're not using visual content all of the time. Period.
14. Digital Visual Is on the Rise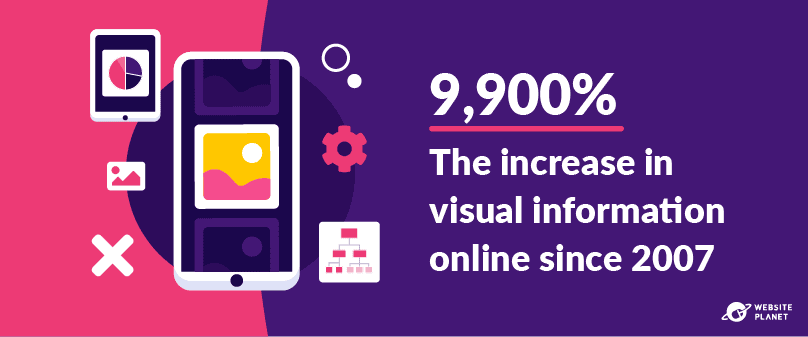 If you need any more convincing of the direction things are going, I'll give you a hint: (it's digital).
The internet is an ever-changing phenomenon. Over the course of the last decade and a half, visual information has flooded online in the form of adverts, viral videos, images, and graphics.
Print is dead. The internet is in full force. And, based on the current growth, there's no indication that will change anytime soon. In fact, I'm pretty certain that online visual content will continue its upward trajectory.
Types of Visual Content
There are loads of different types of visual content that you can use. Here are statistics on some of the most important content types.
15. Visual Content That Marketers Use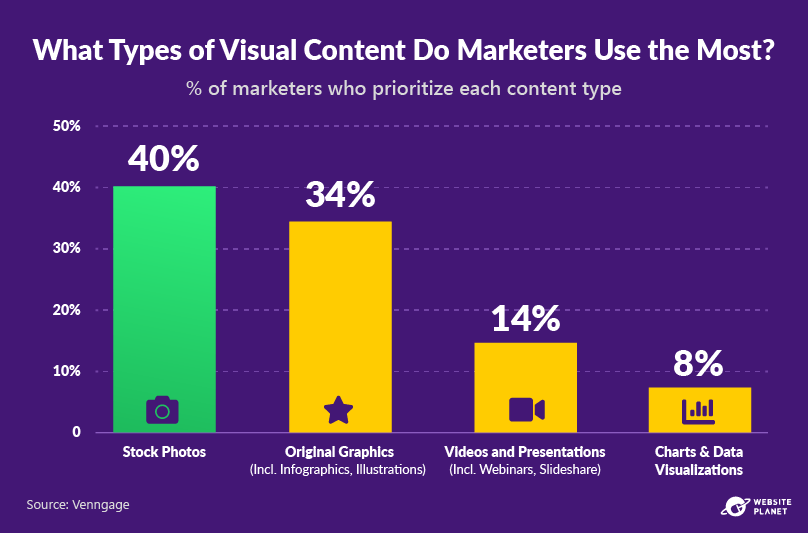 It may come as a surprise but, yes, stock images are quite popular amongst marketers. At least, 40% of those included in Venngage's annual survey say they use them more than any other type of visual content.
That's in all likelihood because they're so easy to source and attach to a blog post or social media post.
However, that doesn't mean they harbor better results. The next statistic seems to show that a little bit of extra effort goes a long way to helping you achieve your marketing goals…
16. Graphics Are Most Impactful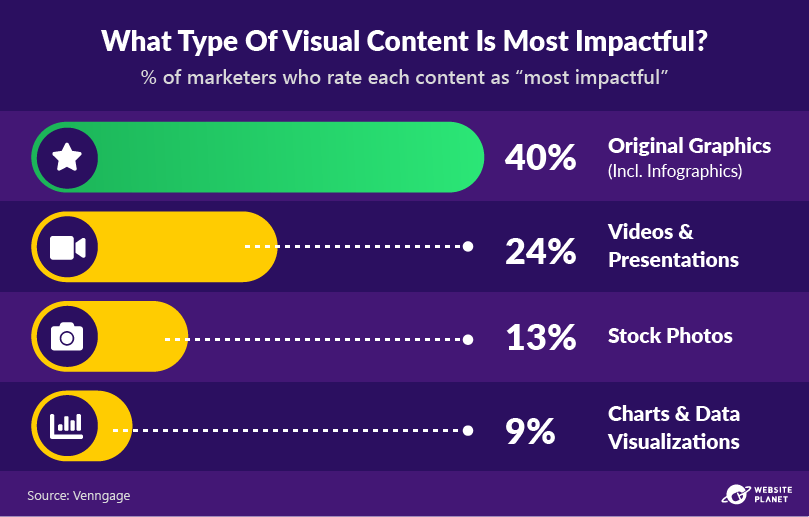 Out of 200 marketers included in Venngage's survey, 40% said that original graphics were the content type that allowed them to reach their marketing goals. 
This includes stuff like infographics, originally created advertising graphics and illustrations. Just 13% of respondents marked stock photos as most impactful, despite being the number one most-used type of visual content.
The result just goes to show, you can't cut corners on quality. Going the extra mile really does have a positive impact.
17. Video Content is Huge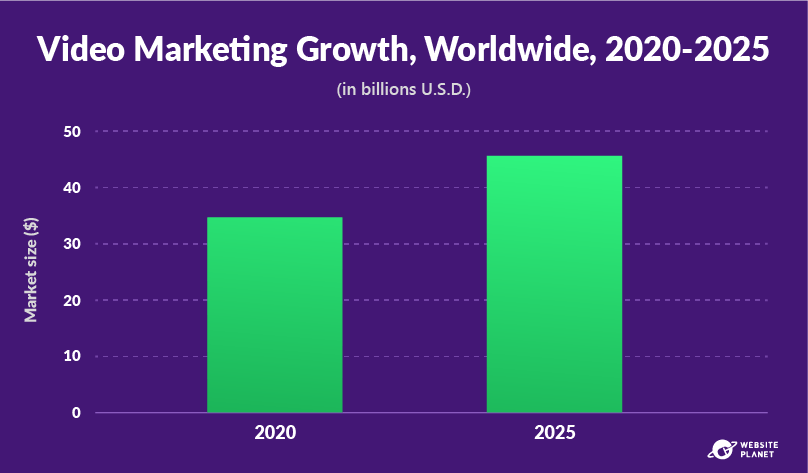 The market for video content is exploding, and there's no surprise given its increasing importance across the internet.
By 2022, it's thought that online video will make up a staggering 82% of consumer internet traffic. That's 15 times more video than there was in 2017.
That makes video a really important type of visual content marketing moving forward. It's undoubtedly the number one medium that people consume in 2021 and beyond.
So, why do people love video so much?
18. Video Solves Problems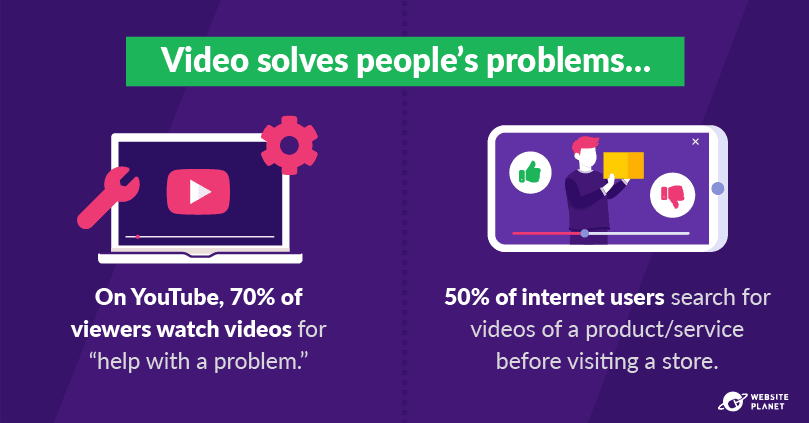 Video stimulates, engages, interests, and converts in a way no other type of media can. Video can transmit so much more information because of its format, and that's why it's the best for solving customers' problems.
It's a shame that for many marketers, video is the most difficult form of visual content to create and implement into their marketing strategy.
Do this successfully, however, and the potential upside is massive…
19. Video Boosts Sales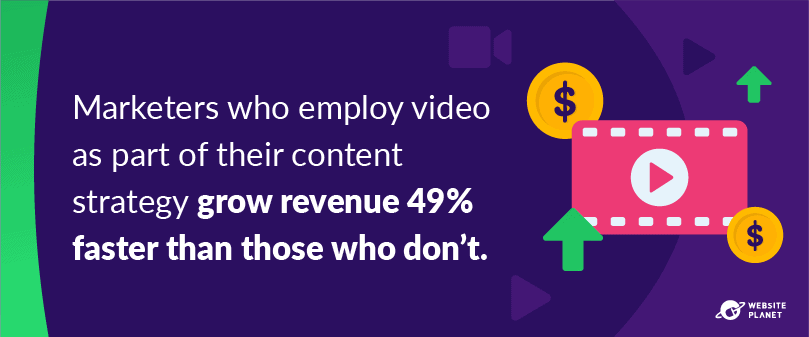 Given the value that video can provide customers, it's clear that it can provide a lot of value for businesses, too.
Generally, if you solve a customer's problems, they will buy your product. That's why 64% of people buy something after watching a branded social video.
It's also why you should seriously consider placing more of an emphasis on video content. It represents the number one return-on-investment out of any other form of visual content marketing.
20. Infographics Boost Learning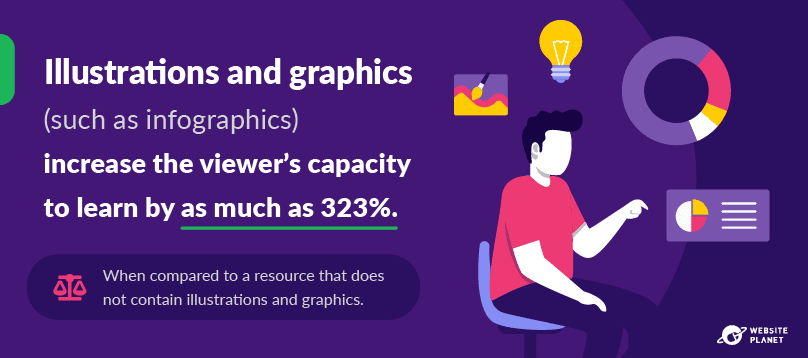 Who would've known? Infographics are one of the best ways to back up the claims in your article or presentation, while some brands do away with accompanying text altogether.
That's because infographics work so well. They draw the viewer in, engage them, and hold their attention — teaching viewers something that might otherwise be hard to read or concentrate on.
In other words, the right combination of graphics and words gets the message across perfectly, and can make mundane topics digestible for audiences. That's why, in an Infographic World survey, 84% of respondents found infographics to be effective.
21. Photography is Critical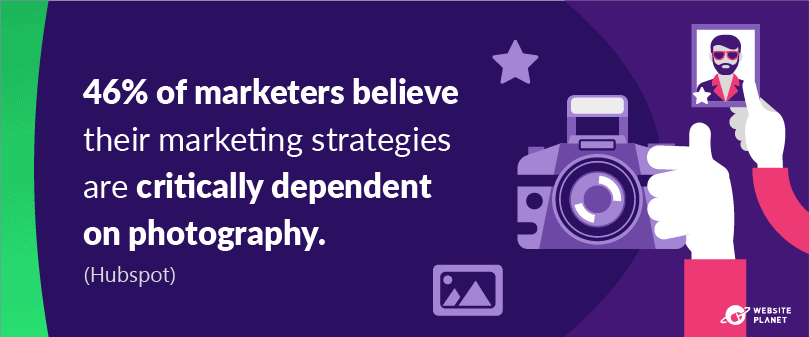 Marketing is all about engaging customers with stories, and being original definitely helps your cause.
Many people use stock images because they're quick and easy, but that isn't the best course of action if you want results and a clear brand image. 
Taking original photos is your best course of action. Photography is so important because it allows brands to tell their story, capturing everything from branded events to advertising products. 
When you use photography in your strategy, you can show clients how your service helps them in the context of their own life. As we've learnt so far, solve a customer's problem with your visual content and you can expect big results!
22. Live Streaming Has Risen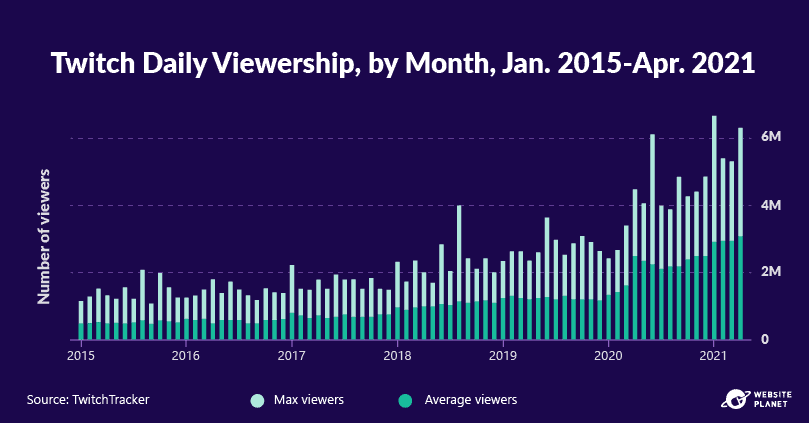 Live streaming is all the rage in 2021. You can see this in the way Twitch is such a huge platform now, with daily viewership increasing massively over the last few years. In 2020, Twitch saw growth of 14.3% compared to 2019.
People love watching live streamed content, and this should get you thinking about ways you can use this in your visual content strategy.
Facebook Live and Instagram Live are two more popular places to stream. Did you know? Facebook Live generates 10x the normal engagement of traditional types of video, and video is already super engaging. 
23. Interactive Content Can Be 'Reused'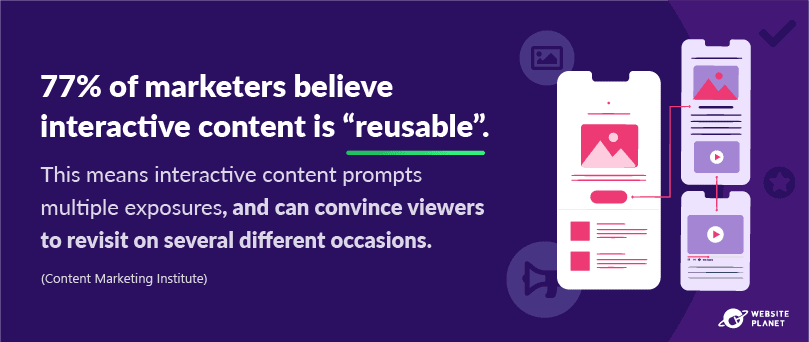 Interactive content is highly stimulating, and as such can result in viewers actually enjoying themselves as they interact with your marketing materials.
Examples of interactive visual content include interactive videos, marketing-led games, interactive charts and maps, widgets, and even quizzes. 
Interactive content is more interesting than a static image or graphic, that's why it drives twice the engagement of static content.
Interactive content is therefore a great way to build a customer base. Not only does it peak people's interest, it keeps them coming back for more. 
24. Memes, GIFs, and Emojis Increase Clicks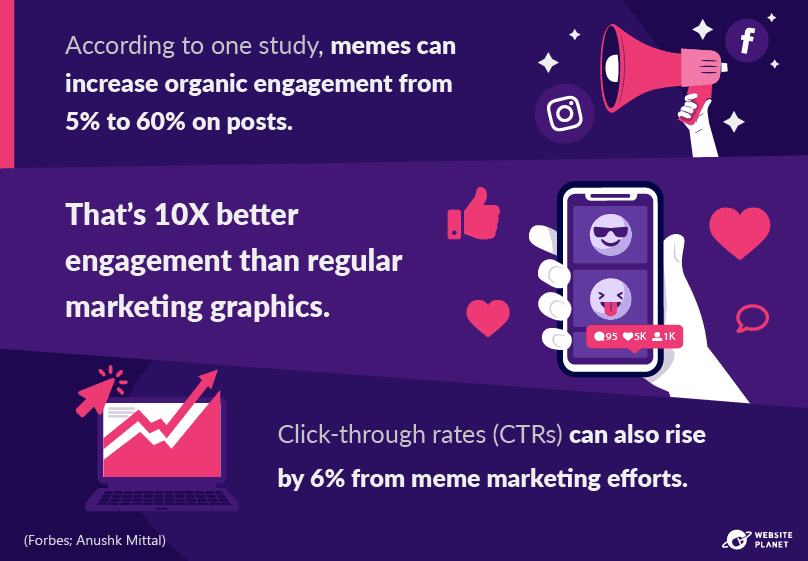 The same results can be found with similar forms of communication, like GIFs and emojis. In a GetResponse study, researchers found that emojis increase email open rates by 9%. Meanwhile, in an ad for Mist Twst, using a cinemagraph (a type of GIF) increased CTR by a whopping 75%.
GIFs, memes and emojis are a great way to market to young people right now, and we're seeing some successful examples. Domino's has started allowing customers to order using the pizza emoji, a move which has drummed up big business since.
Despite the success that can be had with memes, GIFs, and emojis, not many marketers are using them on the whole. Actually, just 4% of marketers use memes and GIFs as their most frequent form of visual content, according to a Venngage survey.
25. The Data Visualization Industry is Growing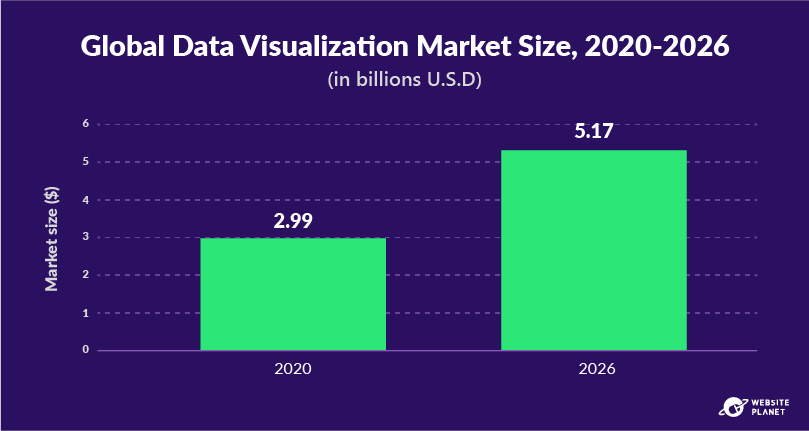 Data visualization, such as graphs and charts, is a burgeoning market. From 2020 to 2026, data visualization is forecasted to grow at a compound annual growth rate (CAGR) of 9.69%. That's an increase in value from $2.99bn to $5.17bn.
More small and medium sized businesses are now adopting data visualization to aid their marketing, staff training, and decision-making processes. Other factors behind growth include an increase in big data, and the increased multi-device access to data visualization.
Not only does data visualization help businesses make smarter decisions, it's also great for telling a story or making a point with unarguable facts. That's why it can be so useful as part of your content marketing strategy, particularly within the B2B sector.
Top Visual Marketing Channels
Next, let's dive into the statistics about marketing channels (i.e. the places through which marketers distribute visual content).
26. Which Platforms Are Marketers Using?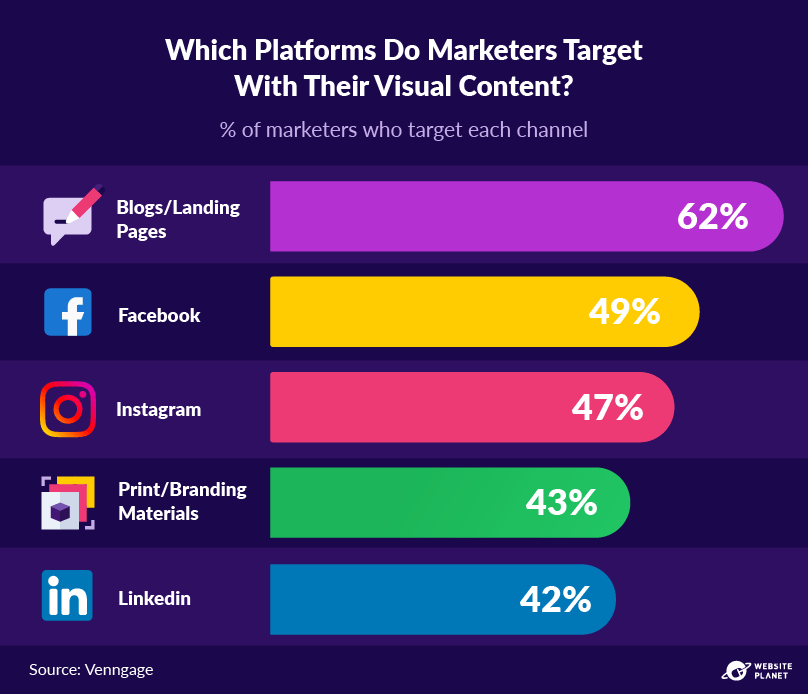 Marketers are primarily creating visual content for blogs and website landing pages, followed by social media sites like Instagram and Facebook.
In years past, print/branding would've been the number one channel for visual content marketing. But marketers are now creating more content for certain social media sites than they are for print, which owes to the sharp rise of the internet, and the sharp decline of all offline channels.
27. Digital Billboards Still Work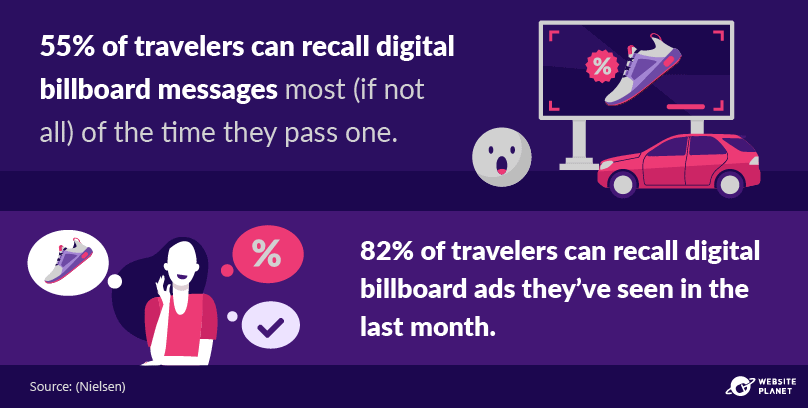 Traditional billboards might be dying a slow, painful, and sun-damaged death. But that doesn't mean the concept as a whole should be forgotten; digital billboards still have a very specific role to play in visual content marketing.
As the stat shows, billboards are a great way to target travelers and people who are located in one specific area, or on one specific route. Despite the fact people are on the move, digital billboards still promote super-high engagement. 71% of people in Neilsen's study said that ads on digital billboards "stand-out" more than online ads.
Not only do people look, they remember too. Someone might have to drive past your billboard multiple times every day, and if it's the right product, you're sure to convert.
28. Traditional Print Media is Declining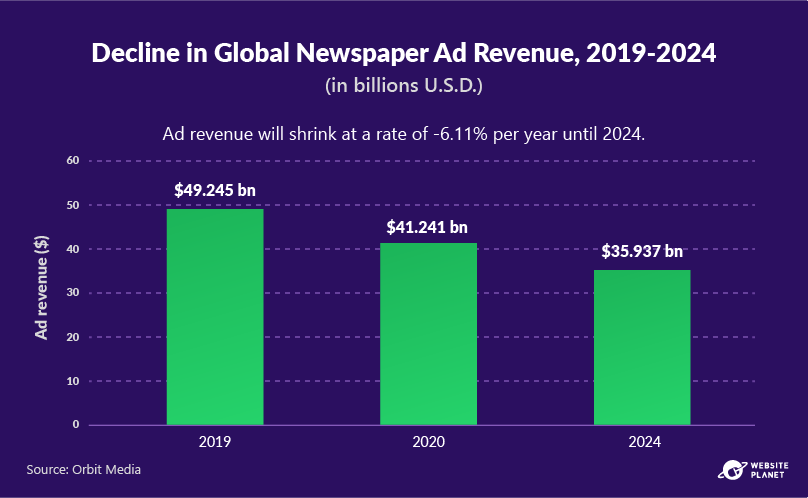 People have been saying it for a few years now, but the COVID-19 pandemic has accelerated the decline of print and (as a result) print advertising.
Placing visual content in magazines, newspapers, or direct mail is not a very good idea at the moment because of this sharp decline. Less people are now buying print, and more people are moving online.
That explains why 72% of marketers believe branded content is more effective than advertisements in magazines. With videos making up much of this content, it's no surprise to see marketers advertising digitally.
29. Branding Consistency is Key on Email

So keep your branding consistent. By implementing branding guidelines, team members will know what images, headers, and logos to use when they send out marketing emails – not to mention any other forms of visual content they should include.
Always place a logo at the top of every email, it's what people will see first! From there you can go about building consistency with the branding elsewhere in the business in question. There are great resources to help you do this, including
MailChimp.
30. Video in Email is Great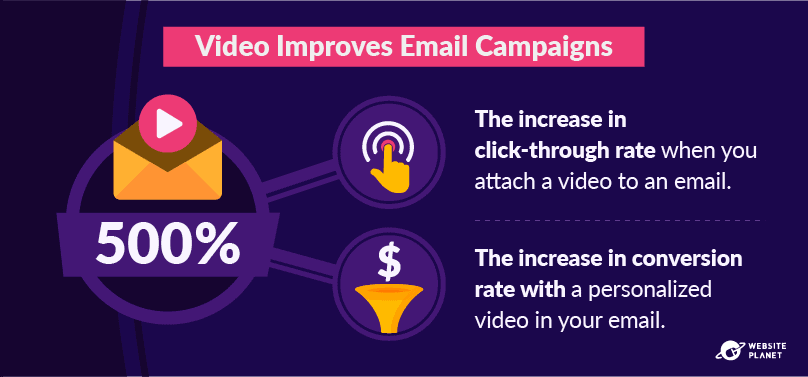 Talking of email, adding video content to one is a good idea as well.
We've already established how video promotes stimulation and engagement in the viewer, by solving their problems. Well, what better way to show a customer your product/service than in a video you've sent to their inbox?
Customers are likely to search for a video of something before investing in it anyway. By putting that information in front of them with minimal effort, you'll promote massively increased click-through rates, which leads to ultra-high conversions.
31. Where Are People Watching The Most Video?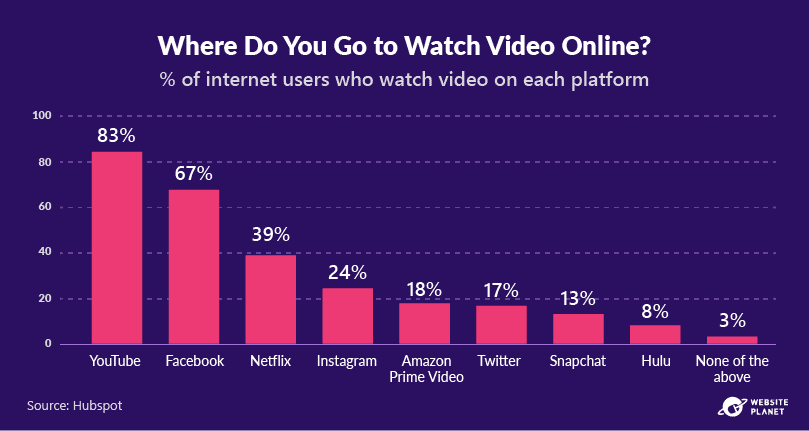 If you're going to target people with video, some of these platforms are a good place to start.
YouTube and Facebook are the two most popular places people go specifically to watch videos. On YouTube, viewers watch 1 billion hours of streamed video everyday.
Emails are fantastic for targeting the perfect demographic for your business, but video platforms are where your content will get the most engagement and views. There are more people watching videos on them!
Of course, you could always post a video on YouTube first, and then embed it into your email. That way, you can achieve two great outcomes at the same time.
32. Add Visuals to Your Blog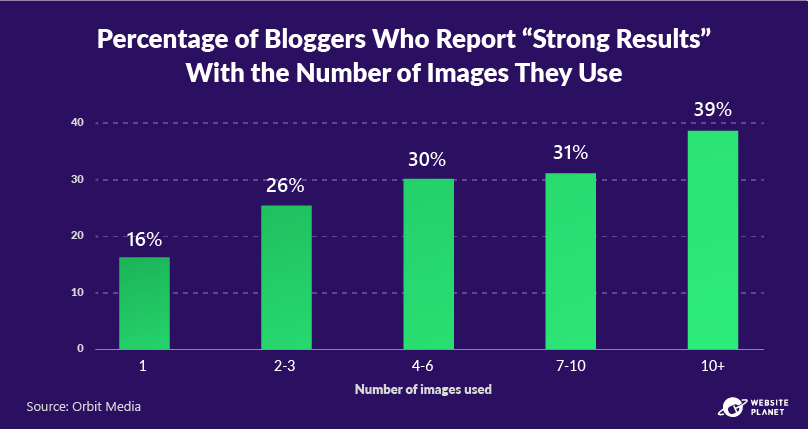 Visuals, such as infographics, are super important in your blog.
An Orbit Media survey asked respondents how many images they added to their posts, and how successful they were. 39% of bloggers use 10+ visuals in their content, and achieve great results.
Conversely, just 16% of respondents did well with 1 image. There's a pretty staggering correlation here between success and how many images you use. That's why 90% of bloggers add visual content to their articles.
33. Teens Love Visual Social Media Platforms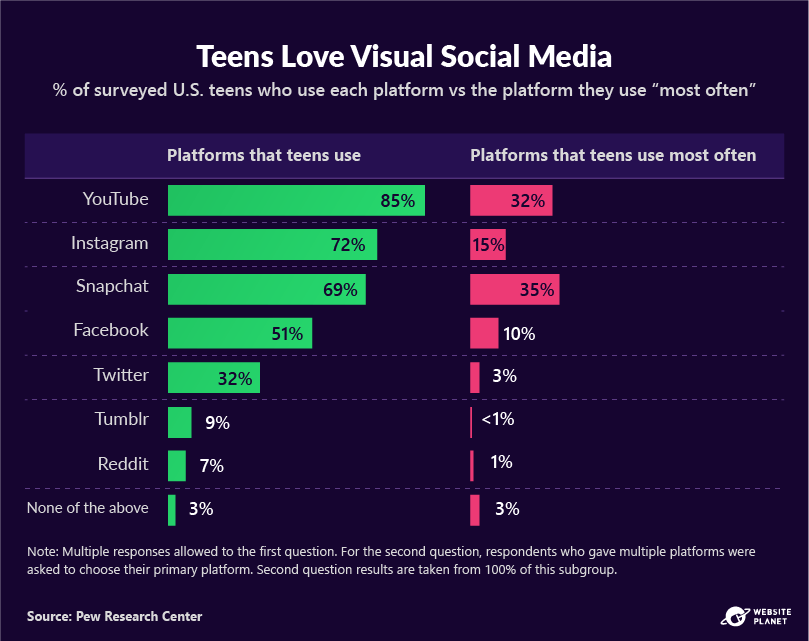 It's important to know which demographics are using each platform, so you can plan where to place your visual content.
Research from Pew Research Center has found that YouTube, Instagram, and Snapchat are the top platforms for teenagers. A mighty 85% of teens use YouTube in the U.S. while Instagram and Snapchat aren't far behind, at 72% and 69% respectively.
If you're looking to target a younger audience with your strategy, these are the best 3 places to go. Which leads us to our next stat…
34. Target People With Instagram Stories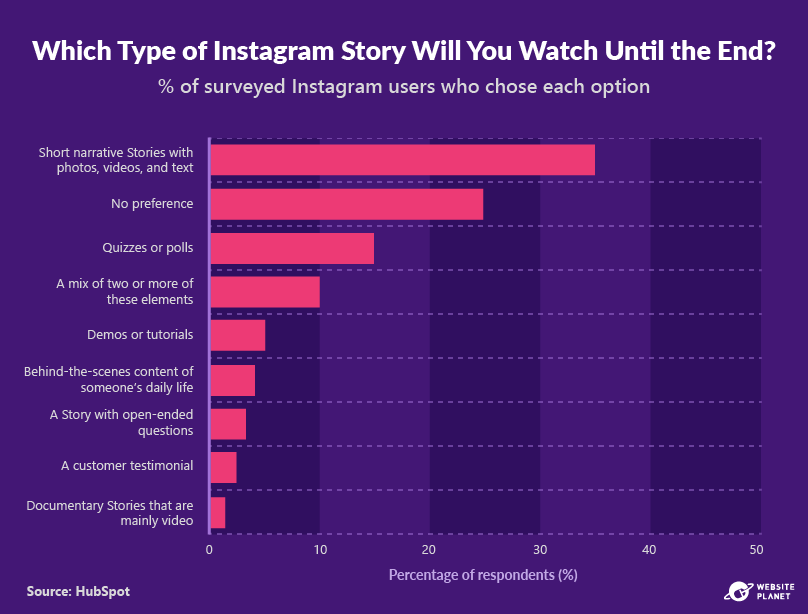 There are more than 500 million Instagram stories everyday, while 4 million businesses regularly post ads on stories.
The phenomenon is nothing new, but it's more popular now than it ever has been. Instagram stories convert, as well. 58% of people are more interested in a brand or product after seeing it in a story.
With the young presence on platforms like Snapchat and Instagram, stories are a viable option to distribute your visual content — whether that is a video or a graphic that advertises your brand. 
Based on HubSpot's research, a short narrative is the number one way to grab someone's attention.
P.S. 33.1% of U.S. Instagram users are aged between 25 and 35, so young adults are also a great demographic to target with a story!
35. TikTok Shares Have Skyrocketed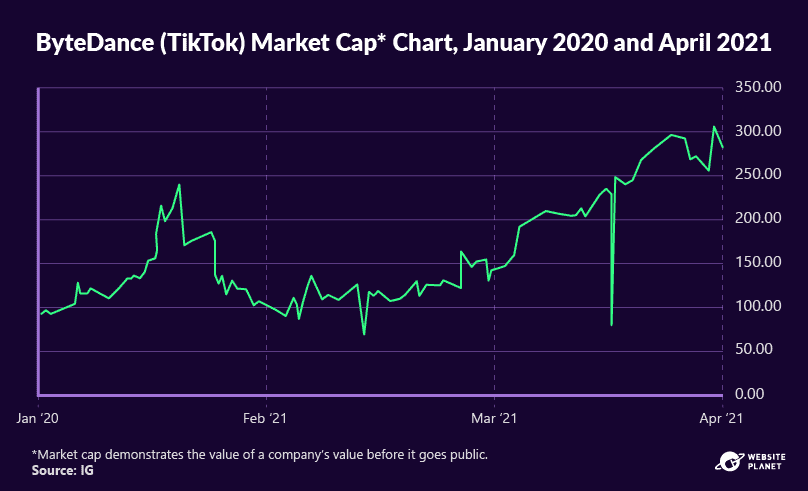 If you need any more convincing of the growth in short-form video, here's the market value of TikTok over the last year or so.
Once in the form of Vine, short video content has been resurrected by the rise of a major platform called TikTok, which now has a market value of $250 billion.
TikTok videos range from 15 seconds to 60 seconds long, and often feature funny sketches and dances. The platform has enjoyed a meteoric rise, particularly among young people —if you're not marketing on TikTok, you're losing out!
36. Influencer Marketing is Big Business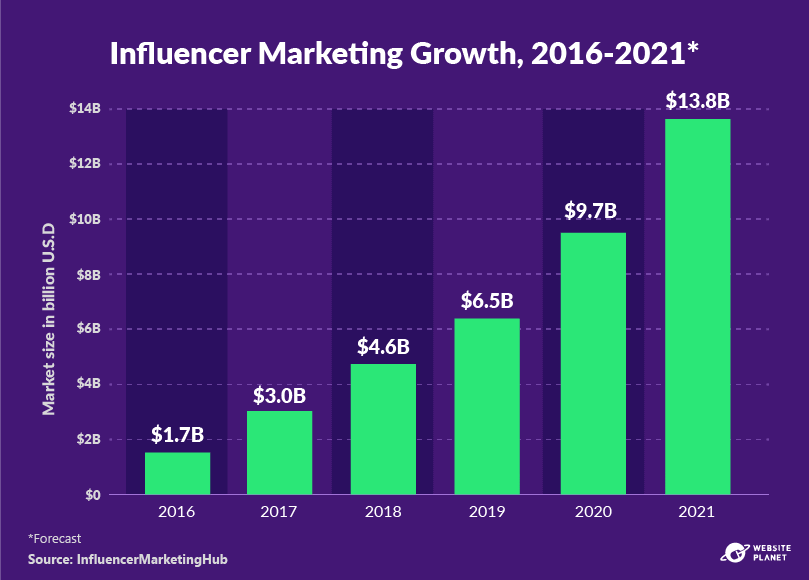 The influencer marketing industry is expected to reach record levels in 2021.
People are using social media sites more often these days. This is a process that's only been accelerated by the COVID-19 pandemic, as people in lockdown head online to keep themselves occupied.
An increase in social media use means more people are being exposed to influencer marketing campaigns. With that in mind, it's estimated that influencer marketing will be worth a whopping $13.8 billion in 2021. 
37. Instagram's Best for Influencer Campaigns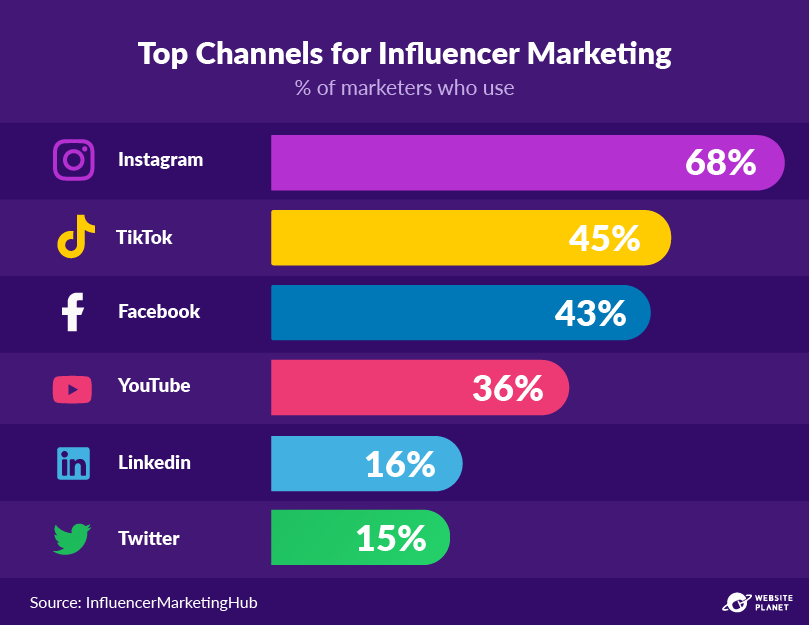 "Influencer culture" is a profoundly visual spectacle, which explains why Instagram is still the number one place that marketers go to work with influencers.
The new addition to this list is TikTok, which has risen to become the second-most used platform for influencer marketing. TikTok was not even big enough to appear on IMH's graph in 2020.
Influencers market your brand with their own images, which allows you to connect with a specific demographic and a sizable audience. Some influencers have millions of potential customers viewing each post.
38. Pinterest Drives Conversions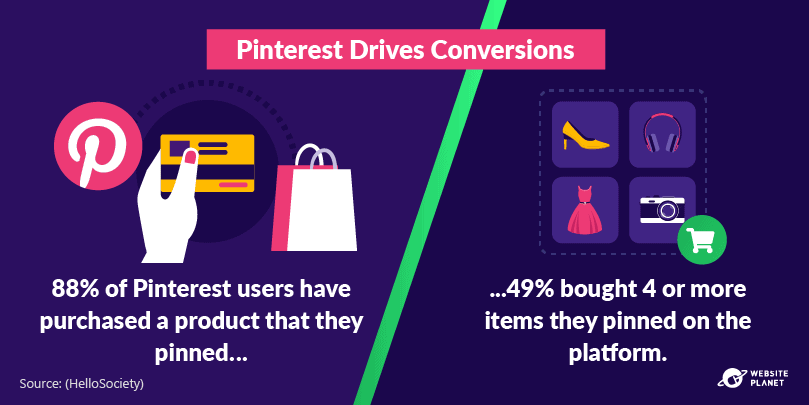 If there's one social media site that's centered around finding stuff to buy, it's Pinterest. That's why the platform drives such high conversions amongst its users.
People literally go to Pinterest to research, compare, or simply admire different products they would like to buy so it's super important that you market there. Especially if you're selling clothes, household items, or other things people are likely to buy on the internet.
39. Be Mobile-Friendly on Twitter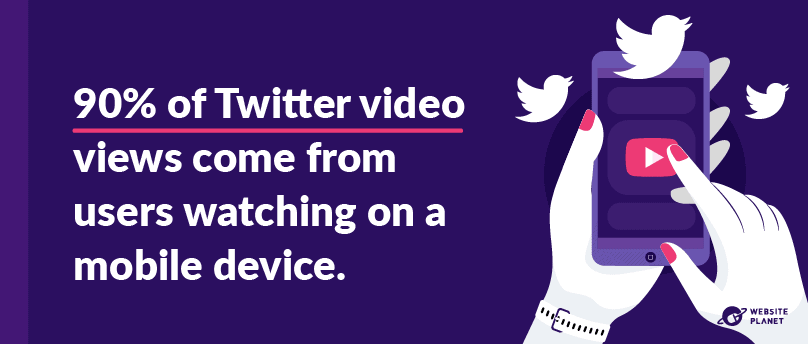 In other words…. No-one uses Twitter on their desktop or laptop!
What should that mean for your visual content strategy? Well, make sure content is "mobile-friendly," especially if you're posting on Twitter.
Keep it simple and clear with your graphics and images. Avoid long shots in marketing videos, or overly complex designs elsewhere. If you're providing a link to another site or resource, make sure that page is optimized for mobile use.
The share of internet traffic is steadily swinging in favor of mobile use, so make sure you bear that in mind whatever visual content you post online.
40. Twitter Is Most Popular With 25-49 Year Olds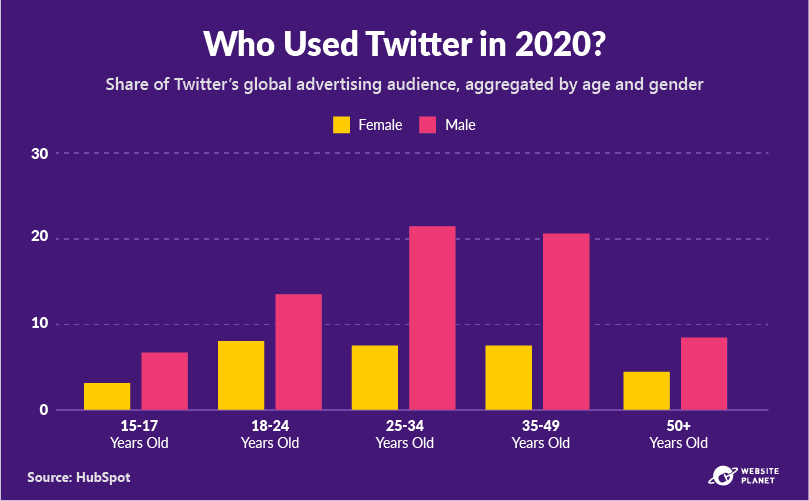 Talking of Twitter, it's one of the biggest social media platforms in the world, so it would be rude not to break it down a little further.
Twitter's overall usage is 70% male, and just 30% female. The majority of Twitter's audience (28.9%) is aged 25- to 34-years-old, followed closely by the 35 to 49-year-old category (28.2%).
It's also worth noting that 20% of the American population is on Twitter, that's nearly 70 million Twitter users in total!
Tweets containing video get 10 times the engagement of normal tweets, so that might be the best way to reach your target demographic.
41. LinkedIn Users Love Images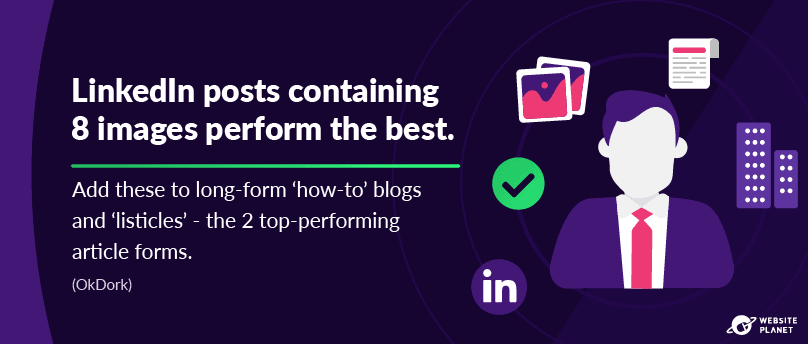 LinkedIn users love a heavy dose of images with their content. You should use this to your advantage if you're a business-to-business marketer.
Why? If you didn't already know, LinkedIn is the number one channel you should be using to connect with other brands and drum up business. 
The site accounts for 46% of social traffic to B2B sites, and content on LinkedIn is often considered more credible than on other sites, like Facebook.
Emerging Trends in Visual Marketing
There are some trends you need to look out for in visual content marketing heading forward. Jump on these trends early, and you could see some positive results.
42. The AR/VR Market Is About To Explode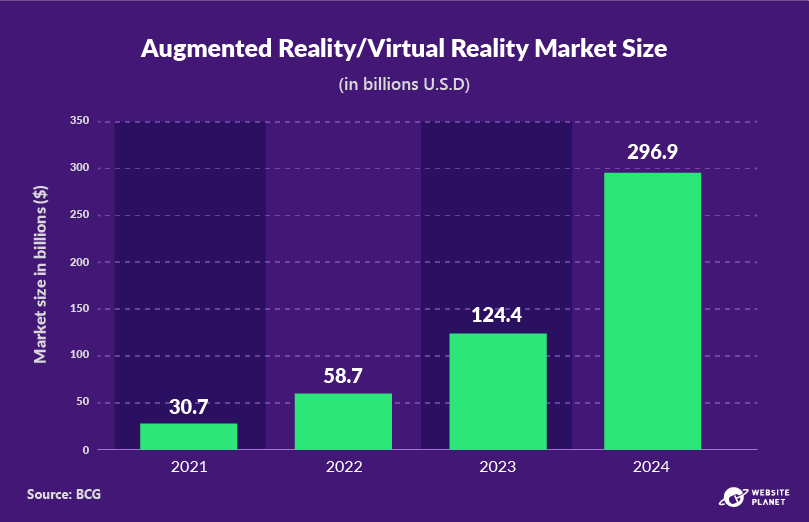 Augmented reality and virtual reality technology is expected to become a major marketing channel over the next few years, with growth led by business spending. 
Businesses are expected to spend a whopping $9.2 billion on VR alone in 2021, as the technology becomes increasingly useful for training staff, visualizing data, and, of course, providing exciting new forms of visual marketing.
With AR and VR, you can immerse your customers in a virtual world whilst you show them your products or services.
43. VR Provides Better Conversions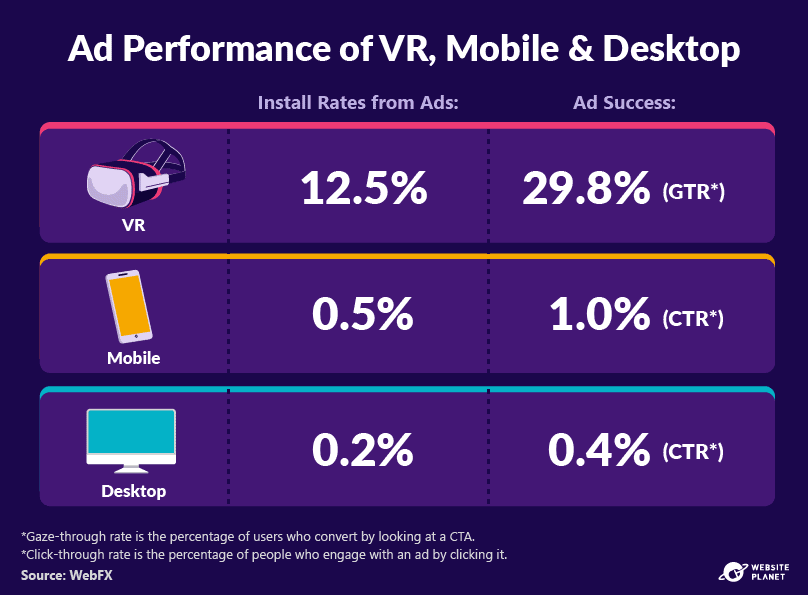 VR really is the next big thing. It's so good, in fact, that it blows other devices out of the water when it comes to conversions.
When you market to customers through VR, they engage with your call-to-action more often and they ultimately convert. 
That's because offering VR to your customers is a unique experience. 53% of adults say they would choose a brand that uses VR over a brand that doesn't. 66% of all consumers say they would like to go VR shopping.
44. "Try Before You Buy" with AR

It's pretty clear that AR is going to be huge in the retail sector. 
Shoppers are crying out for opportunities to use AR, which most of us can access through our smartphones.
With this in mind, why not use AR to your advantage? Offer a "try before you buy" advert with the use of AR. If you're selling shoes, for example, you could let consumers design their own sneakers through engaging with an AR advert.
Using AR in this manner will not only drive conversions, shoppers will be willing to spend more when they get to your site.
45. Visual Search Improves Customer Experience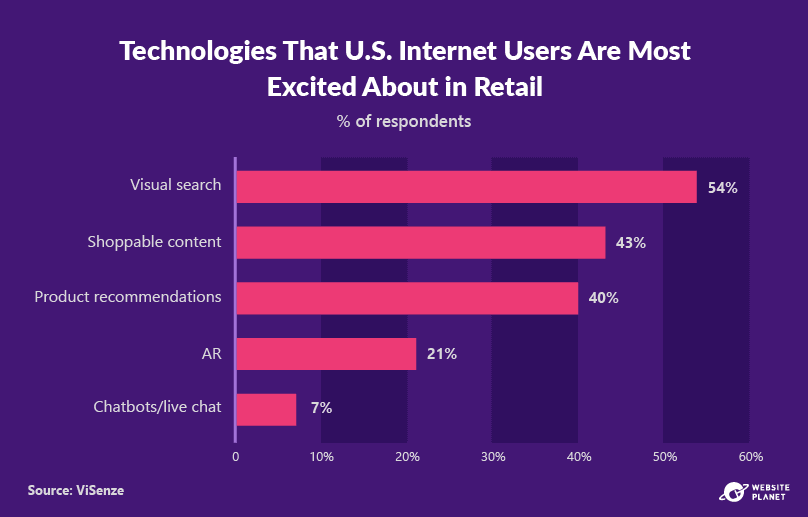 Visual search is another technology that's going to massively impact the retail industry.
Shoppers are really excited in general about how visual search can aid their retail experience. The technology is especially popular amongst young shoppers, 69% of whom prefer to buy products through visual-orientated searches.
Sites like Pinterest are already using visual searches to drive sales. You should be embedding product images into your visual content, whether that is on a blog post or an advertisement.
By doing so you will optimize your content for visual searches and upgrade the ease of your customer journey. Big changes that should see big results.
46. Go Viral or Go Home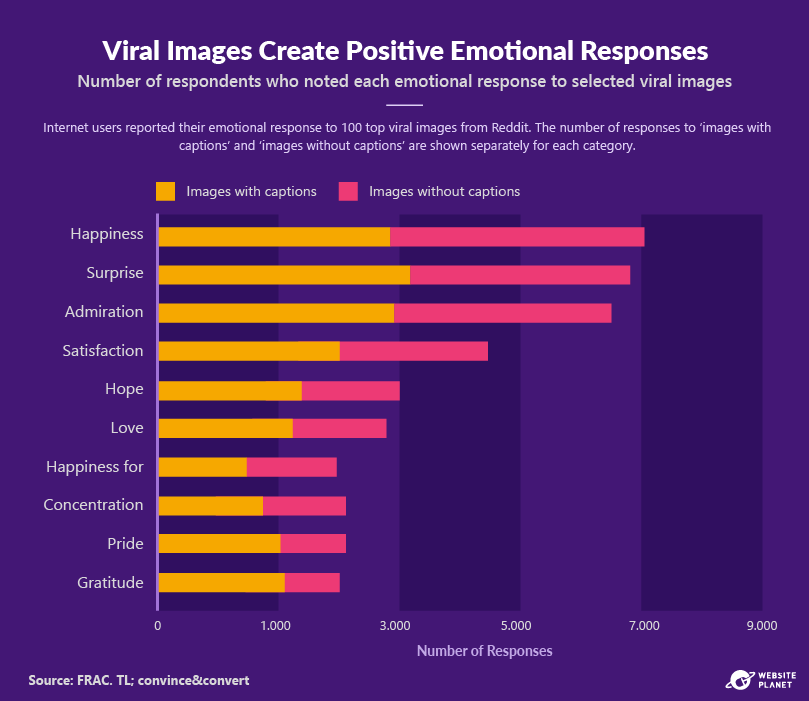 Social media platforms are still growing and meme-culture is still on the rise. That's why trying to create viral visual marketing content is more important now than ever. 
People go to platforms like Instagram and TikTok to view viral content; videos and images that garner millions of views.
Even something as simple as a well-placed tweet can go viral in this day and age. That's why, heading forward, you should try to stimulate specific positive responses from your customers. You never know, your visual content might just hit the big time.
47. Top Color Trends in 2021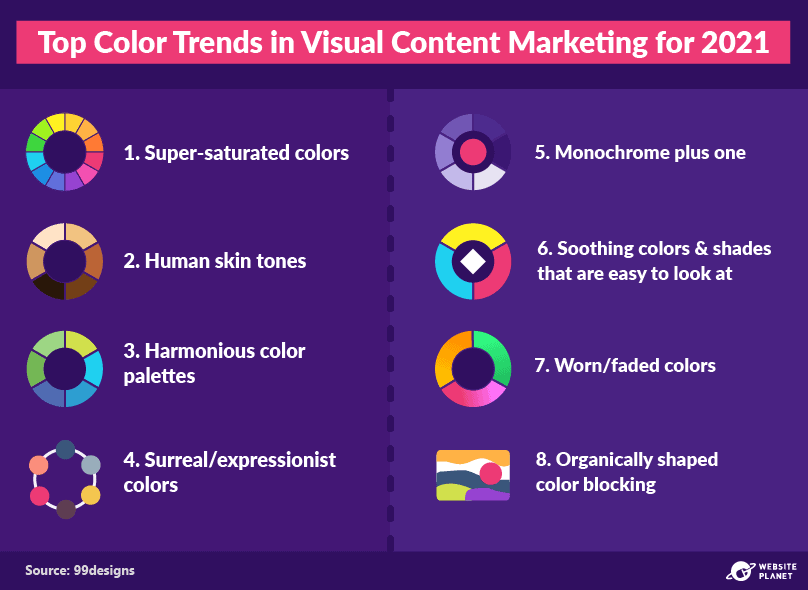 According to 99Designs, these are the trending colors you want to use in your visual marketing campaign in 2021.
In general, soothing colors are thought to be in vogue right now. After everything that has occurred with the COVID-19 pandemic, it's obvious people want to feel a little bit reassured by the content they consume.
Tap into that emotion with your use of color, and you could be onto a winner.
48. YouTube Shorts is Growing Fast

Yep, as we've already touched on, the short-video revolution has arrived. And there's a new place to market your content through short-video, too.
YouTube's rival to TikTok is gaining some serious momentum, and it's not even finished its beta phase in some locations.
This is certainly one to keep your eye on. Marketing on YouTube Shorts already looks like a great way to grow your channel and business. 
Given that 73% of videos on the internet are now less than two minutes long, it could soon be the best way to achieve results altogether.
49. Keep Investing in Video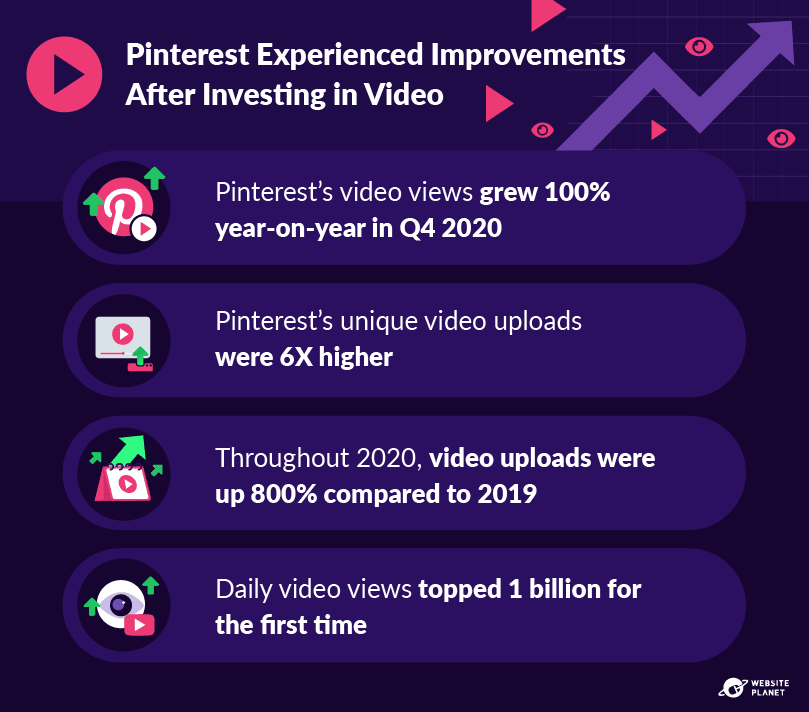 Pinterest's statistics show that investing in video right now is a really good idea, and other platforms (like LinkedIn) are doing exactly the same thing.
Pinterest and LinkedIn are trying to grow a culture of influencers on their platforms, just like on Instagram, TikTok, or Snapchat. Video represents the best way to achieve this, with Pinterest already seeing significant results.
This shows that video is still very much on-trend for 2021, and will continue to grow for years to come.
50. Live Video Keeps Growing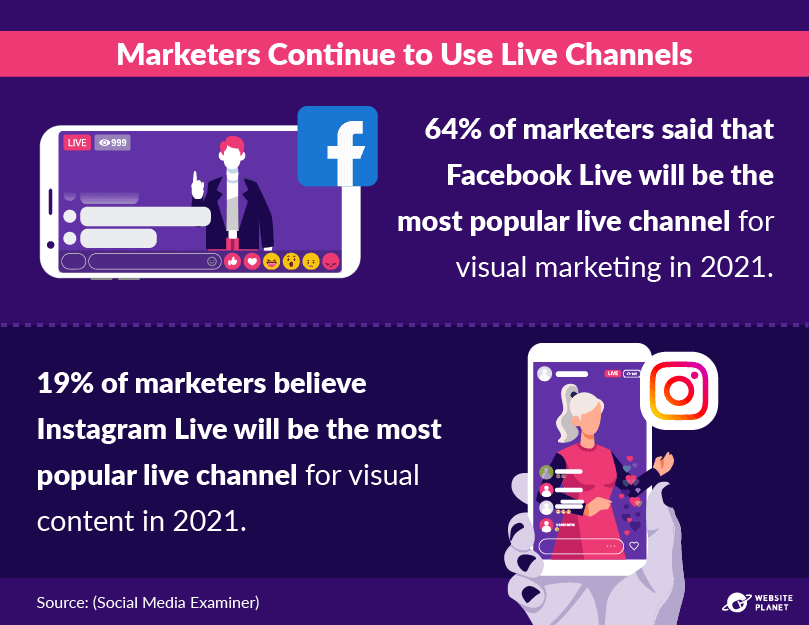 As social media continues to grow in popularity, marketers are going to utilize these platforms to maximise viewer engagement with their ads.
Live video remains one of the best ways to promote super-high engagement, and marketers will continue to use that to their advantage in 2021 with Facebook Live and Instagram Live.
51. AI Adoption Varies Across Industries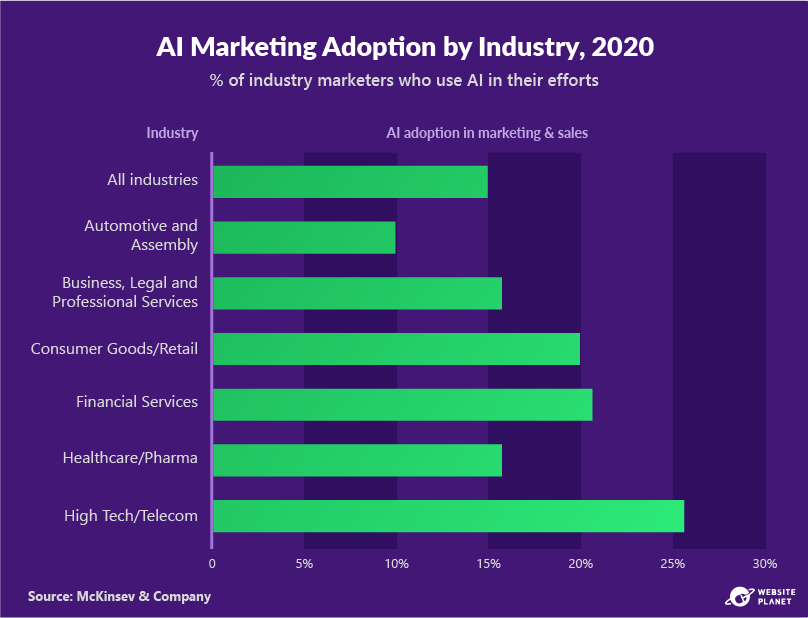 The adoption of AI into marketing departments is on the rise, as more marketers look to plan their visual marketing strategies with AI-driven analytics and tools.
Telecom marketers are the number one sector using AI right now, closely followed by retail and the financial sectors. If you're working in one of these sectors, AI could be useful for your content strategy, too.
AI can literally tell you what visual content to create, but it isn't just used for planning. AI can help you personalize your customer's experience, or even help generate visual content itself.
52. Personalize Customer Experience With AI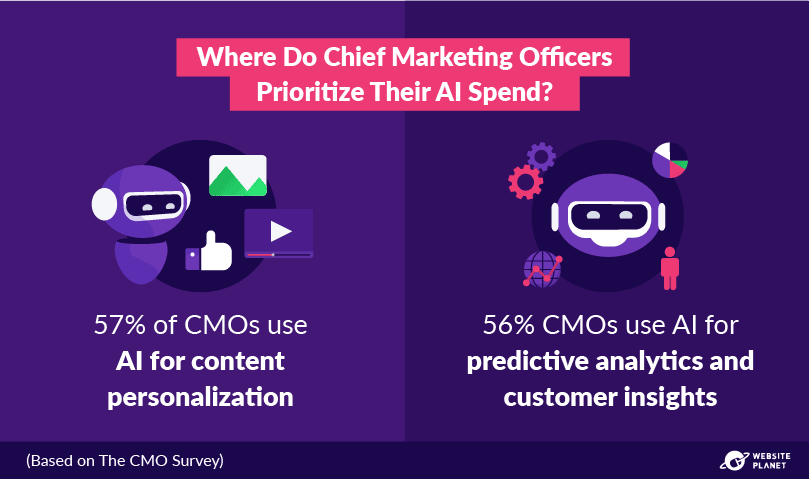 Why do marketers love personalizing content with AI? Because customers are 40% more likely to buy from a business that tailors content to their needs.
If you're looking to grow your business, your visual content strategy has to be personalized to each customer. 
Customer experience is becoming increasingly important, and adopting AI to help you improve this aspect of your business or visual content strategy is likely to see tangible results.
Key Takeaways
Here's a round-up of the top 5 takeaways from this article.
Takeaway #1: Always Engage
Whether you're trying to tell brand stories, present information, or solve customer problems, there's one word that comes to mind when you think about visual content: engagement.
Through infographics, images, or video — whatever it may be — visual content drives better engagement with your viewers, and that should always be at the back of your mind.
Takeaway #2: Video is Really Good
We've talked about video a lot in this article, whether that's live video or video streaming platforms.
The point is, video works really well to grab viewers and drive conversions. It's not going anywhere either. Video is great now, but it looks like it could get even bigger with the arrival of new technologies like VR, and new platforms like TikTok and YouTube Shorts.
Takeaway #3: Instagram is (Probably) the Best Social Media Channel
Though, of course, YouTube and Facebook are still huge, Instagram likely offers the best all-round platform to reach your customers right now.
I say this because of the prevalence of short form video (reels), live video (Instagram Live), and the mix of images and slightly longer videos (like IGTV), not to mention the culture of influencers who can market your brand.
All of these content types are either hot on trend, or will be in the coming months. So Instagram is a great place for visual content marketing overall.
Takeaway #4: Big Effort Will See Better Results
Creating, organizing, or even just thinking about visual content is difficult. If it was meant to be easy, everyone would be an expert.
Take your time. Recruit great talent. Spend your money well. If you take all of these steps, you're more likely to see good results. You reap what you sow, as they say, and that's more true than ever in visual content marketing.
Takeaway #5: Digital Over Print 
If the content of this article hasn't already made this point clear enough, here it is in black and white: business (and marketing) is moving increasingly online, so stay with the times.
More people will likely see a well-placed social media advert than they would in the back pages of a magazine, so shift your budget into online channels if you haven't already.
The Bottom Line
Visual content marketing is a complex and varied beast. There are so many different types, so many different trends, and so many different channels on which to place your content.
The bottom line is, it works. It's proven that visual content increases your marketing effectiveness across every metric possible, from engagement to conversions, recall, brand awareness, and everything in between.
You need to be investing in visual content if you aren't doing so already. And if you're investing just a small amount, invest more. Visual content is the best way to market your brand heading forward, and the potential upside of a successful campaign is monumental.