Like cold calling, cold emails are ones you send to a potential customer or client you aren't already connected to. If you've met the recipient, you're already one step ahead on the email path.
Cold emails can be your most effective marketing tool. For example, did you know that marketing expert Dmitry Dragilev took a startup from 0 to 40 million webpage views using cold email? Keep reading below for some advice to help you follow in his footsteps.
Why Cold Emails Aren't Spam
The truth is, if you do cold emails wrong, you're probably just sending spam. This is what sets your awesome cold emails apart from the spam:
It's personal to the recipient. Spam emails are impersonal and irrelevant.
It includes your real name and contact details. When did you last see that in a spam email?
It does not directly sell anything.
You should also avoid using any spam keywords like "awesome offers" or "make $$$ in your spare time!" Caps, exclamation marks, and spammy language are all potential triggers for your cold email to go to the spam folder.
How to Prepare for an Awesome Cold Email
Before you send your cold email, check out your recipients. Make sure that your targets really might be interested in your business. Randomly spraying emails in an unplanned way counts as spam.
If you're cold-emailing people in a large company, research their positions. You want to reach out to the right person, the one who has the authority to consider your suggestion. If you aren't sure, don't be afraid to ask!
Researching your target also gives you the opportunity to see whether there's anything that you could use as part of your email. Perhaps he or she just won the Nobel peace prize, and you sell trophy cabinets?
9 Steps to an Effective Cold Email
Step #1: Be real
Your Sender field should show your real name and a professional email address — for example, Sally Rake, using sally@rakespharmaceuticals.com. This is one of the primary elements that sets your cold email apart from a spam email.
Step #2: Mind your subject lines
There are two main schools of thought in regard to subject lines: Make them either extremely short and enticing, or longer and very relevant.
Here's an example of an extremely effective short subject line. It's just one word, and it worked: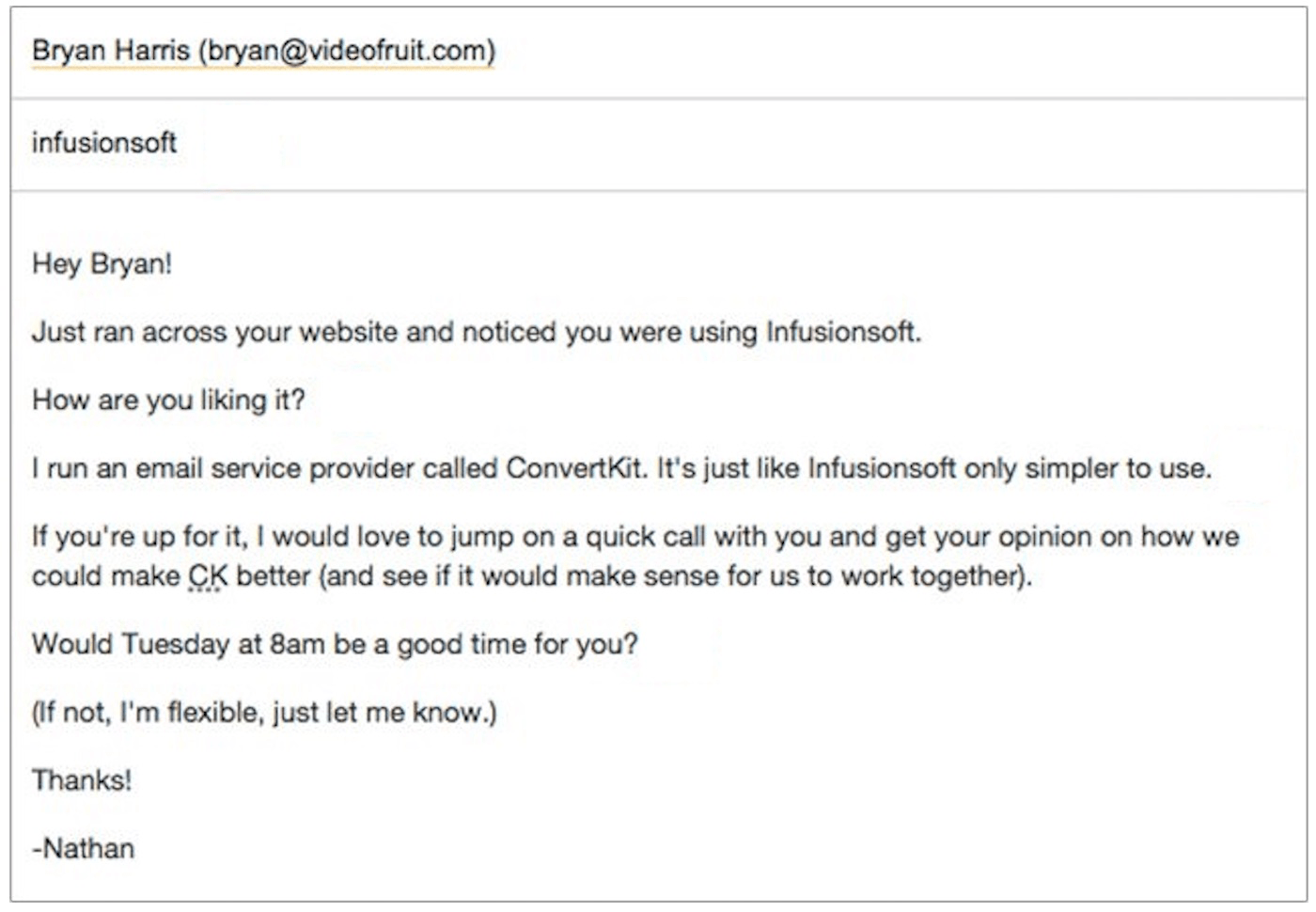 Step #3: Be very, very personal
Make your emails personally relevant to your recipient. Use that person's first name, give a specific compliment about his or her business, and describe why you've decided to get in touch. If you have something in common (e.g., you have a mutual friend, or you both share a love for polar bears), mention that too.
It's true that this takes time and research, but that's the thing about successful cold emails. You can't churn them out overnight. You can make it less complicated by using tools like Hootsuite or SocialMention that notify you when your target is mentioned on social media, and choosing an email marketing service provider like Constant Contact or MailChimp that offers advanced segmentation so you can personalize emails while also writing them at scale.
Step #4: Add value to your email recipient's life
Keep your email focused on the needs of the person you're sending it to. Make it clear how you can help him or her out. One of the best ways to impress a cold-email contact is to send something of value, like a white paper that relates to his or her field.
Step #5: Be brief and interesting
You could probably talk about your business for hours, but a cold email isn't the time or the place to do so. Everyone is busy, so keep your email memorable, short, and to the point. Craft an "elevator pitch" that, within as little as 20-30 seconds, effectively explains what you do, why you're unique, and how you can help. Spark the reader's interest — fast.
Step #6: Be clear about your intentions
What is it that you're looking for? Some input? A five-minute phone call? A recommendation to your contact's CEO? Be clear about what you'd like that person to do next.
Step #7: Start a conversation
Ideally, your cold email is the beginning of your relationship, not the end of it. Try asking a question that sparks a conversation.
Here's an example: "I saw an interview with you in Forbes yesterday. I was struck when you mentioned that Margaret Thatcher was a key influence in your business approach. What were your thoughts on her relationship with Gorbachev?"
Step #8: Make it look good
Use an easy-to-read font that's not too small, and plenty of paragraphs and spacing to make it easy to scan. If you want to write a longer email, consider using a list format. Bullets are quick to scan and prevent your recipient from feeling overwhelmed.
Step #9: Be persistent
A cold email drip campaign is much more effective than a single cold email. A series of four is ideal — your first email can be considered your introduction. Send a second one to follow up after a few days, then a third one that restates your value offer. Finally, your fourth email should be a "thank you and goodbye" email that acknowledges that you might not be a good fit.
Before You Hit Send…
Sending an awesome email doesn't end once it's written. Use the tracking tools offered by email marketing services like MailChimp and Constant Contact to see which emails have the highest conversion rates.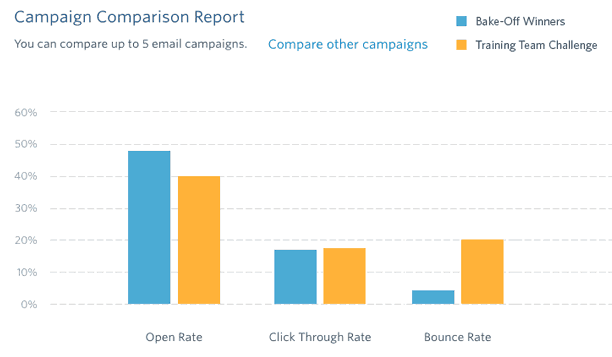 Some providers allow you to split-test your emails to see which ones are the most effective. Try different subject lines, layouts, and From fields until you determine the best combination for your business.
Once you've uncovered the winning format, save it as a template. With advanced segmentation, you can leave spaces for personalization and just add in a few relevant words for each recipient.
Convert Contacts to Customers
Here's one last piece of advice. If you're worried about stepping over the spam line, run your email through IsNotSpam.com. It's a free tool that tests your email for any spam indicators. The main key is to write naturally. Don't think of these as marketing emails; instead, you're giving someone the opportunity to discover the advantages of your business service or product.