You're tired of having so many potential customers come so far as to add items to their cart, only to drop off and abandon your website forever, leaving you with nothing but lost revenue.
When sending an abandoned cart email, the tricky part is writing one that actually works. If your email copy is mediocre, you run the risk of losing your customers for good.
With so many different tactics to choose from, it can be difficult to decide where to begin. Fear not! I'm here to make your life easier and tell you how to write the best abandoned cart email that will turn potential customers into real customers and keep them coming back for more.
Don't Underestimate the Power of the Subject Line
If you don't have an awesome subject line, no one's ever going to see the body of your email — regardless of how equally awesome it may be. You don't need to be a creative genius. You just need to know your brand, know your audience, and think about what would get your readers to open your email.
Brainstorm different kinds of subject lines. Don't shy away from being creative, but you may find that a straight-to-the-point subject line like, "You have items waiting in your cart" works better than a more charming "Where'd you go? We're lonely."
Alternatively, you might opt for a more intriguing subject line, like "We have a surprise for you!" Spark interest with a mysterious subject line that will make your customers open your email to find out what you're talking about.
Asking a question in your subject line can also help, as it creates a sense of back-and-forth interaction between you and your customers. For example, "Can we help?" or "Why'd you leave us?" are nice options.
Testing different styles is a good way to know what kind of subject line to use. Fortunately, most email marketing services providers will allow you to easily conduct A/B tests. Constant Contact, for example, offers a tool that specifically tests subject lines and then automatically sends the email with the winning line to your target audience: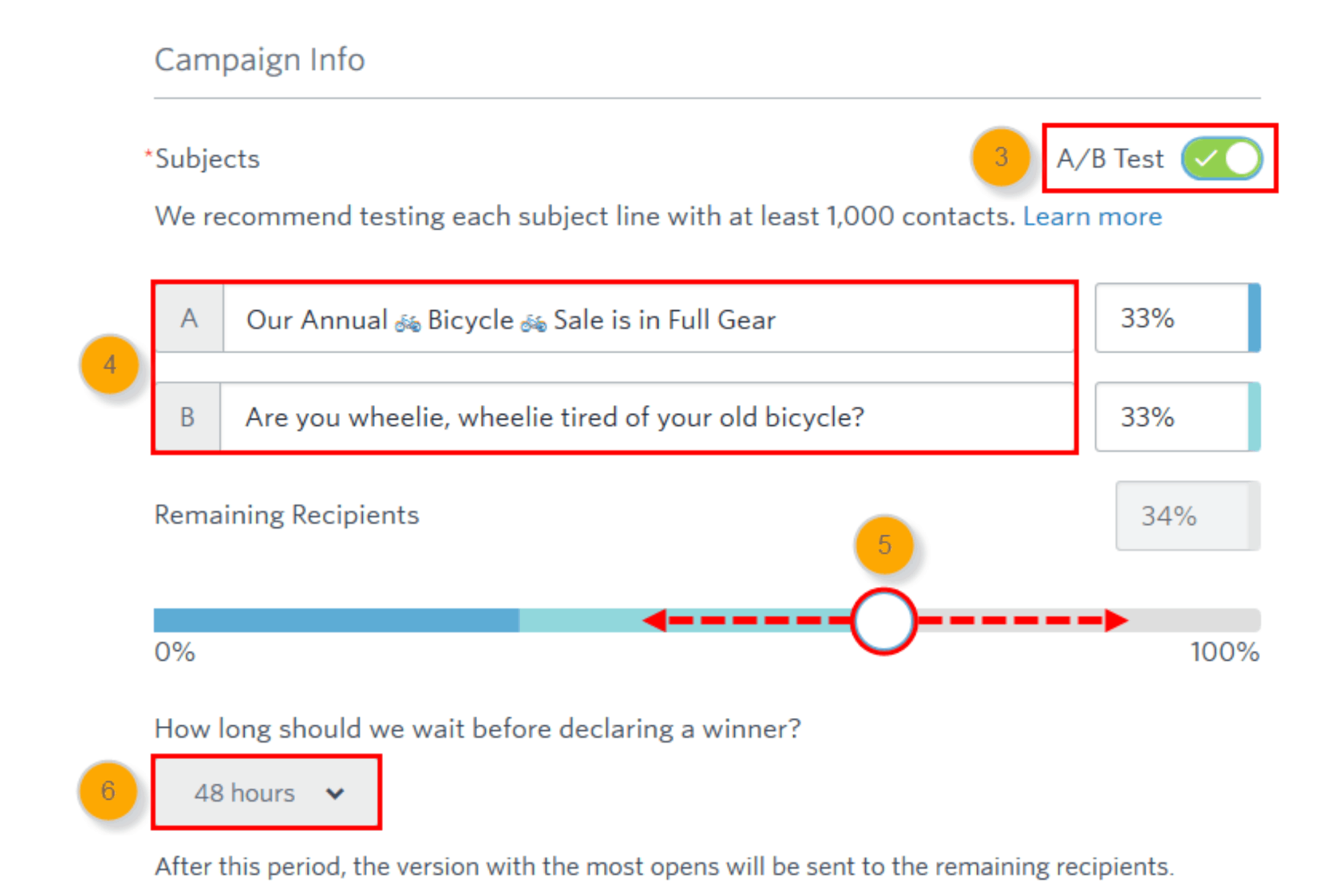 Want to learn more about Constant Contact?
Maintain a Consistent Brand Voice
To help your customers easily recognize and remember your brand, keep your brand's voice consistent. It will confuse people if an email they get from you doesn't match the impression they got when they visited your website. An abandoned cart email may be automatic, but it should still have personality – whatever the unique personality of your brand may be.
Customers who receive an abandoned cart email from you have already connected with your brand on some level. Sticking to the tone they are familiar with will strengthen the connection they feel to your brand.
For example, if your homepage says, "Our kitty sweaters are the cat's meow," your customers will be thrown off guard if your abandoned cart email is written in a more distant, professional manner. To maintain your light, approachable, feline-friendly tone, you might want to start with something like, "Hey, cat lover! Come back and get your kitty that purrfect gift."
This goes for design, too. Align the visuals and fonts with your brand; the email should speak the same graphic language as your website. To help you out, an email marketing service provider like AWeber has hundreds of beautiful templates you can choose from and customize with a drag-and-drop editor. Finding a design that matches your brand should be easy.
If you're interested in learning more about the platform, our experts can help.
Speak Your Audience's Language
If you want to communicate effectively, you must know whom you're communicating with. Conduct surveys and market research to learn more about your customers. Where are they from? What's their profession? What's important to them?
When communicating how your brand can help your customers, use their language so you can really get through to them. Showing your audience you understand who they are will make it more likely that they'll want to keep interacting with your brand. They'll be one step closer to clicking that precious checkout button.
If your customer base is largely made up of millennials, for example, use hilarious GIFs or viral memes to show that you understand them. Catering to a millennial audience has its own rules.
Create a Sense of Urgency
Your abandoned cart email should make customers feel like if they don't purchase the product they left behind in their cart by a certain time, they'll miss out and some other lucky person will get it instead.
Lines like "6 other people are viewing your item," "Snatch up the fly swatter before it buzzes away," or "Sale ends in 48 hours!" work well. Show your customers that there are consequences to them taking their sweet time.
Entice Your Customers with an Extra Incentive
Adding an extra incentive for your customers to complete the purchase soon always helps. It's hard for people to resist a "Special, Limited-Time Offer!" when it comes to products that have already caught their interest. You can set up automated coupon codes that expire after a certain amount of time, to help seal the deal.
Show Them What They're Missing
Your customers added items to their carts for a reason. Remind them about the specific products they abandoned, and what they can gain from buying them.
For instance, if a customer left a daily planner in their cart, your email copy could say something like, "Forgot ANOTHER appointment? You need a planner." This would remind that customer why they were looking at that planner, and what owning the planner could help them achieve (a more organized schedule and a way to remember important appointments).
It's also a good idea to include photos and names of the items your customers abandoned to help them easily remember which products they were interested in.
Get Personal
Treating your customers like real human beings is a good way to build a connection. In general, adding a personal touch creates a bond between customer and brand, making it more likely that your customers will appreciate your email and actually complete their purchase.
Most of the time, a good way to achieve this is by addressing your customers by first name. They'll more likely open and appreciate your email, and maybe actually click the "Complete Your Purchase" button.
But be sure to consider your brand and your audience, and see whether being casual and friendly works for you. If you're selling a product like foot fungus cream, for instance, you might want to avoid using names so as not to embarrass your customers.
If including first names isn't right for your company, you can still show your customers that you think of them as real people and care about them. For example, you can tell customers that you're there for them if they need help. Then provide the relevant contact information for customer support.
You can also ask your customers what went wrong during their shopping experience. Don't be aggressive, though; just gently inquire why they abandoned their cart. That way, at least they'll see that it matters to you. You might even consider including a survey link in your email, which they can fill out to help you understand why they left.
Keep It Simple
When your customers open your abandoned cart email, they're most likely doing several other things simultaneously. They could be listening to music, sipping coffee, scrolling through Facebook, and trying to tune out Netflix in the background!
You need to get through to them by making your email as clear and simple as possible.
Make sure there are links in several different locations in your email. Depending on what your email looks like, that could mean a clickable top banner image, clickable product photos, and a button at the bottom. The links should lead customers directly to the shopping cart so they don't need to take extra steps to complete their purchase.
Your call-to-action (CTA) should appear at both the top and bottom of your email, and the CTA button copy should be crystal clear, both in terms of copy and design.
Make the CTA button big enough so that it stands out, especially for the many customers who won't feel like reading your whole email and will prefer to scroll straight to the point. Additionally, make it clear what action they should take. "RETURN TO CART" or "BUY THIS ITEM" are great, unambiguous examples of CTAs.
To design a simple but professional-looking email, email service providers can also help. Benchmark, for example, offers a user-friendly editor that allows you to drag and drop images and content blocks into your email and move them around as you please. You don't have to be an expert coder to build an attractive email.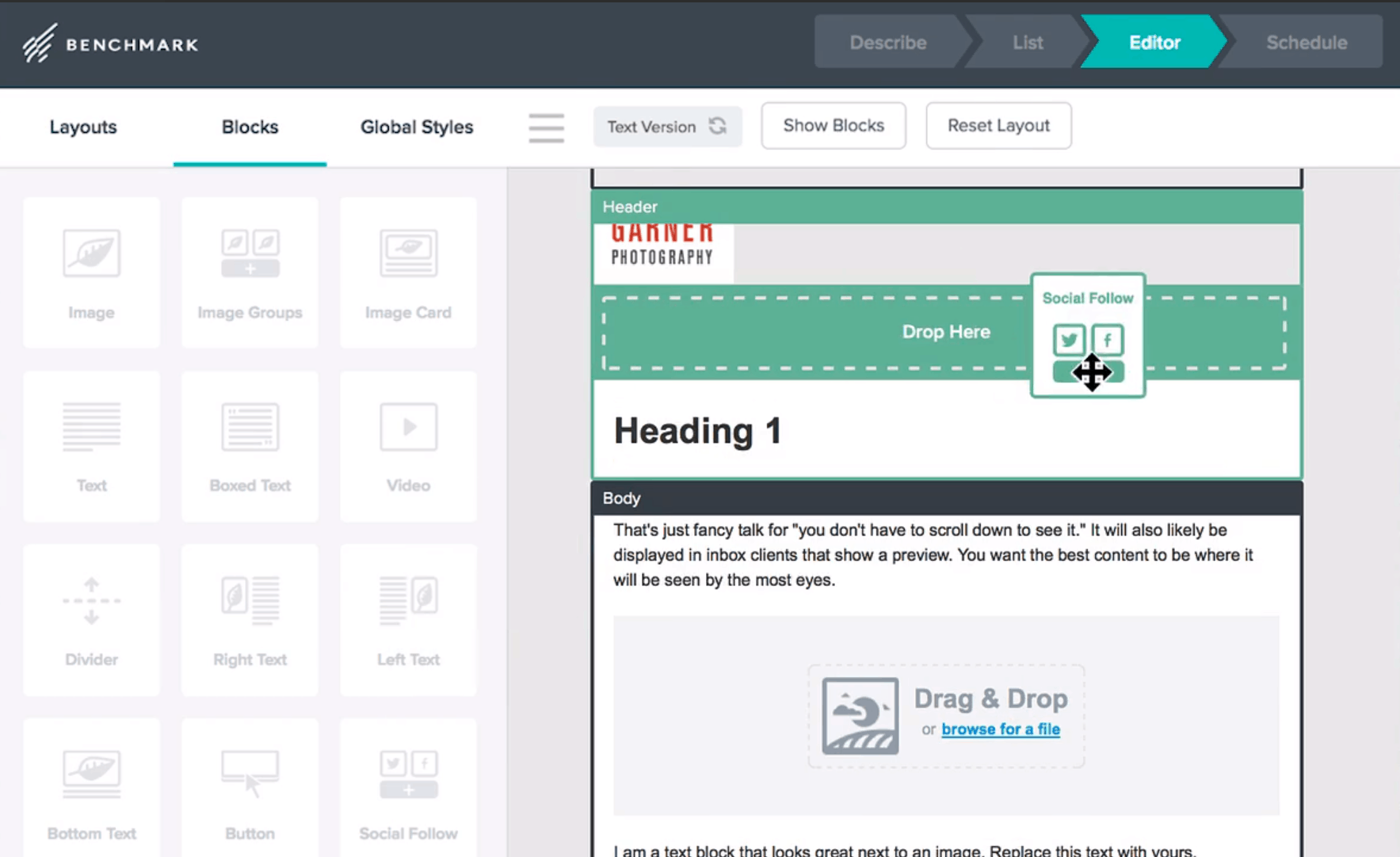 What to learn more about Benchmark?
Get Writing and Start Timing
You now have everything you need to write the best abandoned cart email that turns those hesitant shoppers into paying customers.
But a single email may not be enough. You'll probably need to send more than one. How many? The magic number is usually three.
Send the first email either instantly or within one hour after the customers have abandoned their carts, the second one about 24 hours later, and the third one no later than 72 hours post cart abandonment. To help you out, here are some amazing email marketing automation tools.
In addition, you need to carefully strategize at what precise times to send your emails. Fortunately, certain email service providers, like GetResponse, offer tools for timed messages, ensuring people receive your abandoned cart emails at the time they'll most likely open them.
Our experts have more information about GetResponse's powerful features.
A survey conducted by SaleCycle found that 87% of cart abandoners would be open to going back and making the purchase. It's up to you to use our tips to generate abandoned cart emails that push those users back to their carts.
Wishing you many happy conversions!
---
Sources:
http://www.salecycle.com/Features/Cart-Abandonment-Emails
https://www.barilliance.com/cart-abandonment-emails
Image Credits:
https://www.constantcontact.com/global/features/a-b-testing
https://www.benchmarkemail.com/features/emaildesigner