There are currently an estimated 57.3 million freelancers actively working within the United States, meaning that
36% of the U.S. workforce now derives at least some of their income through freelance work
. Even more astonishing, is that by the year 2027 freelancers are projected to become the majority of workers within the country. While many of the
best freelance websites
have costs associated with them, it's important to
keep in mind all the benefits that these platforms provide in exchange
. In addition to connecting qualified freelancers with job opportunities, they ensure that you won't be taken advantage of by a shady freelancer or employer, as they handle payment, conflict resolution, and often have 24/7 customer support (depending on your membership plan). So, while nobody likes to pay fees,
as long as you account for them in your rates, they can actually save you much more in the long run
. Regardless of which side of the platform you are using, it's essential that you are aware of the various fee structures in order to effectively price your services and manage your income. Keep in mind that these fees may change over time, so you'll also want to visit the individual platforms to make sure that you are up-to-date on the figures.
Upwork
Cost for Freelancers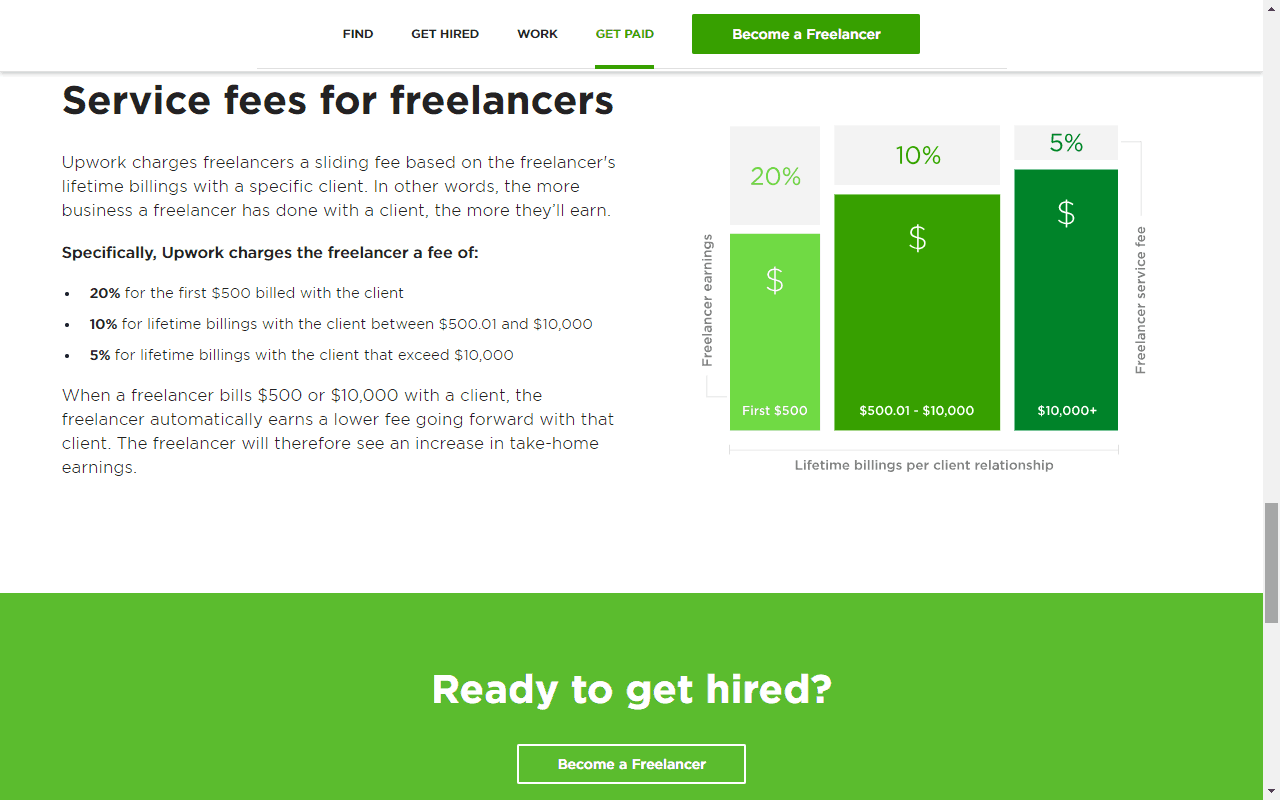 Upwork
's fee structure is somewhat unique. For freelancers,
the fees that you're charged decrease once you've made a certain amount of money with a given employer
. The platform's freelancer fees break down as such:
For the first $500 USD that you earn with a specific client, Upwork takes 20% of your total earnings
Anything that you've earned between $500 and $10,000 USD with a given client, Upwork takes a 10% cut
Anything more than $10,000 that is earned with a single client, Upwork's fee drops to 5%
This breakdown encourages freelancers to do a good job, and maintain long-term working relationships with their clients
, as their fees will decrease considerably over time. While Upwork offers a free Basic Membership, freelancers also have the option to sign up for a Plus Membership, for a flat rate of $10 a month. This membership has several benefits, although, for the average freelancer the Basic Membership will usually suffice. For those interested, an Upwork Plus Membership includes:
The ability to create a custom URL for your profile, which is great if you want to make business cards
An additional ten monthly "connects" (tokens used to bid on projects) on top of the free sixty that you receive with a basic membership
The privilege of being able to buy more connects should it become necessary (although they're rather pricey at $1 per connect)
Your connects will roll over from month to month, although this caps at 140 connects
You're able to hide your earnings on your profile should you desire to
The ability to view other freelancers' high, low, and average bid prices on a project, giving you a better chance to price your bids competitively
This membership is also available for agencies that have registered their services on
Upwork
, and come with more or less the same benefits (the main difference being that agencies receive an additional 20 connects rather than ten).
Cost for Employers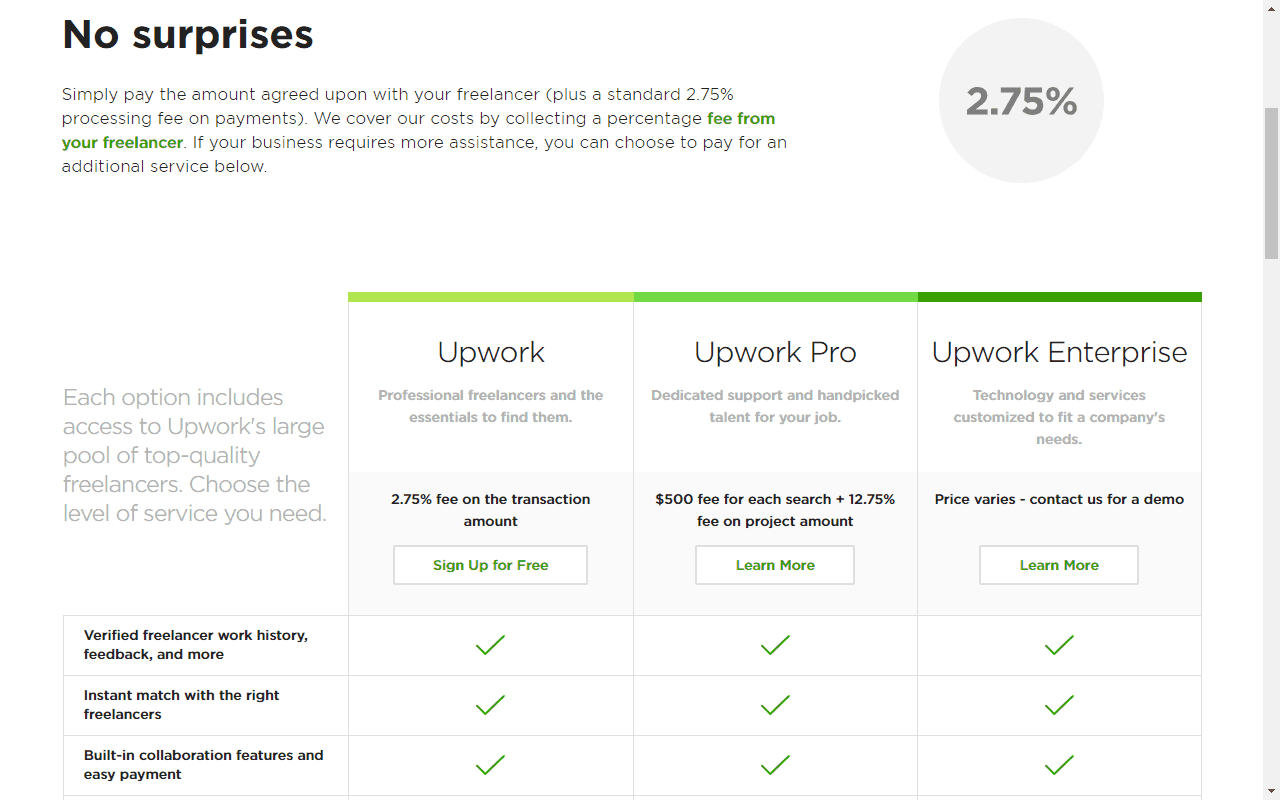 On Upwork, the fee structure is heavily favorable to the employer, and at a much greater cost to the freelancer. While freelancers pay up to 20% of their earnings for the privilege of using this platform,
employers only pay a flat 2.75% transaction fee
, in addition to the money that they're paying out to the freelancer of course.
Upwork
offers employers a few different options when it comes to subscribing, with different account types that have different benefits, as well as fees, attached. The three main account types for employers on Upwork include:
Basic Upwork Account: This is the free account, where the only fee is the 2.75% payment processing fee; the Basic Package is sufficient for most small businesses, or individuals that are looking to hire a freelancer
Upwork Pro: The Pro Package is generally reserved for larger organizations, searching to fill big or ongoing positions, and who can't always be bothered with picking through the countless proposals that their posting will receive. The Pro Package includes the advantage of only receiving premium freelancers that have been specially curated by Upwork, although this does come with a hefty price tag of a $500 one-time job search fee, an additional 10% fee on the project amount, as well as the aforementioned 2.75% payment processing fee
Upwork Enterprise: This package is for large organizations that do a lot of hiring through Upwork. It comes with all the advantages of the Pro Package, as well as many additional perks, including dedicated account management and custom reporting; the pricing for Upwork Enterprise varies depending on your organization's needs
Fiverr
Cost for Freelancers
Fiverr
charges 20% off the top of every transaction
. Beyond this, they
also charge additional fees for withdrawing your funds
, although these fees vary depending on the withdrawal method.
PayPal: 2% of the total amount, with a max of $1; there is a minimum withdrawal amount of $1
Fiverr Revenue Card: If you withdraw to your revenue card, the fee that you pay varies depending on how quickly you need the funds. For example, if you are willing to wait two days, the fee is $2; alternatively, if you need funds within two hours you pay a $3 fee. There's an additional $3.15 ATM withdrawal or in-store cash disbursement fee, you also pay $1 if your card is declined at the ATM or even just to do a balance inquiry. The minimum withdrawal amount for the revenue card is $5
Bank Transfer: There's usually just a flat $3 fee for bank transfers, although some banks will add additional fees; there's a minimum withdrawal amount of $20
Direct Deposit (ACH): This is by far the cheapest option available, at only $1 per transaction, however, it's only available within the United States. Direct deposit has a minimum withdrawal amount of $10
One last thing to mention about getting paid on 
Fiverr
is that
there's a bit of a waiting period before you can withdraw your funds
. The average user must wait 14 days before withdrawal is possible, while top sellers only have to wait for seven.
Cost for Employers
The fee breakdown for employers is fairly straightforward on Fiverr.
For purchases that are under $40 total, buyers simply have to pay a $2 service charge
.
On purchases that are more than $40.00, buyers are charged 5% of the total price
. According to
Fiverr
, all these fees go toward operating the platform, as well as providing 24/7 customer service.
Freelancer.com
Cost for Freelancers
The fee structure on
Freelancer.com
is a tad complicated, and can vary greatly depending on the type of job that you're doing.
Fixed Price Projects: Whichever is greater, 10% of the total project cost, or $5.00
Hourly Projects: 10% of your hourly rate (so if you're making $25 an hour, Freelancer.com would take $2.50, leaving you with an hourly rate of $22.50)
Contests: Either 10% of the project cost, or $5.00, whichever is greater; similarly, hourly contests charge a flat 10%
Services: A standard 20% fee for freelancers
Preferred Freelancer Program: These projects are charged a 15% project fee
Freelancer.com
 has membership options as well, each of which comes with a variety of benefits. Although, for the average freelancer, the Basic Membership should suffice. At $4.95 a month,
the basic membership is worth the expenditure for the additional 42 bids that you'll receive (50 total), as the measly eight bids per month (two per week) that you're given with the free Intro Membership isn't nearly enough.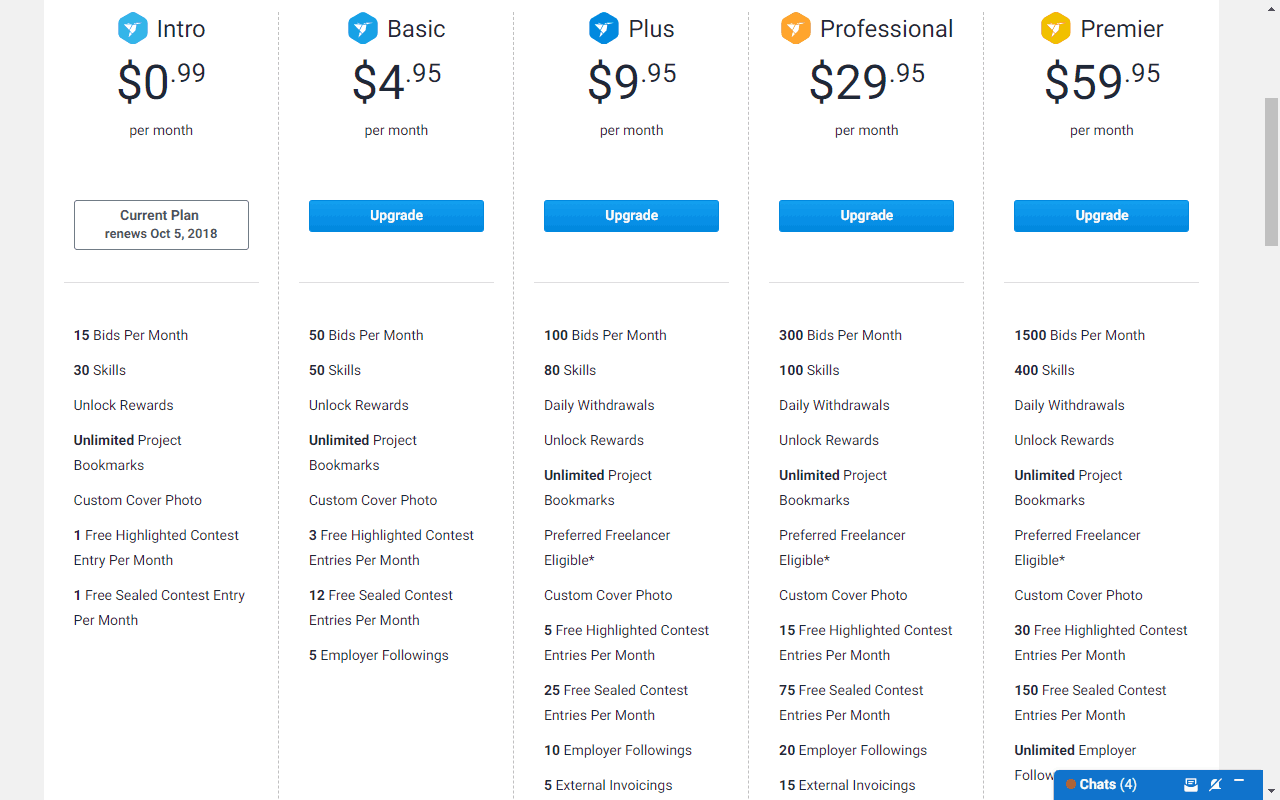 Cost for Employers
On
Freelancer.com
the fee breakdown for employers is very similar to the breakdown for freelancers, although employers pay a bit less. Also, employers are able to sign up and post projects for free, and
only have to pay once a project has been accepted by a freelancer.
The project fees for clients breakdown as follows:
Fixed Price Project: Either 3% or $3, whichever is greater
Hourly Projects: A flat 3% is charged to each payout that you make to a freelancer
Contests: Clients have no fees associated with contests
Services: Other than paying the service price, there are no other associated fees to services for clients
Guru
Cost for Freelancers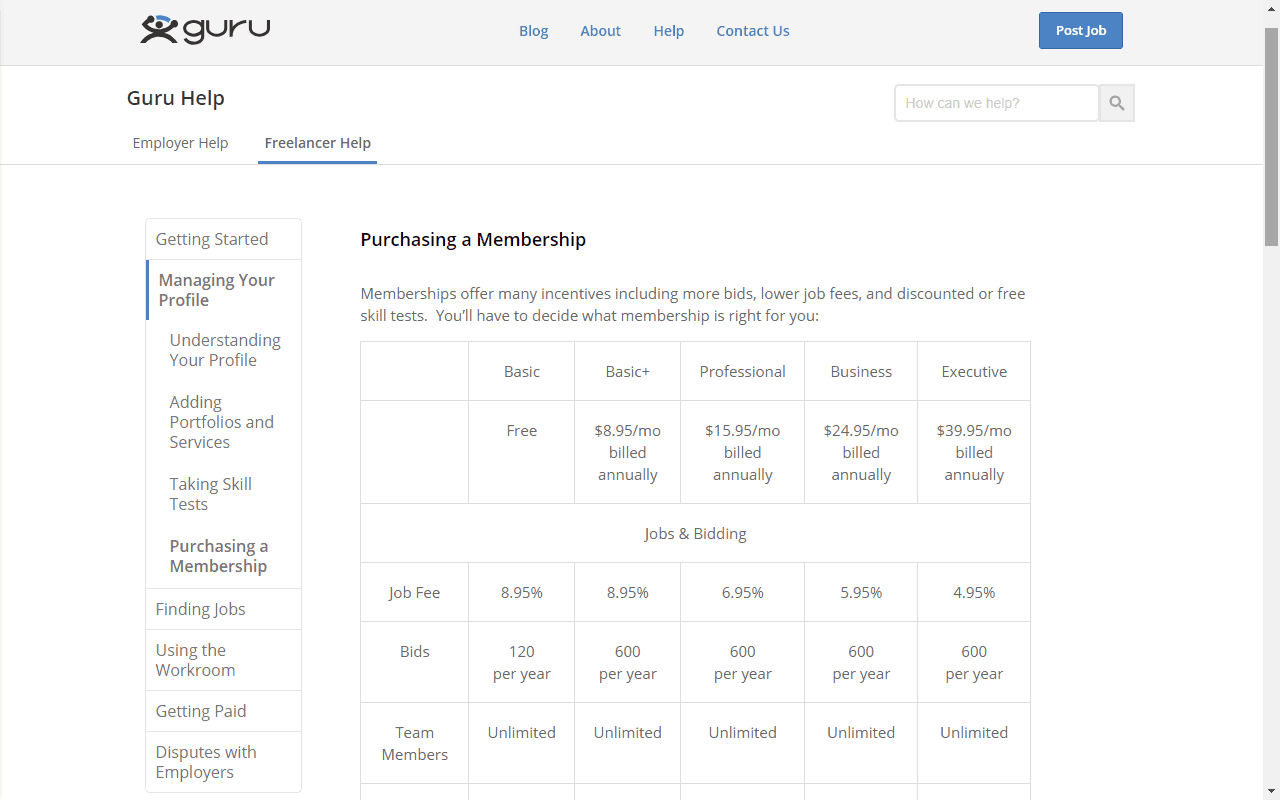 On
Guru
, the fees that you pay vary depending on your membership level.
They start at 8.95% with the Basic Membership, but they can go as low as 4.95%
with the Executive Membership.
Basic Membership: This membership is free, although it has with it the highest job fee of 8.95% (which is still reasonable when compared to others on this list)
Basic+ Membership: This has the same job fee as the basic membership, but comes with additional benefits such as an extra 480 bids per year. A Basic+ Membership will set you back $8.95 per month (billed annually)
Professional Membership: This membership option gives you a lower job fee at 6.95% of the project cost, and you also receive 600 bids per year, all for 15.95 per month (billed annually)
Business Membership: The job fee is 5.95% at this membership level for $24.95 per month (billed annually)
Executive Membership: For $39.95 a month (billed annually) your job fee will only be 4.95%
Cost for Employers
On
Guru
, it's free for employers to sign up and post projects, and
fees only come into play when you're paying out an invoice, at 2.5%
. That said, according to their website,
Guru
also offers a 3.5% cash back bonus if you pay invoices using a check or e-check, meaning that, rather than paying a fee, you could potentially make money back when paying an invoice!
Meeting Your Bottom Line With All These Darn Fees
Whether you're an employer or a freelancer—but especially if you're a freelancer—looking at all these fees can be a little disheartening. It can be difficult enough to get by at times as a freelancer without getting bombarded with excessive fees. The trick is to know these fees and incorporate them into your overall costs and pricing;
by accounting for things like platform fees, business expenses, and taxes ahead of time, you can make sure that your costs are always covered
.
---
*Please note that the fee structures listed here are current as of 2018 and are subject to change.
Sources:
https://support.upwork.com/hc/en-us/articles/211062898
https://www.upwork.com/i/pricing/
https://support.upwork.com/hc/en-us/articles/211062888-Membership-Plans-Basic-Plus
https://www.upwork.com/press/2017/10/17/freelancing-in-america-2017/
https://payouts.payoneer.com/partners/Default/fees.aspx?pid=100010650
https://www.finder.com/in/fiverr
https://www.guru.com/help/freelancer-help-center/my-profiles/membership-information/
https://www.guru.com/help/employer-help-center/get-started/costs-use-guru-com/