Did you know that email newsletters still have the best ROI of any other marketing medium? The average ROI on email newsletters is 122%. I've certainly found this to be true for my own email marketing. If you aren't already sending email newsletters, what's holding you back? This step-by-step guide to creating an engaging newsletter that guarantees click-throughs will help you become the proud owner of a successful email newsletter.
Your Step-by-Step Guide to Creating an Email Newsletter
1. Decide what to include
Before you can even begin creating your email newsletter, you need to sit down and think about why you're sending it. For example, is your aim to get recipients to click through to your blog website and read your articles? Do you want to make clients feel special by offering exclusive email-only discounts? For the first goal, you'll want to share teasers about your valuable content. For the second goal, your emails should contain discount offers and images.
Once you're sure of your end goal, you can plan your content accordingly. I like to write a list of topics for my email newsletters, covering about six-to-eight newsletters each time, so that I can plan the design of my newsletter around my content and not the other way around.
2. Join an email marketing service
Although you can write your own emails and send them from your regular business email address, using an email marketing service is several times easier and far wiser. Email marketing services bring better deliverability rates and a range of useful tools.
Most leading email marketing services offer tools like:
Email newsletter templates to help you build attractive newsletters
Double opt-in, easy unsubscribe, and compliance with data-use regulations like GDPR and CAN-SPAM
Drip campaigns that can send a series of emails at fixed intervals, such as a set of welcome emails to new subscribers or a marketing campaign building up to a major sale
Other tools vary between email marketing services. You'll need to check out what the best email marketing services offer, so you can choose the tools that best suit your needs. For example:
MailChimp and GetResponse offer advanced split-testing
ActiveCampaign offers sales automation
AWeber has excellent customer support
ActiveCampaign and GetResponse offer a built-in CRM
Constant Contact and AWeber have libraries of stock images
ActiveCampaign, MailChimp, AWeber, and GetResponse offer advanced customer segmentation
Some email marketing services are easy to use for beginners but don't have such advanced options for expert users, while other services enable experienced users to customize their options, but are harder for beginners to master. Explore the features and pricing options of leading email marketing services providers, and take advantage of free trial periods to test run those that you prefer.
3. Build your contacts list
The next step is to gather recipients for your email newsletter. You might already have a list of email addresses, but you'll also want to keep adding to your contacts. Create attractive signup forms, lead magnets, and opt-in offers to attract new subscribers. Ensure that you comply with data regulations; make it easy for subscribers to leave your list, and use double opt-in to verify that no one signed up by mistake.
4. Design your email newsletter
If you're not sure about your skills as a designer, use the easy email editor on services like MailChimp and AWeber. I find that these are a total game-changer for non-designers like me. You can drag and drop elements onto the webpage to define your image fields, text fields, CTAs, background colors, etc.
Use existing email templates and tweak the colors, fonts, and formats to make your own customized email newsletter template. It's best to save your own newsletter template for repeated use. It saves me a lot of time for every newsletter; I just pull out a saved template and plug in my new content.
5. Segment
Segmenting your contacts into lists according to criteria such as their age, gender, interests, or even favorite rock band allows you to send customized, personal content to each individual without writing each email one at a time. Segmentation is key to email newsletter success.
6. Use alt-text image tags
You want your emails to be viewable on every device and in every situation. Recipients viewing emails on smartphones often disable images to reduce their data usage or save time on webpage load, so it's important that your email still makes sense even for contacts who can't see the images. Alt-text image tags tell the viewer what is shown in the image and help them know where to click.
7.  Optimize for mobile
Between 46% and 59% of all emails are opened on mobile. Optimize your emails for mobile by checking that the images resize well for mobile screens and that your paragraphs don't look too long. I like that GetResponse shows a mobile preview of my draft email alongside my desktop preview, with both portrait and landscape views. It makes it fast and easy for me to ensure mobile optimization all the way through.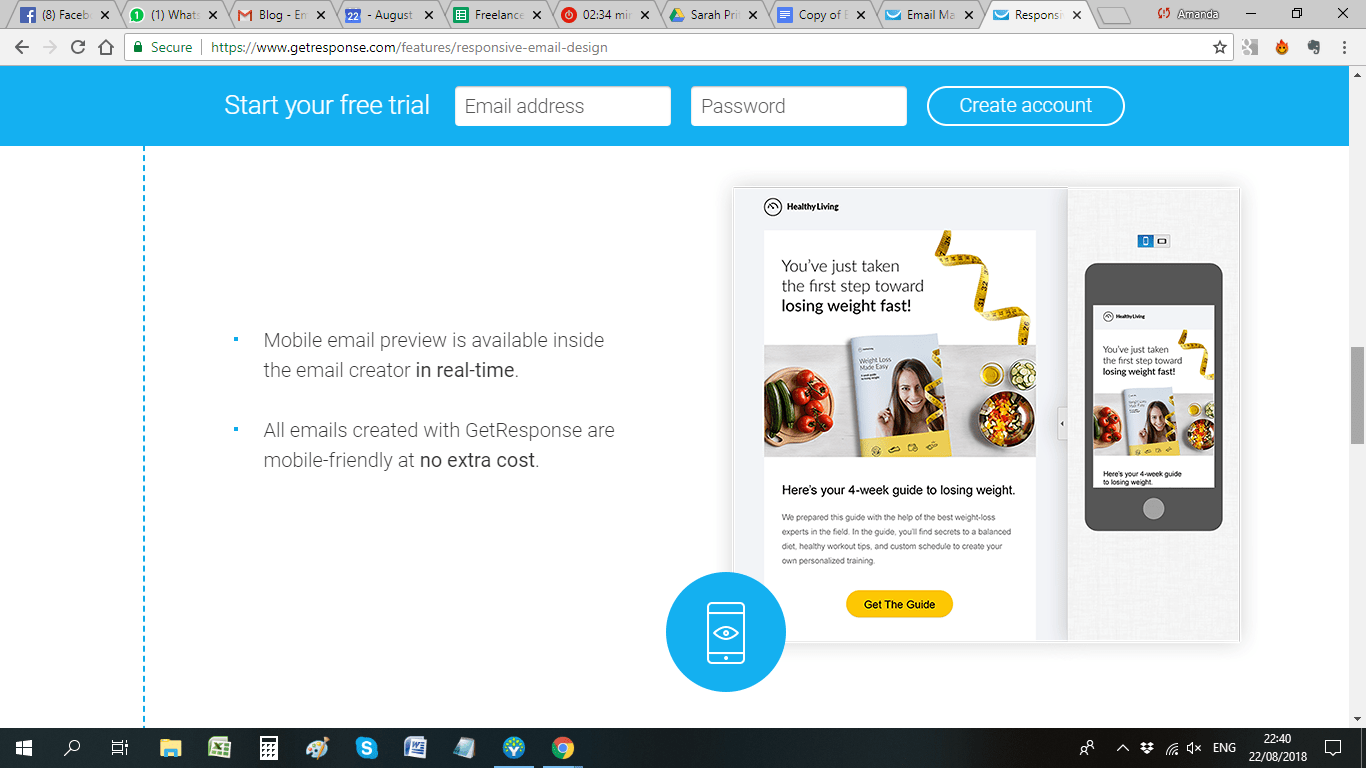 8. Think about follow-through
If you want recipients to click through, you need to prepare their end destination — ideally a dedicated landing page — before you send the email. For example, information about a special event should direct readers to a registration page. Emails about special offers should click through to a webpage that features these offers in prime position. You can create beautiful landing pages within your email marketing service, with providers like GetResponse and MailChimp.
9. Test
Once your contact list is filled and your email newsletter is prepared, it's time for testing. A/B testing (also called split-testing or multivariate testing) allows you to send multiple versions of the same email to different segments of your contacts list and compare the results.
For example, you could send emails that are exactly the same but have different subject lines, and see which one brings in a higher open rate or more clicks. MailChimp allows users to test up to eight different elements, including subject line, background color, "from" field, and more.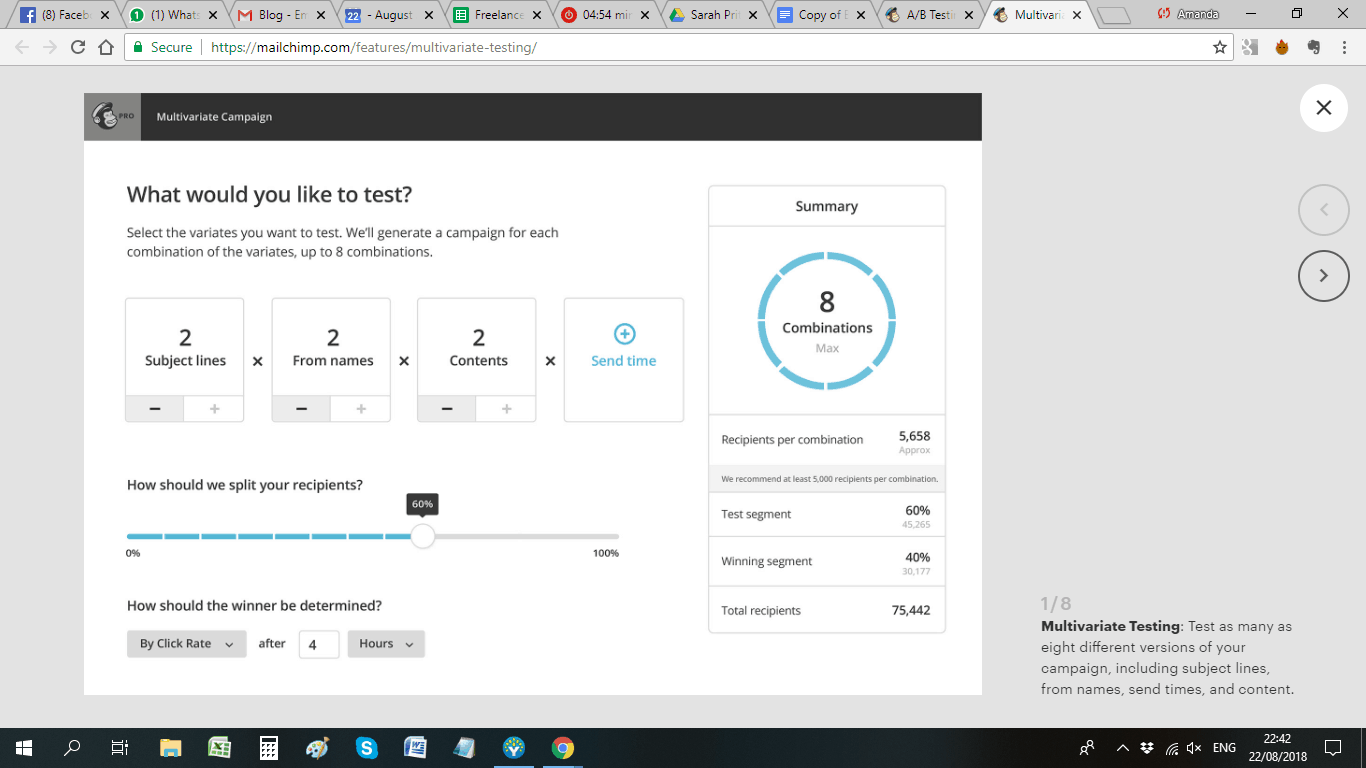 Create an Engaging Email Newsletter Today
With this guide, there's nothing to hold you back. But don't forget this extra simple tip that so many companies neglect: Send a sample email newsletter to yourself or one of your colleagues before you send it to your whole list. Even even though you can preview your newsletter on your email marketing provider, this is the best way to spot typos and check up on formatting.
Increased conversion, improved customer relationships, and bigger revenues await you. Pick an email marketing services provider and get started creating your email newsletter.