Creating your own website can be daunting, even with a reputable website builder like Squarespace. You still have plenty of crucial decisions to make, including the template you should use.
This guide on The Good, The Bad, and The "Meh" of Squarespace templates is meant to help you understand the pros, cons, and limitations of the Squarespace template library.
Squarespace Templates – The Good
Template User Guides and Video Workshops
You might wonder why you even need user guides or video workshops to use Squarespace themes. After all, user-friendliness is the entire point of a template, right? Still, each theme will have its own customization options, special features, and settings, and you need to know how to manage them all.
While not exactly difficult, it can take time to find everything you want in a particular theme and get accustomed to using it. Theme-specific user guides by Squarespace speed up this process.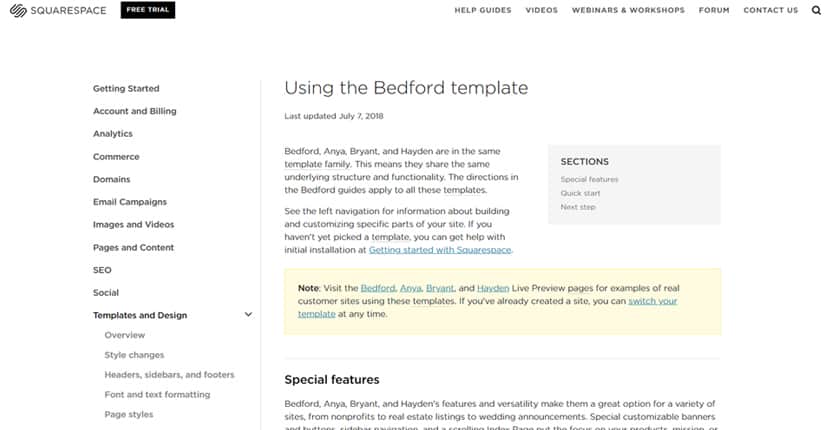 Currently, they cover most of Squarespace's more popular themes. They also provide handy comparison charts to help you understand the difference in structure and layout between certain themes. It's nice to have these resources guide you through the murky beginning stages. Few sites provide better help for beginners. However, hints and tutorials within the designer itself, as provided in Wix, would be a nice addition.
Professional-Looking Designs
Read any Squarespace review, and you'll find that the platform gets tons of praise for its themes. One of the reasons why the themes are so good is because Squarespace themselves tightly control which themes they make available to users and enforce very high curating standards.
A theme must be mobile responsive, maintain a certain quality of design, be built on the latest web technologies, and be extensively customizable. This does mean that not as many themes make it through to their library. However, you never encounter the odd bad one as you do on platforms like WordPress and Wix.
The themes are all stylish, modern, and built with a purpose in mind. Whether you want to create a pet care blog, sell your art online, or run a website for your restaurant, you'll find a beautiful theme for you.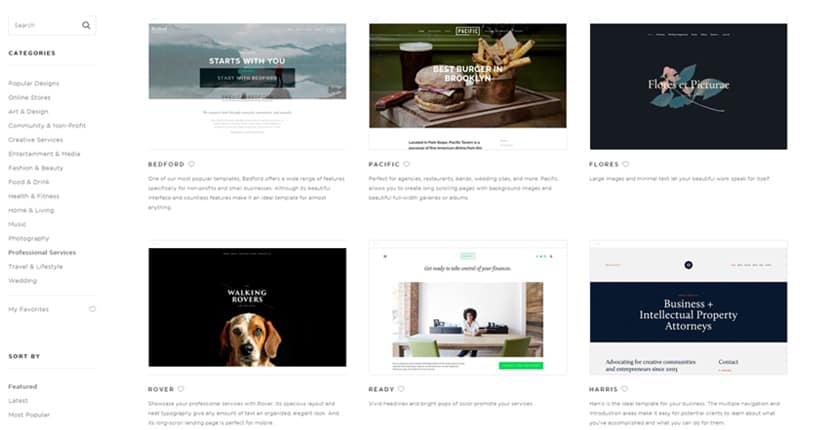 Mobile Responsiveness
One of the top requirements for a theme to even be listed in the Squarespace library is that it should be completely mobile responsive. This means that the template automatically adjusts its design to look great on all devices.
It's impossible to find a template on any website builder where every single theme responds perfectly on mobile. However, Squarespace really stands out as one of the builders that gets it right 99% of the time.
An awesome feature is that Squarespace allows you to edit your website in "Device View." This displays your website as it would look on a phone or tablet, allowing you to fix it that 1% of the time when Squarespace gets it wrong.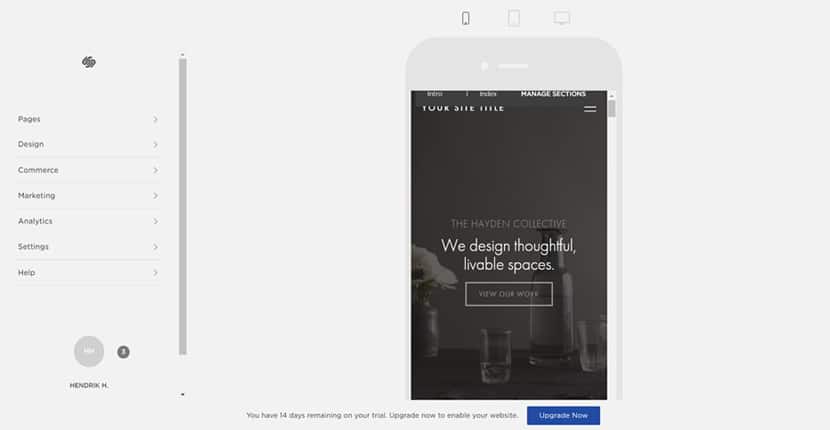 Squarespace Templates – The Bad
Number of Themes
Although the strict quality control of Squarespace themes means that you're assured of each theme's high standards, it also leads to a lack of quantity. As of now, Squarespace has fewer than 100 themes in its library, which is far from how many WordPress (200+) and Wix (400+) have.
Quality over quantity is a reasonable argument. However, this does mean that you'll have fewer options. Moreover, there will be a greater chance that you and someone else end up using the same theme. In most cases this shouldn't be a problem because you'll customize your template and swap in your own content, but the possibility exists.
Some Templates Lack Basic Features
From a design perspective, it's certainly challenging to find fault with Squarespace's themes. However, once you really start getting into it, you might notice that a few templates miss some small (yet essential) features.
For example, some templates don't feature a search bar. Or, you might want a certain menu style, only to find out that your template supports only one type of menu. These seem like small faults, especially since you have your pick of themes. However, extremely basic elements should be available on EVERY template.
What some other builders get right is that they make these features part of the underlying platform and not dependent on themes.
Squarespace Templates – The "Meh"
Variety
Scroll through the Squarespace template library and you'll understand. Squarespace does provide templates for almost any occasion. It has a comprehensive list of categories that cover all the most important website types like blogs, business sites, and online stores.
While not as broad as Wix or WordPress, Squarespace's library also provides for all the important niches like food, pets, fitness, travel, etc. However, you'll also soon realize that most of the templates have the same look and feel.
Squarespace templates are overwhelmingly designed to be contemporary, minimalist, and toned down (think Apple-esque). While this might be great if that's your goal, it would be nice to have more quirky or unique options.
Customizability
With a relatively small number of themes and not the best variety, you'll need to rely on the customization options that Squarespace provides to make your website unique. Squarespace does come with a more-than-decent template customizer.
It's very easy to use, although it might not be the most intuitive. You also have extensive control over the sizing, color, fonts, and content. However, Squarespace is not a true drag-and-drop builder, and you have minimal control over the layout and positioning of elements. These factors put it squarely (excuse the pun) in the "meh" category.
Squarespace Templates – The Final Showdown
Summing up Squarespace themes to help someone decide is no simple task. That's because the look you want plays a huge role in whether Squarespace templates will suit your website.
For something sleek and sophisticated, yet reserved, then Squarespace might be the perfect website builder for you. As the templates are also quite image-heavy, it's hard to say what your final product will look like once you swap in your own.
If you want variety and deep customization, you might be better off with a platform like Wix or WordPress.org where you even have thousands of third-party themes to choose from. But if you want it simple, beautiful, and with zero fuss, go with Squarespace.