With over 200 Squarespace templates available, how do you choose the best one for your website? 
My advice is to
choose a template that's versatile but pre-purposed.
It'll be easy to customize and it'll also have all the key features you need.
Are you building a website for a business or professional service? You'll need scheduling and online booking tools built into your template. An online store? E-commerce tools are a must. 
Restaurants need menu pages. Creative artists and designers need photo galleries. And
every website should have a blog, social media links, and a newsletter or email signup.  
I've tested dozens of Squarespace templates and selected 16 of the very best across various types of websites. I've also included some of my favorites from Squarespace version 7.0, just in case none of the newer templates suit your needs.  
I've featured a choice for almost every niche, so read on to find yours.
Squarespace Templates with Top Marks for Design and Features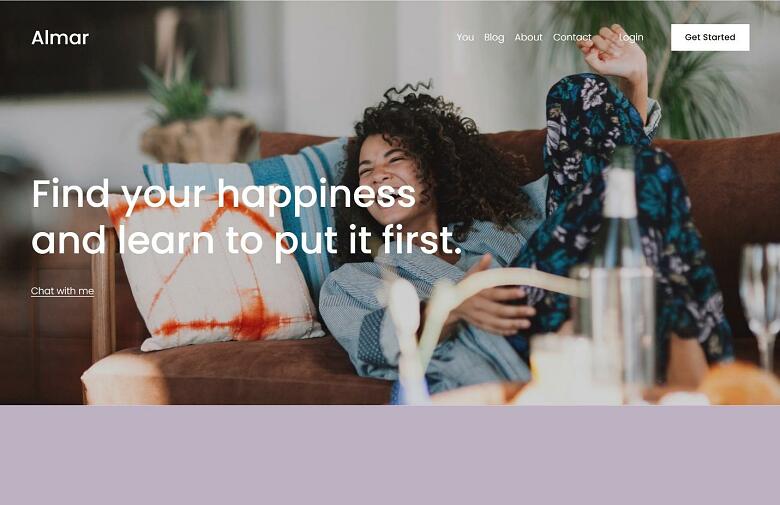 Almar
's
smart style and client-focused text make it a perfect fit for
professional services and small business websites
.
It would also make an
engaging
CV, personal website, or blog,
as it comes with all the content sections you need to share your experience, awards, testimonials, and latest posts. 
My favorite feature? The Get Started page, where
clients can book a full suite of your services, including appointments, classes, and even a free 30-minute consult.
There are also plenty of
Learn More
CTA buttons and a newsletter signup.
Depending on your profession, you'll want to change the images, colors, and typeface to match your branding. But however you choose to customize the template, you can count on
Almar's built-in service booking tools
to help you net new clients and maintain existing client relationships.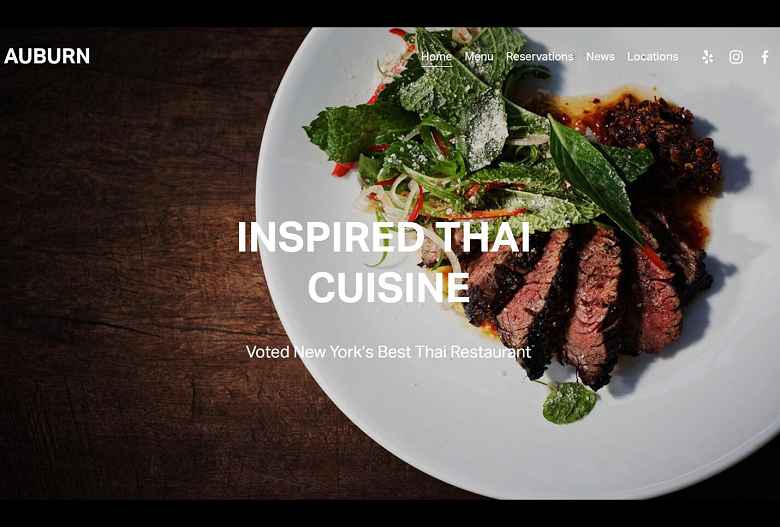 Auburn
is my favorite Squarespace template for restaurants thanks to its
striking design and long list of features. 
Its bold header text and
full-bleed image
draw visitors in from the first glance, while eye-catching photos throughout the homepage help visitors get a feel for your establishment .
Accompanying text snippets let you highlight exactly what's unique about each aspect of your restaurant, and
smartly placed CTA buttons
prompt visitors to check out your menu or reserve a table
as they browse
.
If your restaurant cultivates a particular atmosphere, you can use the
abundant image space
to focus on your elegant (or quirky, traditional, modern, etc.) interior in addition to your food. Or take a cue from social media and focus on both.
Best of all,
Auburn
has all the pages a restaurant needs: menu, locations, reservations (with an
OpenTable integration)
and a News page for menu updates. And since restaurants live or die on social media,
there's even a Yelp link in the prominent social media bar.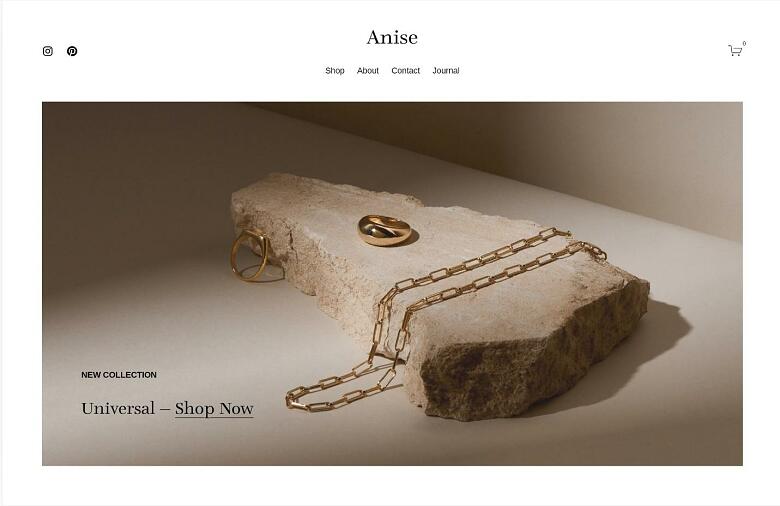 The elegant
Anise
displays your products/creations as
objects of desire,
which makes it an especially good choice for a fashion, design, or artisan website. 
The neutral background and
well-designed photo galleries
set just the right tone for unique or luxury brands, whether you're in jewelry, fine leather, fashion, art glass, or high-end home goods.
Anise
comes with
Squarespace's suite of e-commerce tools,
so
customers can add products to their shopping cart and pay online. You can also enable optional features like customer accounts so that shoppers can create an account, check out faster, and save their carts.
And Squarespace makes it just as easy for you to
manage shipments, fulfill online orders, and keep your inventory up to date.
About and Journal pages round out this template, giving you space to draw in curious visitors with compelling copy about your sourcing, design, and inspiration.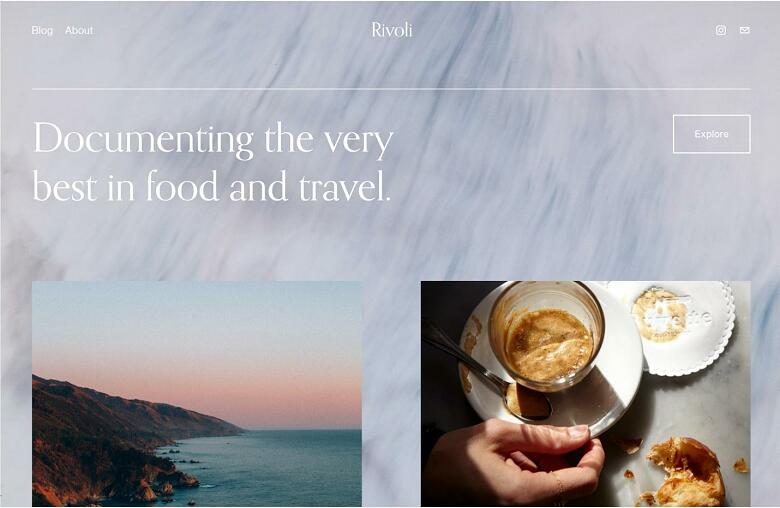 Rivoli's
clean design, large visuals, and big header make it
a natural pick for travel, fashion, food, or lifestyle blogs.
With
five attractive layouts to choose from
– masonry grid, side by side, single column, basic grid, and alternating side by side – you've got plenty of options for customizing your site's design. 
The navigation bar's on-hover effect is a nice interactive touch. And I also liked how the full-page images automatically adjust to a two-column layout in response to my browser settings. 
You can tag and schedule posts, organize them by topic for easy searching, and
allow users to leave comments through Squarespace or Disqus.
You can also
draft and save your posts
before publishing and use
built-in photo editing tools to make your images shine.
And if you want to give your content an extra-special appeal, try
incorporating audio or video blocks
into your next piece!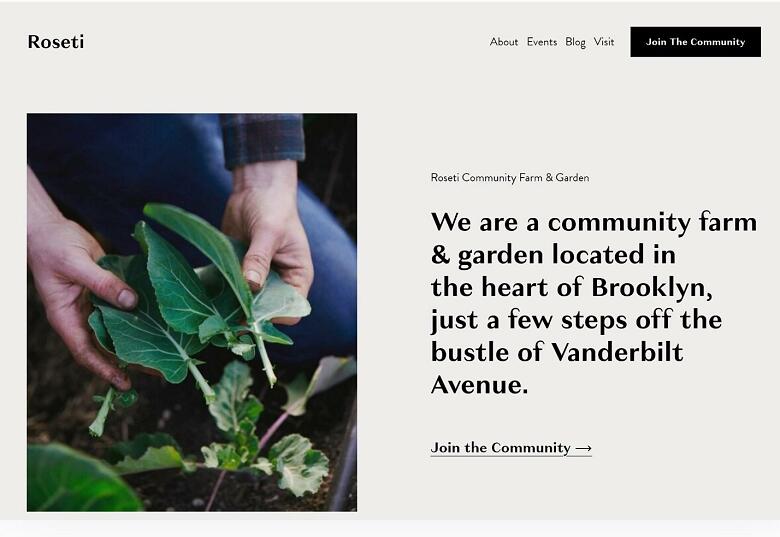 Nonprofits will find
Roseti
a good option for attracting followers and raising awareness about a cause.
Though the demo features an organic farm, it would work well for any community group or charitable organization.
The About page lets you share
convincing copy about your mission
and includes a cool full-screen gallery section. On the Events page, you can post news about your speakers, classes, and other upcoming activities. 
There's even
a Visit page with your contact info and hours so visitors can easily plan an outing to your location (this is a great feature for arts, nature, and education centers).
There are CTAs throughout the template for your
blog and newsletter,
both of which can help you create a more personal connection with visitors and convert them into members or donors.
A navigation bar with those all-important social media links and deep footer are pinned to every page.
Charitable organizations will want to add a Donate button
and connect their site to Stripe or PayPal so they can process online donations.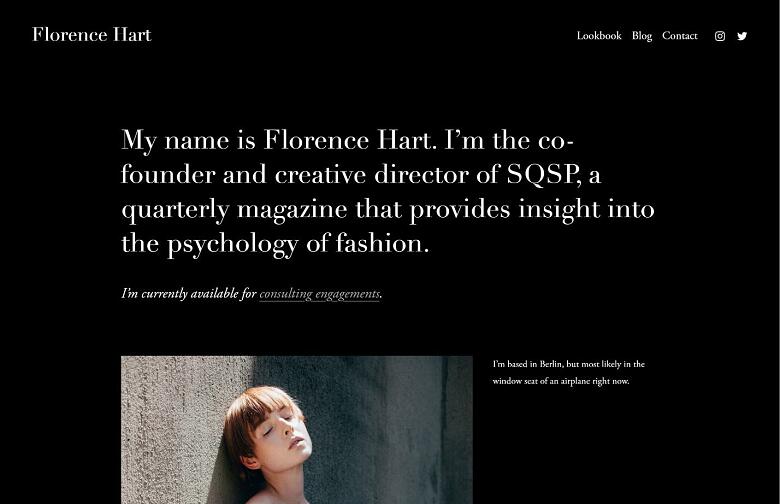 Hart
is the perfect "little black dress" – a
simple but versatile staple
with plenty of style that you can "accessorize" to suit a range of brands and needs
.
Its many striking photo galleries
make it ideal for a designer or stylist. Bloggers, professional service providers, and anyone looking for a stylish, image-focused personal or CV template will also find plenty to like here. 
Hart
would work for a trend-setting apparel shop, floral designer, or other online store if you
add Squarespace's e-commerce tools.
(It's as easy as clicking a button in the editor and following a few simple steps.)
It already has all the other features you'd need – a Lookbook page, blog, contact form, email integration, and social media links.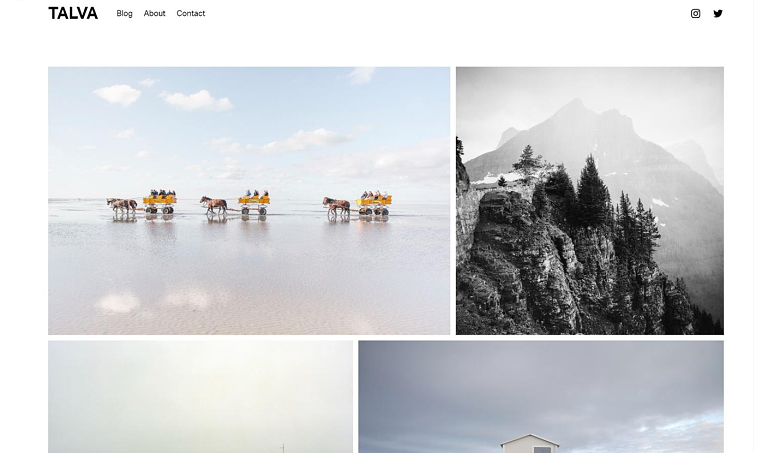 Talva is exactly what it seems – a larger-than-life virtual gallery
where photographers, artists, and designers can exhibit their work in a compelling format. 
On the homepage, your images are framed with a narrow band of whitespace so each piece has its place on the gallery "wall". Visitors are invited to zoom in on individual images to bring up a
full-screen slideshow.
There's also a
Blog and an About page so you can share insights into your creative process
. In keeping with the template's purpose, text is kept to a minimum on every page to bring your work into sharp focus.
Visitors will find integrated social media links in the top navigation bar and footer (both are pinned to every page.) And the Contact page is a real gem, with multiple links that funnel inquiries to you, your agent, or public relations manager.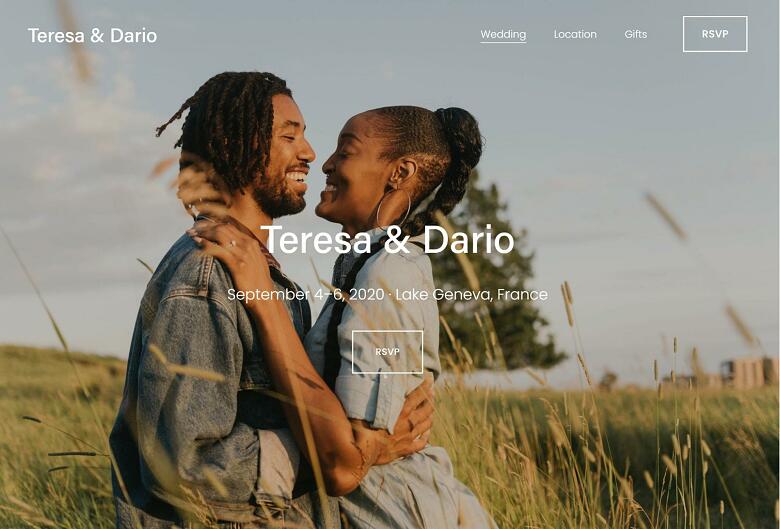 Dario
checks all the boxes for a wedding template. It's got
plenty of photos of the happy couple
– starting with that glorious homepage close-up! –
and puts the essential details of your big day front and center, above the fold.
But what really sets
Dario
apart is the space it dedicates to storytelling. You'll quickly be melting hearts as you describe how you met and where your journey has taken you.
RSVP
buttons on every page link to a detailed, customizable reply form.
While the demo Location page is designed for a destination wedding, you can easily alter it to focus on your venue, nearby accommodations, or attractions in the area. 
Dario
has a built-in cash registry, but you can swap it out for
a traditional gift registry
by adding an image block and clickthrough URL for each of your different registries. Or you can link to your Zola Registry by adding a Zola block.
Given all its features, you might consider customizing
Dario
to use for other special RSVP events, like anniversaries, graduations, and coming of age parties.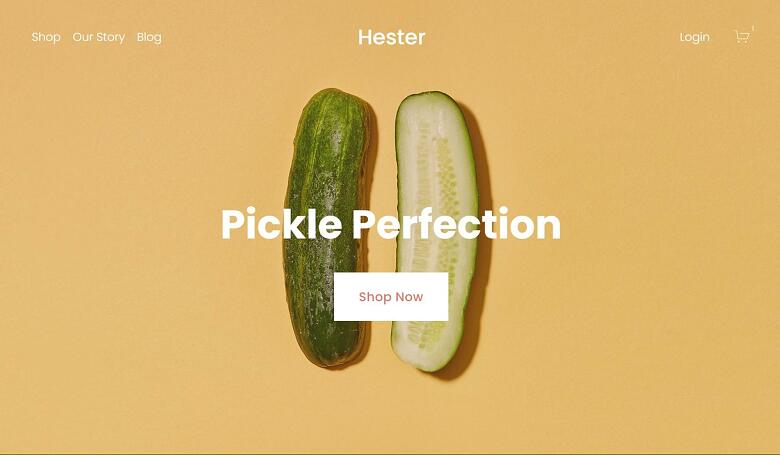 A workhorse e-commerce template should be versatile enough to fit a range of everyday and fine goods. And that's exactly what
Hester
offers:
a flexible, multipurpose design
for an ambitious online shopping website – or any business that wants to market its products on the web.
Hester's
bright colors and crisp design
leave plenty of white space so your text and photos really pop. I also love how on-hover effects in the shop gallery let you
show your products from different views,
inviting visitors to explore and get the full-on experience of your shop. 
The
Blog and Our Story pages
let you share the ideas that drive your product, service, or business. And there are plenty of CTA buttons throughout – including a customer
Login
button – to help you grow your customer mailing list.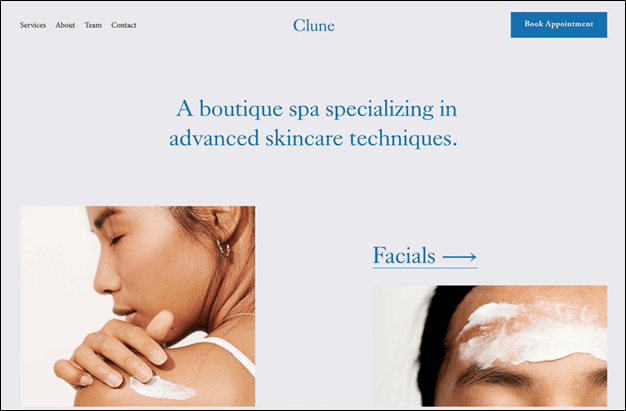 On the face of it,
Clune
is simply a spa template – but it would be a mistake to discount this versatile small-business template if you're in a different industry. 
The navigation bar says it all: you've got
Services, About, Team, and Contact pages, plus that bold blue Book Appointment button
in the top right corner. 
If you're a service provider or have a personal care/wellness business,
Clune
comes with all the essential features you need:
scheduling, online appointment booking, and payment processing.
Meanwhile, Squarespace SEO and data analytics let you track client data, target visitors more effectively, and monitor the success of your email campaigns.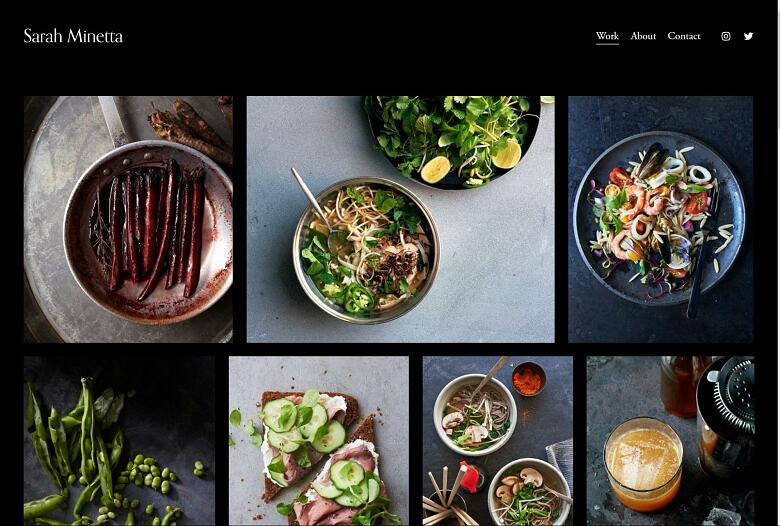 Minetta
is a
stunning portfolio template,
but it would also make an
appealing personal or CV template
for creative artists, stylists, and designers.  
The design flips the traditional dark/light convention,
using negative black space to dramatically frame your work.
That same striking contrast also draws attention to the white-font text, which is cleverly kept to a minimum so that each word packs a punch.
While this template keeps it simple, it's still got plenty of interactive elements. Hover over an individual image and
Minetta
encourages you to click and bring up a slideshow. And the
expansive photo gallery
automatically adjusts to a visitor's browser settings. 
You can
share your current and upcoming projects on the About page
. Naturally, social media links, a "work with me" CTA, and Contact page are all built in.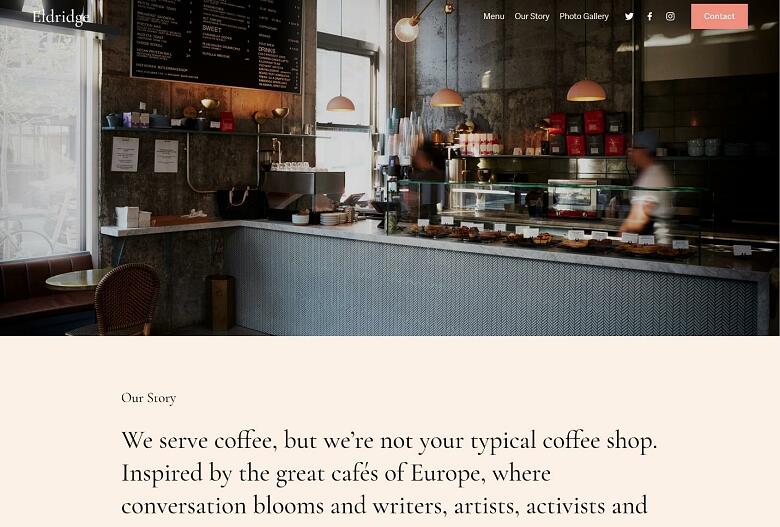 Eldridge
is not your typical coffee shop, bakery, or restaurant template design. Instead of the typical full-screen homepage image, it opts for a
large text block below the header
so you can tell your story right away. A teaser menu further down that links to your full menu page is also a nice touch. 
The demo's style, colors, and text
evoke a comfortable, traditional café
where customers can relax and linger. But if your shop is more contemporary, you can easily change out the images and copy to reflect your vibe.
Eldridge
also comes packed with features and built-in pages. Besides the full menu page, it's got an
expansive photo gallery with stacked full-screen images and an online shop
– all the functionality you need to both draw customers to your physical shop and create an additional sales channel. 
There's a bold
Contact
button and social media links at the top of every page. And to top things off, there's an e-news signup so you can share your latest menu updates, partnerships, or live music events.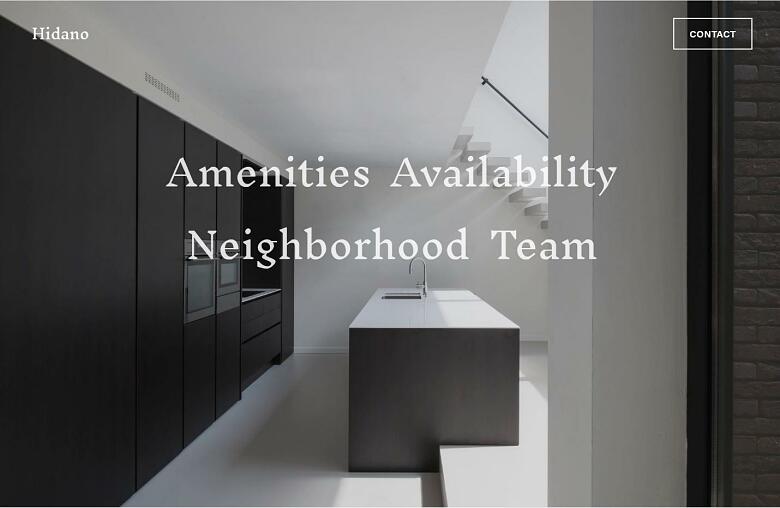 Hidano
is a minimalist template with some interesting design elements – like the large text links that replace the traditional navigation menu on the homepage.
It's my top pick for a real estate broker or "live/work/shop" development website.
But tweak its photos, text, and features and it could also work for a boutique hotel or inn with a modern, edgy vibe.
The template's subpages include special amenities, team thumbnails, and fun things to do, like dining, shopping, and attractions. In another neat design twist, visitors can
browse these different pages by clicking on the arrows that sit above the footer. 
If you plan to use
Hidano
for a hotel website, you'll have to modify it a bit – you'd probably need a menu page, for example.
On the other hand,
scheduling and booking tools, integrated Google maps, and The Infatuation dining guide
are already built into the template.
Squarespace 7.0 Templates: Should You Use One?
The difference between Squarespace 7.1 and 7.0 templates is pretty straightforward.
All 7.1 templates share the same style and functionality options,
which can make choosing a template a bit easier.
Version 7.0 templates, on the other hand, are grouped into families, each with its own customization options in terms of features and design.
Basically, you have to review the Squarespace guide for each family to be sure the template has what you're looking for. 
In case you were wondering: no, you
can't convert a 7.0 to a 7.1 site.
And
version 7.1 no longer lets you switch between templates
(although that's probably because you can access all features from any template, as I mentioned earlier).
Here are a few of my favorite 7.0 templates to consider.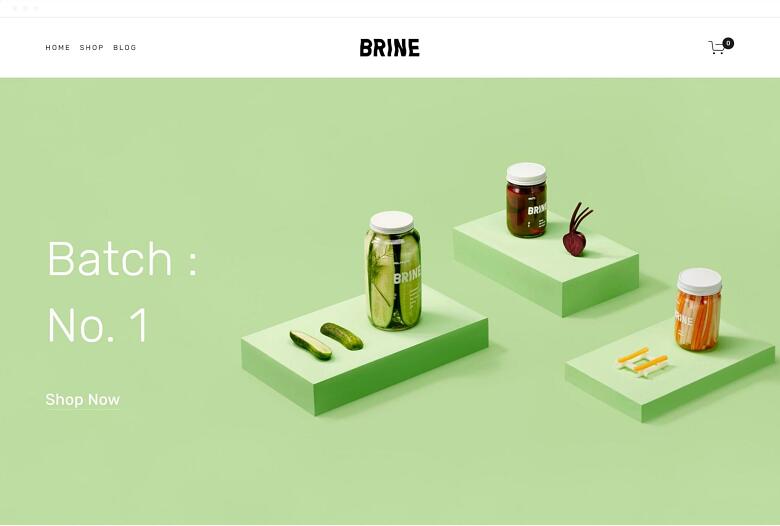 No roundup of the best Squarespace templates would be complete without
Brine,
long prized for its shape-shifting versatility. It's an
e-commerce template that's super flexible and easy to customize for any brand or business.
Brine
has loads of extra design features and settings, like
advanced product gallery and blog options.
You can also
add full-bleed banners
to any page, or
use parallax scrolling
(not available in version 7.1!) to enhance user experience and make your site more engaging. 
Discerning eyes may have noticed that 7.1's
Hester
and 7.0's
Brine
may look like twins – but they're fraternal twins at best, each with different features. For example,
Brine
limits your shop
to 200 products, while you can technically sell up to 10,000 items with
Hester. 
Like all Squarespace templates,
Brine
is
fully responsive, but you can edit your site for mobile to give it that special on-the-go appeal.
That's another difference between
Brine
and
Hester.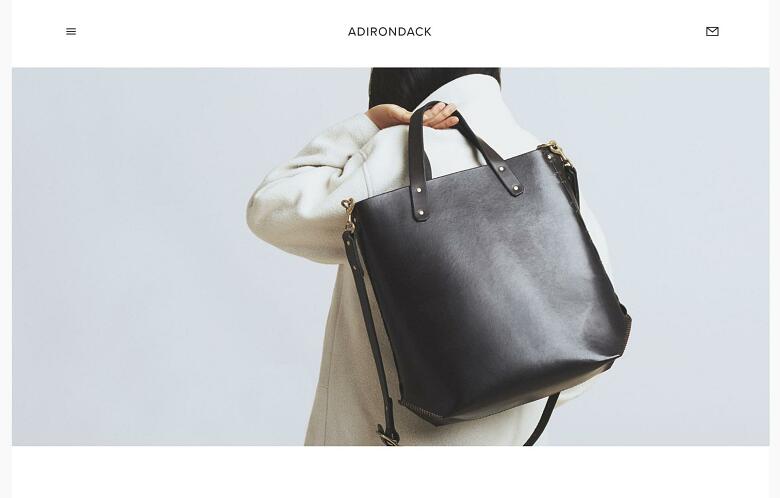 Adirondack
's smart, image-focused design
uses white space effectively and keeps text to a minimum,
so nothing detracts from the focus on your products. It's a fashion template at it's best.
But that doesn't mean it's short on features.
Everything you need for your online store comes built-in:
airy product galleries (visitors can click to bring up prices and descriptive text), powerful e-commerce tools, a blog, a contact form, and an email link. 
You'll also appreciate the pages for important practical details, like your
shipping and returns policies and an embedded map
for customers who prefer in-store shopping. 
One thing is missing, however – you'll definitely want to
add social media icons to the collapsible navigation bar and footer.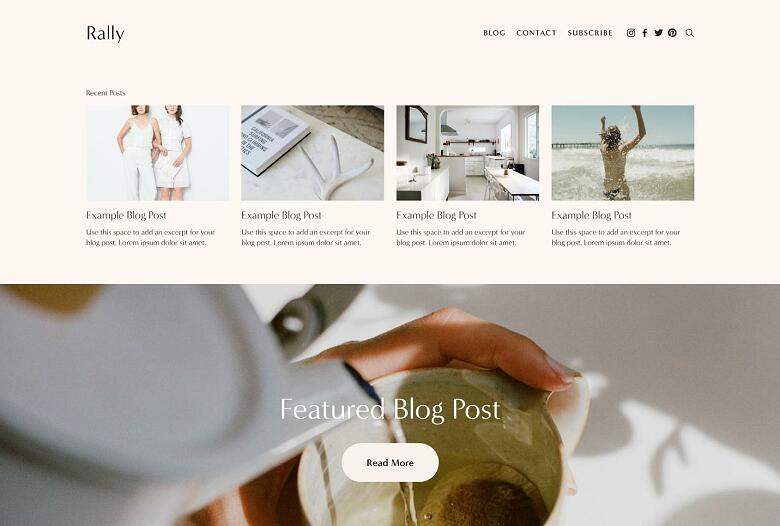 Rally
is a blog template with an unconventional design: the homepage begins with a horizontal banner of your latest posts before opening onto a full-screen image for your featured post, tempting visitors to click through. 
There are plenty of design styles and features you can use to customize your site, like
adding audio and video content to your searchable blog posts
, or using
parallax scrolling effects
to enhance your site's visual appeal.
Plus, the built-in newsletter signup form can help you build your audience and sell subscriptions to monetize your blog.
The Best Website Template Captures Your Brand and Style
The best website template will
clearly telegraph what's unique about you or your business. 
While it's a good idea to select a layout that appeals to you and suits your brand, it's important to look past the demo colors, fonts, and images. You can change all that.
On the other hand, you'll save yourself some time if you choose a template that's
pre-designed for your business niche
(that's what Squrespace's categories and topics are for).
This list has my top picks for the most popular categories,
whether that's restaurants, blogs, or photography. 
But don't limit yourself by any means. In fact, I found some of the best templates in unlikely places. So think of this list as a jumping-off point… and then dive in and have fun!
FAQ
Are Squarespace templates good?
Squarespace templates are all good-looking and well-designed, even if they all fall into the "trendy and minimalist" bracket. They're spread across 5 categories and 16 topics
, each with their own built-in features. Plus, all templates are fully responsive, so you never have to worry about how your website will look on a phone or tablet. 
That said, Squarespace can get a bit pricey, especially if you want to add an online store to your website. For the best deals, head over to our
coupon page
.
Which is the most versatile Squarespace template?
Brine
has long been considered the most versatile Squarespace template because it has lots of features and ways to personalize the design and style of your site. You can use it for an online store, restaurant, blog, professional service – just about any type of business. 
But now it has some stiff competition from Squarespace's new version 7.1
, which includes more than 100 variations on a single theme. Because these templates all share the same features and have some style options not available in
Brine
, one or more may challenge for the top spot.
Which Squarespace templates are best for SEO?
The best templates for SEO are responsive, load quickly, and have informative content sections. Simpler designs (most Squarespace templates qualify!
) tend to perform better, so don't overload your website with over-the-top design customizations. 
Whichever template you choose, Squarespace does have SEO tools that can help you make your site easier for Google and other search engines to find. You can also use its analytics tools to review data and see which search terms drive users to your site. 
That said, Wix
 gets higher marks for SEO – because it's just more intuitive. So if you want to explore other options, check out our roundup of
the best website builders in 2023
.
Is Brine still the best Squarespace template?
Brine
was long considered the most versatile, feature-packed Squarespace template – until Squarespace version 7.1 came along. Now, there's just a single template framework with over 100 different customized designs you can choose from. And it seems more are coming.
For some, sticking with version 7.0 to use
Brine
may still be worth it. But others will say that 7.1 templates
 make it easier to create a professional website that will get results.