Both Squarespace and Shopify are jam-packed with e-commerce features that will help you launch and grow an online store you're proud of. To help you decide, I put both to the test and found some
key differences in terms of ease-of-use, pricing, and scalability.
My honest opinion?
Squarespace is best for small to mid-sized retailers and for anyone looking to build an eye-catching store
with a distinctive brand image. On the other hand,
Shopify is the more suitable platform for larger stores, international retailers, and wholesale businesses
focused on logistical support and scalability. If you're short on time, I recommend you
try Squarespace for free for 14 days
 to see if it's right for you. Alternatively, keep reading to see whether Shopify might have more of the tools you need.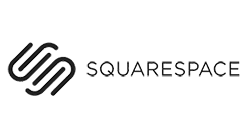 Save up to 30 % on your Squarespace plan today!
Plus get a free domain for one year!
1031 users used this coupon!
Templates
Gorgeous Templates and Ample Customization Give Squarespace the Edge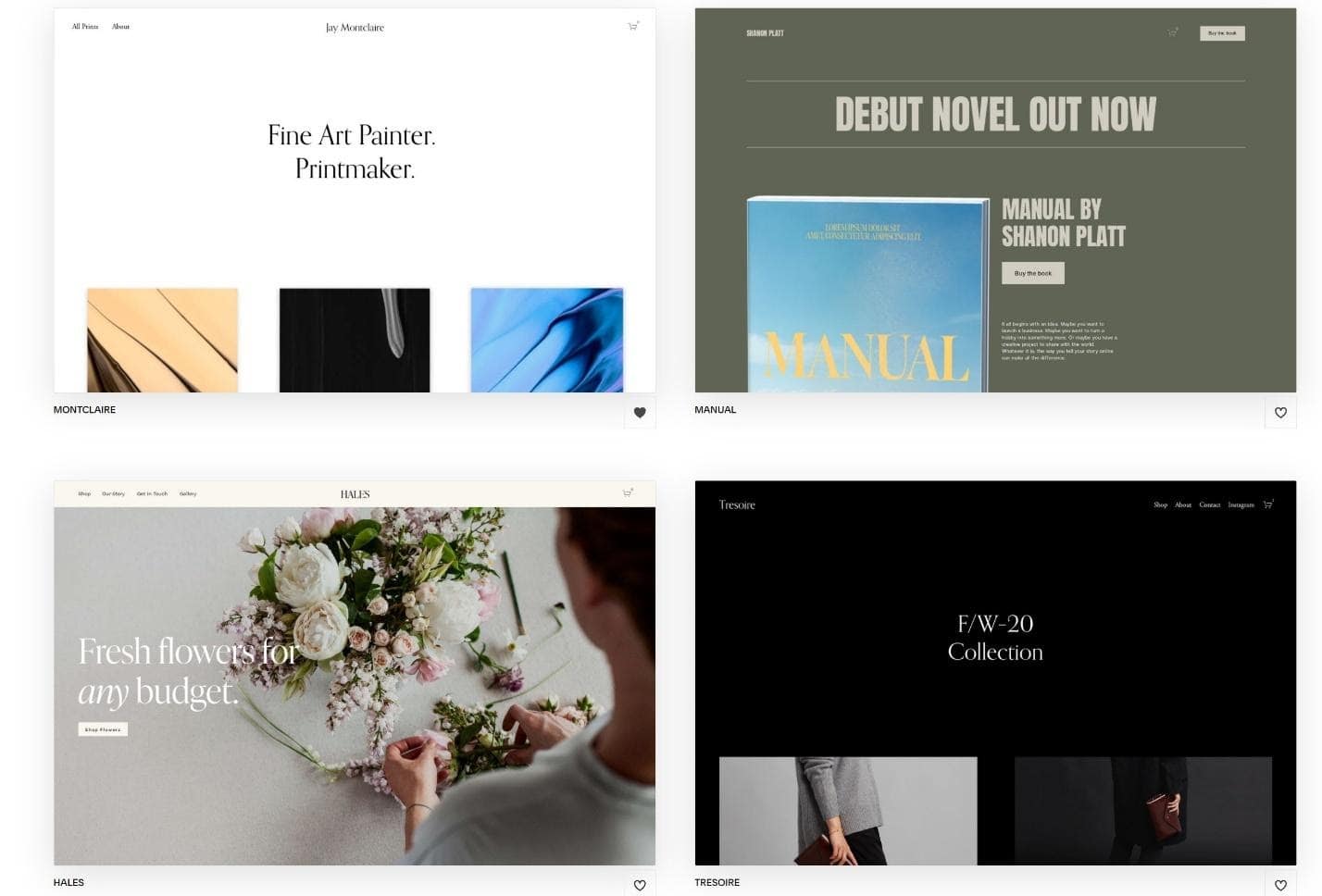 Squarespace's 200+ templates are stunning and unique looking.
They're also fully responsive and free. You can browse templates by type (online store, portfolio, one page) and industry or topic (fashion, home and décor, local business, health and beauty, and photography).
Because all
7.1 templates share the same features and style options, you could choose any of them to build an e-commerce website
. But my advice is to focus on those designed for online stores because they'll have everything you need already built-in. And another plus:
It's super easy to customize your Squarespace template.
You can add pages and sections, change the background, and swap out colors, images, text, and fonts. You'll see all your changes in real-time and can preview your site before you publish.
Shopify's themes are attractive and responsive but not as sleek or stylish as Squarespace's.
And they don't all share the same features. Themes for stores with large product catalogs, for example, include advanced filter and search, mega menus, and breadcrumbs to make navigation easy, while those for small inventories or in-person sales may not.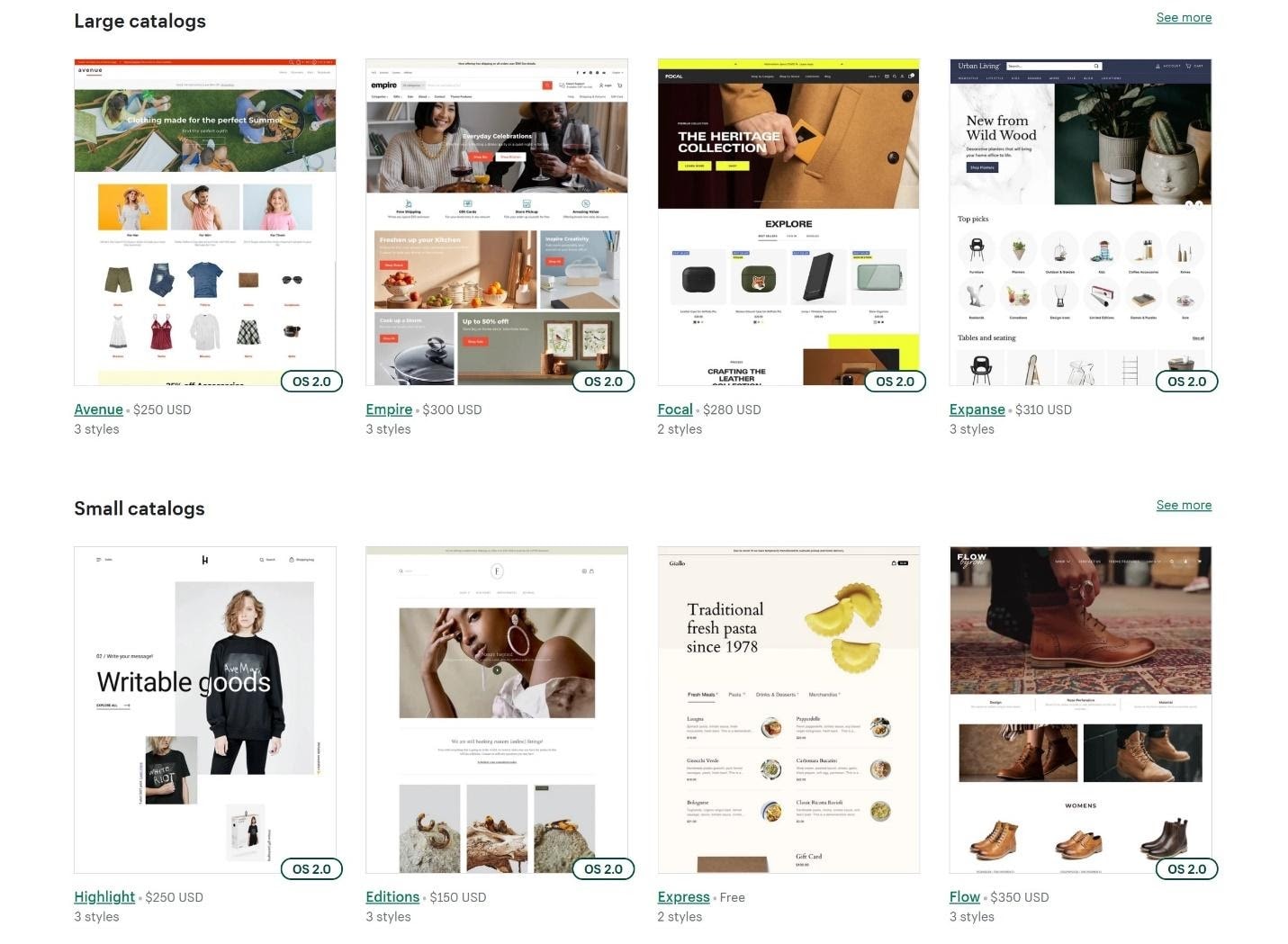 Fortunately,
you can sort Shopify's themes by 20+ categories
, including industry, inventory size, international sales, in-person sales, page layout, and type of navigation. You can also filter themes by price. It pays to do so because only 10 of its 81 themes are free, and a
premium theme can cost more than the annual cost of the Basic Shopify plan.
Shopify's new Online Store 2 (OS 2.0) themes (50 in all, one free) give you more control over your store's design.
Theoretically, you can add, delete, and rearrange sections on your pages and use blocks to add/edit text, images, products, video, buttons, and more. But here's the catch.
While all Shopify OS 2.0 themes can include these features, not all do.
As for the vintage themes, you can change colors, text, and fonts but not the layout. Even with OS 2.0,
Shopify lacks the complete and easy customization Squarespace offers.
And when it comes to design, Squarespace can't be beaten.
Features and Ease of Use
Similar Editors, But Squarespace Makes It Easier to Design a Great Looking Store
You start building your Squarespace website by personalizing your template's design to reflect your unique brand.
The next step is to add products, choose a payment processor, add in-person sales, set your shipping options, integrate label printing, and customize other settings.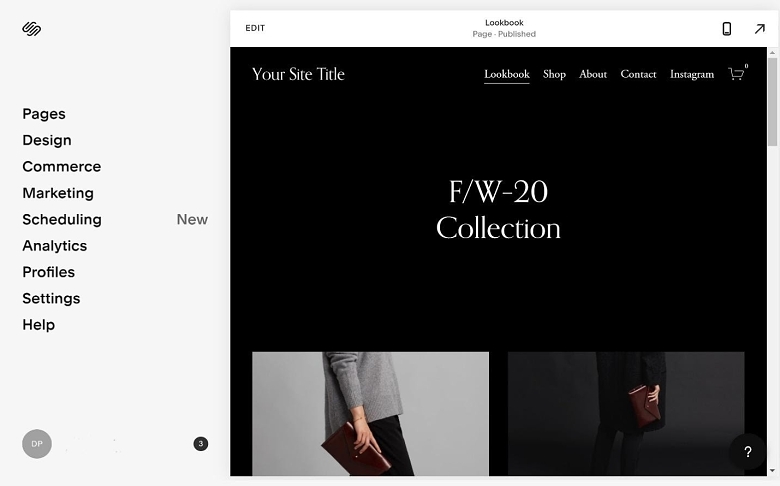 You can
organize your Squarespace store's product catalog using tags, categories, product variations, quantity, related products, and reviews
. Rich product display features – quick view, zoom, videos, variants – will enhance the shopping experience for your customers.
Squarespace's drag-and-drop editor and intuitive interface are user friendly
, even for beginners. If at any time you're confused during design and setup, you can refer to the helpful tutorials and guides that are built into the interface. Just click on the question mark in the lower right corner. Meanwhile,
Shopify focuses on getting your store's logistics set up – from product catalog to payments, and shipping
. Design takes a back seat. As soon as you select your theme, you're prompted to add your first product.
Shopify tutorials pop up and encourage you to explore product sourcing solutions
that allow you to list and sell goods without investing in inventory. But overall,
Shopify's OS 2.0 drag-and-drop editor
is not very intuitive,
especially when it comes to design. The interface feels cluttered and can be confusing. When you upload your Shopify theme, it also doesn't look like the preview. You won't see any sample content, something other builders typically offer. While Shopify sets out to make setting up your store straightforward, mastering its editor is going to take time.
Building an e-commerce website with Squarespace is much easier (and faster).
Apps, Plugins, Addons
Shopify Has Thousands of Apps, Squarespace Has a Smaller Portfolio of Extensions
The Shopify app store is stocked with 6,000 apps
you can use to enhance your store's features and functionality. About 27 are free. Others have a basic free plan or a free trial period.
Product sourcing apps can help you sell products without investing in inventory.
For instance, Shopify Oberlo for dropshipping lets you list and sell goods from third-party suppliers. When a customer makes a purchase, the supplier fulfills and ships the order. Printify oversees printing, fulfillment, and shipping for custom-designed products you list and sell on your store. And Handshake Buy Wholesale (US only) lets you buy products from Shopify's wholesale marketplace.
Shopify POS (subscription fee) lets you sell at brick-and-mortar stores and pop-up locations.
You can also use Shopify apps to enhance customer service and manage email and direct marketing.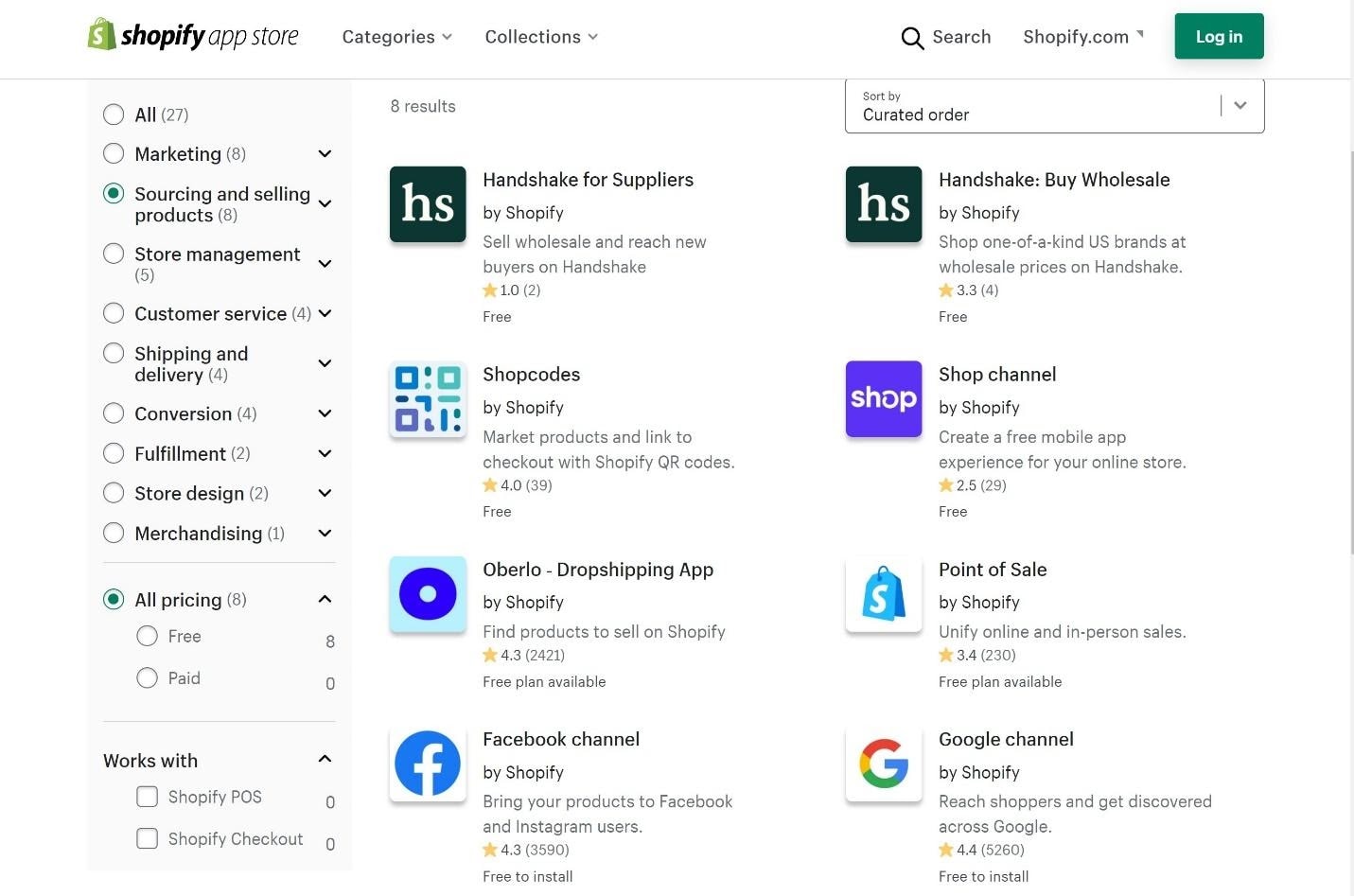 Meanwhile,
Squarespace has a smaller, curated collection of third-party extensions
 for shipping and fulfillment, inventory and products, finance and accounting, and sales and marketing. While some are free, others have subscription fees. Taxjar automates tax collection, reporting, and filing. The free Printful extension (Squarespace's answer to Printify) adds on-demand printing, fulfillment, and warehousing. Smart SEO helps you optimize your product listings for search engines.
Code-based customizations, like Google AdSense and Facebook Pixel, are another way to add functionality to your Squarespace website.
To add a code-based modification, you embed a URL code from a third party on your Squarespace site. Squarespace's official integrations (included in your plan) are meant to take the place of addons, simplifying the process of setting up your store.
Nevertheless, Shopify has everything Squarespace offers and more.
E-Commerce
Squarespace Has Robust E-Commerce Features, but Shopify Is Hard To Beat
Every Shopify plan has the tools you need to set up and grow a retail business. From one convenient dashboard
you can manage all your store settings: payment providers, the checkout experience, taxes, shipping and delivery, and customer notifications
. You can choose between 100+ payment providers and enable transactions in 133 currencies.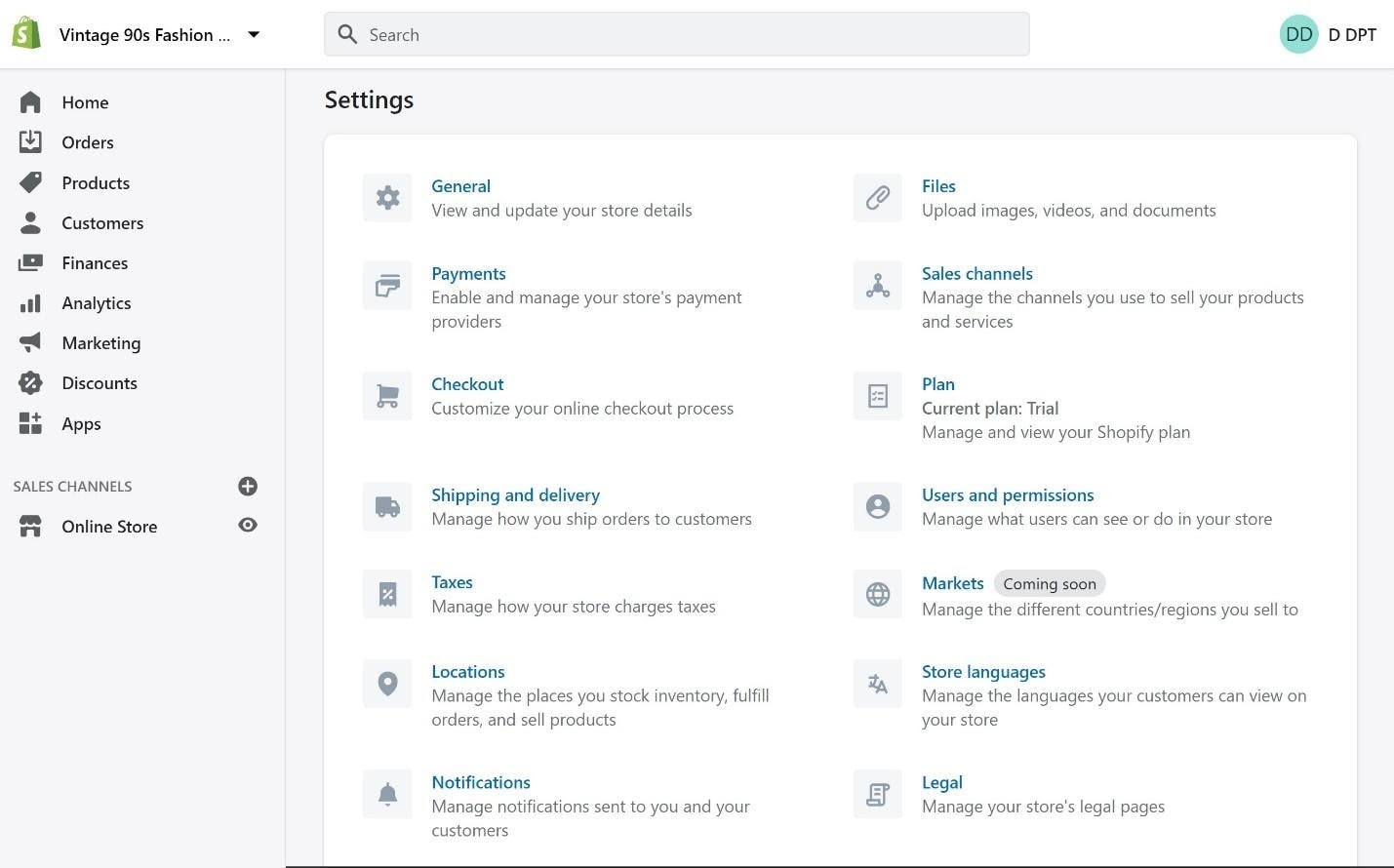 It's
easy to link your store to third-party sales
channels from Amazon and eBay to Facebook and Instagram, though fees may apply. You can also
add a Buy Button to any website or blog to sell an individual product or full collection.
Your inventory automatically syncs across all your sales channels. With the soon-to-launch
Shopify Markets (you can apply for early access
),
you will be able to create market-specific shopping experiences to boost international commerce.
If you upgrade to one of Shopify's top-tier plans, you'll be able to estimate and collect customs and duty taxes automatically.
Squarespace also offers an excellent suite of e-commerce tools
that you can use to set up your business, add products, manage sales, customize shipping options, and fulfill and refund orders. Well-designed product pages make it easy for visitors to browse merchandise. You can also
enhance your customers' shopping experience by enabling Express Checkout, automating post purchase emails, and allowing shoppers to create accounts
. Targeted discounts and monthly or biweekly subscriptions plans can help you drive repeat business. As can
upselling features – product variants, related products, abandoned cart recovery notifications – and extended payment options with Afterpay
(Australia, Canada, New Zealand, and the United States). You can
list products on your social media platforms and add in-person sales with the iOS Squarespace app
(connected to Square), but this option is only available in the US. The Squarespace mobile app lets you manage your inventory, edit products, and connect with your customers from your mobile phone. While Squarespace has what you need to create a vibrant online store,
it lacks features that give Shopify an edge: a broad range of payment provider options, support for global commerce, and a multi-country point of sale (POS) system.
SEO and Analytics
Similar SEO and Analytics Tools, but Shopify's Data Is More Comprehensive
Both Shopify and Squarespace let you customize page titles, meta descriptions, URLs, and alt text to improve your search engine ranking.
Shopify Analytics' reports cover all the activity for your store:
sales, top-selling products, average order value, total orders, traffic sources, customer demographics, and more
.
You can review sales volumes for individual locations, device types, and those credited to individual marketing campaigns, data that can help you improve your strategy.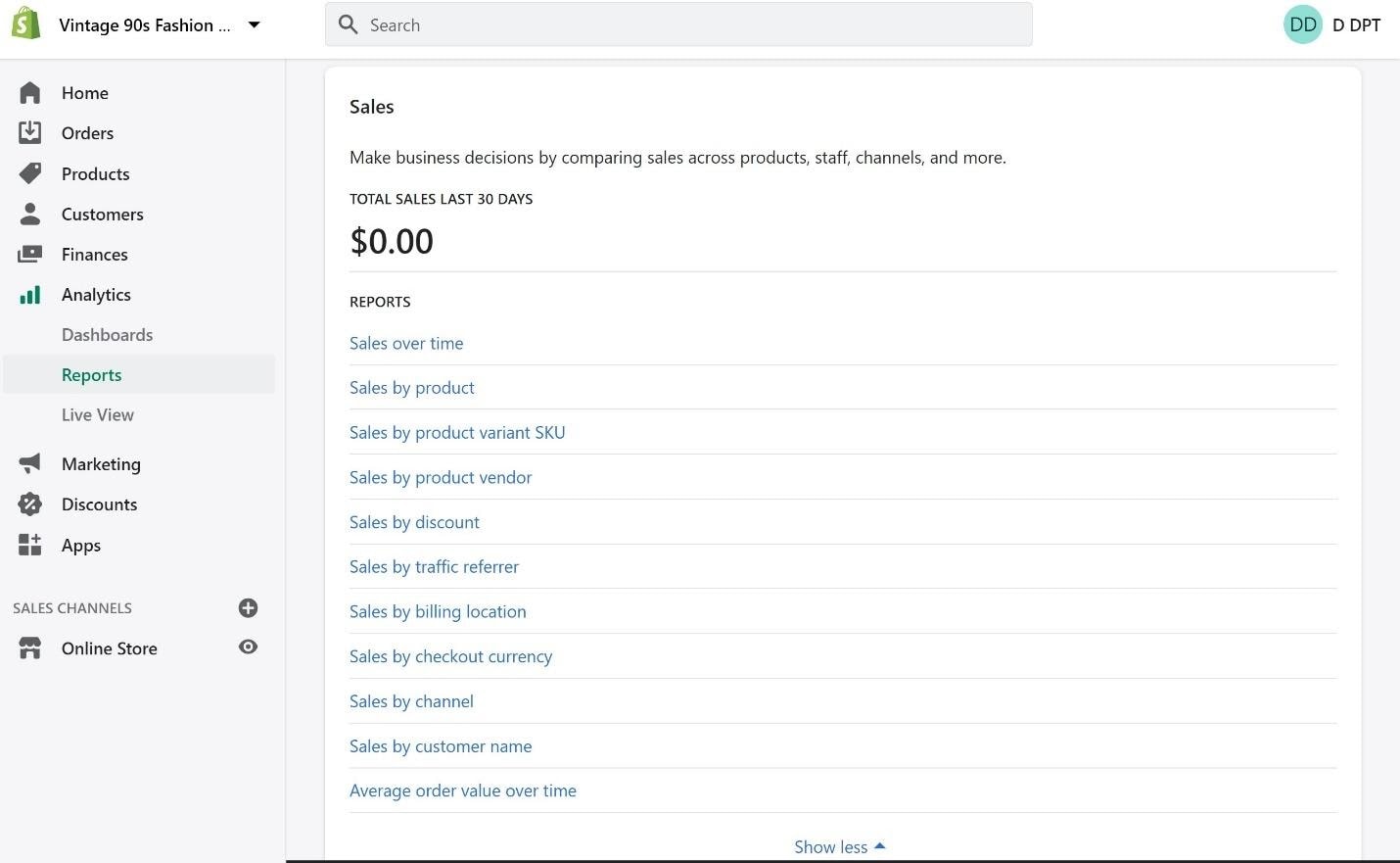 You'll have to upgrade to see some data, including insight into how your customers interact with your business. Custom analytics reports are reserved for Shopify's most expensive plans. When you
click on the SEO link in your Squarespace dashboard, you can review 24 steps to optimize your site's performance
. Tutorials, guides, and free webinars can help you understand analytics data and grow your audience.
Squarespace Analytics gives you a picture of your store's traffic, popular content, bounce rate, and the search terms that drive shoppers to your website.
Reports also include data on conversion and cart abandonment to help you make changes to grow your business. If you prefer, you can use Google analytics. It's included in your plan. Squarespace will send Google detailed information about each sale, including the product, price, and buyer. Squarespace gives you solid analytics data, but
Shopify's reports are a bit more comprehensive.
Pricing
Plans are Comparably Priced, but Squarespace Offers More Value
Squarespace has four plans
, including two well-priced e-commerce plans. While there's no free plan,
there is a 14-day free trial
 and, if you need more time to evaluate the platform, you can ask to have the trial period extended. An online store built with the Basic Commerce plan will cost
$
27.00
. The Advanced Commerce plan is priced at
$
49.00
and adds a few extra features, like advanced shipping, abandoned cart recovery emails, targeted discounts, and gift cards for loyal customers.
Squarespace also lets you use Commerce APIs to create custom integrations with third-party systems
to improve inventory management and fulfillment. Like Squarespace,
Shopify offers a free trial
. It has three plans: Basic Shopify, Shopify, and Advanced Shopify. Plans start at
$
29.00
and go up to several thousand a year. That's before you add in the cost of a premium theme or the monthly fees for apps. Squarespace will give you a free one-year custom domain and a generous 25% discount on your plan if paid yearly. Shopify is stingier at about 10% and doesn't offer a free domain. When you take all your costs into account,
Squarespace provides better value for small to medium stores,
though bigger retailers may prefer Shopify for its scalability, international POS capability, and payment processing options.
Squarespace Basic Commerce
Basic Shopify 
Starting Price

$

27.00

$

29.00

Free Custom Domain

✔

 With yearly plan

✘

Unlimited products

✔

✔

Third-party sales channels

✔

✔

Advanced merchandising tools

✔

✔

POS (point of sale)
 

✔

 Free but only in US
 

✔

With monthly fee
Transaction Fees

✘

 

✔

Except with Shopify Payments
Support
Both Builders Offer Solid Customer Support, but Shopify Gives You More Ways To Get Help
Shopify offers 24/7 email, live chat, and phone support.
However, to speak with a live person, you have to submit a ticket and wait for a callback, which may not come. Despite that, I found Shopify's email and live chat support to be fast and responsive. You'll get a follow-up email that makes it easy to refer to suggested support documents.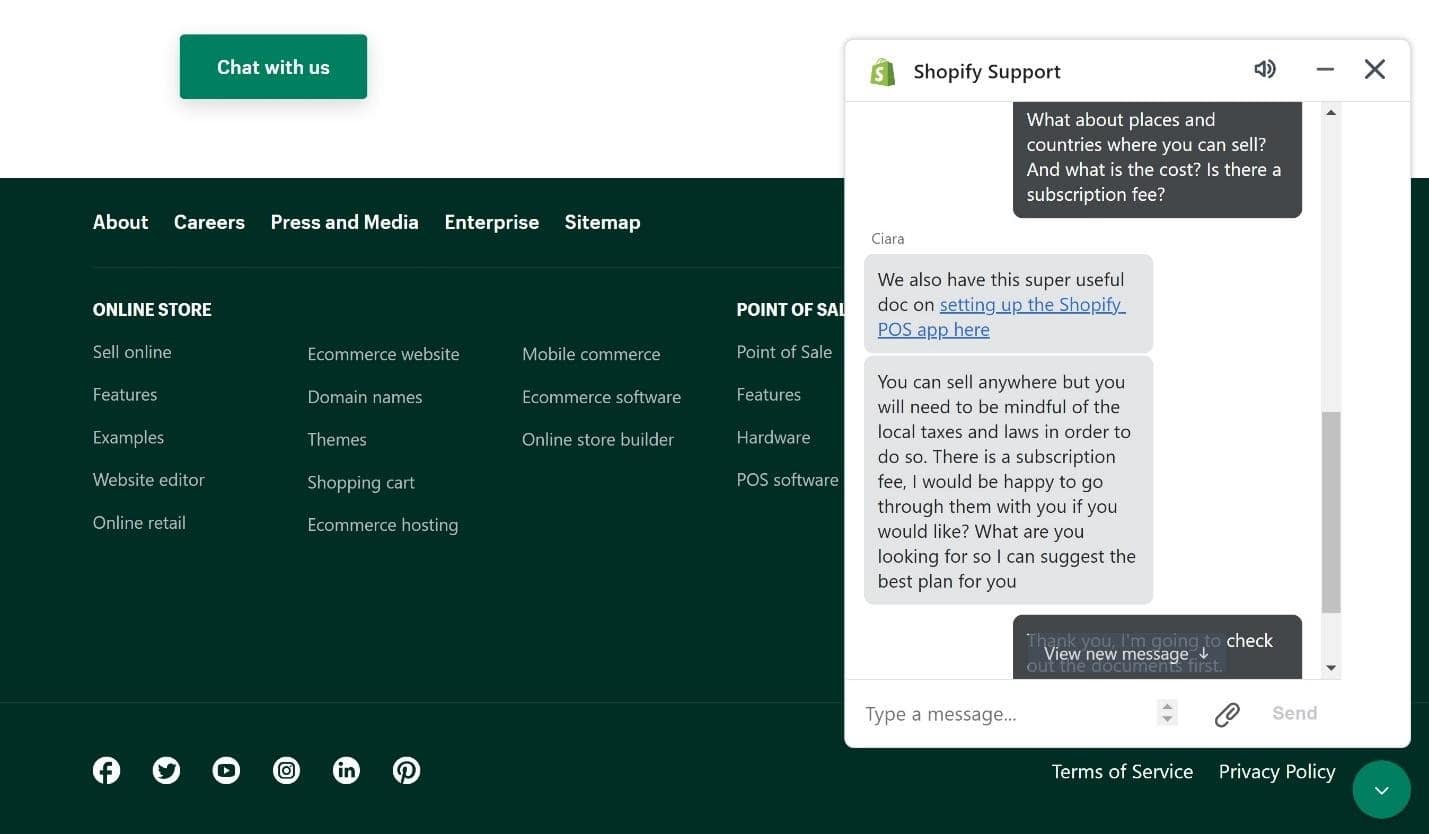 While
Squarespace's support is prompt and helpful, you have fewer support options:
24/7 email support and live chat weekdays from 4 AM to 8 PM EST.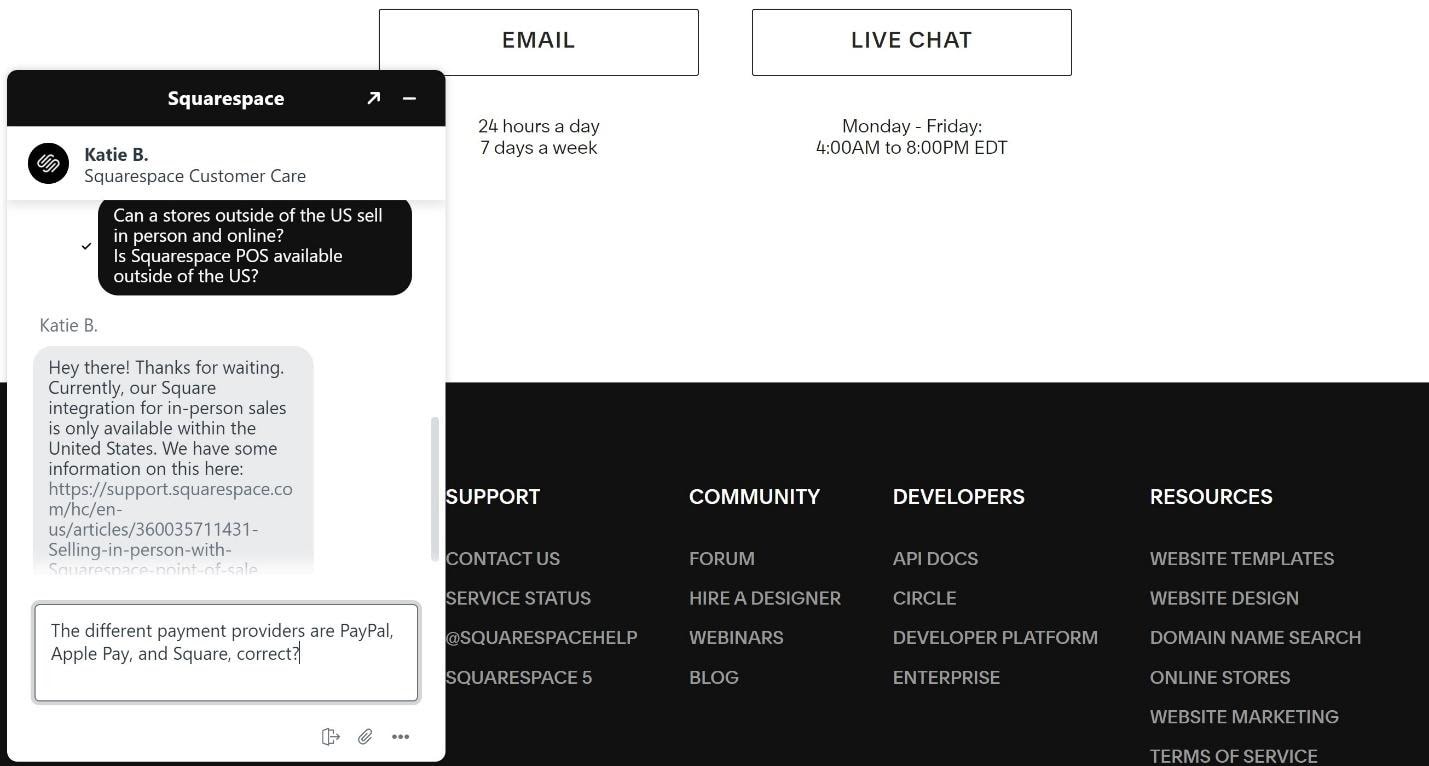 The knowledgebase offers a plethora of helpful guides, along with a community forum and a searchable blog. I discovered that obtaining answers to my questions was effortless, as I never waited more than a minute to initiate a live chat. Both builders have helpful and reliable support, but Squarespace's live chat is only available on weekdays during business hours.
Shopify is there for you seven days a week, 24 hours a day.
Squarespace Proves a Dedicated E-Commerce Builder Isn't Always Best
Squarespace is one of my favorite website builders, but even so, I was impressed by how well its e-commerce tools stood up to a popular store platform like Shopify.
Getting your store online is likely to be fast and stress-free with Squarespace.
For smaller retailers,
its affordable e-commerce plans offer better value.
You'll invest less in costly addons, and won't have to worry about paying transaction fees. That said, if you want to launch a website
for a large e-commerce venture with global aspirations, Shopify is a better option.
Templates
200+ free templates (versions 7.1 and 7.0)
E-Commerce
With Business and Commerce plans
E-commerce features with every plan
SEO
Built-in SEO, analytics reports, helpful resources
Built-in SEO, analytics reports, helpful resources
Pricing
Two-story plans are

$

27.00

and

$

49.00

(free domain and 25% 
discount if paid yearly)
Three plans priced from

$

29.00

to

$

299.00

with (10% discount if paid yearly)
Support
24/7 email, live chat 4 am to 8 pm weekdays
24/7 email, live chat, and phone (with callback)
FAQ
Is Squarespace better than Shopify?
Whether Squarespace or Shopify is better for your online store depends on your business and what it needs to thrive. If you're looking to create a website for a boutique shop or any small/mid-sized store, Squarespace will make it easier to get started. It'll help you find that perfect template, design a website with eye appeal, and manage and grow your business. On the other hand, large retailers and wholesalers are better off with Shopify. It's also a better platform to build a global retailing business. Whichever platform you choose, you may want to check out current discounts that can help reduce your costs.
Can you use Shopify with Squarespace?
You can integrate a Shopify store with your Squarespace website in several ways. One option is to add a link to your Shopify store in your navigation menu. You can also use text links, button blocks, or add clickthrough URLs to images on your Squarespace website. Lastly, for a monthly fee you can add Shopify Buy Buttons to products on your Squarespace website. Shopify Buy Buttons work with most website builders but require some coding skills.
Is Squarespace good for selling things online?
Squarespace is the best all-around website builder for selling goods online. It packages its stylish modern templates with a suite of robust e-commerce tools. Its e-commerce plans come with all the essential features you need to set up an engaging online store and manage and grow your business. You can sell physical and digital items, product subscription plans, gift cards, or services. If you're on an e-commerce plan, you won't have to pay transaction fees. Other builders also offer good e-commerce plans. To learn more, check out our comparison of the best website builders in 2023.
Which is easier to use, Squarespace or Shopify?
Overall, Squarespace has a cleaner, more intuitive interface than Shopify, and its drag-and-drop editor is easier to master. Personalizing your website, editing product images, adding content blocks, and designing a blog to connect with customers and build your store brand, will all be easier with Squarespace.