Two of the giants in the e-commerce website building industry are Shopify and Squarespace. Shopify is undoubtedly the first one that jumps to mind, with over 1.2 million customers and a much longer history of providing e-commerce solutions since its inception in 2004. Shopify is known to offer an e-commerce solution for just about anyone, no matter the size or scope of business.
Squarespace, on the other hand, started out as a platform focused on blogging. In recent years, it has dramatically expanded its e-commerce offering, gradually making it a bigger part of its business model to the extent that Squarespace now offers e-commerce-focused plans. This has made the comparison between Squarespace and Shopify possible, if not easy.
Shopify and Squarespace both provide everything you need to start an online store, but the experience and potential scope are drastically different. By breaking these down, you'll be able to see which one suits your preferences and business needs better.
Features
E-commerce
Payment gateways is one of the areas where Shopify is far superior to Squarespace. Shopify makes it possible to use over a hundred gateways, that include everything from PayPal to Stripe to credit cards to Amazon payments. Squarespace allows only PayPal or Stripe, with the latter providing a bit more variety.
Shipping
There isn't much difference between the two when it comes to shipping. Both allow you to show live shipping rates, add shipping labels, and connect with shippers only on their advanced plans.
Point-of-Sales (POS) Integration
Undoubtedly one of Shopify's key features is how well it can integrate with your brick-and-mortar store. Shopify even offers a "Retail Package" for an additional amount that basically provides everything you need to run a brick-and-mortar store (such as staff accounts, accepting payments, etc.). Squarespace doesn't really offer anything similar and doesn't provide the same level of tools to manage a physical store.
Advanced Business Tools
When it comes to business analytics tools, Squarespace again manages to not get left behind. It also offers tax, accounting (through Xero), and inventory management tools that are on par with those offered by Shopify. However, the reporting tools are slightly more in-depth on Shopify and make it easier to consume all the data.
Blogging/Other Website Functions
This is where Squarespace is superior to Shopify. As it started out life as a blogging platform, it provides more tools to help you create webpages and design your website, to blog, and to optimize your website's SEO. You can add some of this functionality via Apps from Shopify, but it might cost you extra.
Ease of Use
Getting Started
Both Shopify and Squarespace require a very simple signup process. Squarespace starts you off by asking two or three questions related to your website, and then lets you pick out a template. Shopify asks how you currently do business and how you'd like to do business in the future. For both platforms, getting started should take no more than a few minutes.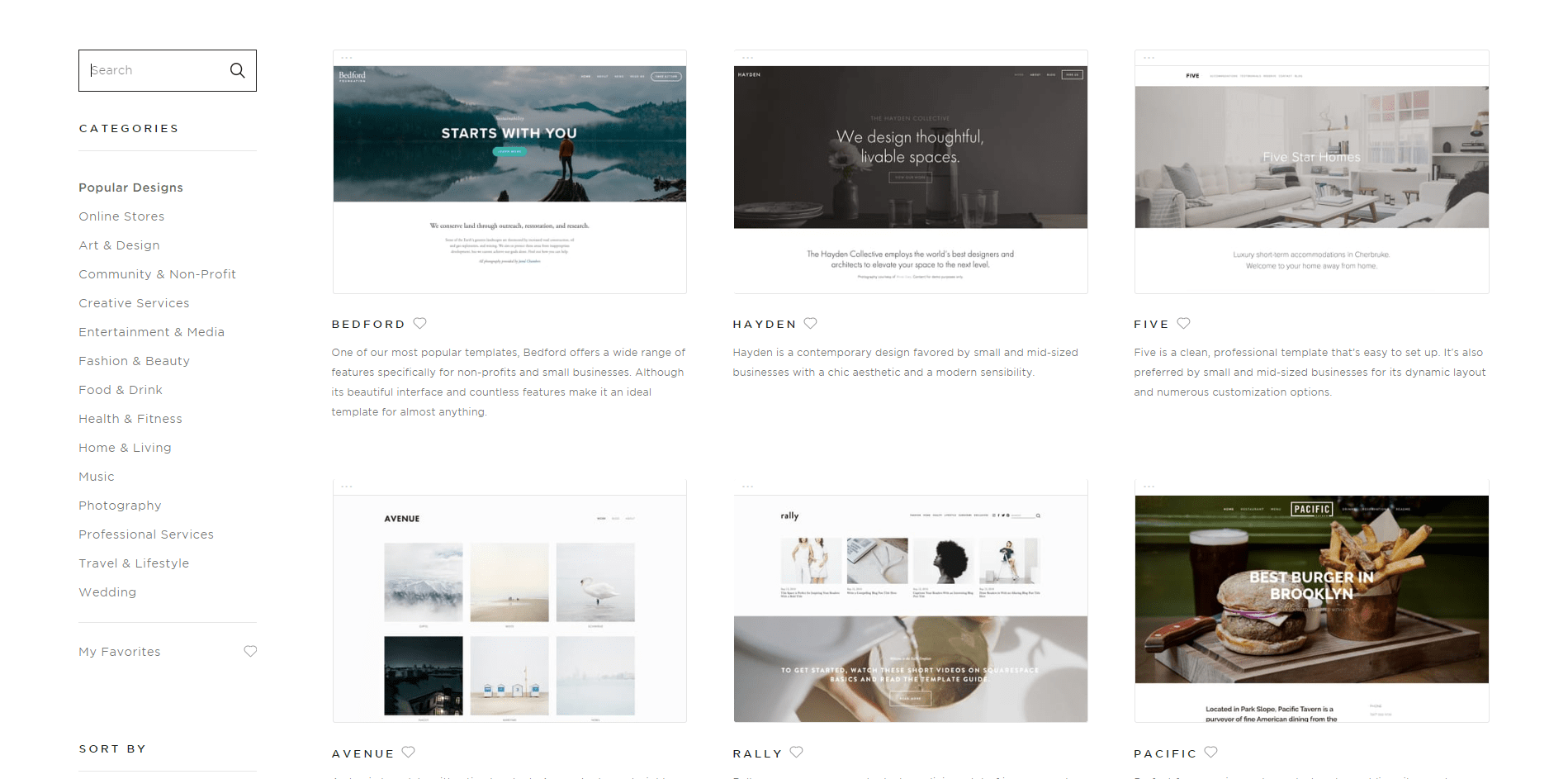 Themes
Both platforms come with very high-quality themes that have been strictly curated to meet their high standards. Squarespace's themes are decidedly more minimalist and Apple-esque, whereas Shopify caters to a more wholesome audience. Of the two, Squarespace definitely offers the more interesting options, which is due to the fact that it has over 100 templates (all free), compared with the 65 on Shopify (10 free, 55 paid).
Customization
The Shopify web-building experience is built around creating an online store. Adding and managing products as well as other business-related features are front and center in the dashboard. With Squarespace, it's the website design that comes first. Neither platform has an extensive drag-and-drop webpage builder, but there's definitely much more creative control with Squarespace.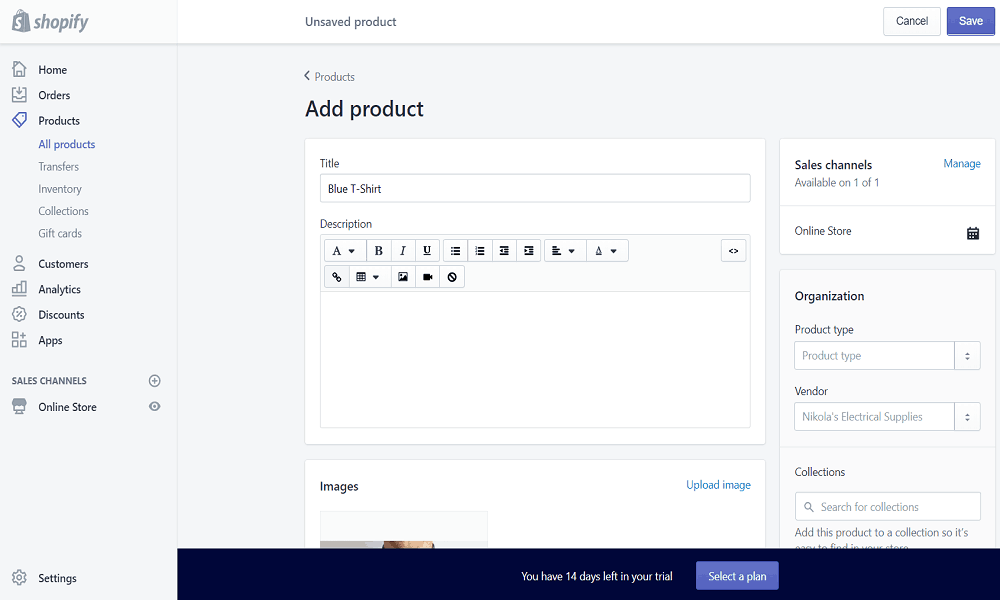 The clear trade-off you'll need to make is between extensive product and store-creation tools (Shopify), and more flexibility when it comes to the design of your website (Squarespace).
Pricing Plans
In terms of e-commerce, Shopify's and Squarespace's pricing plans become comparable only when you look at Squarespace's "Online Stores" plans. Shopify offers only a 14-day free trial, whereas you can use Squarespace for free for an unlimited amount of time, though with restricted features.
Shopify is also much more expensive than Squarespace. Their respective "basic" plans are only separated by a few dollars, but by the time you get to the Shopify "advanced plans," the difference jumps by a few hundred dollars.
On Shopify, you might also need to pay up another $100-$200 for a premium theme. As Shopify provides only ten free themes (which are also limited in terms of customization), chances are your website won't be original if you go with that option. Shopify also has an app market where you can buy extensions and plugins; however, this is completely optional and dependent on your needs and wants. But otherwise, the Shopify plans should already offer you everything you need.
Bottom Line
As you can see, there are a few significant differences between the two platforms that will make them ideally suited for different purposes. Neither is a blanket-solution to anyone who wants a website with an online store component. The best way to look at it is by isolating their key features to see whom they'll benefit most.
Who Should Use Shopify?
Taking everything else out of the equation and focusing only on e-commerce features, Shopify is the clear winner. Yes, its pricing plans are more expensive, but they're well justified if you have more intensive business requirements or you run a physical store alongside your online one.
With the Retail Package, you'll be able to seamlessly blend your physical and online store. Creating and managing inventory is easier, and you have more control over your products in terms of variations, additional options, etc. You'll also have more powerful reporting tools to really analyze your sales performance.
So if commerce is the primary objective of your website, it pays to go with Shopify.
Who Should Use Squarespace?
The biggest limitations when it comes to Squarespace for those who run a commerce business is the limited payment-processing methods as well as POS support. So while Squarespace doesn't disappoint when it comes to shipping integration or profit-calculating tools, it doesn't do quite enough to justify building your business on it.
However, if running an online store is just one part of your online presence and you also want a beautiful website as well as great blogging tools, Squarespace becomes a much more appealing option. For example, if you want to be a serious fashion blogger who also happens to sell some merchandise, Squarespace is almost perfect.