Fiverr is a popular platform for entrepreneurs and others looking for cheap freelance services, such as web design, logo creation, and more. This creates a tremendous opportunity for smart freelancers who enjoy juggling multiple projects and an ever-changing stream of customers.
When the platform first started, Fiverr was King of the $5 gig. More recently, changes in their pricing structure have allowed freelancers greater freedom in what they charge and the services they offer. As both as a customer and a freelancer on Fiverr, I believe it is one of the better gig-based freelance platforms and perfect for freelancers in most fields.
You Can't Make Money If You Don't Post Gigs
The great thing about Fiverr's platform is that it offers freelancers in many fields the opportunity to provide value-added services. Fiverr is one of the best freelance websites for freelancers in creative fields such as web development, logo design, and even video and animation. If you're a freelance writer, a freelance computer programmer, or even a freelance digital marketer, this platform will work for you, too.
Setting up an account on Fiverr is fast and easy and takes a few minutes. Once you have signed up, you can immediately start developing your offerings by accessing the "Selling" section of the website (versus "Buying"). Note that, as a freelancer on Fiverr, you aren't setting up a single work profile, but instead you're setting up individual gigs.
I've worked as a freelance poker writer on Fiverr and offered between five and ten separate gigs at any time. Just click on "Selling," and then "Gigs" to begin setting up your different offerings. When setting up a gig, you have the ability to offer potential clients three levels of service: Basic, Standard, and Premium.
The Basic package is the cheapest plan and where you'll find most of your $5 gigs. However, unlike in years past, freelancers are not confined to starting at $5. If you feel you can get more for your Basic gig, charge what you think the market will pay.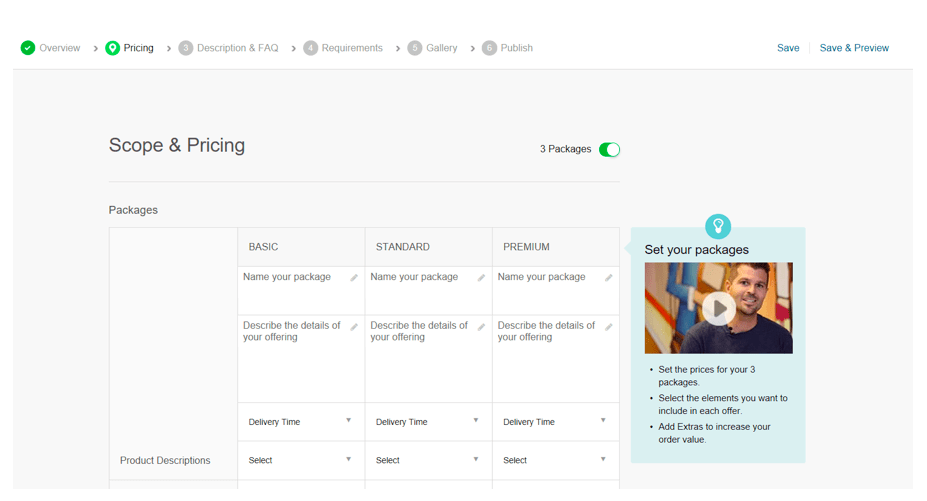 Standard and Premium levels are the same gigs with added features. In my gigs, my Basic offering was 500-word articles, Standard was 750, and Premium was 1,000.
You can also add "Gig Extras," where customers can pay for add-ons. I offered an extra 250 words in my gigs for another $5 and, for an additional $10, I offered to deliver the article in 24 hours instead of 72. You can also give customers the option to pay more for extra revisions or whatever else you think they might find enticing.
Here are a few tips for making your gig stand out from others in the same category:
Use a unique title: Generic titles will result in your gig getting lost in a sea of sameness
Pick appropriate keywords: Choose keywords that are relevant to your gig and what your customers will be most likely to search for
Give quality examples: When setting up your gig, include quality visual examples of your work, and consider setting up an introductory video of yourself
Offer added-value: Check out other providers in your categories and see if there is something you can offer to stand out from others. For example, in my case, I offered articles on poker topics not promoted by other writers
Note that every gig must be approved before it is available and your phone must be verified by Fiverr before gigs will be posted. This is done to prevent spam and junk gigs from flooding the platform.
On Fiverr Customers Look for YOU
Fiverr works a bit differently than other freelance sites, like Upwork or Freelancer.com. On this platform, clients typically contact freelancers directly based on their listed offerings, as opposed to receiving proposals for an open job. That's why it is crucial that your gig stands out from others in the same category.
When I offer articles on Fiverr, I don't tell them that I can "write about poker." Instead, I list gigs such as "I will write a 500-word article on Stud 8 or Better Strategy" or "I will write a 500-word post on improving your Texas Hold'em Six-Max Skills."
When a customer wishes to purchase your gig, they do so directly from the buying section of the website. Customers search for what they need and, if they like your proposal, they will choose to purchase your gig and begin the buying process.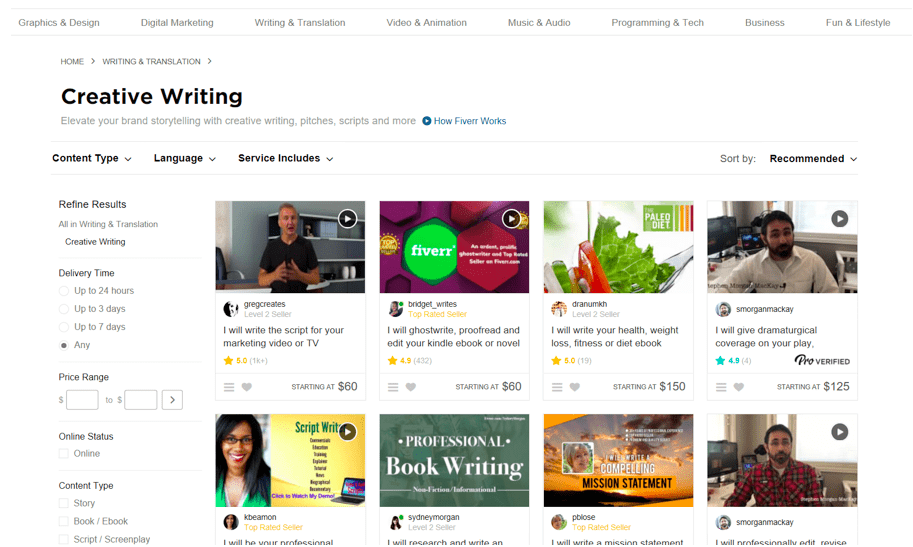 In some cases, customers may contact you directly to inquire about one of your listed gigs. It is vital that you answer your Fiverr messages regularly to avoid missing out on clients. Just checking your messages once a day is not enough. Many customers want instant answers and, unless you're offering a truly unique gig, odds are that a client will move on to another qualified freelancer rather than wait an extended period for an answer.
Another option for finding customers is via the Buyer Requests section. If you have an available gig, you can search customer requests for leads that may fit your offering(s). You should note, however, that the more specific your gigs, the fewer buyer requests that will be available to you. If you find a request that you believe is a good fit, you have the option to send a proposal. While this didn't provide any leads for me personally, if you're a freelance web designer, graphic artist, or logo maker, this is definitely worth checking out.
Show Me the Money!
With Fiverr, you're working on an 80/20 split, with 20% of your fees going to Fiverr. This is the same percentage that Upwork charges, although Upwork reduces this percentage after you earn over a certain amount from the same client.
So basically, if you charge $5 for a gig, you get $4 and Fiverr gets $1. While that sounds a bit high, remember that you're paying for the convenience of using the platform and their payment system.
Getting paid on Fiverr is easy. When a client signs up for your gig, they must pre-pay, and funds are then held in escrow by Fiverr. Once you finish your gig and mark it as complete, your client has three days to mark the order as completed or request revisions. If they fail to take any next steps, Fiverr automatically completes the gig and releases the funds to your Fiverr account.
After 14 days—less if you are a Top Rated Seller—you can withdraw the funds from your Fiverr account to either your PayPal account, your bank account, or to a Fiverr Revenue Card issued by Payoneer.
There Will Be Bumps in the Road
Inevitably, there are going to be problems with a project or with certain customers—this is just the unfortunate reality of the gig economy. When this happens, Fiverr encourages the freelancer and client to try and work matters out on their own. The primary tool at your disposal is the Resolution Center. Here you can work with your customers to try and resolve problems.
You have three options for resolving orders.
You can ask to modify the order: If a customer wants more than what the scope of your order allows, you can offer them paid extras to try and resolve problems; if they accept, the order continues as usual
You can ask to extend the delivery time: This is used often, and I have used it myself a time or two, especially when personal matters arise, or a requested article proves too challenging to deliver in my promised time frame
You can ask that the buyer cancel the order: You can explain why you wish to cancel the order and, if the client agrees, the order is marked as completed, and their money is refunded. Personally, I have only had to cancel an order once, and it was because the client expected to get premium level content for basic level pricing, and they refused to pay up
It is preferable to try and resolve problems with customers on your own, as a canceled order will likely result in negative feedback on your profile.
The Customer Isn't Always Right—Just Make Sure You're Not Wrong
When working as a freelancer on Fiverr, you need to strive to do your best work, regardless of the rate you're being paid. Some freelancers think that they can get away with a poor job because they are offering inexpensive services.
The worst example of this as a customer on Fiverr was when I requested to have a website built for a poker site. It was clear after the first phase of the project that the freelancer didn't know quite what he was doing, and by the time he delivered the product, it met only two of five agreed-upon requirements.
Four revisions later, my requirements were still not met (the freelancer had also decided that a flower theme was a good choice for a poker site). The freelancer refused to cancel the order, so I was forced to take the matter to Customer Support. Upon seeing my flowery poker site, the platform ruled in my favor and refunded my fees.
As a freelancer, I can also attest that customer service will side with you if you can prove that you provided quality work and met the terms of your contract. I once had a client who bought my mid-tier gig, which included 750 words with three revisions. The customer kept changing his mind about what he wanted in the article and blew through his three revisions in a two-day span.
After requesting additional payment for the continued revisions, the client opened a request stating that the quality of my articles was poor, but neglecting to report that he kept changing the article parameters. I uploaded the articles and Customer Support saw our conversations and ultimately sided with me.
Fiver Is One of the Best Platforms for the Gig Economy
Whether you're a full-time freelancer or just looking to pick up a few extra gigs to supplement your income, Fiverr is a fantastic platform in the modern gig economy. You can set up gigs easily, offering customers the value-added services they want at a great price.
From experience, I have found Fiverr to be one of the easiest freelancer platforms to use. While Fiverr's fees may be a bit high, it's offset by an easy-to-use platform with global reach and a payment system that gets you paid quickly, with no additional costs for posting your services. Give them a try today and find out why freelancers all over the world are using Fiverr to find their next gig.