your business logo needs to be impeccable.
"Impeccable" and "cheap" don't usually go hand-in-hand, but these days,
a high-quality logo doesn't have to cost a fortune.
I'm going to tell you how you can hire a professional designer for a surprisingly low price (
click here to jump down now
). If you have a bit of graphic design experience and you prefer to create your own logo, I'll show you how to do that as well. If you're just looking for some inspiration,
see some famous photography logos below
.
9 Best Photography Logos
How to Hire a Professional Logo Designer for a Great Price
Almost anyone can take a picture, but most people don't have the knowledge and experience to shoot like a professional. And almost anyone can design a logo, but in most cases, it wouldn't be a logo you'd want to use to represent your business.
An experienced logo designer can really give your logo that extra something special.
Professional logo design used to be a luxury only large businesses with big budgets could afford, but not anymore.
On Fiverr, for instance, you can hire a freelance logo designer for as little as $5.
This not only saves you time and money; it also means you don't end up with a template-based logo that other photographers might be using too. Because… well… 
that
would be awkward.
If you're wondering if you can really get a quality logo for such a cheap price, you are not alone. I was wondering the same, until my colleague decided to test three different Fiverr designers for three very different prices. You can see the results in his
in-depth Fiverr review
(trust me, it's not what you're expecting).
Now, let's take a closer look.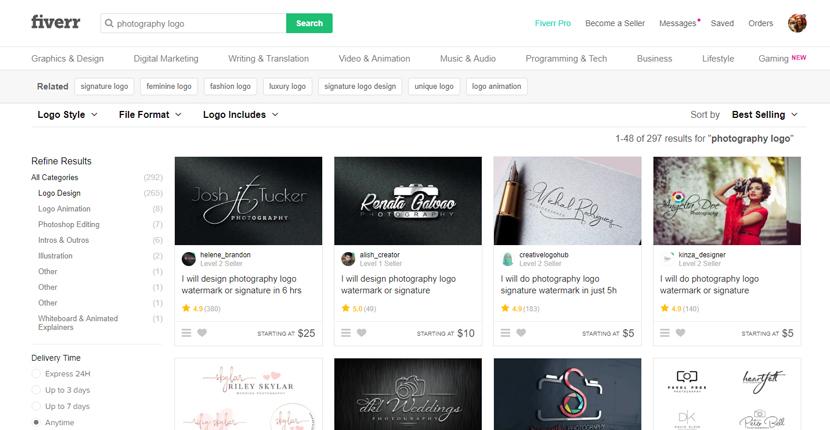 A gig-based site,
Fiverr lets you search for experienced logo designers
in a number of categories, including photography. The search filters let you narrow down choices based on your budget, the number of positive reviews, and more. You can also post requests for the services you're seeking. When a designer's work catches your eye,
click the relevant gig for more information
and check their profile page to review their skills, read reviews, and look at work samples to determine if their style meshes well with your vision. Don't miss our tips on
how to hire the best designers on Fiverr
.
Key Fiverr Features:
Logo prices start at $5
Most designers offer basic, standard, and premium package options to suit your budget
Your money is kept in escrow and transferred to the designer only when you're happy with your logo
The Fiverr mobile app makes it easy to communicate and search for available services on the go
Not sure if Fiverr is the right design service for you? You definitely have other options. As part of a big project where we decided to find the best new logo for Website Planet, we personally tested all the major logo design platforms out there. See the results and find out who won in our
top logo design service comparison
.
How to Make Your Own Photography Logo
Maybe you do have a bit of time on your hands, or you just like creating things on your own. As a creative type myself, I totally get that. And I'm here to walk you through the process of creating a photography logo using the AI-powered
Looka.
For more information about the platform, watch the video below or read our
full Looka review
.
Looka is a great logo maker for photography. It's free to try, it saves your work as you go, and
you only pay when you're satisfied with the finished product
. Since its creation in 2016, Looka's artificial intelligence-based logo tool has helped busy professionals like you create photography logo designs without the need for special software or official design training.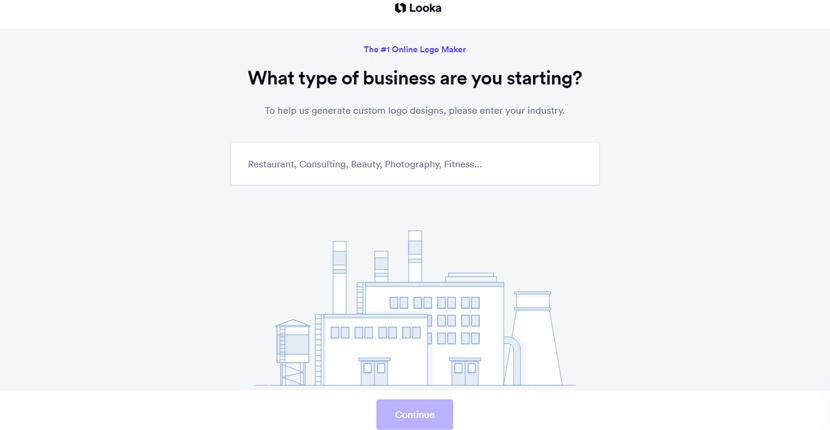 To get started, just
go to the Looka website
and sign up for an account or use an existing social media account to log in. Once you've done that, you're free to save your creations and experiment wildly without losing your progress. It also means you can scrap designs and start over or revert to a previous version if you get too carried away.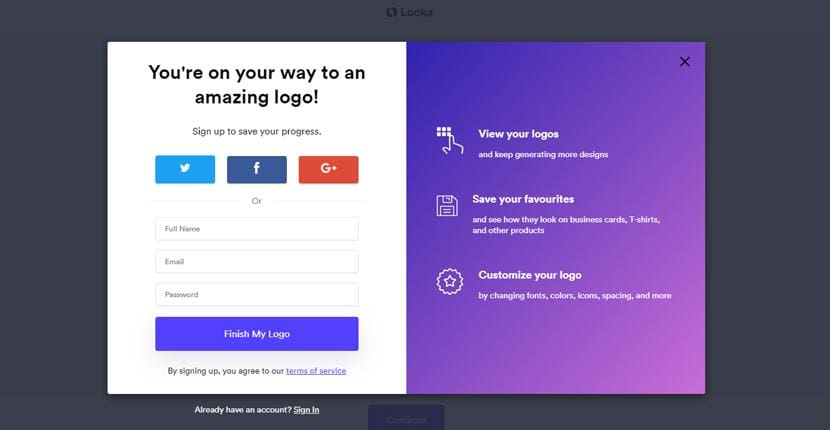 Looka walks you through several questions about your color preferences, the industry you're targeting, and the style you're aiming for.
If you skip over the industry and symbol-related questions, the tool will generate text-only logos to start. You can always go back later and add a symbol via the menu.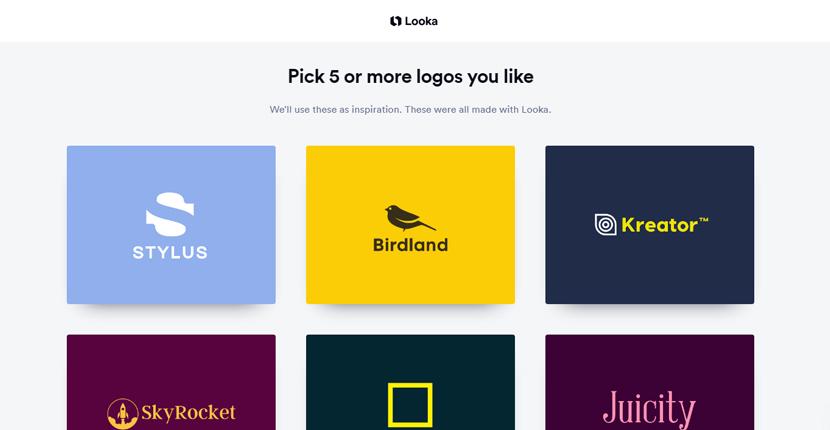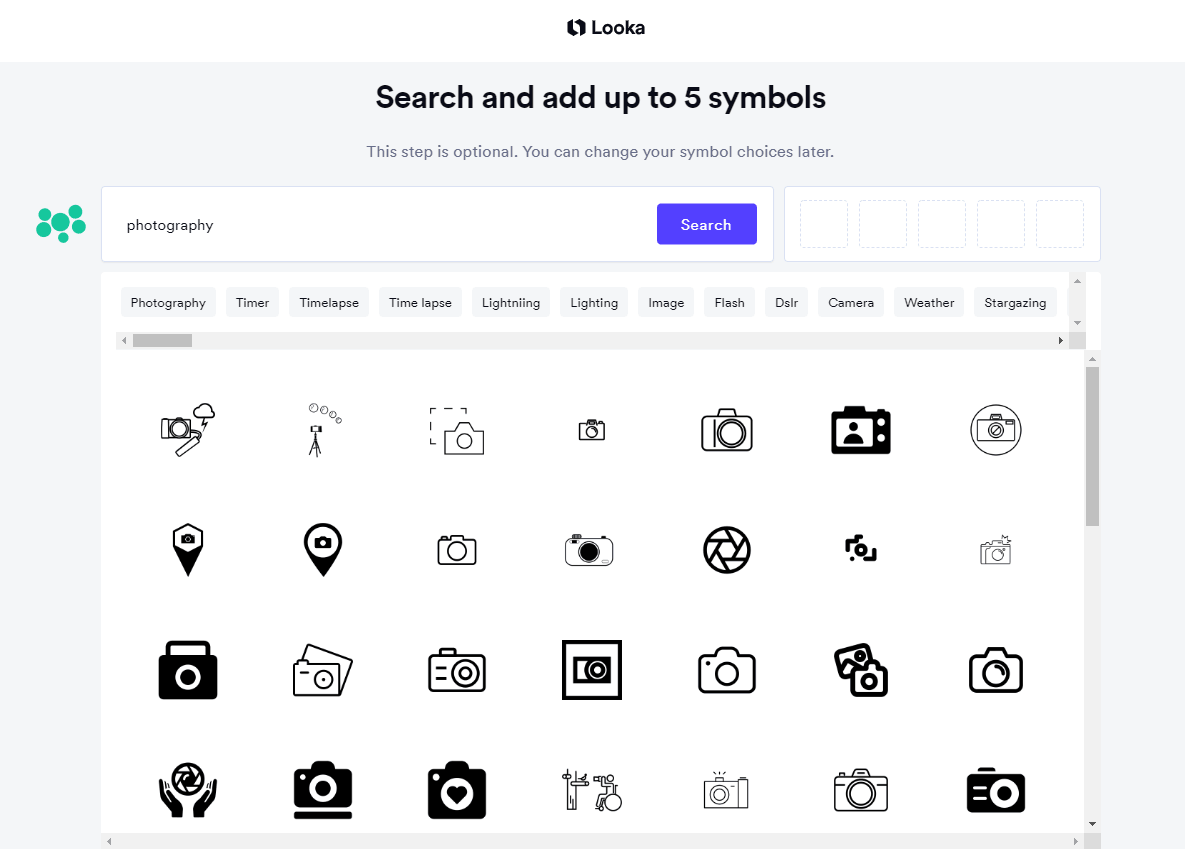 As you answer questions, Looka can offer an improved design experience based on your preferences. It generates a wide range of samples and keeps creating them until you land on a design that works for you. You can save and favorite the designs you like best to help the tool generate even more potential logos, or you can start editing right away.
If you're feeling stuck or uninspired, you can always start the design process over from the beginning
, or grab a design from Looka's
Inspiration Variations
library and make it your own.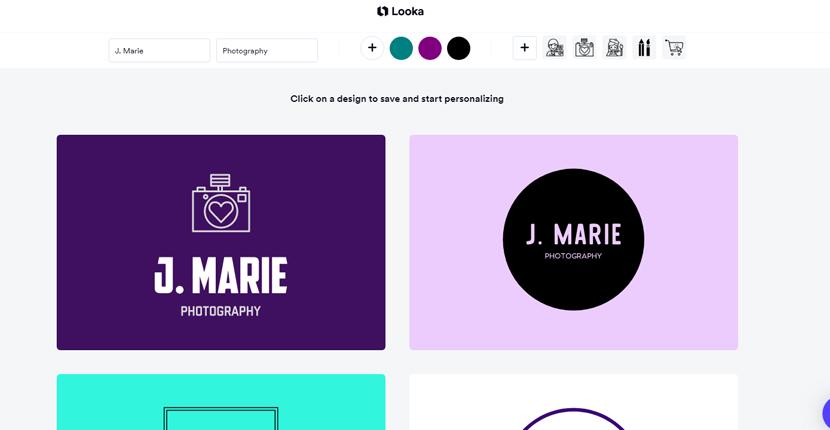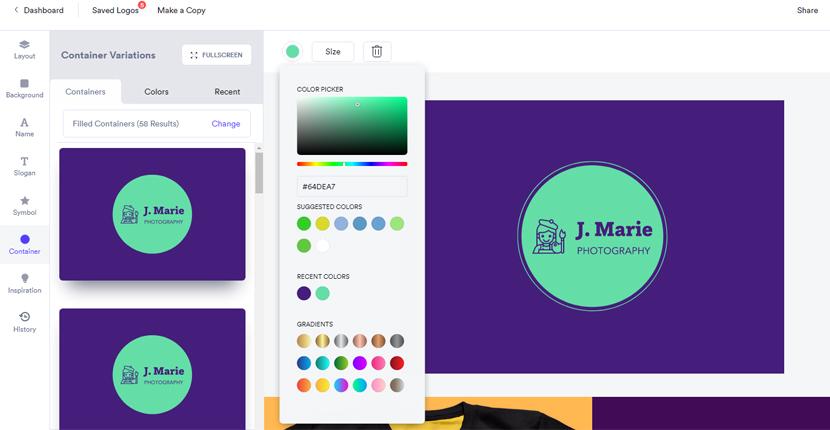 Expert Tip: It's worth fully exploring every option available to you in Looka's logo maker, so go ahead and play around a bit. Editable options include adjustable layouts, background colors, business name and slogan text, decorative symbols, and container shapes (think squares, circles, and frames). The tool also offers a color picker, including a handful of gradient swatches to give your logo extra flair.
What's really cool about Looka is how
you can see mockups of your potential logo on apparel, business cards, stationery, and social media
. While it doesn't currently offer printing services through the site, Looka recommends using VistaPrint for your printing and marketing needs.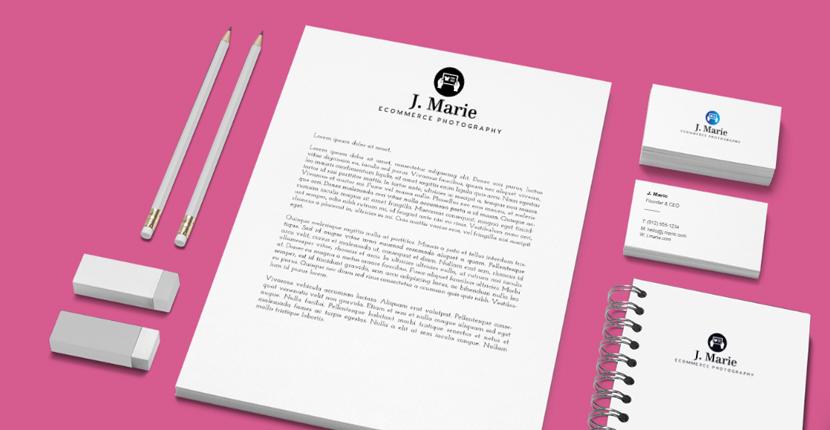 If you want to run a design by your friends and ask for feedback, you can also share a work-in-progress right from the page
– very nifty. Plus, help is always a click away via the icon in the lower-right corner – choose live chat (when available) or search for answers in the comprehensive help section.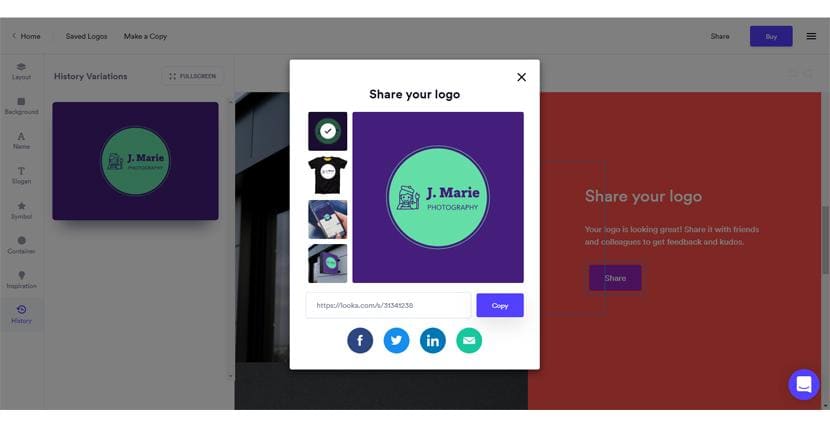 When you've settled on a photography logo design you love, simply click
buy
, and Looka will present you with a few different options.
Choose the package that best fits your needs
(Premium is the most popular choice), then complete your purchase. Congratulations, you have successfully created a new logo all by yourself! You can always come back and revamp a design later if you'd like, depending on the package you've purchased.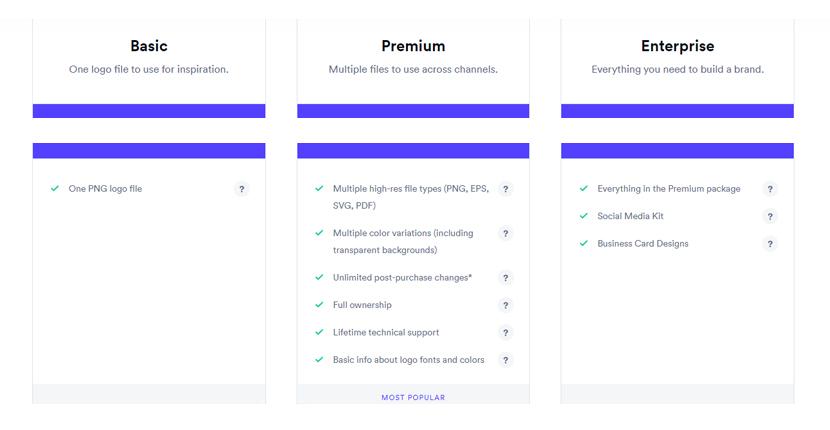 Expert Tip: If you plan to use your logo in print and on social media, consider purchasing a Premium or Enterprise package, which provides you with multiple file formats to suit a range of design programs and printing methods. This ensures your logo will look good no matter where it's used. If you're ready to step up your marketing game, the Enterprise package also allows you to develop a social media kit and create downloadable business card templates you can upload to opular print service sites or take to your favorite local printer
Here are some examples of designs I made in Looka's tool: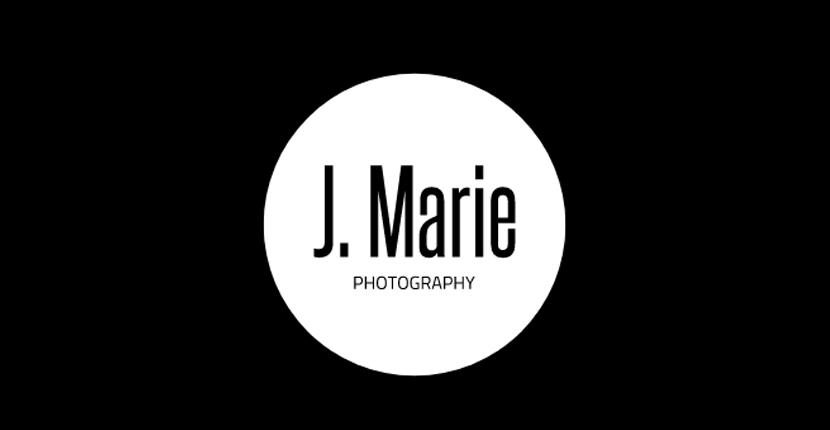 This basic design and classic color combo would work for any type of photography business.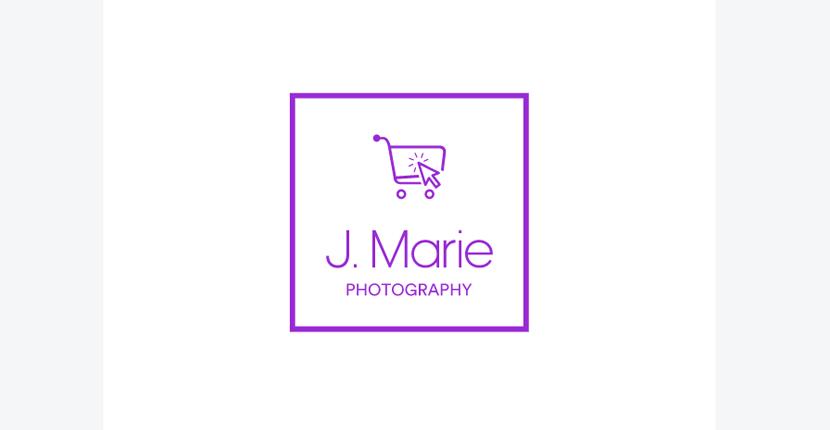 A single-color logo featuring a modern font and e-commerce-related imagery. The color purple is sometimes associated with luxury, wealth, and creativity.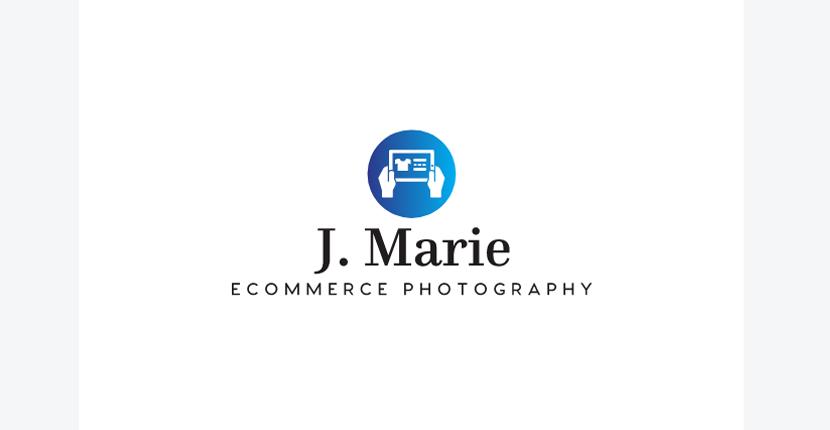 A variation on the previous logo with a more descriptive slogan – this was based on an Inspiration Variations template. The color blue was chosen to help establish a sense of trust and reliability with clients.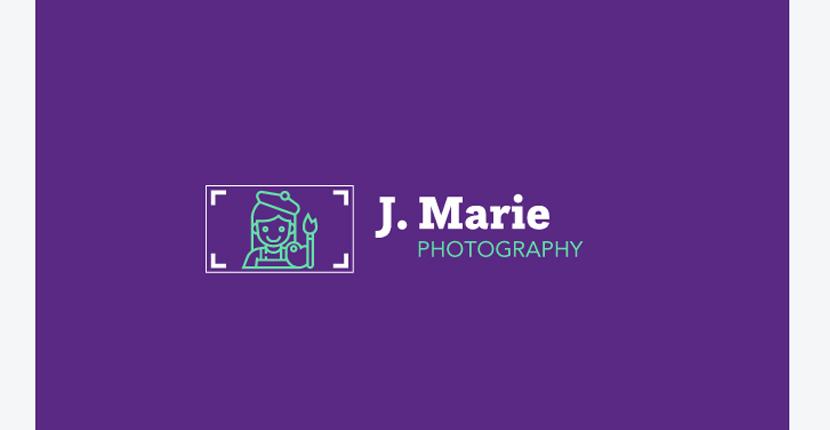 This more whimsical logo is attempting to target artistic clients without being super-specific. It incorporates colors and fonts that fit the personal design preferences I selected.
Expert Tip: Regarding font usage – Looka doesn't grant a commercial font license with its logo packages. Also, Looka doesn't tell you the name(s) of the font(s) you're using until you've purchased a logo. Unfortunately, this information isn't made clear unless you search the help section. However, Premium and Enterprise package customers receive additional information regarding font names, including where you can purchase them.
Looka Alternatives
Does Looka lack some of the features you're looking for? Here are some other online logo creators for photography worth checking out:
Wix Logo Maker supports multiple languages, making it ideal for creating logos with non-Roman alphabets.
Tailor Brands offers a seasonal logo generator to help you promote new business focused on special occasions and major holidays.
LogoMaker offers the ability to print your logo on a wide range of promotional products.
Famous Photography Logos for Your Inspiration
Many world-renowned photographers and camera brands employ minimalist design techniques with typography-based logos. While this approach pulls the focus to their portfolio of work and product lines, a bare-bones approach may fall flat while you're building a business.
Until you become globally recognized, consider using a more visual industry-related logo
to help potential clients hone in on your unique photography skills and talent. Here are 10 of the best photography-related logos, featuring outstanding design that gets right to the point. They're infused with personality and professionalism and help to convey the types of services each business has to offer. These carefully-crafted designs also serve as a solid starting point as you set out to create a photography logo that leaves a memorable impression.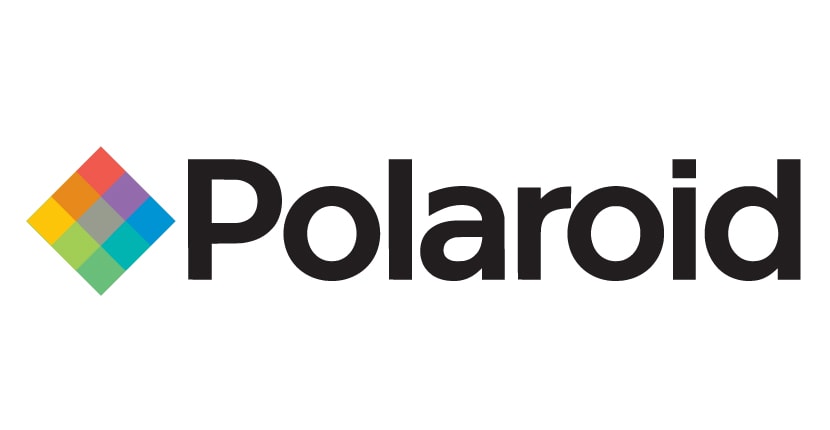 Polaroid's
logo features a clean sans serif font paired with a rainbow-colored abstract mark. While its logo has evolved over the years, Polaroid has maintained simple, yet easily recognizable branding that's associated with expertise in the photography world.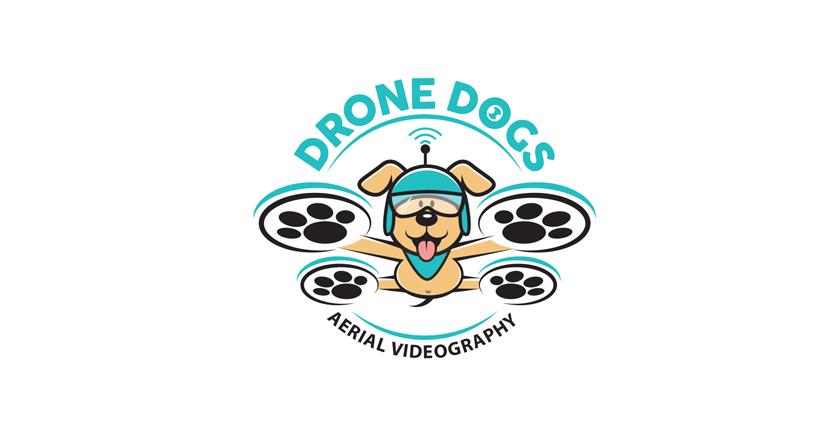 This playful dog/drone illustration captures the essence and mission of
Drone Dogs
, a videography brand. The logo also features a limited color palette, which can help the business save on their printing and marketing costs.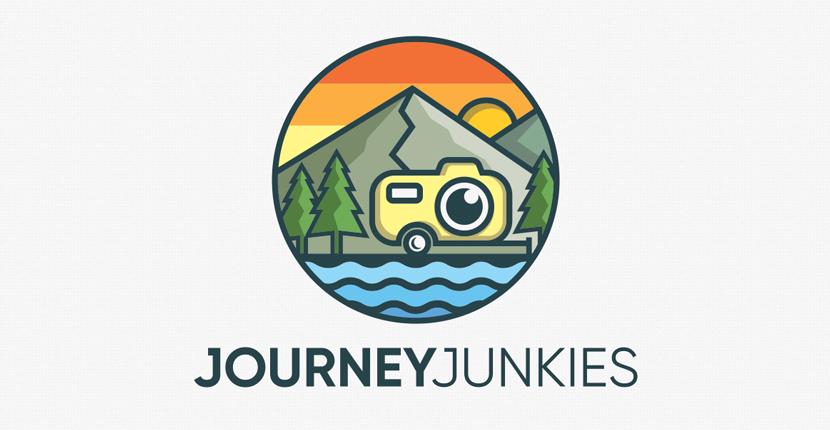 This colorful vector illustration brings an adventurous spirit to mind, and
Journey Junkies
has cleverly incorporated the shape of a camera into the trailer's design. You can immediately tell these guys are on a mission to capture life's most exciting moments.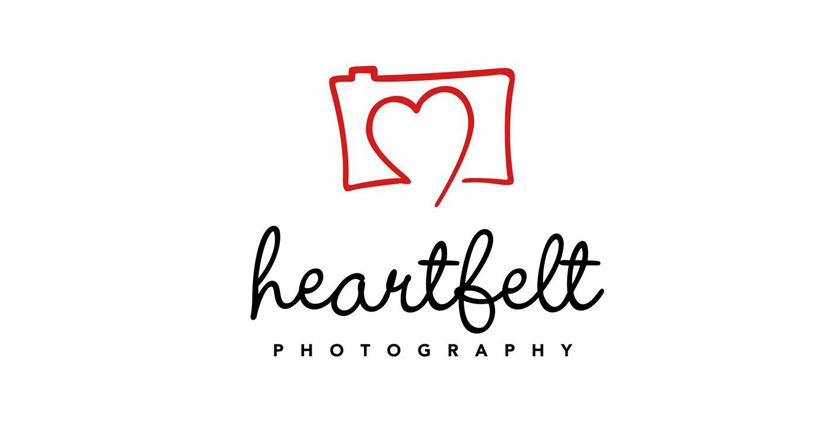 A whimsical logo design achieved with just two colors. The script-style font gives the
Heartfelt Photography
brand a softer, more feminine feel, and the heart embedded within the camera lets you know the photographer has a passion for their craft.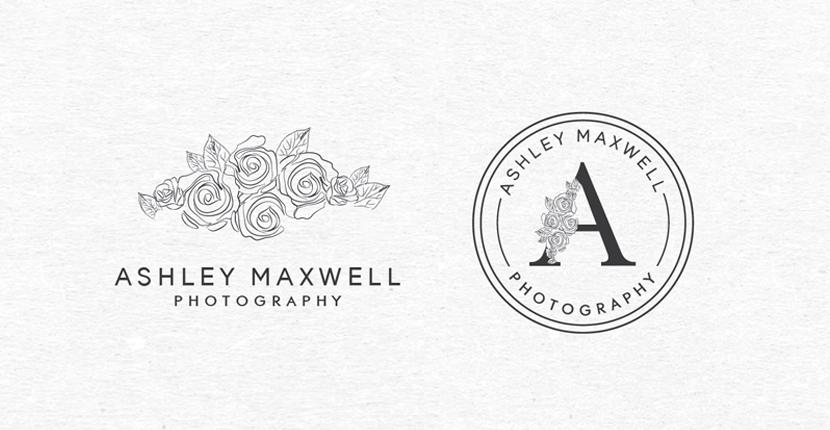 Wedding photographer
Ashley Maxwell's
branding features two logo variations. The bouquet illustration and text combination on the left quickly establishes the primary focus of her work. On the right, the monogram-style seal is highly suitable for watermarking images and would make for gorgeous embossing stamps and labels paired with business stationery.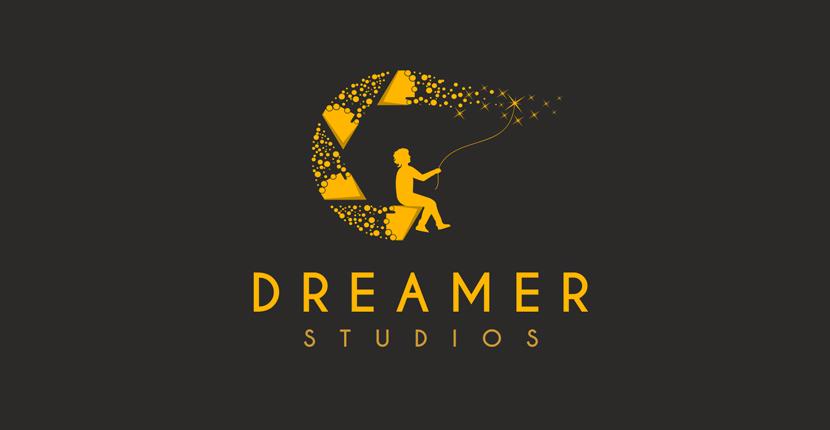 This logo perfectly represents
Dreamer Studios
, an ambitious photography business. The use of yellow evokes an optimistic and playful spirit as the subject snags the perfect image among the stars, and it subtly features a camera's shutter in the crescent moon shape.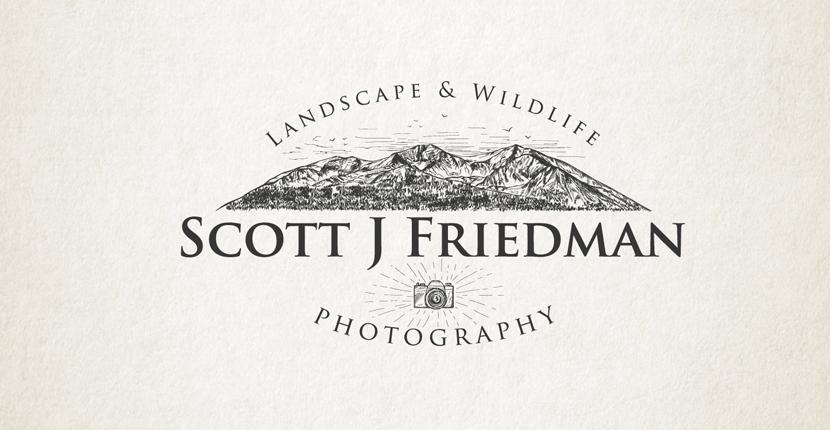 Even without the logo text, the detailed illustration work indicates
Scott J Friedman's
focus on nature and wildlife photography. The single-color design gives it a sophisticated, timeless feel that will never go out of style, and it would be easy to invert the logo from black to white to suit both dark and light backgrounds.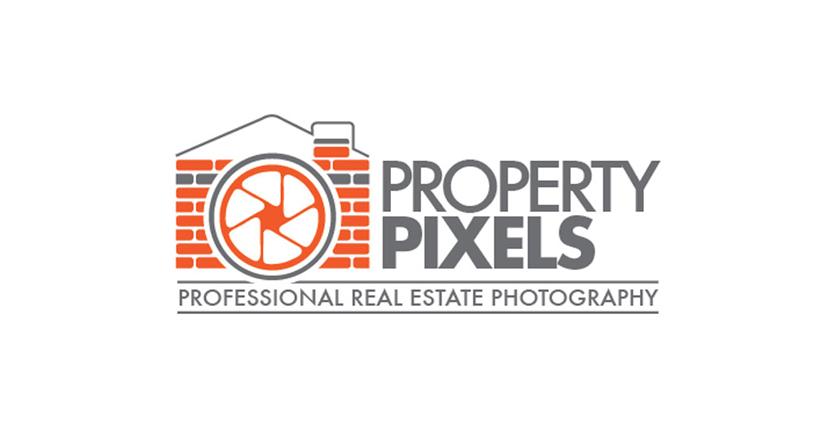 The
Property Pixels
logo's composition is flawless, particularly in how they've merged the shape of a house and camera. There's no doubt you're dealing with a real estate photography company, and the business name is spot on. The use of orange and gray gives everything a fresh, yet no-nonsense feel, and the logo would scale well for use on business cards, banners, and other printed media.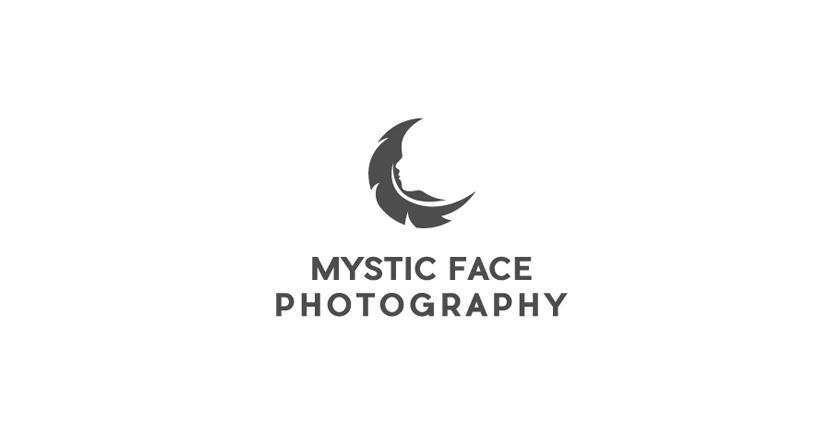 A minimalist, yet thoughtful design that communicates the brand name,
Mystic Face Photography
, in a single icon. The combination of a feather and the profile of a face within the white space lets the logo's simplicity speak for itself, and it's a great example of how logos don't need to be overly complicated to convey your message.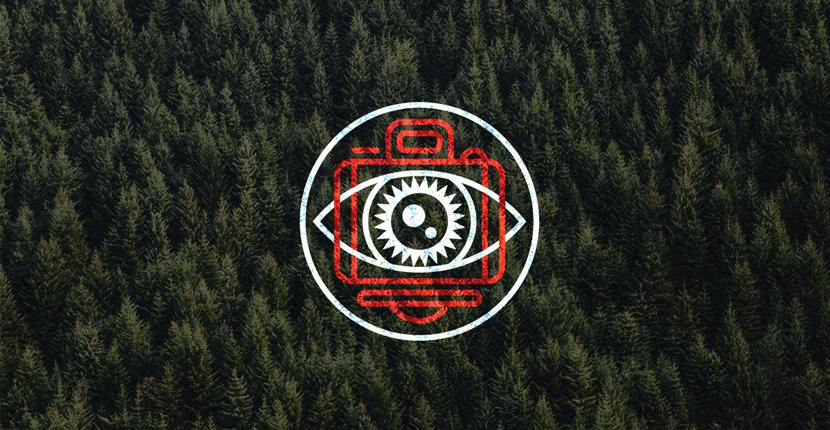 In this particular instance, the designer skillfully omits the utilization of text while skillfully aligning it with the name. The designer encapsulates an eye within a camera, contained within a circular shape, representing the photographer's intuition and connecting it with the third eye chakra concept. This form of pictorial emblem aids in forging a robust connection between the logo and the brand, enhancing its recognition as it gains more familiarity.
*Website Planet is not affiliated with any of the photography brands above.
Wrapping Things Up
As you can tell,
the type of training and creative vision that makes for good photography also comes into play when creating a strong brand image
. Whether you're looking to take control of your own marketing or just want to understand the process better, taking time to appreciate good design can really pay off and help you hone your designer's eye like one of the pros. Even after you've chosen the ideal logo and are joyfully taking on photography jobs, it remains helpful to keep up with the latest design trends. This helps keep your professional look and branding feeling new and up-to-date for many years in the future. When you're ready to get started, be sure to
hop over to Fiverr
to see if the logo designer of your dreams is waiting there for you. If you're looking for more logo design ideas, don't miss our list of
the top logo design services in 2023.