Liquid Web is all about that managed VPS hosting (and dedicated servers)
 and seems to fully believe in the idea that you get what you pay for. If you want quality hosting, you're going to have to pay the price. And sure, I'm fine with all of that in theory; I'd say most of us are. But does Liquid Web actually deliver that quality? And are the features on offer worth the price? Why shouldn't you go for a much cheaper option like
InterServer
?
You know what? I'll spoil it a bit for you: It's not bad.
I ran a test website on
Liquid Web's cheapest VPS server
 to get an idea of how much value you get for the money, and I was quite happy with my experience. The actual features of the hosting are decent, but
what you're really paying for is quality support and the flexibility to (mostly) do what you want with your server.
 If that sounds good to you, Liquid Web might be the right fit. It ain't for beginners, though, and it's not easy on the wallet.
Features
Liquid Web Is Designed for the Semi-DIY Crowd
To start with, I chose the cheapest plan available, which is appropriately named "2GB RAM."
 It's useful to set expectations right up front.
The plan comes with the aforementioned 2GB of RAM, 2 CPU cores, 40 GB of SSD space, and 10 TB of bandwidth.
 As starter plans go, that's entirely respectable. While Windows servers are available, the cheapest plan is limited to Linux. When you want to upgrade, you
can
 switch to another plan, but you don't have to. You also have the option of upgrading your storage, CPUs, and bandwidth separately. Want more RAM, though? Yeah… then you'll have to upgrade your plan. It seems like an odd way to do things, but you're not entirely locked into the pre-made plans, so I'm fine with it. Every plan comes with root access to your server, so if you want to manage things via the command line, you certainly have that option. They also all come with a solid firewall, DDoS protection, and all the standard security and stability features you'd expect.
There's a 100% uptime guarantee, but it only covers server power and network access.
 In other words, making sure your site stays online is entirely your job. You can also make unlimited sites on your managed server, with one caveat: You need to pick a server image with InterWorx as your control panel. (The classic cPanel is limited to five site accounts per server.) Oh, and there are free site migrations for everybody, as well as free SSL certificates via Let's Encrypt. You may have to configure a few things before you can actually use the free SSL (I had to contact support, who told me how to find the right settings in Web Host Manager [WHM]), but it's definitely there. Lastly, all servers come with the Apache server by default, but you can install LiteSpeed (which is newer and faster) if you pay extra.
You Get Your Choice of Server OS and Control Panel…
Within limits, of course.
Liquid Web sticks to the fairly well-known Linux server distributions, including:
CentOS
Ubuntu
Debian
Fedora
CloudLinux
And then there's Windows Server as well. It should be noted that Liquid Web doesn't always have the latest versions of those OSs, preferring stability over cutting-edge features.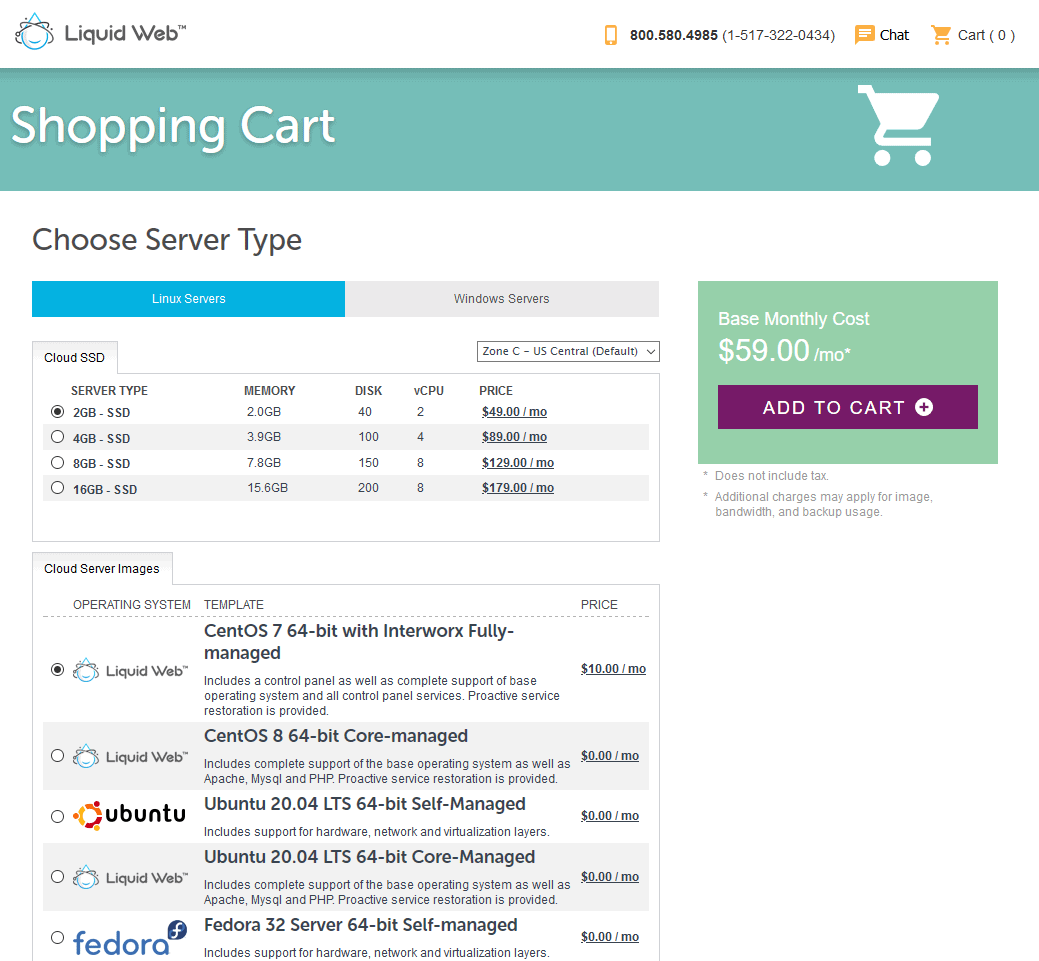 For control panels, you can choose from the old-fashioned WHM/cPanel combo, InterWorx, or Plesk. Heck, you can choose a server with no control panel, and (in theory) install your own. Two things to note here:
Control panels cost extra.
 Any server with a control panel is going to add a bit of extra money to your monthly fee. It's just not included. Secondly, not all control panels are supported by the actual support team on every OS. If you want a fully managed server with InterWorx, it has to be on CentOS.
Free Backups for Everyone
The cheaper plans all include 100GB of free backups.
For people running smaller sites on a VPS, that's enough to keep a good two or three backups around at any one time. Plus, you can always back up individual sites via cPanel, if it comes to that. But yeah, free backups abound. More expensive plans give you a backup quota of 100GB
per day
.
Do You Ever Feel Like Your Server's Being Watched?
Well, that's probably because every server is automatically monitored for problems.
Depending on the kind of server you get (the ones labeled Core Managed and Fully Managed specifically), the staff will get your site back up and running without you lifting a finger to type in a ticket. At least, that's the ideal. Full disclosure, I never had the kind of server problems that required that sort of intervention. But it's a cool concept. Self-managed servers are, of course, left up to you. Liquid Web wishes you the best of luck with that, and for that matter, so do I.
Ease of Use
Your User Experience Will Vary
While signing up, choosing a plan, and choosing my server OS wasn't too hard (aside from some abnormally small text I had to read), things got a little confusing once I actually
had
 my hosting. You see, aside from whatever control panel you install on your server,
Liquid Web actually has two account control panels.
 It's a bit like dating two people at the same time, and just as exhausting. Anyway, first we have the old control panel: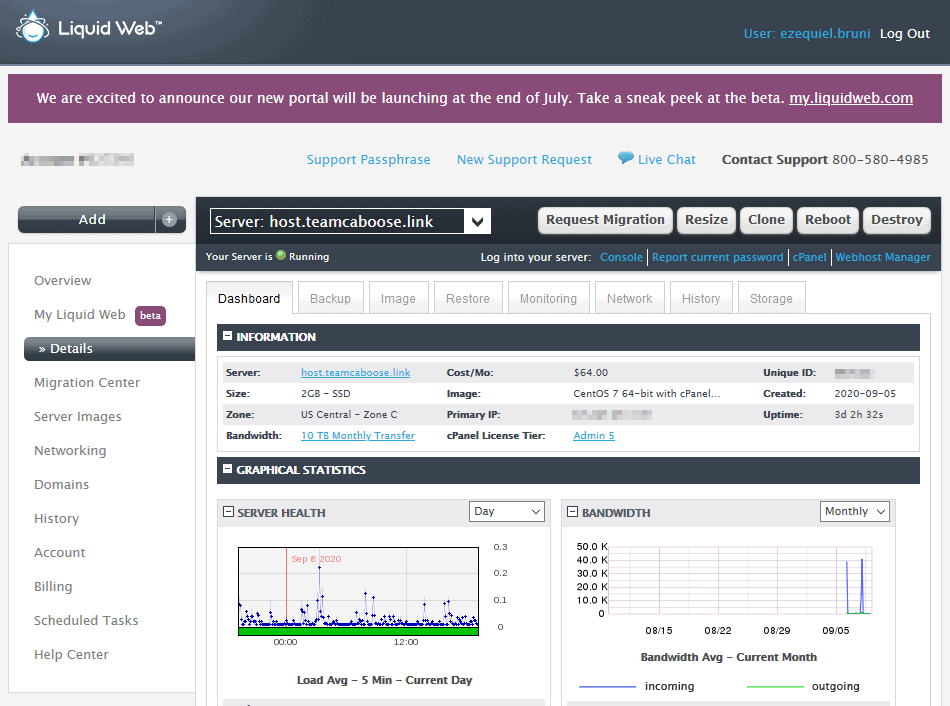 This one is a bit dated and unintuitive. I ran into trouble figuring out how to attach my domain name to my hosting account, but in the end, I just had to look for the bit of the UI that said "DNS zones." The new UI is better, easier to navigate, and uses familiar user interface conventions.
 However, it doesn't yet have all the features of the old UI, which is why there are still two of them.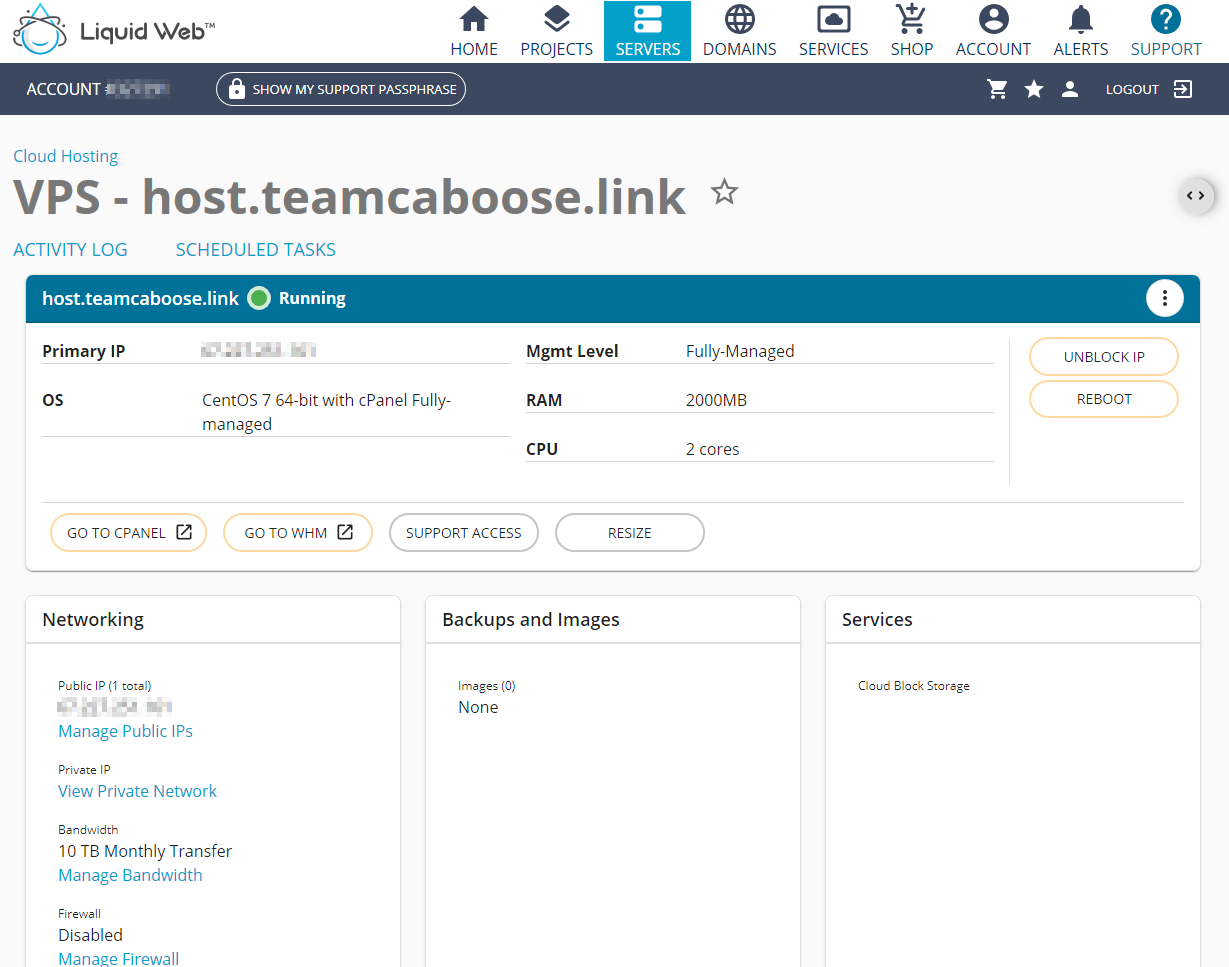 Once I actually logged into my server, things got easier. I went with WHM and cPanel, because those are the UIs I'm most familiar with. I ended up having to update PHP and configure a few server things myself, but support would have done those things for me if I had asked.
Softaculous Can Still Install Everything for You
If you've chosen cPanel or Plesk as your control panel, you automatically get access to Softaculous,
 and thankfully, you don't have to pay any more for it. At this point, you can just install WordPress or any of a hundred other CMSs with a click or two, just like you would on shared hosting.
Changing Plans Is Easy Enough
If you've had enough of 2GB of RAM and you want to scale up… that's easy enough to do.
 Just select your server in the old UI and click on
Resize
. Then select your new plan and go! If you want more detailed information, there are tutorials about how to do all of this in the Liquid Web knowledge base. And you might need that info, because getting more storage, bandwidth, or CPU cores without upgrading to a higher-RAM plan
does
 take some digging around in the old UI.

Simple Cloudflare Integration
This one's easy as pie to get started: In the old UI, go to
Domains
>
Cloudflare
, and put in the email address you want to use. (I'd recommend one that's
not
 already associated with a Cloudflare account.)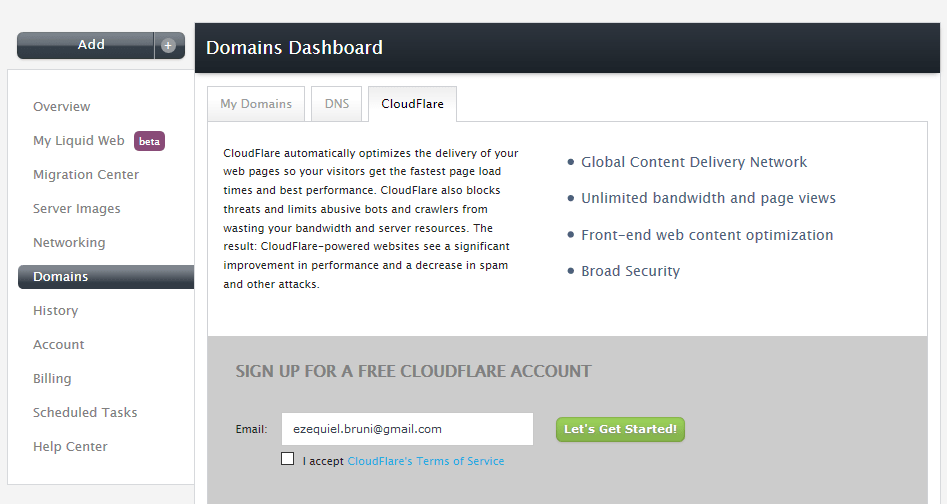 Performance
Server Performance Is Fast Enough and Consistent
With data centers in Lansing (Michigan), Phoenix (Arizona), and Amsterdam (all the way over in the Netherlands),
you can cover both US coasts with ease, and Europe too. If you anticipate having users in Asia or anywhere else, though, you might consider using a CDN. I set up a test website based on WordPress with all the trimmings: HD images, a slideshow, and somewhat sarcastic marketing copy. I enabled GZIP compression, optimized my images, and ran some tests to see how it performed over time.
When my colleague tested Liquid Web's WordPress hosting
, it scored very high on performance… so my expectations were very high as well. I was not disappointed. The average complete page load time was a perfectly acceptable 1.4 seconds when I used a testing server in Dallas.
Uptime was a solid 100% across the board.
If you'd like more details, they're below. If you'd rather skip the numbers, you can
jump ahead to see why I think Liquid Web's support makes it worth the price
.
GTmetrix
I used GTmetrix several times over my weeks with Liquid Web to determine the average complete page load time.
It was actually 1.4 seconds almost every time, with one test going up to 1.6s,
 which is what changed the average. Since the ideal complete load time is under 2 seconds, this works out just fine, and it speaks to the general stability of Liquid Web's VPS servers. Here's one of my test results:

UptimeRobot
I used UptimeRobot to see just how well Liquid Web can keep the lights on. Turns out it's pretty good at that too. Over the course of a few weeks, there was not one single bit of downtime,
though there was one instance where the ping time went rather high.
But that's the internet for you. It happens.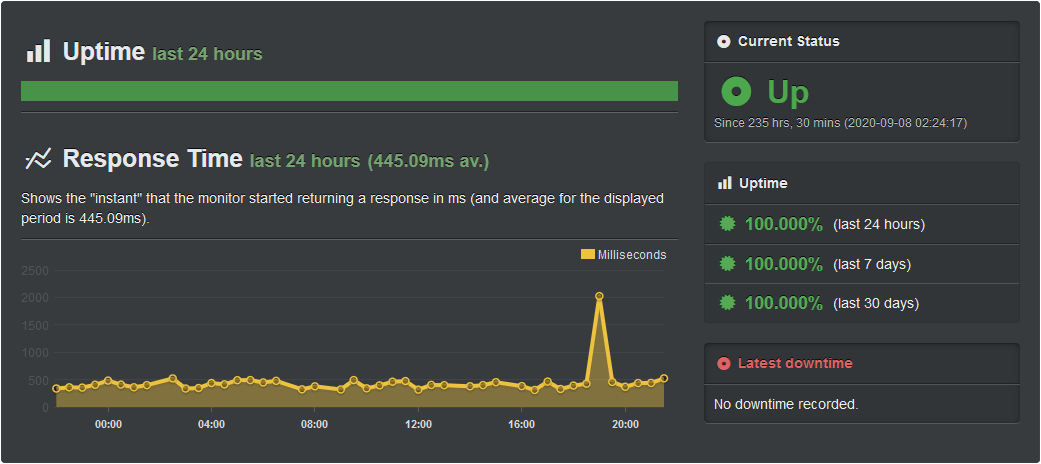 Support
The Support Team Was Fast, Efficient, and Helpful
While Liquid Web's general services and features are good enough, they're not always that
exciting
. So what sets Liquid Web apart? What are you actually paying all that money for? Well, it's going to the support team, frankly, and that's not a bad thing. I started off my support experience with the live chat.
In both instances, the response was fast and helpful,
 and the support people were kind to me even when I had kinda dumb questions. First, I had a little trouble logging into my WHM panel. Turns out the main username for every account is "root." Yeah… I was having one of
those
 moments. Then, I needed to install PHP 7.4,
and
 I had trouble finding the Let's Encrypt SSL functionality, because it was turned off in WHM.
The team helped me find the right settings quickly and even enabled the SSL functionality for me.
 (What? I don't use WHM that often.)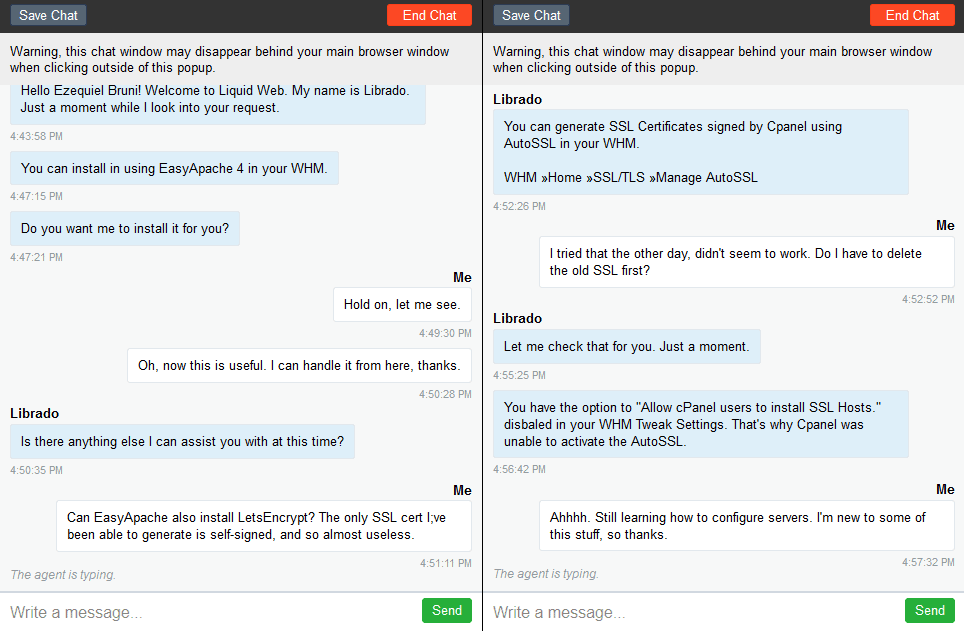 Later, I opened up a ticket just to ask when they'd have managed CentOS 8 servers available, because when I ran my tests, I couldn't go higher than CentOS 7.
 In six minutes, I had a response that left me feeling hopeful
. Specifically, they said there would be CentOS 8 servers in a month or so. Well, they're available now, but only as core-managed servers with no control panel. You'll have to install everything yourself.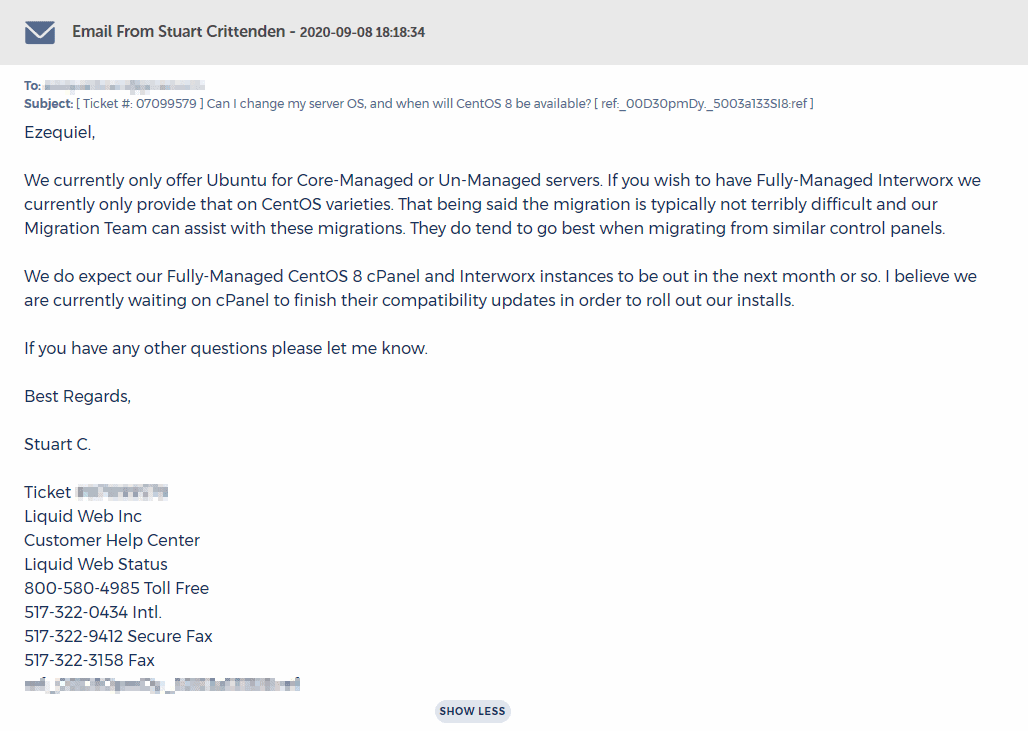 Pricing
Again, All This Good Stuff Ain't Cheap
You'd pay a lot less for good VPS hosting elsewhere, like at InterServer or Hostinger, but there's a lot to be said for having good help on hand.
 The customer service I experienced was great, and that's worth a lot. Combine that with the pretty good performance, and you might decide that Liquid Web is worth the money. Still… plans that start at
$
15.00
per month, not counting the costs of control panels? That's a hard sell. Unless Liquid Web's feature set looks tailor-made for you, you might start off elsewhere.
You can pay via the usual major credit cards, of course, or you can use PayPal.
 As always, use PayPal if you can. Another writer here used a credit card with Liquid Web's partner, Nexcess. They got flagged for fraud by an automated system, and it took
two weeks
 to clear up the mess. So yeah. PayPal is better and didn't give me any problems.
Cancellation & Refunds (Sort Of)
Canceling your VPS is simple enough.
You just have to open a ticket and say you want out.
 You can call them via phone or use the live chat, but in the end (after trying to convince you to stay), the sales team will just be opening a ticket for you. Might as well do it yourself. And that's what I did. I opened a ticket and got a request for confirmation via email about 15 minutes later. The whole process took no more than half an hour.
Liquid Web does offer a (sort-of) refund for VPS hosting (and only VPS hosting), but you only get a prorated amount back.
Let's say you pay for a year but cancel after six months; you only have to pay for those first six months. It's fair enough, as these things go, but it would have been nice to have, say, a full refund for the first 30 days.
Bottom Line
Liquid Web's VPS plans are great for people like me.
I am somewhat technical but not a developer or systems administrator. I can configure a server just fine if I have Google open in one tab and the support chat in another, and I like the amount of control you get over your server, even if you're not configuring everything from scratch. You still possess a robust support system for moments when you find yourself facing challenges. In particular, the support team, which, in my opinion, was excellent, stands ready to assist you. In numerous ways, this situation combines the advantages of both worlds.
The actual hosting features decent, but what you're really paying for is quality support
and the flexibility to (mostly) do what you want with your server. If that sounds good to you, Liquid Web is pretty good. Not cheap, but pretty good. It ain't for beginners, though, and it's not easy on the wallet. If you think Liquid Web might not be right for you,
check out our list of the absolute best web hosts
.
FAQ
What's the difference between Liquid Web and Nexcess?
Liquid Web is a company that does VPS hosting and dedicated servers, and that's it. It does not offer shared hosting… directly. A while back, Liquid Web actually bought a whole other company, Nexcess, which does offer classic shared hosting on powerful servers, with the same great support, while remaining mostly independent. We tested Nexcess's shared hosting, and you can read all about that in our in-depth Liquid Web review. If you'd like to see some more affordable hosting solutions, check out our list of the best web hosts in 2023.
Is Liquid Web's VPS hosting worth the price?
If you're running a site that's already making you a bit of money, or if you have some extra money to spend on good tech support, then yes. Liquid Web's VPS packages are worth the price… but it's certainly not the cheapest option. If you need a VPS on the cheap, look at Hostinger or InterServer, and do check out our web hosting coupon page to help you find a good deal.
Does Liquid Web offer Windows VPS hosting?
Yes, it does. Specifically, you can get packages with Windows Server 2016 or 2019, but neither is cheap. You'll end up paying a lot more for servers with a Windows license than a Linux VPS would cost. Unless you're absolutely dependent on technologies like ASP.NET, I just wouldn't. And even then, I'd consider rewriting all of my applications to something more relevant, like COBOL. Okay, that COBOL thing was a joke. The old nerds will get it.
Is managed VPS hosting better than unmanaged VPS hosting?
Well, if you don't want to manage server updates, administration, configuration, and security all by yourself… then yes. Managed hosting is better by a mile. I personally have an unmanaged server for my own site, but that's because I like doing things that make me feel like a real nerd the hard way.