While Hostinger's shared hosting platform has long been a favorite of ours here at Website Planet, it also offers a number of
VPS plans at low prices
, with a wide variety of operating systems and control panels to choose from. But does the high quality of Hostinger's shared plans translate to good value VPS options for your larger projects? With the sheer number of options available, there should be a hosting package that'll work for you at the price you are looking to pay. Well, that's the theory, anyway.
 I ran a WordPress-based test website on one of Hostinger's VPS plans to see just how good the service actually is.
I can tell you that it's good, but it's not particularly beginner-friendly. Hostinger's VPS plans aren't managed, so you will have to handle everything yourself. That said, I managed to squeeze pretty solid performance out of some very cheap servers. 
If your primary goal is to get your VPS hosting for less, Hostinger is pretty good value for money.
Features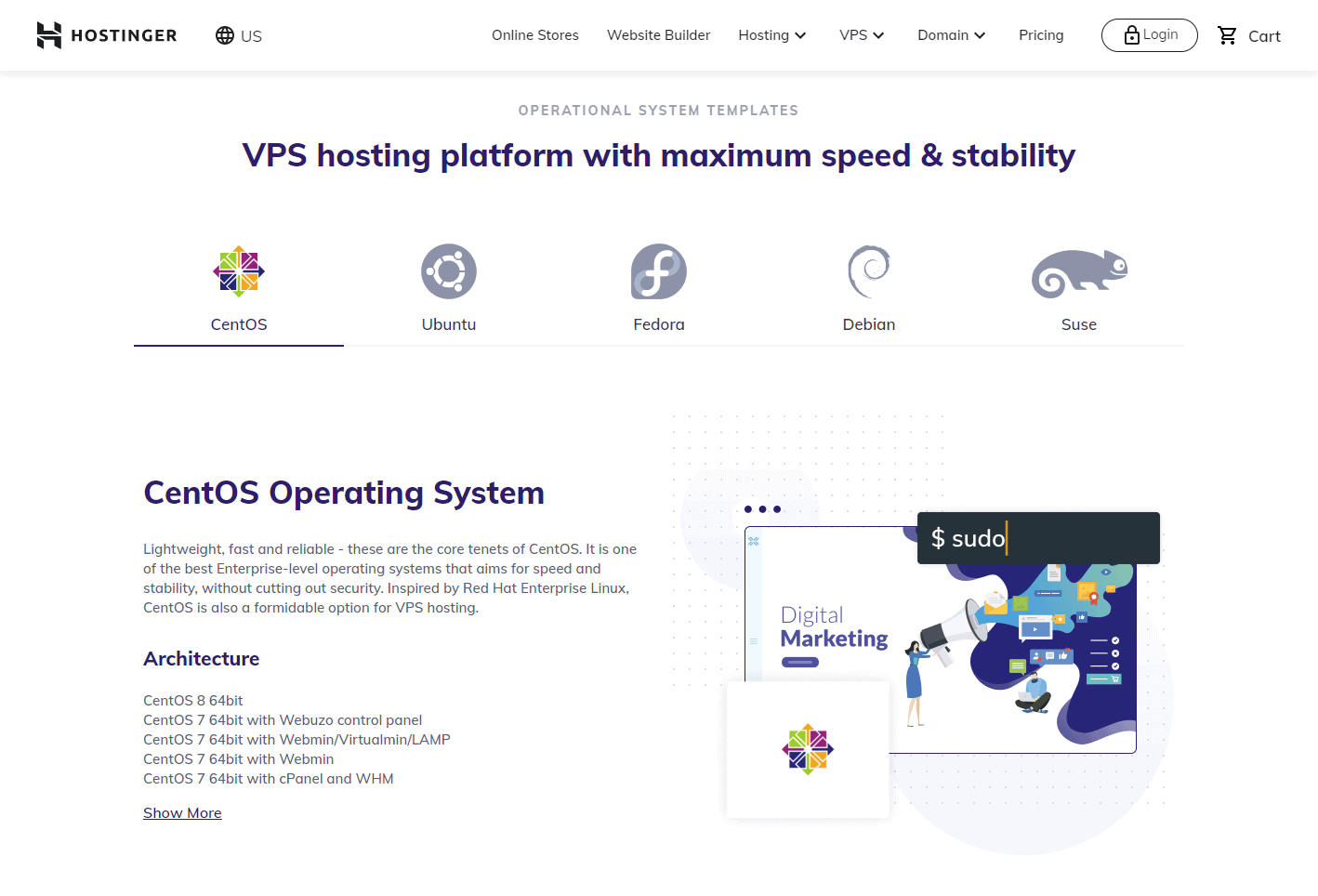 Hostinger's VPS Has Most of the Features You'd Expect, at Low Prices
While testing VPS hosts, I've found that
some of them "oversell" the servers, like airlines do with planes, and often with the same results: the server gets overcrowded.
According to its marketing, Hostinger provides guaranteed, dedicated resources,
and the support rep I talked to confirmed this.
Hostinger has six different VPS plans
, suitable for everything from a basic website to a power-hungry e-commerce store. One word of caution, however: the cheapest plan only has 1 CPU core, and 1GB of RAM. That's enough to run a basic site, I guess, but I wouldn't use it for anything resource intensive, especially if you expect high traffic.
I went with the appropriately named VPS 2 plan, which comes with 2 CPU cores, 2GB of RAM, 40GB SSD storage space, and 2TB of bandwidth.
 In theory, that's just about enough hardware to run a basic business site, and handle quite a bit of traffic if you get hit by a small-scale version of the Reddit effect, or something like it. All plans come with a dedicated IP address – which helps to reduce the likelihood that emails from your server will get marked as spam – and full root access to your server.
All plans also come with full 24/7 support, but Hostinger doesn't offer managed VPS plans.
 The marketing lists them as "semi-managed," which means you have to configure your server, update the software, set up your security, all that stuff. You can ask for help, and mostly the support team will tell you how to do things yourself…or may just link to a tutorial. If things go really wrong, support will help you get your server back up and running, but that's about it.
This is the first mark against Hostinger's VPS service: it's not very beginner-friendly.
That being said, if you're looking into unmanaged VPS hosting you should already have some technical knowledge, or at the very least a desire to learn on your own.
Choose Your OS and Control Panel
You can choose which operating system your server runs on.
You have a number of choices: CentOS, Ubuntu, Fedora, Debian, Suse, and of course, Windows.
 The Windows servers are, predictably, more expensive because Windows actually charges for its software license, and it's not cheap. If you want my advice, go with CentOS, as that's the one I've had the best experience with (things tend to work with minimal fuss). Then pick the control panel you want.
Update: As CentOS has recently announced its intentions to switch to a rolling release instead of versioned releases, I can't recommend it anymore, as this means less stability. I'd recommend Ubuntu instead.
Many server administrators are switching to Debian, while those with larger budgets may go to Red Hat Enterprise Linux, which CentOS was based on. Others are opting to wait, as one of the original creators of CentOS has begun a new project called Rocky Linux, which aims to be and do what CentOS used to do. When Rocky Linux is released, migrating should be a cinch (in theory).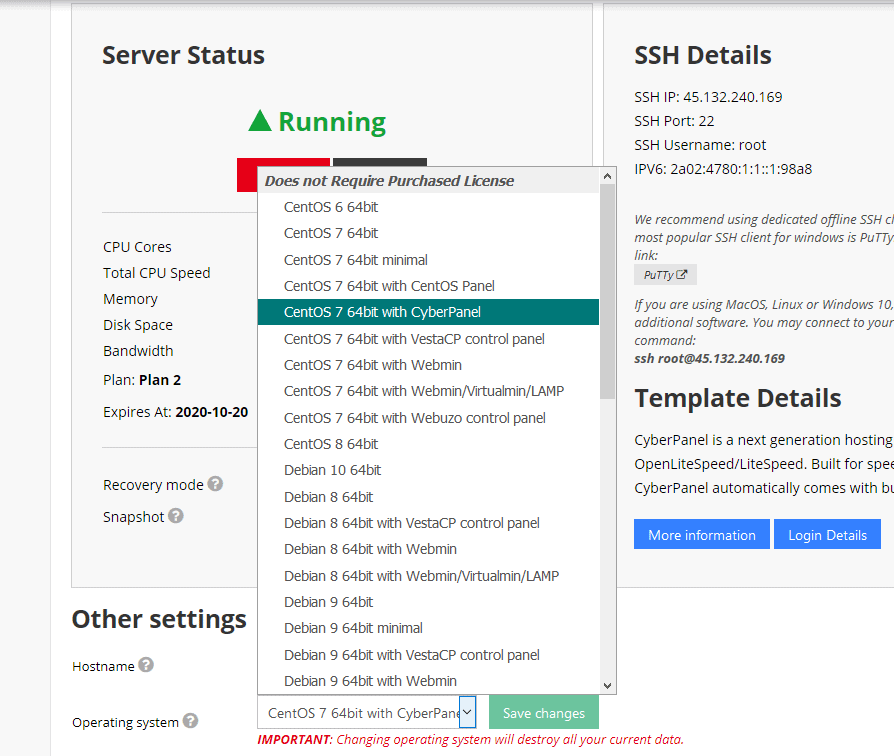 When it comes to control panels, there are a
ton
 of options, more than you'd get elsewhere. First, you have the usual cPanel and WHM, powered by the Apache server software. It's a familiar combination, but it costs extra, and the Apache software is a bit slow and dated at this point.
Moving on from there, you have Plesk, Webmin, Vesta Control Panel, Webuzo, and CyberPanel available for free.
 I chose a CentOS server with CyberPanel, because I'm familiar with both. CyberPanel is powered by LiteSpeed server software, which is newer and faster than Apache, and fantastic for WordPress. It supports free LetsEncrypt SSL certificates, and includes email servers and pretty much everything else you'll need.
There Are VPS Tutorials and a Huge Knowledge Base
Hostinger has amassed a fair collection of tutorials that introduce the fundamentals of running a VPS.
 These tutorials are not for absolute beginners. You are expected to know some things, like how to use the command line. If you're a power user who likes diving into your computer to see what it can do, these tutorials will be useful. I found myself referring to them on more than one occasion.
Then There Are Backups and Snapshots
Okay, this is admittedly a mixed bag.
You can create a snapshot of your server any time you like, and restore your server at a moment's notice.
 You only get one snapshot at a time, but as long as you keep it up-to-date, you should be fine. You
can
 get daily backups, but like so many other things on Hostinger, this costs extra.
It's not expensive, but you'd think at least some backups would be included in the price. They're not.
Ease of Use
This Is a Service That Expects you to Know What You're Doing
Hostinger's beginner-friendly tools for shared hosting are not included with VPS hosting, unfortunately. While the sign-up and creation of your VPS is easy enough, the actual server management tools are more technical.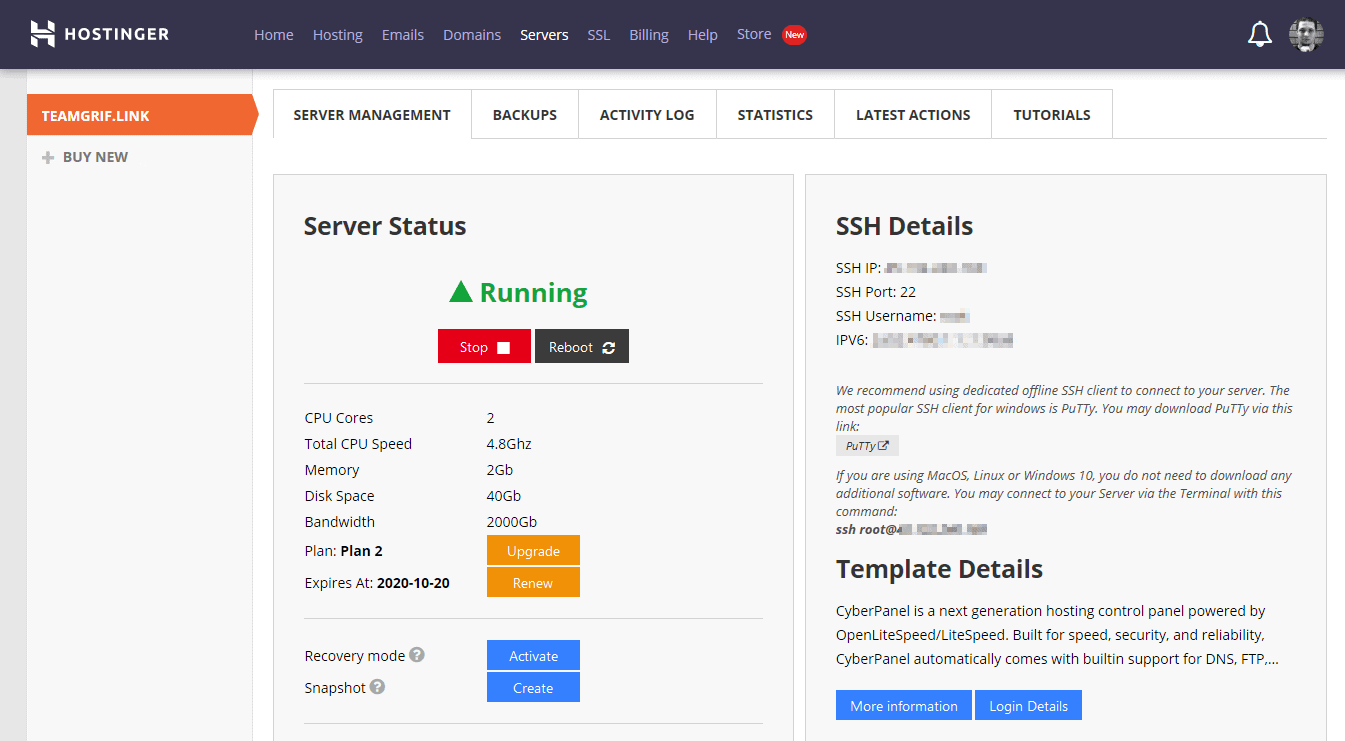 That being said, the tools you'll need are all there.
 If you think you've chosen the wrong OS, or the wrong control panel, you can just reinstall your server
 with any of the pre-defined server templates. And then, of course, you can use those control panels I mentioned before, and that will also hugely define your user experience. Not going to lie, I'm slightly in love with CyberPanel.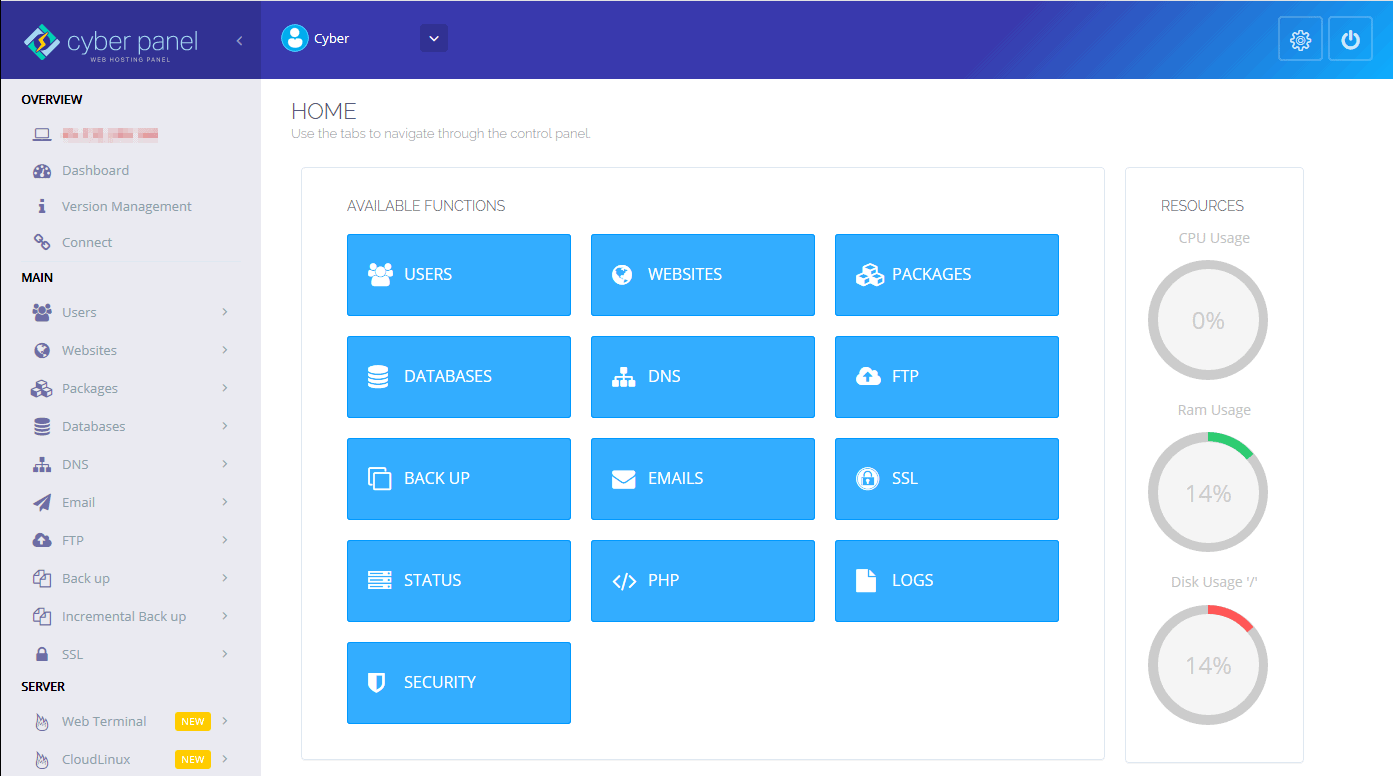 It should be noted that you might run into some bugs.
 When I went to cancel my service at the end of this review, I clicked on
Manage
 (like I always did), and couldn't even get to the server management screen. I got an error message instead, and had to contact support to get it fixed.

Install Apps Easily, Depending
This, again, will depend on the control panel you've chosen. cPanel comes with Softaculous, which allows you to install WordPress and hundreds of other CMSs any time you want. hPanel comes with Auto Installer, which does much the same thing. CyberPanel only lets you install a few things, including WordPress, Magento, Prestashop, and Joomla.
You Can Upgrade Your Plan Easily
There's good news and okay news, here. The good news?
You can upgrade your server at any time. It takes a click or two, with no muss, and certainly no fuss.
The only-okay news is that you can't upgrade bits of your server individually.
 Like, you can't pay just a little bit more for some extra RAM – you have to upgrade your entire server plan. It's not ideal, but it's not a dealbreaker for me, personally.
Performance
The Servers Are Fast Enough, If a Little Inconsistent
When we tested Hostinger's shared hosting
, we were excited to see some of the fastest loading speeds we've ever seen for a shared hosting service. I wanted to see if the VPS performance was just as good.
Hostinger's servers are in the US, the UK, Brazil, the Netherlands, Singapore, Indonesia, and Lithuania, which gives you a fair amount of international coverage.
To give the servers a real test, I uploaded a small, one-page WordPress site to my VPS. Please keep in mind that I specifically chose CyberPanel with my VPS package, which runs with the LiteSpeed web server. This means my WordPress site probably ran quite a bit faster than it would have on different server software.
The results? The complete page loading time averaged out at 1.72 seconds, and the servers maintained a nice, consistent 100% uptime. The page loading speeds were prone to spikes of slowness, though.
If you want to know what that means, I'll be getting into it below. If you'd rather just find out how well the support staff treated me,
skip to the Support section
.
GTmetrix
I ran several tests here to get an average page loading time (that's the whole page, not just the first bits of it). Ideally, you want to keep loading times under 2 seconds so people don't run off and live their lives on some other website, so
the average speed of 1.72 seconds isn't all that bad.
However, while the best page load time was a blazing fast one second, the slowest was 2.7 seconds. This means that even with minimal traffic, my VPS-based site was prone to having performance problems now and then. They're not
huge
 performance problems, but this is something to keep in mind.
UptimeRobot
So yeah, 100% uptime. It was a fairly short testing period, but still a good result.
However, the graph below will show you that there were, in fact, occasional spikes of slow response time. The occasional hiccup like this won't kill an online business, but if server stability is really important to you,
Liquid Web offers a 100% uptime guarantee
 with 1000% compensation for any downtime.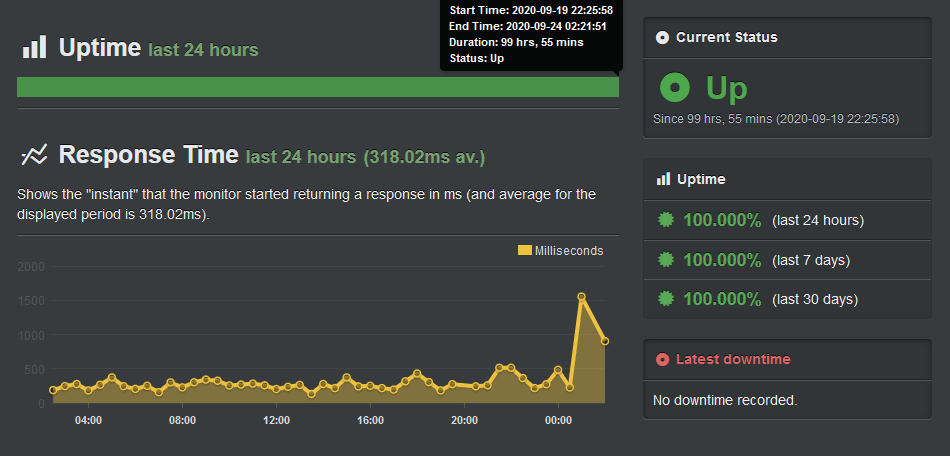 Support
Support Is Helpful with Questions, but Not Much Else
So this is a matter of policy: it's clearly stated (as I mentioned before) that Hostinger's VPS servers are only "semi-managed," which means that the support team largely won't do things for you. In my first interaction with the live chat support (aside from the knowledge base, all support is live chat), I asked how to connect a domain name to my VPS. I already knew how, but wanted to see what they'd say.
Well, they said to go look at a tutorial. The tutorial was helpful to me… but, as previously mentioned, not terribly beginner-friendly.
Then, I asked whether the Softaculous app installer came included with the cPanel plans. It does, which is cool.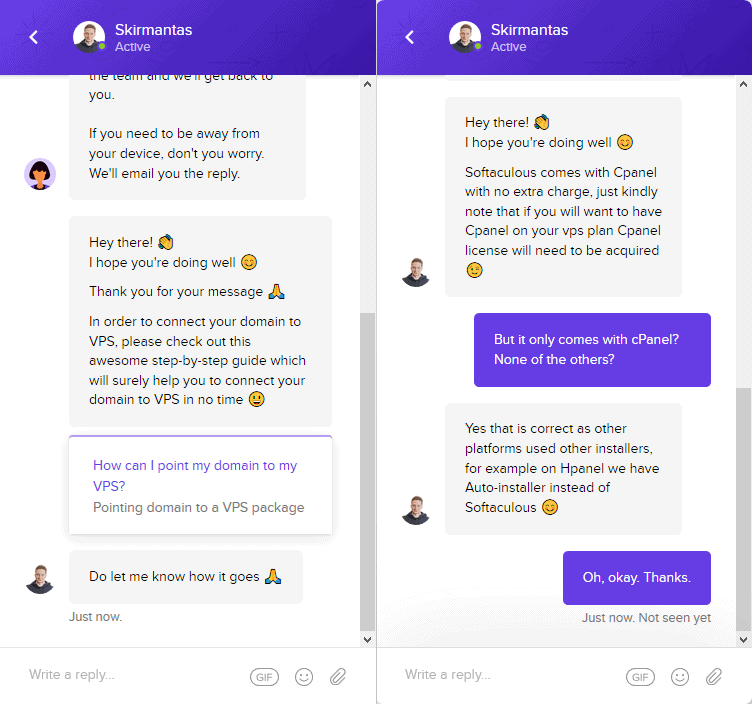 Am I weird for thinking that using a winking emoji when you tell a customer something is going to cost extra is just… tacky? Maybe I'm overthinking it, but that rubbed me the wrong way.
I decided to test the team with an open-ended question:
"I might be setting up VPS accounts for clients in the future. Which control panel would you recommend for an absolute beginner? Preferably not cPanel, because Apache is a bit dated and slow for me." Around 40 minutes later, I got this response via my email (if you're not there when the chat continues, the responses show up in your inbox):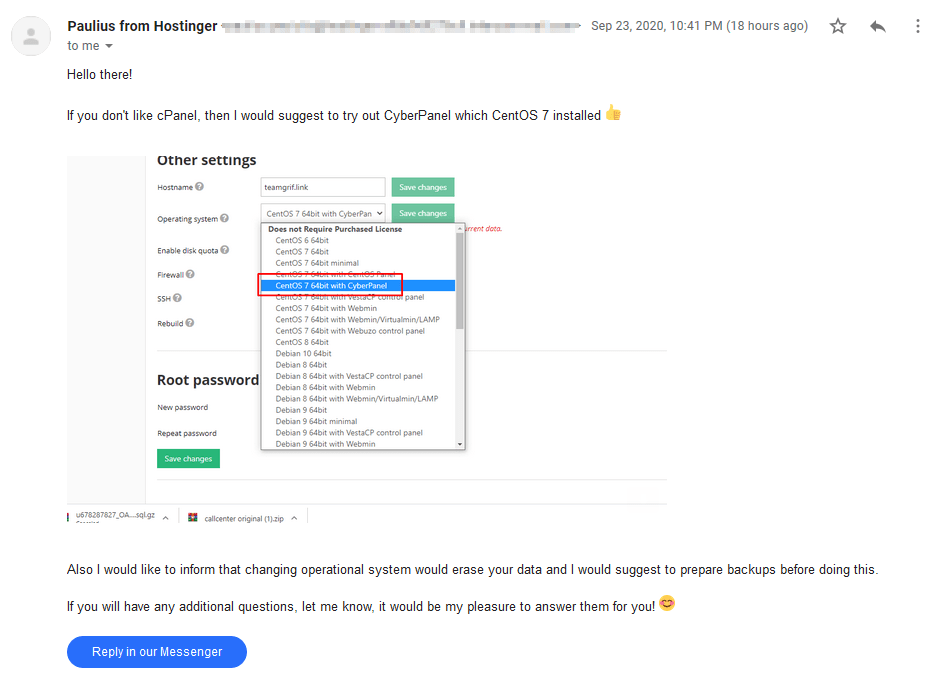 As you can see, the response didn't
quite
 answer my question. While I do love CyberPanel (and was already using it), I don't know that I'd recommend it to an absolute beginner. They did make the right recommendation for anyone who wants speed, though.
Pricing
And here we come to Hostinger's main selling point: it's cheap…very cheap.
Well, the starting prices are cheap, anyway. You'll have to pay a bit more when you renew your VPS plan. But a VPS that starts at
$
3.99
 per month? That's not bad
at all
.
A free domain name is included with some hosting plans from Hostinger
You can pay via all major credit cards, and PayPal. So far, I've said this in every single VPS review, but I'll say it again.
Use PayPal if you can.
 Lots of these hosting companies use a fraud detection system that can be… overzealous. Plenty of people end up spending time trying to actually get service, even after they've paid for it, because they have to prove who they are.
Cancellation
If the low prices aren't enough to keep you around, there
is
 a
30-day money-back guarantee
 to give you time to decide if Hostinger's right for you. The best news is that the cancellation  process is pretty simple. You have to talk to Support anyway. They do the cancelling and the refunding, and all of that good stuff. And if you paid via PayPal, you may want to turn off automatic payments. But once my cancellation process had begun, it was smooth sailing.
Refunds to the original payment method are processed within 7 business days, and you get the full amount back.
Bottom Line
Hostinger's VPS is good, but it could be better.
Lots of semi-standard features will cost extra, and that's why
the initial prices are so low
. The lack of a managed server option means it'll be harder to use for beginners. If you don't mind paying a bit more, you might want to
check out InterServer's VPS plans
. It offers superb reliability, more included features, and managed options.
FAQ
Is it easy to set up a Hostinger VPS account?
Well, easy is relative, isn't it? The actual sign-up process is simple enough if you know what you're looking for. If you know exactly which control panel you want to use, and what kind of server you want to run, then yes; everything is straightforward. If you want someone to set up your whole server for you, to the point that you only have to upload your site and walk away, then no. Hostinger's semi-managed VPS is not the best option for that. You can read more about the company's other hosting options in our in-depth Hostinger review, or check out our list of the best web hosting services in 2023 for some more beginner-friendly options.
How is VPS hosting better than shared hosting?
There are two main benefits. Firstly, VPS servers usually come with dedicated, guaranteed hardware resources. If someone else's VPS site is on the same computer (the actual hardware server) as yours, and runs into a ton of traffic, that's their problem, and theirs alone. Your site will not be made slower by anyone else's site, making VPS hosting generally more stable and reliable. Additionally, your site's security is separate from the security of other sites on the same hardware. If they get hacked, you don't. As long as your VPS is kept up-to-date and generally secure, what happens to another VPS doesn't affect yours. That separation of concerns is really the whole point of a VPS.
Does Hostinger offer cheap VPS?
Hostinger's VPS service is definitely on the cheap end of the spectrum. This is offset by the lack of any managed VPS plans, however, so you'll have to do a lot of server management on your own. If you want a discount on Hostinger's VPS plans, or for a whole bunch of other hosts for that matter, you could start by looking at our web hosting coupon page.
Can I handle a VPS if I don't have tech experience?
Unfortunately, I have yet to find a host that provides dead-easy VPS hosting that's also good. The simplest solutions usually come with cPanel, but that can be extra expensive, and kind of slow, especially when those VPS packages use the Apache web server. Better VPS hosting is, generally, more complex, and depends on you knowing what you want. The one VPS service that makes things dead simple is Kinsta, and that's because it offers the exact same technology to everyone: WordPress on good server tech. It's kind of expensive, though.