Email marketing is a powerful tool for making sales. 89% of marketers say this channel is their most important for lead generation, and its median ROI is a massive 122% — which is 4x higher than any other channel. If you aren't already using email marketing in your strategies, then it's essential to invest the effort to optimize the process.
In the age of AI and targeted advertising, it's no longer enough to send out the same post to your entire email list. Segmented campaigns are used in order to break down your recipients into categories, so you can send emails that are relevant to them specifically. This type of strategy results in 14.64% more opens and 100.95% more clicks than non-segmented campaigns.  
Planning segmented email marketing campaigns requires more forethought; you have to decide where to split your list and how to create bespoke content. The most common ways to segment include:
Location
Demographics
Psychographics
Relationship with brand
Below is a complete guide of different segmentation tactics and how to decide which is best for your business.
1. Strategies for Global Brands
If your brand caters to a multinational audience, then you have more challenges than most. Your email campaign must appeal to a variety of different seasons, time zones, cultures, and/or languages. Surveys show that 40.5% of recipients prefer to see ads that have been targeted to them, so you'll lose a large part of your market if you fail to cater to them. Fortunately, it's easy to split your list by location in most big email service providers (ESPs).
Once selected, you'll have considerable creative scope for the segmented content itself.
Staggered Emails
Countless studies have been done investigating the best day and time to send emails. Currently, most research points to Tuesday at 10 am as the optimum moment, but these statistics vary depending on the niche, purpose, and style of the message. What can be confirmed is that targeting your email to arrive when the recipient is most engaged is incredibly beneficial. In one case, a department store saw an 80% increase in unique open rates and a 34% decrease in bounce rate when using a send time optimization (STO) method.
Segment your campaign to send emails at different times depending on the users' locations. Where appropriate, use the language of the region you're sending to. Target different seasonal promotions to customers based in different countries around the world.
Geolocation Campaigns
Alongside ensuring your emails are seen when customers are most engaged, segmenting your campaign by location can also help customize your email campaigns further. These are some ideas:   
Nearest Store.

Regional promotions or alerts about where your products can be bought locally add a personal twist to email newsletters. They also drive sales by providing relevant purchasing information for each customer.

Invitations to Local Events.

If you're doing a tour or having simultaneous regional events, you can direct invitations to specific localities. Not only will it increase the chance of attendance, but it also stops other customers from receiving trivial emails they may mark as spam.

Bespoke Product Suggestions.

Different locations experience different climates. As a marketer, you need to be aware of how these affect culture. For example, a clothing brand would not benefit from sending a winter coat range promotion to customers living in California.
Connect with your ESP for instructions on how to create location-segmented campaigns on their platform if you're unsure how to achieve any of the above!
2. Simple Demographic Segmentation
Demographic is a term that pops up continually in marketing. It's used to group the market using fundamental identifying factors such as:

Age
Gender
Location
Occupation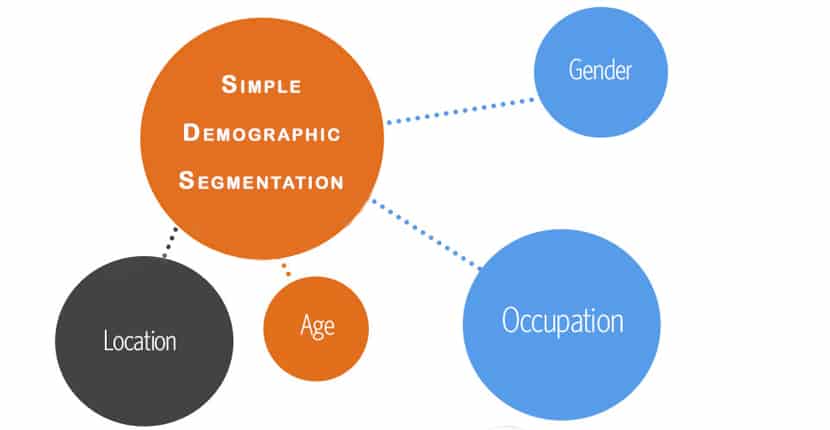 In the popular ESP client Mailchimp, demographics fall under the merge field section of the segmentation options. The platform recently released statistics showing that these campaigns received 14.06% more opens than non-segmented campaigns, and 9.15% more clicks. Interestingly enough, the bounce rate ended up being higher, which suggests that demographic segmentation alone may not be enough to entice recipients through the entire conversion process.
However, this tactic does provide an excellent baseline for email marketing campaigns that otherwise would be too general or irrelevant to perform well.
For example:
If you're a clothing, accessory, or gift brand, segmenting your campaign so different gender recipients receive different product suggestions will increase the likelihood of sales. However, it's worth noting that some audiences are moving away from gender-biased products and marketing, so they may actually prefer a unisex approach to your campaign.

For B2B marketing campaigns, it's essential to acknowledge the occupation and job positions of your customers. There's no point sending an email about new marketing software to a company's CFO.




For e-commerce companies, segmentation by age can help drive sales. Products that excite those in the 18-25-year age range are generally not the same as the ones bought by people 60+ years old. Even something as simple as changing the items showcased in the email will better target your advertising.
As mentioned above, more is often required than simple demographic segmentation. The generality of these categories does not account for lifestyle factors, so it helps to have more in-depth data on your customers.
3. Complex Psychographic Segmentation
Psychographics look at more detailed elements of a person's life, including values, attitudes, interests, opinions, personality traits, and lifestyle. These factors allow for much more detailed segmentation. Creating profiles for your customers allows for further customization of the content you send them.
Importance of Interests
You only have to take a look at the numbers to see the real benefit of embracing psychographic segmentation. While the percentage of people who open the email isn't higher than when split by demographics — at 9.92% more than non-segmented campaigns — the obvious difference is in the engagement.
The click rate is a drastic 74.53% higher than non-segmented campaigns, which far outpaces the 9.15% increase of demographic-based campaigns.
What is perhaps most impressive is the bounce rate, which drops by 17.61%. Since this figure actually increases when split by demographic, it highlights the importance of targeting lifestyle factors, rather than general social groupings.
Unfortunately, the one challenge of psychographic segmentation is that asking for too much information on a sign-up sheet can deter potential customers. They either don't want to share that much data with a company they're unfamiliar with, or it's just too time-consuming. One solution is to send a fun quiz or survey to your existing email list to find out more details about them.
How To Create A Survey
Numerous platforms offer the power to create fun and interactive quizzes, which your customers will enjoy.
WordPress Plug-ins.

If you're using a WordPress site, then plenty of plug-in options exist. Quiz and Survey Master allows you to create dynamic surveys that can be integrated automatically with MailChimp.
Google Forms.

Google provides resources for users to create quizzes. The Forms web app is easy to use and records all the responses in a handy spreadsheet.
Survey Monkey.

Founded in 1999, this website is a survey veteran. Survey Monkey offers numerous features, including the option of a paid upgrade. 99% of Fortune 500 companies use this method to collect data.  
SurveyGizmo.

As another elite survey platform, SurveyGizmo provides a wide range of price plans and an even more extensive feature list, including essay answers, a star rating grid, and audio/video input.
Campaign Examples
While creating a survey is an excellent first step, you also need to be tactical about the content you include. There's no point in asking about their favorite animal if you own a makeup website, for example. Consider how best you can fragment your company into different sub-niches.
If you're an outdoors equipment or adventure retailer, you can segment your campaigns based on the favorite activity of your customers. Some may prefer hiking, camping, or climbing, etc.

Booksellers can recommend authors based on their audience's favorite genres. This is a tactic that Amazon and Goodreads already use.

For those who sell food or produce, you can provide different options to those with different dietary requirements.
4. Strategies Based on Browsing & Buying Habits
The final option for segmenting your campaign is by looking at behavioral elements. While it's great knowing your customers' demographics and psychographics, it may be futile if you can't capitalize on their spending habits. Every person presents unique behaviors when it comes to browsing, buying, and engaging with marketing campaigns. Fortunately, it's simple to track these processes and create email splits from real-time data on your customers.
Email Engagement
By segmenting by metrics such as open rate and click-through rate, you can target your emails to those who are most engaged. Conversely, you may want to put more effort into catching the interest of those who haven't yet developed brand loyalty. It's best to look at this element in four categories.
Inactive customers who don't even open your emails.

The challenge here is to create snappier headings and previews to entice them into clicking.

Those who open your emails but never click through.

In this case, it's your email content that needs redesigning.

People who are highly engaged but aren't making purchases.

Consider possible reasons for this: Are prices too expensive? Are you suggesting the wrong items?

Existing customers who have already bought something.

For these people, focus on acknowledging and offering rewards for their loyalty.
Spending Brackets
Not only does income profoundly affect the types of products people purchase, but it also has an impact on the way they view advertising. While 36% of those earning under $35,000 will avoid companies with too much advertising, this rises to 46% for those making over $100,000. Similarly, 29% of people in the latter bracket say they would pay to see less advertising, whereas only 11% of those on lower incomes agree. These figures show the benefit of segmenting by income. A campaign of this type would include:
Product suggestions based on price

Reduced frequency for those on a higher budget
Previous Purchases
Knowing the products that customers have previously bought is infinitely useful when segmenting your campaigns. Not only does it give you an idea of the type of items they may choose, but it also provides insights into their spending habits. For example, if they buy a big cart around payday but nothing else for the end of the month, you'll know it's best to target them just before they get their wage. Others, on the other hand, may make small purchases throughout the month.
Several add-ons exist that can track customer purchases for you:
Google Analytics.

You can set the track conversions, and it will keep a record of purchases.
E-commerce Plug-in.

You can connect your store to MailChimp for automatic updates of customer activity.
ClickTale.

You can get an in-depth view of visitor activity on your site.

Salesforce.

You can integrate this with MailChimp and it's easy to use.
Optimize Your Email Campaigns with Segmentation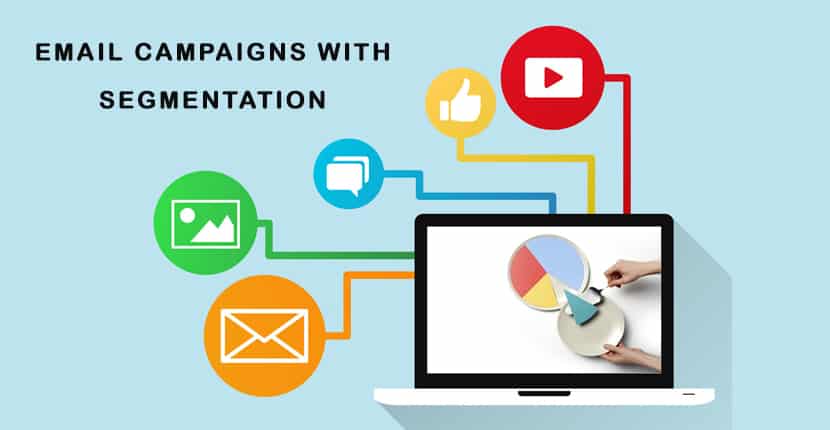 Email is one of the most powerful marketing tools at your disposal. If you haven't already employed its power, then the time to start is now! Using these email segmentation strategies, it's easy to target your customers with relevant, bespoke content just for them. You only have to look at the general stats to see the benefits of using this method. Plus, so many great apps exist that make it easier than ever!

Use this guide to consider who your customers are and discover which form of segmentation would most benefit you!