In this Hostwinds vs GoDaddy contest, it all comes down to which vendor provides better value for money. To make a fair comparison, I evaluated both services in terms of features, performance, security, pricing, and support. I found that Hostwinds is cheaper and offers unlimited resources, even with its smallest package.
Click here to see Hostwinds's latest deals
or keep reading to find out what makes Hostwinds the winner of this comparison.
1. Plans and Pricing
Hostwinds is Cheaper Than GoDaddy
Hostwinds and GoDaddy offer many of the same hosting solutions, including; shared, reseller, VPS, and dedicated servers. Hostwinds also has White Label and cloud hosting, whereas GoDaddy offers managed and unmanaged WordPress hosting. Hostwinds has three personal (Budget) and three Business shared hosting plans (Linux only). GoDaddy has four shared hosting plans for Linux and three for Windows.
A free domain name is included with some hosting plans from Hostwinds
GoDaddy Hosting Web Hosting
A free domain name is included with some hosting plans from GoDaddy Hosting
With Hostwinds, you can subscribe monthly, quarterly, semi-annually, annually, biennially, or triennially. With GoDaddy, you can choose monthly, annual, biennial, or triennial subscriptions. The longer the subscription term, the more cost-effective it is with both hosts. You'll find that Hostwinds' packages (even the Business plans) renew at a lower price than GoDaddy's Linux-based shared hosting plans. Hostwinds also have better discounts than GoDaddy. Hostwinds provides a free domain, free website migration, and a 48-hour, 14-day, or 30-day money-back guarantee depending on the subscription period. On the other hand, GoDaddy only offers a free domain and free website migration with WordPress hosting. You get a 48-hour money-back guarantee with monthly subscriptions and 30 days with annual billing. The winner? Hostwinds. Even though GoDaddy has affordable shared hosting packages, Hostwinds provides a cheaper renewal rate and more attractive discounts.
2. Features
Hostwinds Has Better Resource Allocations and Features Than GoDaddy
With Hostwinds' six shared hosting plans (Budget and Business), you get unlimited SSD storage, unlimited bandwidth, unlimited email accounts, and from 1 to unlimited hosted websites. All packages come with free Cloudflare CDN, daily backups, free Weebly site builder, the latest cPanel, Softaculous one-click installer, and a free SSL certificate. The Business plans also provide LiteSpeed Web Server, optimized MySQL, and unlimited FTP accounts. However, with GoDaddy, you get from 100 GB to unlimited HDD storage, from 1 to unlimited websites, from 10 to unlimited databases, unmetered bandwidth, and free Office 365 Email (for the first year). GoDaddy also offers cPanel and an application installer with its plans, but it doesn't provide free CDN or a website builder. Plus, only the higher-tier plans come with a free SSL certificate. Check out the following comparison table to further compare Hostwinds and GoDaddy:
| | | |
| --- | --- | --- |
| | Hostwinds | GoDaddy |
| Hosting Types | Shared, reseller, White Label hosting, managed VPS (Linux and Windows), unmanaged VPS (Linux and Windows), cloud, dedicated servers | Shared (Linux and Windows), reseller, WordPress hosting (managed and unmanaged), VPS, dedicated servers |
| Free Domain | ✔ | ✔ |
| Free SSL Certificate | ✔ | With certain plans |
| Disk Space | 30 GB – Unlimited | 20 GB – Unlimited |
| Bandwidth | 1 TB – Unmetered | Unlimited |
| Automatic Backups | ✔ | ✔ |
| Control Panel | cPanel | cPanel, Plesk |
| Email Accounts | Unlimited | 1 Free |
| Free CDN | ✔ | Only with WordPress hosting |
| Free Site Migration | ✔ | Only with the fully managed WordPress hosting plans |
| Money-Back Guarantee | 30-days | 30 days |
The winner? Hostwinds. Hostwinds is more generous with its resources in its shared hosting plans and offers more freebies than GoDaddy.
3. Performance
Hostwinds Has Slightly Better Loading Speeds
Hostwinds has three server locations, including two in the U.S.A. and one in the Netherlands. GoDaddy only has two server locations – the U.S.A. and India. Even though Hostwinds has more locations, GoDaddy's are more dispersed. While Hostwinds uses SSD storage with all its plans, GoDaddy only uses it with specific plans. SSD storage performs much faster than regular HDD storage in terms of data processing, reflecting on your website's loading speed and overall performance. Hostwinds includes a free CDN with all its plans – a feature GoDaddy only provides with its WordPress hosting plans. A CDN, or Content Delivery Network, places your website on a global network of cloud servers and boosts its loading speeds from different locations worldwide. Hostwinds promises a 99.9999% uptime guarantee, and GoDaddy promises 99.9%. Both hosts showed very minimum downtimes during testing. When testing Hostwinds' loading speeds from different locations, it showed impressive timings everywhere, leading to a perfect global score.
You can find the test details in Hostwinds' full review
. GoDaddy recorded the same global score, but it had one slightly slower location. Even though it wasn't slow enough to bring the global score below perfect, it still counts as a minor difference between the two hosts.
Check out the test for yourself in GoDaddy's detailed review
. Hostwinds has more performance features and slightly outperformed GoDaddy in the speed tests, making it the clear winner in the performance round.
4. Security
GoDaddy Has More Free Security Features
Hostwinds' security is not one of its strong points. Most of its security features come in an optional paid add-on called Windshield. The package includes DDoS protection, firewall setups, server hardening, and security audits. On the other hand, GoDaddy includes all these features as standard with its plans. Hostwinds offers CloudLinux OS as an optional system, while GoDaddy uses it with all its Linux-based shared hosting plans. CloudLinux OS isolates each account on the same server to protect it against threats targeting other accounts. It is also responsible for the fair allocation of server resources. Hostwinds provides free automatic daily backups with all its plans, while GoDaddy only includes this with some. GoDaddy provides more security features with its plans than Hostwinds, making it the winner in this round.
5. Support
Hostwinds Has More Support Channels and More Responsive Staff
Both Hostwinds and GoDaddy have comprehensive and organized knowledgebase sections with countless articles and tutorials. With Hostwinds, you get 24/7 support via live chat, phone, email, and support ticket. Even though I instantly connected with the live chat, the representative wasn't as helpful as I would have expected and provided some incorrect information.
GoDaddy, on the other hand, has only two support channels – live chat and phone. The phone support is available through multiple global call centers serving several regions around the world. Even though both are supposed to be available 24/7, the live chat isn't always online. Even when it is, I found it hard to get through to someone. It's not the responsiveness I would expect from such a big company.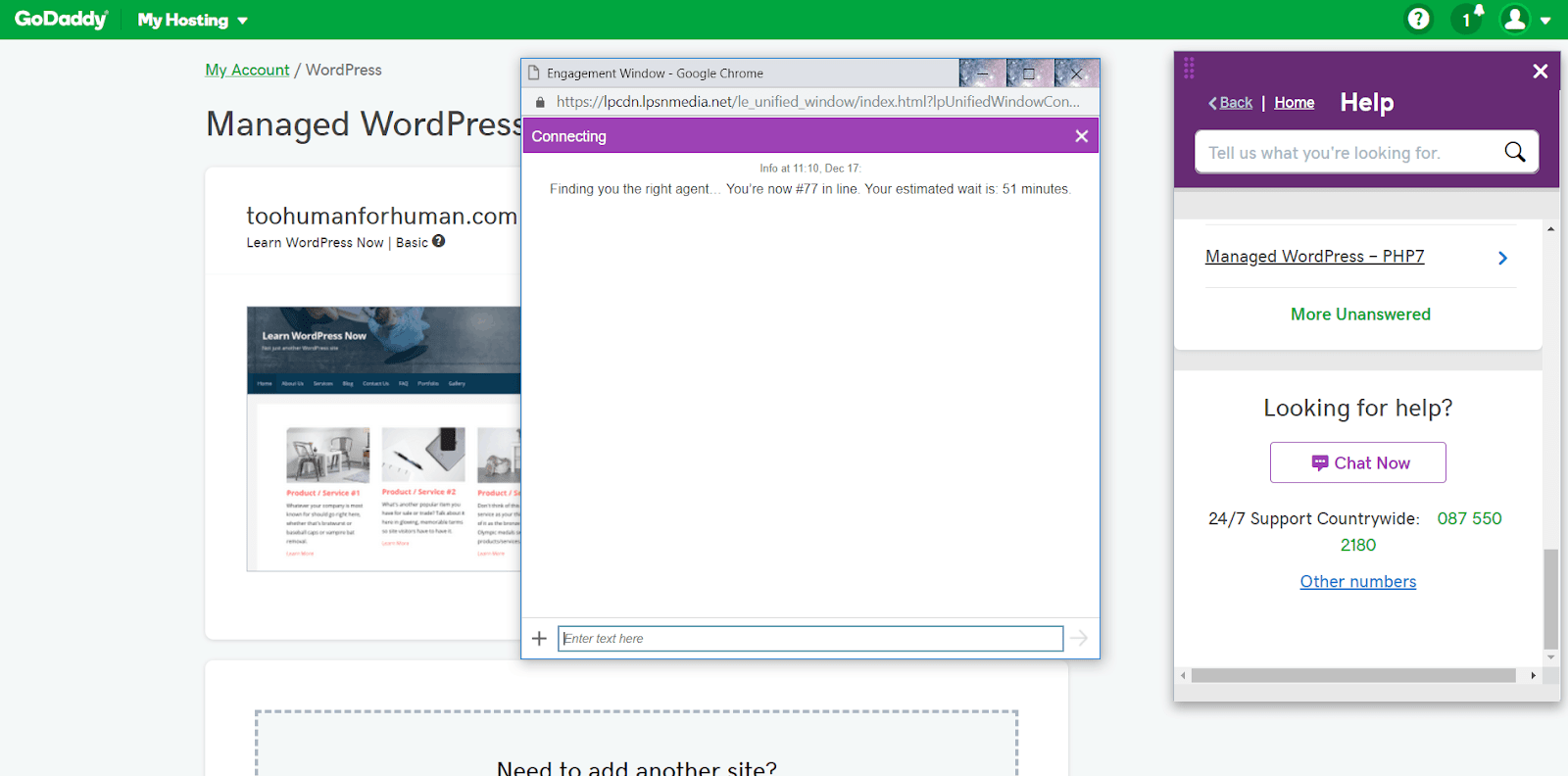 Hostwinds offers a wider array of responsive support channels compared to GoDaddy. Despite the occasional provision of incorrect information by the support personnel, Hostwinds maintains a higher level of responsiveness than GoDaddy.
Hostwinds Is the Champion
The Hostwinds plans are packed with generous resource allocations
and cover all the essential features needed to kickstart your business. It also has fast loading speeds and a more responsive support team. GoDaddy is also good, but it has some limitations, slower performance, and is more expensive than Hostwinds. Hostwinds managed to snatch a spot on our
list of the best web hosting services
.
Plans and Pricing
Cheaper package renewal rates. Better discounts. 48-hour, 14-day, and 30-day money-back guarantee
More expensive. 48-hour and a 30-day money-back guarantee
Key Features
Free domain, free site migration, free SSL, unlimited SSD storage, free Weebly site builder
Free domain, free site migration (with certain plans), HDD storage with most plans, and free SSL (with higher-value plans)
Performance
More server locations, free CDN with all plans, 99.9999% uptime guarantee, minor downtimes, slightly faster loading speeds
Fewer server locations (more spread out), free CDN with specific plans, 99.9% uptime guarantee, minor downtimes, slightly slower loading speeds
Security
Windshield (optional paid add-on), CloudLinux OS (optional), free daily backups with all plans
DDoS protection, 24/7 server monitoring, strong firewalls, free daily backups with specific plans
Support
Comprehensive knowledgebase, 24/7 live chat, phone, email, and support ticket, high responsiveness, staff aren't very knowledgable
Comprehensive knowledgebase, 24/7 live chat and phone, global call centers, low responsiveness and availability, staff are helpful
FAQ
Which is better, GoDaddy or Hostwinds?
There's a reason why Hostwinds is among the top 10 web hosting services and GoDaddy isn't. Hostwinds delivers faster performance, more budget-friendly prices, unlimited resources, and better support.
Does Hostwinds offer WordPress hosting?
No, Hostwinds doesn't offer WordPress hosting. Nevertheless, you can install WordPress and other popular CMS apps using the Softaculous one-click application installer. If you want more WordPress hosting options, check out my top recommended managed WordPress hosting services.
Does GoDaddy use SSD?
Not with all packages. GoDaddy only offers SSD storage with its VPS and dedicated server plans. The rest of the plans come with HDD storage. GoDaddy not quite right for you? Explore these cheap and fast SSD hosting services.
Is Hostwinds good for VPS hosting?
Although Hostwinds offers several managed and unmanaged VPS plans for Linux and Windows (with SSD storage, nightly backups, and 1Gbps ports), it didn't make it to our expert list of cheap and trusted VPS hosting services.