We're here to talk about the best SSD web hosting services available today.
The ones that have invested in state-of-the-art infrastructure, boosted their SSD servers with lightning-fast connections, and still manage to offer extremely attractive prices. I've had the pleasure of finding some amazing hosts. They're all here in this list, so just read on and understand which one can provide you with the most value.
What We Look For in the Best & Cheapest SSD Hosting Services
Generous SSD storage space – I've checked the SLAs (service-level agreements) and made sure that you're getting a generous amount of storage space. With some hosts, you can even get unlimited SSD hosting.
Additional resources and uptime guarantee – SSD storage is a start, now we need bandwidth, adequate RAM memory, enough CPU computing power, and a guarantee that everything will remain as it should be almost 100% of the time.
Data center location – It's important to understand what SSD hosting is and isn't. While it's a huge improvement over HDD in terms of speed and reliability, it still can't teleport data. You'll want the data center location to be as close to your target audience as possible.
Growth potential – When you grow (you will, if you put in the time and effort!) it's going to be time for a VPS (virtual private server). These hosts can make that transition as easy as pie.
Price – Obviously. With some of these companies, I'm talking just a few bucks a month. The best part is that it doesn't come at the cost of quality.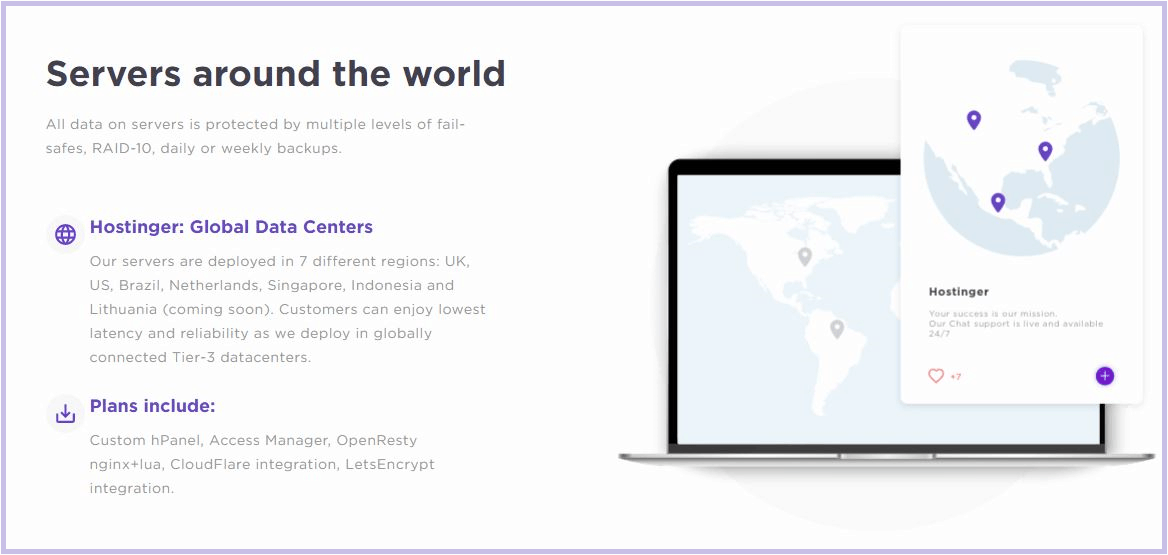 Hostinger was an obvious contender, as it offers what are
probably the lowest prices in the market for long-term SSD hosting.
I found out that the level of service not only compares to expensive hosts, but usually surpasses it. Doing away with phone support is one thing that enables Hostinger to keep prices so cheap while still providing a speedy service. I've tested uptime with Hostinger, and it is indeed above 99.9%, as promised, and my site's performance was fantastic in the US and all over Europe. Don't be put off by the lack of phone support, because
Hostinger's knowledge base and live chat agents are some of the best around.
Live chat is available 24/7, and the representatives have been properly trained to help you with anything from connecting your domain to optimizing WordPress.
10 GB of SSD storage space – That's on the basic Hostinger plan. The two more advanced plans offer 20 GB and 30 GB of storage and can host an unlimited number of websites. The basic plan is limited to one website.
Loyal customer guarantee program – Hostinger rewards your loyalty. The longer your contract length (longest term is four years), the cheaper your monthly rate will be. I've also had success getting extra months and benefits after chatting with support, so definitely give it a try!
30-day money-back guarantee – If you find yourself wanting to cancel the service, just contact support within the first month and you'll get a full refund of your hosting bill.
Business shared hosting plan – Packed with many extra features, including daily backups, an SSL certificate, and four times the computing power of the basic plan, the Business plan is still well within what I'd consider cheap.
To learn more about everything the company has to offer, read our
in-depth Hostinger review
.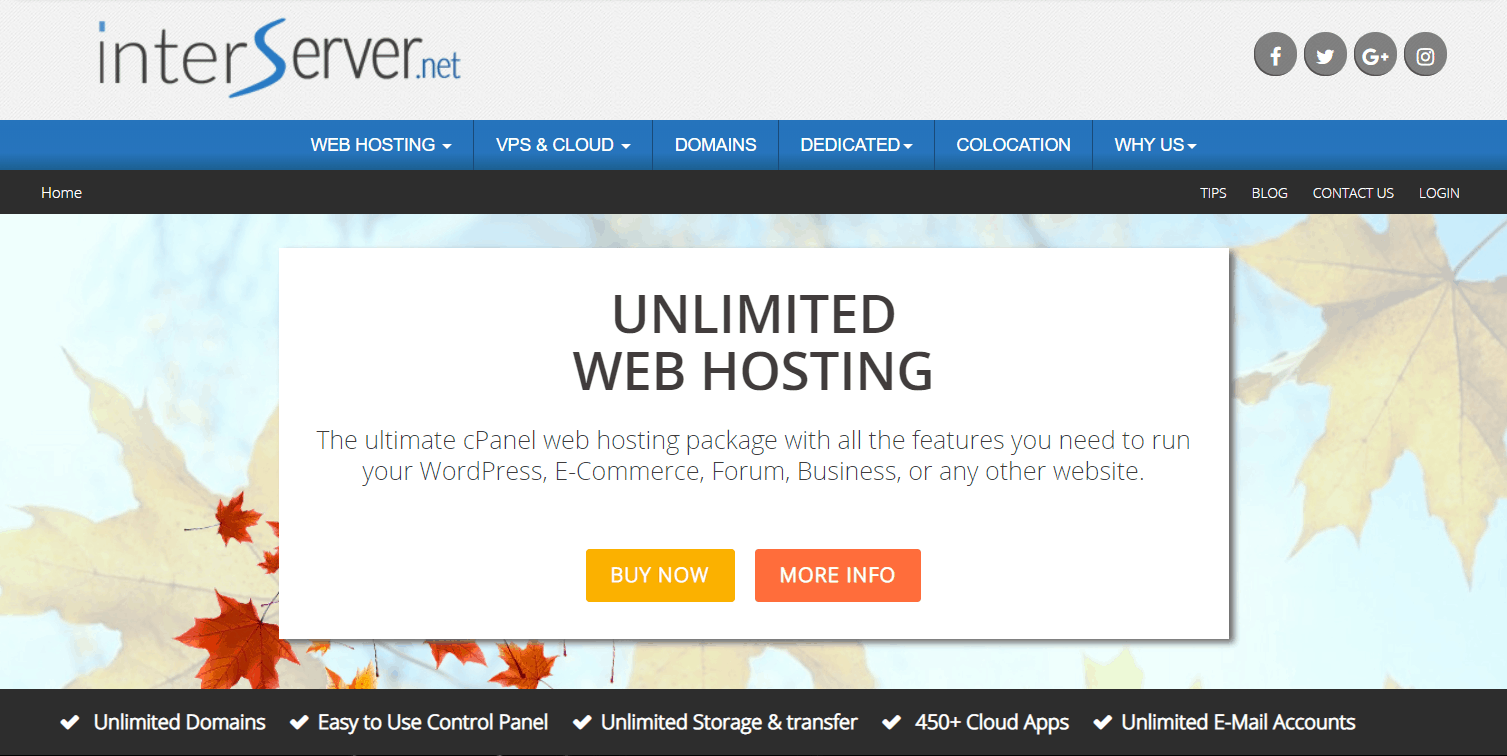 One of the things I love about InterServer is that the company doesn't play the tiered plans game. There's no basic plan that's missing a firewall, or an intermediate plan that lacks premium support. It's much simpler.
InterServer has one shared hosting plan
, and it comes with everything you need.
InterServer is also one of the few options out there with an affordable monthly billing plan
. Many hosts charge a ridiculous price for monthly billing – after all, they want you to commit long term. If you'd rather not pay upfront for multiple years of hosting, InterServer is your cheapest and fairest option. 
The hardware itself is SSD-based, and the shared plan also includes useful extras, from an SSL certificate and security scans to a CDN, backups, and a firewall.
Note that all company data centers are located in the US, so while loading times in North America and Western Europe are excellent, it may not be the best choice for visitors from further away.
Unlimited resources

– Within the limits of fair use. You can't back up your HD movie library to InterServer, but you can host

as

many

websites as you'd like, without worrying about them running out of space or bandwidth.

Excellent performance

– InterServer's support agents perform server optimizations to maximize your site's speed, and it shows. My website from InterServer received great optimization scores and loaded under one second in multiple locations.

Security tools

– Your plan automatically includes the InterShield Security firewall for blocking hackers, and the Immunify360 tool for scanning your hosting drive and making sure no malicious files or scripts are lurking within.

LiteSpeed caching – You can easily create a cache of your website using this handy tool, available from the control panel. It will go a long way to cutting loading times for mostly static websites.
To see how we tested this web host, check out our
full InterServer review
.

All-SSD servers, ten data center locations, and a ton of free extras.
What's not to love? Be it in the US, Europe, or even Japan, you can build your website right next to your target audience. FastComet is very clear about the resources provided with each plan, so you're assured an extra level of stability and reliability. Balancing resources in shared hosting is a tricky business, so kudos to FastComet for guaranteeing access to generous amounts. FastComet also made it onto our list of the
top five shared hosting providers this year
. The more advanced plans come with quite a few other speed-related perks, from a CDN to caching (find out more about these in our
expert FastComet review
). Just know that the low price advertised on the homepage is for the first period only, so
only a long-term plan will let you fully enjoy the savings.
15 GB of SSD storage – The basic plan has 15 GB, while you get 25 GB and 35 GB on the more advanced ones. The basic plan can host a single website, and the two advanced plans can host unlimited websites.
Cloudflare CDN – All FastComet's plans include Cloudflare's global server deployment to cache your website and quickly deliver it to users all over the world. The integration is easily done using the hosting panel.
Extra caching layers – Advanced server-side speed optimizations, including the Varnish web accelerator, are available on FastCloud Extra, the highest-level shared hosting plan.
45-day money-back guarantee – FastComet's generous guarantee is longer than the industry standard. It's not InMotion's 90 days, but then again, few things are.

SiteGround has become a fan-favorite of many web developers, and for good reason.
While its prices aren't the lowest in the industry, the company still provides affordable shared hosting
that's packed with a lot of useful extras. Because it's aimed at tech-savvy developers, SiteGround knows better than to skimp on hardware. All plans are hosted on the latest SSD servers, and every website I hosted with it had excellent loading times in the US and Europe. The company also operates a responsive support service, available 24/7 through live chat, tickets, and phone (it gets 5/5 in
our in-depth SiteGround review
). The 30-day money-back guarantee ensures that you'll be able to test the services and make sure they fit your needs.
10 GB of SSD storage – SiteGround's cheapest plan has fairly limited storage, while the second tier comes with 20 GB of storage, and the third, most advanced one, with 30 GB. You'll be limited to one website with the basic plan, but the other two plans can handle unlimited websites.
SuperCacher – This is SiteGround's proprietary speed optimization and caching plugin. There are three SuperCacher levels, and each one will optimize your site's performance further. Only the first level is available with the basic plan, but all three levels are provided with the more advanced plans.
Cloudflare CDN – All SiteGround shared hosting plans come with Cloudflare integration. Using a one-click interface, you can activate your service and start serving your worldwide users faster and more efficiently.
Daily backups – Reliability is one of the key benefits of SSD, and backups can provide you with even more peace of mind. SiteGround will take care of automatic daily backups, and the two advanced plans will also let you back up your site on-demand.

A2 Hosting prides itself on being a jack of all trades, providing everything from SSD shared hosting to advanced dedicated servers.
A2's shared hosting plans are among the cheapest in the market and can be upgraded to greatly increase loading speeds.
There are
a lot
of plans available on the company's site, so let me make some sense out of it: you'll want the classic shared hosting plans, which can be used to install WordPress. The managed WordPress plans might make things easier, but the price tag is higher. If you're looking to host a specific development environment or framework, A2 is one of the only companies providing shared hosting plans that have been optimized accordingly.
For Node.js, Python, and more, you can find a shared SSD plan that's usually much cheaper than the alternatives.
If you want specific Node.js hosting, check out our round-up of the
best Node.js hosting providers
.
Unlimited SSD storage – All plans are unlimited. It's subject to fair use terms (you won't be able to use it as your personal cloud), but as long as you play by the rules, there are no limits.
Turbo upgrade – While the basic hosting is a great fit when you're just starting out, you might find yourself requiring some extra juice down the line. The Turbo upgrade will migrate your site to a superior server with fewer shared users, boosting speeds by up to 20x.
Four data center locations – Located in the US, Europe, and Asia, they can serve almost any target audience. A2 owns and maintains all four locations and hardware, leading to better and more reliable performance.
Anytime money-back guarantee – A2 has the best guarantee in the market. No matter how long you sign up for, you can always get your money back. If you ever feel that the services aren't right for you, just cancel and get a pro-rata refund.
For a full list of features, see our
in-depth A2 Hosting review
.
How Do You Choose Between the Best SSD Hosting Services?
Since all five members of our list exhibit exceptional reliability, how can you determine which one is suitable for you? I have presented several use cases and incorporated a helpful table for your reference.
For the cheapest SSD hosting available, Hostinger is an easy pick.
It does require a long subscription period, but the prices are simply unbeatable. If your target audience is located in the US and you're looking for an all-inclusive hosting plan that can give you great speeds at an affordable price,
InterServer
 could be the ideal choice for you. If you're targeting a global audience,
SiteGround
and its included CDN will be your best bet.
For American audiences, I'd go with InterServer.
If you ever find yourself needing a more managed hosting solution, know that
Liquid Web
and
Flywheel
are two excellent options. They're more expensive but can make your life easier.
This comparison table can help you decide.
| | | | | | |
| --- | --- | --- | --- | --- | --- |
| | SSD Storage on the Starter Plan | Data Center Locations and CDN | SSL Included | Money-Back Guarantee | |
| Hostinger | 10GB | US, UK, Netherlands, Lithuania, Singapore | Only with the Business plan | 30 days | |
| InterServer | Unlimited | US | With all plans | 30 days | |
| FastComet | 15GB | US, UK, Canada, Germany, Netherlands, Singapore, Japan, India + Cloudflare CDN | With all plans | 45 days | |
| SiteGround | 10GB | US, UK, Netherlands, Singapore + Cloudflare CDN | With all plans | 30 days | |
| A2 Hosting | Unlimited | US, Netherlands, Singapore | With all plans | Anytime | |
FAQ
Which is the best SSD hosting provider?
There's no one-host-fits-all with SSD hosting (or any other kind of hosting), so the best SSD hosting provider has to be the one that best fits your needs.
Hostinger
is the cheapest option (and it
impressed us when we put it to the test
), but
FastComet
 has a lot more data center locations so it's a top choice if your audience is in Asia and Australia. We've recently tested dozens of web hosts for our guide to the
best web hosting providers
, so you can find more recommendations and full expert reviews there.
What's the difference between SSD hosting and HDD hosting?
Put simply, SSD hosting is faster. Just as laptops with SSD drives are faster to load documents compared to computers with older HDD drives, servers that use SSD storage are faster to respond when someone visits your website. This results in faster page loading speeds. Most hosts are using SSD storage with hosting plans but there are still some that are running servers with outdated technology and HDD drives. For the best performance, look for hosts with SSD-only servers like
FastComet, which did really well in our tests.
InterServer
is another top choice that only utilizes SSD servers.
Which is better, SSD hosting or cloud hosting?
It really depends on the size of your website and what you're using it for. If you just want a small personal website, a basic business website, or a blog, SSD hosting is more than adequate (and cheaper, too!) Cloud hosting is more reliable and faster, but it comes with a higher price tag. You can read more about the
best cloud hosting providers
in our detailed guide. A compromise between SSD hosting and cloud hosting would be to choose a host like
FastComet
that uses CloudLinux OS to simulate a cloud hosting environment, or
A2 Hosting
, which offers shared hosting with turbo servers powered by LiteSpeed.
Can you get free SSD hosting?
You can, but to be honest the disadvantages outweigh the advantages (especially when you can get hosting from
Hostinger
at rock-bottom prices). Our guide to the
best free hosting providers
explains why free hosting might not be the best idea. If your budget is really tight, our
coupons page has some really great discounts
.