If you are a GoDaddy hosting customer, switching to use its email marketing services is easy. It's also cheap compared to other email providers in the market, such as Constant Contact, making it attractive for small business owners. While
Constant Contact costs more than GoDaddy Email Marketing, it also has a reputation for being one of the most user-friendly services out there
– perfect for start-ups, solopreneurs, bloggers, freelancers, and more. So which works best for you? The budget deal or the service that's so simple you'll feel like you've mastered email marketing in no time? As a review writer, freelancer, and private blogger, I've tested and used plenty of email marketing services in my time. After testing Constant Contact and GoDaddy side by side, I can tell you there's only one winner from my perspective. Sure, low prices are attractive. But when I'm using an email marketing service,
I want something reliable and straightforward to use, giving me enough tools to do the job properly.
Constant Contact ticks those boxes
; GoDaddy doesn't. Here's why.
Features & Ease of Use
Constant Contact Is The Daddy When It Comes To The Nitty Gritty of Email Marketing
Building and sending out campaigns is the core of what email marketing is all about. For me, this is where you can really see the difference between a specialist email marketing service like Constant Contact and a web hosting specialist like GoDaddy that tags on email marketing as an optional extra. When you start creating email campaigns with Constant Contact, it's pretty clear that email marketing is the main gig. GoDaddy leaves you feeling like it's an afterthought. GoDaddy sets a limit of sending campaigns to just 5,000 contacts with a cap of 50,000 emails per month. On the other hand, Constant Contact allows you to have up to 50,000 contacts, with no limit on how many emails you send.
You can simply do more email marketing with Constant Contact.
Digging into how you build, send and manage campaigns,
Constant Contact offers more than 300 pro-designed, fully customizable templates
 arranged by industry.
Start with an email design relevant to your business.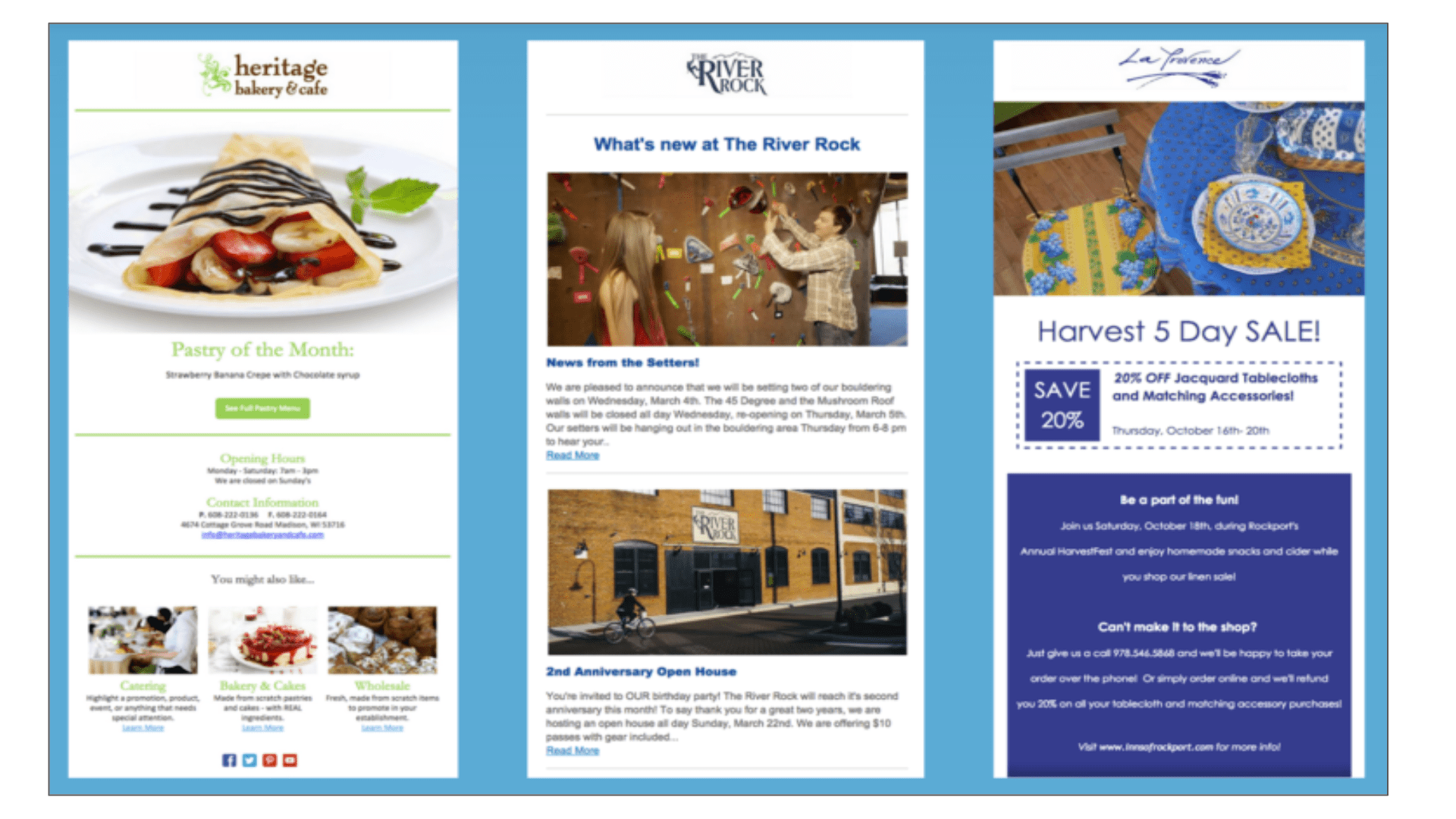 The GoDaddy email marketing templates, on the other hand, amount to just three very basic outlines plus a 'blank' template, with no pre-made sample designs at all.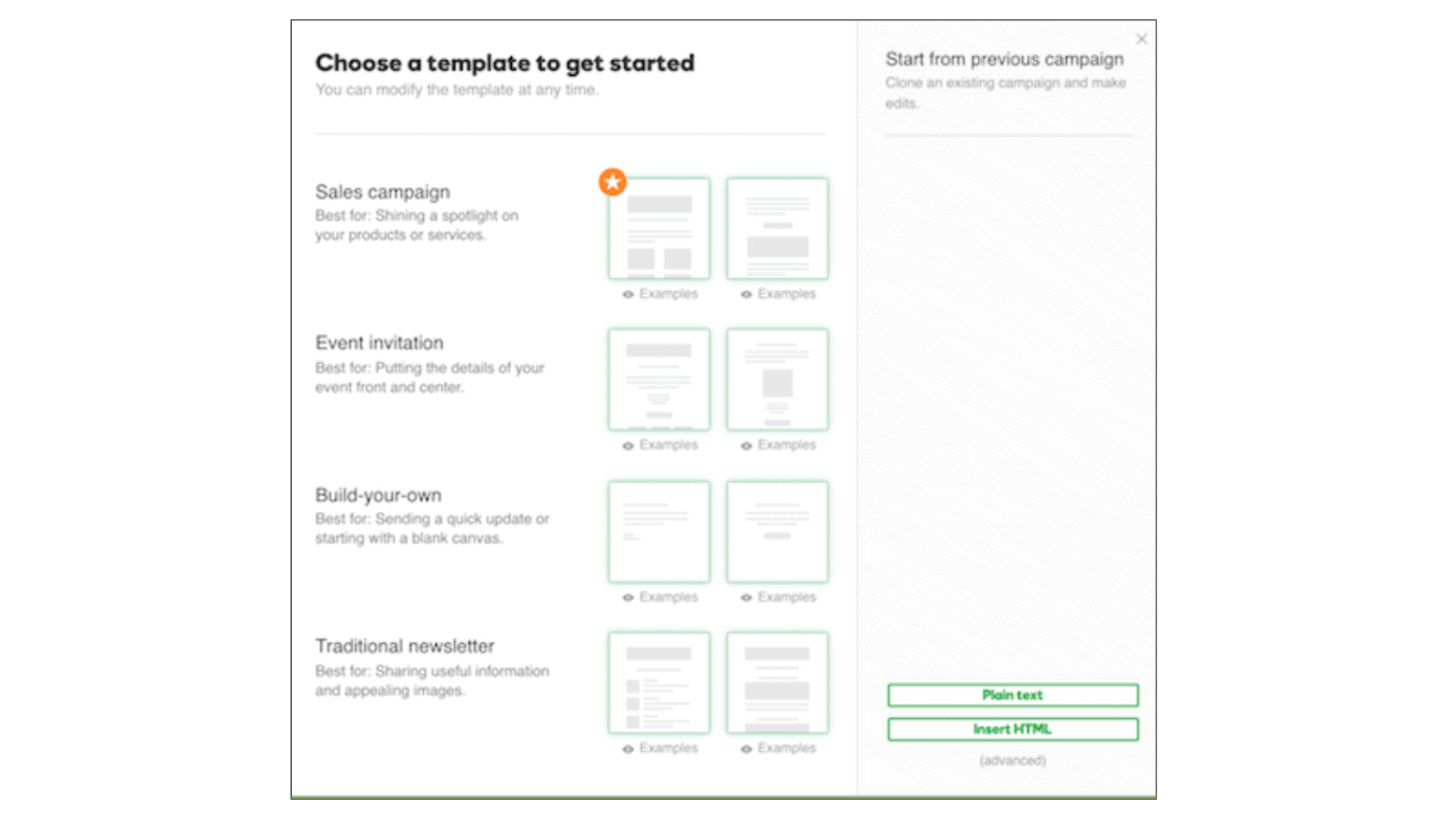 Both services offer a drag-and-drop visual editor for customizing templates or creating designs from scratch. There's little to differentiate them regarding ease of use; I found them both straightforward and intuitive. This simplicity is good news if you are new to email design. All you have to do is click on a block or element from the menu, drag it into position, and then use the options available to change color, size, font, and more. It's just that,
with GoDaddy's very basic templates, you have a lot more work to do.
The only area I feel GoDaddy beats Constant Contact on campaign creation and design is with its huge library of stock images. These images are free to use and, on all but the cheapest plan, you get unlimited image storage. Constant Contact offers stock images too, but nowhere near as many.
Forms and Landing Pages
Both services let you build an unlimited number of in-line sign-up forms for new subscribers.
Constant Contact also lets you build popup forms.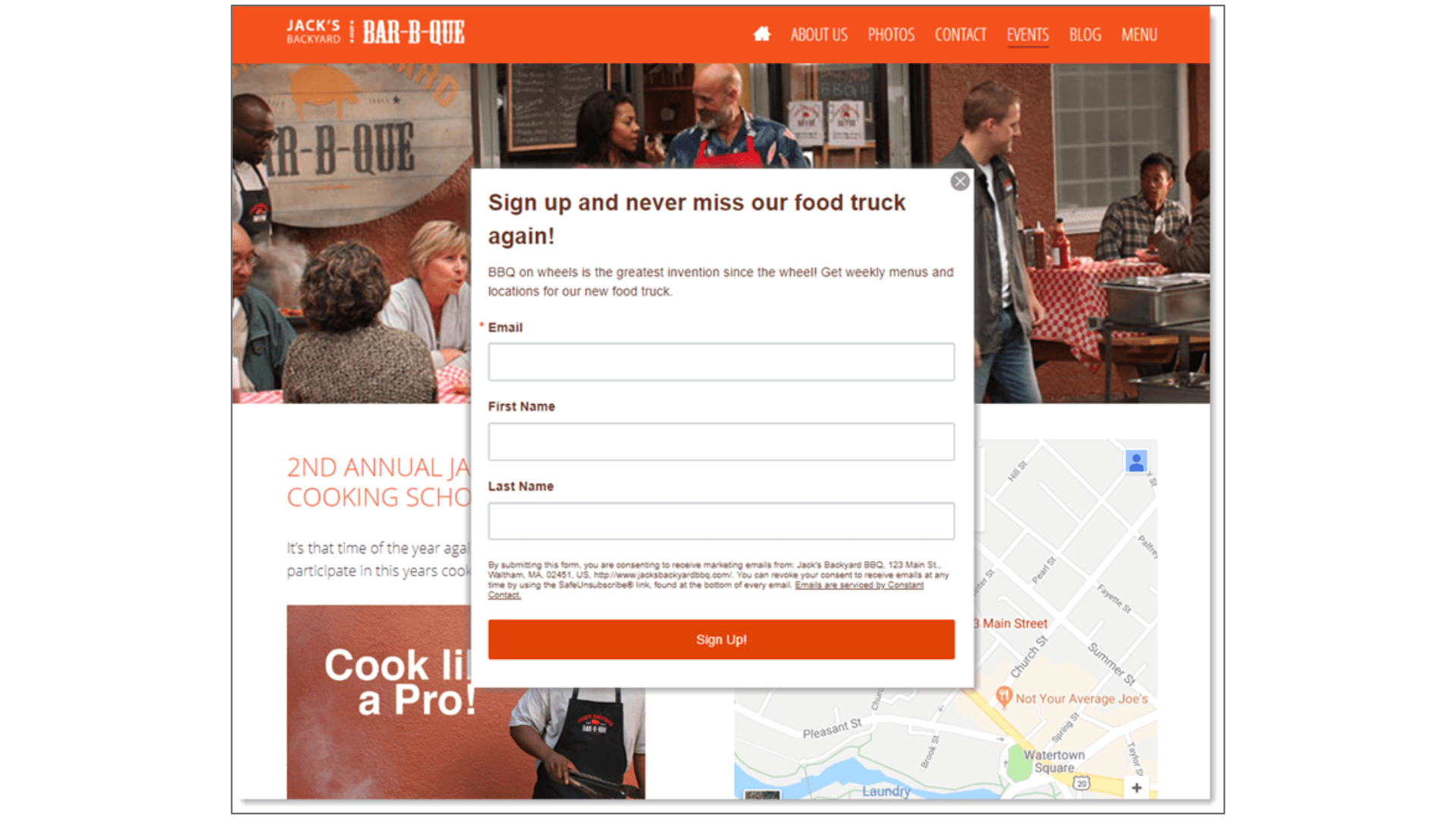 In addition, with Constant Contact, you can build surveys and polls to use across your various channels, which again is a great way to drive engagement and encourage people to sign up to your subscriber list. Constant Contact gives you the option to build and manage standalone landing pages, which you can use to generate leads by hosting forms or providing other calls to action. You could even direct recipients of your email campaigns to specific pages containing targeted promotions or products for sale.
GoDaddy doesn't offer any landing page options as part of its email marketing service.
However, if you access email marketing through its Websites + Marketing web builder service, you have access to a powerful site-building platform by default. You can use the
GoDaddy site builder
to build pages for specific, targeted promotions. If you are new to digital or email marketing, this wouldn't be immediately obvious. Seeing landing page creation is only possible through the Websites + Marketing service with GoDaddy, it's clear that website creation comes first, and email marketing comes second.
Integrations
Neither Constant Contact nor GoDaddy offers the greatest number of third-party integrations I've ever seen
– not when services like
AWeber have more than 850 integrations
, anyway. Constant Contact has more integrations than GoDaddy, with just over 20. These include direct connections to online stores built in Shopify, WooCommerce, and Etsy – letting you click and drag products into promotional emails or build 'shoppable' landing pages where subscribers can buy a hand-picked selection of items. GoDaddy doesn't offer as many direct integrations with its email marketing service, and those that are available are mostly to import contacts from other accounts. However,
you get indirect benefits from the larger range of third-party services its website building platform connects with.
For example, with GoDaddy you have the option to build and host your e-commerce store using WordPress and WooCommerce.You can also connect it to external marketplaces like Etsy, Amazon, eBay, and so on. If you do this, you automatically get the option to promote your store and products via email marketing. As you probably know, one of GoDaddy's main services is building and hosting entire websites on WordPress.
If you have a WordPress blog hosted with GoDaddy, you can set up an RSS feed to automatically turn new posts into emails to send out to your subscribers.
All of this is great if you run a website with GoDaddy – you get an excellent suite of internal and third-party tools to work with. The key difference is that
Constant Contact lets you promote your store, blog, or website wherever you build and host it.
You can even build Constant Contact forms in WordPress. This gives you the flexibility to switch hosts at some point if you're looking for cheaper rates or more features without losing your email marketing capabilities.
Automation
With GoDaddy's Beginner plan, you get no automation options at all (one of the many flaws I discovered in my
GoDaddy Email Marketing review
). On the other hand,
Constant Contact's basic plan
 has comparable automation features to GoDaddy's Up & Running package. These features include simple autoresponders for events like welcoming new subscribers, non-open prompts, wishing subscribers Happy Birthday and so on.
Constant Contact does, however, offer some more advanced automation features with its Email Plus plan.
The most valuable examples are adding dynamic content and building behavioral triggers to send different responses depending on your contacts' interactions with an email.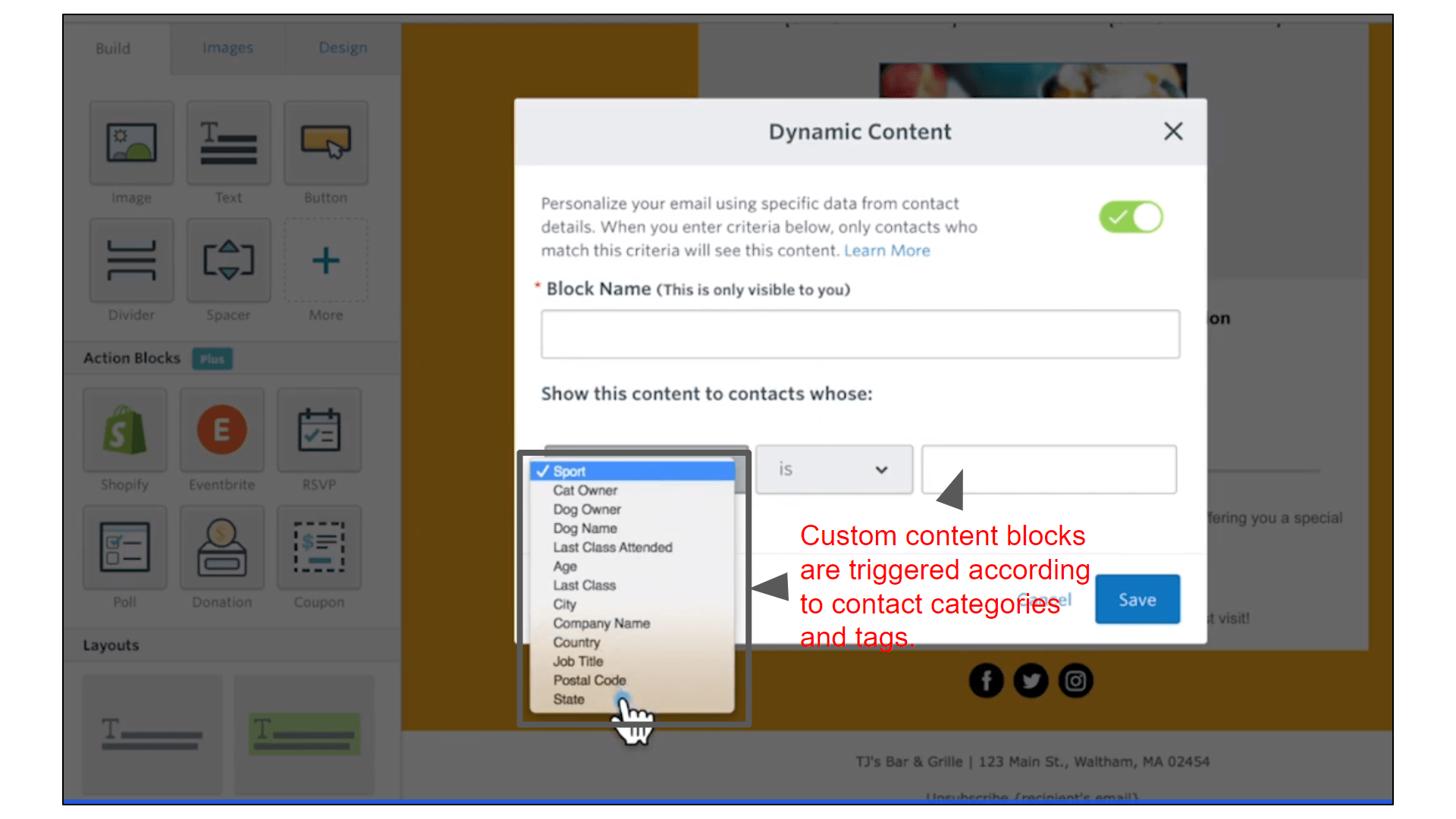 I wouldn't rate automation as one of Constant Contact's greatest strengths, but as GoDaddy only gives you the option of scheduling emails in advance on its more expensive Pro plan, Constant Contact comes out on top.
Contact List Management
I wasn't impressed with GoDaddy's list creation or management options. It all looks impressive – there's a dedicated Connections section in the Digital Marketing Suite which provides a central hub for handling contacts across email, social, e-commerce, and more.
But I found the functionality poor.
For one, when I tried to upload contacts from an Excel spreadsheet, the system told me GoDaddy doesn't support that file type – something directly contradicted by one of GoDaddy's troubleshooting guides.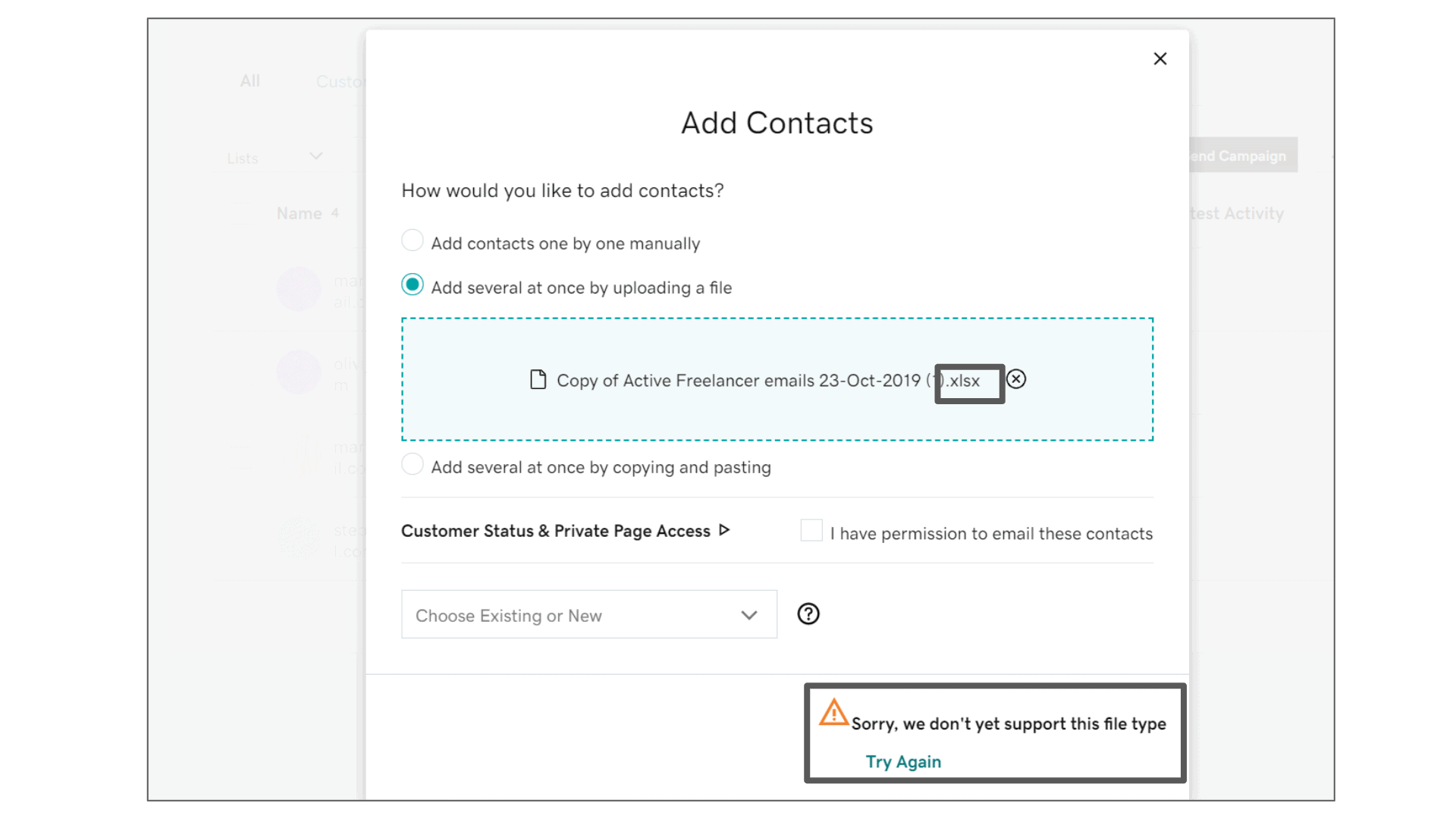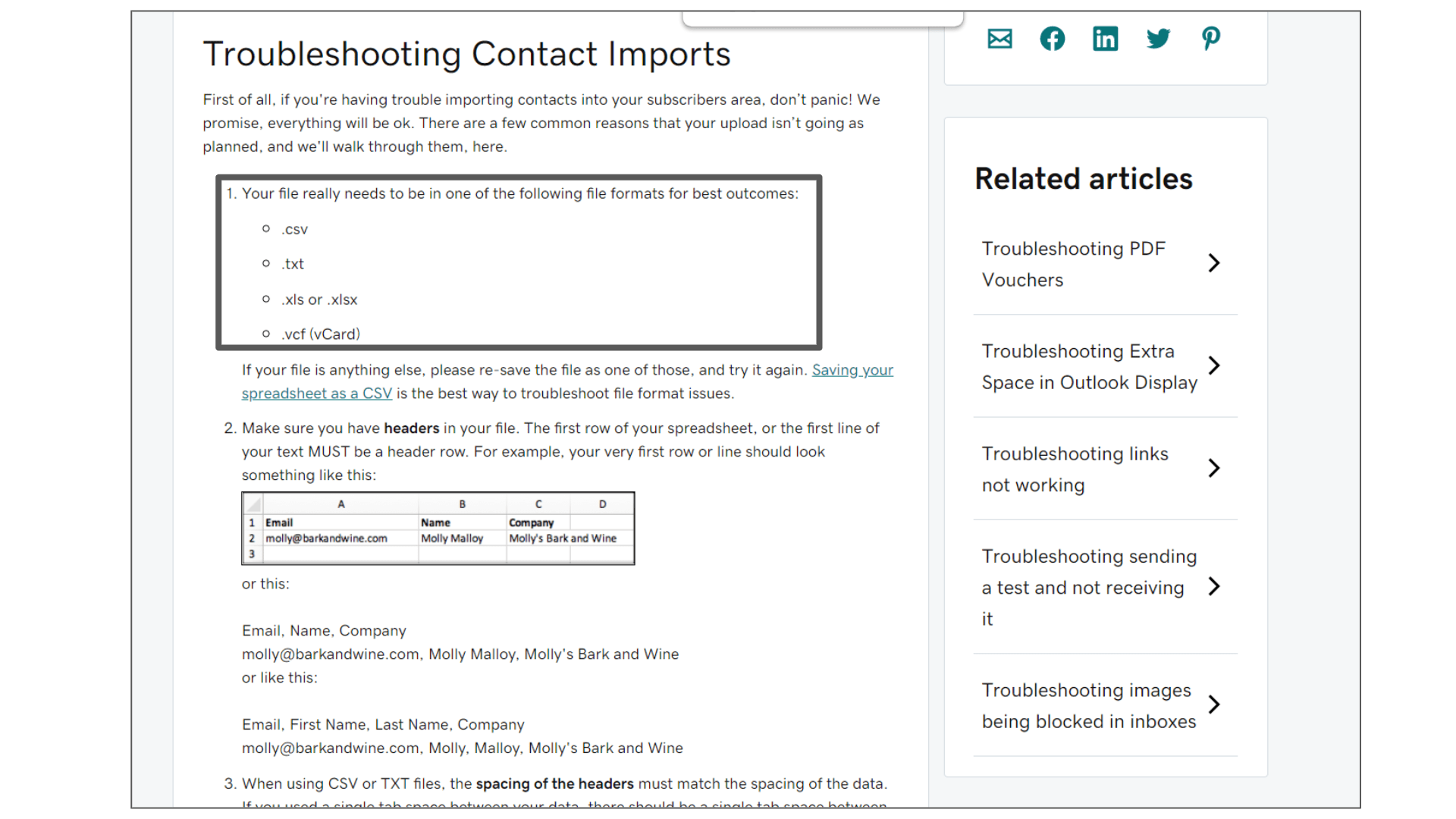 Next, I tried to copy and paste several contacts at once from an Excel file instead, but it just didn't work. After repeated tries, I realized I had to arrange a vertical list into a horizontal list separated by commas.
This process was not well flagged and would become very tedious with a long list of contacts.
I had no such problems adding contacts to Constant Contact; it was seamless and worked the first time. I also prefer Constant Contact for sorting and managing your subscriber lists. Although GoDaddy lets you create as many lists as you want and segment them into multiple categories, I found the search and filter tools pretty basic.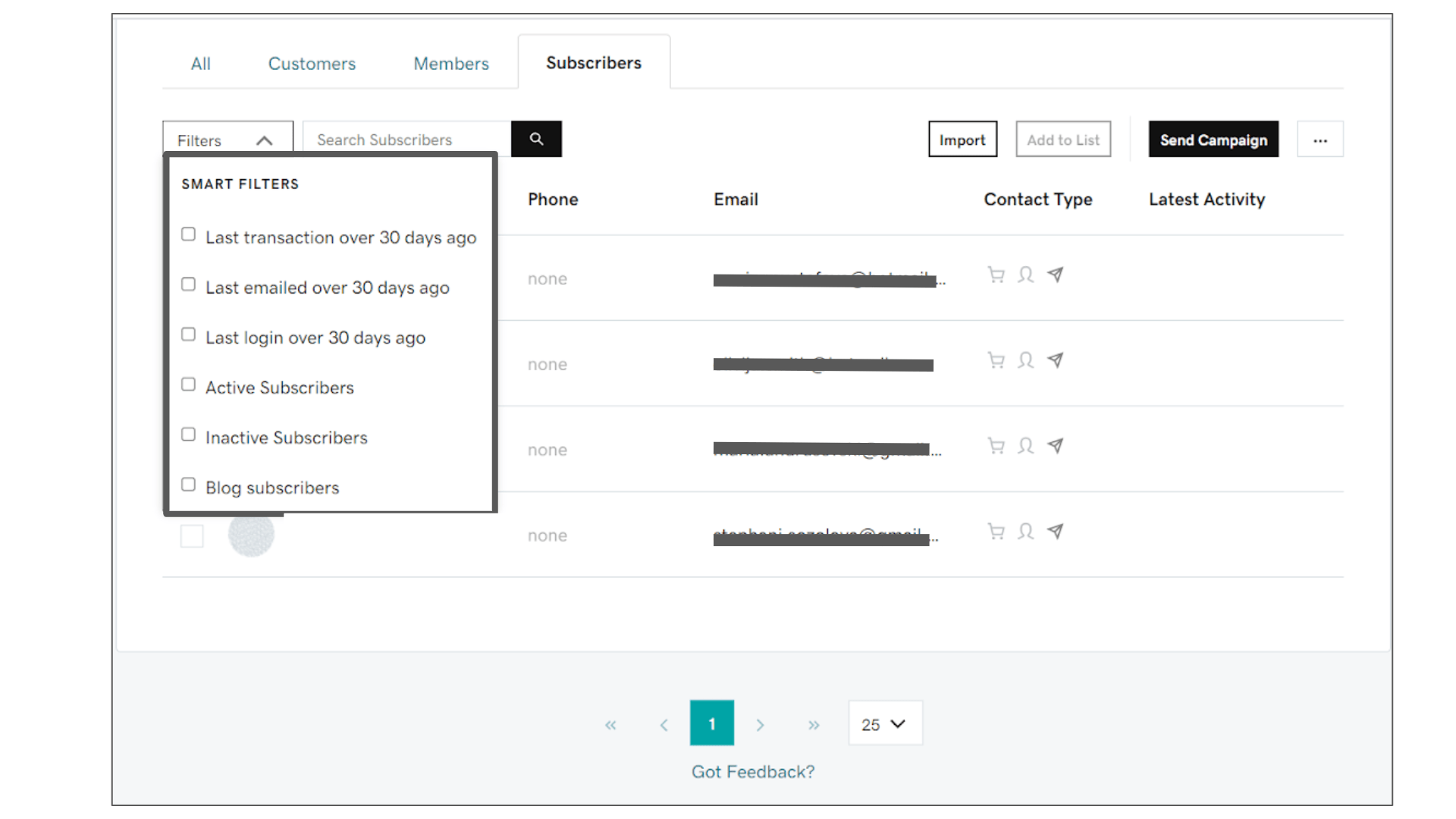 By contrast, Constant Contact gives you the option to search and segment your lists using criteria like recent actions and location.
It also provides fully customizable tags that you can add to contacts yourself.
These tags can be anything you like, and although it involves a bit of work adding them in the first place, you then have
complete freedom to search and segment your contacts according to the criteria that matter most to your business.
Reporting and Analytics
The Google Analytics Integration Gives GoDaddy The Edge
Neither Constant Contact nor GoDaddy provides the most in-depth or sophisticated reporting tools I've seen from email marketing services – you'll have to go to
AWeber
or
Benchmark
for that. You get the basics – delivery and bounce rates, who has or hasn't opened your email, who has clicked on a link, etc.
Constant Contact provides much clearer, easier-to-read visual dashboards for its data,
making it easier to scan and compare quickly (but it's still not the best around, as we found when
we tested out Constant Contact
). GoDaddy's graphics are, by contrast, pretty basic, and it shows reports via numbers rather than charts. What's missing from the analytics of both providers is actionable intelligence that you can use to improve performance. For example, the best time to send an email to maximize open and click-through rates with your subscribers. If you want to get this kind of insight, you have to crunch the numbers yourself. GoDaddy has an Insights feature. But it is at a higher level than email marketing alone, based on an analysis over time of all your digital marketing activity and how it affects website traffic, customer sentiment, and revenue.
What gives GoDaddy the edge is the option to add Google Analytics
– a powerful analytics and reporting suite for website interactions and performance. From an email marketing point of view, you can set this up to provide useful information like which links in your campaigns are getting the most clicks, at what time of day most clicks are happening, and so on. If you look at Benchmark, however, even on the free plan, you get some insightful stats and analysis.
Benchmark's free plan
 offers you opens, clicks and bounces as you'd hope for, but also stats based on where people are opening emails
. Not many email marketing services offer that for free.
Pricing
What You Get For Free
Constant Contact offers just two paid plans, Email and Email Plus. GoDaddy has three – Beginner, Up & Running, and Pro. While Constant Contact doesn't have a free-to-use plan,
it offers a free trial to all new customers. In the US, this is a very generous 60 day free trial (30 days for the rest of the world).
The free trial gives you unrestricted access to all features included in the Email plan. Particularly in the US, having two months to get used to how it works and see how your campaigns perform is a great opportunity to decide whether you'll get value from the service. GoDaddy doesn't have a free plan or a free trial for its email marketing services.
But you can use a limited version via the free Website + Marketing tier or with the Digital Marketing Suite free trial.
In both cases, you can only send 100 emails per month – very limited indeed, and
not enough in my view to get a real feel of what the service is all about.
It might give you the chance to learn how to build and send a campaign but not see any meaningful response or impact on your business.
What You Get When You Pay
At face value,
GoDaddy's email marketing services are cheaper than Constant Contact
. Its starter plan, the 'Beginner' tier, is cheaper than Constant Contact's Email plan. So is the Basic Websites + Marketing web builder plan and Digital Marketing Suite, both of which include email marketing. Yet, for me,
this is a clear case of when cheaper doesn't always mean better value.
The Basic Digital Marketing Suite and Websites + Marketing plans have the same problem as the free trial and free plan – you cannot do much email marketing with them.
In both cases, you are limited to sending just 500 emails a month.
This limit is very entry-level stuff and offers no room to grow without paying more. The Beginner email marketing plan is better, allowing you to send up to 5,000 emails a month and have up to 500 contacts. But as already mentioned, compared to most specialist email marketing services, this is not very generous.
Sendinblue, for example, offers a free plan
 that lets you have an unlimited number of contacts and send up to 300 emails per day. You can see how limited GoDaddy is by comparing the mid-tier Up & Running plan with Constant Contact's Email plan.
Having the freedom of unlimited contacts and the option to grow your list as big as you like with Constant Contact is worth the extra $5 a month.
Don't forget, you can always save some money by heading to
our coupon page
and seeing what's available. They're always being updated so check them out before you make a decision.
Pricing Comparison Table
| | | |
| --- | --- | --- |
| | Constant Contact Email Plan | GoDaddy Up & Running Plan |
| Maximum number of subscribers | 50,000 | 2,500 (3,500 with paid-for 1,000 contact extension) |
| Maximum number of emails per month | Unlimited | 25,000 |
| Number of Users | 3 | 1 |
| Number of templates | 300 | 3 |
| Sign-up forms | Yes | Yes |
| Autoresponders | Yes | Yes |
| Landing Pages | Yes | No (have to subscribe to Websites + Marketing) |
| A/B Testing | Yes | No |
| | | |
GoDaddy's Pro plan doubles the number of subscribers you can have and emails you can send – but it's twice the price. I don't feel the very small increase in features – the best of which is the option to send date-triggered emails, itself a pretty basic option – gets anywhere near justifying the extra cost. Then again,
I don't see Constant Contact's Email Plus plan as offering great value, either.
Having up to 10 users on the Email Plus plan rather than the three allowed on the Email plan is probably the best upgrade feature. The other additional features – popup forms, surveys, polls, and a few more marketing automation tools – for me doesn't justify more than doubling your spend compared to the Email plan.
Support
The Live Chat Experience Lets Constant Contact Down, But It Has More Support Options
GoDaddy offers 24/7 live telephone support to customers all over the world –
something that most standalone email marketing services, Constant Contact included, cannot compete with.
In saying that, Constant Contact's phone lines have pretty decent availability – Monday through Thursday 8 am to 10 pm, Friday 8 am to 9 pm, and Saturday 10 am to 8 pm (ET). There are various international lines and a dedicated billing support team operating slightly shorter hours. It's not quite round the clock, but not bad all the same.
I feel like there's such a reliance on phone support and not much else with GoDaddy – no live chat, no social media support, not even email.
If you prefer to resolve your problems online, there is a Help Center library to search. But that's it. I put the Help Center to the test by asking about importing contacts from a Word document.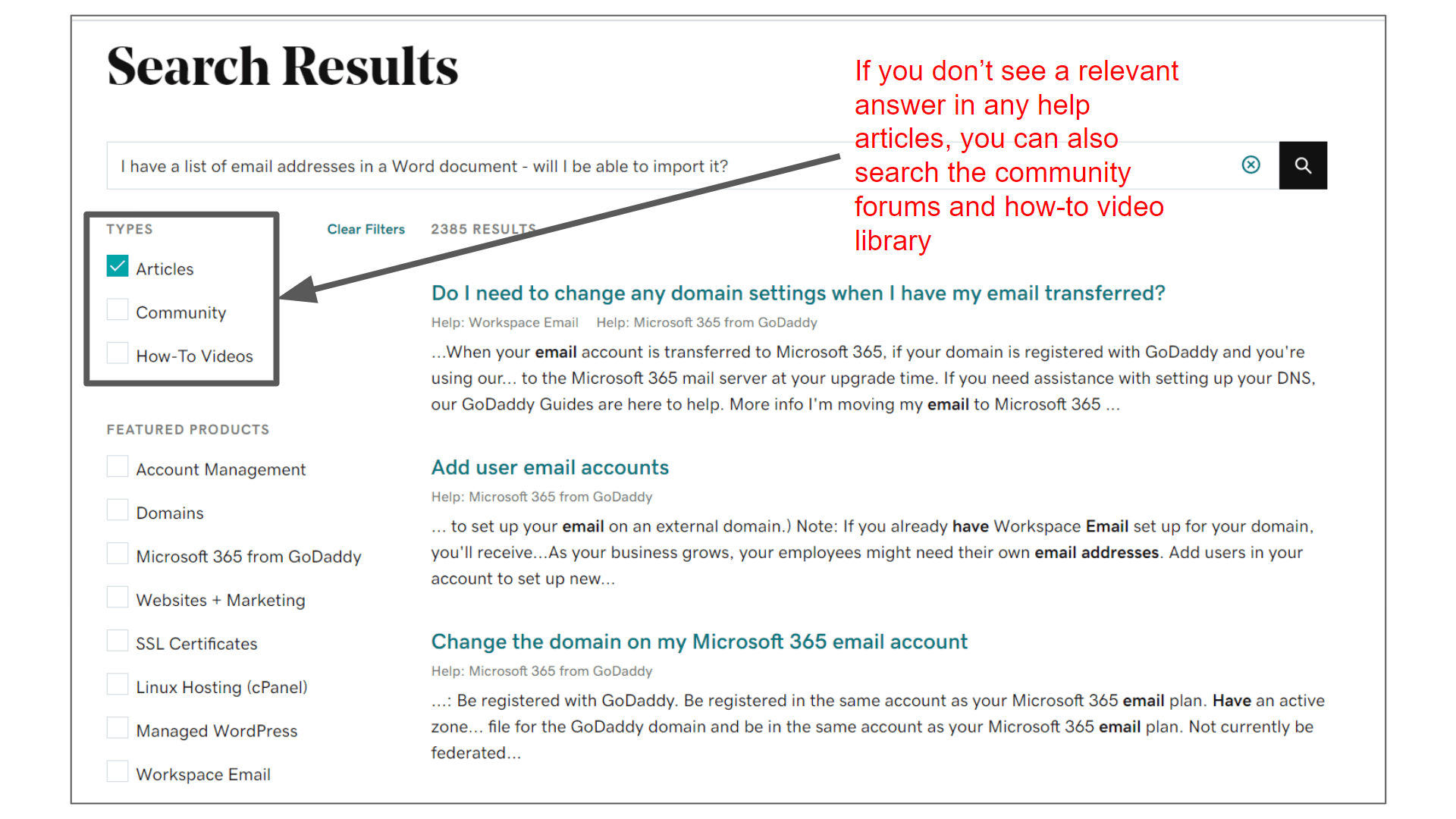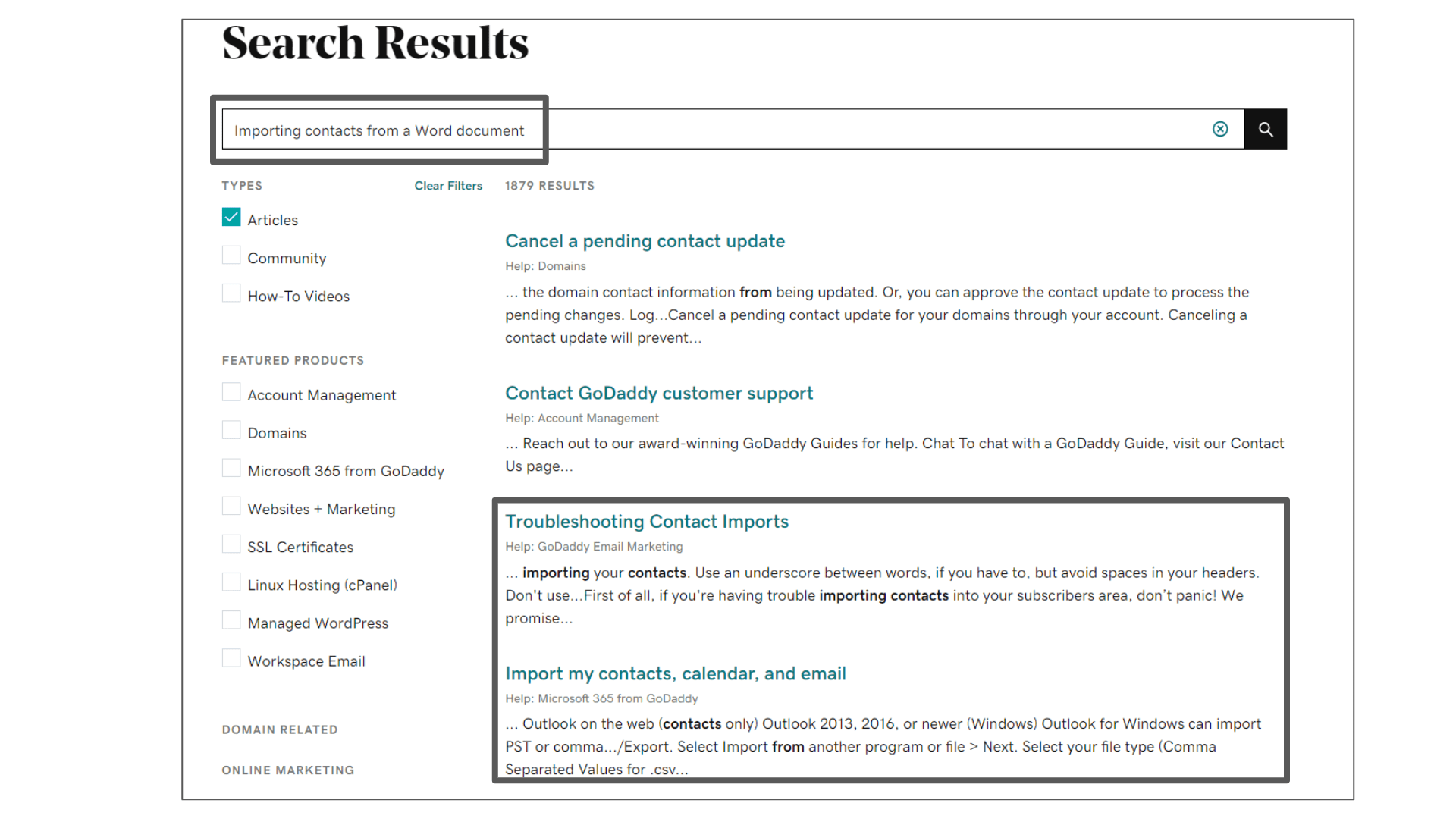 Although I found my answer (you can't import contacts from a Word doc straight into GoDaddy), I didn't feel the GoDaddy Help Center was great at answering my question. Not only did I have to reword my search a couple of times, but I also had to guess which articles might have my answer. Even when I found what I was looking for, it was an indirect answer – the article talked about the file types you could import directly, which I knew didn't cover Word.
If you didn't know this, you wouldn't get your answer.
For my next question, I decided to try out GoDaddy's phone support instead. I called around 10.30 pm, and although the line rang for a while, someone eventually answered. My question this time was about the email marketing plan they would recommend for a small business owner with 1,000 contacts. The agent took their time, asking if I had a website, needed to build one, or wanted more digital marketing support – I had to steer the conversation back to email marketing. It took a few minutes, but eventually, they said the Up & Running plan would suit me best for the number of contacts I had.
Their manner was very professional and polite, and while it took some time, I was left impressed with the service.
While Constant Contact can't quite match up to GoDaddy on 24/7 phone support, it does have a Live Chat feature available for unspecified hours. I tried this out with the same question about which plan I should be choosing with an existing contact list of 1,000 subscribers. I submitted my query just after 9.45 pm. Before the live chat started, it showed me a selection of 'How To Articles,' but just like my first attempt with GoDaddy's Help Center, none of these were relevant. When I chose to carry on with the Live Chat, an agent answered immediately – which impressed me.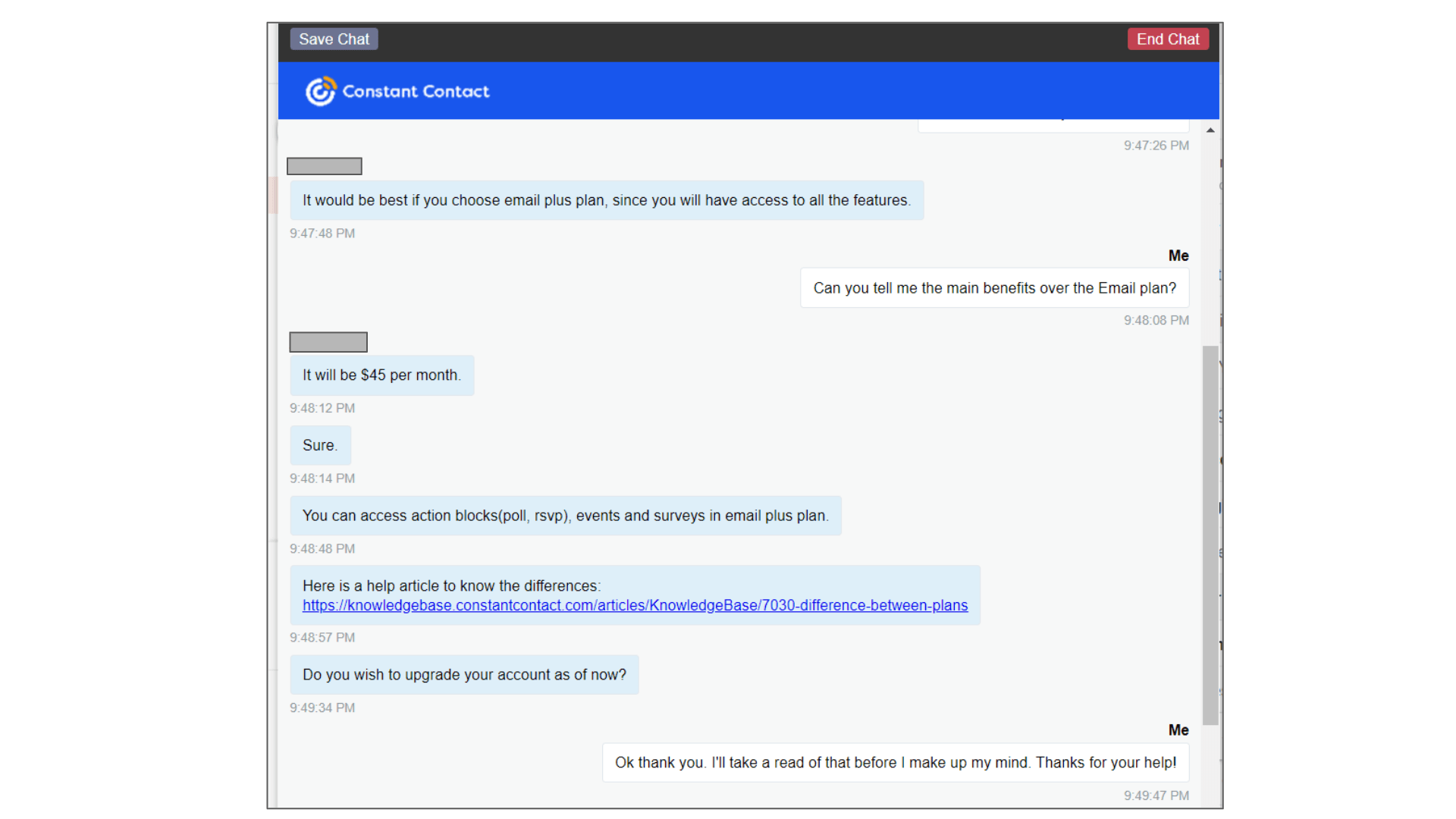 Despite the fast response,
I was disappointed with the support I received for three reasons.
For starters, the agent jumped straight into trying to sell me the more expensive Email Plus plan without asking any questions about my business, my experience with email marketing, or what I wanted to use it for. Secondly, the information provided about the price was wrong – an Email Plus plan for 1,000 contacts costs $70 a month, not $45 (that would only get me up to 500 contacts). Lastly, when I asked for an explanation of the benefits of the Email Plus plan, I was referred to an article and then immediately asked if I wanted to upgrade there and then.
It all felt a little impersonal and sales-focused to me.
Constant Contact also has an Ask the Community feature plus support via Twitter. I decided to give the community support a try, selecting 'Ask a Question' and then writing an email message asking the same question about importing contact lists from Word I'd asked GoDaddy.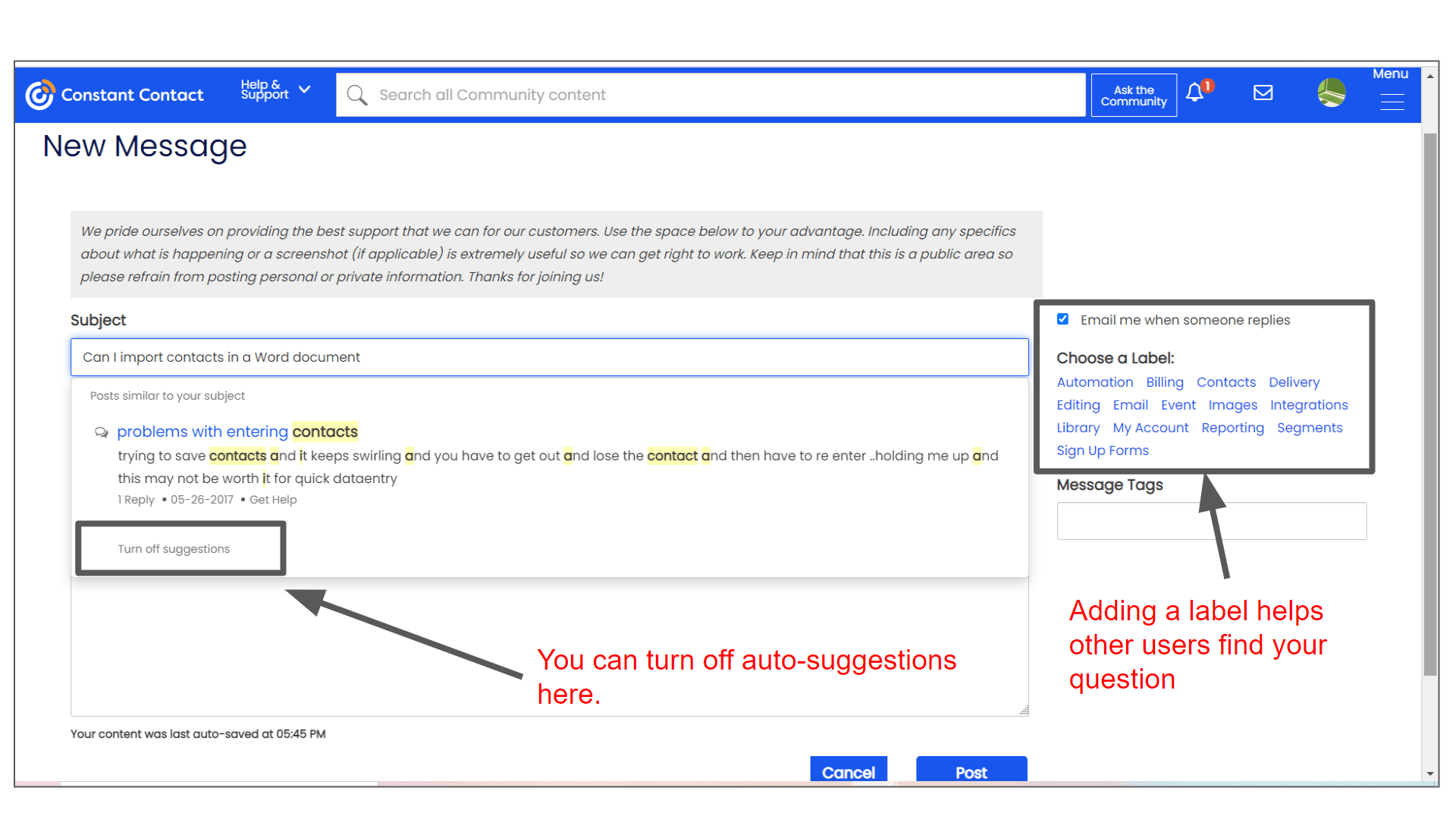 I sent this message just before 11 pm and got a reply in roughly an hour. The reply was from a Constant Contact employee, who explained politely that I couldn't upload contacts directly from a Word document. He offered advice on the file types I could upload directly, how to transfer data between different file types, and attached a guide for how to paste contacts in the correct format.
Overall, this was a much more helpful, professional response than what I had received via Live Chat.
Conclusion
Constant Contact Takes Pole Position In This Race
If you already have a GoDaddy website or online shop, GoDaddy's email marketing service could be a sensible choice. However, it's important to note that even in this scenario, your options are somewhat limited. For a growing business, a maximum of 5,000 email contacts is not very much at all – especially not when you are paying higher-tier prices for it. The range of features and tools GoDaddy offers is very basic, too. Overall,
Constant Contact is a much better option
. If you are new to email marketing, it is incredibly easy to use, has a good range of features without breaking into the 'wow' territory, and it lets you have as many contacts as you want – just what a growing business needs. Plus, if you are thinking of launching a new website or online store, Constant Contact provides site-building and hosting services, too. So don't feel you have to put up with GoDaddy's limited email marketing just because you want to create a website! Here's a summary of my thoughts on Constant Contact vs GoDaddy Email Marketing:
| | | |
| --- | --- | --- |
| Feature | Conclusion | Winner |
| Creating & Managing Campaigns | Constant Contact lets you have more contacts, send more emails, and provides hundreds more templates. | Constant Contact |
| Forms & Landing Pages | Both services offer unlimited in-line sign-up forms, but Constant Contact also includes popups, surveys, polls, and landing pages. | Constant Contact |
| Integrations | GoDaddy has more integrations, but only if you are building a website or online store, too. Constant Contact wins for specific email marketing add-ons. | Constant Contact |
| Automation | Constant Contact offers more sophisticated automation options like dynamic content for email personalization. | Constant Contact |
| Contact List Management | GoDaddy's basic list creation and management tools are glitchy and frustrating – Constant Contact is much more reliable. | Constant Contact |
| Reporting & Analytics | Both provide only basic campaign performance reporting, but with GoDaddy you can extend this with Google Analytics. | GoDaddy Email Marketing |
| Pricing | GoDaddy is cheaper, but you get more value from Constant Contact because of better features and no restrictions on the number of contacts you can add. | Constant Contact |
| Support | GoDaddy has a reliable phone service but little else. I didn't have a good experience with Constant Contact's Live Chat, but it has more options. | Draw |
FAQ
What is the GoDaddy Email Marketing Starter plan?
GoDaddy's cheapest email marketing tier is the Beginner plan. It allows a maximum of 500 contacts and 5,000 emails per month. Features include access to GoDaddy's outline templates, limited image storage, the option to create a single sign-up form for your contact list, and basic integrations with the likes of Facebook, Etsy, and more.
Is Constant Contact the best email marketing service?
Constant Contact is ranked in our top 10 email marketing services for 2023 because it is one of the best platforms for beginners. It has a user-friendly drag-and-drop email editor, more than 300 professionally designed and fully customizable templates to get you started, and a solid list of features you'd expect like sign-up forms, list segmentation, email automation, and reporting. We go into all of the above in much more detail in our Constant Contact review.
Which is better, Mailchimp or Constant Contact?
Unless you run a large business or have advanced marketing needs, Constant Contact is a more user-friendly service than Mailchimp. Although Mailchimp's email editor has some clever features, Constant Contact is much easier and quicker to learn, and you get more than twice the number of pre-designed templates to start. Constant Contact also gives you some handy add-ons with sign-up forms, surveys, landing pages, and more support options.
What is the cheapest email marketing service?
There are several email marketing services that you can use without paying anything at all. Sendinblue, for example, has a free tier that gives you near full access to all the tools and features you get on its cheapest paid-for plan plus unlimited contacts. The primary restriction of the free plan is that it caps the number of emails you can send at 300 per day. If you want to save money on any of our top email marketing services, however, make sure you check out our coupon page first.