At first glance Mailchimp and GoDaddy Email Marketing look pretty comparable, as both are complete marketing platforms.
But the truth is that neither is really the best at email marketing. Both are missing features like in-depth reporting insights, advanced automated workflows, and testing capabilities that experienced marketers expect.
A marketing platform that integrates with your website builder might seem like it would save time and money. Yet every time I test an all-in-one marketing suite, I find that it simply can't compete with the higher-level features that a dedicated email marketing platform typically provides. I wanted to compare GoDaddy Email Marketing vs. Mailchimp to find out if one would win over the other – or if both would fail to outrank a dedicated email marketing service.
GoDaddy is better in some respects and Mailchimp in others, but I ultimately found that both have some major drawbacks, and I'd rather opt for an alternative. Instead, I'd recommend trying out a service like Sendinblue for it's full featured free plan.
Take a look at how the two platforms measure up and find out which dedicated email marketing service I'd suggest for experienced marketers.
Features
GoDaddy Has Email Marketing Essentials; Mailchimp Is More Full-Featured
The two platforms have a long list of features, including a native website builder and subscription forms.
But when it comes to the number of email marketing features offered, Mailchimp ranks higher thanks to its visual automation builder and numerous app integrations.
Email Templates
Neither Mailchimp nor GoDaddy give you much to work with in terms of email templates.
GoDaddy has far fewer layouts overall, but Mailchimp's designs are horribly outdated.
 With either platform, you're going to need some design skills so you can create something workable.
GoDaddy has by far the fewest premade templates I've ever encountered. You can choose from just three (!) GoDaddy Email Marketing templates – which are serviceable at best.
 I do like that you can choose the "style" of any layout, which essentially changes the color scheme. However, I'd much rather have better template designs to begin with.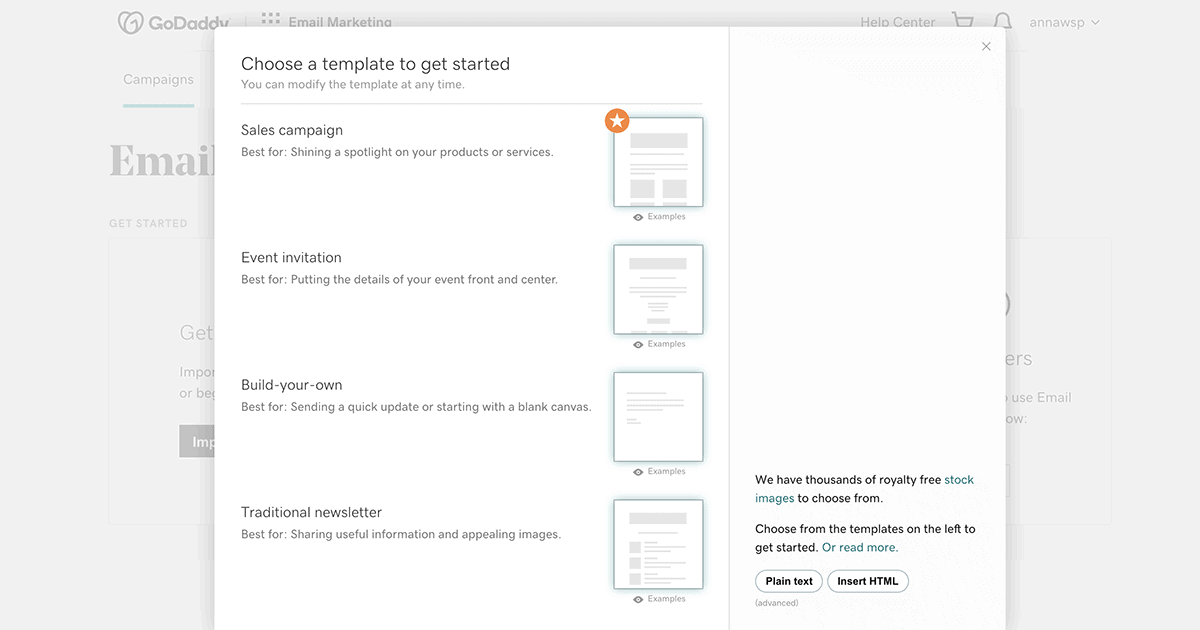 Mailchimp has about 85 premade templates to choose from, and I like that it separates the layouts into categories to make searching a little easier.
Yet browsing Mailchimp's templates only confirms that none of the designs are particularly interesting – and many are so outdated they're essentially unusable.
Since GoDaddy and Mailchimp have so few workable templates, it's safe to assume that your emails will look like every other brand that goes with either platform.
 If you want your email campaigns to stand out and look unique, I'd recommend going with a service that has many more options. For example,
Benchmark has over 500 email templates
 – and while some of them need to be spruced up, you can still choose from hundreds of nicely designed layouts.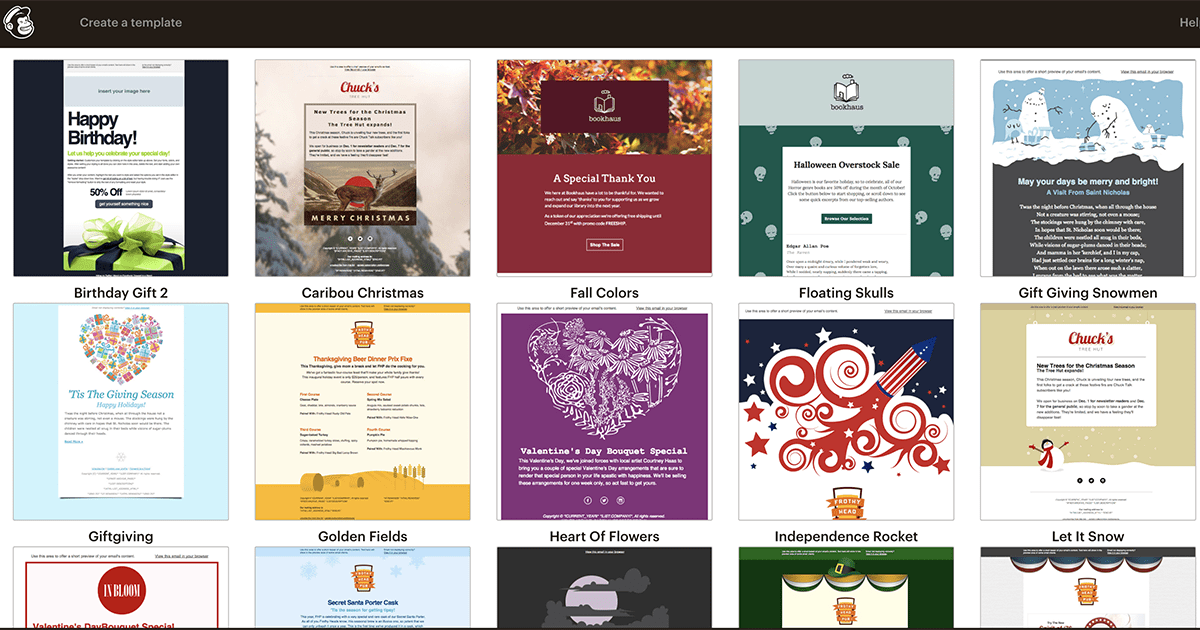 Both platforms do let you design your own layout from scratch. But you're going to need plenty of time and patience to deal with the template editors (see below).
Marketing Automations
Mailchimp and GoDaddy both have automated workflows, but the latter only allows a single use case.
Mailchimp is the winner here, but you could do a lot better if you truly want to automate your marketing.
 Out of all the email marketing services I've tested,
ActiveCampaign is the most impressive when it comes to automations
. It has more than 250 automation templates and dozens of integrations to save you time and hassle. First, the good news: GoDaddy Email Marketing does let you create autoresponders with multiple steps so you can connect with subscribers over weeks or months.
Now for the bad news: the only automation trigger that GoDaddy supports is a new subscriber signup.
 As our
GoDaddy Email Marketing review
explains, the workflow feature is so basic that you can't create autoresponders for engaged subscribers, e-commerce customers, or other behavior-based groups.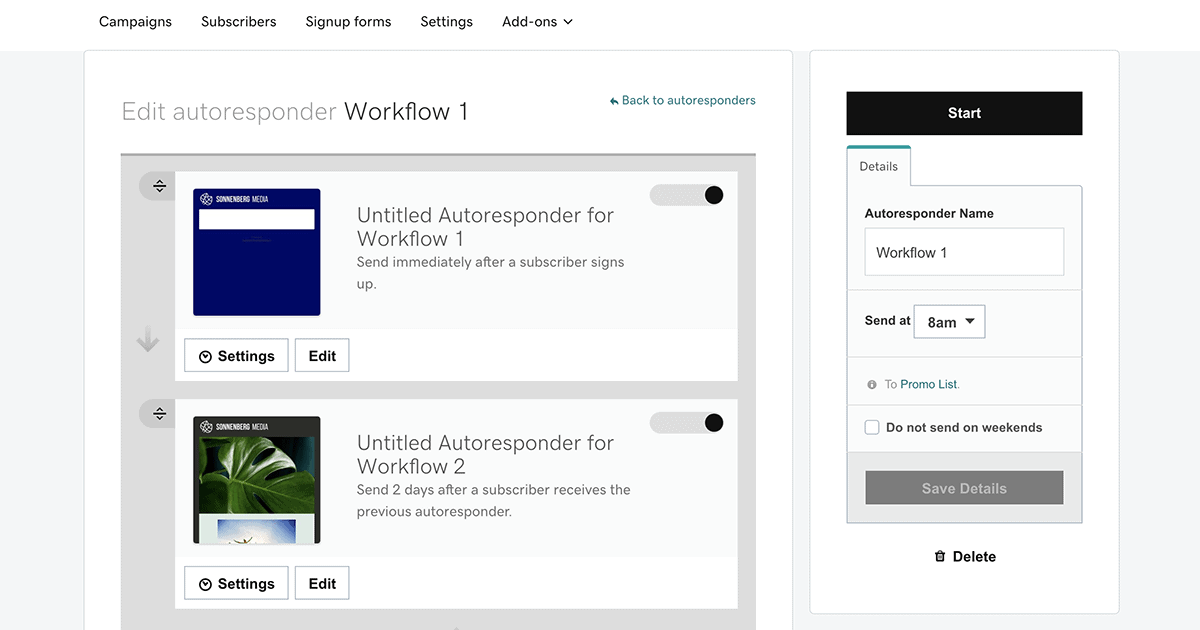 Mailchimp's automated workflows are much more complex. You can choose from about a dozen triggers, and you can add multiple custom steps.
Since Mailchimp offers a handful of behavioral triggers, you can target subscribers who buy e-commerce products, open certain emails, or have specific interests.
 The customer journey builder is great for visualizing each step and making sure the funnel will work effectively.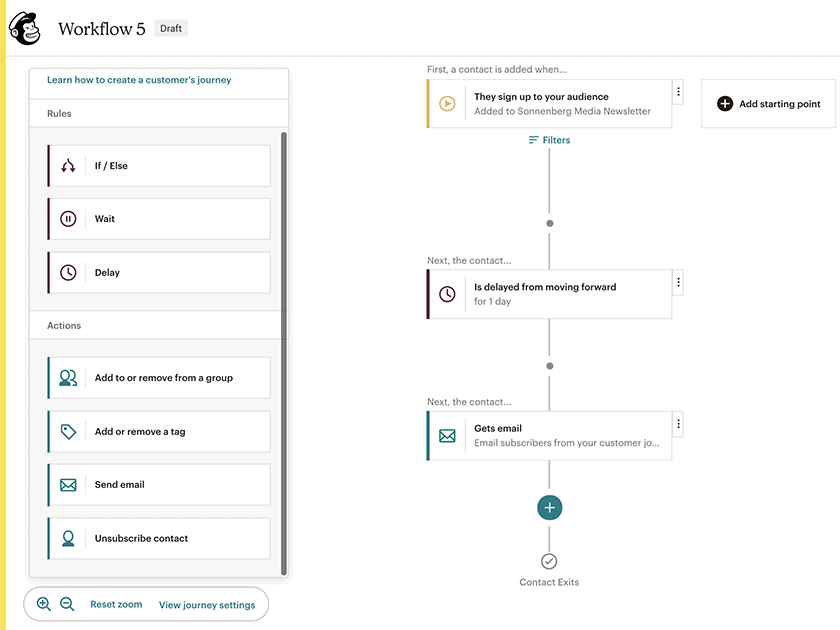 App Integrations
Integrating other marketing apps with your email marketing provider can help you do more efficiently. Both Mailchimp and GoDaddy Email Marketing have app integrations, but once again the latter offers far fewer.
GoDaddy only has about a half-dozen app integrations, including Google Analytics, Eventbrite, and Etsy.
 The platform doesn't work with Zapier, so you can't easily access third-party integrations. Essentially, you'd have to go without app integrations, which could seriously impact your marketing team's productivity and the value you get from the platform.
This is a pretty major drawback, as almost every dedicated email marketing service I've tested – from ActiveCampaign to Sendinblue – works with Zapier.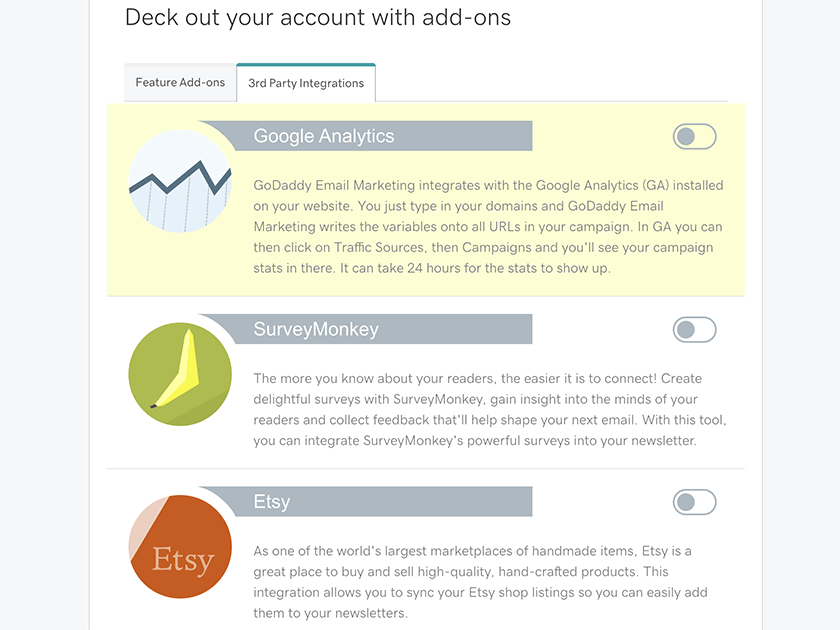 In contrast, Mailchimp has exponentially more app integrations, as you can choose from about 250.
 Mailchimp also works with Zapier, giving you access to about 3,000 additional integrations and tons of opportunities to improve productivity.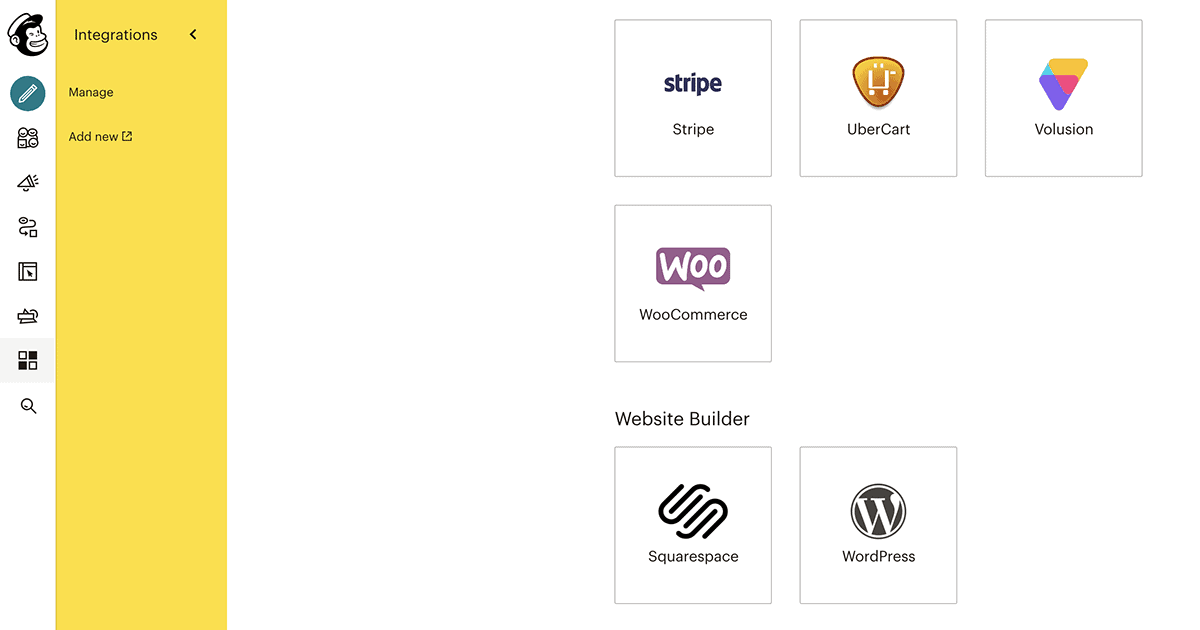 Overall, I'd give this round to Mailchimp. GoDaddy Email Marketing has all the essential features – but only the most simplistic version of everything. In contrast, Mailchimp has enough automation and integration options for a beginning marketer to get by.
Ease of Use
Mailchimp Is More Intuitive; GoDaddy Has Better Tutorials
Whether you use Mailchimp or GoDaddy Email Marketing, you can import subscribers and start sending simple campaigns within a few minutes.
But if you want to streamline your work and save time, you won't find either platform particularly helpful.
Template Editors
In my experience, drag-and-drop editors tend to be easier to navigate than their point-and-click counterparts.
Mailchimp's editor is definitely easier to use, but ultimately it doesn't have much more functionality than GoDaddy's.
GoDaddy's point-and-click editor has all the basic capabilities: letting you add images, text, and buttons. However, I'd find it much more usable if it were located in the sidebar rather than at the very bottom of the page.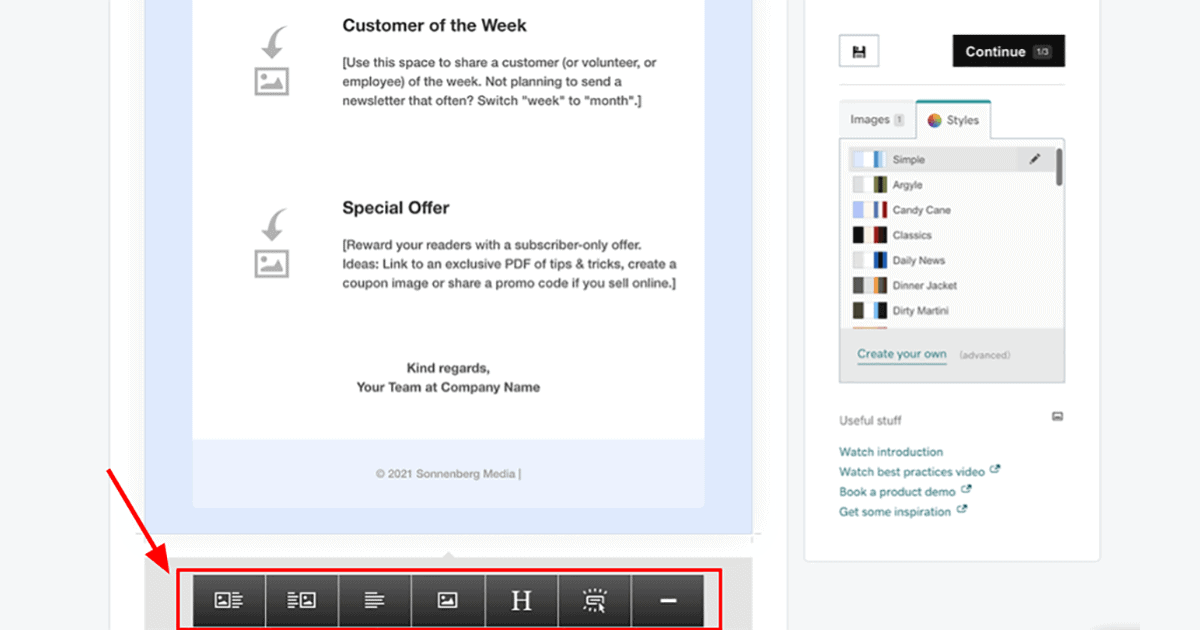 Mailchimp has a more conveniently located editor, and its drag-and-drop setup makes it much easier to use. I especially like that the editor can integrate content from your linked website, such as promotional codes and e-commerce products.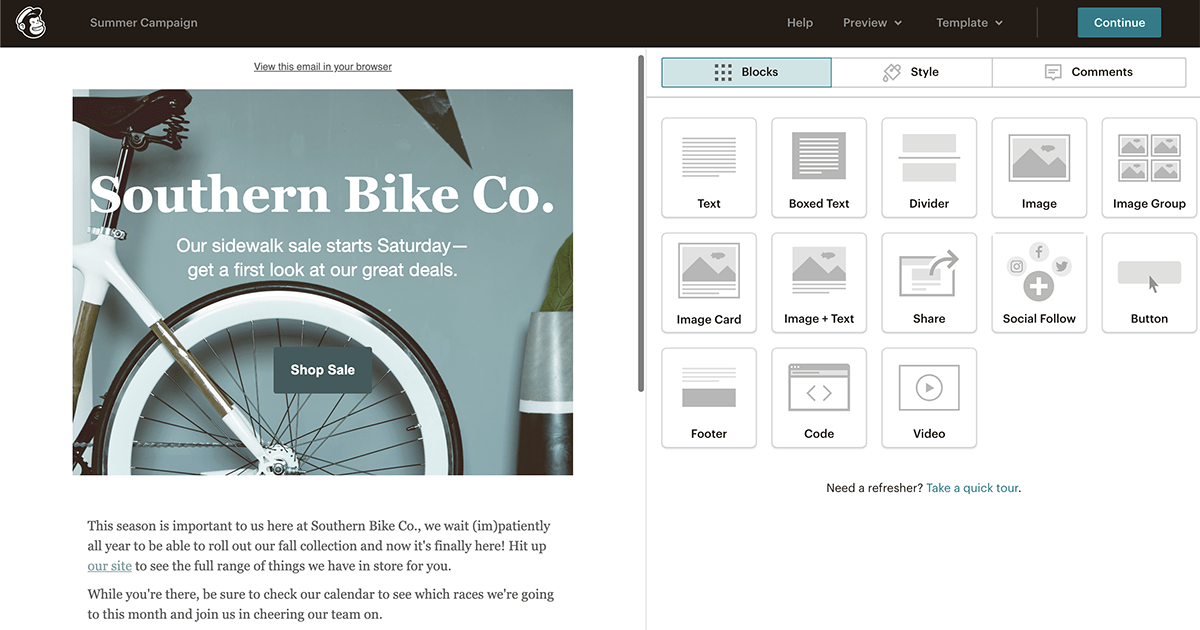 Style and Branding
Why resupply the same brand colors and logos for every campaign when you can make your email marketing service do the work?
The two platforms each have a branding feature, but I found both challenging to use.
GoDaddy Email Marketing claims to be able to identify your brand colors, fonts, and logos from your website URL.
In my experience, this usability feature didn't really work, as it pulled the wrong fonts and an incomplete list of colors.
 I was happy to see that I could manually enter and save all the style details instead, even though this workaround took some time.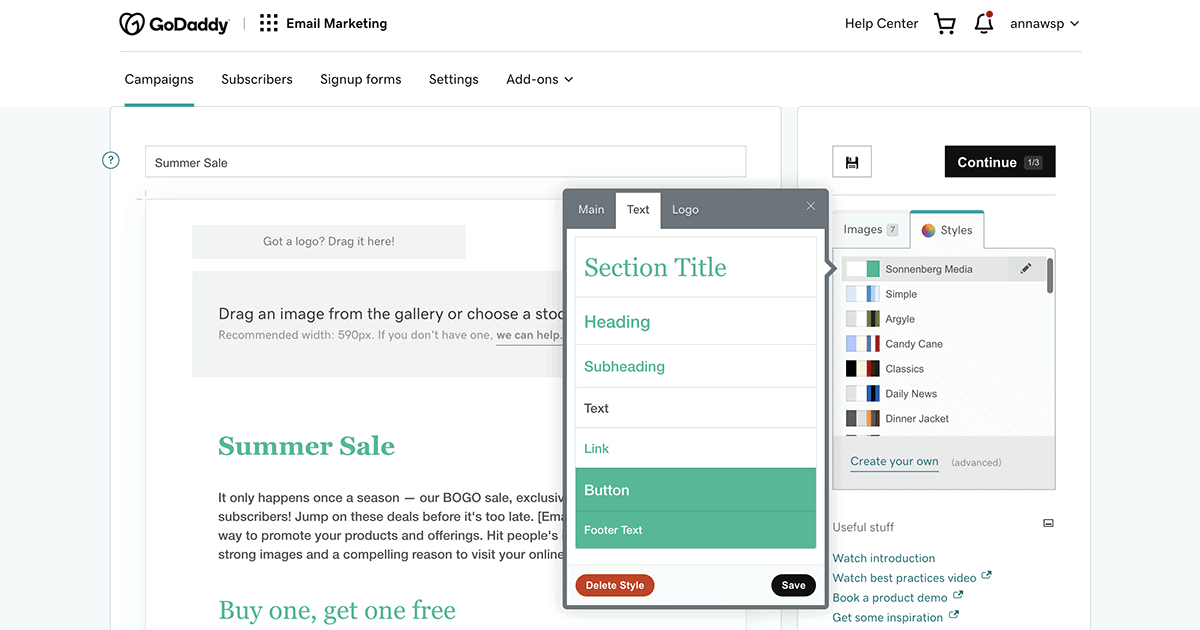 Mailchimp's Creative Assistant appears much more functional, at least at first. After I entered my website URL, the platform successfully sourced my branding materials and automatically produced some designs.
Yet none of the designs were actually good enough to use in my email campaigns – and I was disappointed that I couldn't transfer the fonts, colors, and logos directly into my Mailchimp templates.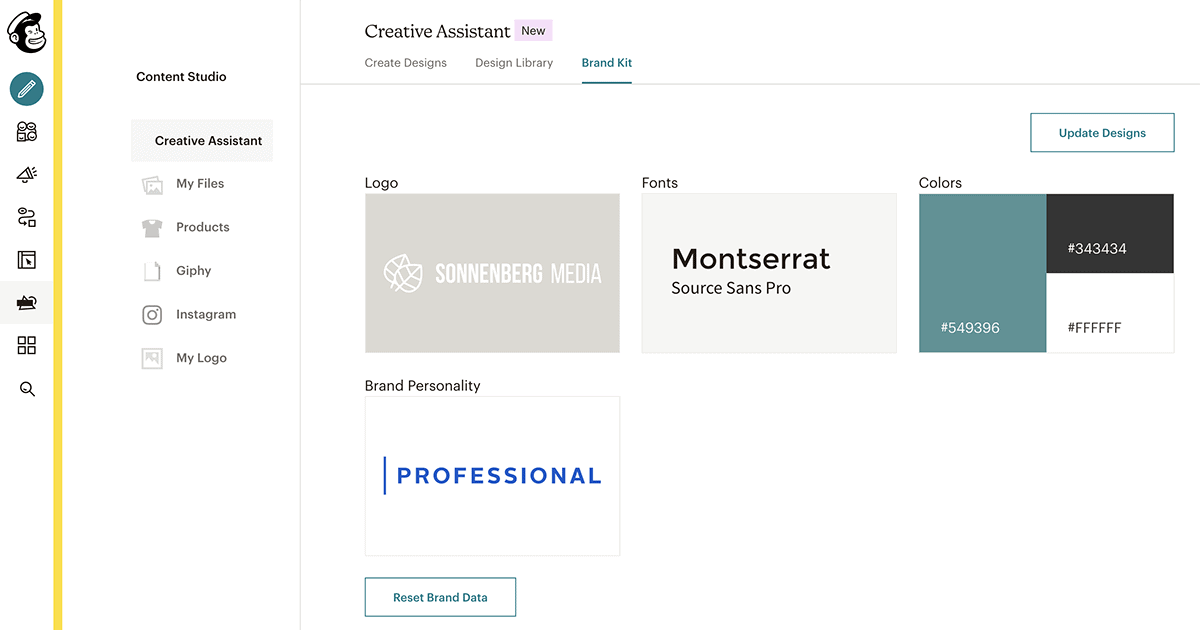 Guides and Tutorials
Easily accessible tutorials are key for usability.
Both Mailchimp and GoDaddy Email Marketing offer guidance, but I found GoDaddy more helpful.
GoDaddy places its tutorials front and center every time you use a feature that's new to you. I found the explainer videos and links especially helpful as a new user who wanted to learn the platform quickly.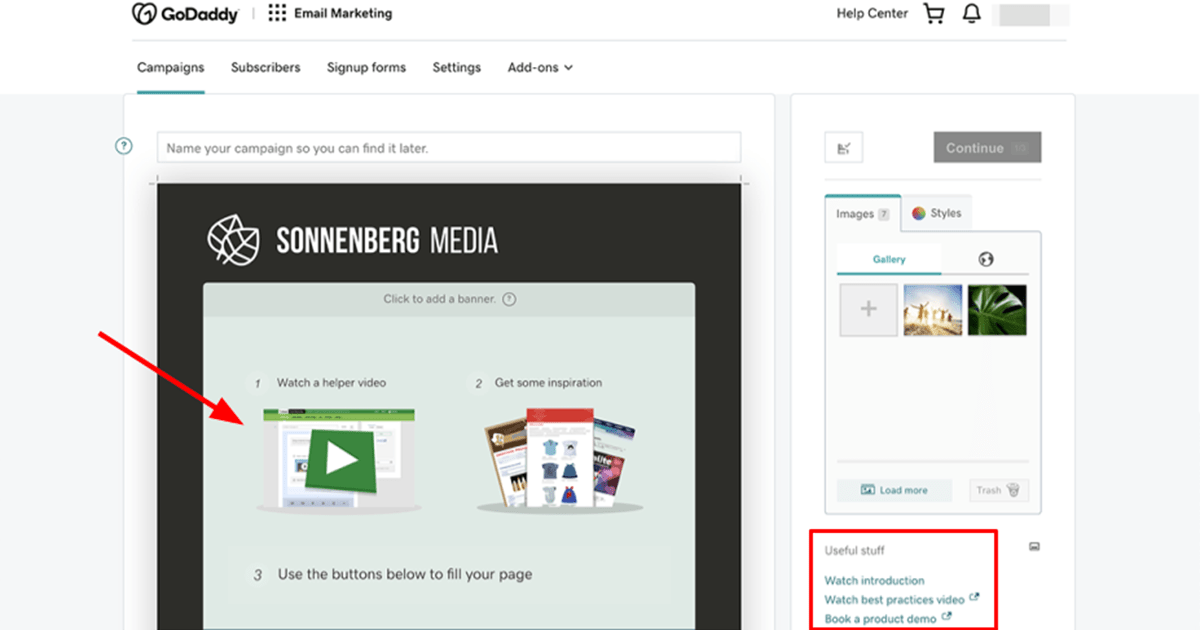 Along the same lines, Mailchimp provides prompts when you first use the drag-and-drop editor and lets you toggle them on again later if you need a reminder. I also like that the platform makes its tutorial videos easily accessible so I never have to look far.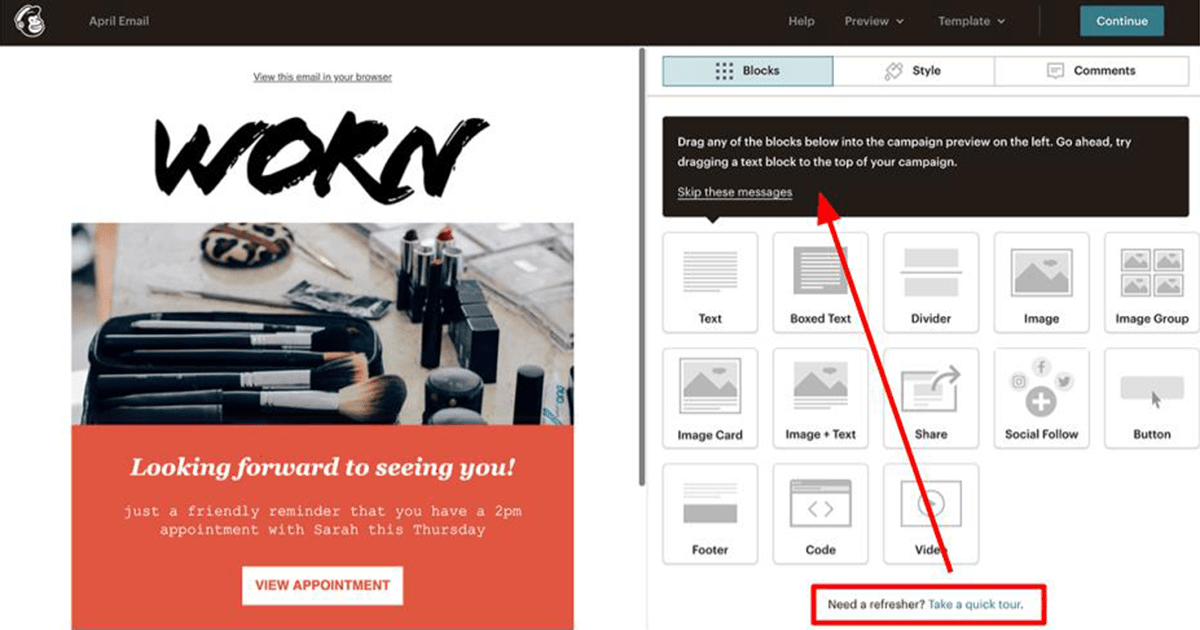 In terms of usability, GoDaddy Email Marketing wins for me, as it's slightly easier to navigate. Mailchimp looks pretty slick, but in practice it doesn't work as smoothly as you'd think.
Reporting and Analytics
GoDaddy Analytics Is Far Superior and Much Cheaper Than Mailchimp
Email marketing reports aren't very useful unless they allow comparisons or include marketing insights.
GoDaddy's standard reports do both, and technically Mailchimp does too – as long as you don't mind spending at least $299 per month.
Still with me after experiencing that shock? Mailchimp's standard reports include all the essential stats like open and click-through rates as well as e-commerce data and audience analytics.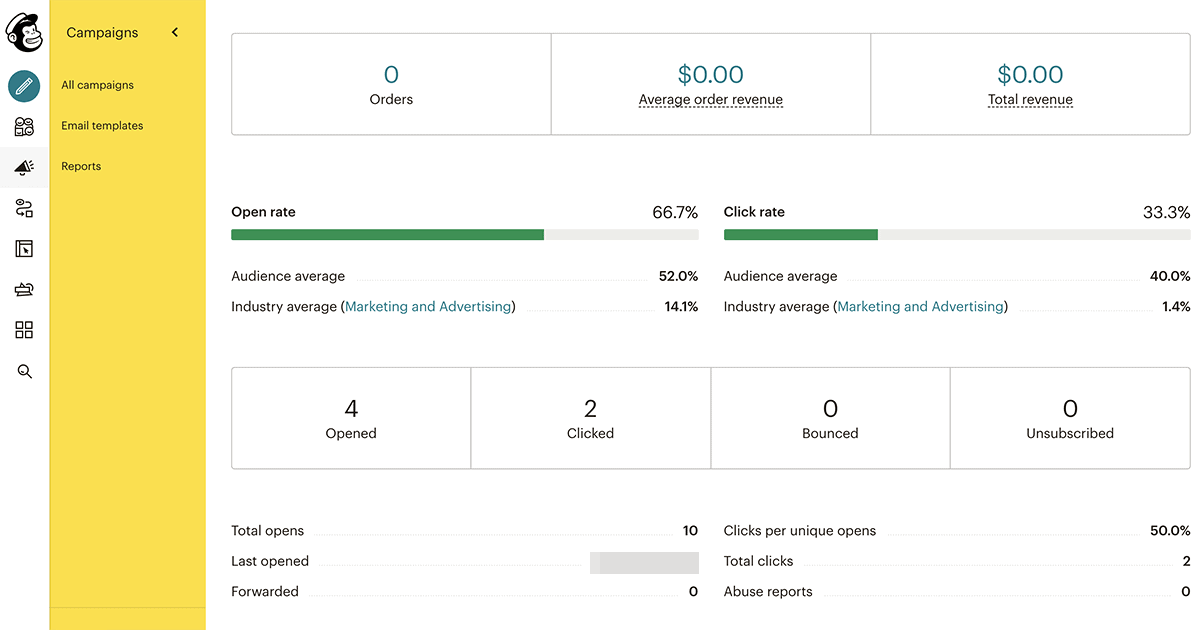 With Mailchimp, you can also access campaign benchmarking with every plan. Just don't expect especially deep insights, as it's a surface-level report only.
 If you want more, get ready to upgrade to Mailchimp's most expensive plan to access comparative reporting.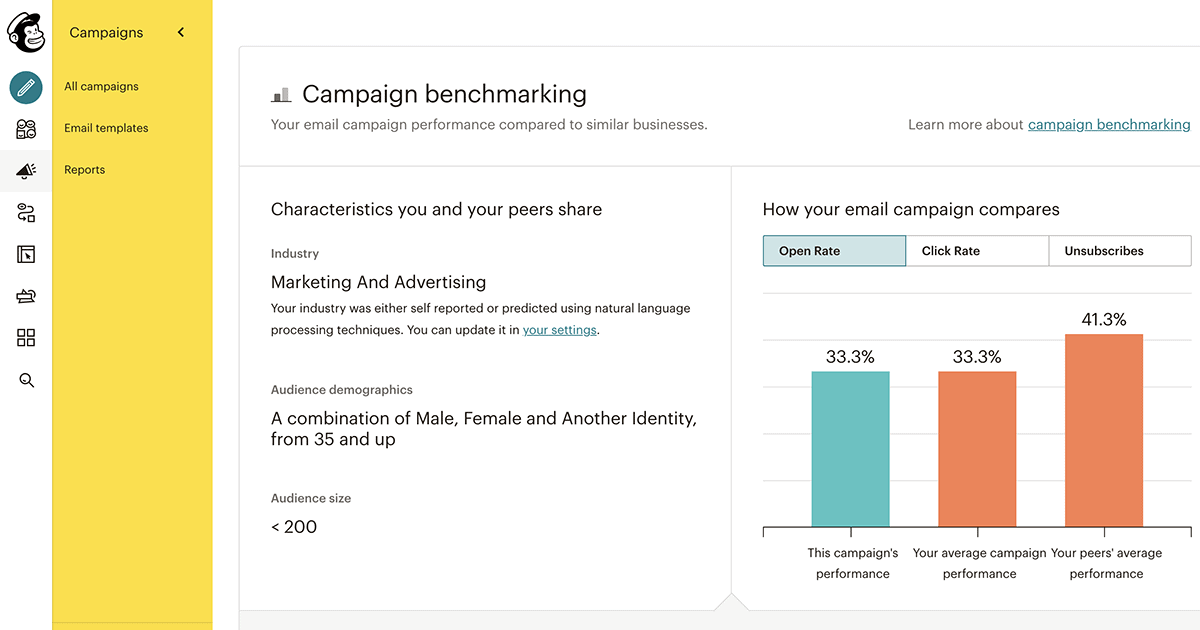 GoDaddy Email Marketing reports also include all the essentials, but they go a bit further. Every campaign includes a simple click heatmap so you can see what parts of your emails tend to get the most engagement.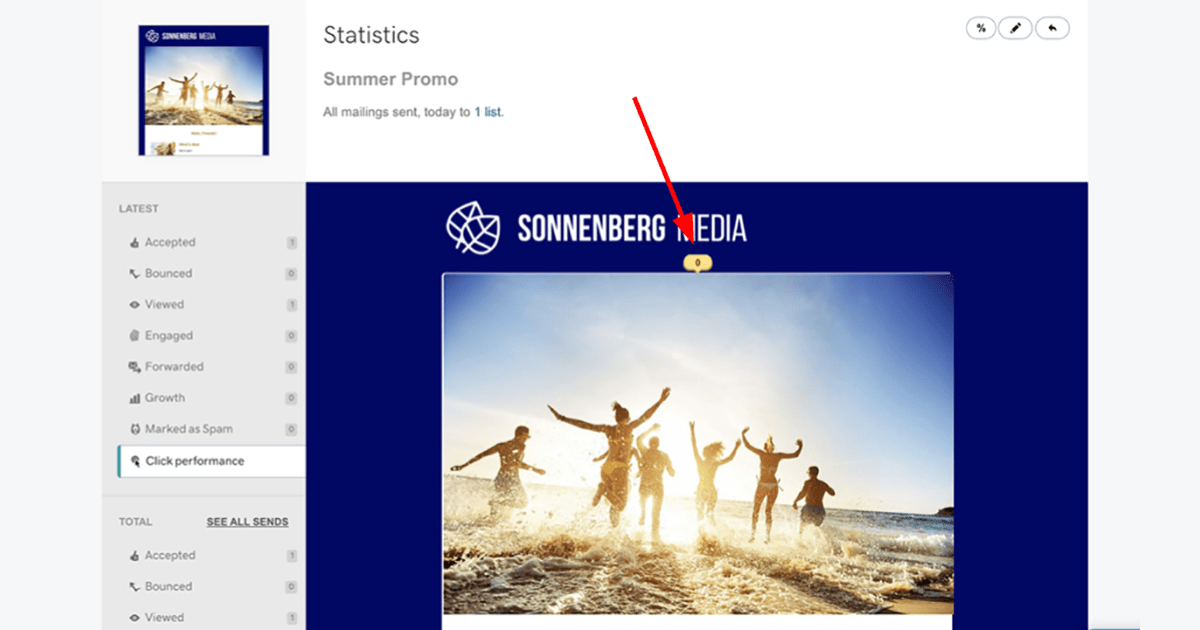 GoDaddy analytics also lets you compare the performance of all your campaigns. The interface is a bit clunky, but if you click around, you can see which campaigns drove the most views, engagement, and other metrics.
GoDaddy's comparative reports are available even with the cheapest plan, making them a relative bargain.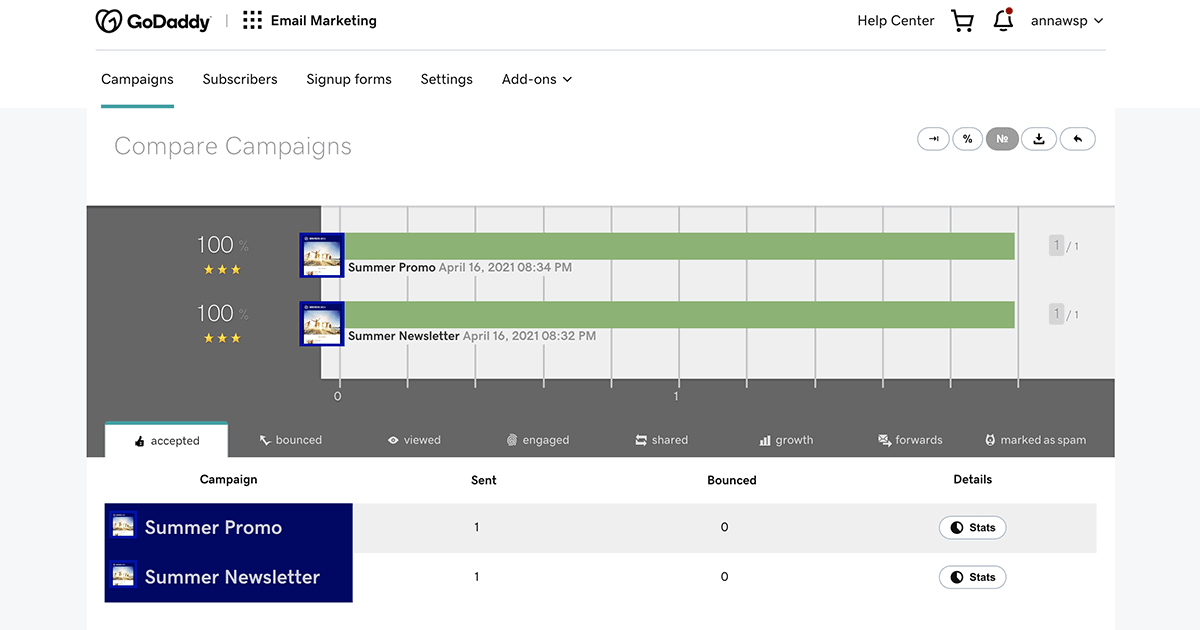 Although GoDaddy Email Marketing reports are pretty solid, they're far from the best in the business. Out of the dozen or so email marketing services I've tried,
I consider AWeber's reports superior
. They let you compare campaign results side by side, and you can set goals to keep your efforts on track.
If you're serious about improving your return on investment (ROI), AWeber is a smart choice, plus it offers a free plan so you can try it out without any risk.
When it comes to analytics, I'd definitely choose GoDaddy Email Marketing. You get comparative reports and heatmaps even with cheaper plans. In contrast, Mailchimp doesn't offer heatmaps at all and charges hundreds of dollars a month for advanced reports.
Pricing
Mailchimp Gets Pricey Fast; GoDaddy Is More Affordable – With a Catch
Mailchimp and GoDaddy Email Marketing have similar starting costs. However, the sending capacities and pricing methods are completely different, and Mailchimp's highest-tier plan is exponentially more expensive.
Here's What You Get For Free
GoDaddy Email Marketing doesn't have a
free plan
 beyond the Starter plan, which is more of a free trial with up to 50 email sends. In contrast, Mailchimp's Free plan lets you send up to 10,000 emails per month to as many as 2,000 subscribers. It includes customizable automations and about a dozen responsive templates, but it lacks key features like advanced reports and A/B testing.
After testing out several dedicated email marketing platforms, I can confirm that there are much better free options.
Sendinblue's Free plan
 lets you add unlimited contacts, customize beautifully designed templates, and create automated workflows. You can also send more targeted messages with advanced segmentation and use the sales-focused customer relationship management (CRM) tool to track leads.
Here's What You Get If You Pay
Before you sign up for a paid plan, calculate your costs carefully. Each GoDaddy Email Marketing plan has fixed costs, and you only pay more if you make the choice to upgrade. Mailchimp has contact-based pricing, so every time you reach a new subscriber limit you have to pay more – even if you don't need to upgrade to the next plan level.
Even though GoDaddy Email Marketing seems inexpensive, it might cost more than you think.
 The cheapest plan is so restrictive it's for beginners only, so the mid-tier plan is where most marketers should start.
Beware that once you reach 5,000 subscribers, it's impossible to add more or upgrade your GoDaddy Email Marketing plan further.
 If you anticipate building a big list, you're better off choosing another service to begin with.
Beginner: Up to 500 subscribers and 5,000 email sends per month, but no automations. Price:

$

9.99

 per month.
Up & Running: Up to 2,500 subscribers and 25,000 email sends per month, and comes with automations. Price:

$

14.99

 per month.
Pro: Up to 5,000 subscribers and 50,000 email sends per month, and comes with date-triggered emails. Price:

$

29.99

 per month.
Because Mailchimp has subscriber-based pricing, you can expect your costs to escalate quickly as you build your list.
 If you want advanced features like comparative reporting and multivariate testing, you'll have to pay for the most expensive plan.
Essentials: Up to 50,000 subscribers and 500,000 email sends per month, and comes with customizable automations. Pricing starts at

$

20.00

 per month.
Standard: Up to 100,000 subscribers and 1.2 million email sends per month, and comes with branched automations. Pricing starts at $14.99 per month.
Premium: Up to 200,000 subscribers and 3 million email sends per month, and comes with comparative analytics and multivariate testing. Pricing starts at

$

0

  per month.
Take a look at the chart below to compare the two services more easily.
When you add Sendinblue's Free plan to the mix, it's clear that you can get similar or better features at no cost.
Plan
# Subscribers
# Email Sends
Automations
Support
Monthly Price
GoDaddy Email Marketing: Beginner
500
2,500 emails per month
limited autoresponders
24/7 live chat and phone support

$

9.99

per month
Mailchimp: Essentials
500
5,000 emails per month
multi-step automations
24/7 email & live chat support

$

20.00

to start
Sendinblue: Free
Unlimited
300 emails per day (approx. 9,000 emails per month)
customizable multi-step workflows
24/7 email support

$

0
When it comes to pricing, it's a draw. GoDaddy Email Marketing offers fewer features for its comparably priced plans, but Mailchimp plans get expensive quickly. In addition, GoDaddy's subscriber capacity is way too small for many marketers, while Mailchimp's most expensive plan is way beyond many marketers' budgets. There's no winner here, instead you're better off with an alternative email marketing service like Sendinblue.
Support
Mailchimp Can Be Slow; GoDaddy May Not Give an Accurate Response
GoDaddy and Mailchimp both have reasonable support options, at least in theory.
 GoDaddy has 24/7 phone and live chat support for all plans. Mailchimp has 24/7 email and live chat support for most paid plans and phone support for the highest-tier plan.
Yet I had issues with both platforms' support methods.
First, I used GoDaddy's live chat to ask about personalizing emails with content or subscribers' names. The support rep had a lot of trouble understanding what I was asking and then ultimately told me it wasn't possible to do what I wanted. After a few hours of testing the platform, I found that it absolutely
is
 possible to personalize GoDaddy emails with subscriber names and other details – you just have to know where to look.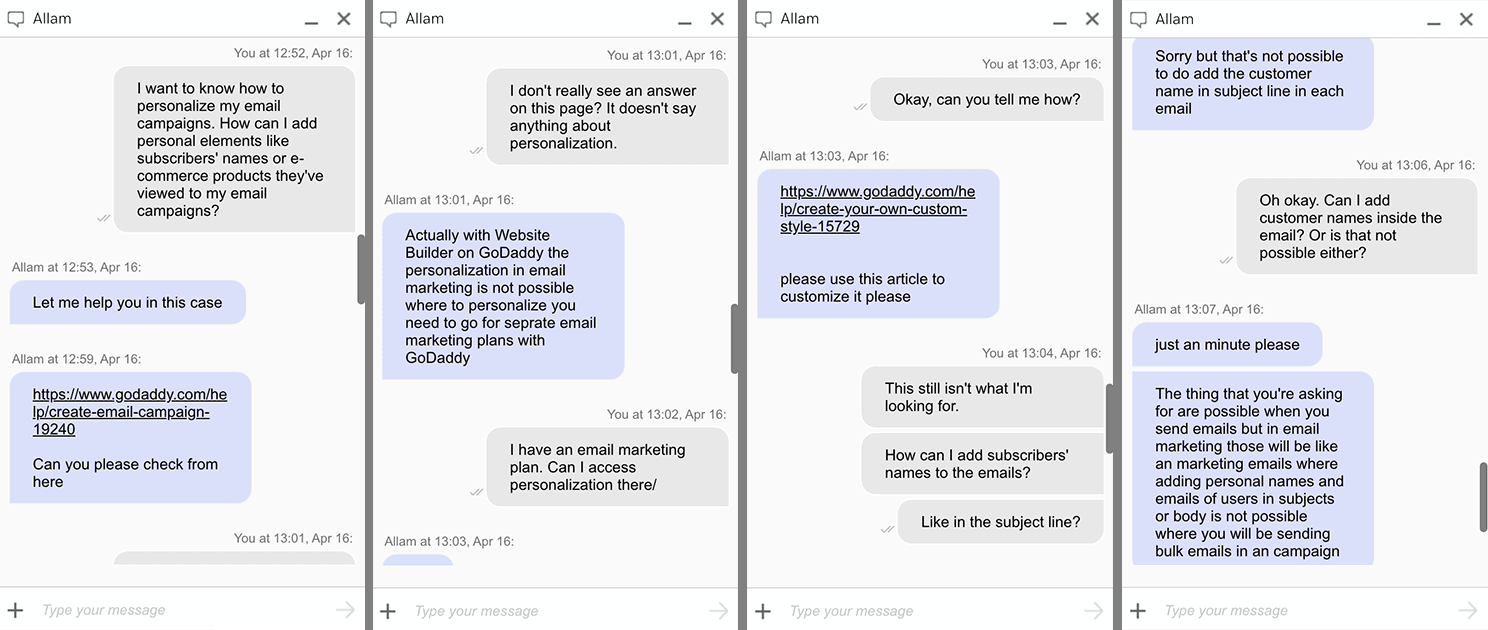 Next, I asked Mailchimp support the same question. This time, I used the email ticket support system to see if I would get a timely response. It took about 48 hours, but I did receive an answer with helpful guidance and links. I appreciated that the support rep encouraged me to reply so they could provide a more specific follow-up.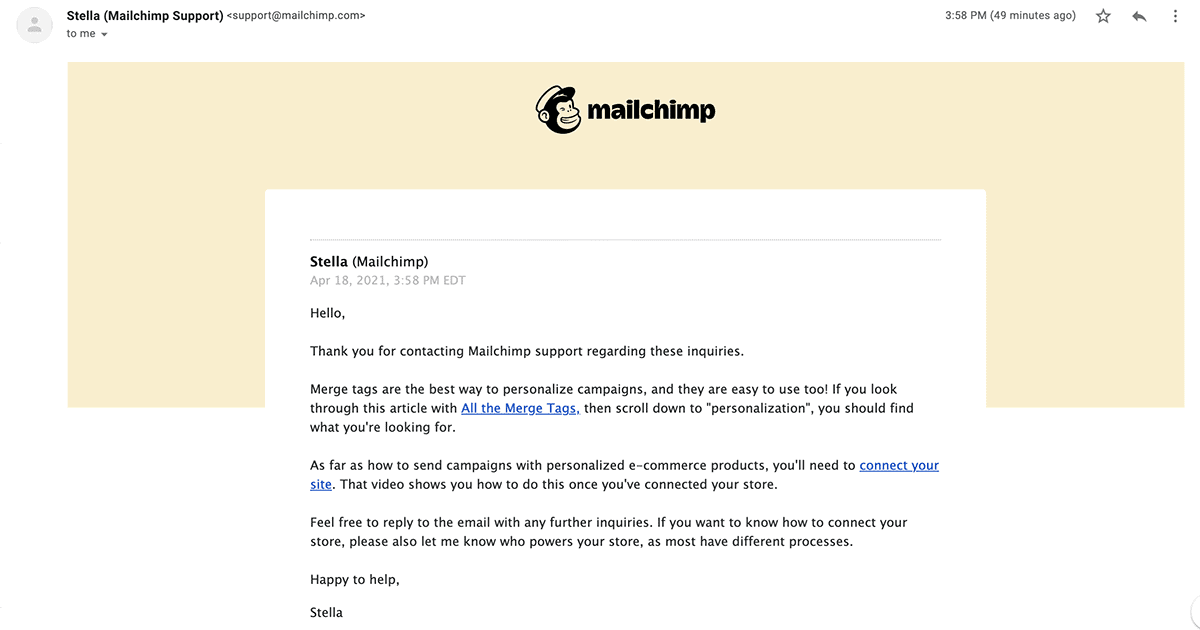 Mailchimp wins the support round, thanks to their reply that was helpful, personalized, and most importantly – accurate. I appreciated GoDaddy's speed, but I'd rather wait for a reliable response. That being said, when my colleague put together their
Mailchimp review
, he had a little less luck with the support team, so I'd recommend checking out his experience first…
Consider a Powerful, Dedicated Email Marketing Service Instead
GoDaddy Email Marketing has better analytics and usability, while Mailchimp has more advanced features and reliable support.
However, I wouldn't necessarily recommend either option. After all, if you want to grow your business, you need a dedicated email marketing service that has the powerful features you need at a price you can afford.
If you have a small list or a strict budget, I suggest Sendinblue.
 You can get started at no cost with the Free plan, and when you're ready for features like A/B testing or unlimited email sending, you can upgrade to an affordable paid plan.
If you have a bigger list or you're committed to marketing automation, I recommend ActiveCampaign.
 All plans come with automated funnels and autoresponders to boost efficiency as well as plenty of email, landing page, and webform templates to save time.
Platform
GoDaddy Email Marketing
Mailchimp
Sendinblue
Features
3 email templates, limited automations, 5 app integrations
Approx. 85 email templates, premade & custom automations, approx. 250 app integrations
140+ email templates, 100+ app integrations, premade automations
Ease of Use
Sometimes clunky interface with good tutorials
Nicely designed interface that's easy to navigate
Clear, user-friendly design suitable for beginners
Reporting
Insightful analytics and comparative reports
Relatively basic reports with advanced insights for highest-tier plan
Basic reports, advanced options on the Lite plan
Support
24/7 live chat and phone support
24/7 email & chat support for all paid plans and phone support for highest-tier plan
Email and phone support only
Pricing
No free plan; flat-rate plans have subscriber and sending limits
Free plan available; paid plan pricing is subscriber-based
Free plan available, paid plan pricing increases based on email rather than contacts
FAQs
What is the GoDaddy Email Marketing Starter plan?
Every GoDaddy website builder plan comes with an Email Marketing Starter plan, which is effectively a free trial. It includes 50 total email sends and all the features from the Pro plan. To use GoDaddy Email Marketing after the 50 email sends, you need a paid plan.
Which is better, Mailchimp or GoDaddy Email Marketing?
Mailchimp is marginally better because it has more space for growth and more advanced automations and integrations. However, I'd recommend considering another email marketing service instead. ActiveCampaign has hundreds of automation and integration options and insightful reports that can help you get more out of your marketing efforts.
What is the cheapest email marketing service?
Sendinblue's Free plan is the cheapest email marketing service, as it includes a full slate of features at no cost. If you're on a tight budget but you need more sending capacity or high-level features, you can use our email marketing coupons to lower your costs.