Content is what drives customers to your site, and good content is what keeps them coming back
. For this reason, more and more businesses are hiring freelance writers to keep their website content fresh. There are a ton of options when it comes to places to hire writers. While some of these sites are great, many are lacking either qualified talent, or features that are ideal for finding your perfect writer.
Hiring a freelance writer on the wrong site could lead to wasted time and resources
. With this in mind, we tested all the major freelance hubs to find the absolute best options. From websites that exclusively focus on content creation to platforms that host freelancers of all types, we narrowed down the top five websites that you should turn to when looking for well-written material for your site.
What We Look For in the Best Freelance Websites for Content Writers
Multiple industries: We made sure that all the sites on this list have writers capable of handling your job, regardless of what industry you're in.
Affordable content: While some of these sites cost more than others, we only feature platforms that offer content that can fit pretty much any budget.
Client protection: We made certain that any site featured on this list will protect your interests when hiring a freelance writer.
Plenty of talent to choose from: Everyone likes to have choices, so we only included sites that have thousands of writers available to tackle your project.
Samples of previous work: Any writer can say that they're the best, but you want proof that they know what they're doing. We looked specifically for platforms that offer previews of past work, either through a freelancer's profile or as part of the application.
Fiverr – Writers Who Can Accommodate Any Budget
Fiverr is one of the most popular freelance platforms, where freelancers sell their services in a wide (
and sometimes strange
) variety of categories. But it's no surprise that one of the most popular services on
Fiverr
is content writing.
This platform hosts thousands of writers that can accommodate just about any project or budget
. Unlike many other freelance platforms, on Fiverr you search through "gigs," or jobs that have been created by freelancers. The only downside is that looking through all the gigs can take time that you may not have.
Read our guide
for some expert tips on finding an amazing writer on Fiverr.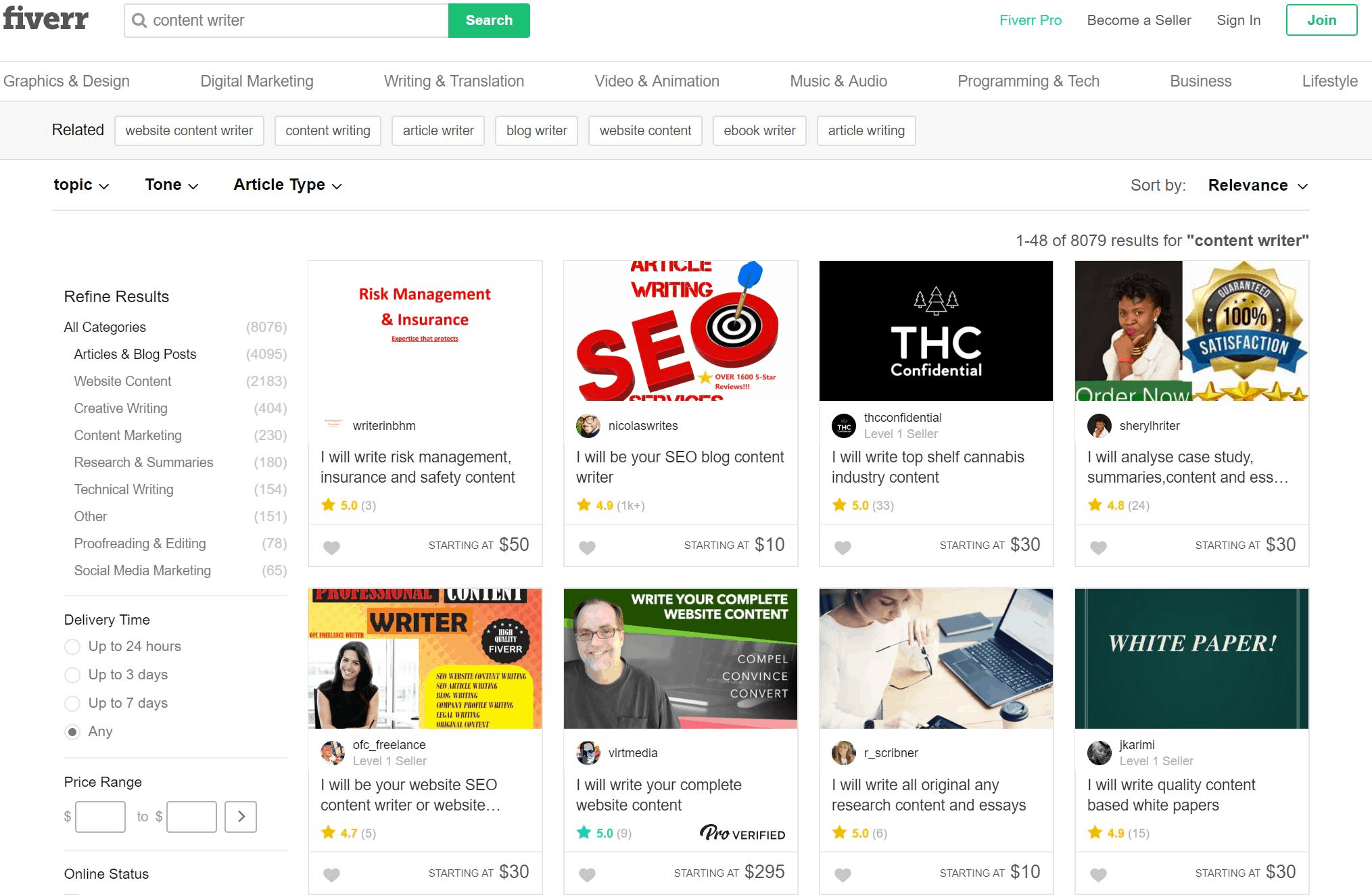 Features
Writers in multiple languages available: Whether you're looking for content that's written in English, Thai, or spoken Mandarin, Fiverr has freelancers available who are capable of delivering quality content for any geographic audience.
Clear ratings and rankings: All Fiverr freelancers are evaluated on a five-star standard, which can help you quickly identify top performers. There are also four levels of sellers (New Seller, Level One, Level Two, and Top Rated) that can give you a better sense of a freelancer's experience and professionalism.
Intuitive filters: On Fiverr, you can filter out potential writers based upon your specific project's needs. When searching, you can choose the article type, tone, language, topic, skill level, and price.
Secure messaging and payments: When sharing personal or professional details, you want to be sure that your information is kept private. Fiverr uses a secure messaging system and payment portal to make certain your information is safe.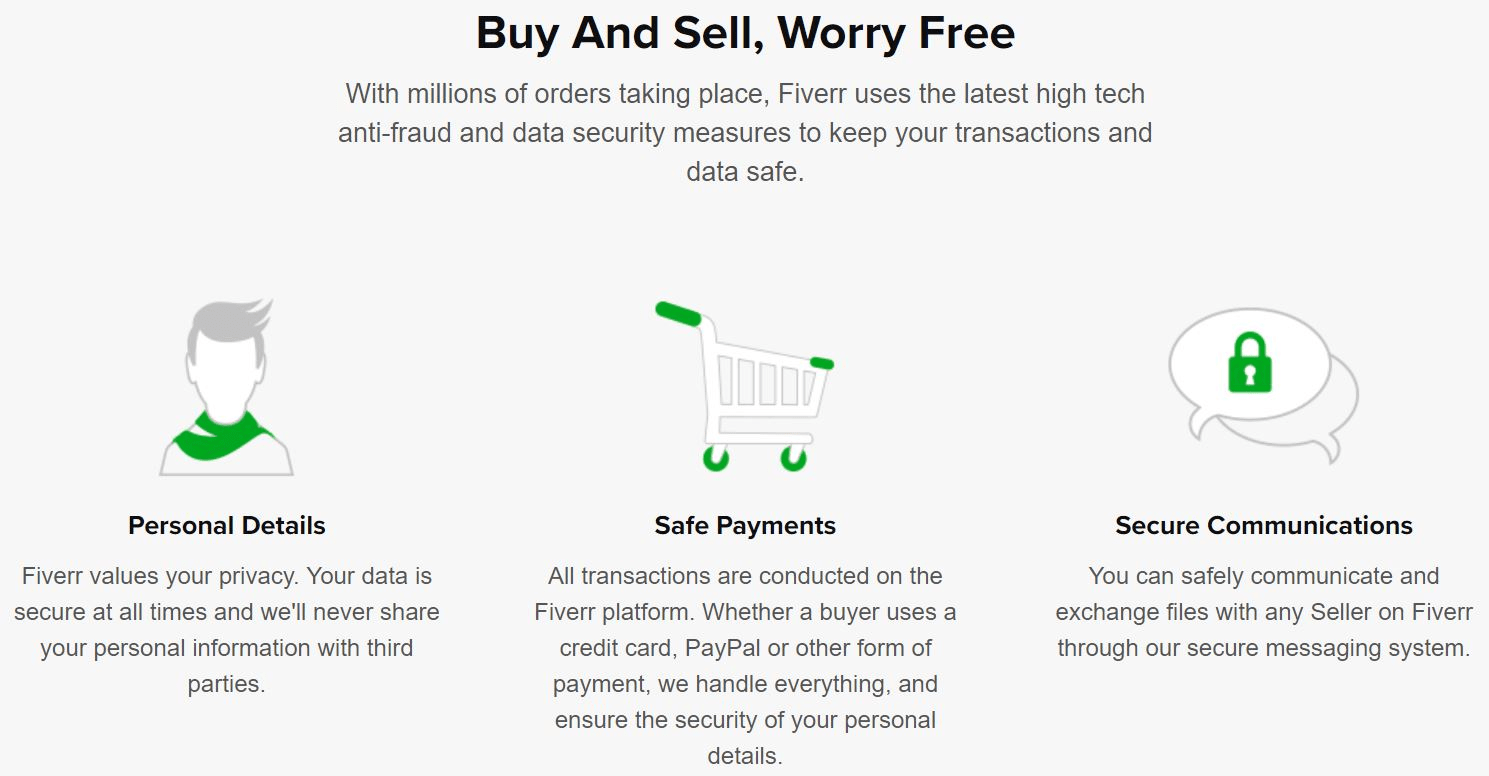 | | |
| --- | --- |
| Cost of Hiring | $2 for jobs less than $40, or 5% of the total price for jobs that cost more than $40 |
| Client Protections | Resolution center and responsive customer service |
| Review System | Yes, five-star ratings, four seller levels |
| Available Portfolios | Yes |
| Intuitive Filters | Yes |
Pro Tip: If you're on a budget, it can really pay off to give new writers a chance. Just because someone lacks reviews doesn't mean they're terrible, and they'll often work harder for less money in order to begin building a reputation on this platform.
ProBlogger – The Classifieds for Freelance Writers
ProBlogger
aims to help bloggers create high-quality content and
monetize their blogs
. In addition, the site offers a job board which is ideal for finding content writers who know what they're doing. ProBlogger's job board works much like Craigslist, or other online classifieds, although it's primary emphasis is on content writers. The platform does charge a fee for posting a job, which is a bit pricey compared to other sites (there are also options for pricing packages). However, once you've paid your fee and posted your job, this website tends to deliver higher quality writers than other freelance hubs.
This site is ideal if you're looking for quality content and you're willing to pay a bit more for it
. Other places may be cheaper, but you may have to look through more applicants and deal with lower quality work before you find a good match.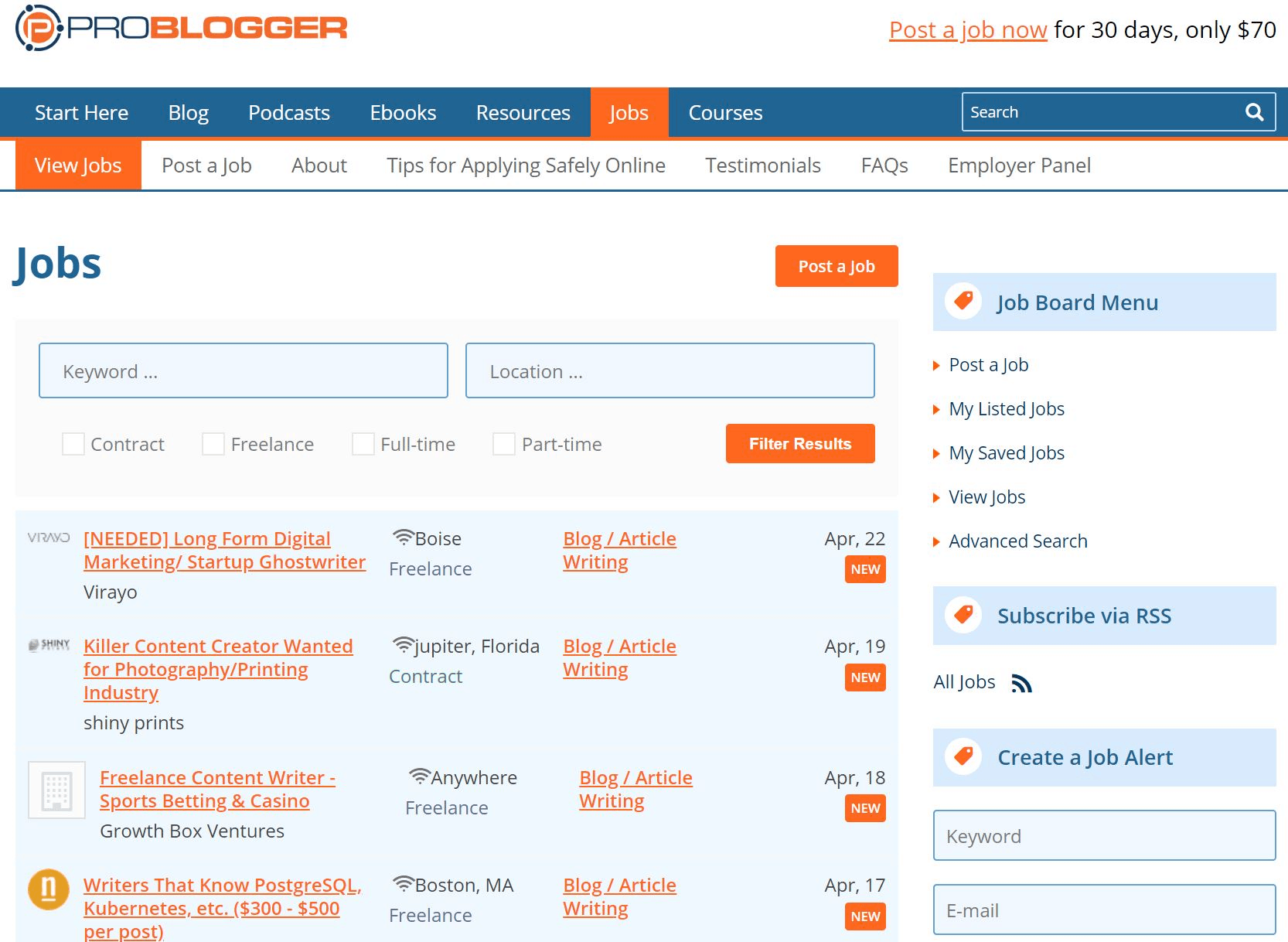 Features
Receive applications from hundreds of qualified writers: When you post a job on ProBlogger, you can expect to receive responses from experienced applicants who know how to create decent, SEO-friendly web content for different audiences.
Ideal for finding writers of all types: Even though the name suggests that this platform's focus is on bloggers, you can find experts for just about any type of writing job you may have.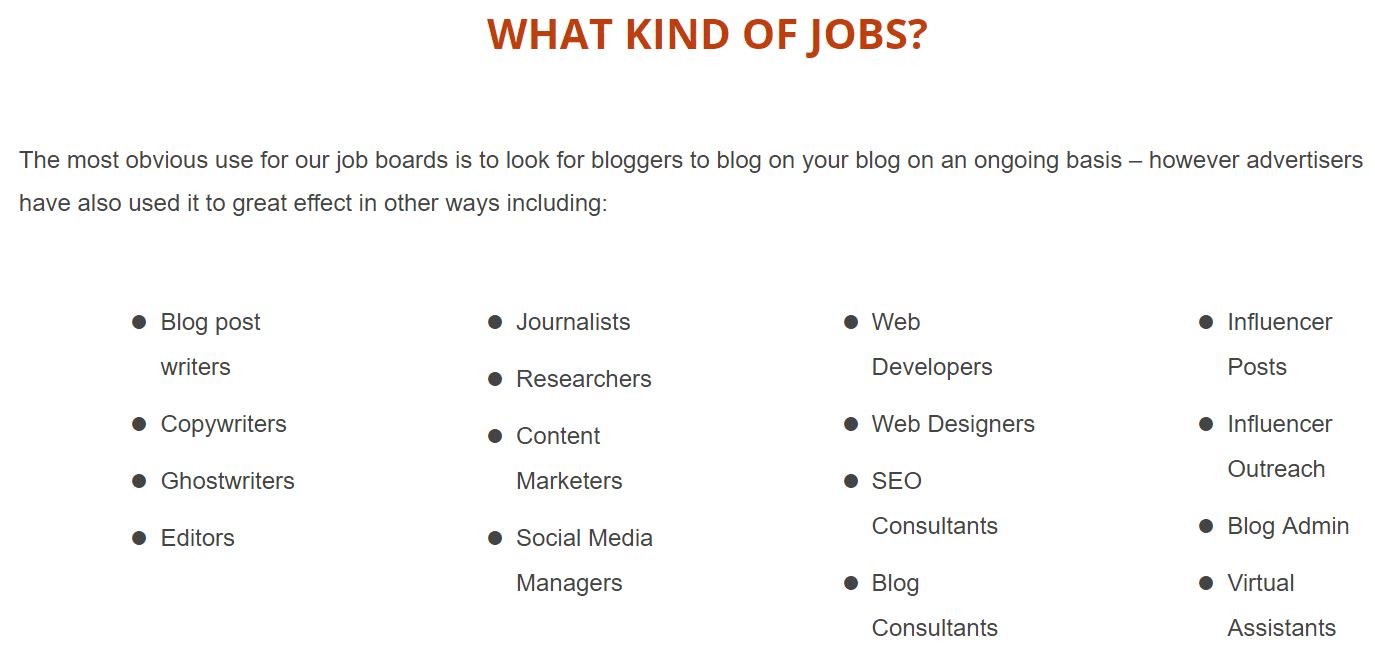 Posting a job is quick and easy: Once you've registered on ProBlogger, creating a job posting couldn't be easier. Simply fill out the required info, such as job type, title, description, and how to apply, then preview your listing, and publish it.
Jobs are tweeted out to ProBlogger's 230,000+ Twitter followers: Jobs posted on ProBlogger aren't only visible on the site's job board, they're also tweeted to the site's many followers. These jobs are often retweeted as well, making your job visible to countless qualified writers.
| | |
| --- | --- |
| Cost of Hiring | $70 to post a job for 30 days, or various membership packages |
| Client Protections | None, although you don't need to pay for work that you find substandard |
| Review System | No |
| Available Portfolio | Can be supplied by applicants upon request |
| Intuitive Filters | Minimal filters that are only available when searching through jobs |
Pro Tip:While writers on this platform do tend to be of higher quality, there are some who copy and paste their applications. Watch out for these. If an applicant doesn't include information relevant to your job, then you should probably pass.
iWriter – The Lowest Priced Content
When you're looking for professionally written content but you're on a budget,
iWriter
just might be the perfect place for you.
Here, it's possible to get content written for less than $2 (although at that price, it may not be particularly well-written)
. So, while you can find some amazing deals on iWriter, some past clients have complained about the quality of work.
One common issue that many iWriter clients have faced are writers who offer services in a language other than their native tongue
. While many bilingual freelancers are perfectly capable of writing well in multiple languages, for some readers, it may be a bit obvious that the author isn't super familiar with the language they're writing in. That being said, you can still get great prices for quality content on this platform, especially if you work with writers who are just starting out. Any writer on iWriter has to submit quite a bit of well-reviewed content before they're able to earn "elite status" and gain higher pay. For this reason,
some highly qualified writers will sell their services for well below the going rate, simply to help build their portfolio and raise their ratings
.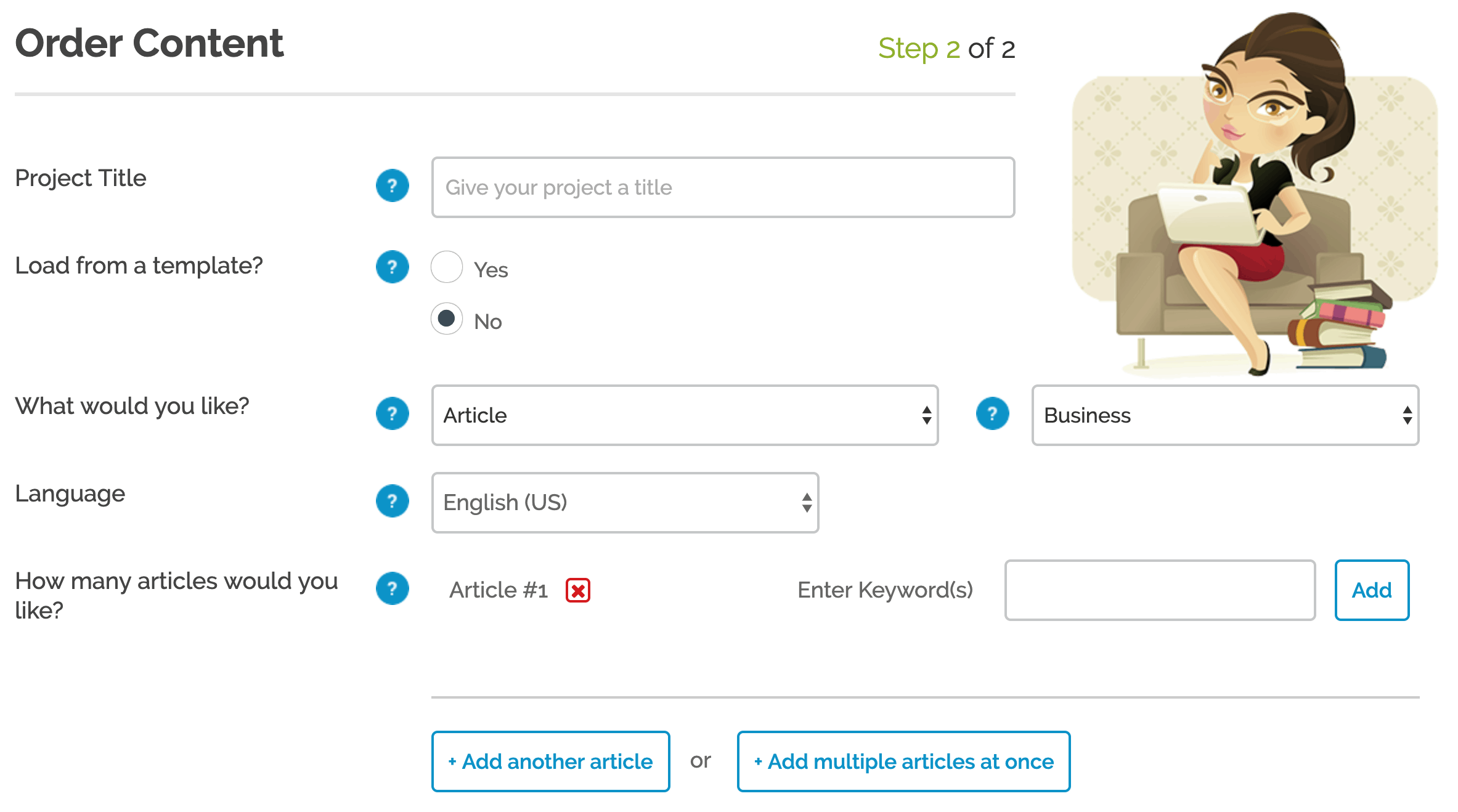 Features
Only pay for the content you like: On iWriter, you're free to decline work that doesn't meet your expectations. And you won't pay a thing.
Some of the best prices available: Whether you need dirt cheap content, or you're willing to pay for a highly rated elite writer, the prices on this platform are hard to beat.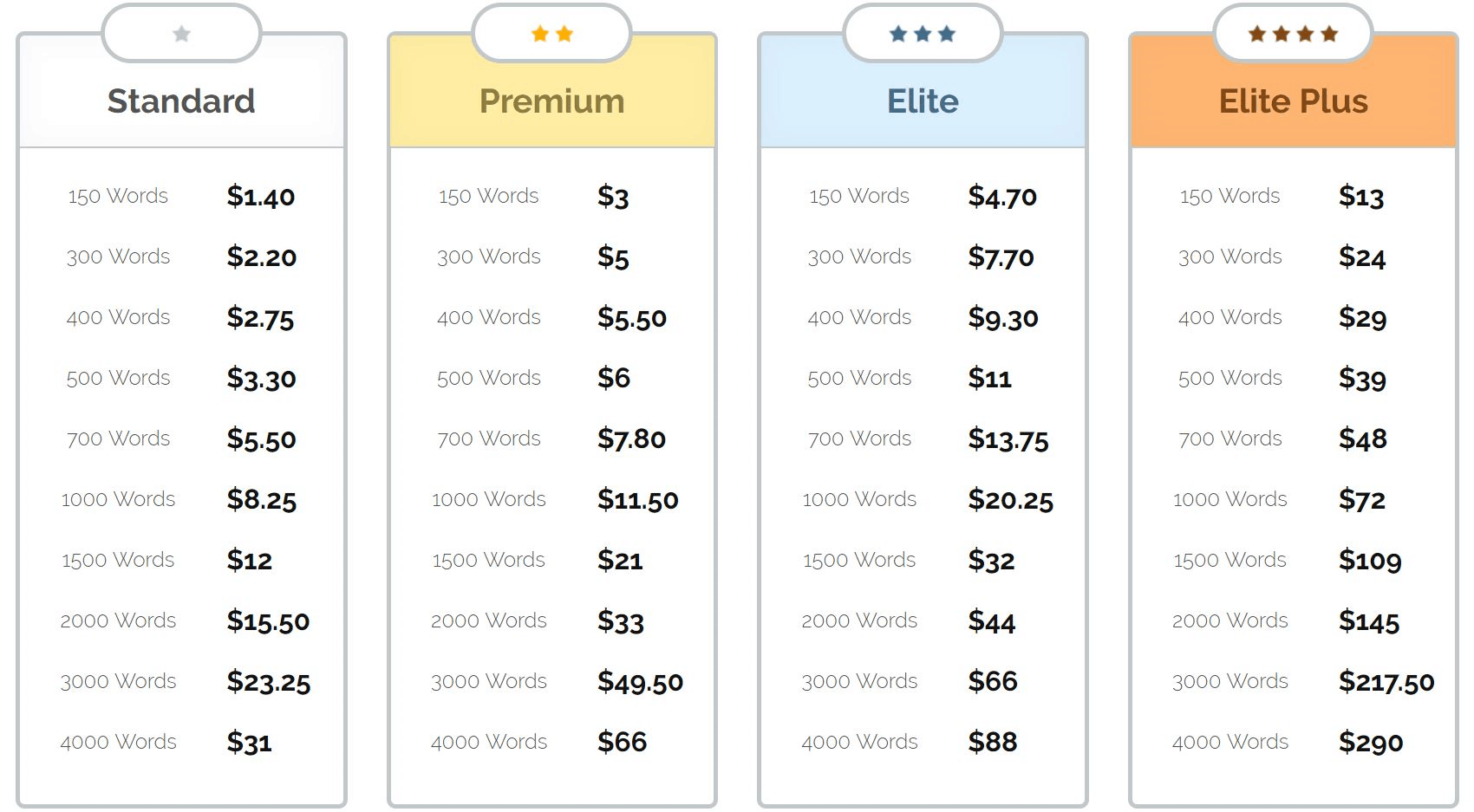 Articles can be delivered incredibly fast: With so many writers available, it's totally possible to get an article delivered to you in as little as three hours on iWriter.
Save writers in your "Favorite Writers" list: When you find a writer that you like, you can save their profile and contact them directly. This can save you a ton of time when it comes to hiring for future jobs.
Find writers yourself, or post a job and have them come to you: With iWriter's "Find Writers" search function, you can easily scroll through the available talent. Alternatively, you can post a job, choose the desired skill level for your writer, and writers that match your requirements can then accept your job and submit their work for approval.
| | |
| --- | --- |
| Cost of Hiring | Free to use |
| Client Protections | Only pay for work once you've approved it |
| Review System | Yes, four skill levels that correspond to pay rates |
| Available Portfolio | Yes, available in a writer's profile under "Samples" |
| Intuitive Filters | Minimal filters, covering native language, rank, category, and jobs completed |
Pro Tip: Finding good writers on this platform can take some time, so when you find someone you like, make sure to add them to your "Favorite Writers" list. On top of this, tip your writers if their writing goes above and beyond your expectations. This will ensure that they continue to deliver quality work for you.
Constant Content – The Place to Find Experienced Writers
Constant Content
is a site that only allows high-quality freelance writers to use their platform. Most other sites rely on reviews and leave it up to you to weed out the inexperienced writers.
Constant Content has a strict application process. Not only that, but they edit the work to make sure it meets their standards
. This can be great if you don't have time to read through tons of applications or send work back for substantial revisions. Constant Content does charge a bit more for this service, but – if you are willing to pay – it can also save you a ton of time. Whether you want custom content developed or would prefer to select from a library of existing content that is ready for purchase, you can be reasonably assured that it will be high quality.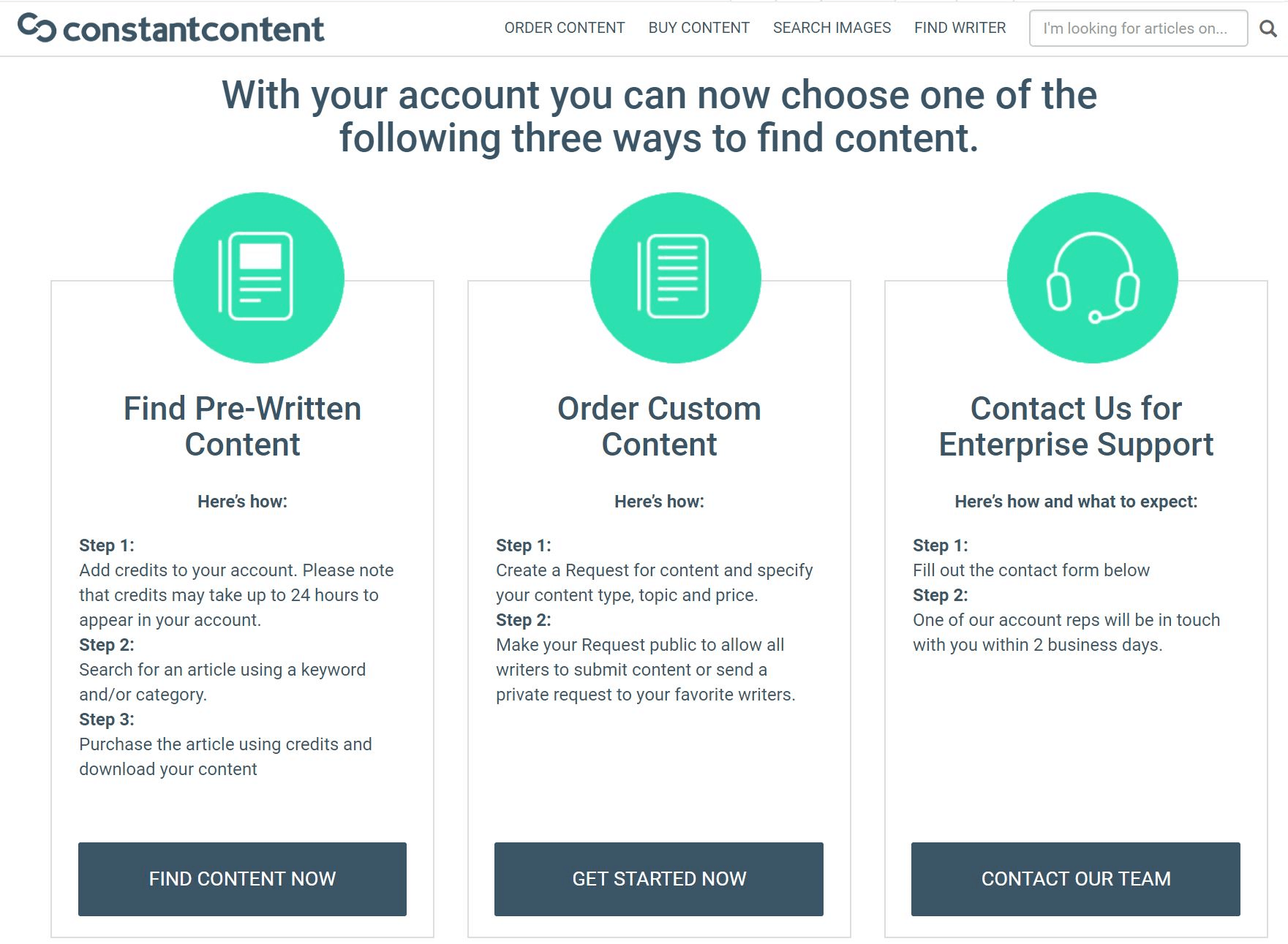 Features
Buy prewritten content: Constant Content has a database with thousands of articles available for purchase. These professionally written articles are reasonably priced and cover hundreds of topics.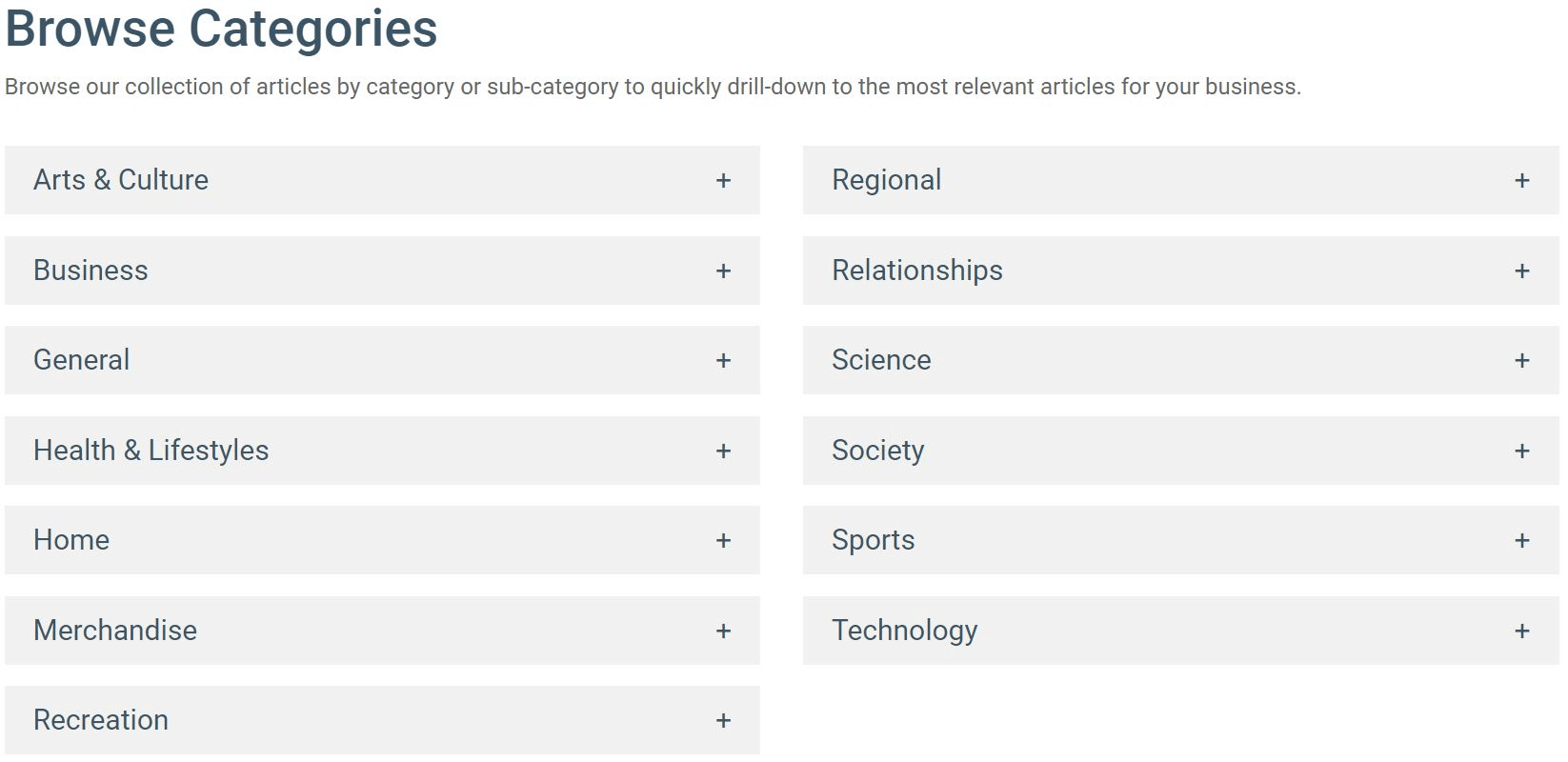 Find experienced writers with minimal effort: When you submit a content request to Constant Content, the platform will take care of all the work for you. This means there's no need to screen applicants or receive bids. For one price, you'll receive quality content with little work on your end.
All writers know how to craft quality content: All the writers on Constant Content are tested in their ability to write compelling, engaging, SEO-friendly web content.
Receive content that's already edited and ready to publish: On top of writing your content, Constant Content also edits all content using professional editors. This way you receive articles that are ready to publish.
Any article is guaranteed to be unique: All content that's written on Constant Content is submitted to Copyscape to make sure it's plagiarism-free.
| | |
| --- | --- |
| Cost of Hiring | Creating an account and requesting content is free |
| Client Protections | You only need to pay for content once you've approved it |
| Review System | No, although there are top writer lists for different categories |
| Available Portfolio | You can view a preview of a writer's previous work under "Featured Articles" in their profile |
| Intuitive Filters | Search for writers by the subjects they've previously covered and by the categories they specialize in |
Pro Tip:Before submitting a job request, it may be a good idea to look through the prewritten articles that Constant Content has available. This content may be perfectly suitable for your needs and is usually cheaper than having a custom article made.
Upwork – The World's Largest Freelance Platform
With nearly 100,000 content writers available on Upwork, you can rest assured that you'll find someone who can handle your project
. The only drawback to the sheer number of talented writers available is that it can take a while to look through all the job proposals before you find your perfect match.
Since writers from around the globe are using Upwork, you can find one to fit nearly any budget
. From new writers who are charging less than $10/hour, to experienced content creators who charge more than $50/hour, you're sure to find someone here who will meet your needs.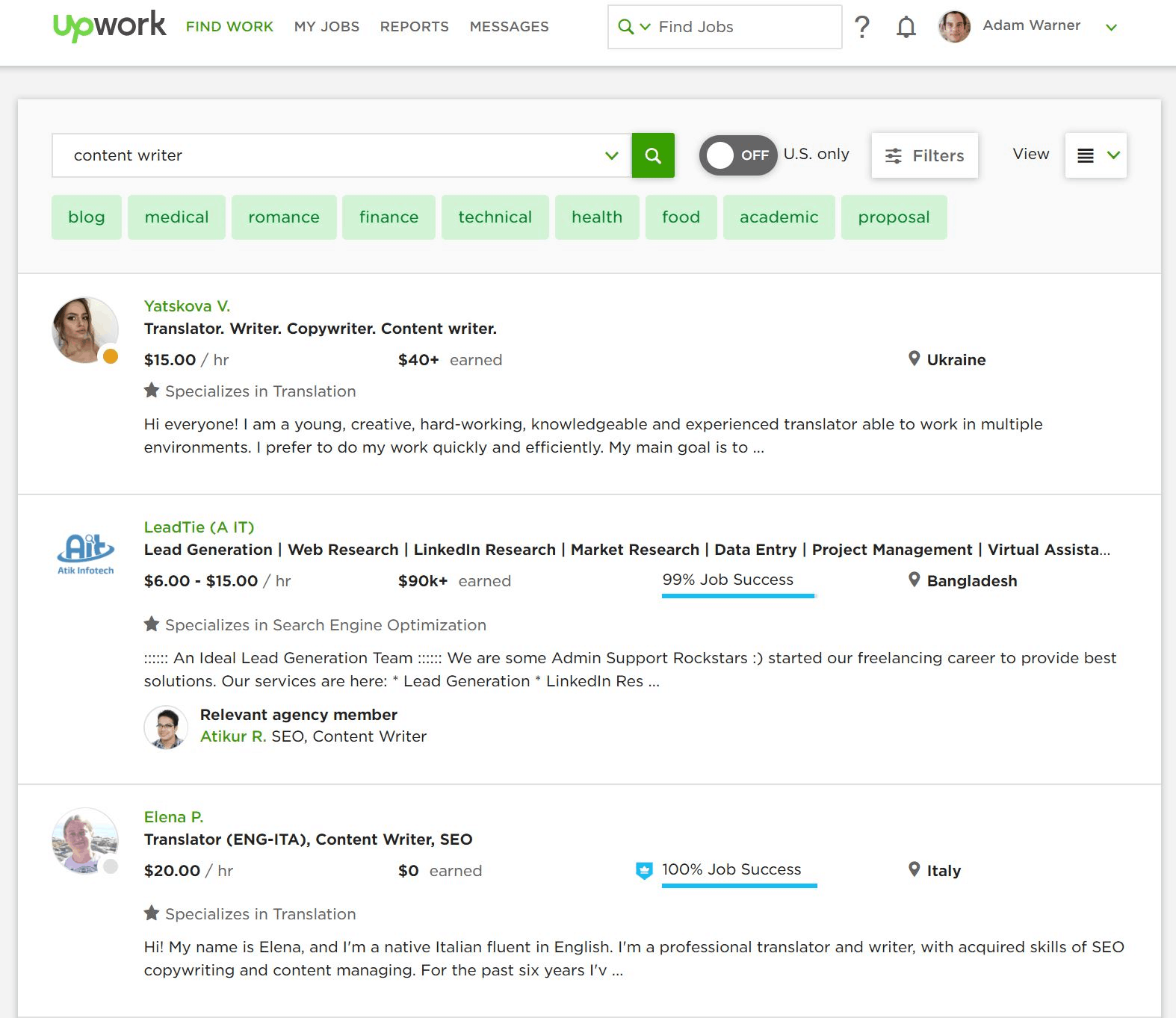 Features
Ability to quickly evaluate talent: Every established Upwork freelancer has a Job Success Score. This is derived from the number of successful jobs completed, overall client feedback, response rate, and a number of other factors. With additional "Top Rated" and "Rising Talent" badges, it's easy to identify the highest performers.
Excellent filters: This platform has some of the best available filters. You can search for users based on things like their Job Success Score, English fluency, native language, physical location, and category of expertise.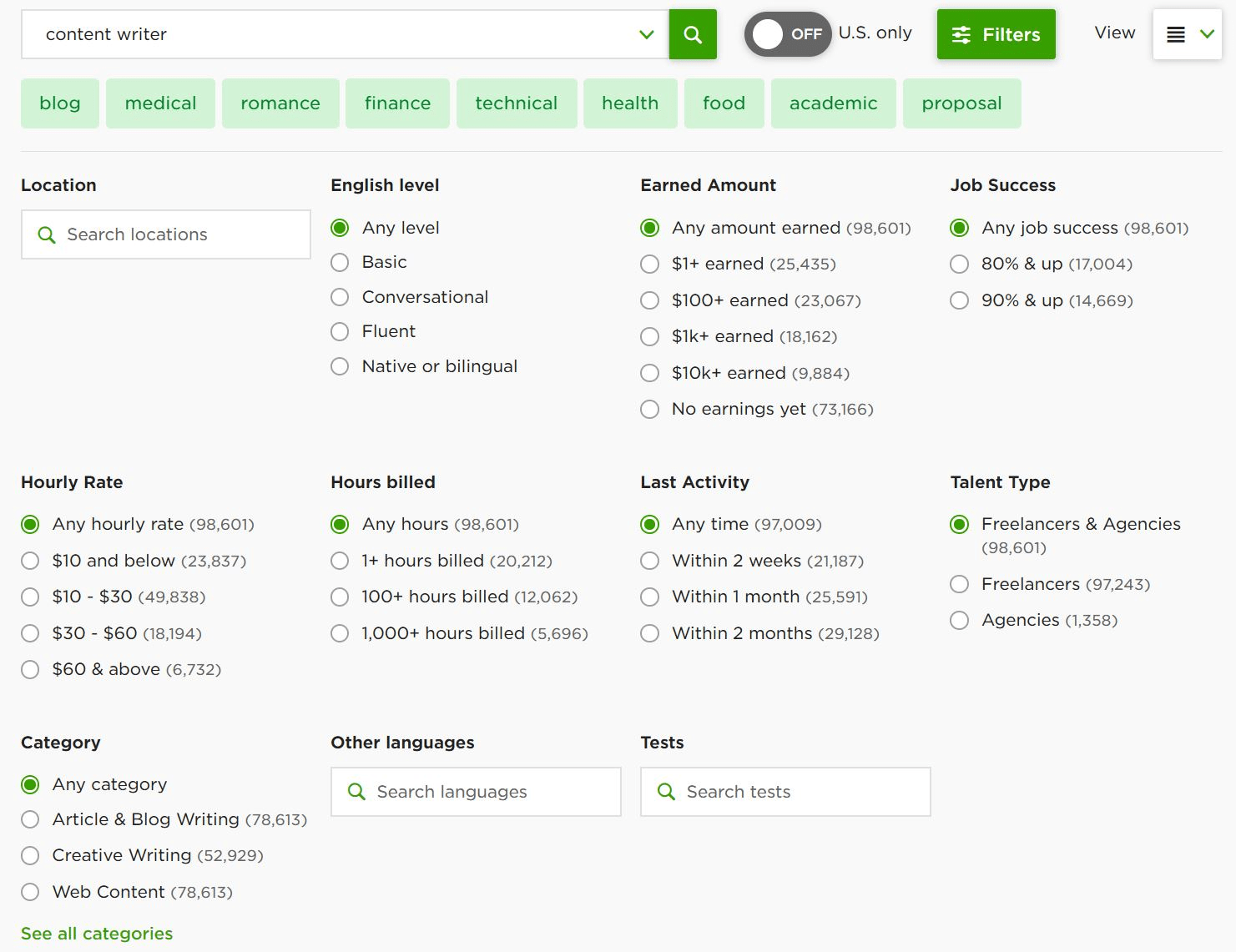 Great client protections: If you're unhappy with the performance of your freelancer, Upwork has you covered. From a team of responsive customer service personnel, to disputes and arbitration, Upwork provides several options should something go wrong with your contract.
Informative freelancer profiles: On Upwork, each writer fills out a thorough profile so you can get to know a freelancer before awarding them your project. This includes a summary of their skills, reviews from past clients, tests that they've completed through the platform, examples of prior work, level of education, and employment history.
| | |
| --- | --- |
| Cost of Hiring | Free to use, but you're charged a 3% processing fee for all payments made |
| Client Protections | Yes, customer service, mediation, and arbitration |
| Review System | Yes, all established freelancers have a Job Success Score, plus profile badges for "Top Rated" or "Rising Talent" |
| Available Portfolio | Yes, included in freelancer profiles |
| Intuitive Filters | Yes |
Pro Tip: While there are tons of writers on this platform, when creating a job you can set certain qualifications that your writers must meet (e.g., number of hours worked on the platform). This is an easy way to narrow down the number of proposals that you receive.
Which Site Is Right for You?
While you can find decent content writers on any of the above websites, depending on the situation, some are better than others
. It can depend on your available budget, the time you're willing to commit to the hiring process, and the quality of the content you require. Let's consider this scenario: if you're aiming to employ writers at the most affordable rate and don't consider content quality to be extremely critical, then iWriter could serve as the perfect option. If you're open to investing a slightly higher amount for top-notch content and lack the time to review numerous candidates, contemplating the utilization of Constant Content might be prudent.
That said, for the best overall prices and high-quality content, Fiverr and Upwork are ideal – especially if you also need to hire virtual assistants, web developers, or graphic designers
. While it may take a little time to search through the available freelancers, these two platforms have some incredibly talented writers for prices that are well below the standard rate.
Want to compare your options? Take a look at the table below, and you'll be well on your way to finding your ideal content writer!
| | | | |
| --- | --- | --- | --- |
| Platform | Main Pro | Main Con | Ideal For When… |
| Fiverr | Features tons of great writers that can accommodate nearly any budget | Looking through all the available writers can be time-consuming | You want quality content and you're willing to commit time to look through writers' posted gigs |
| ProBlogger | Writers on this platform know how to craft quality web content | At $70, posting a job on this site is expensive | You're looking for a professional writer who knows what they're doing and you're willing to pay for it |
| iWriter | Articles are available for incredibly low prices | The quality of the content isn't always the best | You want cheap content and don't have time to look through a bunch of applications |
| Constant Content | All available writers have been screened; plus, content has been edited and checked for originality | Content can be pricey | You want well-written content and don't have time to look through a bunch of applicants |
| Upwork | With an excellent filtering system, you can quickly narrow down the available options to find exactly what you're looking for | When posting a job, you may receive tons of proposals | You're looking for a good deal, and you have the time to read through proposals to find it |
---
Sources
https ://buyers.fiverr.com/en/article/how-fiverr-works
https ://sellers.fiverr.com/en/article/creating-your-portfolio
https ://www.fiverr.com/trust_safety
https ://problogger.com/jobs/about/
https ://www.iwriter.com/pricing
https ://toughnickel.com/self-employment/iWriter-review
https ://www.constant-content.com/content-writing-service/knowledge-base/client-faqs/