It's time for a new logo for your business or blog. You have an idea in mind, and Fiverr is a great place to find a designer who can turn it into a reality.
But with thousands and thousands of professionals – and not-so-professionals –  to choose from, where do you even begin?
We'll walk you through the process to make sure you find a logo design genius you can really rely on. We'll tell you what you need to look out for, and how much you can expect to pay.
Don't waste your time and money on the wrong designer. Read on to find out how to eliminate the amateurs fast and get the logo of your dreams in no time.
How to Find a Logo Designer on Fiverr
When logged into your Fiverr account, hover your mouse over the Graphics & Design category and click on Logo Design.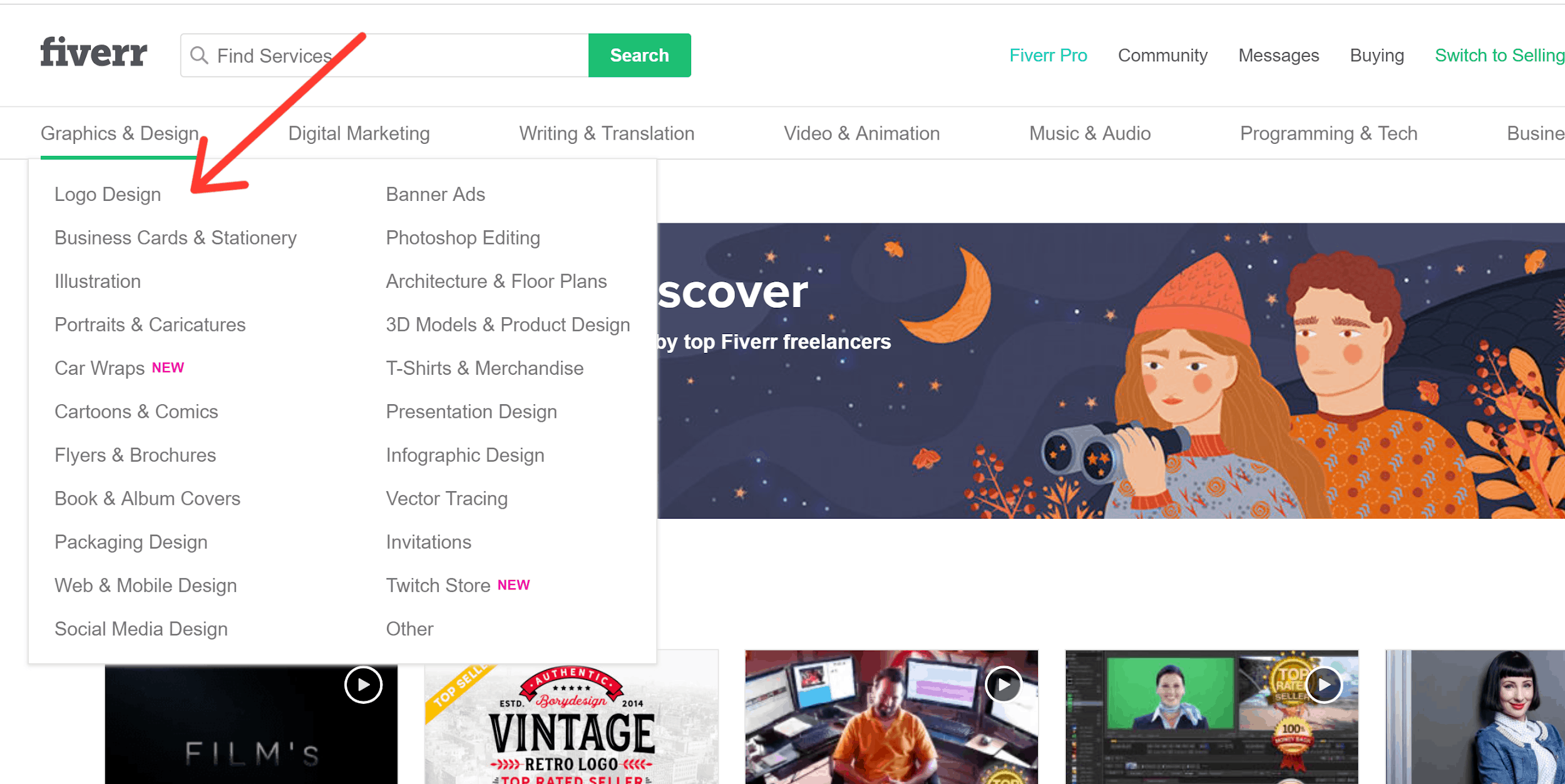 From here, you can either use Fiverr's logo designer wizard, or close the wizard and scroll down to see designers and search filters further down the page.
Use the Wizard to Find a Logo Designer on Fiverr
Fiverr's Find Your Logo Designer wizard starts with two options. If you have a specific logo design or style in mind already, choose I know what I want – otherwise, choose I need a design partner.
Click through to answer the wizard's questions. When you get to the end, the Fiverr wizard shows you logo designers who match your requirements. You'll see the filtering options you've chosen at the top of the screen, and you can tweak these at any time.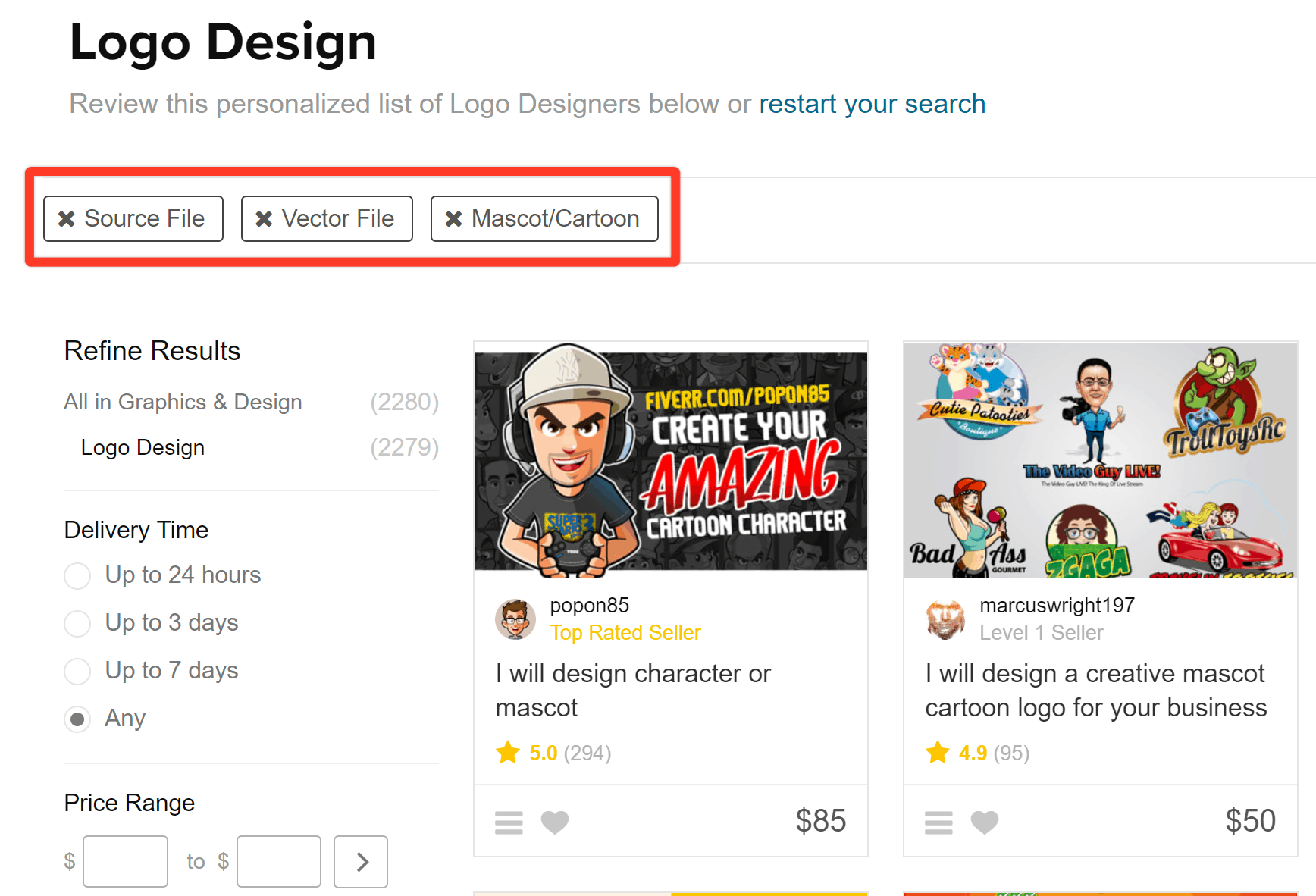 Search Fiverr to Find a Logo Designer
Using the wizard is a great shortcut to getting the logo design features you need, but you can also filter manually. This lets you see additional filtering options that aren't included in the wizard.
Return to the main logo design category, and click the X to close the wizard  (you can return to it at any time by clicking Find Your Logo Designer at the top of the screen).
Use the filtering options to the left of the screen to refine your choice.
Are Seller Levels Important When Choosing a Logo Designer on Fiverr?
Another way to filter what you see is by seller level. The levels on Fiverr are:
New Seller
Level One Seller
Level Two Seller
Top-Rated Seller
You're probably wondering why anyone would choose a new seller, and here's the answer: price. Most new sellers charge at the lower end of the scale to attract new clients and improve their rankings on Fiverr, so if you're looking for a $5 logo, a new seller might be perfect for you.
Plus, just because a seller is new to the Fiverr platform doesn't necessarily mean they're inexperienced. As you start looking at sellers' profiles and work samples more closely, you'll see that some new Fiverr sellers are actually aren't new to the business at all.
Seller levels depend on:
The number of projects done on Fiverr
The feedback received
The seller's responsiveness
The seller's delivery time
So, the higher the seller level, the more experienced they are on the Fiverr platform. If this is what you need, go with Level Two sellers and above. But don't ignore the potential of new sellers. Some experienced logo designers offer great deals when they're trying to improve their seller level fast.
Pro tip: You can also filter logo designers using the menu to the right of the page. By default, Fiverr shows Recommended logo designers, but you can also filter by Newest Arrivals, and Best Selling. Using Best Selling gives you access to sellers with hundreds or thousands of reviews, and a high star rating.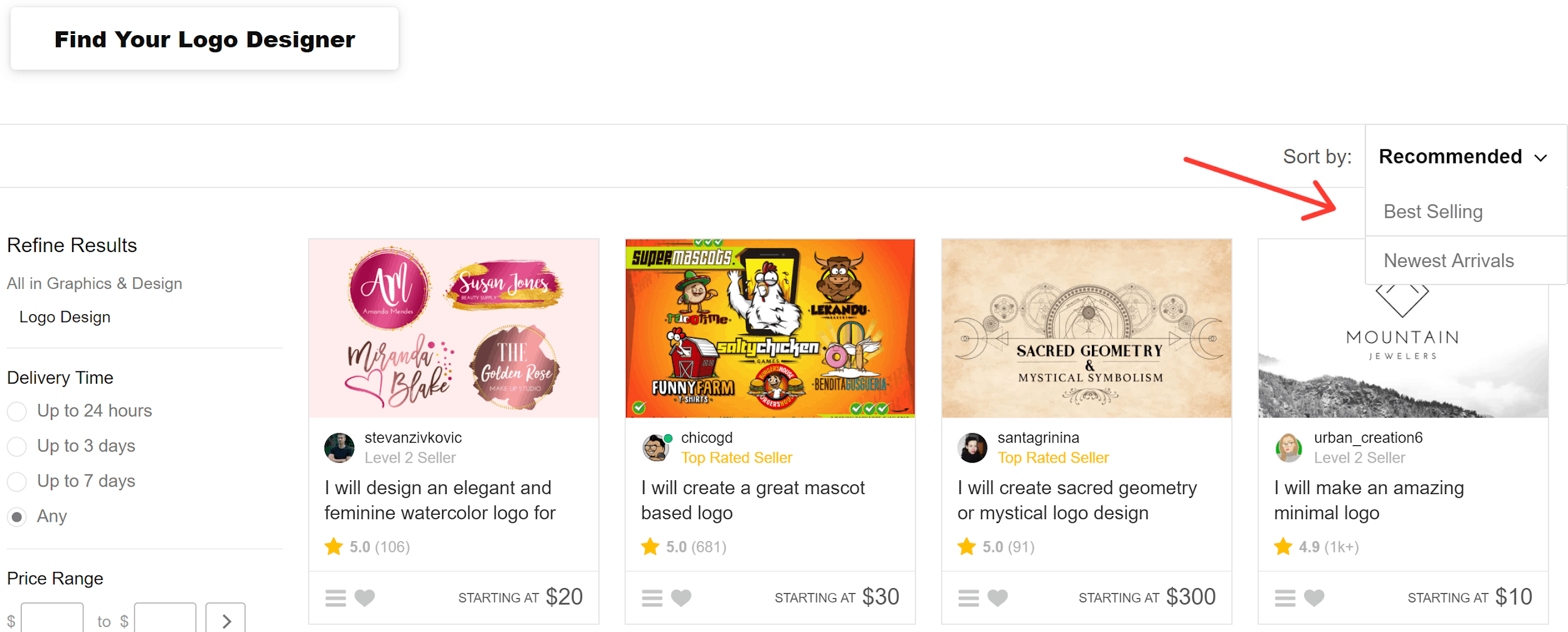 How to Create a Designer Shortlist on Fiverr
Once you've set up your filters, You can create a shortlist of possible designers. Fiverr makes this easy, with a heart icon at the bottom of each gig intro. If a designer appeals to you, just click the icon.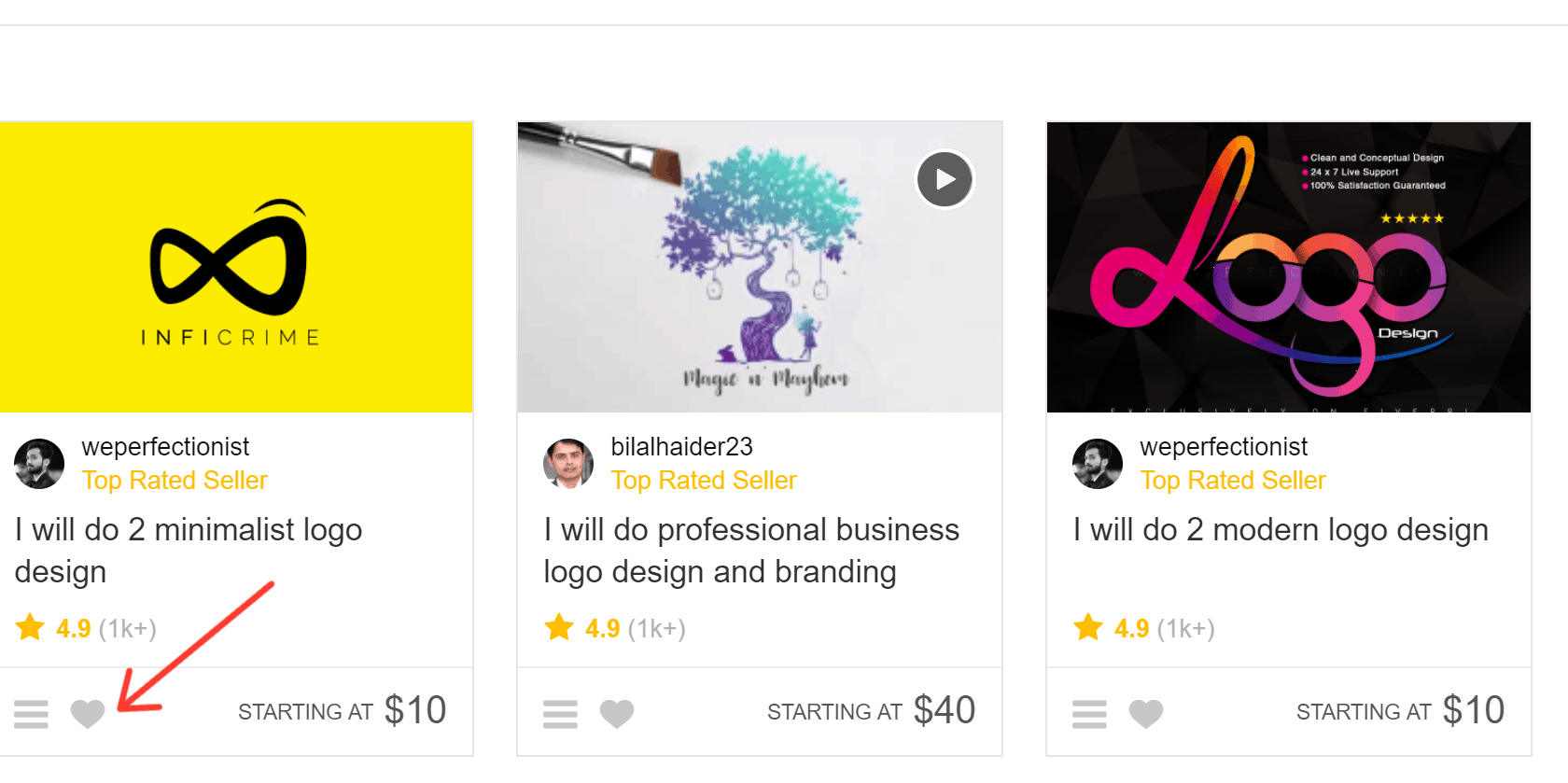 You can always go to Buying > Saved in the menu to find the logo designers you want to explore in more detail.

What to Look For in a Fiverr Logo Designer Profile
Now, let's look at a great logo design seller profile. Most profiles include a profile video or slideshow where logo designers show off their best work.
The actual portfolio will have even more work examples. You'll be looking for:
If you're not sure what you want – a range of designs to show that your designer is versatile and likely to be able to meet your needs.
If you know exactly what you want – a lot of examples of logos in your chosen design style to show that the designer specializes in this type of logo.
Uniqueness of design, so your logo is sure to stand out from the crowd. If everything in the portfolio is virtually identical, that's a warning sign.
Visual harmony, including use of color and typography – in other words, do the designs look good?
Click on the portfolio items and see how the designer describes each project. Their word choices can help you understand if they are qualified to deliver the job you want.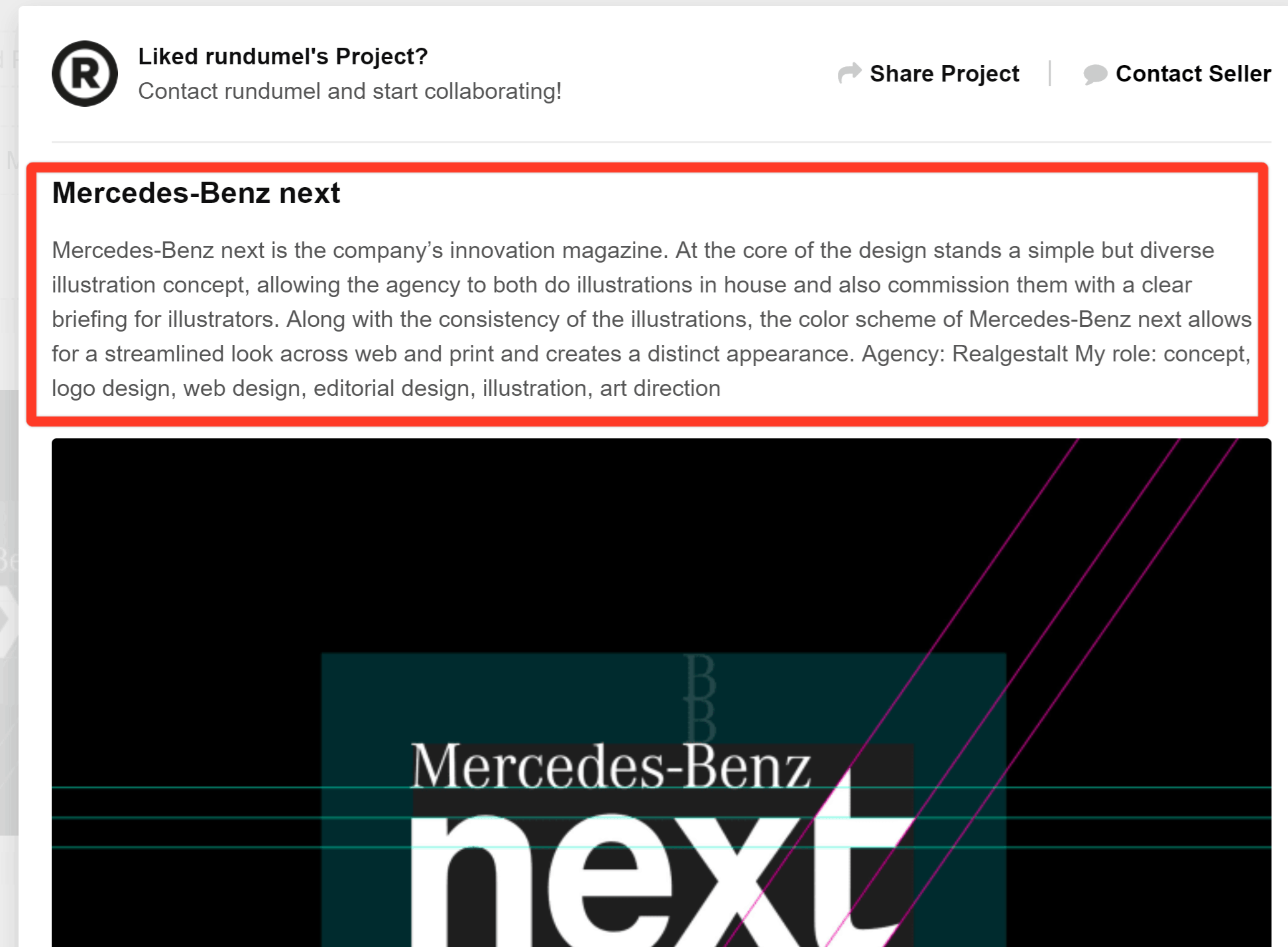 Then, check out their gig packages. There are usually three, and you can compare what's available in each package.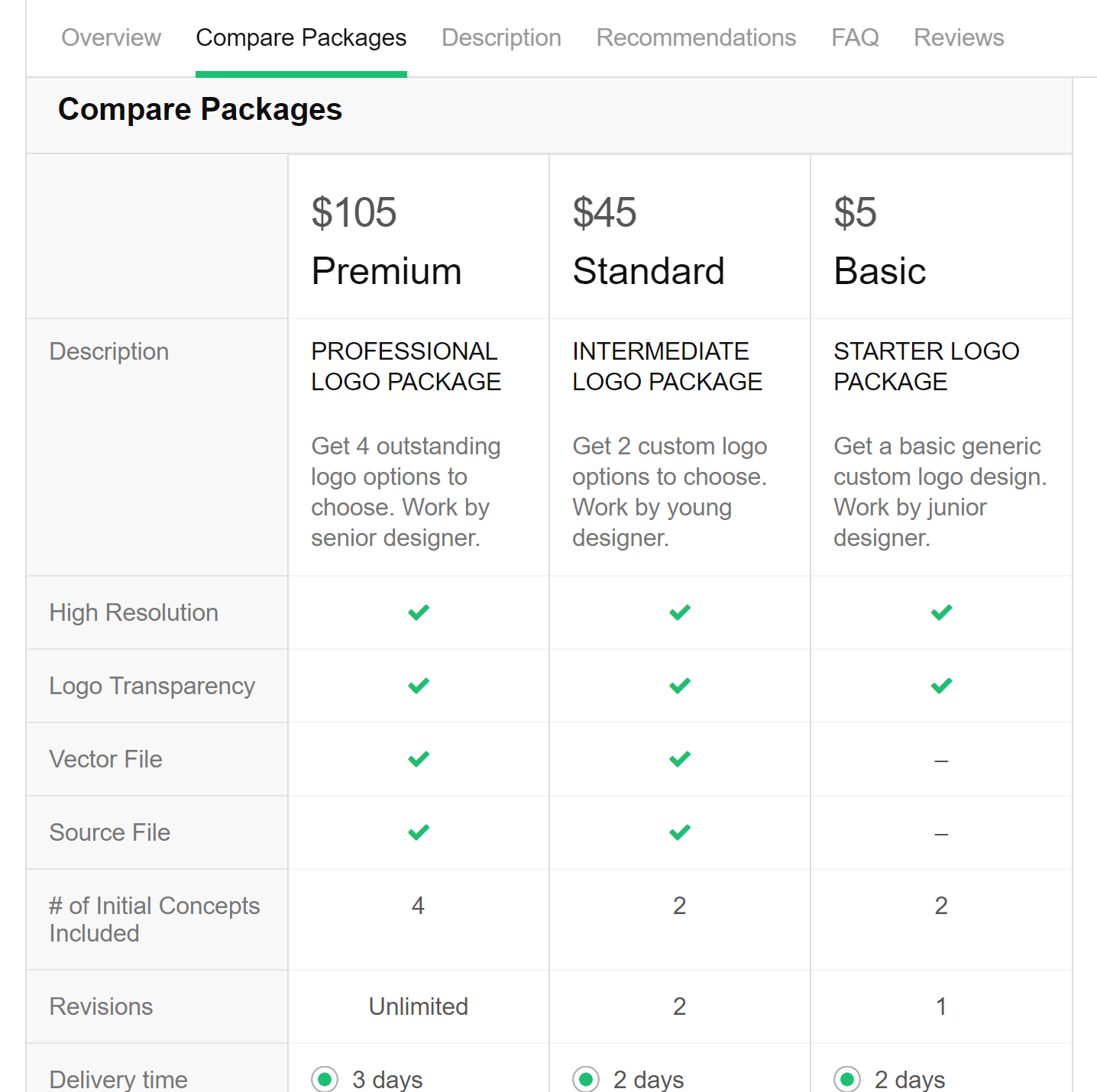 Items to look for include:
High-resolution files suitable for any use
Vector files which can be scaled without losing resolution
Source files (so you can edit your logo design later)
Number of concept designs (the more the better, so you have more choice)
Number of revisions (the more the better, so you end up with the logo you want)
Click on a package to see the list of available gig extras. Different designers offer different add-ons which will cost you an extra fee. (Don't worry, it won't cost anything to look.)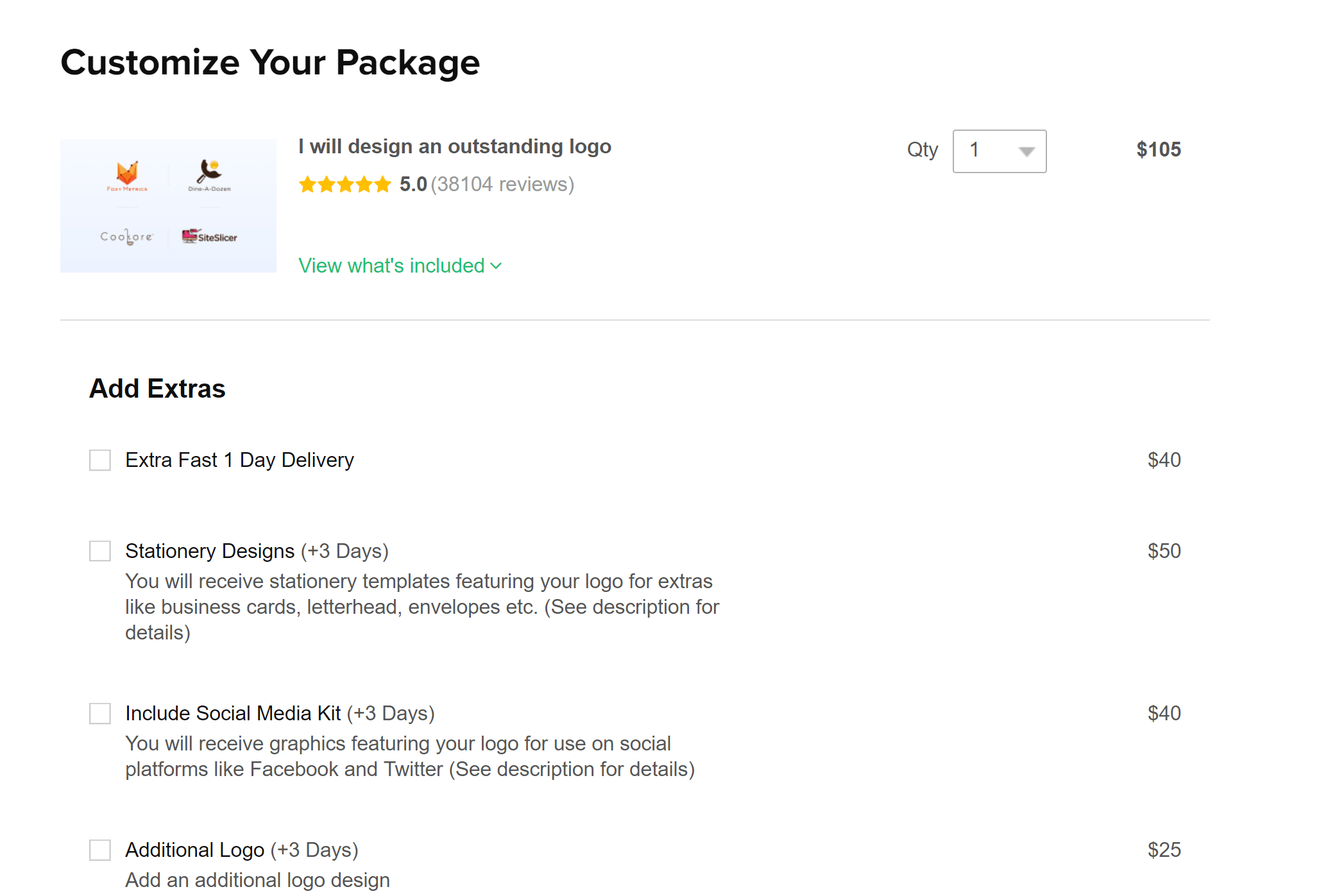 Next, look at the gig description. This is where you'll learn about the designer's background. You may also get more detail on what's included in the gig packages, as the space in the package comparison is limited. Look out for details of qualifications, experience, and ratings.
Pro Tip: Look profiles with links to external portfolios or websites. This gives you another way to check that the designer is a legitimate professional. For example, the profile below provides an external site where you can see even more examples of the designer's work. This is a good sign.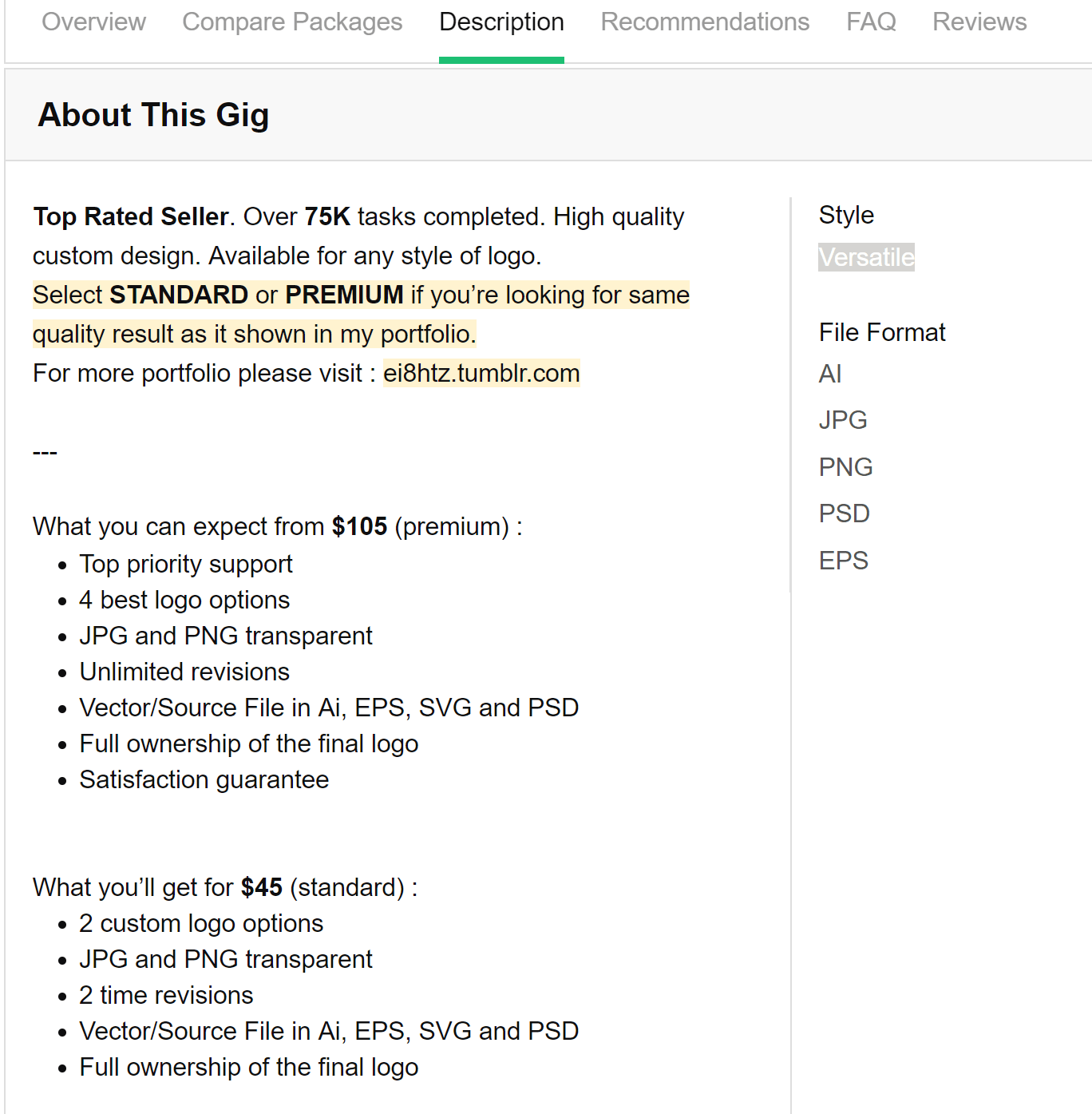 Scroll down and look at recent reviews and ratings, too. A seller with hundreds of ratings above 4.8 stars is likely to be a great choice.
Once you've looked at a few designers, it's time to move to the next stage.
How to Communicate With Logo Designers on Fiverr
Many logo designers include FAQs on their gig profile, but if you really want to get a feel for what it will be like to work with them, it's a good idea to ask your own questions.  For example, you could:
Briefly describe your site or business
Ask if they have specific examples of work they have done for this kind of business before
Ask for more details on portfolio examples you liked
Discuss the items you'd like to have included in your logo design
Ask them to create a custom offer tailor-made for you if none of the gig packages is quite right
Fiverr makes this easy, with a handy Contact Me button on each seller's profile.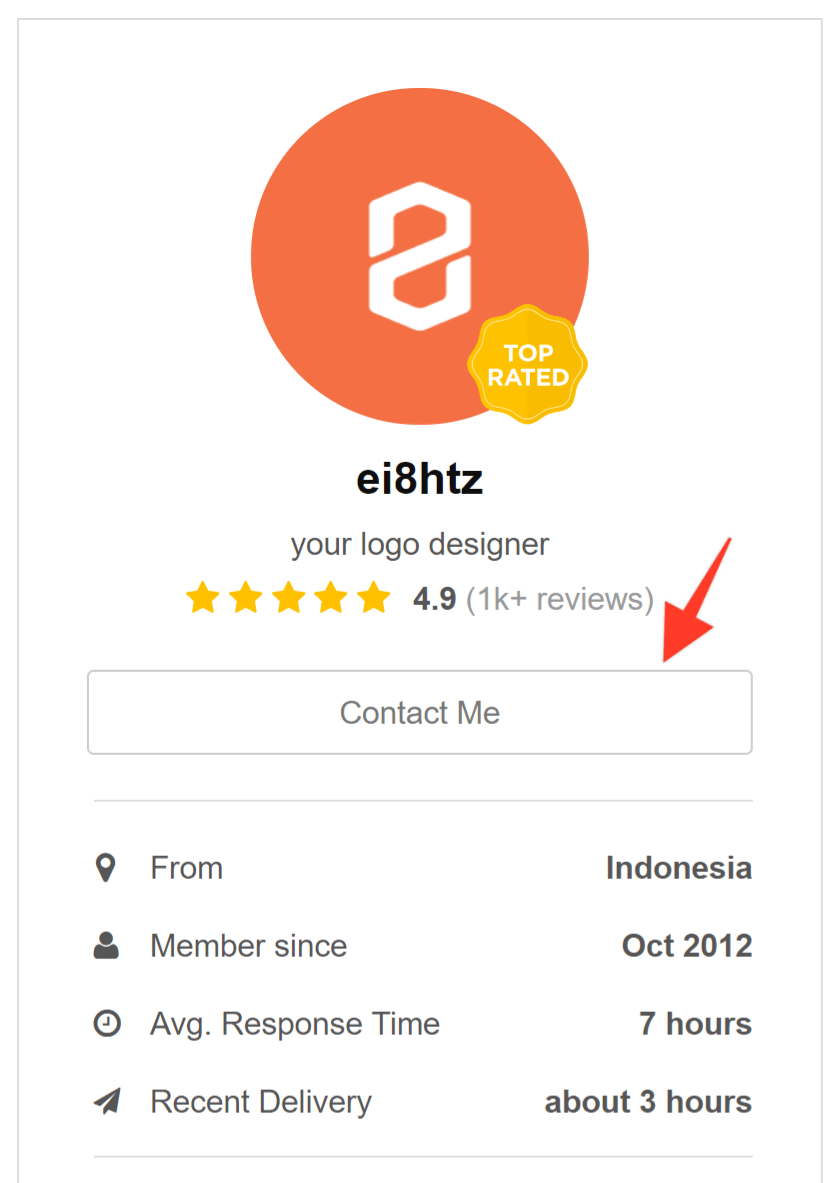 Click on that for access to Fiverr's messaging system, where you can chat with your chosen logo designers. Pay attention to:
Responsiveness (though remember, people are in different time zones, so don't expect an instant reply)
Willingness to answer your questions
Flexibility in meeting your needs (some will create a custom offer just for you)
This will help you assess the kind of communication you can expect once you start working together. Once you're happy, place your order by using the buttons at the bottom of each gig package.
Once you have placed an order, expect to communicate more with your chosen logo designer. They'll want you to give them more details on your requirements such as style, color, feel and purpose for the logo. Frequent communication to get details right is a good sign.
Pro Tip: If you're worried that your designer is using copyrighted images in your logo, or creating a logo that's too similar to someone else's, it's easy to check. Just upload your design to Google Image Search to see if something similar is already online.
How Much Should You Budget When You Get a Logo from Fiverr?
Fiverr is known as the site where you can purchase services for only $5, but in reality, there's a wide price range.
Some logo design services do start at $5. You don't get a lot for that budget. If you need a quick basic logo for a one-off project, it might be ok.
Fiverr logo design services can also vary by seller level. Many of the Level Two sellers in our test started at $15 for a basic logo design.
If you need a logo for professional use, you'll probably need the premium package and at least some of the gig extras. If this is the case, expect to pay at least $100 for your logo design. Considering that your logo is going to represent your business everywhere, it's still a reasonable investment.
If you choose a Fiverr Pro, expect to pay at least 3x that price as a starting point.
Should You Choose a Fiverr Pro?
On Fiverr, some sellers can apply for verification as Fiverr Pros. You can identify these thanks to the handy badge on their profile.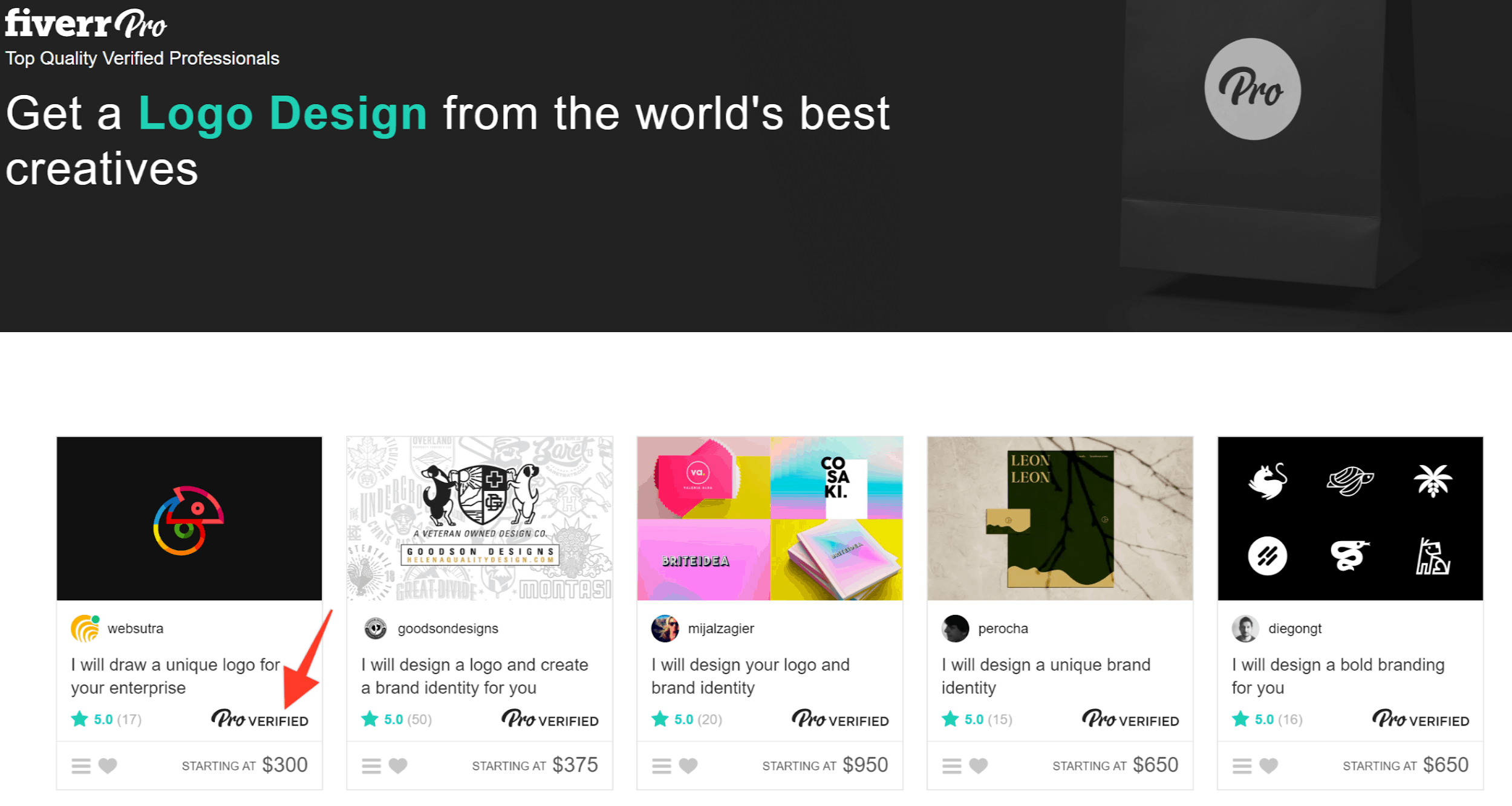 Because they are verified professionals, they charge more for their services.
A good reason to explore the Fiverr Pro logo designers is that you know they've been vetted by the Fiverr team, giving you peace of mind. And they also have the same external validation via ratings and reviews as other sellers on Fiverr.
If this is the route you want to go, use the tips shared earlier to find the right pro logo designer to work with.
What Happens If You Don't Like Your Logo Design?
Sometimes, even after finding a designer who seems ideal, you end up with a logo design you're not happy with. If that happens to you, you have several options:
Reject the delivery. When asked if you're happy, click the Not Yet This will give you the chance to discuss what else you need with the seller, and give the seller a chance to fix it.
Ask for additional revisions (this works if you've chosen a package with multiple or unlimited revisions).
Use the Dispute Resolution process to ask the seller to cancel the order. Then you won't have to pay for it.
Pay for the job and try to find a new logo designer (either on Fiverr or on another platform like 99designs or Upwork). If you paid for a cheap logo design package, this might work for you. It might even be worth hiring several different designers, so in the end, you can choose the option you like best.
How to Get a Logo on Fiverr Within a Day
As you can see, it's not hard to find a great logo designer on Fiverr.  But what if you need your logo really fast? Simple, just use the built-in filtering tools to identify bestselling logo designers with a 24-hour turnaround. Then use the tips shared earlier in this article to choose the best one. That means a day later you'll be rocking your new company branding on the web, social media, and offline.
If you want to learn more about Fiverr, read our expert review.