Shopify Facebook ads need to be professional and eye-catching to draw in customers and increase your conversion rate
. They need to hit your target audience just right, grabbing their attention when they're being bombarded by constant distractions. The solution? Hiring a professional ad designer to make ads for you. And before you assume that it's too expensive to hire a pro, let me introduce you to my secret weapon: Fiverr. You can
hire someone to make Facebook ads for Shopify from as little as $5
. Not necessarily –
there's a trick to getting an affordable freelancer who will still does a good job
.
Check out my tips for hiring a skilled ad designer without busting your budget
.
5 Best Facebook Shopify Ad Designers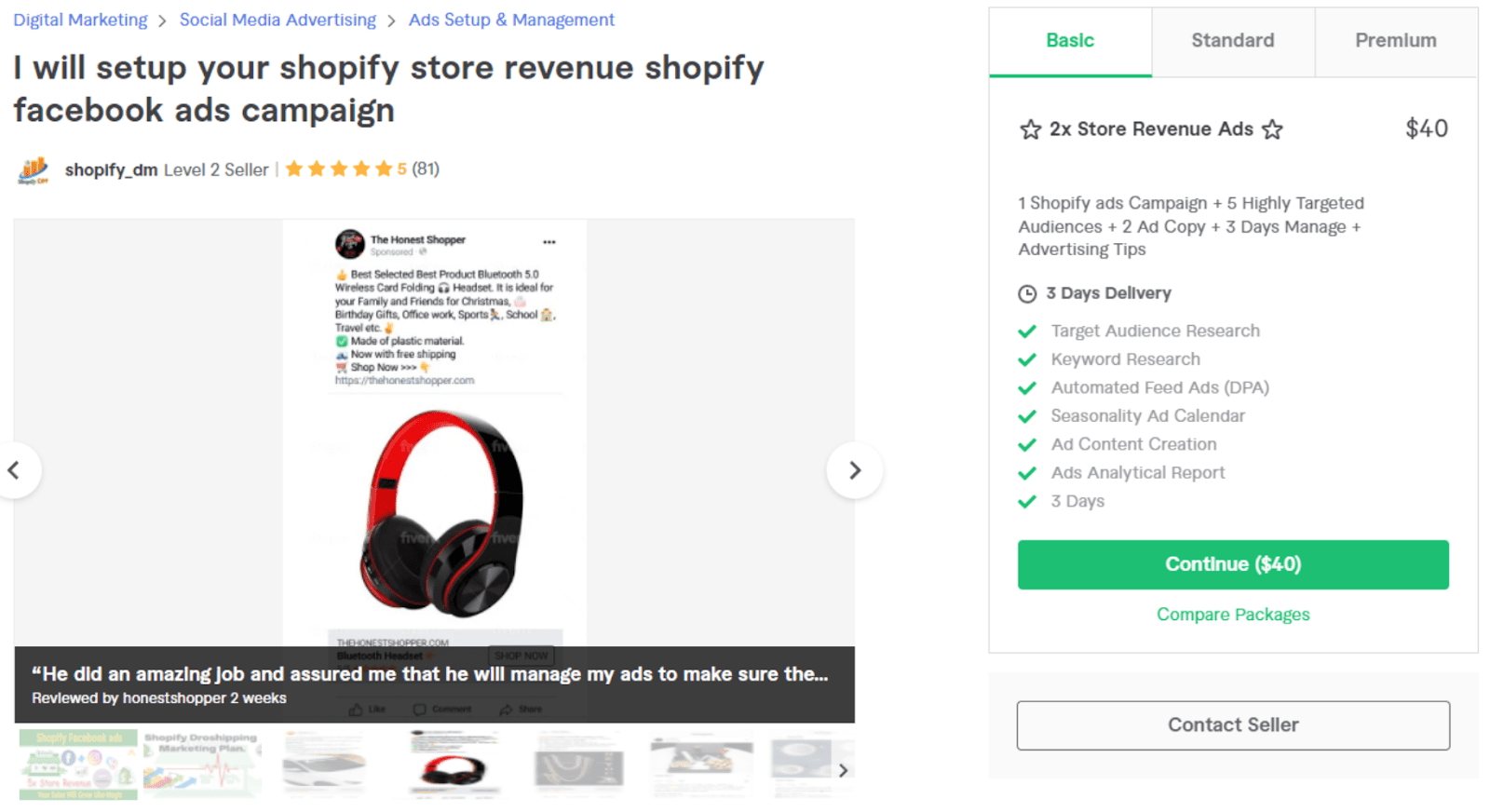 One of the fastest ways to grow your small business is to launch a successful ad campaign. Shopify_dm creates ads for Shopify on Facebook and other social media platforms, using targeting and keyword research to maximize results.
He'll set up Facebook ads for Shopify and manage your ad accounts starting at $40 for 3 days.
As well as getting to work quickly, this seller also provides knowledge and guidance to his clients. Previous reviews praise how he helps you understand things such as connecting Shopify to Facebook, rather than just clocking in his time and disappearing.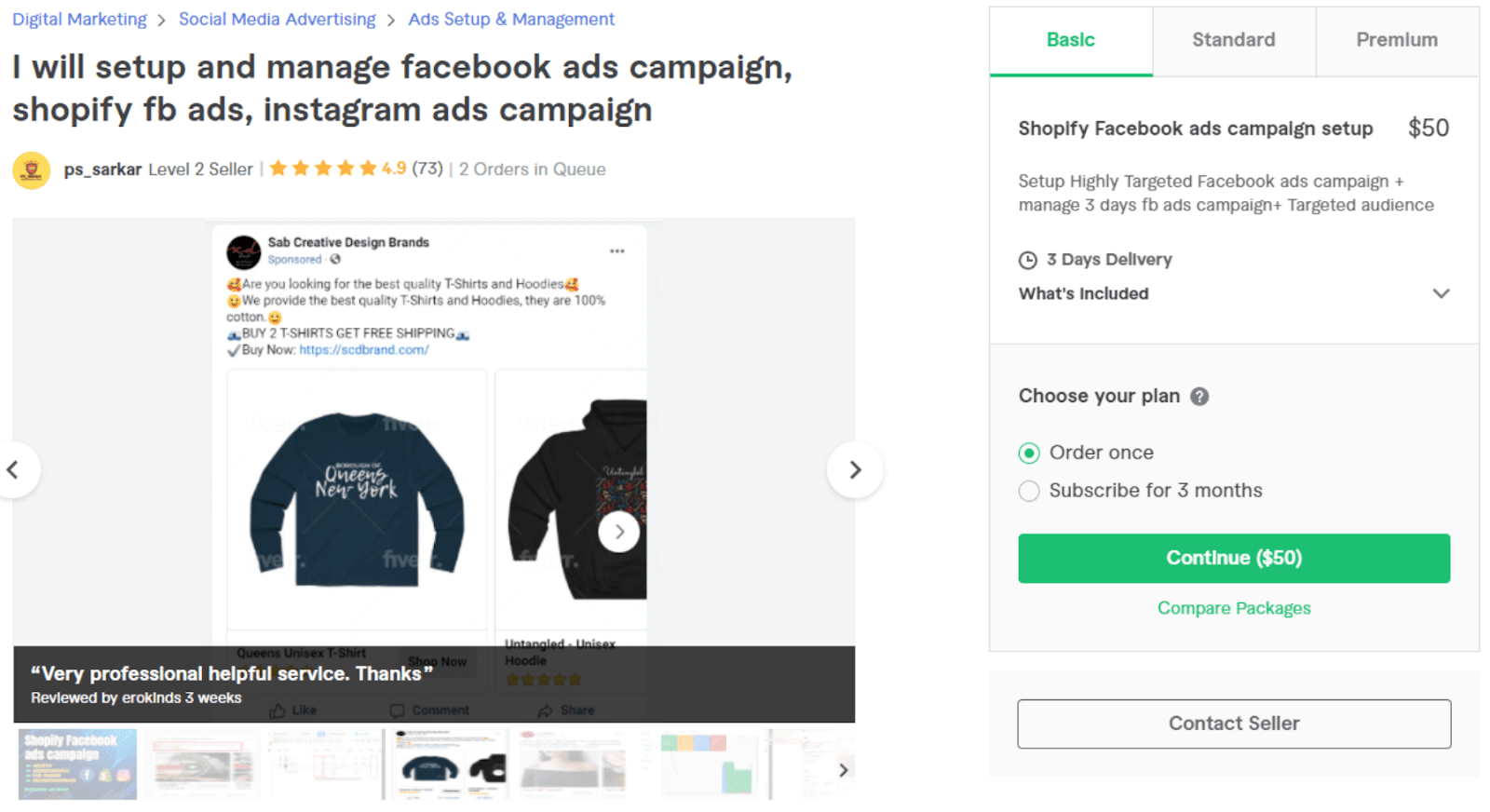 If you need someone to help you set up Facebook ads for Shopify, Pretom can handle both setting up and running ads for you.
He's skilled at creating a variety of ads, including product posts, videos, and event promotions.
Most importantly, he gets results and knows how to target an audience to increase clicks and drive traffic to your site.
His Basic package includes setting up a targeted Facebook ads campaign for $50
. Just note that if you want more than one ad set or Facebook Pixel set up, you have to get the Standard package for $120.
This seller is pricier than other ad designers, but I think the thorough campaign setup is worth the cost
.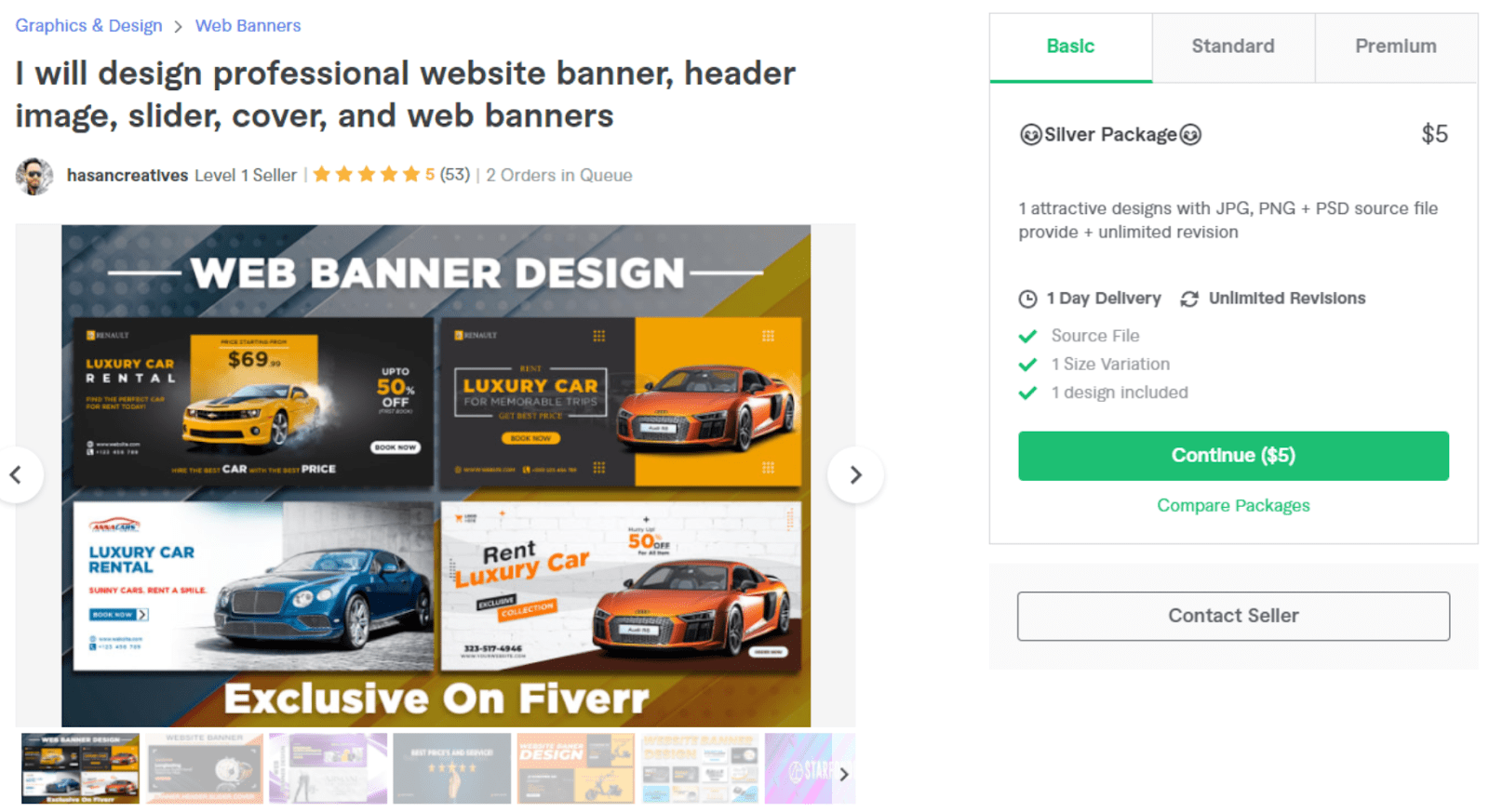 Mehedi is a talented graphic designer who creates stylish banners for your Shopify store,
along with social media ads. His designs are clean and professional, and he knows how to cater to different audiences – ranging from gaming chairs to fashion products. Better still,
you can get a single ad for $5, so he's the perfect ad designer for small businesses on a budget.
Want more than one ad? He offers a bundle of 3 ads for $10 in his Standard package, or 5 ads for $20 in his Premium package
.
His pricing for ad designs is some of the best value I've seen.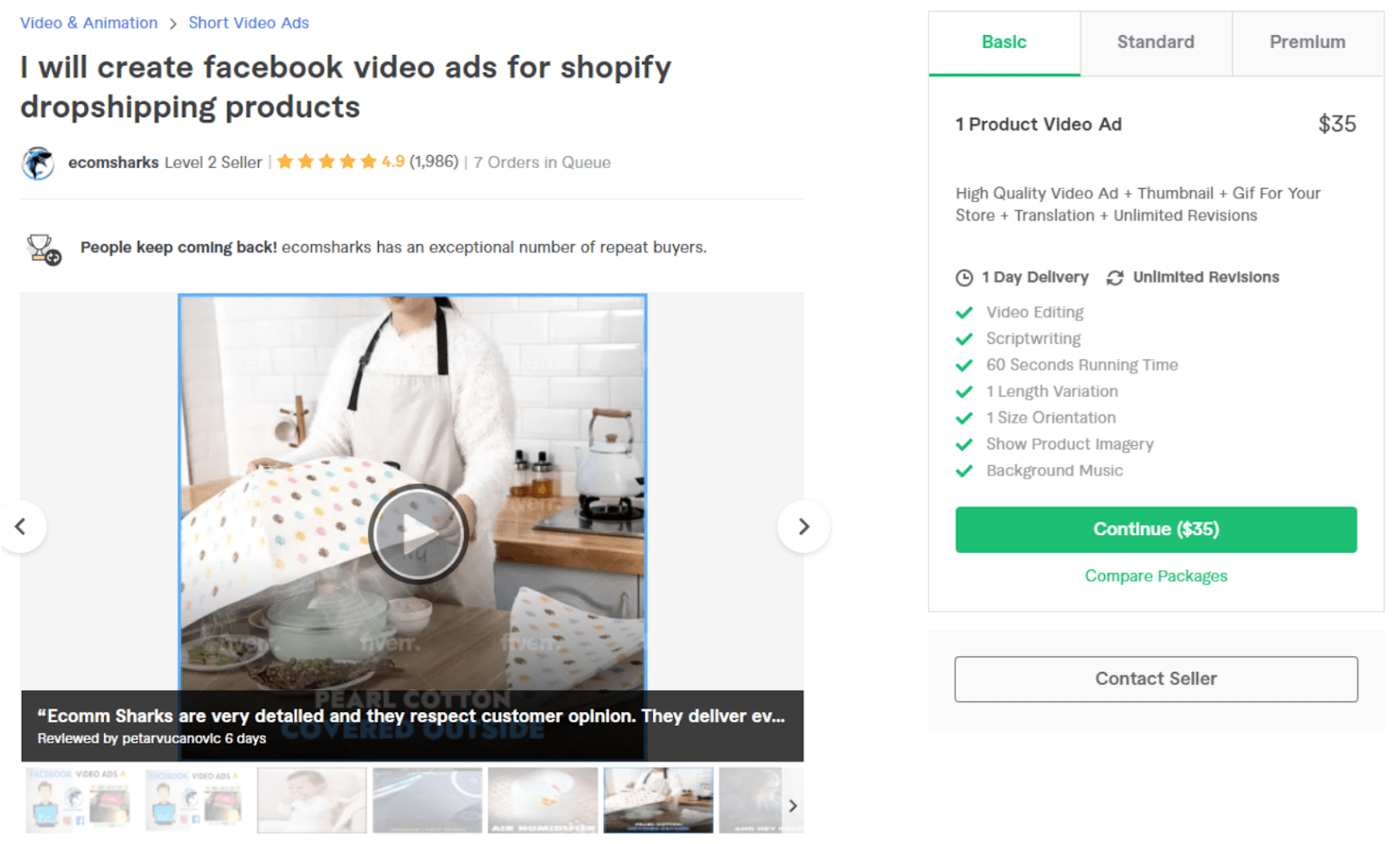 A video ad is a great way to catch someone's eye as they're scrolling through their Facebook feed.
EcomSharks makes high-resolution, scripted videos to showcase your shop's products
. Using stock footage or video you provide, they deliver a 60-second scripted video ad with music, a gif for your store, and unlimited revisions in just 1 day – all for $35.
They also offer a free translation service.
This is especially useful for small businesses wanting to target a global market, but lacking the budget of a big company to hire translators for their ads.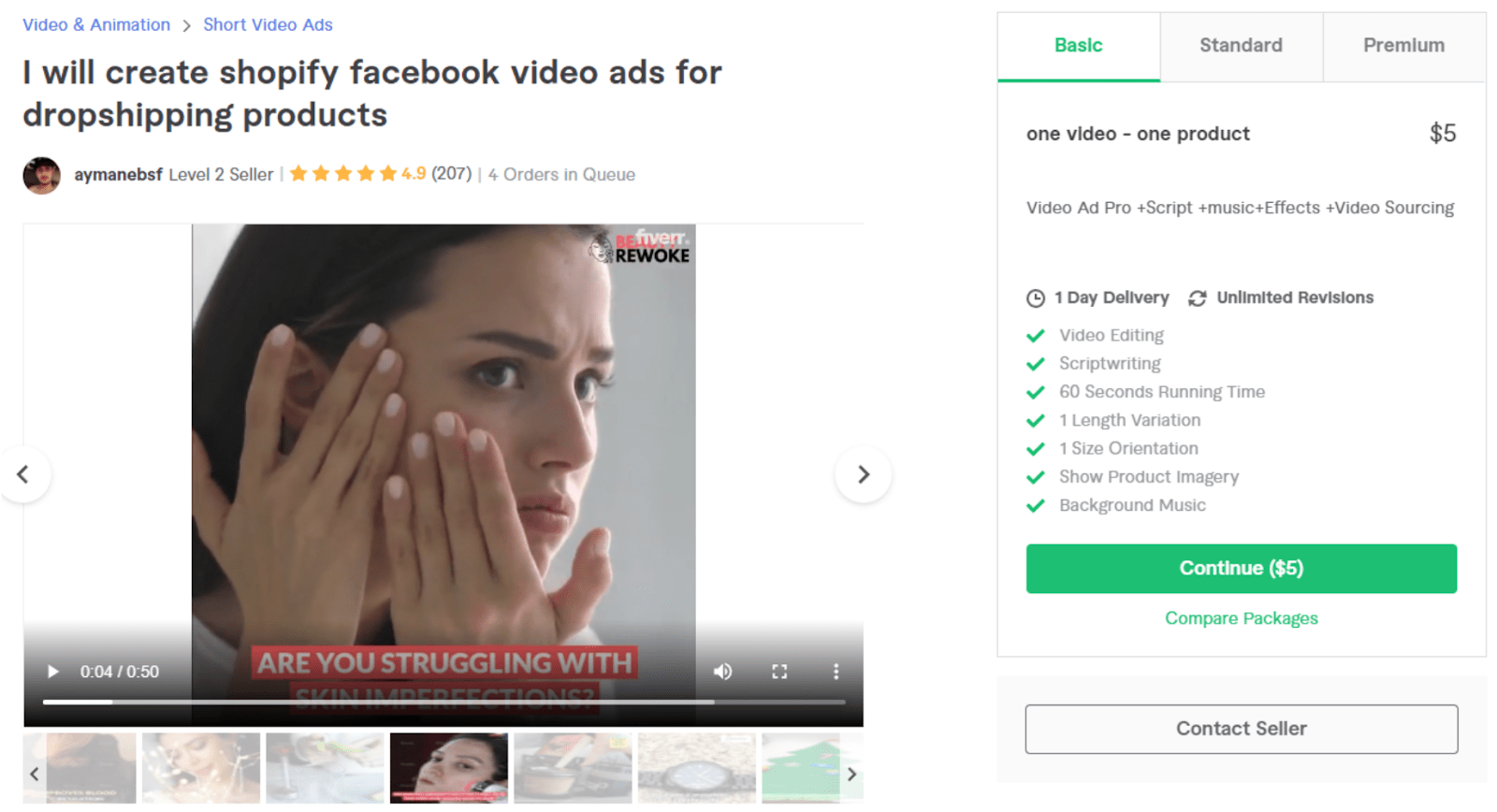 Aymane is a skilled video editor who will create a
35 to 60-second video ad with a script and music for only
$10
. He's my top pick for getting a video ad on a budget, as
his dropshipping videos are professional quality and offer a neat call to action linking to your store.
You get exactly what you need for a great price. If you're pressed for time,
Aymane delivers in 1 day and is quick to respond.
He's great at communicating, and he offers unlimited revisions if the ad doesn't meet your standards the first round.
How to Hire a Facebook Shopify Ad Designer for a Great Price on Fiverr
Hiring a freelancer you've never worked with before can be risky – you might get low-quality work or someone who runs out on you mid-project. But
you can lessen the risk by hiring on Fiverr.
I'll explain how to use Fiverr to get a shopify ad designer for a great deal. I promise it's easy!
Fiverr has over 830,000 sellers to choose from
, which might sound pretty daunting. But don't worry – it's easy to fine-tune your search. You can
use the search bar
or browse sellers by department, such as Digital Marketing, to look for ad designers.
Fiverr's search engine lets you sort sellers by categories within your search results
, such as e-commerce and social media marketing for Facebook ads. You can also
set your budget, search by delivery rate if you need something fast, and search for sellers by where they live and which languages they speak
. This really helps narrow down the mountain of gigs! We've covered it all in our in-depth
Fiverr review
if you want to know more.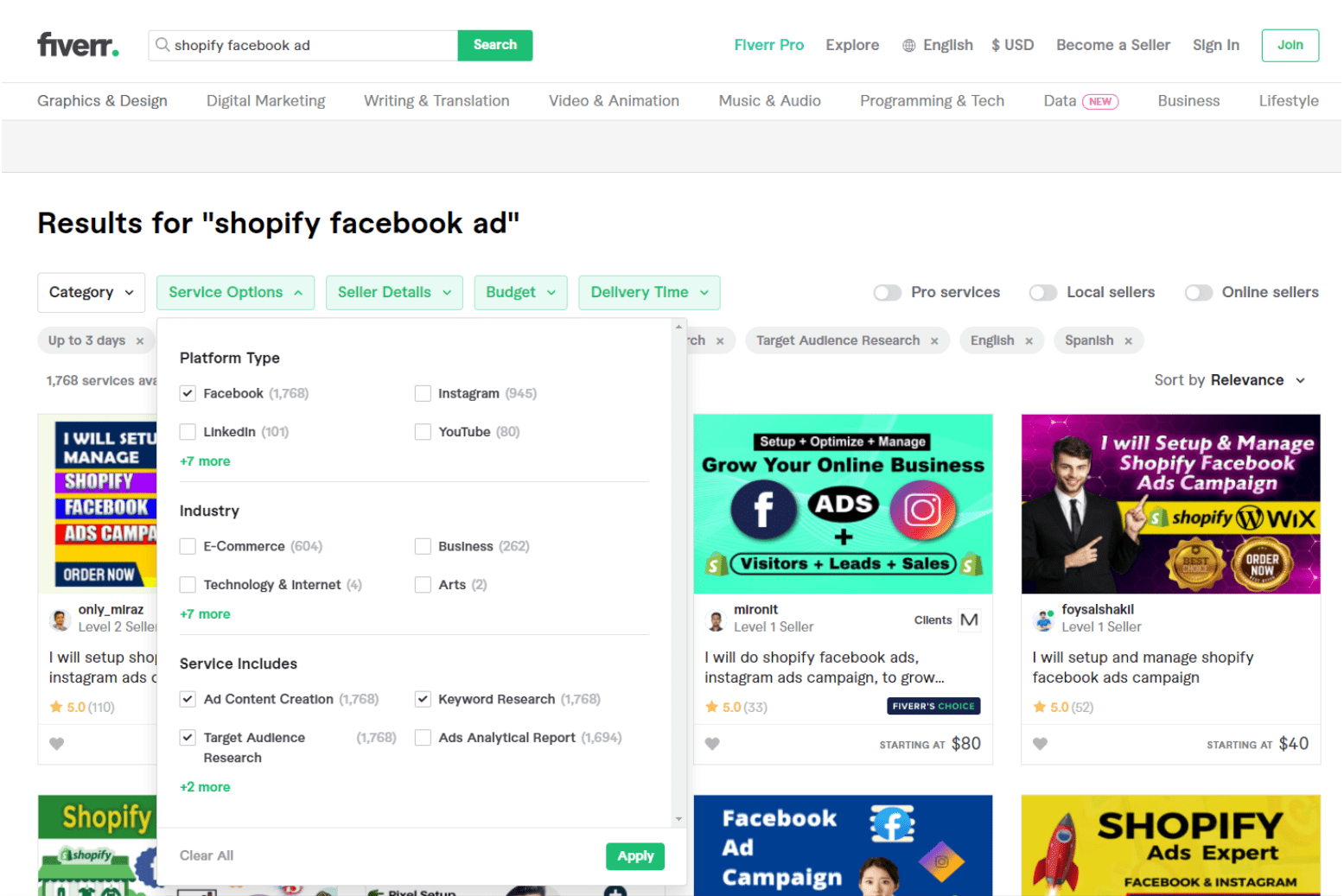 Click any gig that catches your eye and fits your budget. Now you can
check out the seller's profile and see what services they offer.
Sellers typically provide three packages: Basic, Standard, and Premium. Each package will list what services this includes, how long delivery will take, and how many revisions you'll get. Compare what's included in each package to decide which one is best for you. Note that
some sellers may bundle ad design and campaign management together.
You should also be aware that ad designers often have different rates, so
it's a good idea to compare the prices of a few different sellers
before deciding on one. Finally,
make sure the seller has a good reputation. Seller profiles on Fiverr show ratings and reviews,
average response time, location, and examples of completed jobs. By vetting sellers this way, you can
find reliable freelancers who will complete a job for as little as $5
.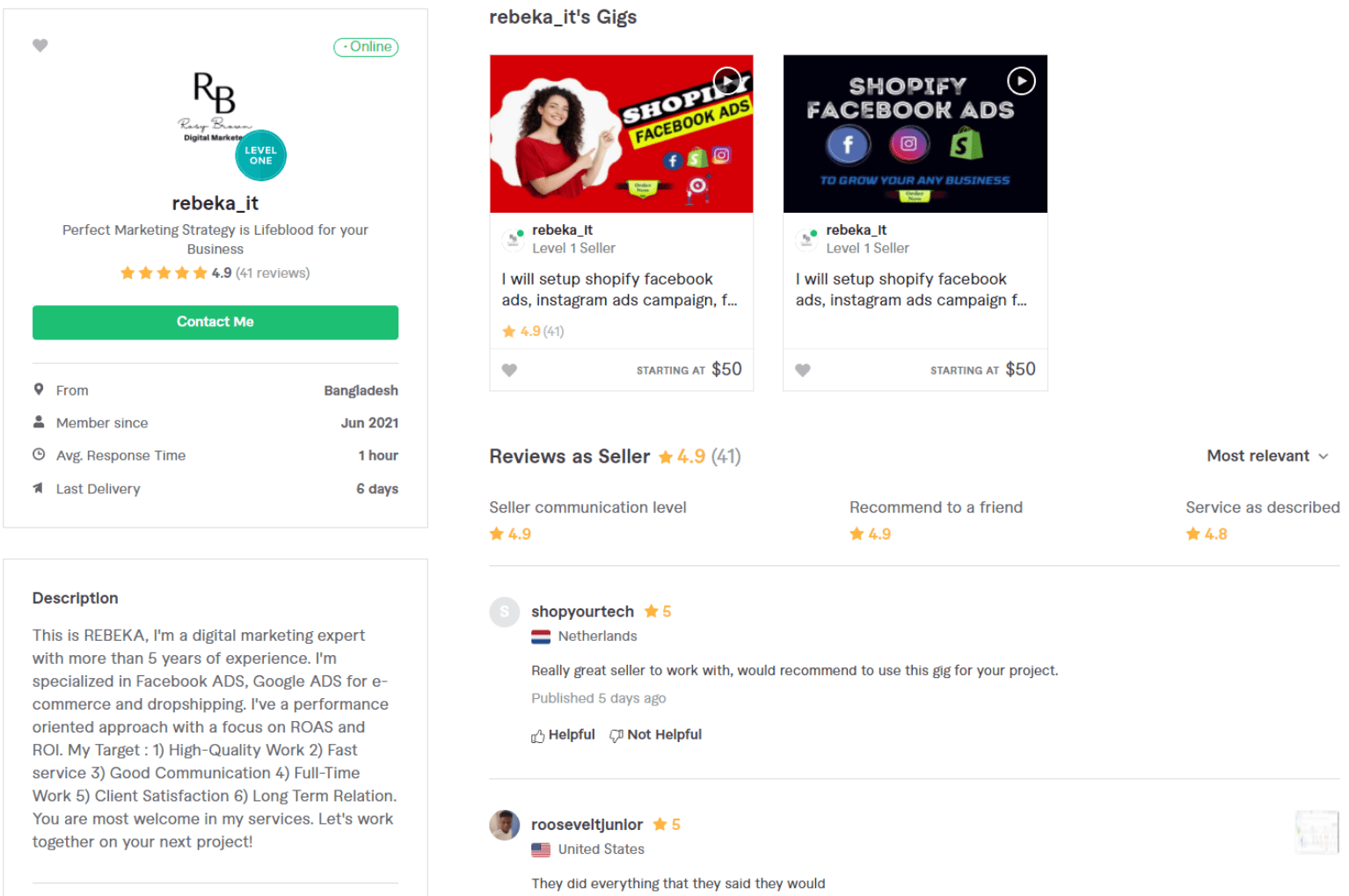 If you have any questions or requirements the seller doesn't mention, don't give up right away. Send them a message first. The seller may be able to provide what you need. You can also use messages to determine if a seller is a good fit for your project, so
it's always a good idea to start a conversation before hiring
anyway. And there you have it! That's everything you need to hire a Facebook ad designer on Fiverr.
Fiverr's Main Features
A wide pool of freelancers with different skill sets and niches to choose from.
The ability to hire service providers at a great price, sometimes for as little as $5 a project.
A review and Seller Level system to rate a seller's skill and reliability, allowing you to hire with confidence.
Service packages and customization options for you to pick out what you need at the right budget for you.
Powerful search engine and filtering to help you narrow your options and find the best seller for your specific needs.
Tips for Creating Facebook Ads for Shopify
Want to design your own ads, but don't know how to make a Facebook ad for Shopify?
The first place you'll want to look is the Facebook for Business ad guide,
which will tell you the specs for image, video, carousel, and collection ads.
It's important to know things like file type, resolution, and dimensions before making an ad.
Believe me, this step is very worth it! The guidelines depend on what kind of ad you're making, and there are several requirements listed for each category. I'll go over some basic rules and tips to help you get started.
Facebook Image Ad Recommendations:
When making image ads to appear on Facebook, be mindful of the following:
Image files have to be JPEG or PNG format.
Resolution should be at least 1080×1080.
Keep header text to 40 characters.
Keep body text to 125 characters.
Keep description text to 40 characters.
The image size cannot exceed 30MBs.
Tips on Making Facebook Ads For Shopify:
Use high-resolution images and videos only. Poor quality will cause your audience to think your business is unprofessional.
Design ads with your target audience in mind. If your product is makeup, make it fashionable. If your product is gaming accessories, make it techy. The wrong look won't attract anyone to your site.
Use a business logo in all your ads. A consistent and recognizable brand will help you stand out, and people may remember you later when they need the product you're selling.
Don't go overboard with long videos or lengthy descriptions. People don't look at ads very long, so the goal is to grab their attention before they keep scrolling.
Connect your Facebook and Shopify accounts with Facebook Pixel. The Pixel will allow you to track visitor data and links clicked. This isn't a requirement, but it can help you analyze your ad campaign to see which strategies are working.
If you have any questions, I suggest getting in touch with Facebook. It's also a good idea to
go through the Facebook for Business website to learn the ins and outs of ad creation
, as well as its guidelines and ad policy.
Drive Traffic to Your Shopify Store with Facebook Ads
Whether you decide to hire an ad designer or create your own ads, launching a campaign on Facebook can help you reach new customers and boost conversion rates for your Shopify store. Standout ad design is essential for any business, and I hope this article gives you a good place to start. Still, I recommend doing further research into ad design and branding before getting started.
Check out the places you shop from and see what kind of ads they're running
– you might find some inspiration! Once you know your audience,
try hiring ad designers on Fiverr to get your ads out ASAP
.
The most active and highly-rated designers will be up to date on all the latest marketing trends, so you'll save time on research. And
if you're on a budget, there's little risk in getting an ad made for $5 to test how well it does
.
FAQ
How to advertise Shopify on Facebook?
You can advertise your Shopify store on Facebook by creating an image or video ad, or hiring a designer to do it for you. Use great graphics to show off your product, and provide a call to action link leading to your store. You can also connect your Facebook and Shopify accounts to work more seamlessly together.
How do you set up Facebook ads for Shopify?
The very first thing you'll need to do is set up a Facebook business manager account. From there, you'll be able to set up and manage ads for a variety of platforms, including Shopify. I've gone into more detail about how to set up facebook ads for Shopify above. Then, set up a Facebook Pixel account to connect your Facebook to your Shopify. This allows you to track users who visit your site, as well as link your store's products to Facebook.
How do you find a Shopify Facebook Ads designer?
It's surprisingly easy and affordable to hire a pro to make a facebook ad for Shopify. Any of these top freelance websites will help you find the right designer for you. My personal recommendation, however, is Fiverr, and I'd start by looking at these top 7 designers who offer their services from as low as $5.