whichever Shopify theme or plan you choose, you'll have what you need to get a store up and running quickly.
But having built sites with both platforms, I'm here to tell you it's not that simple.
Because WordPress is more versatile, it's the better platform if you need a shop but also have a broader purpose.
Like if you offer professional services, run a restaurant, or are a non-profit that sells products to support its mission. So, if the primary purpose of your website is to sell physical or digital products, you can
start a Shopify trial right away
. But if your needs are multipurpose, you might want to keep reading to learn which of these two builders is best for your project.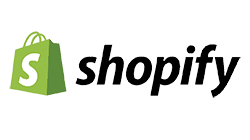 Try Shopify for FREE for 3 Days days!
See if it's right for you - no credit card required.
Your Shopify with your first % on 30/06/2023!
407 users used this coupon!
Templates
WordPress May Have More Themes, but Shopify's Are Designed for Stores
Shopify and WordPress both have good-looking, mobile responsive themes but their libraries differ in terms of selection, price, and features.
Shopify organizes its 81 store themes by industry
– fashion, home, health and beauty, food and drink, electronics, and sports and recreation. This categorization makes it easier to find a good fit for your business. You can also sort themes by layout, product page features, inventory size, homepage design elements (slideshow, video, parallax, etc.), menu type, and popularity.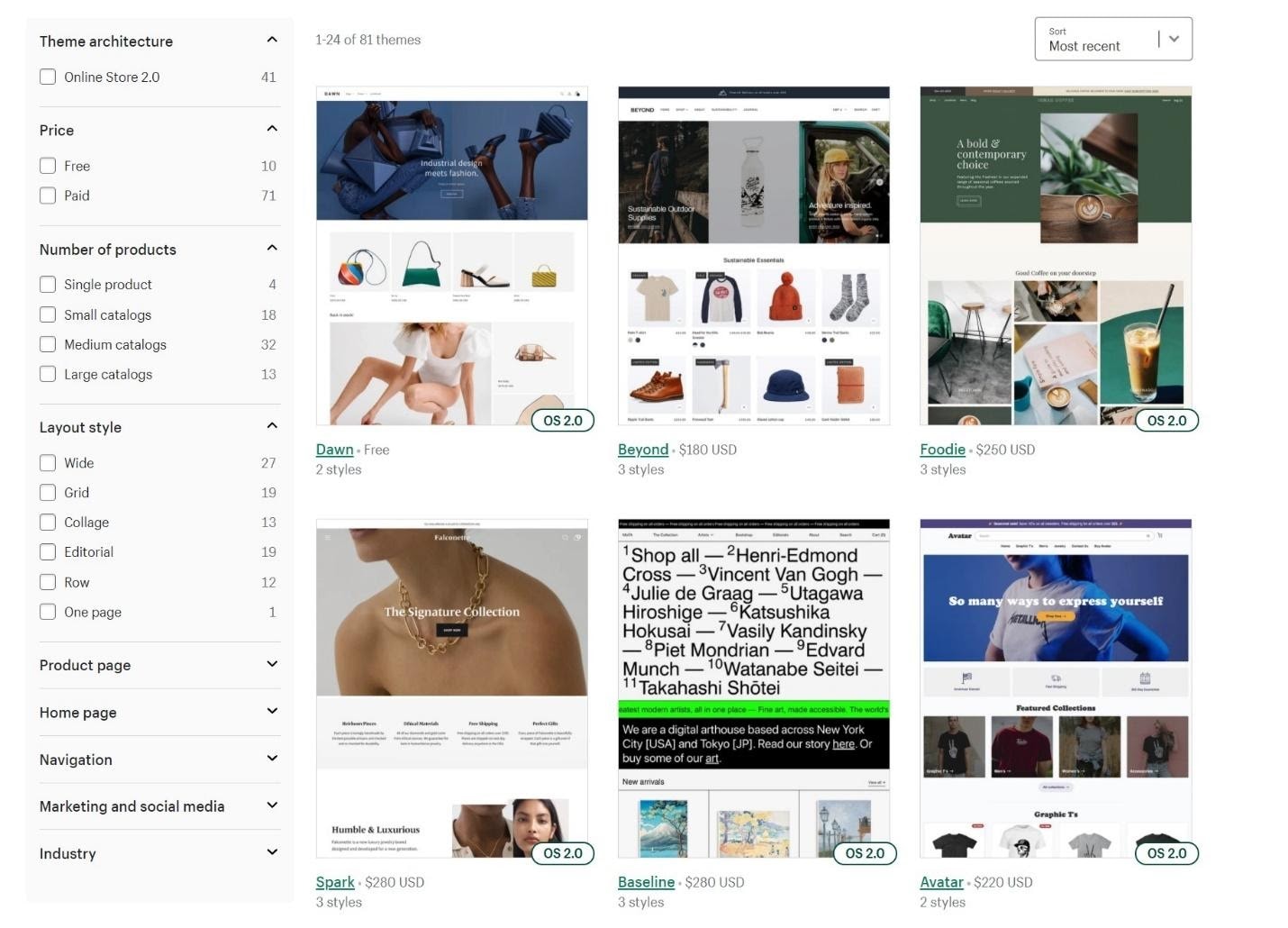 To its credit, Shopify is very upfront about the prices of its themes. This transparency is important because
only ten themes are free, and the premium themes are expensive.
Meanwhile,
WordPress has hundreds of themes (thousands with a paid plan)
, and plenty are free
. While many are blog-focused, there are lots of themes for other types of websites too, including businesses, portfolios, and restaurants. You can filter themes by subject, layout, and feature; or enter a keyword in the search bar. But you'll be hard-pressed to find a theme that's a grab-and-go for an online store, like those from Shopify.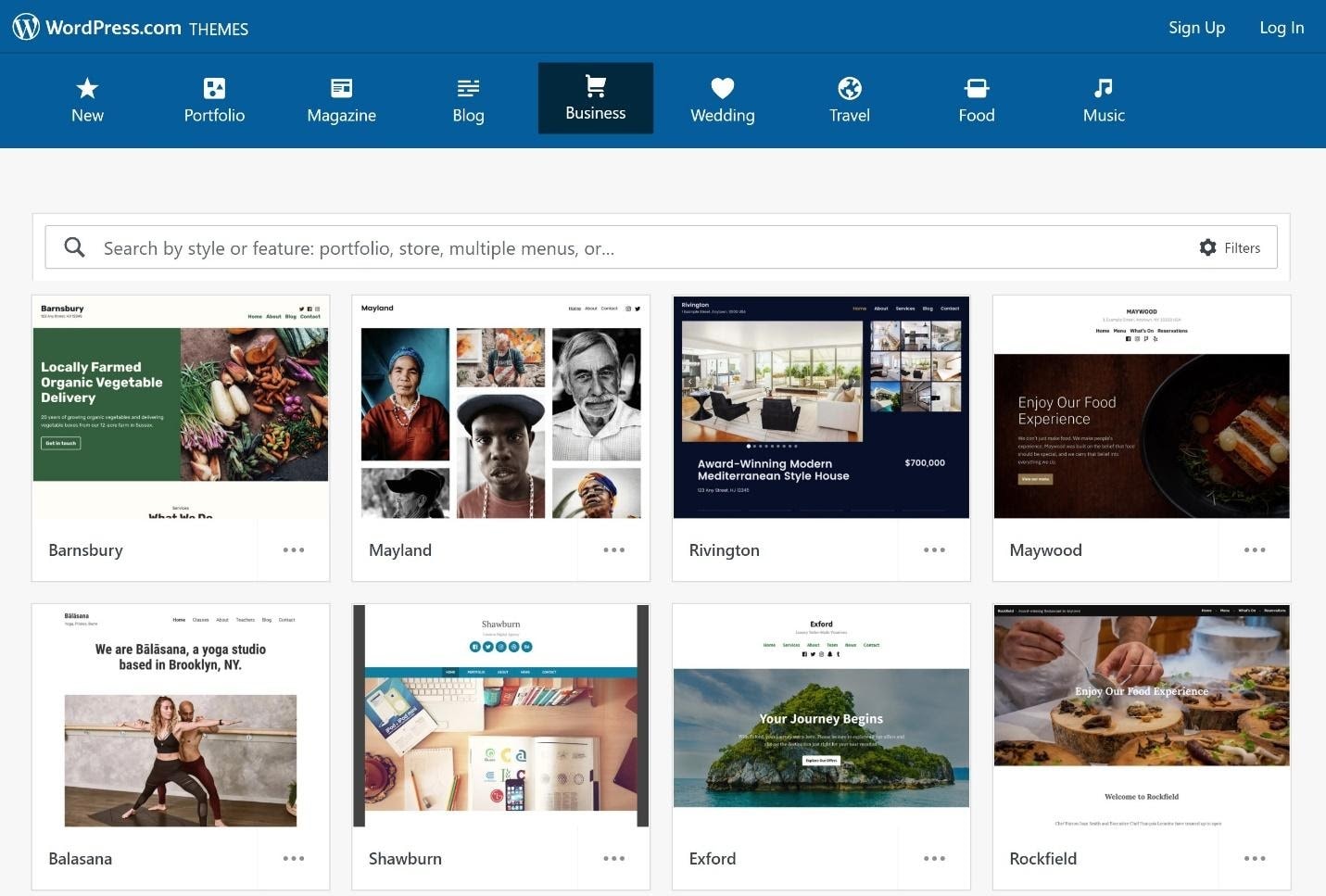 I filtered by "store" and got 24 themes. But product pages? Nowhere to be found.
You can certainly build your online store with WordPress, but it's going to be more complicated than with Shopify.
You'll have to invest extra time to get your store set up, and it may cost more than you think. WordPress has a bigger library of themes, but you can't go wrong with Shopify when e-commerce is your primary focus.
Features and Ease of Use
Shopify Makes Things Simple, WordPress Gives You More Creative Freedom
Setting up your store with Shopify is easy.
You pick a theme and create an account (no credit card payment required), then immediately add your first product, which takes just minutes. In addition,
Shopify's drag-and-drop editor makes customizing simple, even for novices
.
But you can also access CSS and HTML files
,
which is great – if you have that kind of skill.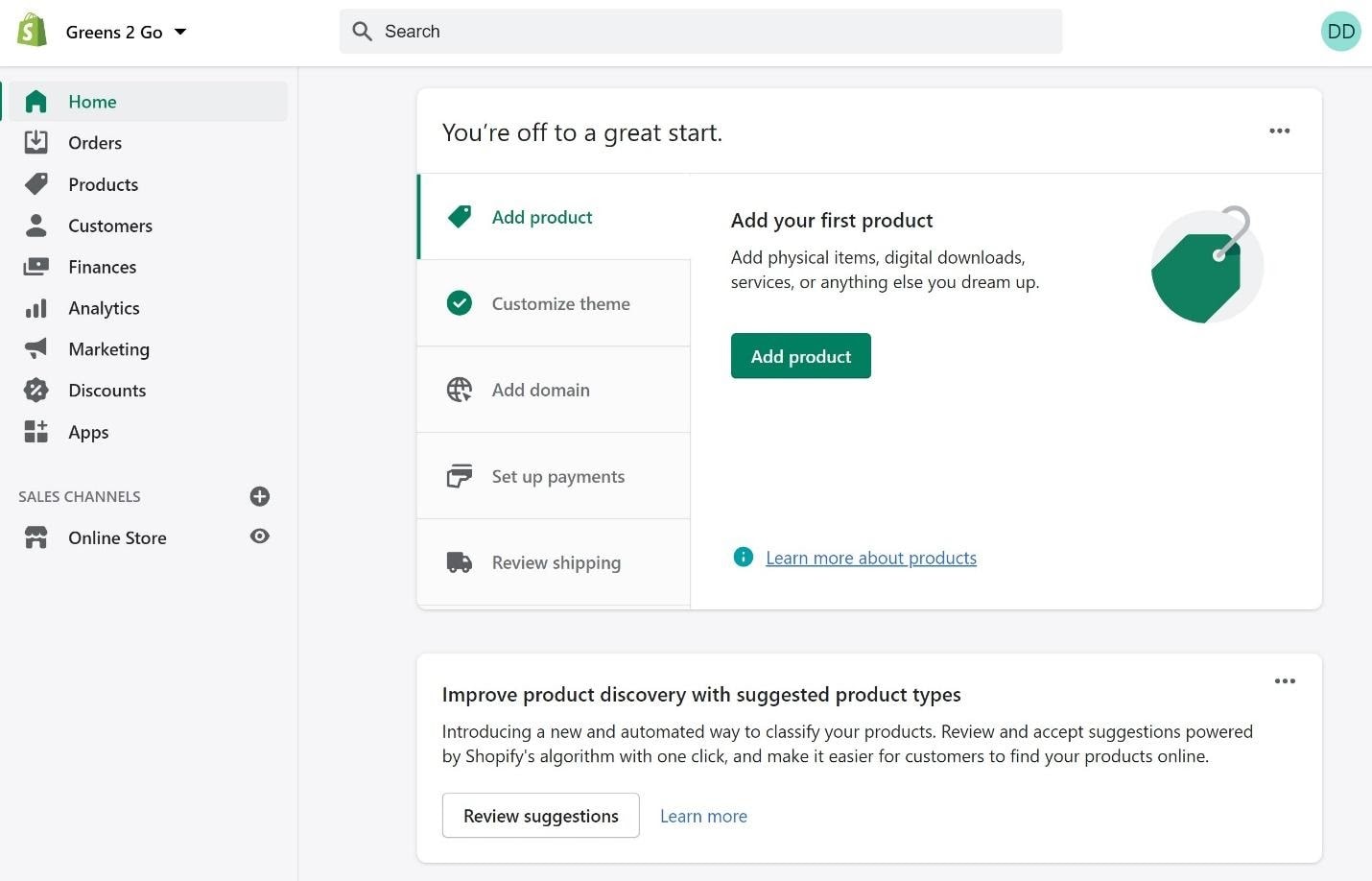 Choosing the right theme is essential because,
while it's easy to change images, fonts, and text, you can't change your Shopify theme's layout.
Scroll down to see website examples before you pick a theme.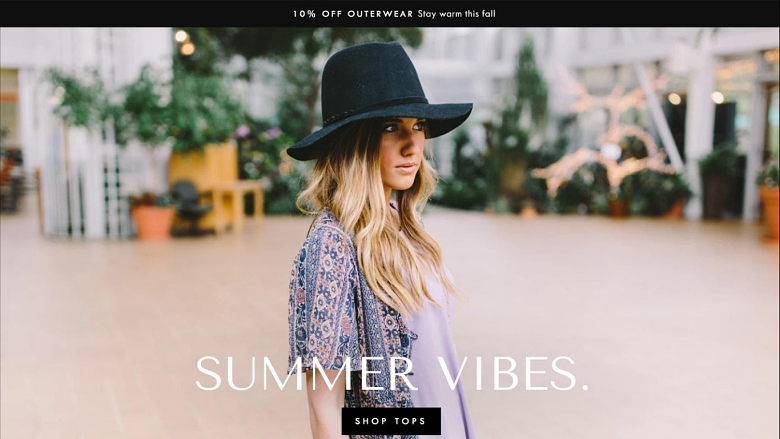 When it comes to customizing your theme,
WordPress gives you more control
, which helps create a unique website that aligns with your brand.
The Guttenberg Block Editor is fairly easy to use. Everything – text, headings, footers, images – is a content block that you can edit as you please. To customize your theme, you click on a block and make your changes. You can
resize or drag existing blocks wherever you want
or add a new block (there are dozens to choose from) by clicking the "+" sign and inserting it anywhere in your theme with another click.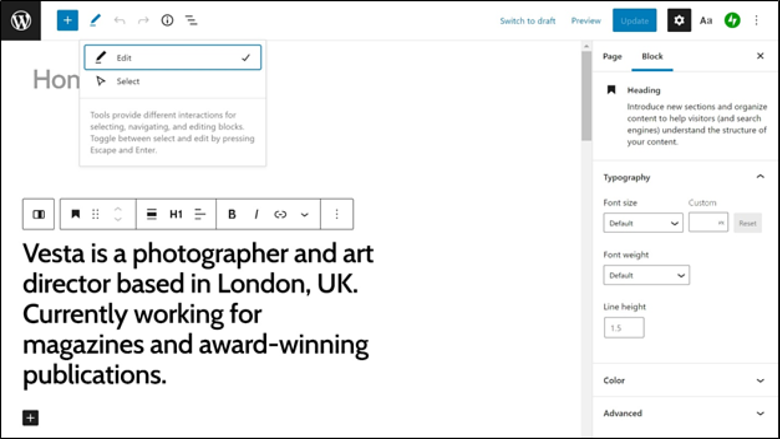 To add a page to your WordPress site, you have two options: start with a blank page or use a pre-designed page layout.
You can add About, Gallery, Services, Blog, Contact, Coming Soon, and more pages. That said, everything takes extra work. If you're looking for a simple and convenient solution to launch an online store, Shopify is the best way to go.
Apps, Plugins, and Add-Ons
Shopify Focuses on E-Commerce Apps, WordPress Has a Plugin for Everything
Shopify's 6,000
apps are e-commerce focused: tools for inventory management, merchandising, reporting, shipping and delivery, and conversion
. Some are free. Most are not, though they may offer a free trial.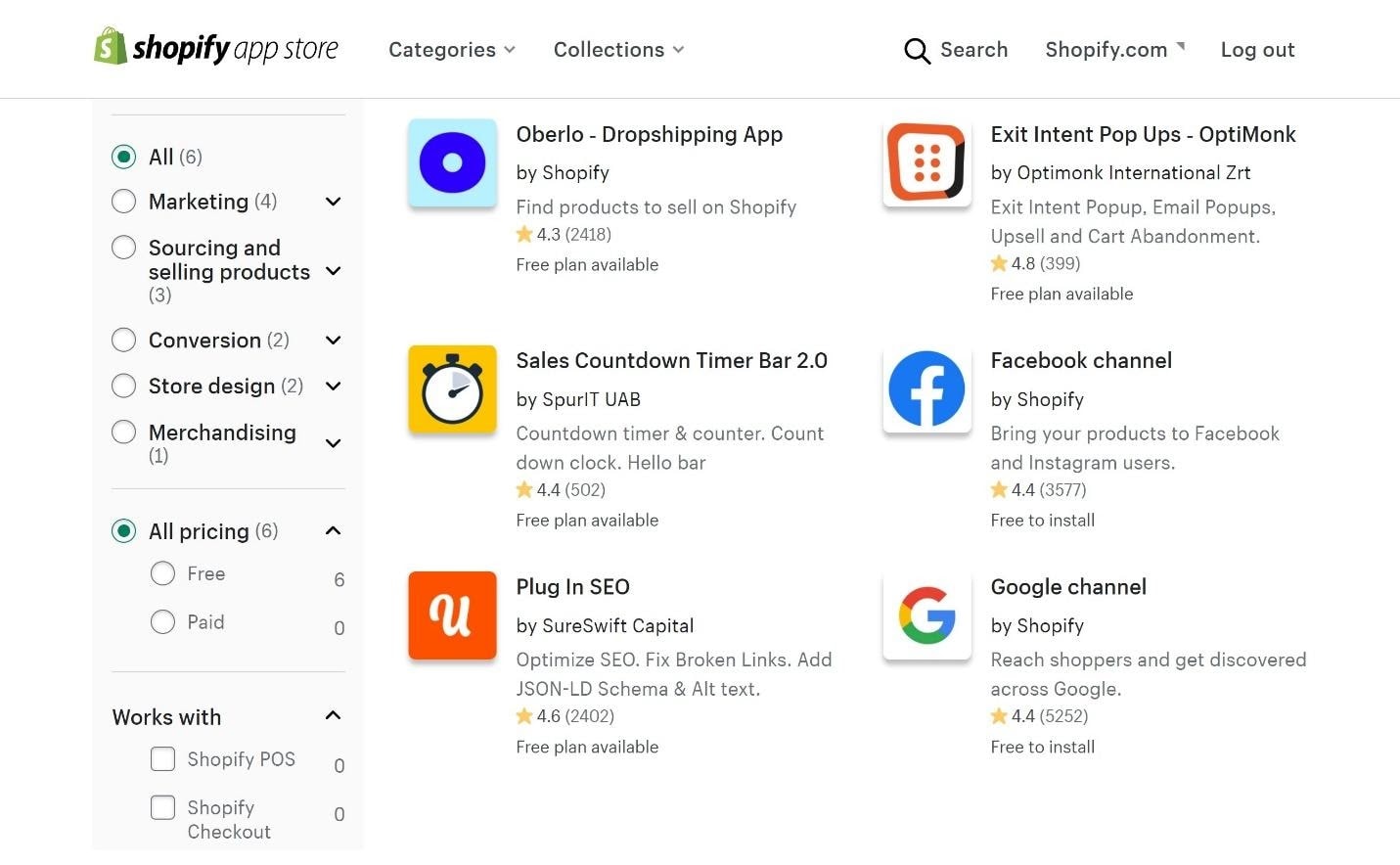 Shopify's free apps add helpful features to establish your shop's credibility and enhance customer service, including
live chat and product reviews
. Then there are the Shopify product sourcing apps. Oberlo for dropshipping gives you access to a database of products you can list on your store, and Handshake: Buy Wholesale (the US only) lets you buy goods from Shopify's wholesale marketplace. Shopify can't compete with
WordPress on sheer numbers, given WordPress has 58,000+ plugins.
But while WordPress has a plugin for almost anything you can think of, finding and adding what you need for a store can be time-consuming.
E-Commerce
WordPress Relies on Plugins for What Shopify Builds In
Every Shopify plan comes with core e-commerce tools to set up, manage, and grow your online store.
Built-in features let you source and add products, collect payments, track and ship orders, and customize shipping rates. You can
sell locally or set up your store in up to 20 different languages to sell globally
. Flexible payments allow you to choose between more than 100 credit card payment providers and enable transactions in 133 currencies.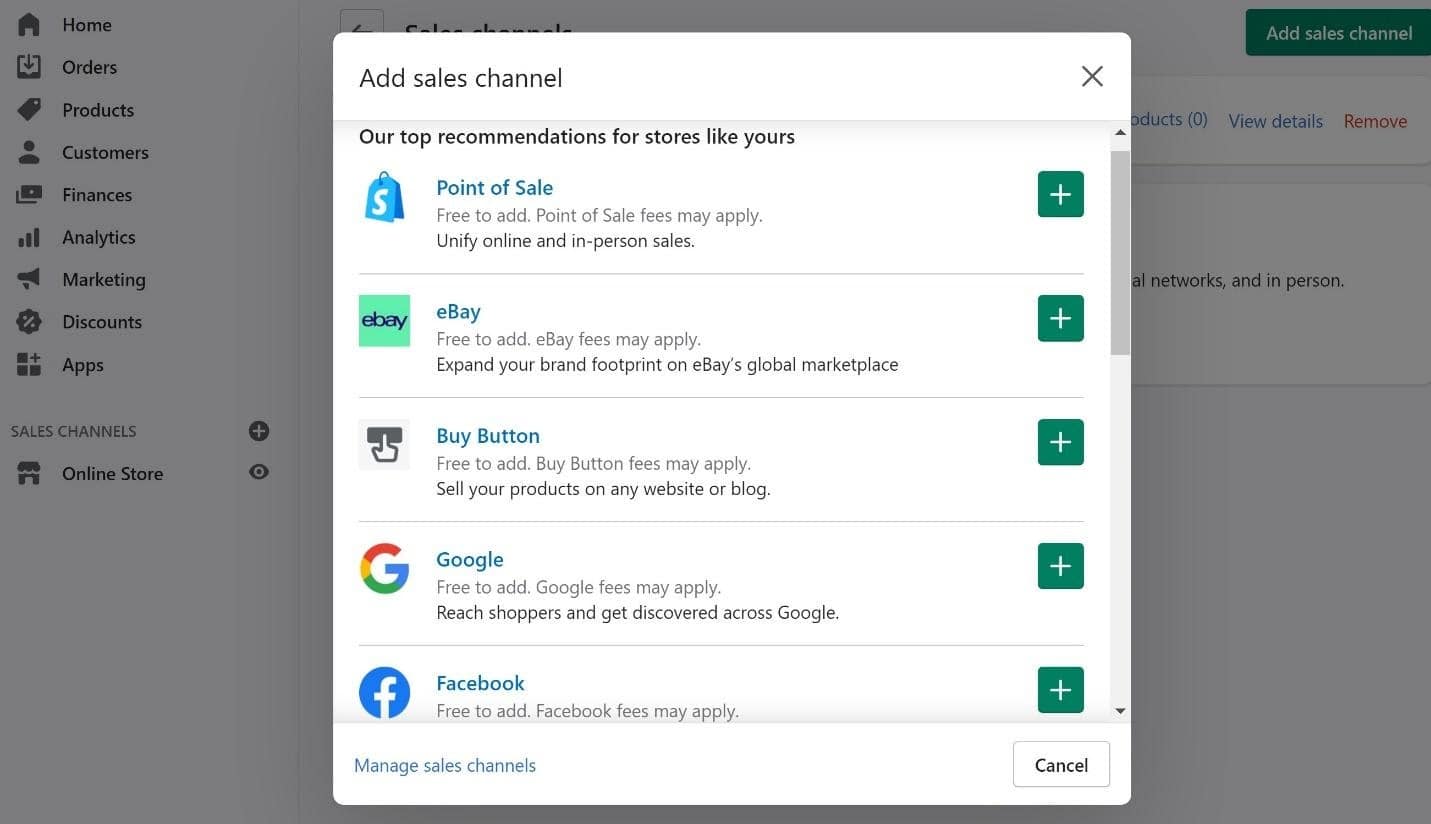 You can expand your store's reach by linking it to third-party sales channels like eBay, Amazon, Facebook, and Pinterest. You can also use Shopify POS to sell at brick-and-mortar stores, pop-ups, and markets. Because your inventory syncs across all these sales channels, it's always up to date.
WordPress can't match Shopify's out-of-the-box simplicity.
You'll have to invest time to add the tools Shopify builds in, starting with the WooCommerce plugin, a powerful but
complex
tool with a huge library of extensions (free and paid) that will add e-commerce functionality to your WordPress site. Then there's the cost.
WooCommerce extensions add management, merchandising, customer service, fulfillment, and shipping and delivery tools.
Some are free but many have fees that can cut into your store's bottom line. So, while it may be hard to beat WordPress on flexibility,
you'll find Shopify has everything you need for an online store already built into the platform.
SEO and Marketing
Shopify Doesn't Limit Key Features To Pricier Plans, WordPress Does
Shopify makes SEO, analytics, and performance reports part of every plan. Regular reports give you a snapshot of how your store is performing with regards to:
Sales (products, channels, staff, and more)
Orders (volume and flow, returns, shipping and delivery times)
Customers (location, first time, one-time, or returning)
Finances (sales, returns, taxes, payments)
Marketing templates and automated emails for abandoned cart recovery, post-purchase offers, and targeted messaging
help build brand recognition and drive conversion.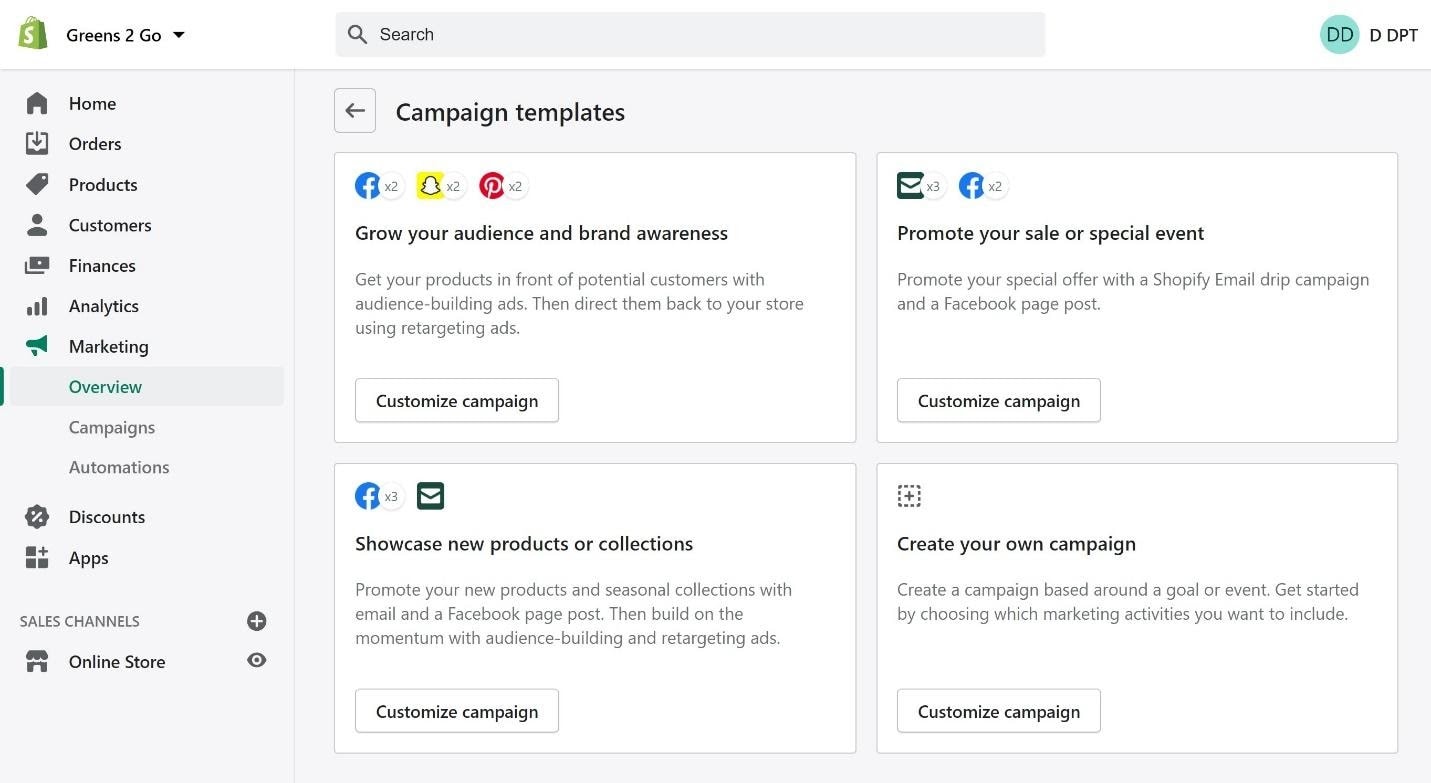 Like so much
with WordPress, access to SEO and marketing features, including Google Analytics integration, depends on your plan.
The Jetpack plugin is an example of how WordPress works. You'll find it on your dashboard – just click on "Activity." But to access most of its performance and marketing features, you have to upgrade. Once you're on a WordPress Business plan, you can unlock everything Jetpack offers. You can also
add Google XML Sitemaps or Yoast
to improve your site's search engine ranking and readability.
If time, skill, and budget are not factors, WordPress certainly has the tools you need. But
after testing both platforms, I was sold on
Shopify's all-in-one approach.
Blogging
WordPress Has Every Blog Feature Shopify Offers and Then Some
Shopify's blogging engine lets you write posts, add images, and set a publication date. You can add tags to posts to make your blog searchable and even
embed URLs from Vimeo, YouTube, or SoundCloud accounts
to include multimedia in your posts. Other tools allow you to manage comments and invite customers to subscribe to your blog, so that you can notify them about your latest lookbook or upcoming sale. Social sharing is limited to well-known platforms, like Facebook, Instagram, Twitter, TikTok, and a few others. Meanwhile,
WordPress gives you every blog feature
 Shopify offers plus so much more
. Writing and publishing posts, as well as adding images, video, and audio is just the beginning. Naturally, you can save and edit drafts, pre-schedule publication, add tags, and organize blog posts by category to make it easy for readers to find what they're looking for. You can even
call in an audio post from your mobile phone.
WordPress lets you cross-link a featured blog post to up to 10 associated posts. Other settings allow you to
choose the number of posts per page, display portfolio projects, and add testimonials.
(If your theme doesn't support these features, you can use shortcodes to add them.)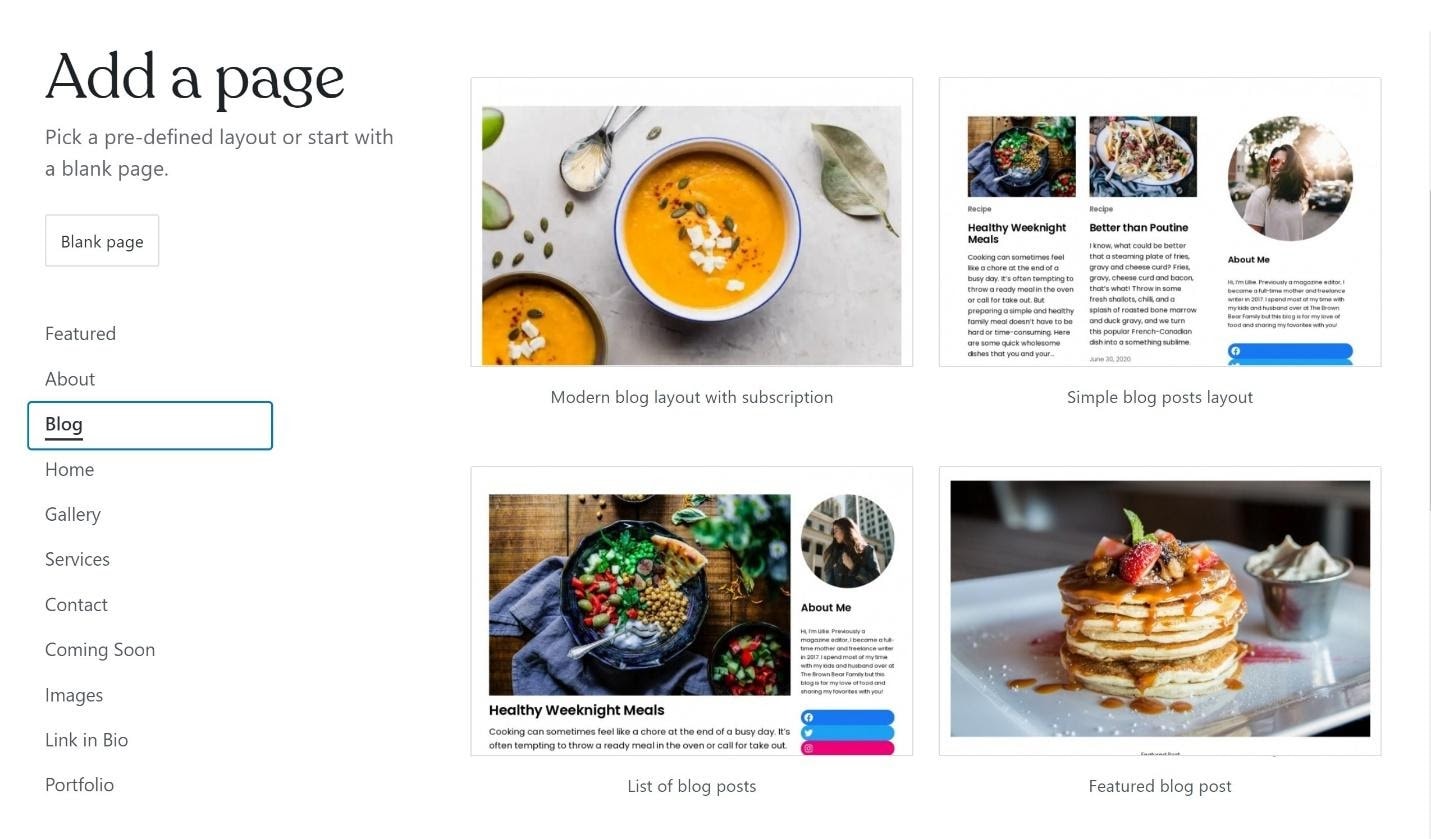 Widgets add even more functionality
. One of the best lets you share thumbnails of your latest Flickr photos in your blog's sidebar. If you want to get the word out about your blog,
WordPress lets you link to 35 different social media platforms,
from Facebook, Twitter, and Instagram to Behance for creative work and SoundCloud for music. You can also automate email responses to readers who comment on or follow a post to connect with followers.
All in all, WordPress can't be beat when it comes to blogging functionality.
But whether or not that's important for your website – is up to you to decide.
Pricing
Whether Shopify or WordPress Will Cost More Is Not Just About the Price of Your Plan
Shopify may not have a free plan, but there's a 14-day free trial with any of its three paid plans.
And at
$
29.00
per month, Shopify's entry-level plan is half the price of WordPress's eCommerce plan
. If you're not ready to set up a full-fledged store, there's also Shopify Lite. It's an inexpensive plan – just
$
79.00
per month – that lets you sell goods by adding a Shopify Buy Button to products on a website or blog. Unlike Shopify,
WordPress has a free plan
, a great way to try out the builder, and four paid plans
to suit different needs. Entry-level paid plans remove branded ads and, if billed yearly, get you a free one-year custom domain which makes your site look more professional. You can also collect one-time or recurring monthly payments for memberships or subscriptions. But these affordable plans are not designed for online stores
.
For that, you have to
upgrade to the WordPress Business plan
(

$

25.00

) or the eCommerce plan (

$

8.00

).
To calculate the annual cost of your WordPress store, you have to add in fees for plugins and extensions.
For example, while WooCommerce is free, most of the extensions you need to manage a store are not. So even though
Shopify's higher-tiered plans are more expensive, they offer more value.
Basic Shopify
WordPress Business

Starting Price

$

29.00

$

25.00

Free SSL Certificate

✔

✔

Free Domain

✘

✔

(One year with annual paid plan)

Sell Unlimited Products

✔

✘

Sell Professional Services

✘

✔

Transaction Fees

✔

(Except with Shopify Payments)

✔

(Depends on payment gateway)

Unlimited Storage

✔

✘

  (200 GB)
Support
Both Builders Offer Email and Live Chat, Shopify Adds Phone Support
Both Shopify and WordPress have detailed support guides, tutorials, and helpful blog resources. That said,
Shopify makes its 24/7 email, live chat, and phone support available on every plan
. When you start a live chat conversation, it's with an actual rep, not a bot.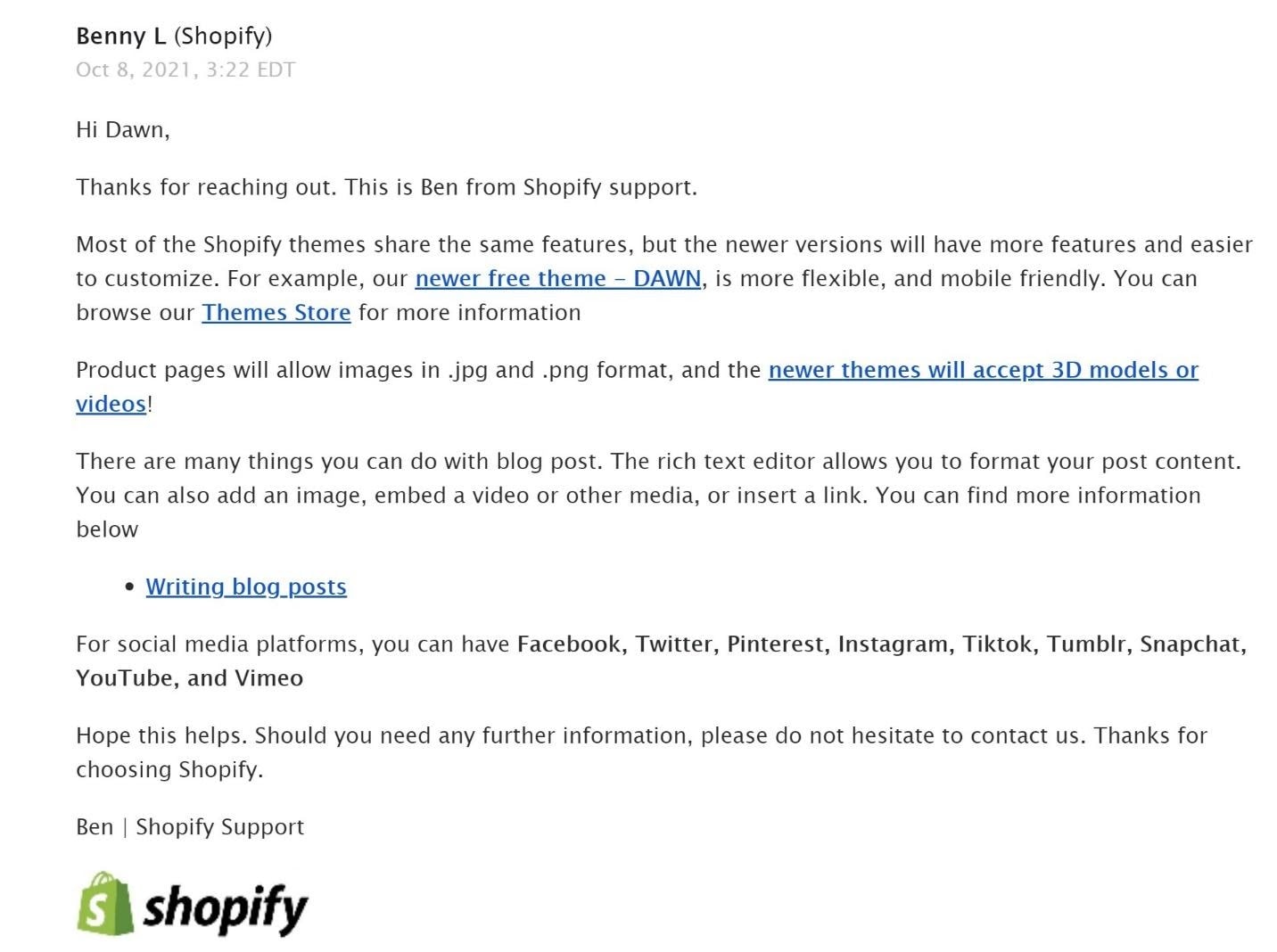 Shopify also has phone support, but I got answers more quickly with live chat and email. To speak with customer support, you have to submit a ticket and wait for a callback. On the other hand,
WordPress links its support with your plan: 24/7 email with any paid plan, 24/7 email and live chat if paid yearly, and one-on-one support with an eCommerce plan.
If you're on the free plan, you can only submit questions to the community forum.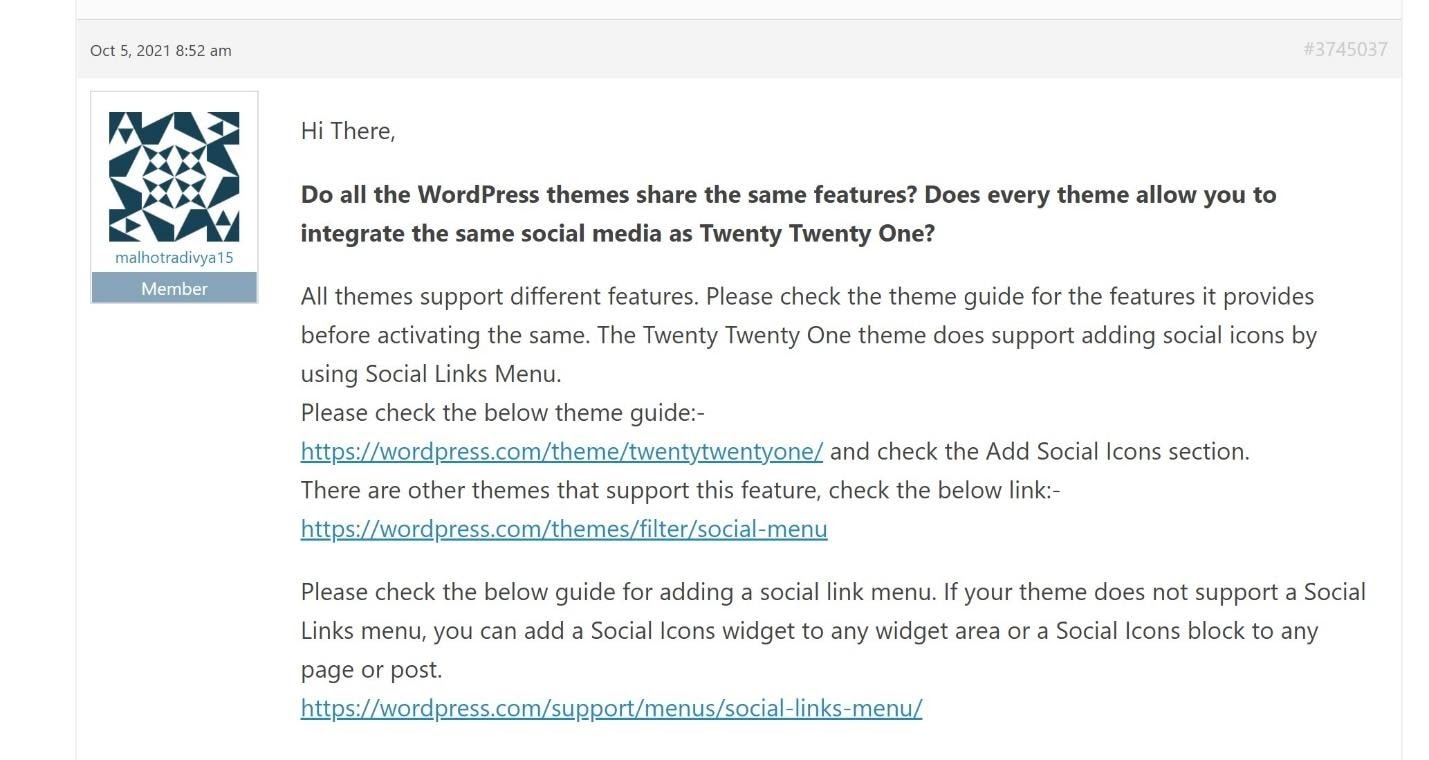 I tested WordPress support on a free plan and never waited more than an hour to get a helpful response. As far as support goes, it's pretty much a draw. I never got a callback from Shopify, but
I think tying support options to how much you pay upfront knocks WordPress down a notch.
Shopify Has What It Takes (Like, Literally Everything) for an Online Store
When it comes to e-commerce, Shopify focuses on convenience and ease of use.
Pick any of Shopify's three plans
, and you'll have all the features you need to launch and manage a thriving retail business.
However, for blog, business, and personal websites, the more multipurpose WordPress is preferable.
It offers essential functionality for these types of websites that Shopify lacks. Which is better for you ultimately depends on what you want to achieve with your website, your time and budget constraints, and your technical skill. If you're still undecided, check out the table below.
Templates
Hundreds of themes for every niche (thousands with a paid plan)
Apps/Plugins/Add-ons
About 6,000 e-commerce apps
50,000+ plugins for
everything
Blogging
Serviceable blog for an online store
Most advanced blogging features of any builder
E-Commerce
Built-in e-commerce features
Add e-commerce features with plugins (Business or eCommerce plan)
Pricing
Three tiered plans from affordable to pricey
Free and low-cost plans, e-commerce plans can get costly
Support
24/7 live chat, email, and phone support (with ticket)
24/7 email and live chat support (paid plans only)
FAQ
Is Shopify better than WordPress?
Whether Shopify or WordPress is better depends on the type of website you want to build. For an online store, Shopify clearly has an edge. Even its least expensive plan gives you what you need to set up and manage a retail website. On the other hand, WordPress is a more versatile builder that's suitable for a range of projects: business, professional, portfolio, and content-based websites. For a more in-depth overview of what each builder offers, read our reviews of Shopify and WordPress before you make a final decision.
Is WordPress cheaper than Shopify?
WordPress has a free plan and two very affordable plans ideal for blogs, personal/CV, portfolio, and professional websites. Its Business and eCommerce plans are also reasonably priced for what they offer. But when you take all your costs into account, Shopify's plans offer better value. That's because you have to pay fees for plugins and extensions to add e-commerce functionality to your WordPress site. Whichever builder you choose, you may want to check out the available discounts to reduce your costs.
Which is better for SEO, Shopify or WordPress?
Both Shopify and WordPress say they automatically optimize your website to improve its ranking with search engines. Both also offer apps (Shopify) or plugins (WordPress) that can help you enhance your website's performance. Shopify certainly makes things easier by including the essentials with all its plans when it comes to SEO, analytics data, and performance reports. With WordPress, you're pretty much on your own unless you are on a Business or eCommerce plan, and even then, you have to add plugins and extensions.
Can you use Shopify with WordPress?
The short answer is yes. You can add your WordPress.com website to your Shopify storefront by creating a page or blog post with a link to your WordPress website. You can also embed a Shopify Buy Button to products on your self-hosted WordPress.org website, though not on a WordPress.com website. In fact, you can integrate Shopify with other builders that make our list of the best site builders for 2023, which might ultimately be the best approach.