Since the dawn of the internet, you've been on the receiving end of countless email marketing campaigns. But now that you lead a business, you're looking to launch some of your own! So how should you go about ensuring your emails are opened and read?
There are numerous tactics hailed by the best email marketing services online as email marketing "best practices." But with so many tips and tricks available, if you're new to email marketing, you might get confused and not know where to begin. That's understandable. But as long as you avoid the six email marketing fails below, you should be able to get your campaign off the ground successfully.
1. Using Spam Trigger Words
Certain words and phrases can flag your email as spam, thereby causing your deliverability and open rates to plummet. Some of these are obviously a little more suspicious:
Free
100%
This isn't a scam
Save big money
Winner
#1
$$$
Bonus
Once in a lifetime
Others are less so:
Dear
Maintained
Serious
Open
Now
Medium
Per Day
Supplies
Friend
Using any of these words or phrases in your subject lines or even in the body of your emails can send your email straight to spam, or be marked and reported by recipients as spam.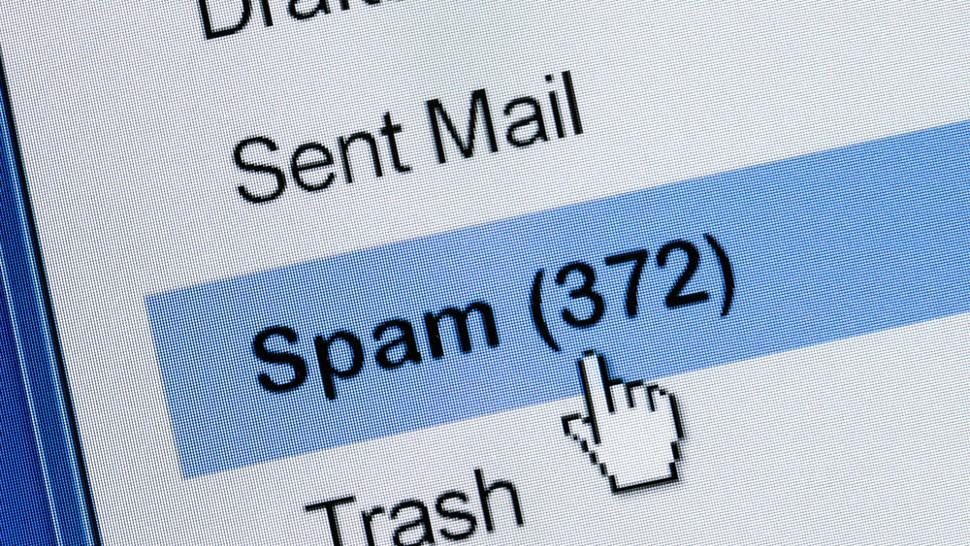 To prevent this from happening, research and familiarize yourself with the most common spam trigger words, and then relentlessly expunge them from your marketing emails.
Other simple but effective measures you can take to reduce the risk of your emails ending up in the spam folder are as follows:
AVOID ALL CAPS
Dodge exclamation points!!!
Forgo the

red font

Don't attach files
2. Sensationalizing Your Subject Lines
Nobody will argue that catchy subject titles are generally a good thing. Of course you want to whet your readers' interests. But don't go overboard. Your intentions might be in the right place, but beware that sensationalist subject lines will often backfire.
Take the case of former BuzzFeed editor Dan Oshinsky, for example. His newsletter's lead story was about people making mistakes at work. Sounds innocent enough, but the subject line of Dan's email sent shockwaves across BuzzFeed's readers:
"Hi, You're Fired."
And many readers believed it. Can you imagine the stress this caused before they read what the email was actually about? Overhyped subject lines can quickly diminish your customers' and leads' trust in your company. So before sending out that next email to your list, make sure your subject title won't unnecessarily alarm your readers. Have their best interest in mind, nurture their trust, and they'll repay you with strong open rates in the long run.
3. Making Yourself Anonymous
You, me, and everyone we know want to communicate with actual people, not mailboxes. So why would someone send an email with "Admin" or "Noreply" as the "From name"?
Unauthenticated sender IDs are huge turn-offs to email recipients. They effectively communicate that the sender doesn't really want to speak with them.
Emails make up one of the largest marketing channels nowadays, and sending them from a personal email address with an actual person's name can encourage recipients to reply if they have questions or concerns about your brand. By contrast, sending emails from impersonal email addresses means missing out on the chance to engage your audience. You'd chase them away from you and straight toward your competitor.
4. Forgetting the WIIFM Factor
When we were kids, every time someone asked us to do something, we were pretty good at replying, "What's in it for me?" And now as adults, more than ever do we need to consider this "WIIFM" factor — not just for our own needs, but for our audience's as well. Regardless of whether you're speaking in public, writing a book, or composing an email, you have to offer content that your listeners or readers will find valuable.
If your email offers no value to your customers or prospects, they'll never build a relationship with you. And certainly, they won't trust you with their money to meet their needs. If your emails are all about you and your needs, then readers have no real reason to read them. Therefore, you should ensure your emails provide high-quality content that will answer your readers' questions and solve their problems. That's how you give value to their lives. The audience will appreciate your being helpful (and not spammy), and so when the time comes that they need your product or service, they'll think of you first.
5. Neglecting CTAs
Calls-to-action (CTAs) are words or phrases designed to prompt a response or encourage a sale. Incorporate them in your marketing emails to help your audience engage with your brand more easily. Examples of common CTAs include "Call us now", "Find out more," and "Visit a store today."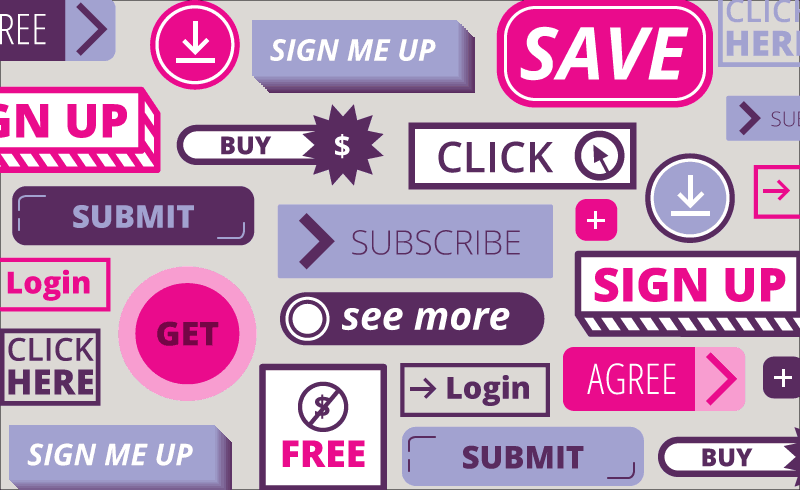 How you formulate your CTA determines whether or not your customers take action. So keep your CTAs specific, and bear in mind the following ingredients for an effective CTA. It should:
Excite tears to take action
Instill a sense of urgency
Make readers worry that they might miss out
Use simple but compelling language
Speak to readers directly
One good example is from the email below by the online retail store UncommonGoods. The CTA urges readers to act fast so they don't miss out on getting their mom a gift on time for Mother's Day: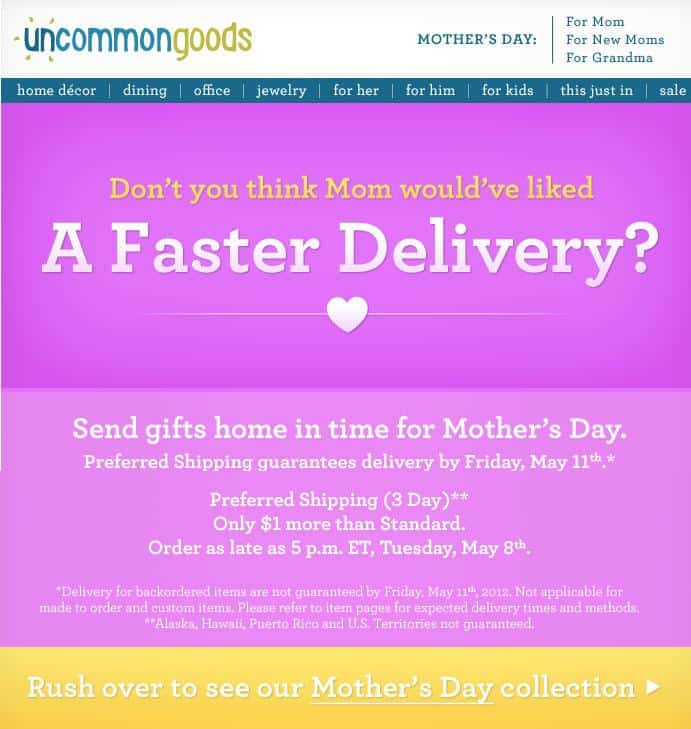 6. Stuffing In or Skimping Out on Images
If you use an email marketing service, then you can usually select from a number of promotional email templates for your email marketing campaign. In each template, there are pre-designated spaces where you can upload your images. But don't think that you should have to occupy every single one of them.
You need to achieve a good balance of image and text. Be careful not to stuff your emails with too many images, which might distract your readers from spotting your CTA. But don't be overly frugal with images either, lest your email ends up looking rather dull and uninteresting. A generally safe image-to-text ratio is 30:70. And for whatever images you use, be sure they enhance your campaign's overall message.
Avoid Email Marketing Fails, Embrace Email Marketing Success
Aside from avoiding the seven DONT's above, follow these useful email marketing DO's:
Edit and proofread before sending — factual and grammatical mistakes are big turn-offs
Ask at least one other person to give you feedback, and tweak your emails accordingly
Make sure your emails are devoid of technical glitches
Ensure your audience is segmented correctly
Personalize your emails — readers love to see their own name
Email marketing is still causing waves in the digital marketing world. To succeed, all you need is an effective email marketing strategy. Start here.
---
Spam trigger words: https://prospect.io/blog/455-email-spam-trigger-words-avoid-2018/
Kleiner Perkins Caufield & Byers report: https://www.recode.net/2018/5/30/17385116/mary-meeker-slides-internet-trends-code-conference-2018
IMAGES:
Spam: https://www.komando.com/happening-now/249313/check-your-inbox-weve-had-spam-for-20-years-now
CTAs: http://www.socialflow.com/creating-strong-calls-action-facebook/
UncommonGoods: https://buildfire.com/email-marketing-examples/