DIY logo makers are good, but most don't feature many cool designs – it's mostly business stuff
. If you're really aiming for that unique touch – a logo that screams you – hiring a pro on Fiverr can be a real game-changer. And the best news? It's actually pretty darn cheap. Keep reading to learn how to hire a skilled Discord server logo designer on Fiverr.
21 Best Discord Server Logos
I handpicked some of the most striking logos created by Fiverr designers. Not only do these logos look great, but their artists know how to make an impact on Discord. After all, they're often members of different Discord communities themselves.
Animated Avatars:
Nitro users can also have animated graphics as their profile picture. Think of it as another way to stand out from the crowd. There are quite a few creators designing Discord GIFs on Fiverr, so
check those out
 as well!
The Best Way to Get a Discord Server Logo
I tried all the popular logo services and even tested a couple of DIY logo makers. Personally, I prefer hiring a logo designer on Fiverr because it's cheap, easy, and convenient. Fiverr offers:
Custom Designs. Whether it's a mascot, a FiveM logo, a chibi character, or anything else, Fiverr sellers offer gigs that specialize in all things Discord. Its Pros can deliver outstanding results, especially if you take the time to introduce your community and provide existing assets.
Low Cost. Traditional agencies charge hundreds (even thousands) of dollars for a single logo and often don't specialize in gaming designs. On Fiverr, you can get a great-looking mascot for less than $20.
Fast Turnaround. If you browse a few of Fiverr's popular discord server logo gigs, you'll see that most sellers deliver logos within two days. If you need your design urgently, there's often an option for a 24-hour delivery add-on.
Diverse Talent. From anime enthusiasts to artists specializing in cute chibi portraits and esports logos, you'll find someone with a style that matches yours.
Protected Transactions. When you pay for a logo, the funds aren't instantly transferred. You can ask for your money back if the delivered product doesn't meet your expectations (or the seller isn't communicating).
How To Make Your Own Discord Server Logo With Fiverr
If you don't have much experience with design, it's better to leave everything to Fiverr's professionals. They'll ask you a few questions, and you'll have a great-looking Discord server logo in no time. But
if you feel creative and open to new ideas, you can try creating a logo yourself with the Fiverr DIY logo maker.
It's very easy to use and features many icons, elements, and font styles.
1. Do It Yourself With Fiverr's Logo Maker: Step-by-Step Guide
Creating your own Discord server logo with Fiverr's DIY tools is actually pretty straightforward. I'm assuming you already know what makes your community tick, and you've already established a voice and general aesthetic through your channel communications. If that's not the case, now's a good time to run some polls and see what the community thinks about itself. Once you have a rough idea of what your logo should look like, let Fiverr's logo maker do the rest for you.
There are thousands of designs, so finding one that resonates with your audience won't be hard.
These designs are templates created by Fiverr's pros, so they're all manually approved by Fiverr.
Navigate to the homepage
and click "
Make Your Logo
." Next, you'll be asked to add your community name, select your industry ("gaming streaming" works pretty well), and insert any specific visual elements you want in your logo (e.g., tiger).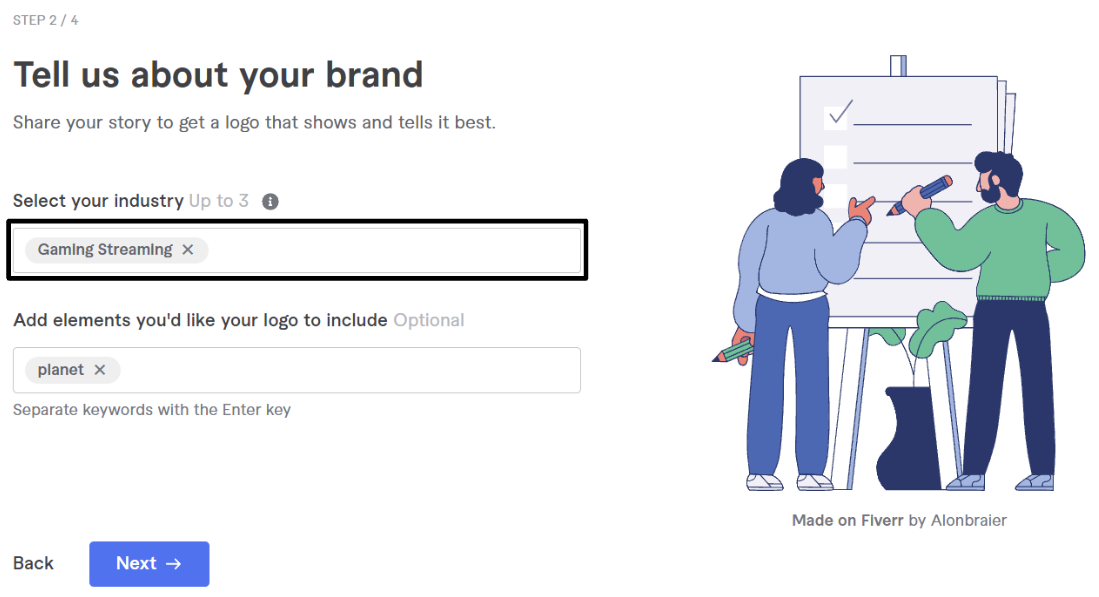 Next, Fiverr will ask you to move a few sliders as you better define your logo's desired personality. When you're done, click "
Make My Logo
." If you have never used Fiverr, the system will prompt you to create a new account. You can sign in using your email or connect via Google, Apple, or Facebook. Take your time to scan the results until you stumble upon a design that captures your attention.
If something looks good but isn't exactly what you had in mind, don't worry! You'll get to edit your logo in the next step.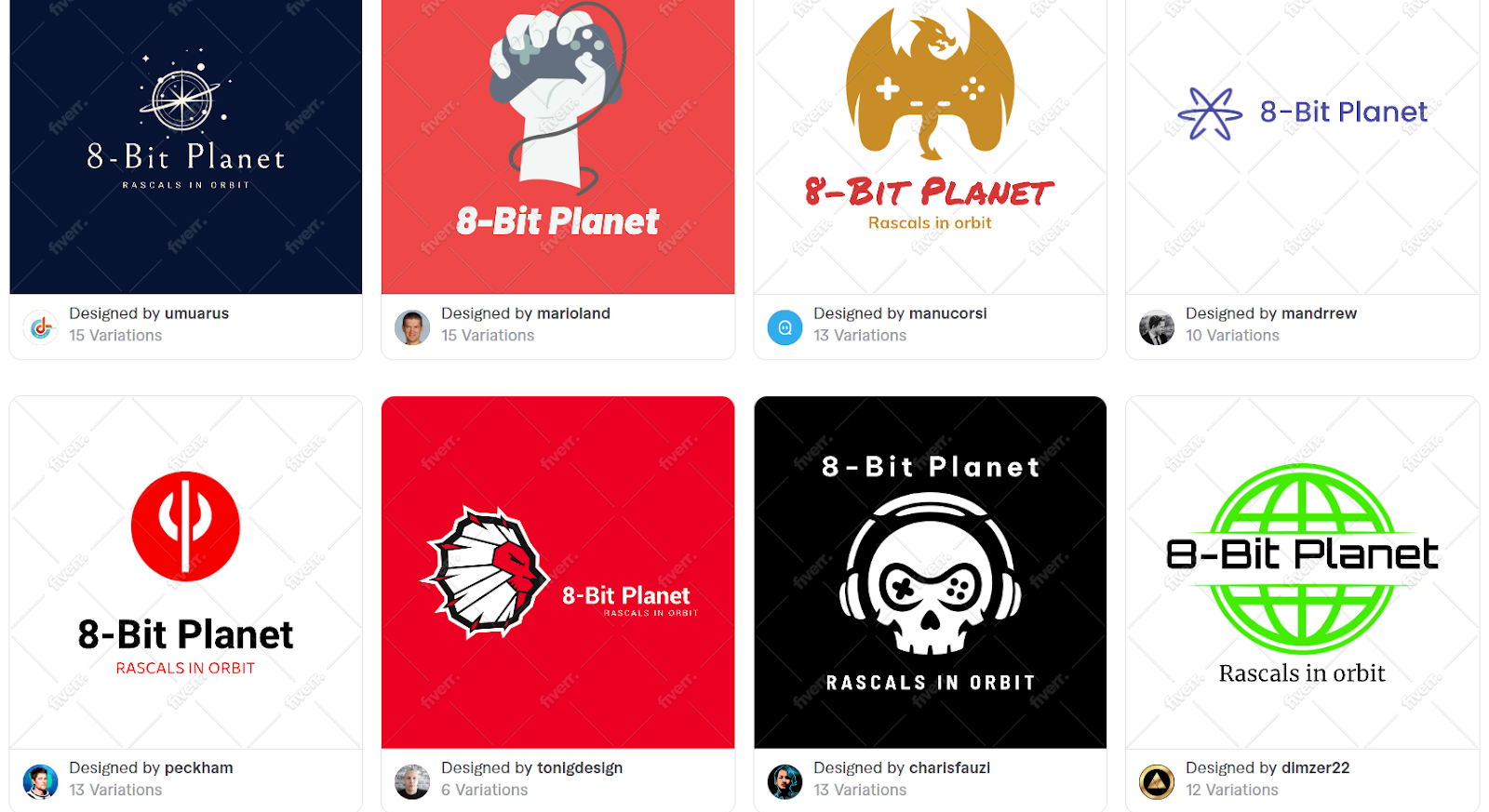 Click the design you like best, choose a color variation, and click the "
Customize This Design
" button in the top right corner.
There's nothing intimidating about the editor itself.
You can change pretty much anything you want, from colors to shapes, backgrounds, and layouts. Even with zero design experience, you can create something truly unique.
Note that slogans aren't necessary.
You can leave that one blank, and your logo will look just fine. Most Discord servers don't include slogans in their logos, but I'm pretty proud of
Rascals in Orbit
, so I'm keeping it – for now, at least. If you remove your slogan from a design that had one originally, make sure to align your logo correctly. A perfectly centered slogan should result in the pink editing lines forming a cross.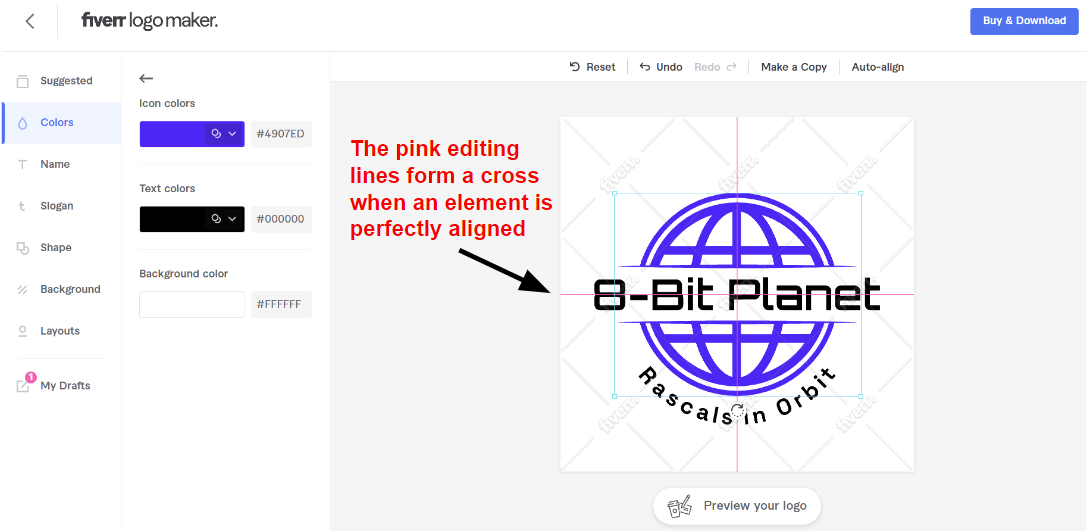 You can check out what your logo will look like on print and other media by clicking on the "Preview your logo" button underneath your design. Once you're happy with what you got, click "Buy & Download" in the top right corner, choose a package, and you're all set!
The whole process (from the brief to the final logo) takes less than 20 minutes.
2. Hire a Professional Logo Designer
Fiverr's available designs might not exactly meet your criteria.
If you already know what you want, hiring a professional designer right away makes more sense.
The DIY logo maker gets the job done, but commissioning work to an actual human means you'll end up with something closer to your vision. Fiverr has made connecting with professional designers easy – and getting a decent design won't cost you a fortune.
From Fiverr's homepage
, input keywords into the prominent search bar at the top. Be as specific as possible (e.g., chibi discord logos, FiveM discord logos, avatar discord logos) to see the most relevant gigs available. To narrow your search, use the filters on the left side. They let you sort by budget, delivery time, seller level, and more, helping you find a designer that suits your needs.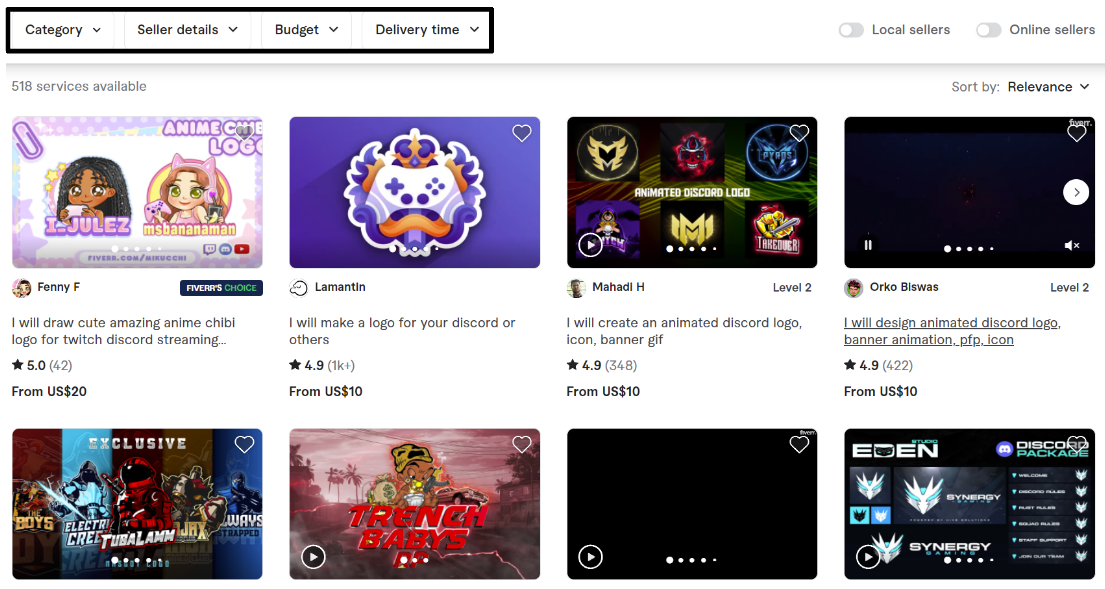 Selecting a freelancer's profile lets you see their gig specifics, usually featuring service descriptions, pricing levels, and delivery schedules.
Higher-priced packages often come with additional file types (e.g., vectors), mockups, source files, social media kits, and more.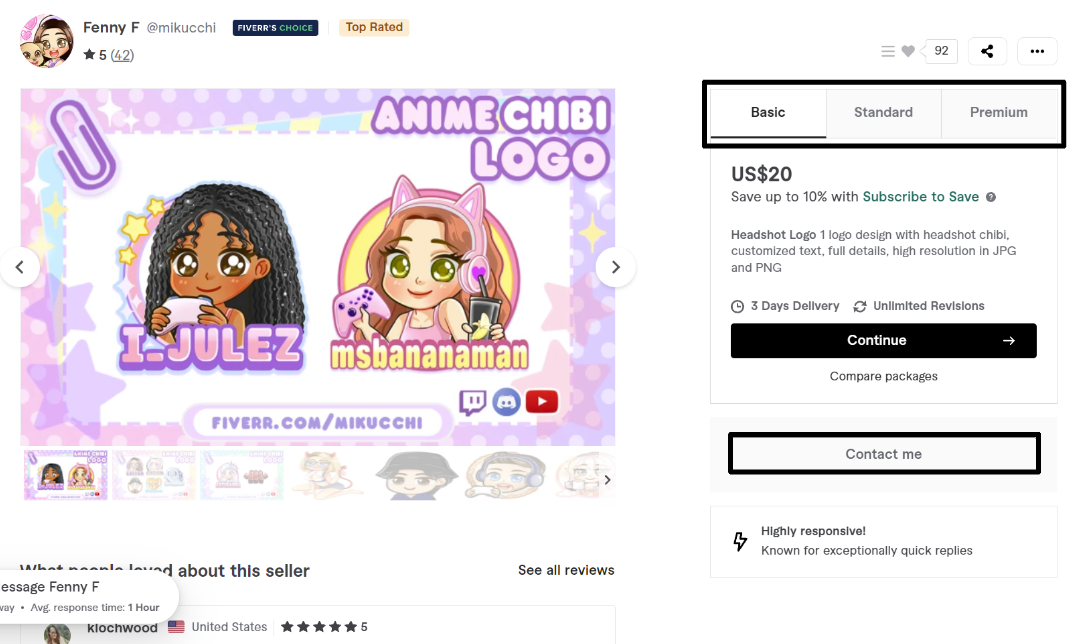 Click the "
Contact Me
" button to open the message portal and discuss the logo's specifics. Artists generally appreciate it when buyers contact them before placing an order. That's because they can ask questions directly, better understand your project's requirements, and deliver outstanding results on the first try.
Once everything is in order, click the package you want to purchase and select "Continue."
At checkout, you can review your order, provide specific instructions, and finalize payment.
3 Best Discord Server Logo Services
I usually opt for Fiverr when I need a quick logo or graphic for one of the Discord communities I'm part of. The DIY logo maker is great for tasks I need to complete ASAP. When I have a solid idea and more time on my hands, I prefer commissioning my designs to pros on Fiverr. Besides Fiverr, there are quite a few choices available to you.
I've tested all the popular logo services and found that only a few deliver consistently good Discord logos.
Wix's standout feature is its extensive customization capabilities.
It gives you unmatched design freedom to ensure every facet of your logo perfectly mirrors your server's theme.
Wix also offers a free low-resolution sample of your design, a perk not commonly seen in many logo services. Aside from logos, Wix can also be your go-to for building a fan website or promoting your community's server. Like Fiverr, Wix can link you with experienced designers who can create more personalized designs.
Looka ensures your Discord server logo won't just be average.
Their icons and elements look great, and there are many gaming-related assets. They've optimized their design offerings so that you always get something decent, even if you're new to logo design. Though this might mean less creative freedom, it guarantees top-quality results.
Like Wix, Looka provides many extras like a website builder and a diverse social media kit.
Looka also allows edits for 72 hours post-purchase, which many competitors typically charge extra for.
While it doesn't house a typical logo maker,
DesignCrowd's community of over 700,000 designers ensures your Discord server logo won't lack originality.
The community might not be the biggest, but the talent range and depth are impressive. Opt for the "Top Designers" add-on to channel your design contests only to the platform's elite. If you prefer your server logo to stay confidential, DesignCrowd offers search engine blocking, NDA assurances, and more.
The Best Discord Server Logos in 2023
Designing the right logo can prove challenging, but the process of getting one for your community is pretty straightforward. You should either hire a skilled designer on Fiverr or use an advanced DIY logo maker.
I recommend opting for Fiverr
if you're looking for consistently reliable results. Its logo maker is pretty good, and its gig marketplace is enormous, with artists specializing in the gaming, anime, and K-pop niches. The packages are well-priced, the quality is high, and you never need to wait more than a few days to receive your order. If you have design experience and are comfortable working independently,
Wix's Logo Maker is another great option
. There are quite a few standout icons, styles, and fonts available, and there's practically no limit to the customizations you can make.
FAQ
How do I make the best Discord server logo?
If you know your community well and have a clear idea of what the logo should look like, simply hire a professional designer to create it for you on Fiverr. It's fast, affordable, and higher quality than the competition.
What should my Discord server icon be?
This is a difficult question to answer. For a gaming community, something that depicts your favorite scene or in-game character will make the most sense. Like all logos, you should keep things nice and clear – simple, memorable designs work best. Remember to communicate with your designers early – they'll ask questions about your community that can have a huge impact on how your logo turns out.
What is the best Discord server logo size?
The optimal size for a Discord server icon is 512 x 512 pixels. That size ensures a crisp image while maintaining quick load times. As you probably already know, Discord also supports GIF avatars as profile pics for Nitro users. You can also get those on Fiverr.
Which logo maker is the best for Discord?
Due to its thousands of elements and unlimited customization options, Wix's Logo Maker is among the best for crafting top-quality Discord logos. Looka is also a decent alternative.