SiteGround, a popular choice for managed WordPress hosting, comes with attractive introductory prices and an impressive list of features. The company offers a variety of plans for users of all levels, from the seasoned developer to the newest beginner. I wanted to see if the sign-up process is beginner-friendly as well. Spoiler Alert! My sign-up wasn't as smooth as I'd hoped. Read on to see why. I'll walk you through the entire process step-by-step. To see if SiteGround is worth the trouble, check out my
full SiteGround review
.
How to Create a New Account with SiteGround
I decided to sign up for one of SiteGround's WordPress plans. There are three to choose from on the WordPress Hosting page, and you can click 'Compare WordPress Plans' on the bottom to see a full feature comparison. Note the differences between the 'Special Prices' and the regular rate.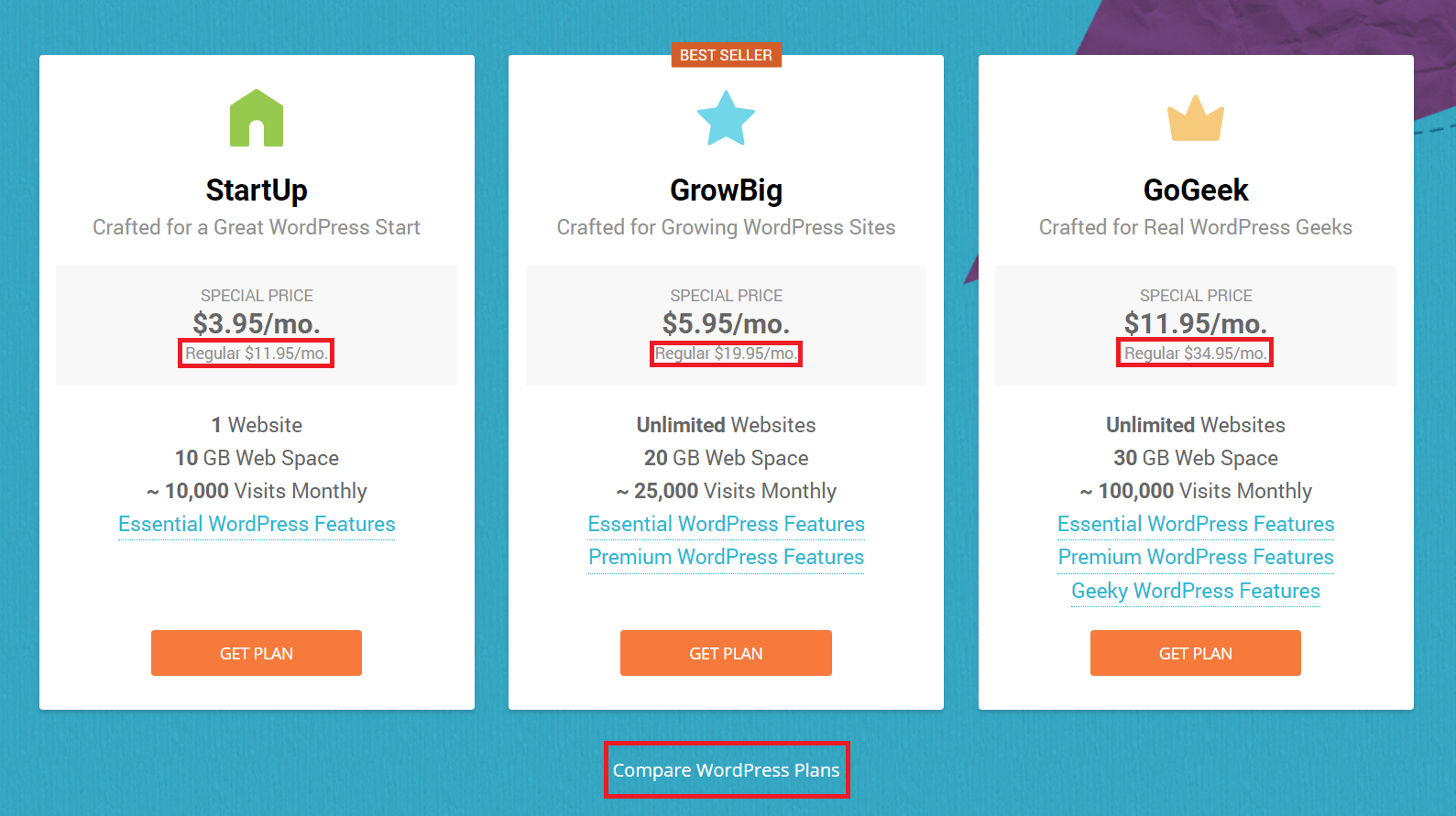 Once you choose a plan, just click the 'Get Plan' button to proceed to the next step. Here, you can choose to enter a domain you already own or register a new one (keep in mind that the price may differ depending on the extension you choose).
Unfortunately, SiteGround doesn't offer free domains with its plans.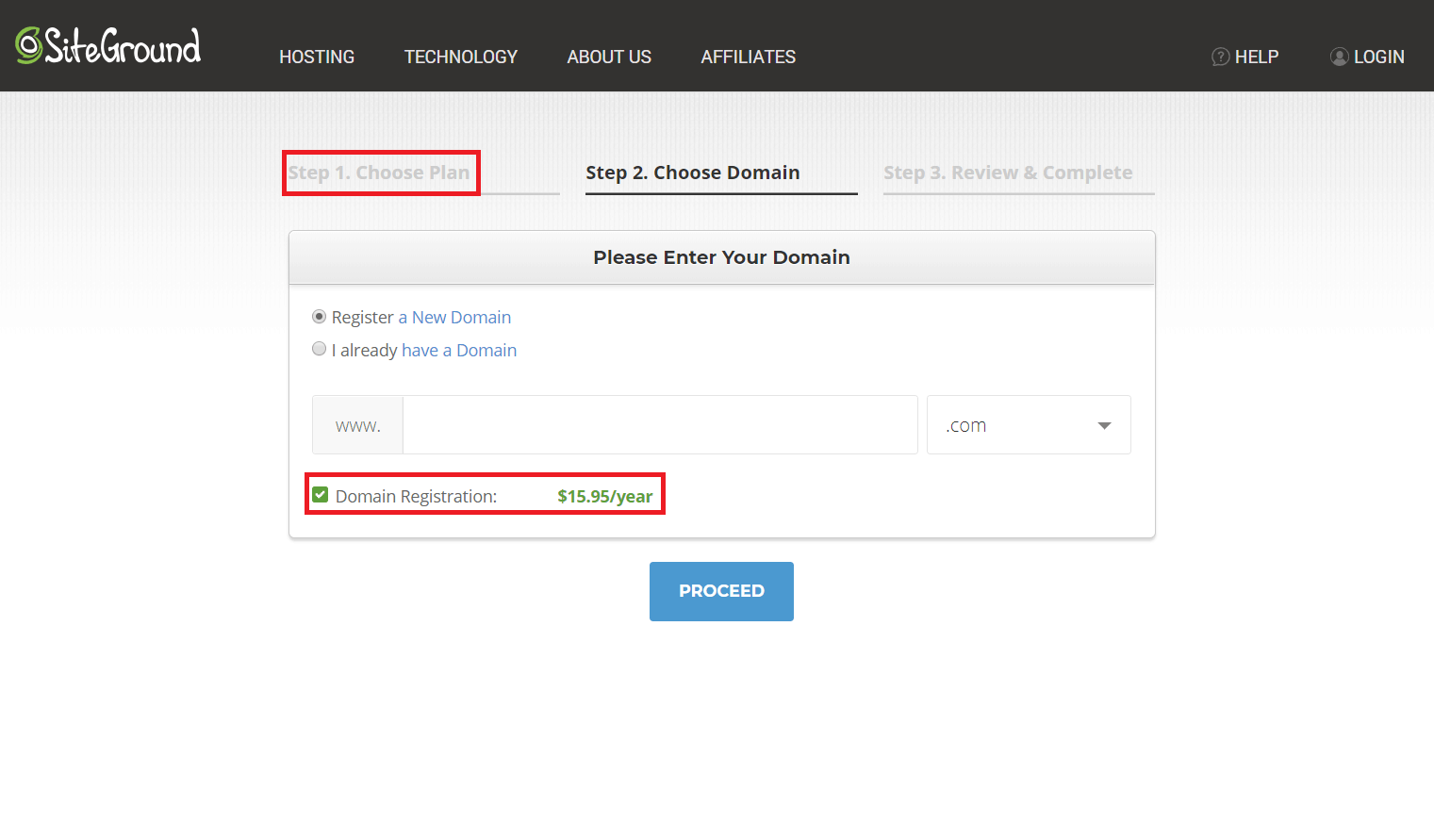 You can go back and change your plan at any time – just click the 'Choose Plan' tab. While the domain registration process is quick and easy, one downside is that they don't suggest any alternatives if the domain you type in isn't available. This can turn your registration into a bit of a guessing game. Click 'Proceed' to get to the next step. This is where you enter your account details and personal information – nothing out of the ordinary.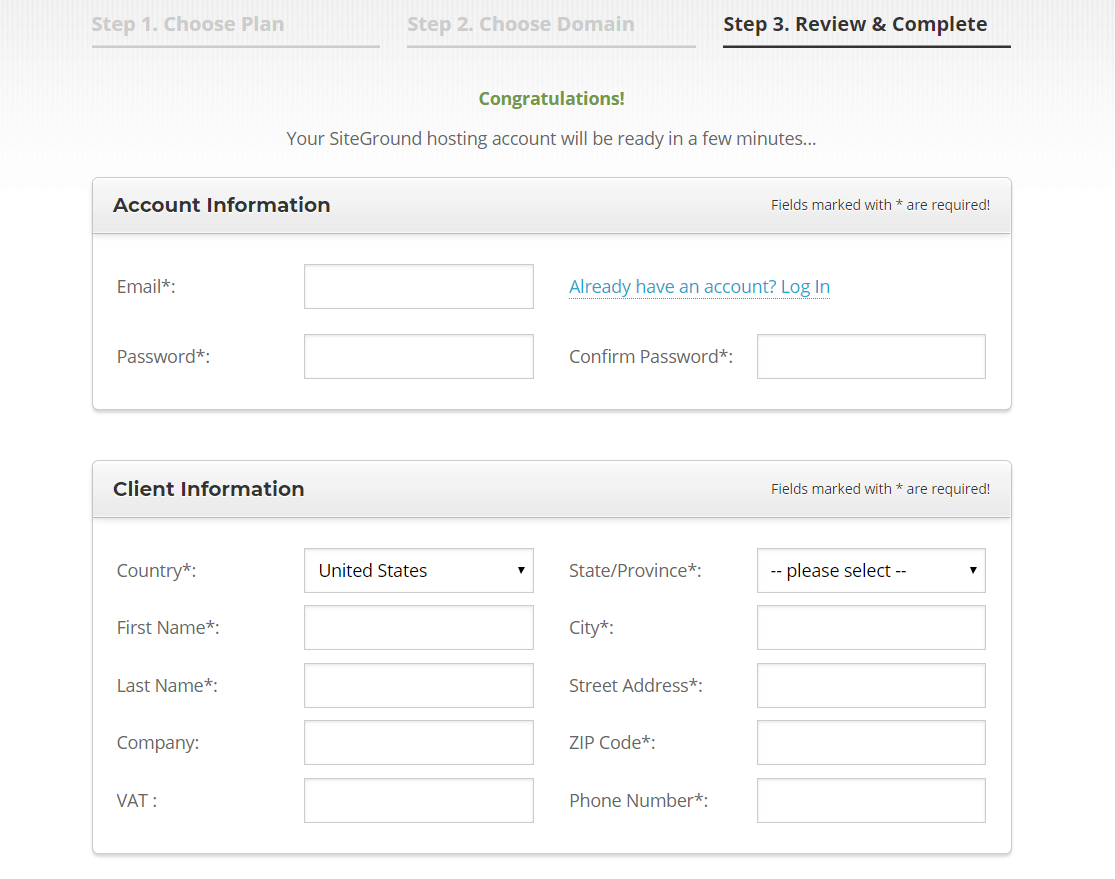 Below that, you'll provide your payment information. Note that the company only accepts VISA, MasterCard, and Discovery. In the Purchase Information field, there are a number of important things to do:
Make sure the plan displayed is correct.
Check the suggested data center – the nearest available one is automatically chosen for you, but you can click the icon to change it if you want.
Note that the 12-month term is selected by default. If you select the one-month "Trial" option, you'll suddenly discover you have to pay a setup fee, which can be quite annoying.
Check the 'Hosting Price' field, which displays your special introductory rate as well as your future renewal rate.
Under 'Extra Services', you can select additional add-ons. It's nice that they aren't checked by default.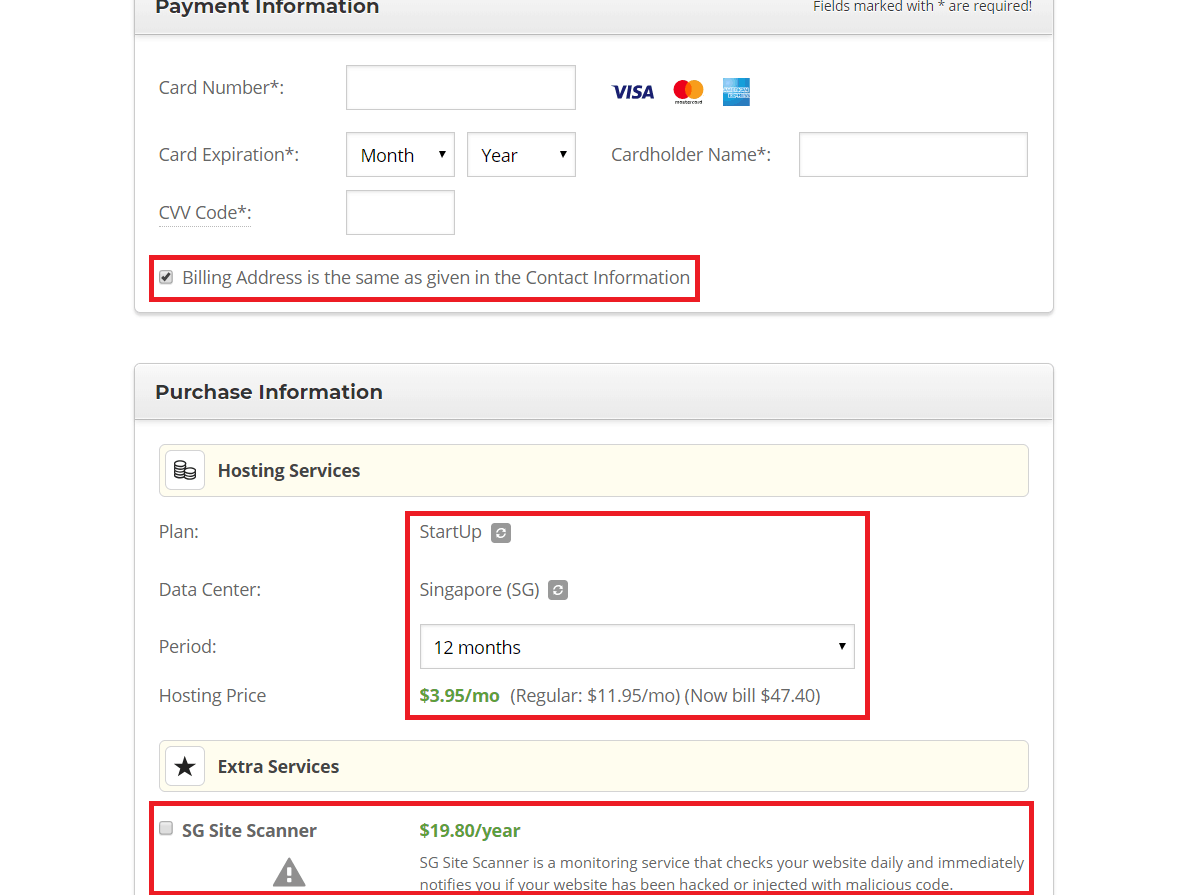 Now, you'll have to check the box to confirm you've read the Terms of Service (not a bad idea to actually read them first). You can also choose to receive the SiteGround newsletter – again, it's nice that it's unchecked by default. Once you click 'Purchase Now' your card will be charged, so make sure all your details are correct.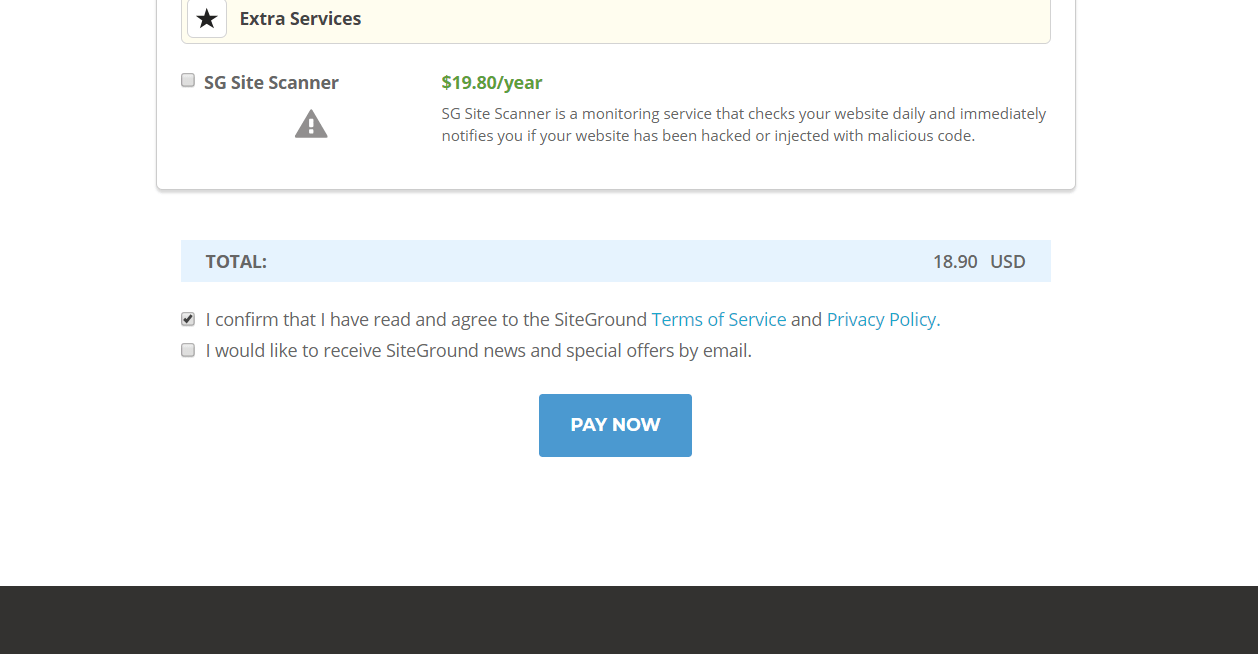 When you pay, you'll receive the following confirmation email, where you'll also be asked to verify your account. You have about a day to do this.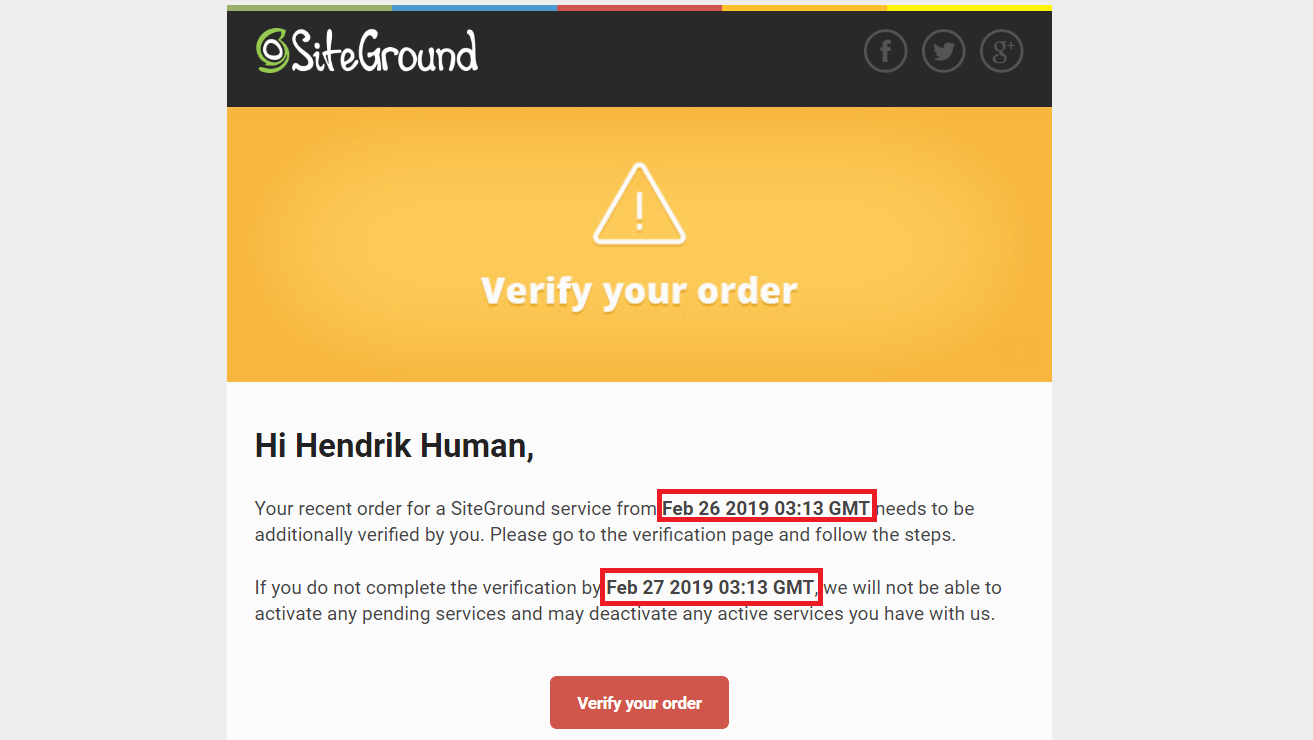 Clicking the button will take you to a page where you verify your order. You can do it through a text message or a phone call. It's great to have options – many hosts will only let you verify your account via phone call, which can take longer.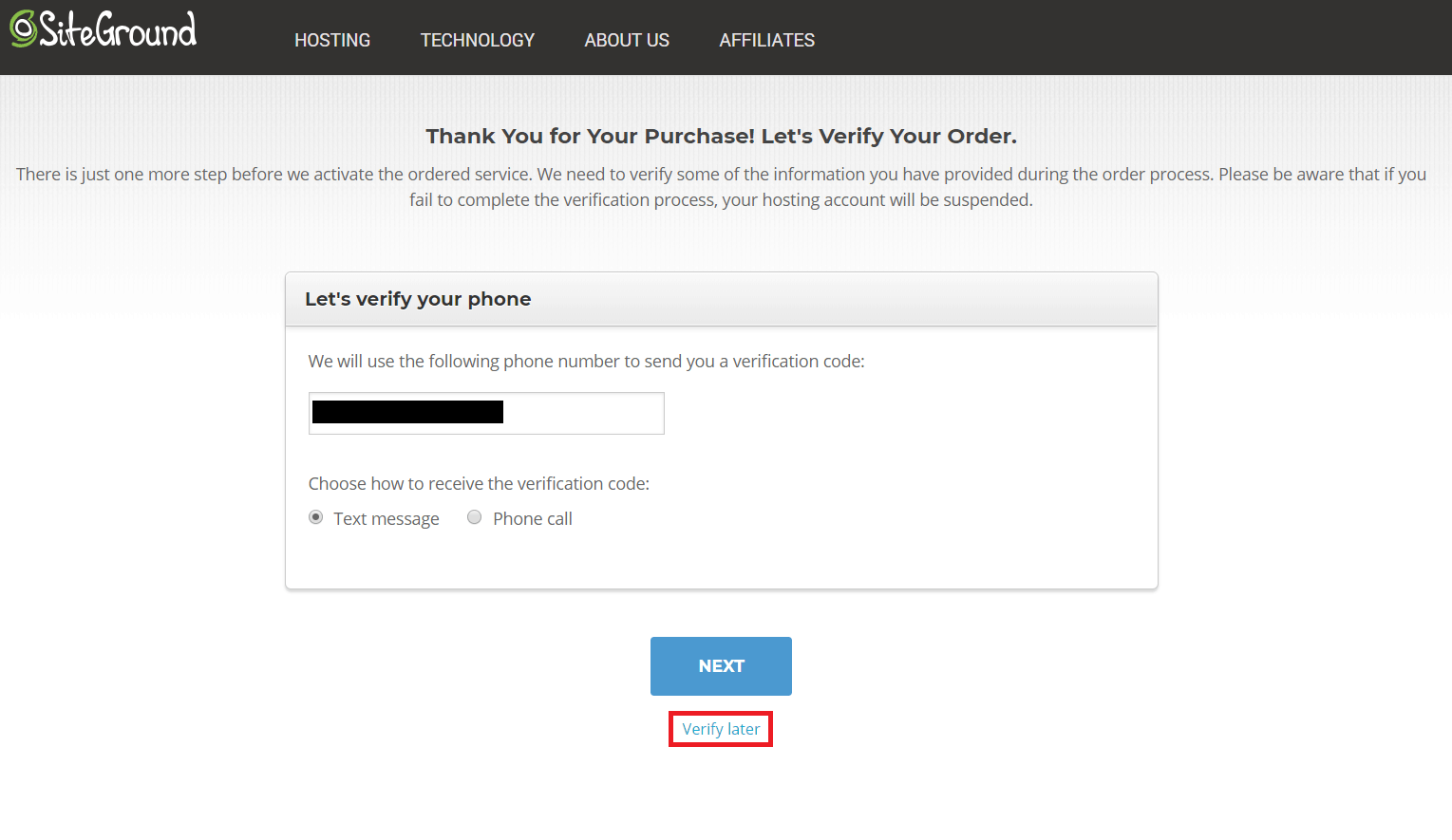 I chose text message, and got the SMS immediately. I thought that would be the end of the story. I was a bit annoyed to discover there was yet another step. SiteGround makes a small charge to your credit card, and you have to state the exact amount charged to prove you have access to the bank account in question. I really dislike having to verify my account this way. It requires extra effort on my part and there's really no telling how long it's going to take, even if the company makes the charge immediately. Besides, I don't like being charged extra, even if it is a small amount and I know it's going to be refunded. Since my bank account is in a different currency, there's always the chance I will lose some money due to conversion rates or fees.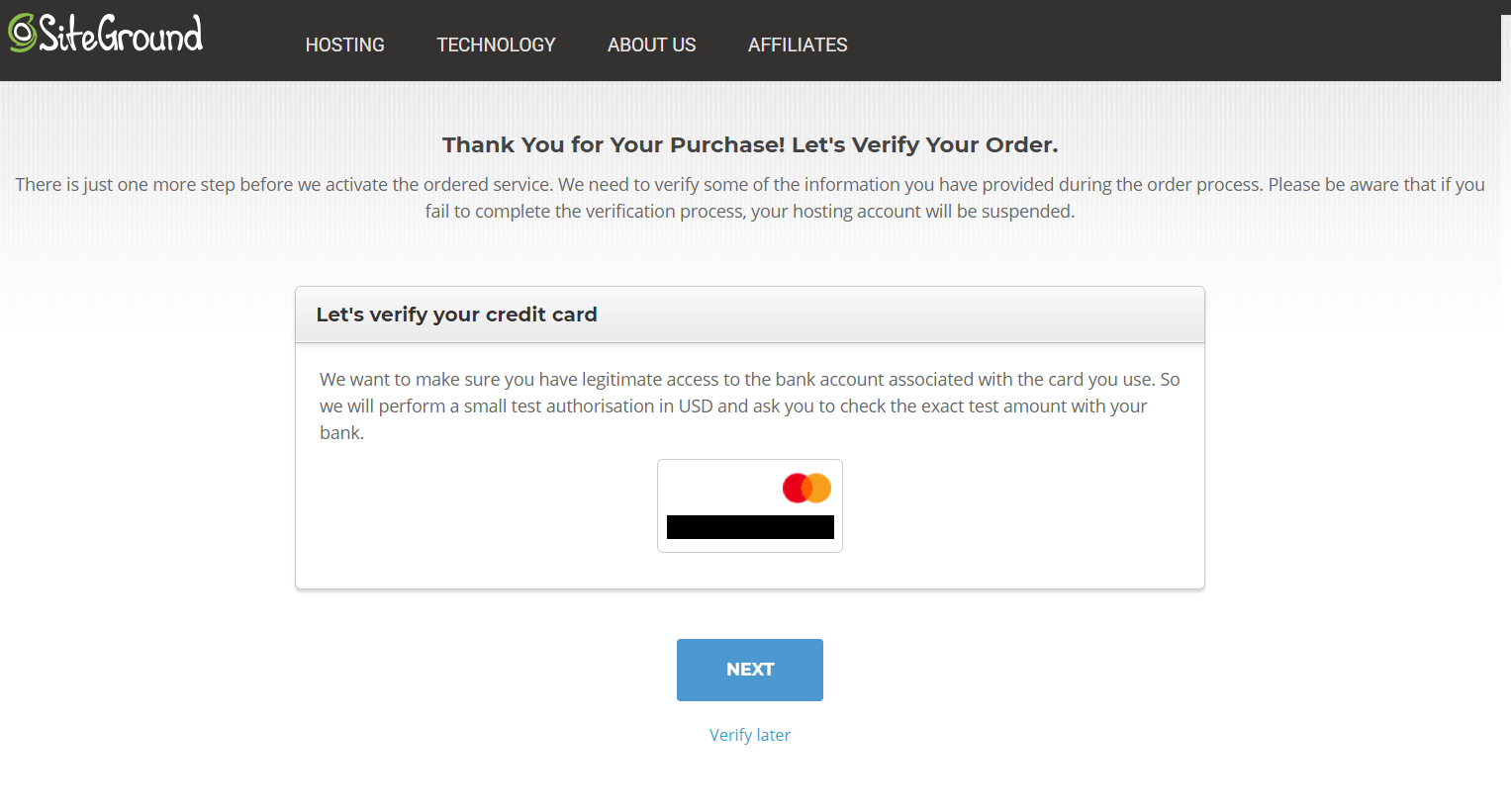 The good news is that my account was charged within 10 minutes.
The amount was around $3, but the bad news is that my initial fears were proven correct – I couldn't get the amount right using that particular day's exchange rate. This was incredibly frustrating. After purchasing a hosting plan and going through all the steps to verify my account, I got this message, telling me my account would be deleted and all my payments refunded.
I had to contact support in order to see if there was any other way I could purchase a hosting plan and verify my account. It took them about 10 minutes to sort everything out and manually verify my account. I was told I'd receive the confirmation emails and that everything would be fine.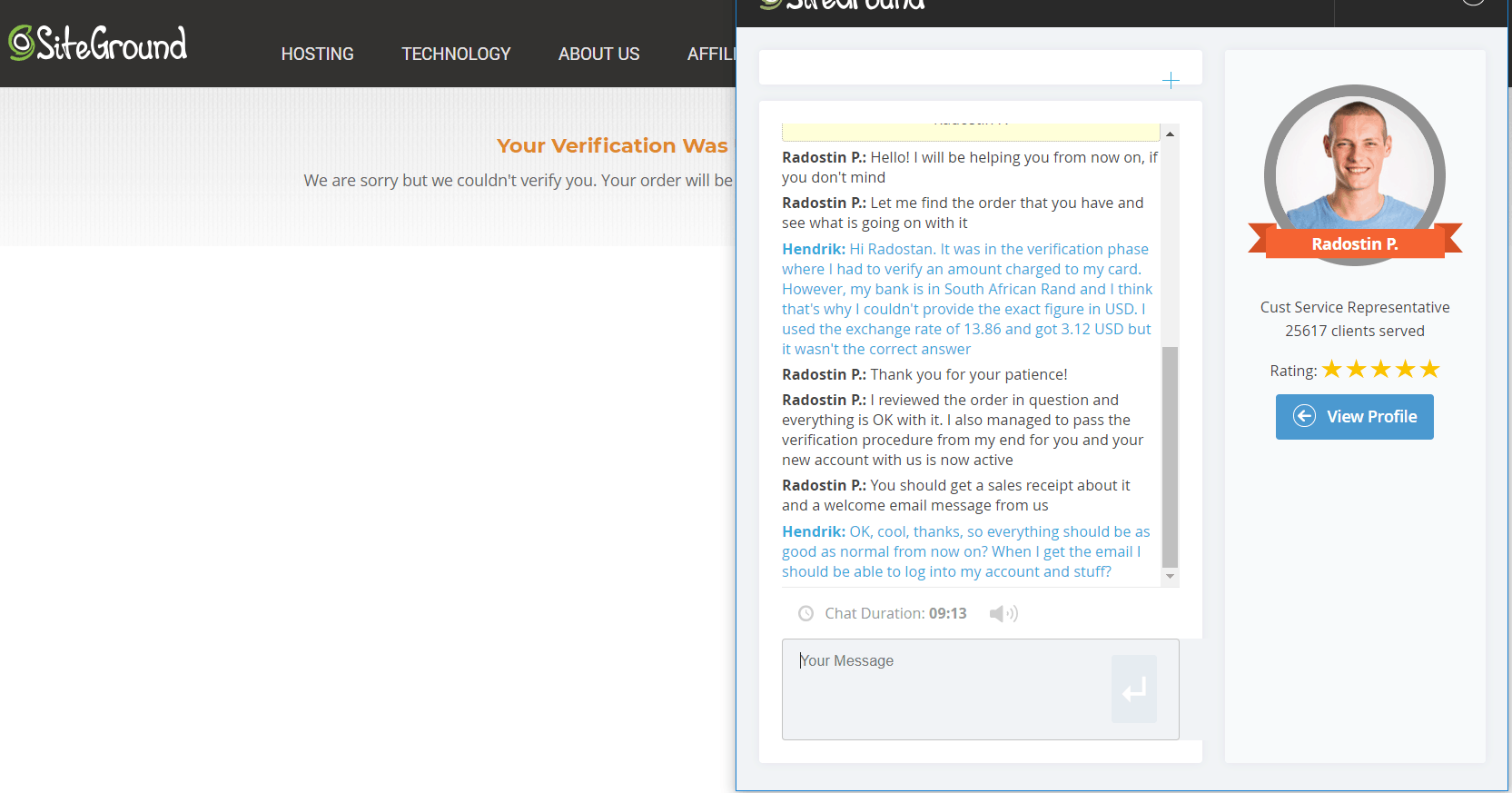 Indeed, I received the emails almost immediately. The fact that SiteGround's support seemed to know exactly what to do in a case like this makes me think that this is a common issue they have with customers in foreign countries. So, it's something to keep in mind if you're outside the U.S. The first of the two emails I received was a receipt for my purchase: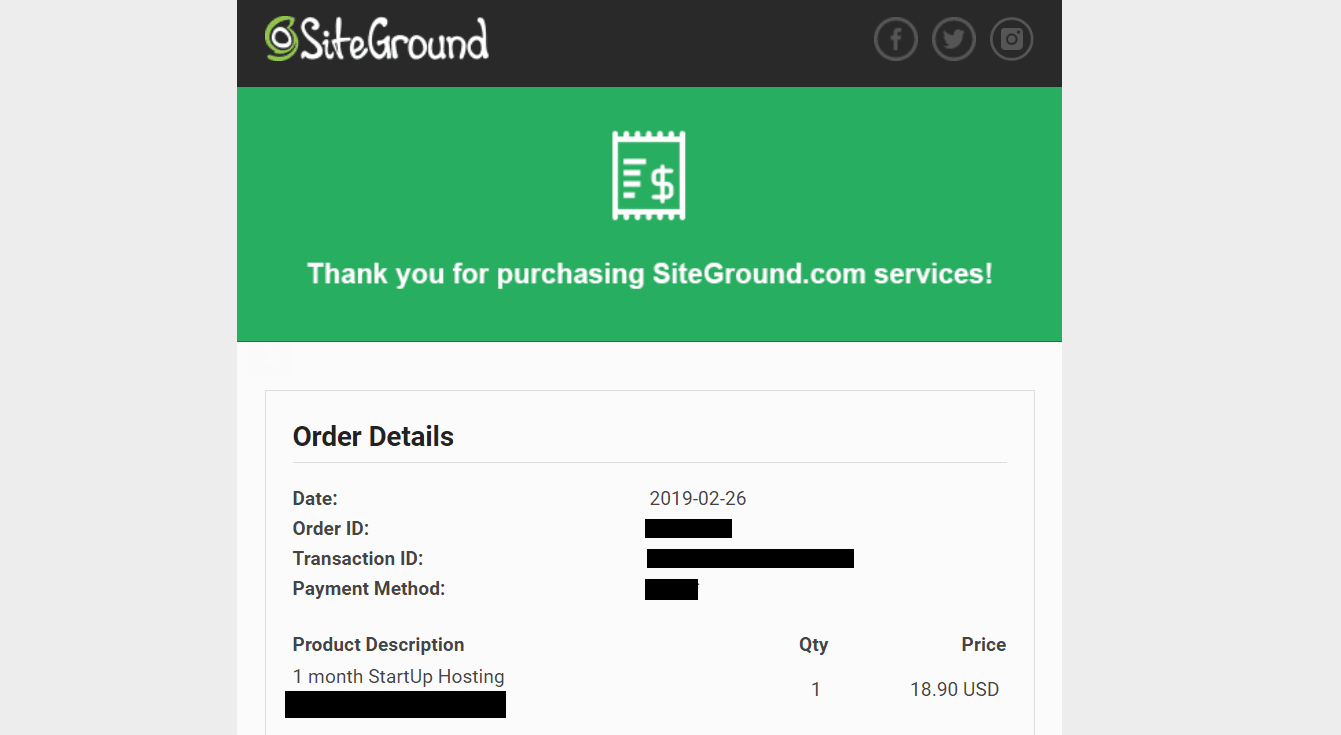 The second was a welcome email: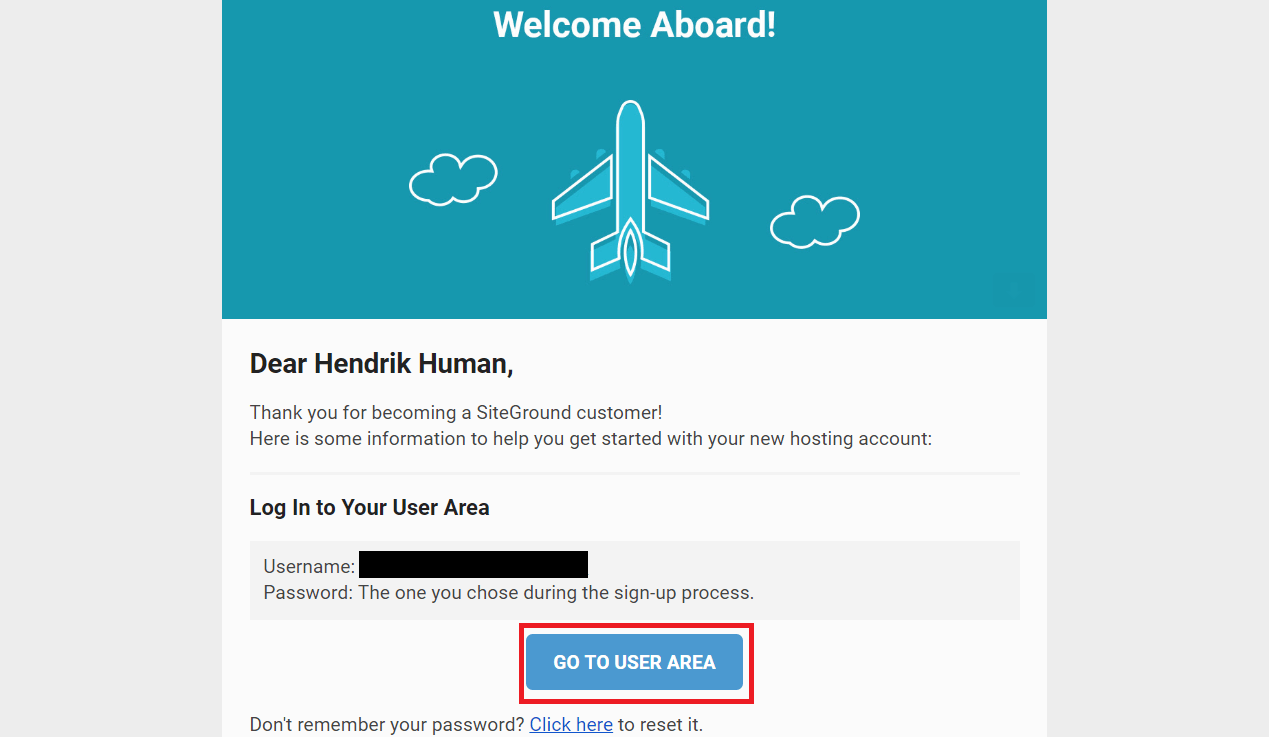 Following the 'Go to User Area' button above will take you straight to the login page: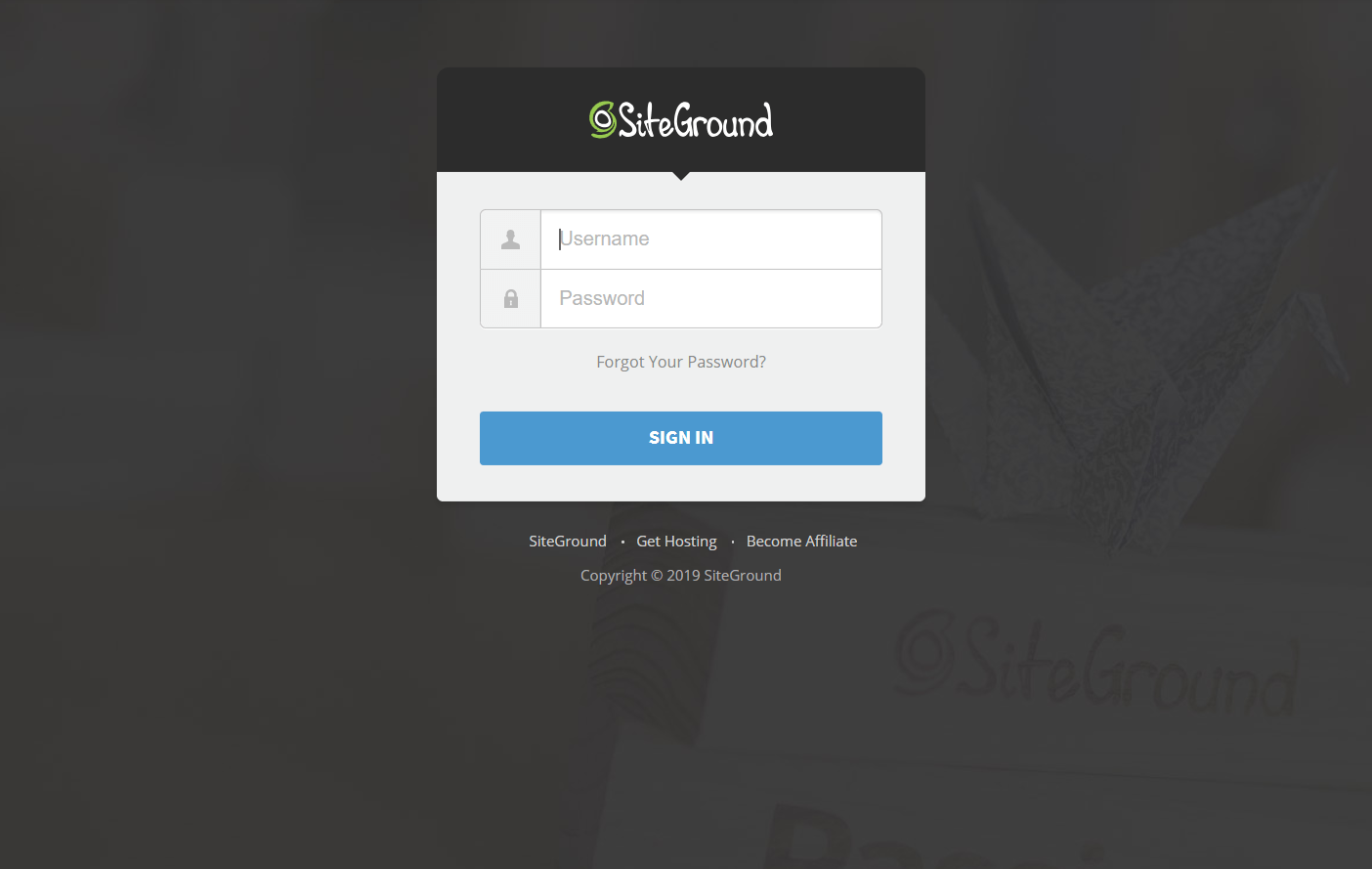 Once you get to this point, it means that you've successfully created a SiteGround account and purchased a hosting plan.
Quick and Easy Signup with an Annoying Verification Process
I found the process of purchasing my hosting plan and creating an account to be quick and easy. The pricing was transparent overall, with the exception of the one-time setup fee for monthly hosting. However, things went downhill when it came to verifying my account. If your bank account isn't in USD, this could mean trouble for you as well – and besides, it's just annoyingly inconvenient. At least SiteGround's support can easily resolve the issue. Despite this problem, I still managed to set up my hosting in under an hour. It's definitely not the best signup experience I've had, but I've seen worse. If you're looking for an easier signup process,
GoDaddy
and
Flywheel
are both great options. GoDaddy is even more beginner-friendly, but it doesn't have as many features. Flywheel is an intuitive option for developers and designers. To get a full picture of what to expect with
SiteGround
, read my in-depth review.