I'll show you my secret trick to hiring a pro for just $5.
If you want to DIY, scroll down to see my top recommended online logo maker. But before that, let's get inspired by some of my favorite clan logos.
9 Best Clan Logos
Get a Killer Clan Logo for Just $5!
Surprisingly, hiring an experienced designer for your clan logo doesn't have to cost a fortune. You can choose from thousands of creative logo designers on freelance platform Fiverr, including many who specialize in gaming logos and mascots. And the best bit is the pricing. Each designer offers a range of packages, many at a starting price of $5.
Did you know that in order to get our new logo for Website Planet, we tested loads of design services? I was pretty impressed by the results. Read all about it in this
in-depth comparison of logo design services
 to see how each one performed.
Finding a Designer on Fiverr
Discovering the right designer for your project is a surprisingly easy process.
Go to the Fiverr homepage
 and type in a relevant term (e.g., clan logo).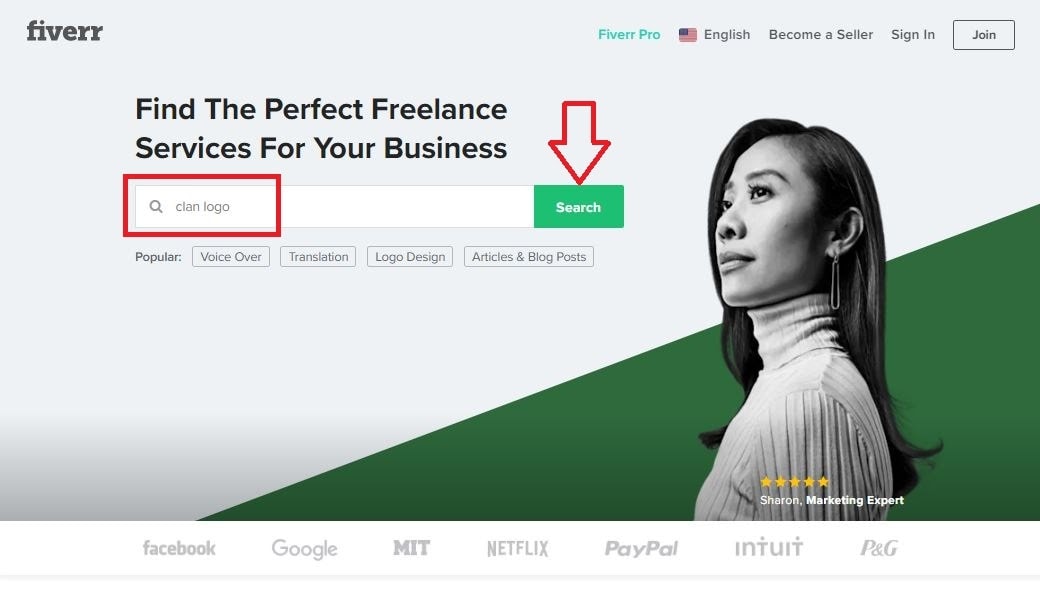 Lots of results will pop up, but before you start scrolling through them, click to drop-down the filter labeled
Category
 at the top of the page, and select
Logo Design
.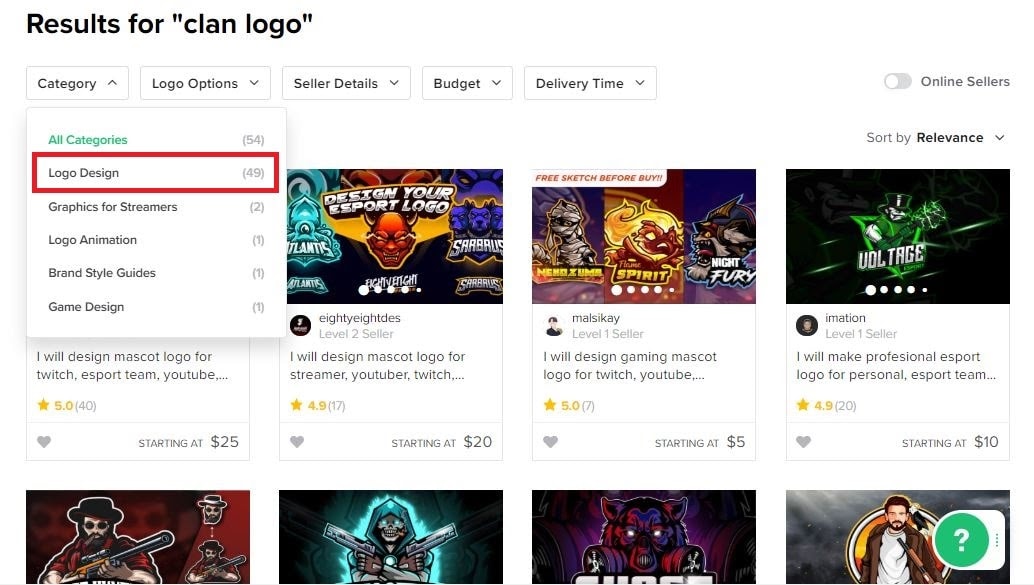 You can refine your results by using the rest of Fiverr's advanced search filters. These include logo style, seller details (location, language, experience level, etc.), and budget.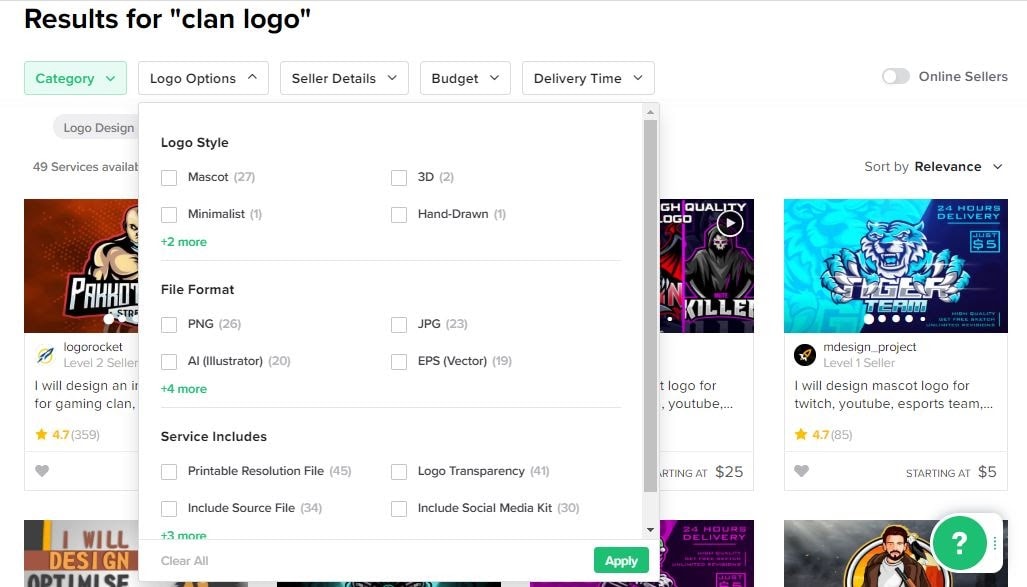 The results bring up an example of each designer's work, a line about their specialism, and their star rating. Click on any design that catches your eye to access the designer's full portfolio. Here you can check out other users' reviews and even contact the designer directly before making any commitments. Once you've chosen your ideal package, click
Continue
, review the contents of the package, and add on any extras. Then hit
Order Now
 to commission the designer.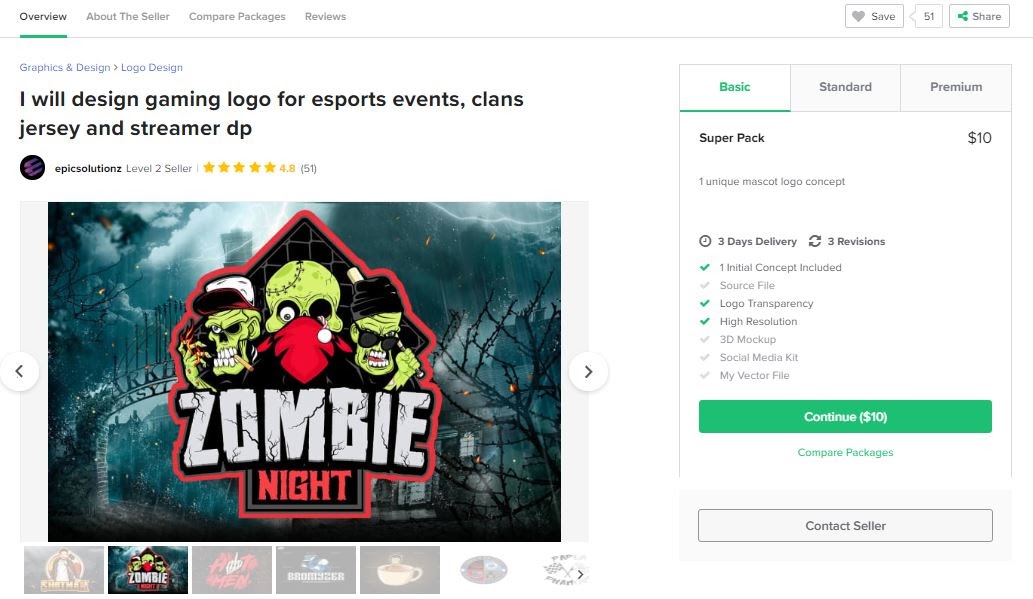 You can also check out more tips from our experts on
how to hire the right designer on Fiverr
.
More Features from Fiverr
Custom packages – Some sellers offer a customized option tailored to your budget and needs.
Secure payments – Even though you pay for the gig in advance, Fiverr holds the money securely in escrow. It won't release the funds until the project is complete and you're happy with the results.
Chat with the seller – Fiverr's free desktop and mobile apps have a built-in messaging service, where you can contact a designer before committing to a gig.
Speedy delivery – The average delivery time among designers on Fiverr is 48-72 hours – which is pretty good. But if you're under time pressure, many sellers offer 24-hour delivery for an extra fee.
How to Make Your Own Clan Logo
There are so many details that go into a logo, especially when it comes to clan artwork. But if you've got a strong idea of what you want, and an eye for design, then maybe you want to give the DIY route a go. Online logo makers are free and easy to use – the main risk is that your logo ends up looking generic, as everyone using the tool will be choosing from the same selection of icons and fonts. That's why it's important to choose a tool with great customization options and a robust logo editor. I always recommend Wix Logo Maker. It has a large library of attractive logo designs and the sophisticated artificial intelligence (AI), will guide you through the whole process. You'll only have to pay when you have a design you're happy with and want to download the files. Here's how it works:
go to Wix Logo Maker's homepage
, click
Start Now
 to create a free account, and fill in all the required information.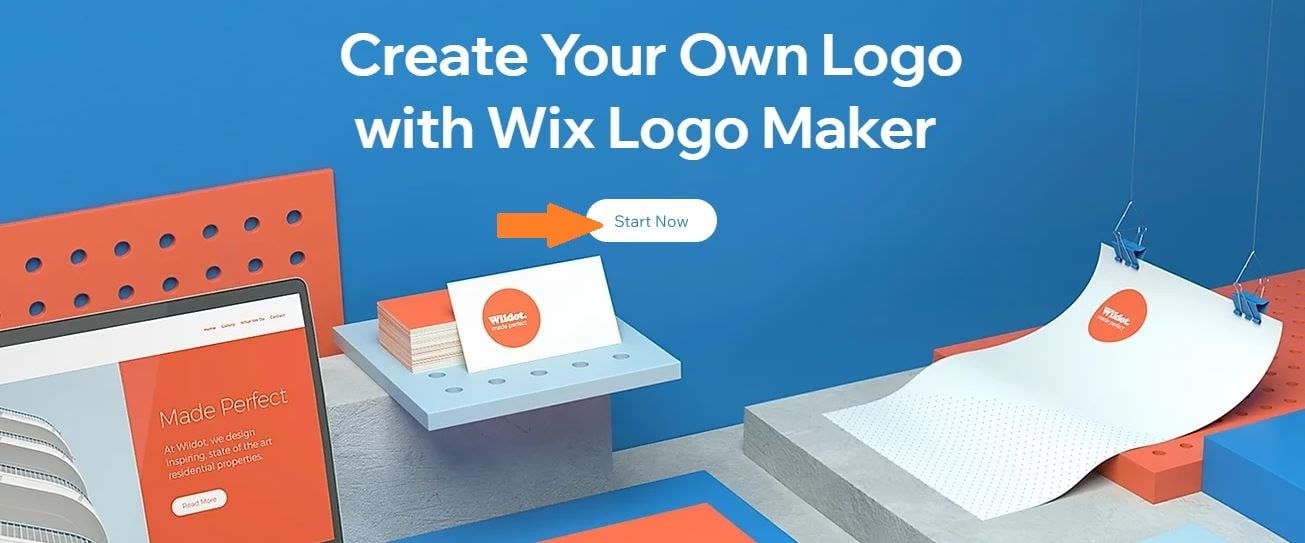 The first stage is to tell the AI about your business (or in this case, your clan). Fill in your name and tagline, then select your industry from a wide range of choices.

Then, the AI will ask you a few questions regarding your preferred logo styles to get a better understanding of what you're looking for in your logo. It'll ask you to choose several words that best describe your vision, like in the example below. Then you'll be shown a selection of logo pairs and you'll have to choose which one is your favorite.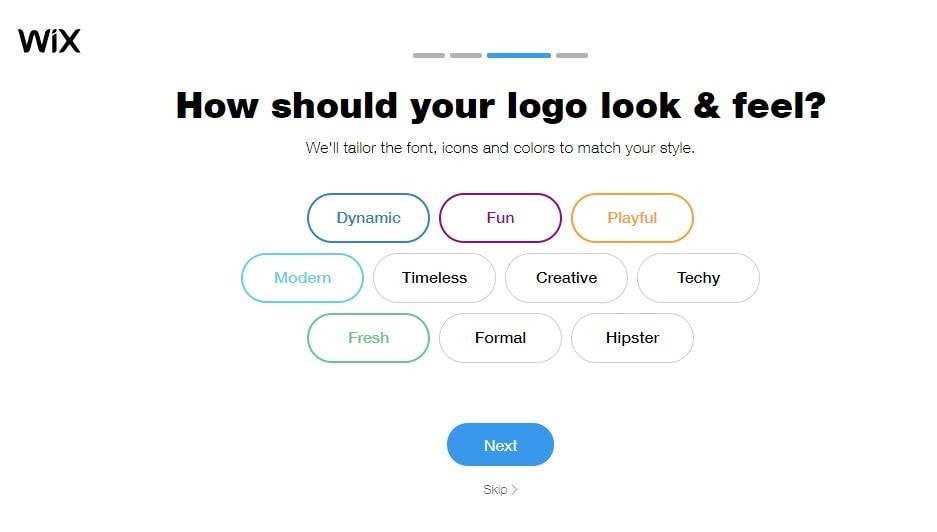 Now for the creative part! Based on your answers to the questions in the first step, the AI will generate a range of logo suggestions for you. Clan logos are very visual, so you might want to swap in more specific imagery even at this results stage. Click
Replace Icon
 and search for a relevant keyword fo your clan's name or mascot (e.g., clan, console, skull, wolf, etc.). Once you've chosen a more specific icon, this will automatically replace all the images in the generated logos.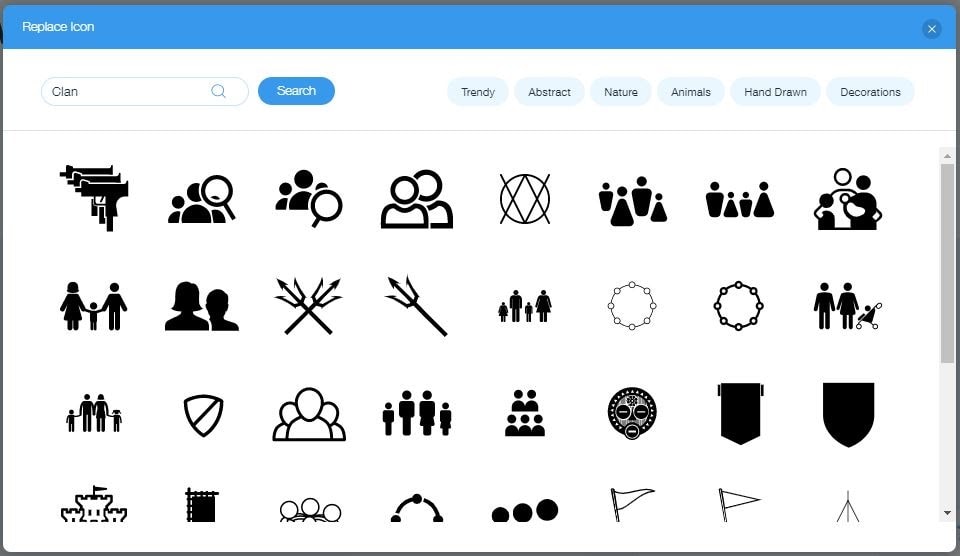 Scroll through the results until you've settled on the design that's closest to your desired logo. It doesn't matter if it's not perfect, because you're about to move on to the customization stage. Wix Logo Maker's user-friendly logo editor allows you to adjust almost everything about your logo, including colors, fonts, backgrounds, frames, and more.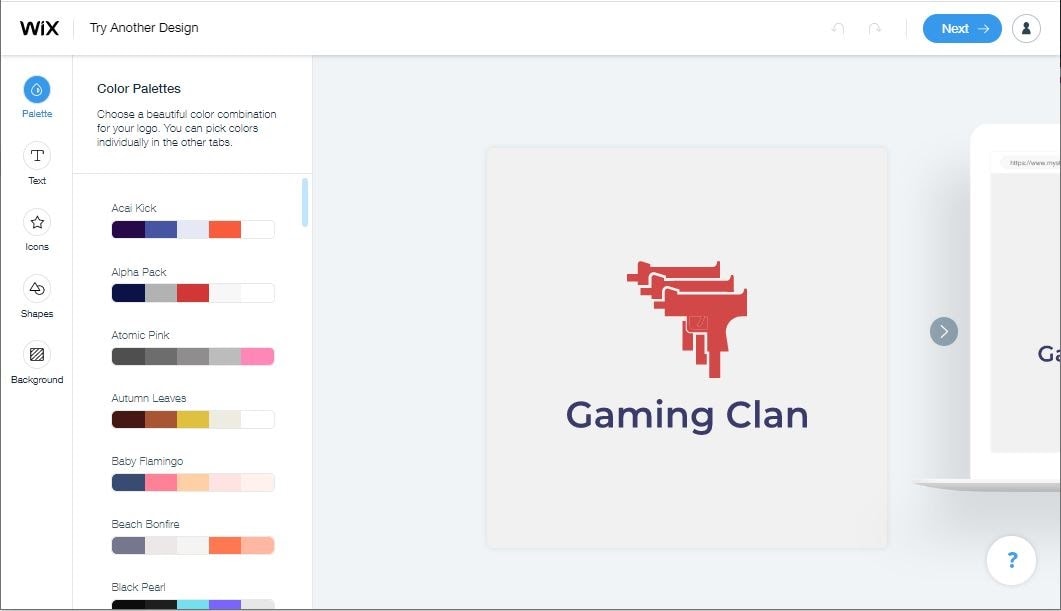 Once you feel satisfied with the appearance, you can choose from two download options. You have the choice to either download a free, low-quality rendition of the logo (which can be handy for your records or seeking opinions, but isn't suitable for official use) or proceed to the payment page for acquiring and downloading the high-resolution files! Want to know more? Read our
expert Wix Logo Maker review
to see some logo samples.
Wix Logo Maker Alternatives
Tailor Brands – Do you want your clan to have a little holiday spirit? This tool has a seasonal logo generator, so you can update your regular logo to complement different holidays. Learn more in our detailed Tailor Brands review.
Looka – If you're known for being indecisive, then Looka is the tool for you. For 72 hours after buying your logo, Looka allows you to go back and make an unlimited number of revisions and edits, all for free. Read our in-depth Looka review for more information.
Own the Game With a Powerful Clan Logo
With prices as low as $5 on Fiverr
, it's always my top recommendation when it comes to getting a high-quality, original logo design. You'll save both time and effort, all while giving your clan the recognition it deserves. If you prefer to do your own thing,
Wix Logo Maker is a wonderful option
 thanks to its array of designs, customization options, and virtual design partner in the form of an AI. Explore different clan logo designs so you have a rough idea of what you want before you start to DIY. To help you get started, why don't you take a look at these
awesome gaming logos
? Didn't find the right design service for you? Don't miss our extensive
comparison of the best logo design services
 for even more inspiration.