With any email marketing service, you expect to be able to manage it completely online – from the initial purchase to the account closure. With Constant Contact, though, cancelling your plan isn't as easy as clicking a link or tapping a few buttons. Be prepared to spend some time on the phone if you want to cancel – and make sure your refund isn't mishandled like mine was.
To see if closing a Constant Contact account was as much of a hassle as it sounded, I tested out the process myself. Find out how to cancel your own Constant Contact plan step by step.
A Quick Guide to Cancelling Your Account With Constant Contact
To cancel your account with Constant Contact, follow these steps:
Call the Constant Contact billing department at 855-229-5506.
State why you're calling and provide a reason for cancelling your account.
Talk with a billing specialist to process the closure.
Turn down any retention offers you receive.
Request a refund if you're within the 30-day money-back guarantee window.
Receive email confirmations for the cancellation and the refund.
My Experience of Cancelling my Account With Constant Contact
It's Not as Easy as You'd Think
As we detailed in our Constant Contact review, the platform's service is excellent. Still, I wasn't looking forward to calling to cancel my account or finding time to spend on the phone during my busy workday. You read that right: calling is the only way you can cancel Constant Contact, which is frustratingly outdated. And you can only do it during business hours ET, so you might have some trouble if you're busy or in a different timezone.
Although the billing specialist I spoke with was efficient, the entire process took much longer than just clicking a cancellation link, as I could do for most of their competitors. I also had to follow up multiple times to get my refund processed. Here's how my experience went:
Step 1: Call Constant Contact
You can reach the billing department at 855-229-5506 on Monday through Friday, between 8 a.m. and 8 p.m. ET. (If you want to cancel your account on a weekend or late at night, tough luck!) Be prepared to tell the virtual assistant your username or the email associated with your account.
Step 2: Clarify Your Reason for Calling
Tell the virtual assistant why you're calling. I simply said, "I want to close my account." Then give the virtual assistant a reason for your account cancellation. I explained that the standard Email plan didn't have the features I wanted.
Step 3: Talk With a Billing Specialist
Once you've gone through the process of speaking to the virtual assistant, it turns out they can't even process account closures. Instead, you have to speak to a Constant Contact representative to complete the process. Fortunately, I had to wait for less than a minute to be connected.
Even though it's the virtual assistant's job to verify your account and your reason for calling, you can expect to answer the same questions when you speak with a billing specialist. This time, I went into a little more depth. I explained that the standard Email plan didn't have the automations I needed to market my business but the Email Plus plan was outside of my budget.
Step 4: Consider Any Retention Offers
The billing specialist pitched me a decent retention offer: a discount on the Email Plus plan for a limited amount of time. However, I turned it down and asked to proceed with the cancellation.
Step 5: Ask for Your Refund
Next, I asked how long I would have access to the account. The billing specialist assured me the account would stay open until the end of the billing cycle, which was a few weeks away.
Then I asked how the refund process worked. They clarified that if I wanted to take advantage of the 30-day money-back guarantee, the account closure would happen immediately. I requested to move forward with the refund, and true to their word, they closed the account right away. Word of warning: make sure you've exported your contact lists before proceeding, as the rep won't remind you to do so.
Step 6: Watch for Email Confirmations
The billing specialist I spoke with explained that I would receive an account cancellation email within an hour and a refund confirmation email within two business days.
I'd prefer to receive these confirmations instantly, since all I had was a verbal statement and a supposedly closed account. Yet just as the billing specialist stated, I did receive an account closure email in about an hour.
However, I didn't receive a refund confirmation within two business days as promised. I had to call back multiple times before eventually receiving this refund confirmation. (See below for the whole frustrating story.) I didn't think to try a tactic that has worked with other companies, sadly. I'd usually request a written confirmation of everything discussed with the billing specialist, directly from them via email, while still on the call. I don't know if that would have saved me the extra calls, but it's worth trying if you're in this situation.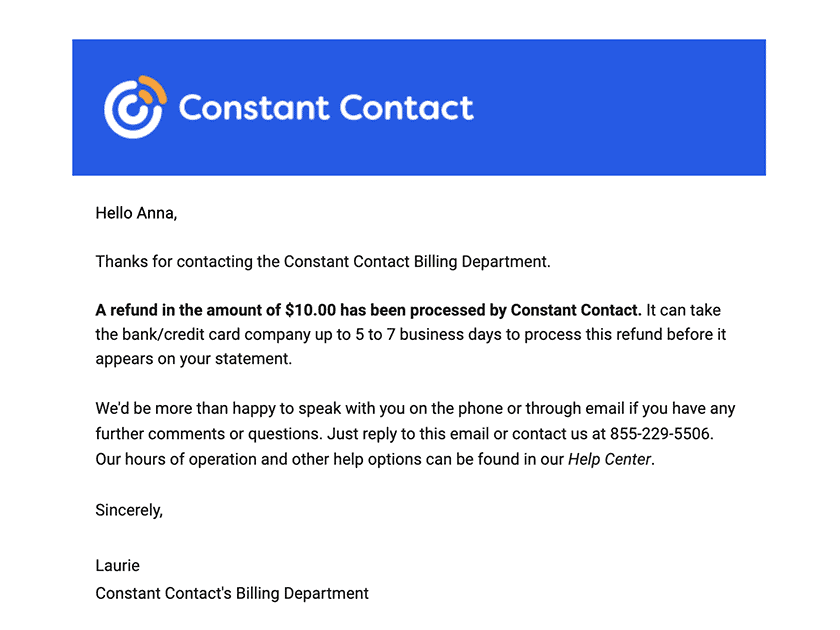 Getting Help With Cancellation
When I couldn't find a way to cancel my account online, I went right to Constant Contact's live chat support to ask for help. I was frustrated that I couldn't just cancel it via the dashboard or over chat. Within a couple minutes, I had the information I needed – including the phone number and business hours – to close my account.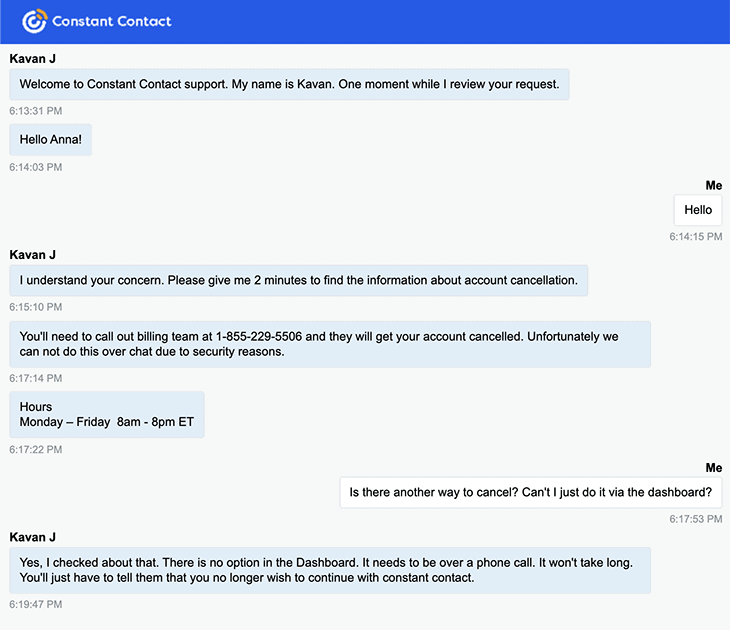 Technically, Constant Contact only offers billing support via phone. While I had the live chat representative's attention, however, I thought I'd ask about the refund policy. I was hoping for a more black-and-white answer confirming that I could get a refund, but it's possible they couldn't see that my account was relatively new and that it should certainly qualify. Instead they said I could "negotiate with the billing person," which just made me think they weren't sure what they were talking about.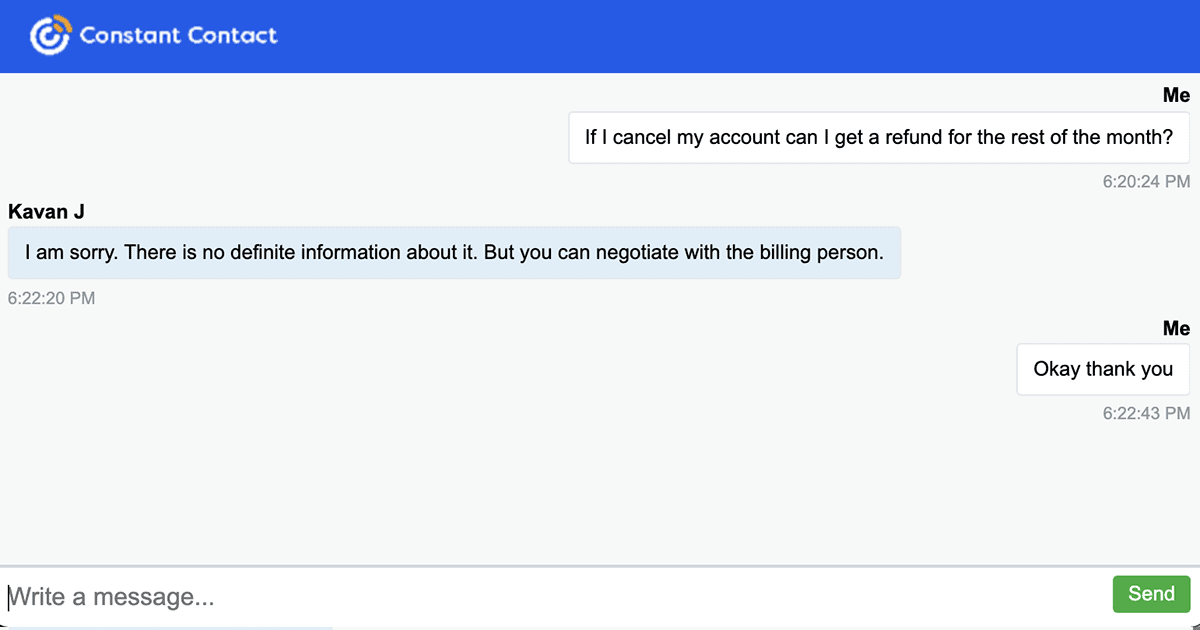 Constant Contact's Refund Policy
Constant Contact has a 30-day money-back guarantee. In theory, you can get a refund if you've had the service for a month or less.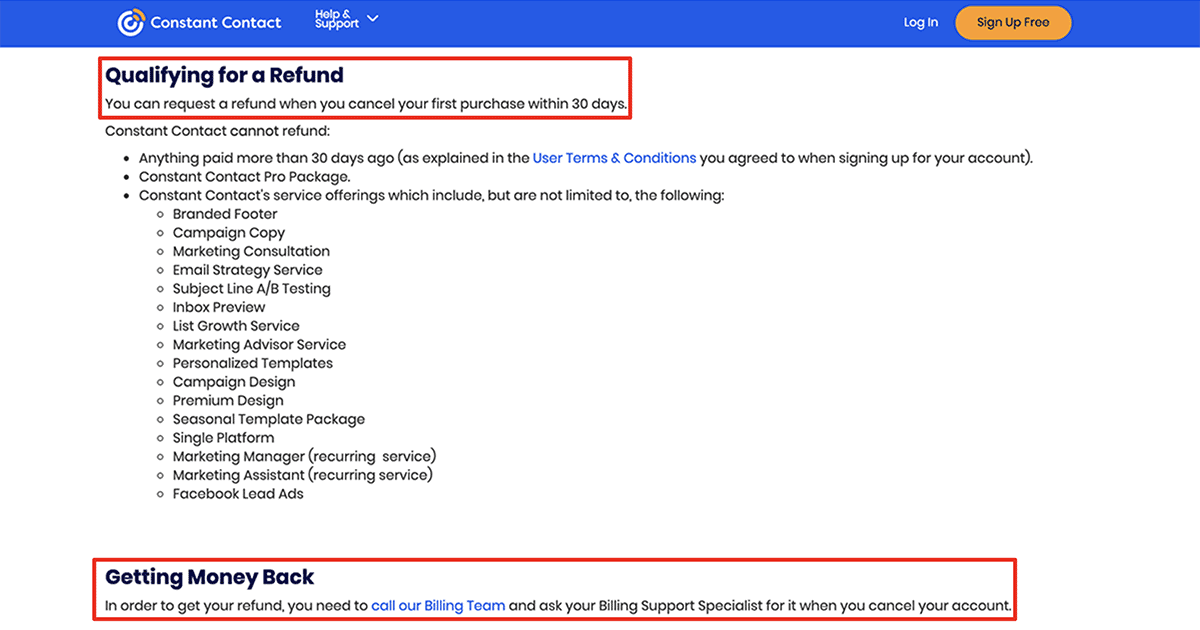 Refunds aren't automatic, so you do have to ask for one. Be sure to request a refund when you call in to cancel your account. Then be prepared to follow up several times.
I had to call a total of three times to get my refund processed. The first time, the support rep simply didn't process the refund. The second time, the support rep promised a resolution within a couple of hours. As I'm sure you can guess by now, that didn't happen. The third time (the next day), I called back and the support rep again promised a resolution within a couple of hours. About an hour later, I finally received a refund confirmation.
I'd purchased the cheapest Constant Contact plan – and received a discount at that – so I wasn't out much money. If I hadn't received my refund, it wouldn't have been the end of the world, but I'm sure they're hoping you'll give up on the process. Now that I know how much of a hassle the cancellation and refund processes are, I'd definitely think twice about signing up for a more expensive plan.
Keep in mind that if you keep your account for more than 30 days, Constant Contact won't give you a refund at all. As the terms and conditions state, once you've prepaid for the month or the year, you can't get your money back.
That's why, unless you're certain that you'd like to commit to Constant Contact, I'd sign up for a rolling monthly contract, rather than an annual one. If, after two months, you realise you want to move to another email marketing service, you won't get your money back and you'll be trapped for the rest of the year – definitely a point to consider.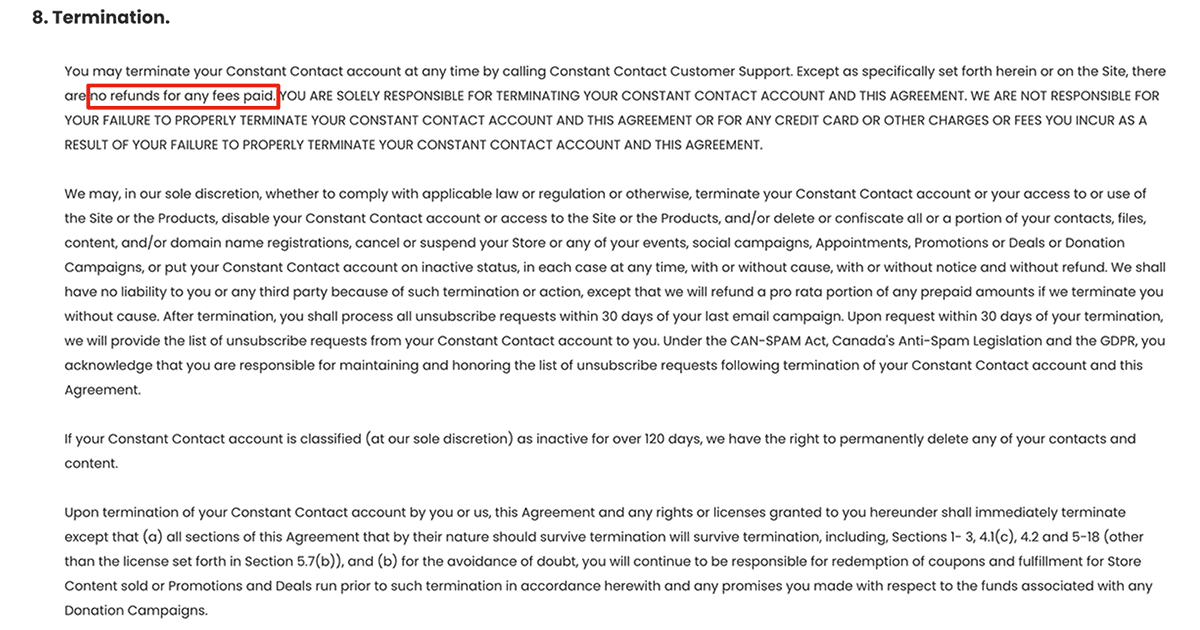 Best Constant Contact Alternatives
Constant Contact is still one of our favorite email marketing services, but its analytics are overly basic and as you've seen, customer support isn't always great. If you're thinking of switching, here are the Constant Contact alternatives I'd recommend:
Sendinblue Free Plan: Constant Contact doesn't offer a free plan, and its paid plans aren't exactly cheap. If you want to save money, consider switching to the Sendinblue Free Plan. It lets you add unlimited contacts, send up to 300 emails per day, and build automated workflows for free.
GetResponse Basic Plan: If you want more advanced automations than what Constant Contact offers, GetResponse's Basic Plan is a good bet. Pricing starts at [insert GetResponse's Basic Plan pricing] per month and includes unlimited automations, lead funnels, and landing pages.
ActiveCampaign Plus Plan: When you want to fully automate your marketing efforts, try ActiveCampaign's Plus Plan. Along with over 500 automation recipes, you get contact scoring and advanced reporting. With our email marketing service coupons, you may be able to lower the [insert ActiveCampaign Plus Plan pricing] starting price for Plus.
Cancelling Constant Contact Is a Major Hassle
Ultimately, closing your Constant Contact account isn't necessarily difficult. But it does take longer than it should and requires you to time the cancellation just right. If you forget to follow up on your refund? Good luck getting your money back – it won't happen automatically.
Now that you've cancelled your Constant Contact plan, you're going to need a new email marketing services. I'd recommend Sendinblue for its full featured free plan or GetResponse for its powerful automations. Both are on our list of the very best email marketing services in 2022 and will help you level-up your marketing services.
FAQ
How do I cancel my Constant Contact account?To close your Constant Contact account, you have to call the billing team. You can reach billing support at 855-229-5506 on Monday through Friday from 8 a.m. to 8 p.m. ET.How much does Constant Contact cost?The Constant Contact Email plan starts at $9.99 per month, and the Email Plus plan starts at $45.00 per month. Each plan has subscriber-based pricing, which means the cost increases as your list grows.Does Constant Contact give refunds?Constant Contact has a 30-day money-back guarantee, which means the platform offers refunds in the first 30 days after opening your account. Once you pass the 30-day mark, the platform has a no-refund policy.What is the best email marketing platform?If you're serious about automation, then ActiveCampaign is the best email marketing platform for your business. If you're concerned about keeping costs in check, Sendinblue is the best option, thanks to the platform's generous free plan.