While ActiveCampaign markets itself as a customer experience automation platform, ConvertKit mainly targets online creators. But both do similar things and offer a comparable set of features, so it makes sense to consider them side by side.
I spent several days testing both platforms, and it soon became clear to me that ActiveCampaign outperforms ConvertKit (almost) every step of the way.
It offers more features, a more advanced analytics suite, and better deliverability rates.
ConvertKit users can save quite a few dollars by using its free plan –
ActiveCampaign doesn't offer a free plan, and its paid options are a bit more expensive.
But, and you'll see why, I'd argue that's not enough to tip the scales.
After all, it's not like ActiveCampaign is
super
expensive – and you can always test the platform by taking advantage of the
14-day trial that unlocks most premium features
.
Features
ActiveCampaign's Features Are Much More Impressive than ConvertKit's
Both platforms pack plenty of features, and they offer comparable experiences in terms of segmentation and basic automation
. But that's pretty much where the similarities ended in my ActiveCampaign vs ConvertKit comparison.
The first significant – and most noticeable – difference has to do with email templates.
ActiveCampaign offers more than 125 modern email templates, even on its Basic plan
.
Unfortunately, ConvertKit only provides 7 (yep, you read that right), and getting to them was a whole little adventure – more on that below.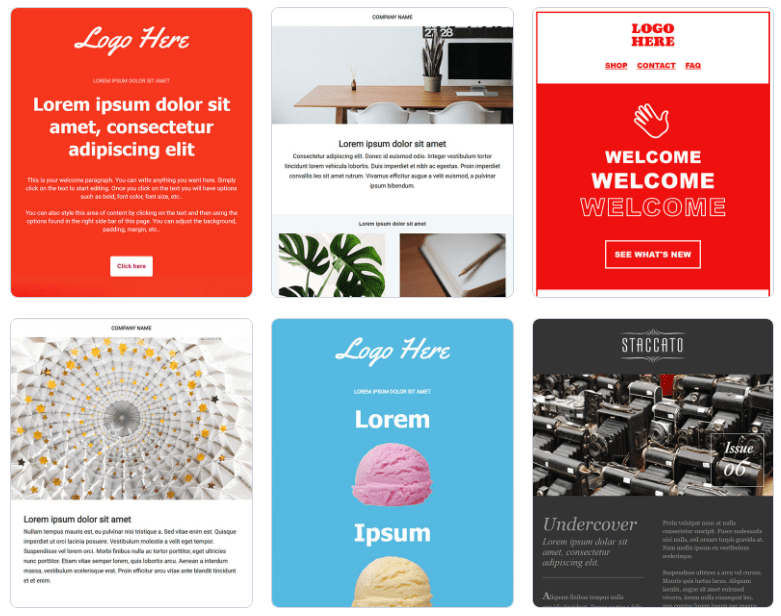 Another important difference concerned A/B testing.
While ActiveCampaign allows users to test many different elements (such as email subject lines, content, images, and CTAs), ConvertKit limits split tests to subject lines
– it's one of the things that reduced its score in our
ConvertKit review
. Both platforms use intuitive automation systems.
ActiveCampaign also offers a flexible CRM tool designed to automate sales processes.
Combine that with its advanced lead scoring function, and you have a great choice if you're looking to make the most of your e-commerce platform.
When it comes to landing pages, ActiveCampaign offers more flexibility and many more customization options than ConvertKit
. The template selection is comparable, but ActiveCampaign allows users to add and remove blocks, customizing elements to create the perfect design.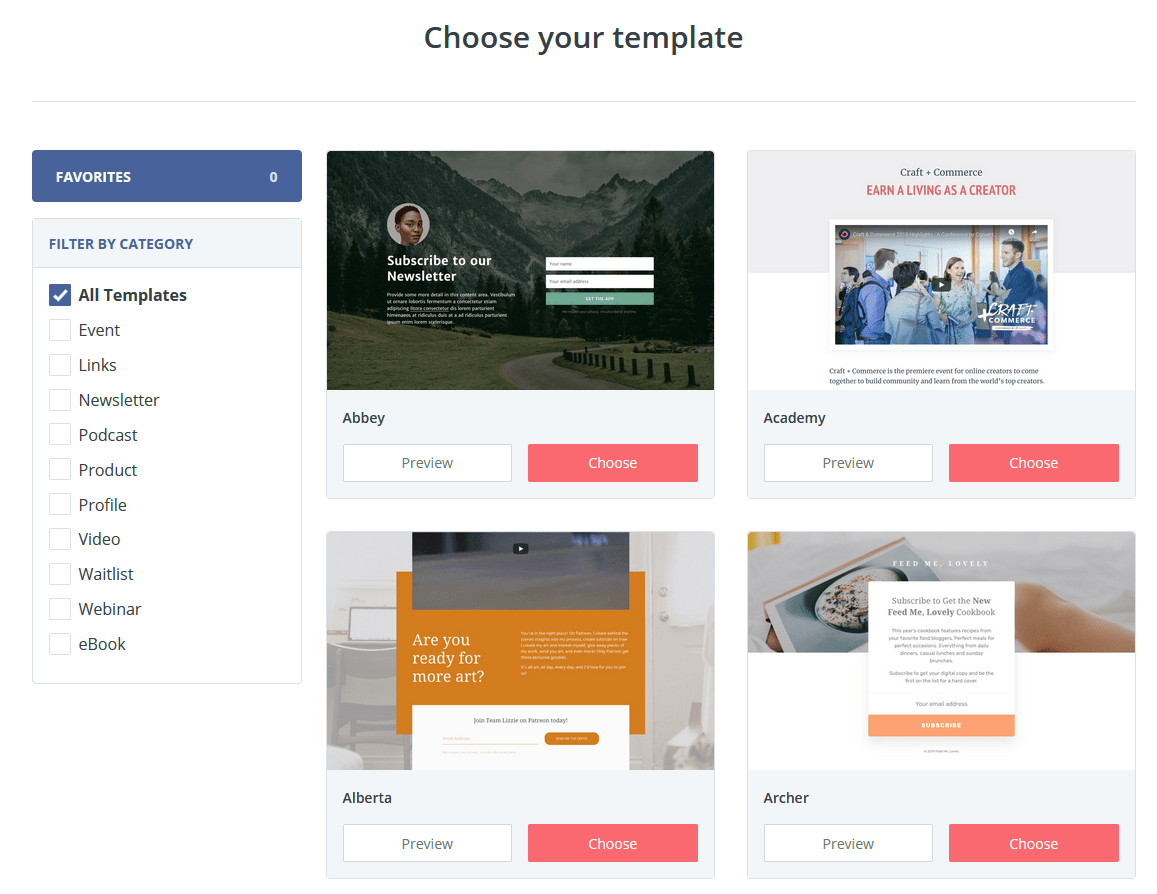 A unique feature available with ConvertKit's Creator Pro plan is their newsletter referral program.
When you connect your ConvertKit account with SparkLoop, you can then reward your subscribers for sharing your newsletters and helping you grow your audience.
What about right-to-left (RTL) language support?
Unfortunately, neither platform offers native RTL support. Suppose you want to create emails in Hebrew or Arabic without having to design custom HTML templates. It's just not an option.
ActiveCampaign won this round fair and square.
ConvertKit is a capable email marketing platform, but ActiveCampaign's advanced set of features is second to none.
Ease of Use
Neither Platform Is Difficult to Navigate, but ActiveCampaign's Interface Feels More Intuitive
When it comes to setting up broadcasts and campaigns, ActiveCampaign easily takes the lead
– especially if you're used to standard drag-and-drop email editors. With ActiveCampaign, you can simply add elements with a few clicks. To add elements with ConvertKit, you need to insert blocks using a slightly awkward dropdown menu option. ConvertKit's visual editor is quite capable once you get used to it, but it's clear that the platform has placed most of its focus on the simple text editor.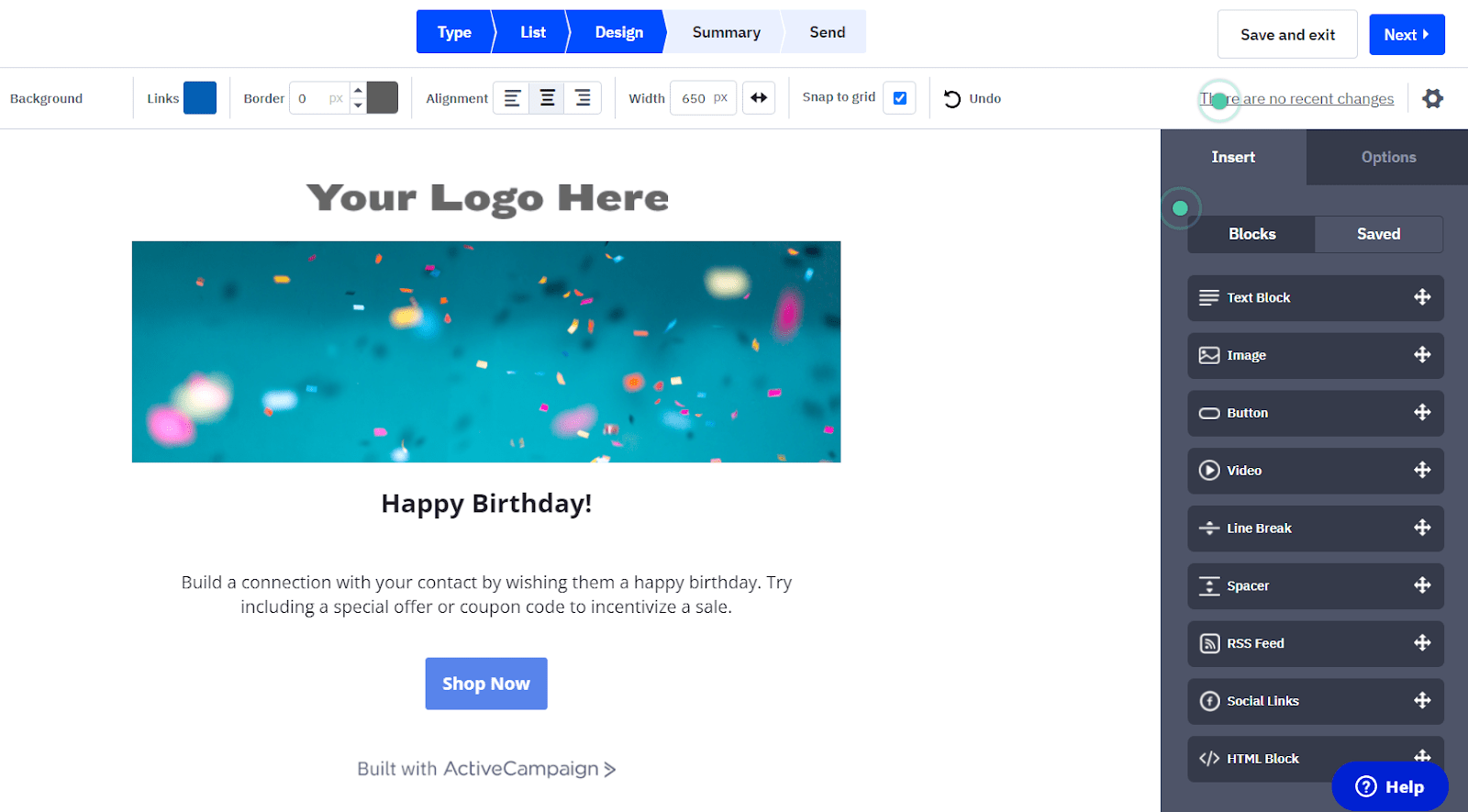 If you want to apply one of ConvertKit's designs to your broadcast, you must first edit your chosen template outside of the email editor.
That's not how most email marketing platforms do things. There's a separate option for accessing the template editing menu, and you can easily miss it if you don't know where to look.
Importing contacts is easy on both platforms, but neither supports file formats other than CSV.
This isn't a dealbreaker, but I expected some form of XLS and TSV support. On the plus side, ActiveCampaign allows quick data transfers from third-party services such as Basecamp and Google Contacts.
Both platforms offer advanced segmentation options.
List management is easier with proper list hygiene, and
ActiveCampaign offers an engagement management tool with its cheapest plan
. ConvertKit, on the other hand, locks its list hygiene feature behind the expensive Creator Pro plan.
Overall, navigating menus and getting things done was a lot easier with ActiveCampaign.
The interface is cleaner, and it feels more intuitive.
Deliverability
There's Much More to Deliverability than Just Numbers
Email platforms and deliverability rates are always a hot topic of debate among marketers. Why bother creating beautiful emails if your email marketing service (EMS) can't even deliver them to your users? Now, I could run a few tests, come up with rough deliverability rates for each service, and call it a day.
That's what most review sites tend to do – but such arbitrary numbers are almost always misleading.
Why? Well, the results of deliverability tests aren't reliable – there are way too many variables to draw any real conclusions. A high (or low) deliverability rate might have everything to do with how a marketer conducts business and nothing to do with the platform itself. Instead of running such tests,
I prefer to look at a few specific EMS features and policies that have the potential to increase your deliverability rate.
We've put together a guide on how to boost your deliverability
, but, in short, here are the things you should always look out for:
DKIM authentication: DKIM is a quick way to let email providers know it's really you sending your emails. Fortunately, both ActiveCampaign and ConvertKit have DKIM authentication. There are several helpful articles on each platform's website that guide you through the process of setting it up.
Anti-spam policy: Platforms that aren't strict with their spam policies don't tend to enjoy high deliverability rates. That's because many users share the same IPs, so a few bad eggs are enough to affect everyone's performance. ActiveCampaign and ConvertKit are strict with spam, but they both failed the junk email test.*
Affiliate marketing: Most email marketing platforms allow affiliate links, as long as those are related to your business and offer value to your users. The same is true for ActiveCampaign and ConvertKit, but ActiveCampaign seems slightly stricter with its affiliate marketing policy. This will likely translate to a higher deliverability rate for most users.
Private IP: A private (or dedicated) IP is probably the most crucial factor in increasing your deliverability rate. ActiveCampaign offers a dedicated IP option to users with more than 100,000 subscribers. ConvertKit, on the other hand, requires you to be sending at least 150,000 messages per week.
This one's close, but ConvertKit's lenient policies seem to affect its numbers.
Running an identical campaign on both platforms should yield slightly better results on ActiveCampaign.
*The junk email test allows us to check safeguard systems. We upload a list of known spam addresses and check whether the platform will block them or filter them out.
Reporting and Analytics
ConvertKit's Analytics Suite Is Rather Underwhelming
Advanced stats help marketers make informed decisions as they learn more about their audiences. The more you can find out about your subscribers, the easier it'll be to create email campaigns that generate results.
ActiveCampaign's analytics tools are extensive.
You can quickly generate reports on email campaigns, automation workflows, contacts, and even self-defined goals. Aside from the usual total number of email opens and link clicks, you'll also be able to better inform your strategy by checking who opened/clicked those emails. As you collect more data about your subscribers,
ActiveCampaign
opens a whole new world of opportunities with numerous detailed reports.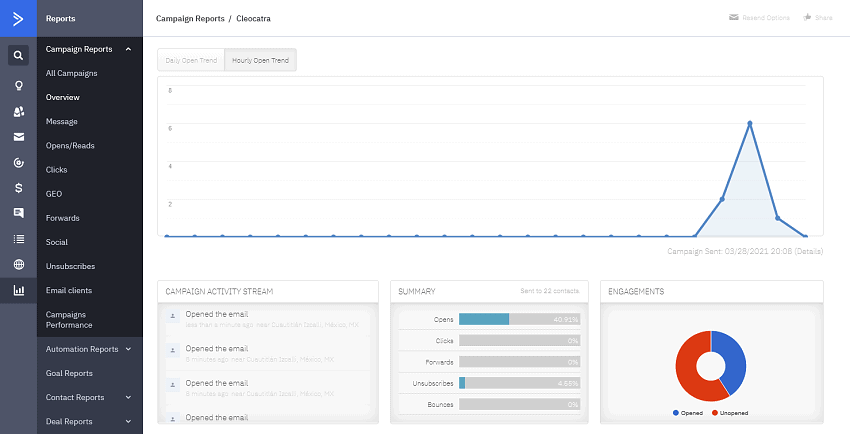 ConvertKit's analytics suite is helpful, but it doesn't offer the same level of complexity.
Reporting doesn't even get its own tab on the platform – you have to navigate to the Subscribers page first and access it from there. You do get some basic information about opens, clicks, user engagement, and overall email deliverability, but that's not nearly enough to inform your strategy. And if you wanted to integrate with a third party to transfer over data, ConvertKit doesn't do that, either. While ActiveCampaign integrates smoothly with product analysis tools such as Woopra, ConvertKit doesn't.
ActiveCampaign easily wins this round.
Users can learn more about their audience and plan accordingly by taking advantage of the platform's advanced reporting options.
Pricing
ActiveCampaign Is Cheap, but ConvertKit Is Even Cheaper
ActiveCampaign is priced very competitively, especially when you consider all the features and tools that come with it. ConvertKit doesn't offer nearly as much, so the fact that its plans are cheaper doesn't really come as a surprise.
Here's What You Get for Free
ConvertKit offers a great free plan that's perfect for new marketers.
With it, you can manage up to 1,000 subscribers, send email broadcasts, and set up unlimited landing pages and forms. You can even sell digital products and subscriptions if you're in the US or one of the other supported countries.
ActiveCampaign doesn't come with a free plan, but you can test most of the platform's premium features by signing up for the 14-day trial.
However, keep in mind that you'll only be able to send up to 100 emails to a maximum of 100 contacts during this period.
Here's What You Get If You Pay
ConvertKit's free plan is great for beginners, but most of the platform's advanced tools are locked behind one of its two paid plans.
The Creator plan starts at
$
29.00
/month for 300 contacts, unlocking live chat and automation. If you want to unlock all of ConvertKit's features (including subscriber scoring and advanced reporting), you'll have to opt for the Creator Pro plan, which starts at
$
59.00
/month for 300 contacts.
ActiveCampaign has four plans, with each price point gaining you additional features and functionality.
The Lite plan starts at
$
29.00
/
month for 500 contacts and includes many of the essential tools email marketers need to get started. Starting at
$
49.00
/
month for 500 contacts, the Plus plan is comparable to ConvertKit's Creator Pro plan. It also throws conditional content and advanced performance reporting into the mix. ActiveCampaign's Professional plan includes split automations, predictive sending, and other advanced marketing tools.
Both platforms offer discounts when users sign up for annual plans.
That said, I strongly recommend you make full use of their respective free plan/trial before committing to a yearly plan.
ConvertKit is cheaper overall, but that's to be expected as it doesn't offer nearly as much as ActiveCampaign
. This comparison table might help clear things up:
ActiveCampaign Plus
ConvertKit Creator Pro

$

49.00

/

month for 1,000 contacts

$

59.00

/month for 1,000 contacts

Templates
125+
7
Advanced Automation

✔

✔

 (not as advanced as ActiveCampaign's)
Advanced Reporting

✔

✔

 (not as advanced as ActiveCampaign's)
Sign-up Forms

✔

✔

Landing Pages

✔

✔

Subscriber Scoring

✔

✔

Conditional Content

✔

✘

Sales Tracking

Built-in CRM tool

Basic sales tracking

Support

Live chat, email

Live chat, email
Support
Both Platforms Offer Great Support, but ActiveCampaign Was a Bit Slow
When dealing with new software, having proper customer support is crucial, and the same holds true for email marketing platforms. Both ActiveCampaign and ConvertKit offer a wealth of helpful resources. However, it's important to note that there are limitations to what bots and knowledge bases can achieve in terms of assistance. Sometimes, human contact is essential.
I contacted both support teams, asking the same question:
"Does ActiveCampaign/ConvertKit natively support languages written from right to left (e.g. Hebrew, Arabic)?"
As a free user, I chose ConvertKit's live chat option, and the system prepared me for a long wait – the expected reply time was "a few hours." Fortunately, that wasn't the case. A representative was with me in just a few minutes: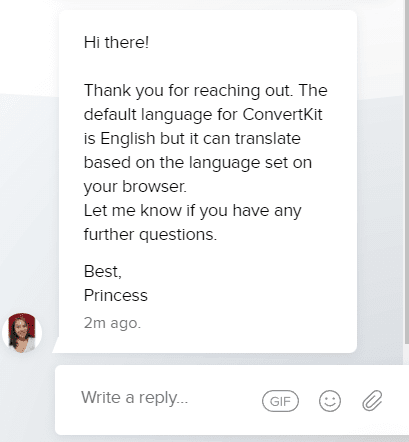 I would have preferred a more straightforward answer, but I can't blame Princess for replying tactfully.
ConvertKit doesn't natively support RTL languages, but you can use custom HTML blocks and other workarounds to create emails in Hebrew or Arabic.
Connecting to ActiveCampaign's live chat on the free trial is a bit of a challenge.
The site redirected to a query page that operates through email, and
a representative got back to me several hours later:

Clear and straight to the point.
ActiveCampaign was slower than ConvertKit, but I appreciated Elizabeth's frankness
. Unfortunately, there's no native RTL support here either which could be a deal breaker.
ConvertKit takes this one
. Support was good on both platforms, but ActiveCampaign was a bit too slow to reply. Time is money.
ActiveCampaign

Comes Out Ahead Once Again

My ConvertKit vs ActiveCampaign comparison has a clear winner.

ConvertKit is an affordable choice for new marketers, but if you're looking to make the most of your email marketing platform, ActiveCampaign is the way to go.

ActiveCampaign might be a bit more expensive, but it's an easy-to-use, feature-packed platform with advanced automation and great deliverability rates. That said,

ConvertKit's free plan is great for beginners

 who just want to send out a few emails and don't care about additional features. Here's a table with everything we've covered so far:

ActiveCampaign

ConvertKit

Native RTL Language Support

No

No

Reporting and Analytics

Okay
FAQ
Is ActiveCampaign Better Than Convertkit?
Yes, ActiveCampaign is the better email marketing platform. ConvertKit has a free plan and is overall a bit cheaper, but ActiveCampaigns offers one of the most robust tools on the market.
Is ActiveCampaign Cheaper Than Mailchimp?
Mailchimp offers a free plan, while ActiveCampaign doesn't. And Mailchimp will end up costing you less if your subscriber list is relatively small. However, once your list grows bigger, ActiveCampaign's plans scale better – and you'll definitely appreciate all the added features!
Can I Use ActiveCampaign for Free?
You can, if you sign up for ActiveCampaign's 14-day trial. The trial unlocks most of the platform's premium features, but keep in mind that you can't have more than 100 subscribers and are limited to a total of 100 email sends.
What Is Better Than ConvertKit?
Aside from ActiveCampaign, there are plenty of email marketing platforms that rank higher than ConvertKit in our list of the best email marketing services. GetResponse is an excellent solution for small and medium-sized businesses looking to scale. Then there's Sendinblue, which offers one of the best free plans on the market.