We put Hostinger's refund policy to the test. We're happy to report we received our refund in full, even though we signed up for the cheapest plan. If you are looking for an alternative to Hostinger, check out Interserver. We see many users loving their plans.
Hostinger is a web host with a lot to offer, but the reality is that no host is one-size-fits-all. It may not have been right for you because the setup and installation tool were too complicated, or you may be experiencing regular problems and want to move to a better provider.
If you sign up with Hostinger and decide you want to leave them, they offer a 30-day money-back guarantee. We've gone through the process of canceling an account with Hostinger, and we will now walk you through the entire process.
If you're looking for an alternative to Hostinger, check out our Inmotion Hosting.
Canceling Your Hostinger Shared Web Hosting
You can cancel your Hostinger account directly from the cPanel. First, log in to your account and click on the 'Hosting' tab at the top of the screen. Next, scroll down to the 'Other' section at the bottom of the screen and click on 'Deactivate Account'.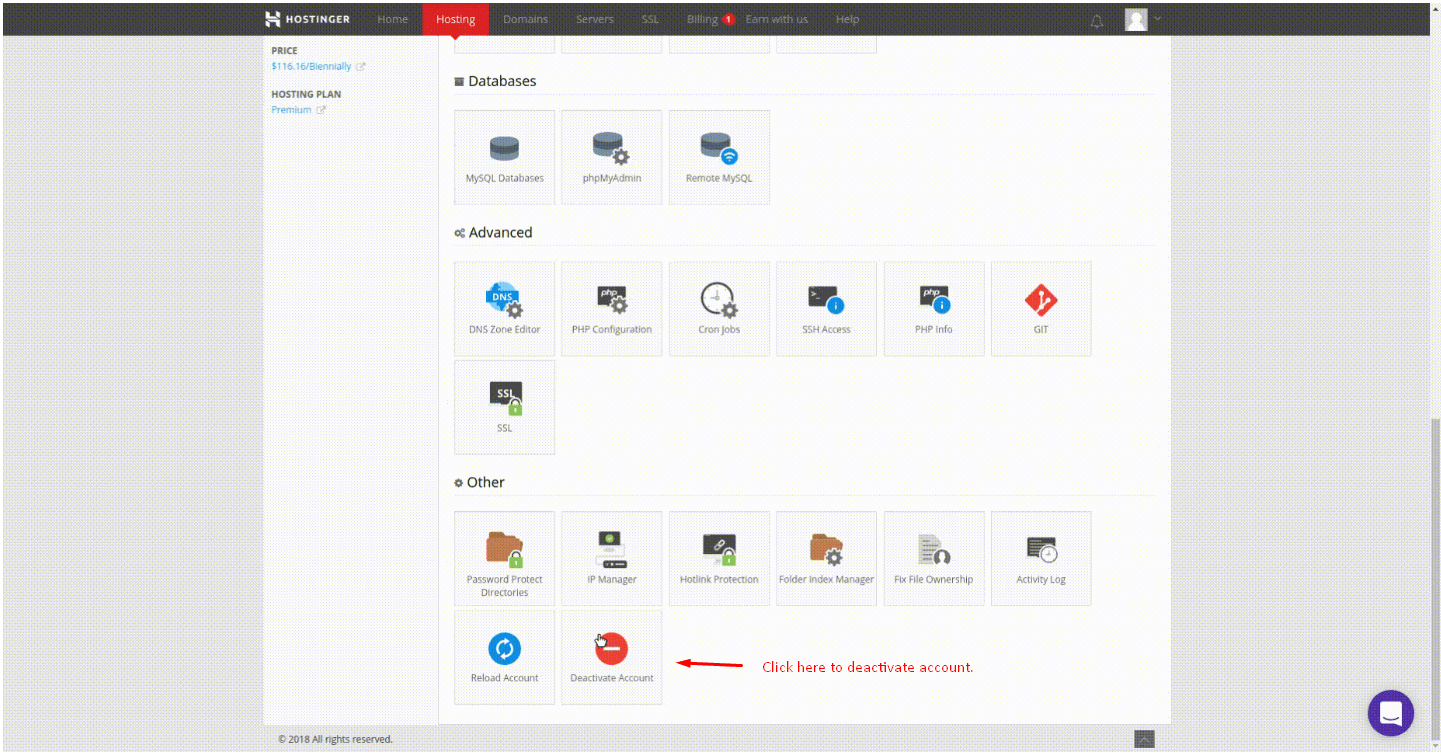 Hostinger will then remind you that your account will be deactivated and inform you how long you have to reactivate it. This is typically 21 days until after your account expires. If you're confident you want to cancel your account, click on 'Agree & Continue'.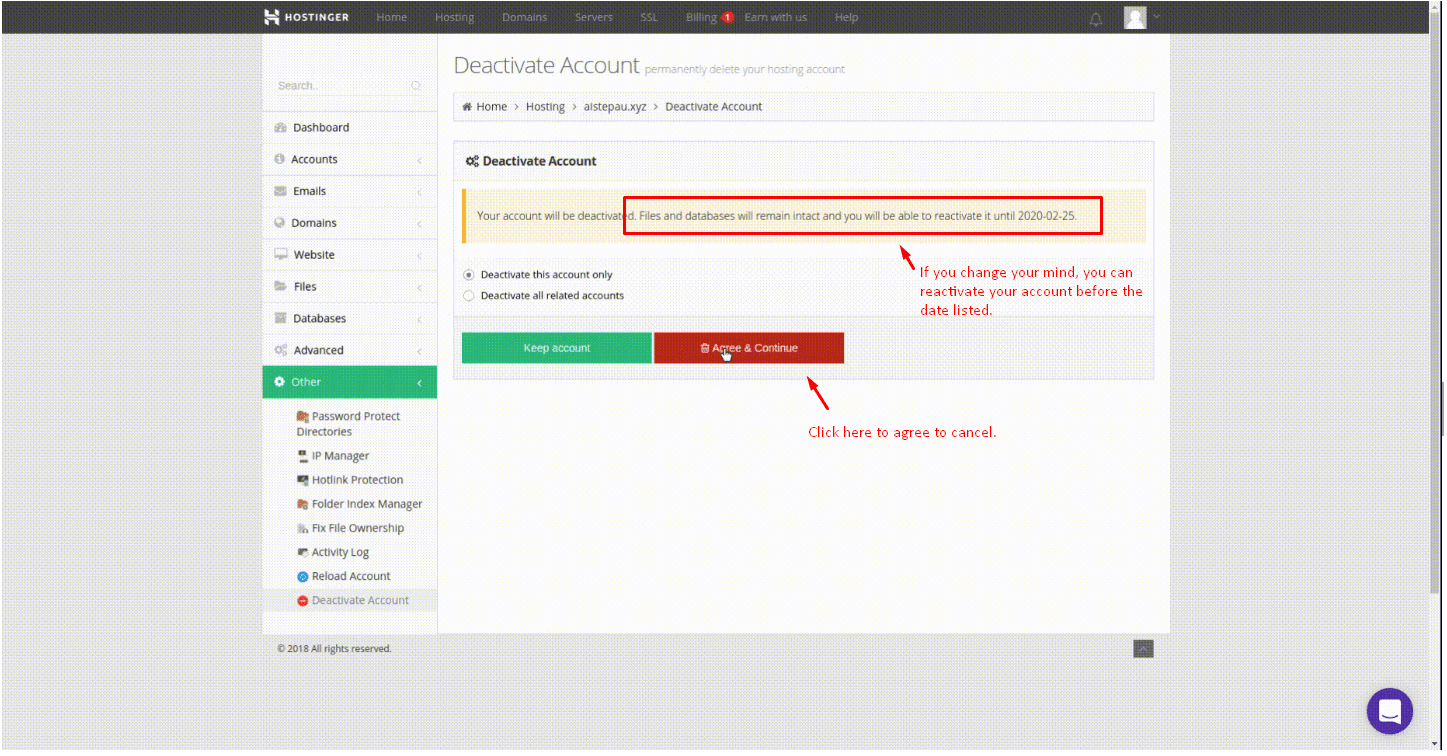 At this point, your account is canceled, and you will not receive future charges. You don't get any confirmation email or guarantee as to when you will be credited, so make sure you email customer service about your refund.
Receiving Your Refund From Hostinger 
All Hostinger's plans come with a 30-day money-back guarantee.
The only exception to this is if you pay with bitcoin, in which case your purchase will be non-refundable. Also, if you participate in a free trial and make your first payment after that trial, your purchase is non-refundable.
Also, some products and services are non-refundable, like redemption fees and domain renewal fees. If you choose to purchase privacy protection, G suite, or the SEO toolkit, those are also non-refundable.
After canceling my account, I did not receive information regarding a refund, so I contacted customer support about it. Hostinger claims to have a "no questions asked" policy, but instead of immediately refunding my fees they inquired on why I was canceling. After I explained how it took four hours to do a simple five-minute install, they processed my request.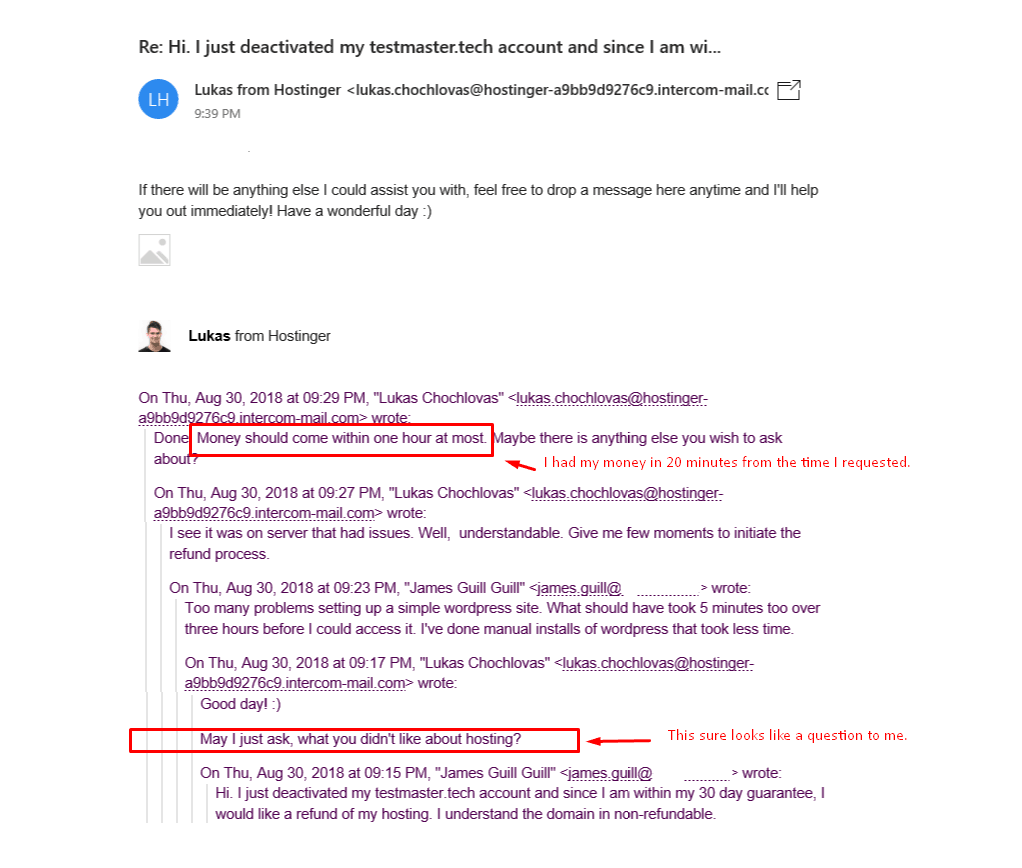 Simple Process, But More Communication Needed
Overall, I found the process of canceling my account and getting a refund to be fast and easy. However, it was not foolproof. I did not like the fact that I had to contact customer support about my refund and that I did not receive any communication regarding my cancellation. This makes it seem that my business was not that important.
This process is somewhat beginner-friendly, but there are hosts that are better suited for beginners. A good alternative host for beginners is Flywheel.
In total, it took about 20 minutes from the time I requested the cancellation to receive my refund. That's including the time it took to contact customer support via email. I can say that the process was reasonably efficient.