a lot
. As you might expect, the quality of that competition varies greatly. While some hosting companies actually outperform Hostinger, others tend to repeat Hostinger's mistakes or outright mimic its flaws. Specifically, while Hostinger's overall performance rocks, we've encountered hosts that have
slightly
 better or more stable servers. But the real letdown of Hostinger is in its slow and not-always-helpful customer support. Also, some critical features, like daily backups, cost extra.
I tested all the major hosting alternatives to bring you this list of the best,
 still relatively affordable, hosts that can actually compete. You won't find any Bluehost-style disappointments here.
Short on time? These are the best alternatives to Hostinger:
InterServer– Offers all the features you'll need, plus incredibly stable servers and good customer support
GreenGeeks – Solid, fast hosting with a twist: The servers are as environmentally conscious as possible
A2 Hosting – Super-speedy performance and generous resources
What We Look For in the Best Alternatives to Hostinger
Hostinger has consistently performed well when it comes to shared hosting for a long time now. This makes finding worthy competitors difficult, though certainly not impossible. Here's what we looked for when compiling this list:
Low prices. Hostinger's prices are low indeed, so most of its competitors have to at least get close.
Fast servers. Despite the slightly inconsistent performance I mentioned earlier, Hostinger's servers are pretty good. Again, the other hosts on this list have to match it at least.
Prompt and helpful customer support. This is one area where other hosts have a true opportunity to shine. And many of them take that opportunity.
Specialized hosting services/managed services. Hostinger does fantastic shared hosting, but there are some more specialized services that it just doesn't have.
And based on that criteria, here's what we've found. Not every host listed is better than Hostinger in
every
 way, but they're all better in at least one respect.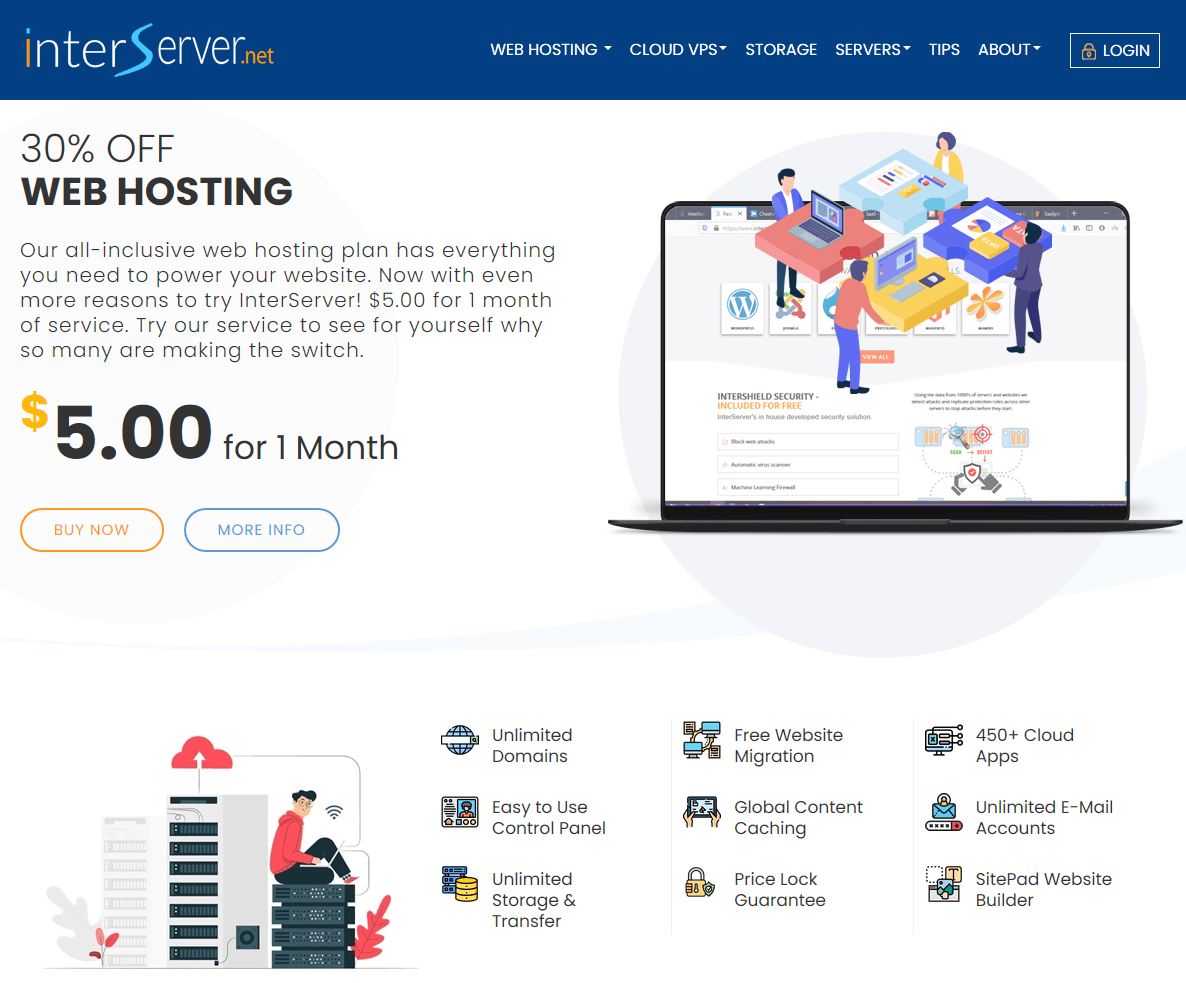 InterServer's focus is all in the name;
it doesn't just offer hosting but also almost every kind of server your heart could desire
. (If your heart desires servers.) With four data centers in the US, it's a pretty good option for people who want to run a website in or around North America.
It doesn't reinvent the wheel. The whole experience is meant to make you feel safe and secure.
 But if this is the kind of stability you crave, you're more likely to find it with InterServer than with Hostinger. I'd just watch out for the incredibly dated and sometimes confusing account management interface. You'll be fine once you get into cPanel, though, and the support team is always available to help you figure things out.
Features:
Unlimited resources and domains. There's only one standard hosting plan. It costs

$

2.50

per month and comes with unlimited storage, bandwidth, SSL certificates, databases, and more. You can also connect as many domains as you'd like.

Affordable monthly billing

. If you'd like to avoid commitment, InterServer offers monthly billing that's significantly cheaper than Hostinger's monthly rate. And unlike Hostinger's monthly payment plan, there's no setup fee – which saves you even more money.

Super-reliable servers. Our testing showed respectable speeds and very stable performance on InterServer's hosting.
Built-in security on all plans. There's a whole suite of security tools included on all plans, including the InterShield Security firewall. Along with being a regular firewall, it uses machine learning to adapt to new threats.If anything does go wrong, InterServer's techs will go in and fix or restore your site for you.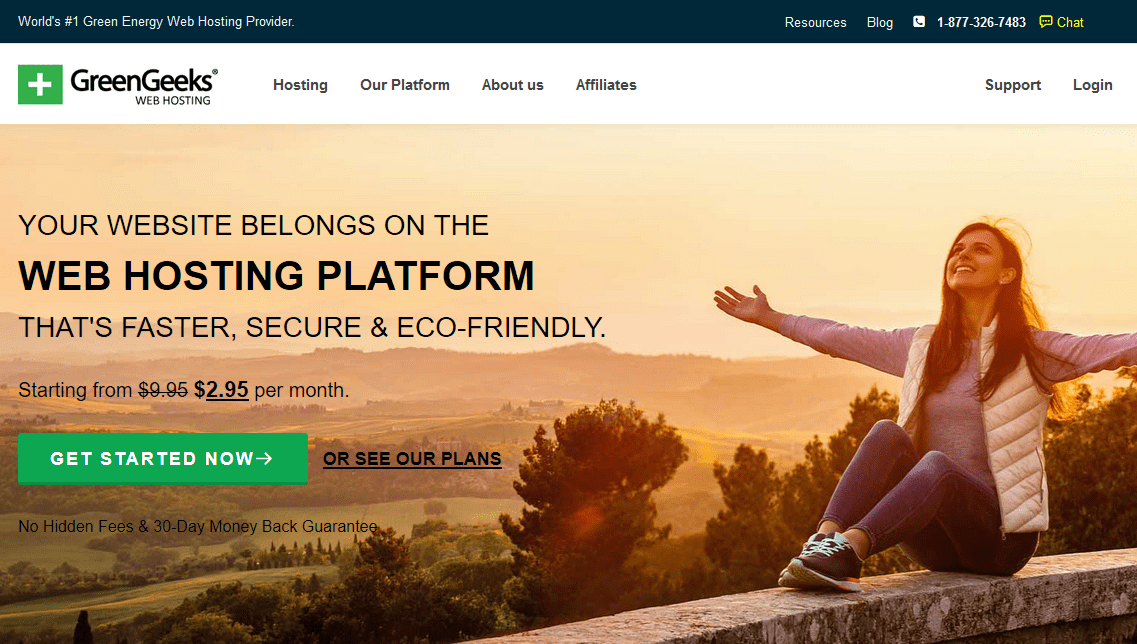 GreenGeeks operates data centers from Phoenix to Amsterdam and wants you to feel like a good person for hosting your website on its eco-conscious servers. Yep, GreenGeeks' whole thing is that the company reduces its carbon footprint by putting three times the power it consumes back into the electrical grid.
But unlike most high-priced health food, GreenGeeks is actually decent,
though I still wouldn't advise trying to taste it. It has all the standard features you'd expect from your hosting company, pretty good servers, and phenomenal customer service. Unfortunately, while your site will generally load fast, the loading speeds aren't always consistent. And the company uses that annoying fraud detection system that sometimes keeps out legitimate users. Otherwise,
it's a solid service
.
A free domain name is included with some hosting plans from GreenGeeks
Features:
It's good for the trees and stuff. If you care about the environment, it should be noted that servers do have some impact on local temperatures. Especially if they're running AMD processors. (Yeah, I said it. Fight me.)
Unlimited storage and bandwidth. All three shared hosting plans let you decide how big your website needs to be. Just don't put your personal cloud on it, and you'll be fine.
The servers are optimized for WordPress. Specifically, the servers use the new (and super-fast) LiteSpeed server tech to make WordPress run buttery-smooth. I can tell you from personal experience that this tech works.
A fantastic support team. Not all customer support is made equal. Some departments are good; some are the stuff of retail nightmares. Hostinger's support falls into the "good, not great" category, but GreenGeeks' support team is super-responsive and knowledgeable, making them a great choice for anyone who needs an extra hand.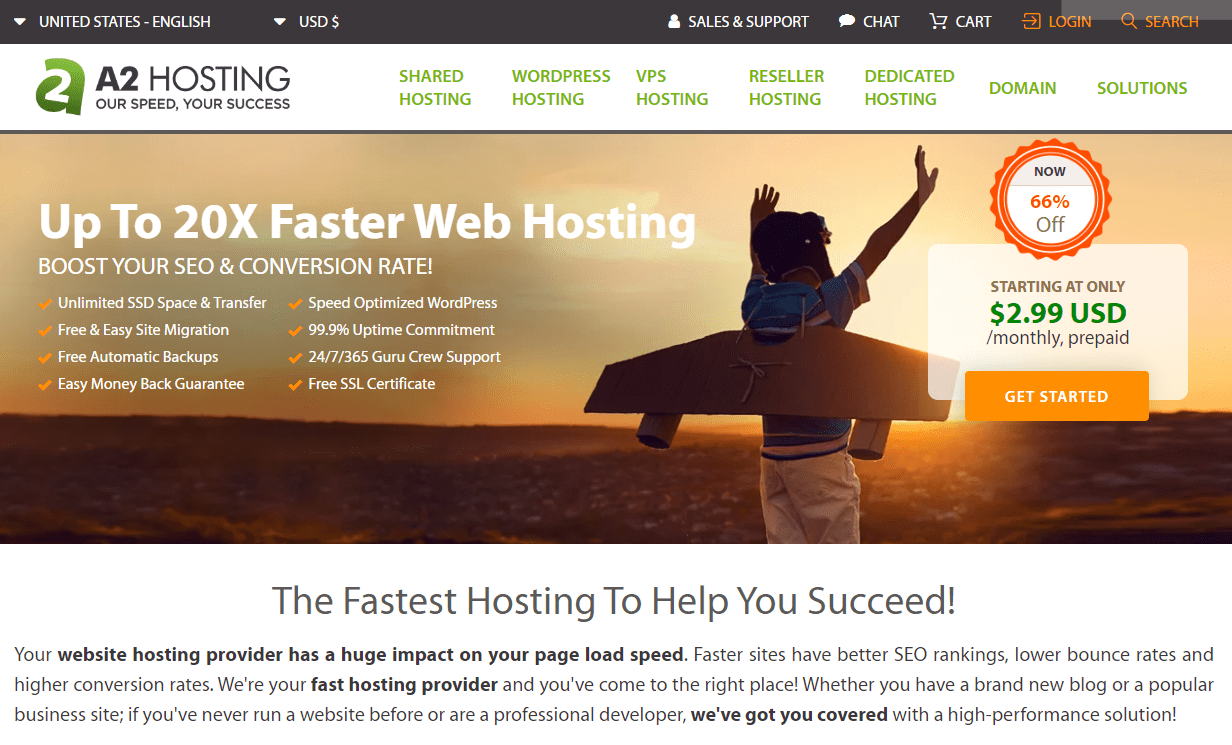 A2 Hosting is one of the older names in hosting and has developed
a wide variety of services
 to suit most hosting needs. In fact, there are so many services available that the site can get kind of hard to navigate. You can certainly have too much of a good thing.
But the sheer server speeds more than make up for that initial confusion.
There's nothing like watching your online store load in less than two seconds to make you forgive some questionable design decisions.
Our reviewer
was somewhat disappointed in his interactions with the support team, though. Oh well, you can't have everything… unless you're one of my cats.
Features:
Unlimited bandwidth on all plans. Yep, just the bandwidth. Most plans also have unlimited storage, but the very cheapest plans limit you to a "measly" 100GB. That'll do just fine as long as you're not building the next YouTube.
Free automatic backups. This should come standard with all hosts, but it doesn't. If you're on any plan other than the lowest-tier Startup, you'll never worry about losing your site to accidents or hackers, because you can restore it in minutes or have the techs do it for you.
Free site migration. Have an existing site? A2 Hosting will move it over to your new hosting account free of charge.
Managed WordPress hosting. This is separate from the regular shared hosting, but it's worth mentioning that you can get a managed WordPress site. That means all the maintenance, updates, and troubleshooting is handled for you.
The A2 Optimized Plugin. Side note, A2 Hosting likes WordPress so much, the company actually developed its own plugin to help you optimize your WP site so it loads crazy fast.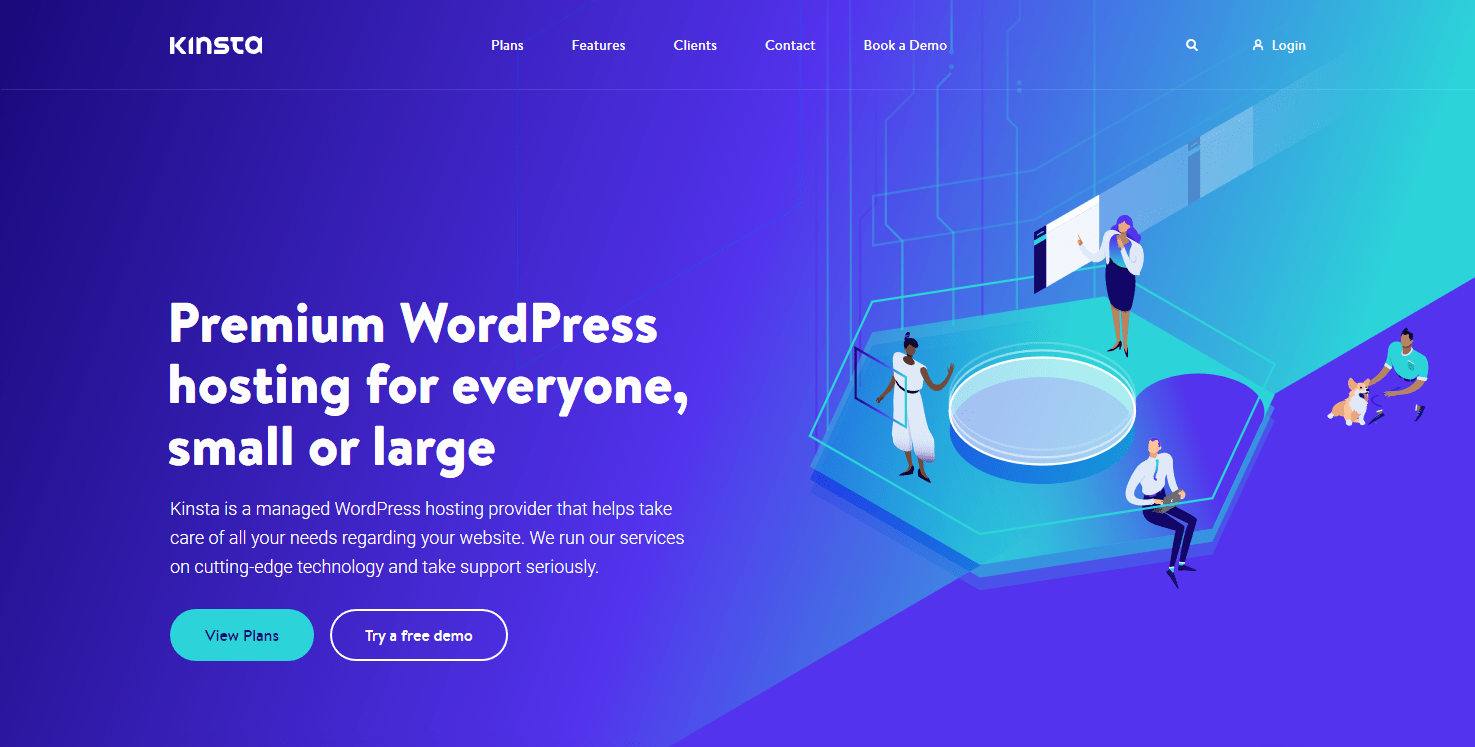 Kinsta is a little different from the others on this list, because it's nothing like a regular web host.
 It's a hosting company that does exactly one thing: WordPress sites. Specifically, it does
managed
 WordPress sites. In case you skipped the last section, that means all software and hosting maintenance, updates, and bug fixes are handled by other people for you. You just
sign up and get a WordPress site
 that's built on the latest and greatest server tech. The only real downside to this service is the price. You've got to pay premium money for premium features, and this is by far the most expensive host on the list. But if you're making money off your site, Kinsta should still fit into your budget.
Features:
A dead-simple WordPress experience. Again, all the technical stuff gets done for you. Need to install a specific WordPress theme or get a plugin working? Just ask for help.
True WordPress experts on demand. Speaking of which, Kinsta has some of the best customer support we've encountered. That's partly because the people are just good, and partly because Kinsta goes out of its way to hire and train specialists.
VPS-like hosting technology. In simple terms, this means that all sites on Kinsta are isolated from each other. If someone else's site gets attacked, nothing will happen to yours.
Based on the Google Cloud Platform. That's right, Kinsta runs all of its websites on the big G. The downside? More of your data is owned by Google. The upside? Google has some of the very best servers, and it has servers everywhere around the world.Specifically, it has 7 data centers in the US alone, and 24 more around the globe.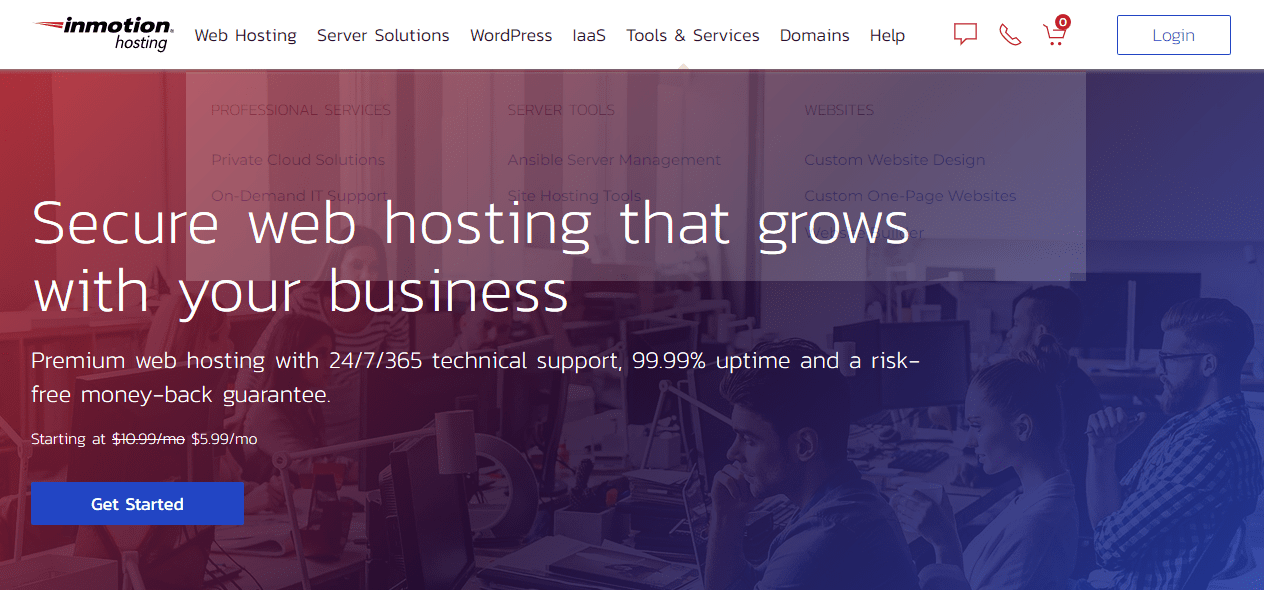 InMotion Hosting offers hosting and servers for everybody
, but it has a special focus on helping new website owners get up and running.
The company clearly wants you to run your whole business on its platform, whether you're a beginner or a pro.
This is accomplished by providing the customer with website tools you won't find with almost any other host. More on that below. Unfortunately, like with Hostinger and others on this list, the server performance can be inconsistent. Not bad, but not as great as others. This is hosting you'd get for the features, not for the fastest speeds. Also, while the support team is helpful, they can take a minute to get to you.
InMotion Hosting Web Hosting
Features
The BoldGrid Builder makes WordPress easy(er). The BoldGrid Builder is a plugin developed by InMotion Hosting that implements drag-and-drop design features in WordPress. There are other, newer plugins that do the same thing, but this one is still good, and it comes free with your hosting. What's not to like?
InMotion Hosting can build your site for you. It used to be more common for hosting companies to also offer web design services, or vice versa. It's less common now, but InMotion still offers this service. If you're the kind of person who likes to do all their shopping in one place, this could be great.
Unlimited bandwidth. No, you don't get unlimited storage space as well, just the bandwidth. That said, the storage offered in the hosting plans should be more than enough for most websites.
Built-in marketing tools. These include a non-WordPress site builder for landing pages and the like, free advertising credits, and customer management tools. Most hosts, Hostinger included, don't offer anything like this for free.
24/7 site monitoring. While you have to handle backups yourself with the tools provided, your site will be watched for errors and problems. You'll be notified if anything goes wrong.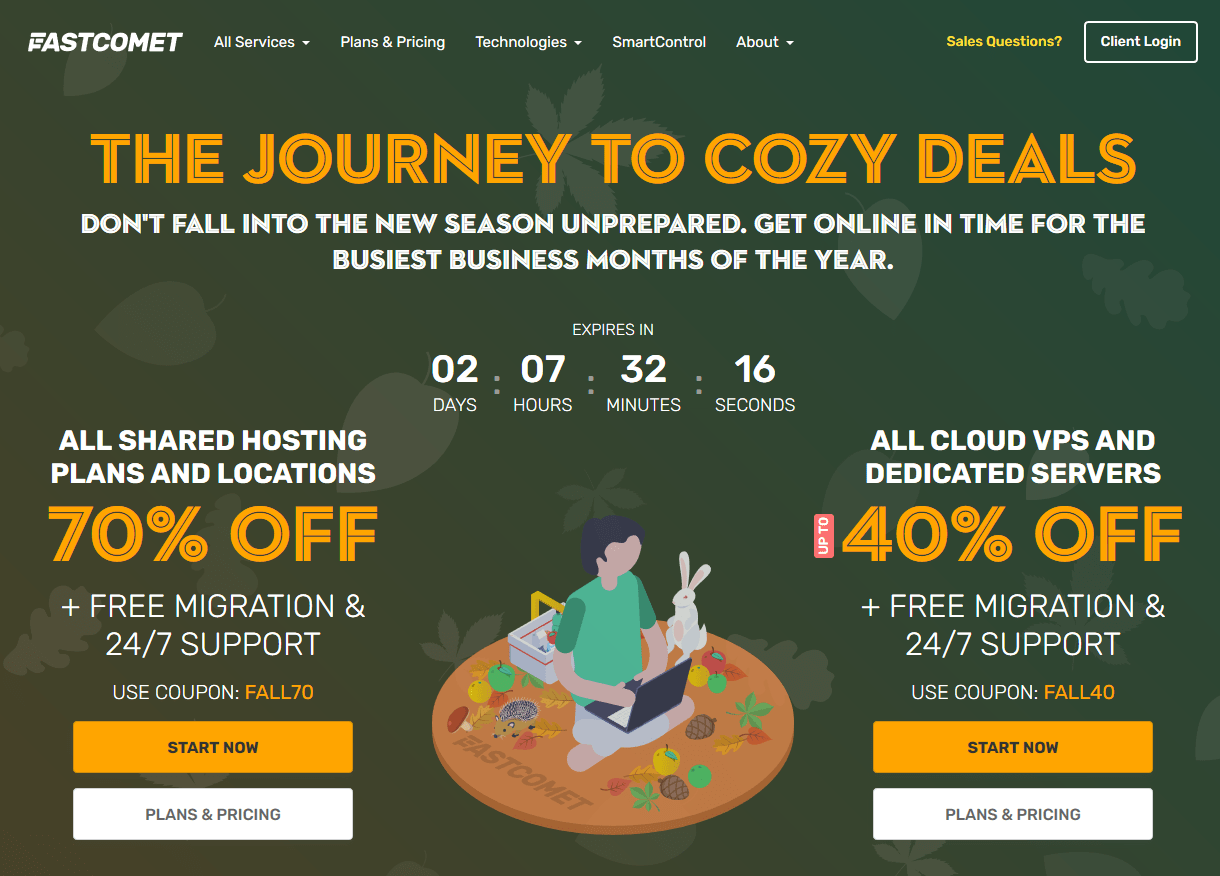 Pretty much every host claims to be fast, but FastComet went and put it in the name.
It mostly lives up to that expectation, because it has servers all over the world.
Aside from the global focus on speed, FastComet brings you the usual holy trinity of
shared hosting, VPS hosting, and dedicated servers
. All in all, we were impressed by this service
when we reviewed it
. There are pretty solid solutions for small and large customers alike. Be warned, though, the plans with names like "WordPress Hosting," and "Magento Hosting" are actually just the regular shared hosting plan in disguise, not actual custom solutions. Very sneaky. Oh, and the account management interface can be a little confusing sometimes.
Features:
Eleven global data centers mean you can host a site for any audience. This feature could be useful if you make multiple versions of your site for different regions. Those sites could all be hosted separately to give your users the fastest experience possible.
Free daily and weekly backups. It's hard to overstate the usefulness of backups, so I'll say it again. This feature is darned useful. And it's something that Hostinger lacks in its lower-tier plans.
FastComet SiteBuilder. Build your own website in a few clicks. Or as many clicks as you want, if you're into customizing things. The site builder is simple but good enough for a small brochure site. You can actually try it out for free to see if you like it.
Very helpful support. Our reviewer found FastComet's support to be particularly knowledgeable, helpful, and, best of all, prompt. Knowing you can get good help fast brings considerable peace of mind.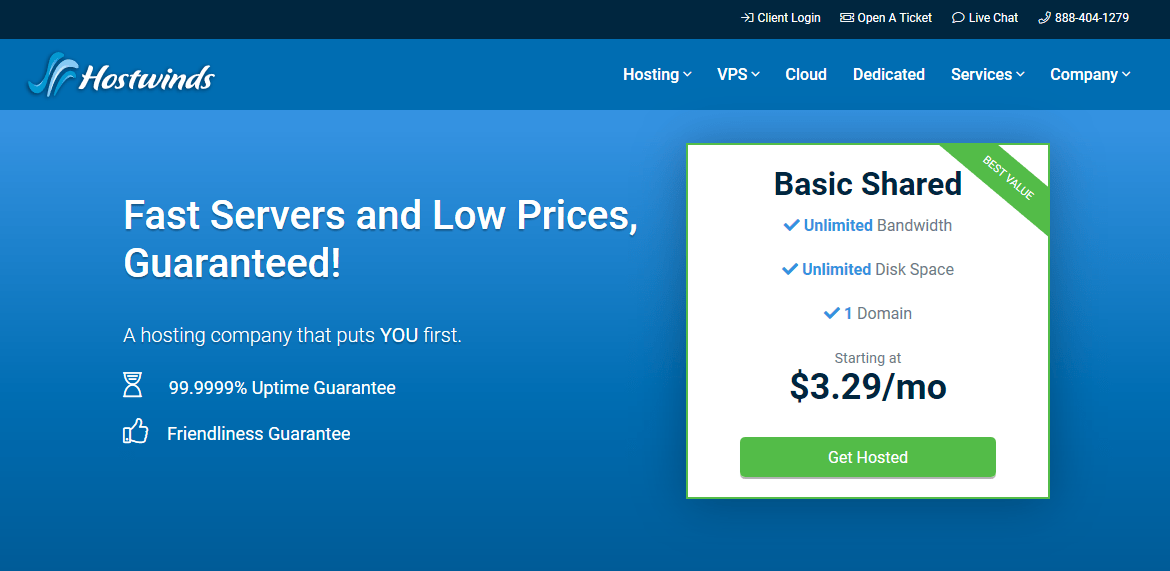 Hostwinds targets the extensive crowd of individuals who prefer a straightforward approach to website management – "I just want my website to run; hold the fancy stuff." This means that they cater to various needs, ranging from a basic brochure site to cloud hosting, VPS hosting, or even a dedicated server. Whatever you require, Hostwinds offers reasonably priced solutions suitable for you. We could find few actual problems with the service
in our review
, aside from some inconsistent server performance. Otherwise, Hostwinds is classic,
affordable hosting
 with a free domain on yearly plans. It's "the usual" but in a good way. If Hostinger's beginner-focused approach doesn't work for you, this more classic formula just might.
A free domain name is included with some hosting plans from Hostwinds
Features:
Unlimited bandwidth and storage. You'd think this was standard for all hosts, judging by this list, but it's actually not. I include it as a feature every time because it's worth noting every time.
Website monitoring. This add-on lets you rest assured that someone is keeping an eye on your website all day, every day, to make sure you don't lose much business from bugs or hacks.
24/7 support. There's live chat, a ticket/email system, and phone support. When you really want to get the support team's attention, go for all three and see what happens.
Site builder included. The Weebly site builder is integrated with all shared hosting plans. If you don't need a full CMS and want to design your own site in a drag-and-drop editor, you can do that with minimal fuss.
Summary
Here's a quick table that might help you make your decision faster:
Starting Price
Money-Back Guarantee
Customer Support
Notable Feature
InterServer

$

2.50

30 days
Good
Super-steady servers
GreenGeeks

$

2.95

30 days
Great
Eco-friendly
A2 Hosting

$

2.99

30 days/pro rata
Less Good
Great speeds
Kinsta

$

24.00

30 days
Great
Managed WordPress experts
InMotion Hosting

$

3.29

90 days
Pretty Good
Web design service
FastComet

$

2.19

45 days
Great
Great speeds
HostWinds

$

6.47

None
Decent
Weebly site builder
Conclusion
I want to stress again that all the choices here are good. When I mention "less stable servers," I'm referring to a minor difference in milliseconds between platforms. Indeed, if you're setting up a large online store, those milliseconds will be significant. But for a company blog, it won't matter as much.
In the end, your decision has to come down to what you need.
For the most stable servers, I'd recommend
InterServer
. For WordPress-specific hosting,
Kinsta
is definitely the way to go, if you've got the budget. If the environment is of the utmost importance to you, choose
GreenGeeks
. You may even decide to go with
Hostinger
after all. Whatever the case, I hope you leave this article with a better idea of which host is right for you. Happy hunting, and let us know which one is your favorite.
FAQ
Which host is better, Hostinger or InterServer?
Well, that depends on what you need. Hostinger has cheaper initial prices by far, and I'd say it's probably an easier service for beginners to use. There are many good reasons that Hostinger has topped our charts for some time now. InterServer does have that marginally better server performance, though, and a very helpful support team that will talk you through your problems, instead of just linking a tutorial in the chat. In short, go with Hostinger for ease of use and the initial pricing, go with InterServer for a better customer experience, or check out all of our hosting reviews to see if there's another service that's right for you.
Which hosts are cheaper than Hostinger?
Strictly speaking, there are few, if any, cheaper hosts… at first. The starting price for Hostinger's cheapest plan is literally

$

1.99

USD per month.

After your first renewal, that low monthly price does go up by more than a few dollars, at which point most hosts on this list will be cheaper

– especially if you pay for a few years at a time. 

But if you want an even better deal on any host you have in mind, be sure to check out our coupon page.
Can you cancel Hostinger?
You can cancel at any time, of course, with few questions asked. As for refunds, you can get all your money back at any time in the first 30 days. I've personally tested this, and I can tell you it works. If you want a step-by-step guide to getting a refund for your Hostinger plan, we have one.