Bluehost seems to get all the love while HostGator fades into the background in other comparison reviews.
But let me get this out of the way right now – it's because Bluehost has a great affiliate program that pays those reviewers
when they bring in more customers. So is Bluehost
really
the better option? No. From the outset, I want you to know that in this particular battle of Bluehost vs HostGator,
I recommend you go with HostGator
.
Make sure you take advantage of their free domain name offering too.
Even though these two web hosts are budget-friendly options, you'll still get better value for money, more features, and better performance for less with HostGator. If you want to discover why I'm not so keen on Bluehost and exactly why HostGator is a better choice, keep reading to find out more.
My goal is to give you honest, expert advice about these particular website hosts
, so this comparison is 100% impartial. I've scoured the internet for real customer experiences with both Bluehost and HostGator, and I've tried out their hosting services myself. I've put HostGator vs Bluehost head to head in five rounds, focusing on:
Performance
Bluehost (Surprisingly) Outperforms HostGator
How quickly your website loads can determine whether your visitors stay or leave, with statistics showing that loading times of more than three seconds will cause over a third of them to click away. In the past, Bluehost was known for fairly slow server response times, but when I looked into the figures for this review,
I was surprised to see how much Bluehost has improved.
This could be attributed to the fact that Bluehost's servers now use SSD drives, which are around 3x faster than regular HDD disks. As you can see in the graph below, a Bluehost test site shows an impressive server response time of between 0.236 seconds and 0.4237 seconds. Faster server response times automatically lead to faster page loading speeds – and a better experience for your visitors.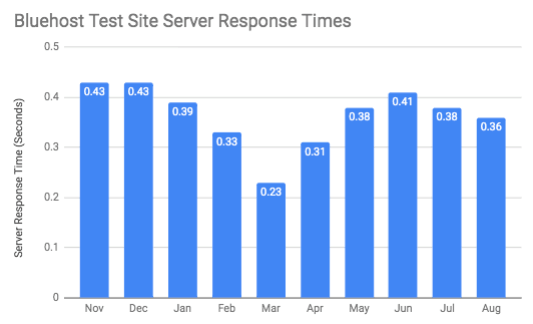 Bluehost's uptime record has also improved considerably. Over the past 12 months, it had an average uptime of 99.98% – ranking it among the top shared hosting providers for reliability.
HostGator's server response times are fairly poor in comparison.
Until recently, it had server response times of between 0.9 and 1.0 seconds, but the past couple months saw those response times increase by up to 75% – making HostGator's servers over 4.5x slower than Bluehost's.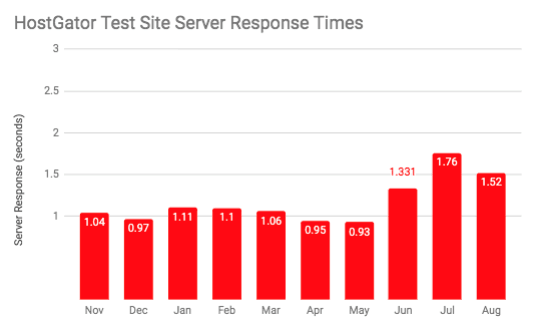 In terms of reliability, HostGator's average uptime for the past 12 months is identical to Bluehost's – 99.98%.
For both providers, this equates to less than ten minutes of downtime per month
, which is impressive for shared hosting.
And the winner is:
Bluehost. While HostGator matches Bluehost for reliability, Bluehost's superior server response times mean your pages will load far faster, reducing your bounce rate.
Value for Money
HostGator Will Migrate Your Website for Free – Bluehost Makes You Pay
Although Bluehost and HostGator have similar pricing levels, there's a big difference in value. So you can see how HostGator offers better value for money than Bluehost, I've put the details into a table:
| | | |
| --- | --- | --- |
| | Bluehost | HostGator |
| Money-Back Guarantee | 30 days | 45 days |
| Website Migration | Not included – will cost up to $149 for Bluehost to migrate your website | Free – as long as you make the request within the first 30 days of signing up for your hosting plan |
| Renewal Prices | Up to 90% higher than your initial term | Around 50% higher than the initial term |
| Domain Name | Free for the first year | Not included |
And the winner is:
HostGator. Between the lower renewal prices and the free website migration service, HostGator is a far better value. That introductory price period ends faster than you expect.
Security
Basic Security That You Have to Pay Extra For?
Keeping your website secure is something you might expect your web host to be good at. However, budget shared hosting providers often cut back on security and instead offer security features as add-ons.
Bluehost offers SiteLock Lite for all users.
But when you look at what's included in SiteLock Lite, it doesn't seem like such a bonus. Bluehost doesn't give you specifics, either – I had to do a deep search of the internet to find the details. This is what Bluehost has to say about SiteLock Lite: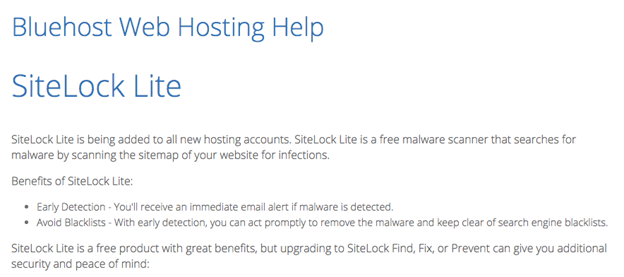 What Bluehost fails to mention, however, is that SiteLock Lite is limited to scanning just five pages of your website. Any more pages than that, and you're out of luck – unless you take their advice to upgrade to one of Bluehost's more expensive SiteLock plans. Unfortunately,
HostGator doesn't fare any better when it comes to security.
It also only offers SiteLock Lite. I suspect that with hosts, this tactic is designed to "encourage" you to purchase additional security features. In fact, for both, the SiteLock Premium option is automatically selected in the checkout process, so you have to deselect it if you don't want to pay more for your security.
HostGator does offer weekly backups – which is only offered as a "courtesy" on most of Bluehost's plans.
With both hosts, you're best off performing your own backups, as you don't get any kind of backup guarantees. In addition, you have the option with both to purchase CodeGuard, which allows for automatic backups. Both Bluehost and HostGator are part of Endurance International Group (EIG), which is an umbrella company that is known for buying up web hosting companies (with over 80 web hosts in its portfolio). It's not surprising, therefore, that Bluehost and HostGator have similar checkout processes with a heavy focus on upselling security features that other hosts include for free.
And the winner is:
Well, there's no real winner here. Neither host includes decent security features with its plans, meaning that you
will
have to pay more to keep your website secure. The prices for SiteLock Premium and CodeGuard Basic aren't too high – but it's still an inconvenience having to purchase things that other hosting companies include for free.
Features
HostGator Offers Unlimited Features on All Plans – Bluehost Makes You Upgrade
Bluehost and HostGator offer very similar features. However, HostGator's feature list is slightly more impressive.
| | | |
| --- | --- | --- |
| | Bluehost | HostGator |
| Free Domain | ✅ |  – |
| Free SSL | ✅ | ✅ |
| Number of Websites | Unlimited (1 on Basic) | Unlimited (1 on Hatchling) |
| Disk Space | Unlimited (50 GB on Basic) | Unlimited |
| Bandwidth | Unlimited | Unlimited |
| MySQL Databases | Unlimited | Unlimited |
| Weekly Backups | – | ✅ |
| Website Builder | ✅ | ✅ |
| Email Accounts | Unlimited (5 on Basic) | Unlimited |
| Email Spam Protection | Only on plus plan and above | ✅ |
| Subdomains | Unlimited (25 on Basic) | Unlimited |
| Multiple PHP Versions | ✅ | ✅ |
| Free Website Migration | – | ✅ |
| Ad Credits | $200 on all plans except Basic | $200 on all plans |
| Hotlink Protection | – | ✅ |
Ultimately, HostGator's plans don't have the same restrictions as Bluehost's
. Bluehost's Basic plan is more expensive than HostGator's Hatchling plan – but the Hatchling plan offers unlimited storage, email addresses, and subdomains, while Bluehost's Basic plan is restricted.
And the winner is:
HostGator. If you're looking for the cheapest option to host a single website, then HostGator gives you more than Bluehost. You benefit from the unrestricted hosting features no matter what plan you're on, and you also get spam protection for your email addresses.
Support
HostGator Provides Quick Assistance – Bluehost Keeps You Waiting
One of the deciding factors when choosing your web host is often the quality of the customer support – and the length of time you have to wait to get a response.
Both HostGator and Bluehost offer 24/7 customer support via live chat, phone, and email.
However, Bluehost has a bad reputation for poor customer service, with users reporting that Bluehost's support agents often struggle to resolve relatively simple issues.
Response times with Bluehost are also bad.
With live chat, the average waiting time for an agent is up to 20 minutes – and I've had experiences where I've waited up to an hour during busy periods. Having to wait so long for a response is frustrating – especially if your website is down and you want a rapid resolution. Bluehost has a decent knowledge base, though – and there's an official Bluehost YouTube channel that you can check out if you'd rather solve your problem yourself. It might be faster that way anyway. Not sure what to do? You can find out more in our
expert Bluehost review
.
When I tested out HostGator's live chat support, I was very quickly connected to a support agent
who was knowledgeable and able to answer my questions efficiently. There was no long wait between responses, either. My issue was resolved quickly, and the problem was solved in less time than I spent waiting just to be connected to a Bluehost support agent. HostGator also offers a large knowledge base and has a great selection of over 500 video tutorials to learn from. On selected
HostGator plans
, you also have access to priority support.
And the winner is:
HostGator, thanks to every aspect of its customer support. Bluehost's long wait time is disappointing. HostGator's support team seems more experienced and better able to resolve issues efficiently, too.
Bluehost Loses Out to HostGator
In three out of five rounds, HostGator comes out on top
, making it my top choice in this particular battle. Having to pay for security is an issue with both providers, but with security issues aside, HostGator is overall the more cost-effective choice.
Bluehost
is faster than HostGator, however, so if you're not too concerned about the limits on Bluehost's Basic plan (or are planning on choosing a higher-priced plan), then it may still be the better choice for you. To find out more, check out our expert
Bluehost review
.
Our Recommendation
If you're on a tight budget and want a host that gives you the best value for the money and doesn't impose limits when you choose the cheapest plan, then
HostGator
 is perfect for you.
Even on the most basic plan, there's plenty of room for you to grow your website. Discover more about our top choice in our expert
HostGator review
.
This comparison was part of a much bigger project in which I compared all serious web hosting companies to find the very best.  You can
see all the best hosting services here
.
Performance
Performance has improved in the past year, with fast server response times and a 99.98% uptime average
Server response times are disappointing, but the host has the same great 99.98% uptime average as Bluehost
Value for the Money
Free domain name, but website migration is expensive
Free website migration and less expensive overall
Security
No weekly backups, and you have to pay extra if you want decent security
You get weekly backups, but you have to pay extra if you want decent security
Features
Basic plan offers 1 website, 50 GB SSD storage, and 25 subdomains, but Plus, Choice Plus, and Pro offer these as unlimited features
Cheapest plans give you the same unlimited features as other plans
Customer Support
Support is available 24/7, but response times are pretty poor – plus there are nearly 200 videos on its YouTube channel
Support is available 24/7 and response times are pretty good – plus there are over 500 video tutorials for you to use