Maybe you're a Bluehost customer who's had just about enough of being let down. Maybe you're not a customer yet, but you're having some serious doubts about signing up for a long-term plan with the company. Either way, it's easy to understand why.
We've read reviews from users all over the world, and it's clear that Bluehost has some seriously dissatisfied customers. Here are the top reasons for this:
Poor customer support for WordPress users
Unreliable uptime
Recurring problems with websites
Vague advice on how to resolve issues
Inadequate malware scanning and removal
Big issues with page loading speeds
You've probably noticed that Bluehost still seems to come out at the top of hosting recommendation blogs – which is confusing.
The truth is that it has absolutely nothing to do with the quality of Bluehost's service. In fact, the reason Bluehost comes so highly recommended is that it has one of the best affiliate programs in the industry.
Bloggers who are incentivized to recommend Bluehost are misleading their readers, which leads to a variety of problems when people discover the truth about Bluehost's shortcomings. At Website Planet, we care about our readers and want to give you honest reviews — so Bluehost is not one of our top five recommended hosting companies. Click here to read why.
Bluehost Alternatives – Our Top Picks:
What We Look for in Bluehost Alternatives
Our tried and tested list outlines the companies that deliver in the key areas where Bluehost disappoints. This is what we looked for:
Customer Support: Knowledgeable experts available around the clock, who are able to resolve WordPress-specific issues and help you get your website back online quickly
Reliability: Uptime guarantees and a proven track record of exceptional uptime
Performance: Fast page loading speeds and the ability to handle traffic spikes
Security: Protection against malicious attacks and malware
Affordability: Cost-effective hosting that delivers value for money
1. Hostinger – Next-Generation Reliable Hosting and Exceptional Technical Support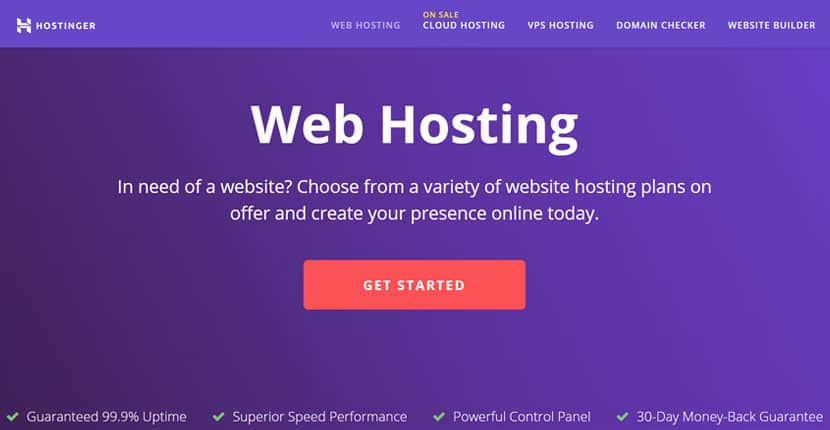 Budget-friendly Hostinger provides reliable web hosting for over 29 million people around the world, and it gets very positive reviews. It's earned a reputation for lightning-fast speeds and exceptional support, putting it way ahead of Bluehost.
Hostinger's Key Features
Hostinger gives you the option of live chat, email, or ticket support. Plus, it offers a comprehensive range of tutorials so you can resolve minor issues yourself. Compared to Bluehost, Hostinger's instantly-accessible 24/7 support stands out with technical support gurus who know WordPress well.
Hostinger consistently offers excellent server performance, too. On a regular shared hosting plan, an average Hostinger-hosted website will load in about 380ms to 513ms – in other words, exceptionally fast. Although Bluehost's speeds have gotten better over the last two years, it can't compete with Hostinger.
With a guaranteed uptime of at least 99.9%, Hostinger scores well against other hosting companies. Although on the surface Bluehost's uptime seems comparable to that of Hostinger, Bluehost doesn't offer an uptime guarantee.
Pros
Simplified cPanel that makes it exceptionally easy to manage your web hosting account. For example, when you add a new email account, the details you need to configure your email client are displayed immediately; most cPanel set-ups don't make it this simple
A cache manager comes bundled with every hosting plan, allowing you to configure caching to achieve the highest performance
Uses the CloudLinux OS to guarantee high levels of efficiency and stability
Promotional rates among the cheapest out of all the companies on this list
BitNinja server protection included with all plans; Bluehost's security equivalent comes only with its highest-tier plans
Cons
Hostinger doesn't offer phone support, although other support options are excellent
Lowest advertised prices require a four-year commitment
Choose Hostinger If…
You need to host many websites and want the freedom offered by plans with unlimited storage and bandwidth
You have a limited budget and you're looking for pocket-friendly prices for your hosting plan
2. Flywheel – Managed WordPress Hosting for Businesses and Freelancers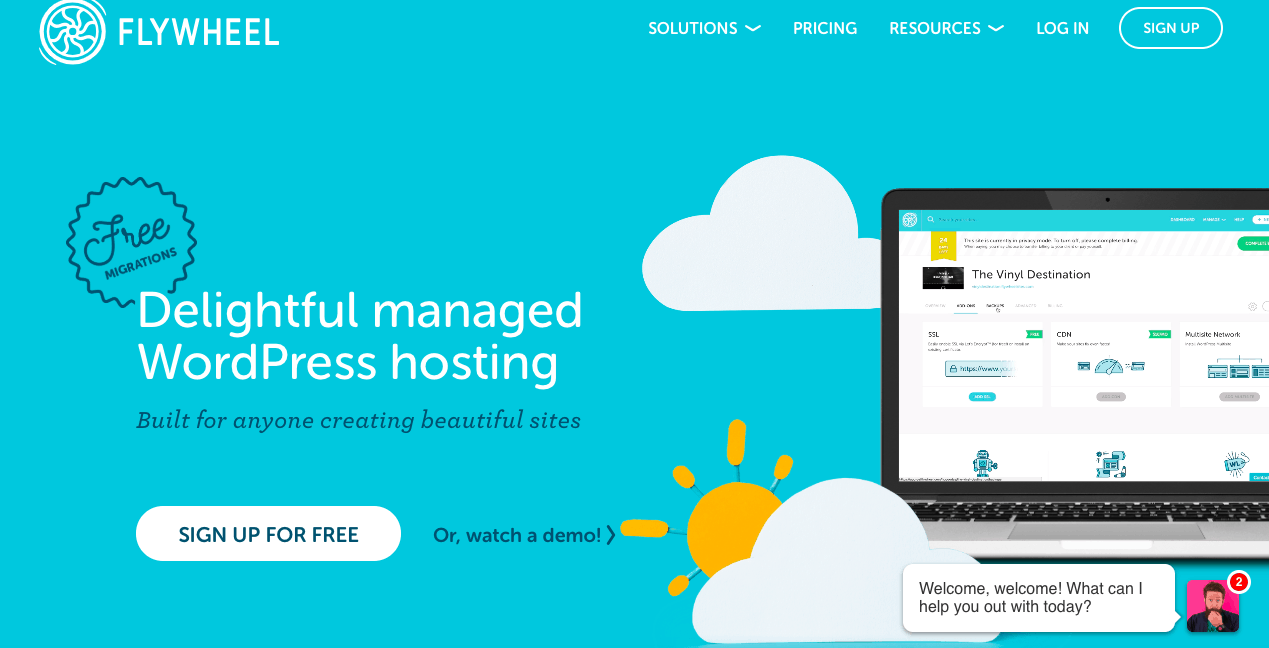 Flywheel stands out as a top-class Bluehost alternative if you're looking specifically to build a WordPress website. Flywheel only offers WordPress hosting, meaning it can offer all the experience and expertise you'll need.
Flywheel's Key Features
If you've already got a WordPress website up, Flywheel will migrate your website for free. With many other providers, you'll have to pay extra for the service or handle the move yourself.
Plus, Flywheel's got a ton of workflow and collaboration tools to make the lives of business owners, agency personnel, and freelancers easier. It assumes you aren't just creating and maintaining a website on your own, and will most likely have others on your team (or perhaps clients) who need varying levels of access to the backend of the website.
Flywheel also offers a 99.95% uptime guarantee with its Enterprise WordPress plans – far better than the vague promise of "striving" to avoid downtime that Bluehost makes in its Server Uptime Agreement.
Live chat and ticket support are available 24/7. Customers speak highly of the Flywheel team for their speed and expertise at resolving virtually any WordPress issue, whether it be slow loading speeds or a plugin recommendation.
Pros:
Intuitive and beautiful control panel with none of the clunkiness of cPanel
Free and seamless WordPress migration – with many other hosts, you'll have to do it manually, and your website will likely be down in the meantime
Automatic daily backups included free with all plans
Dedicated resources – meaning fast loading speeds even if many users access your website simultaneously
Free expert performance assessments on your website's code and plugins
Cons:
Flywheel prohibits the use of certain caching plugins, which you may find inconvenient
Entry-level price points are relatively high
Choose Flywheel If…
You're creating multiple WordPress websites for your company or for your clients and you want one of the most intuitive and efficient platforms for that purpose
You've got a media-heavy or high-traffic WordPress website and need the best performance possible
3. WP Engine – Unleash the Full Potential of WordPress with Exceptional Support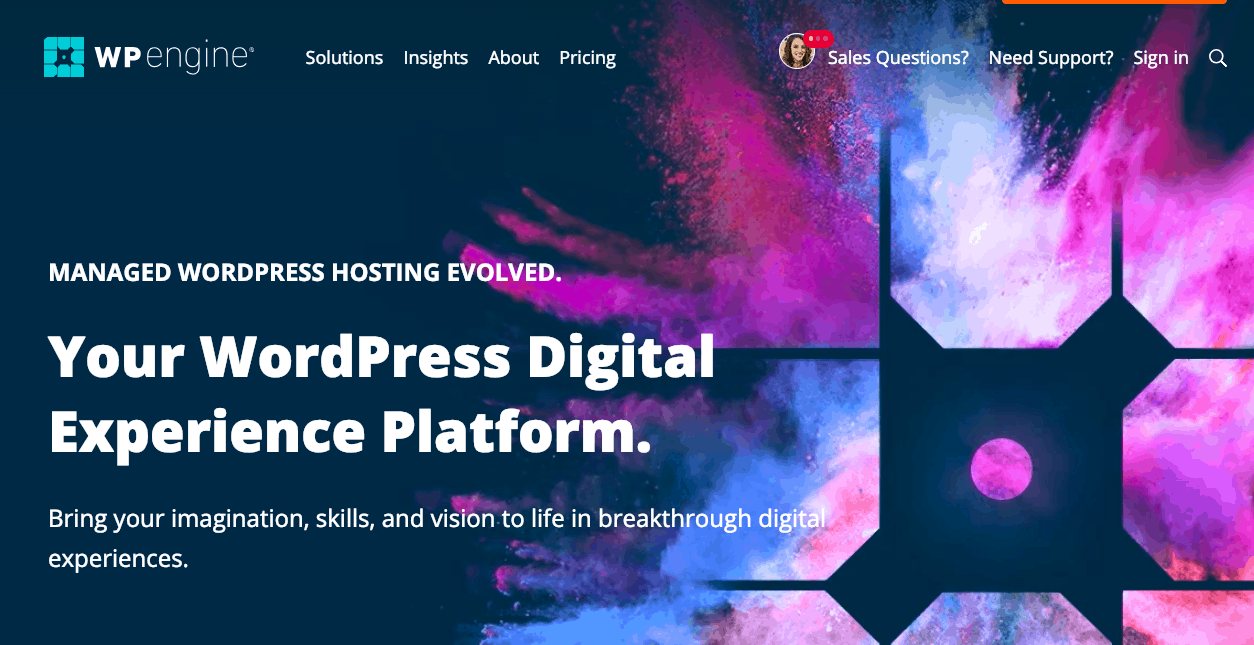 WP Engine has won multiple Stevie awards for its customer service, making it the perfect choice if you're looking for WordPress hosting with high-quality 24/7 technical support. WP Engine also far outshines Bluehost in terms of speed and security, and users and reviewers appreciate it.
WP Engine's Key Features
Like Flywheel, WP Engine is a managed WordPress hosting provider that has its servers configured to make performance and security a priority.
The platform uses aggressive caching to deliver lightning-fast page loading speeds, even if you're getting millions of visitors per day. The team will also periodically work to reduce the bloated database sizes that WordPress sites tend to have.
You'll get access to an integrated Content Delivery Network (CDN) that can further increase the performance of your website. Additionally, WP Engine offers a tool that allows you to keep a close check on the performance of your website and resolve any issues before they affect your visitors.
With WP Engine, you'll also have the popular Genesis Framework and over 35 specially-designed themes that have been optimized for speed, responsiveness, and user experience (UX). With built-in SEO and security features, the Genesis Framework makes building your website a much simpler process.
Pros:
An uptime Service Level Agreement (SLA) of 99.95% on all services
60-day money-back guarantee – double what many hosts offer
Exceptional server speeds and performance features that put WP Engine way ahead of other hosts
Offers a staging area and dedicated developer environments so you can test out your changes without the risk of "breaking" your live website
Security features to meet every need – including free malware scans and fixes if your website is hacked
Cons:
More expensive than other hosts – managed WordPress plans come at a premium and there are limits on storage, bandwidth, and the number of websites you can host
The user interface has a steep learning curve
Choose WP Engine If…
You need cutting-edge WordPress features and an intuitive, UX-focused framework on which to build your website
You're frequently testing out different configurations for your website and need to ensure that your live website doesn't experience issues that can negatively impact your business
4. GoDaddy – Reliable Hosting with Superior Storage Space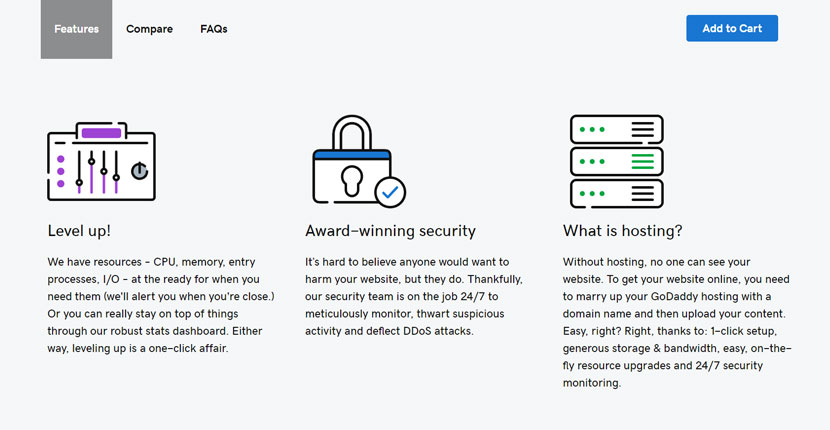 GoDaddy is not just a web hosting company: you can get everything from a domain name to digital marketing packages. The hosting plans available give you plenty of storage space and unmetered bandwidth for great performance.
Although it can't quite compare with the security of Flywheel or WP-Engine's specially-optimized platforms, GoDaddy also offers better security than Bluehost, with 24/7 website monitoring on all plans. It's easy to see why it gets such positive reviews.
GoDaddy's Key Features
GoDaddy protects your website from malware, DDoS attacks, and hackers. Plus, you get 256-bit email encryption with all web hosting packages. These features are a standard part of GoDaddy's hosting packages, so unlike with Bluehost, you won't have to pay extra to protect your website.
GoDaddy offers double the storage space of Bluehost with its most basic shared hosting plan (100GB vs 50GB) – and at a slightly cheaper price, too. With GoDaddy, you'll also have the option of scaling up your server resources within moments if you're expecting a massive influx of visitors at any point.
Pros:
Unlimited bandwidth on all plans
Backups of your managed WordPress website are retained for 30 days, so you can restore copies at any point in time up to a whole month back
Arguably the most beginner-friendly UX (next to Flywheel)
Managed WordPress options that are cheaper, overall, than those of Bluehost and other companies
Both Linux and Windows-based plans available
Cons:
GoDaddy's managed WordPress plans don't offer as many WordPress-specific features as specialized hosts such as Flywheel and WP Engine
GoDaddy's money-back guarantee has a number of hidden terms and conditions, meaning you might not get back the full amount that you paid. If you sign up for a monthly plan, you must cancel within 48 hours, and your refund will be pro-rata rather than full
Choose GoDaddy If…
You want a managed WordPress service with more features than what Bluehost offers – such as automatic backups and free website migrations – at the cheapest possible price
You're new to web hosting and are looking for an affordable provider that makes it as simple as possible to build your first website. GoDaddy even offers tutorials to help you get started
5. 1&1 IONOS – Performance Powerhouse with Flexible Pricing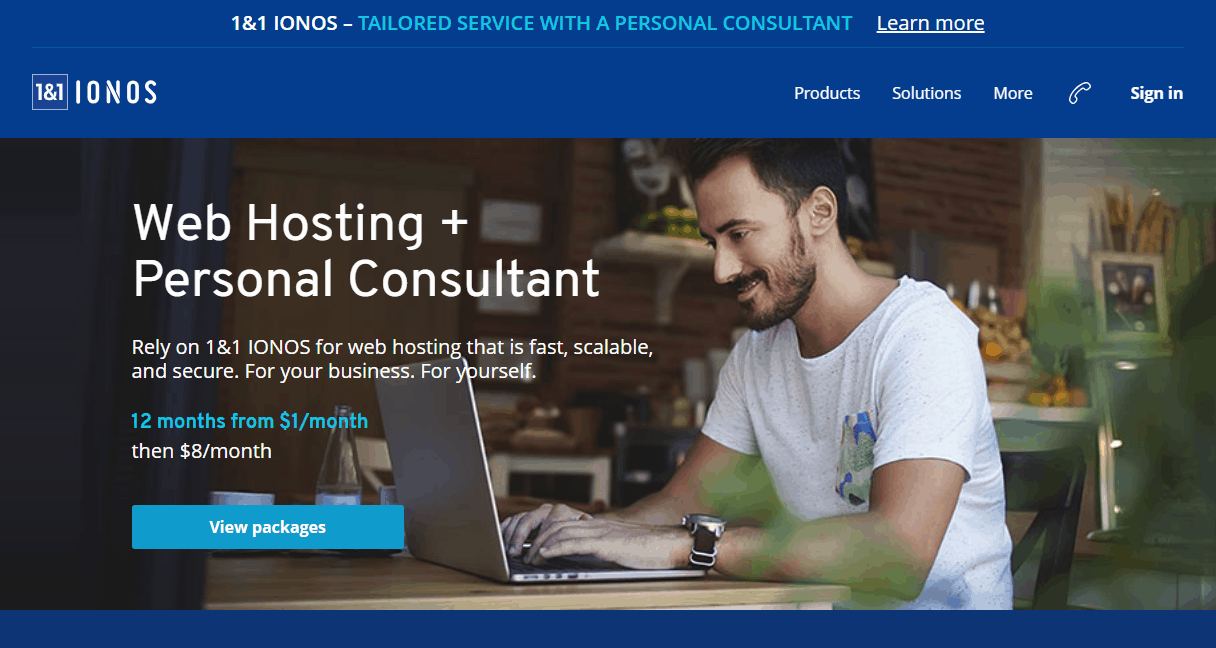 Born out of the merger of 1&1 and ProfitBricks in 2018, 1&1 IONOS offers a variety of services for individuals and small businesses. With superior security, reliability, performance, and knowledgeable technical support staff, 1&1 IONOS has a clear edge over Bluehost.
Attractive Alternatives If Bluehost Isn't for You
Let's face it: there are dozens of web hosting companies all trying to tempt customers to sign up with them. All of them make bold promises, but, sadly, don't always deliver. Bluehost's glory days are behind it, even though it's still one of the most talked-about hosts on the internet because of its thriving affiliate program.
Each of these alternatives has its own pros and cons. Which one you choose really depends on what matters most to you – whether that's reliability, performance, WordPress specialization, or security.
Here's an overview of what each of the different providers is good and bad for. It's unlikely that you're going to get everything you want from a hosting provider, so it's a good idea to prioritize the features on your wishlist.
| | | | |
| --- | --- | --- | --- |
| Hosting Provider | Good If… | Bad If… | Beats Bluehost For |
| Hostinger | You want above-average performance and exceptional customer service at pocket-friendly prices | You want to pay monthly rather than being tied into a longer-term billing cycle | World-class customer support with WordPress-specific knowledge |
| Flywheel | You're creating multiple WordPress websites and are looking for one of the most intuitive and efficient platforms dedicated to WordPress | You're looking for the cheapest option for your web hosting | Fast page loading speeds due to dedicated resources |
| WP Engine | You want an extremely secure WordPress website without having to hire dedicated personnel for the task | You're on a tight budget – WP Engine's prices are relatively high | High levels of security and first-rate WordPress technical experts |
| GoDaddy | You're looking for above-average performance levels, plus a free domain name | You want the full protection of a money-back guarantee – GoDaddy has a lot of terms and conditions regarding refunds | DDoS and malware protection |