What are Birthday Emails?
Well, you already know that they're emails you send on someone's birthday. But in the world of marketing,
birthday emails are an effective way to drive conversion
. And fortunately, it's easy to set these up, especially if you work with an email marketing service like
MailChimp
or
Aweber
. The
best email marketing services
give you plenty of options to help you quickly create automated birthday emails. All you need to do is gather your customers' birthdates, enter them into the birthday field, create a birthday email, and set up the automation.
Why Should I Send Birthday Emails?
Well, if just wanting to say "happy birthday" isn't a good enough reason, here are a few more:
Successful email marketing is all about making a personal connection with your recipients. Birthday emails allow you to connect with a little bit of your customer's joy and strengthen your relationship with him or her.
It's the perfect opportunity to send relevant, customized content that makes your customer feel that you care.
Showing your contacts that they matter builds your brand reputation.
It's an opportunity to boost engagement. A birthday email is a great way to send a discount coupon that invites the recipient to come back to your website, even if he or she hasn't been there for a really long time.
Everyone has a birthday, so it's a strategy that's workable for your whole database. It's not something that applies only to teenage emo fans or baby boomers.
Does Sending Birthday Emails Actually Work?
This is the biggest concern for all businesses: Is it worth the effort to create a good birthday email? The answer is yes! According to research done by Experian, birthday emails outperform all other types of promotional email in almost every way:
Transaction rates – 481% higher
Revenue per email – 342% higher
Unique click-through rates – 179% higher
Open rates – 53% higher
And if you miss your customer's birthday, or your birthday email goes unnoticed, you can still generate impressive engagement with a
reminder or late birthday email
. These can
boost your average open rates and revenue per email by over 20%
.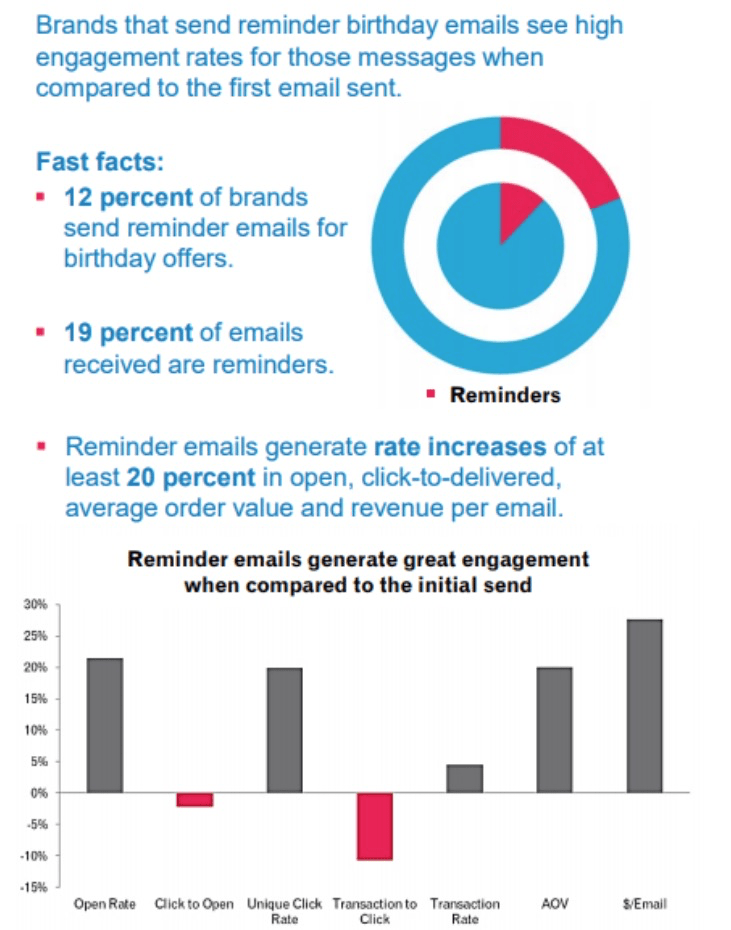 How Can I Send Birthday Emails that Knock it Out the Park?
Now that you know that birthday emails can make for an extremely valuable marketing strategy, let's go over how to make the magic happen. With a little creativity, you can create a birthday email that's a record-breaking, relationship-forging blockbuster. The effort you put into designing a birthday email that wows your customers will pay off.
1. Make it valuable
I might say that it's the thought that counts, but that thought counts for so much more when it comes with a fabulous present. It's easy to attach a
discount coupon
for 20% off, or a special offer code for a
free gift
.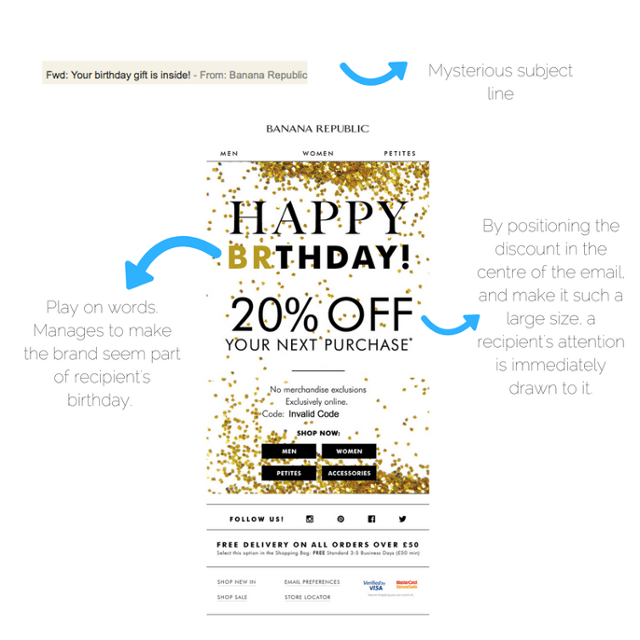 Interestingly, research shows that
emails with a birthday coupon for 25% off brought in almost four times more revenue than any other discount amount
. The next most lucrative discount amount was 15% off.
2. Make it personal
You don't have to include a gift to succeed with a birthday email. The key is to make it personal. According to research,
birthday emails that include the customer's first name in the subject line have unique open rates that are 17% higher than birthday emails with non-personalized subject lines
.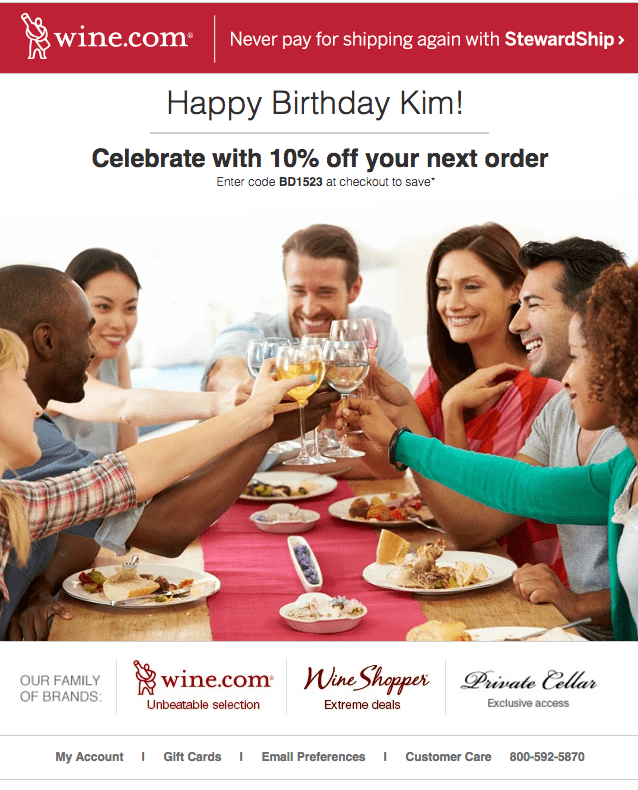 3. Make it customer-centric
The biggest complaint ever heard about birthday emails is that they're selfish. Customers are hardly impressed when they think you sent an email only to get them to spend more money on your products. So, look for ways to
focus the limelight on the recipient
. One great example is this birthday email campaign by NYU Alumni. They made a special video for alumni birthdays that keeps the recipient on center stage.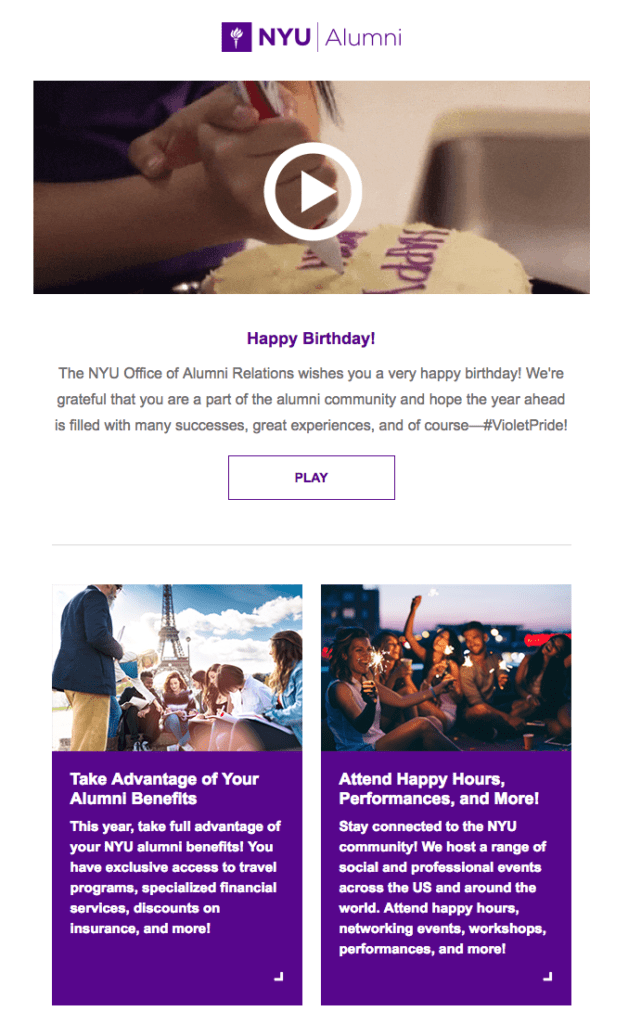 4. Make it fabulous
You need to make your birthday emails even more visually outstanding than your regular promotional ones. How you do that is wholly up to you, but you want to
send an email that impresses the recipient and shows you put effort into creating something special, just for them
. This cool glittering GIF from Chanel is a great example of an eye-catching birthday email: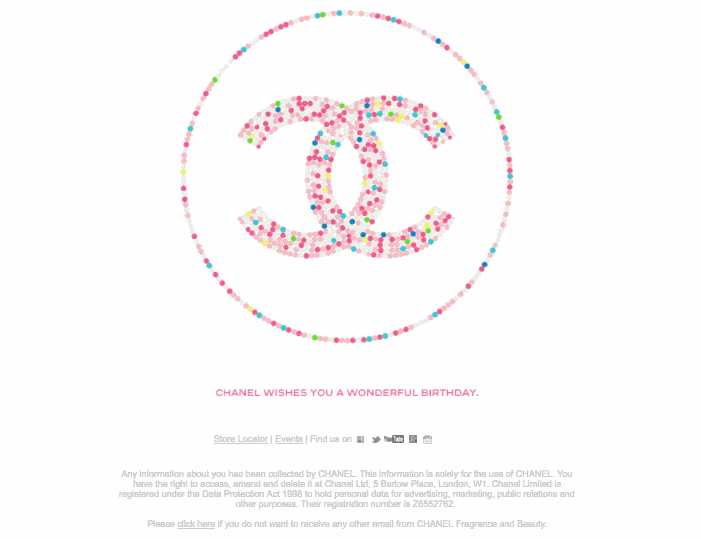 5. Make it relevant
This should be obvious, but it has to be said. Hopefully, you have enough data about your customers to know what they like. If you have a narrow customer base, it's probably fairly easy; but if your customer base is highly varied, you might need a few versions of your birthday email so you can hit the right note with every recipient. This birthday email from Pandora uses consistent branding to invite recipients to choose their favorite items and suggest that their friends or family get them a treat.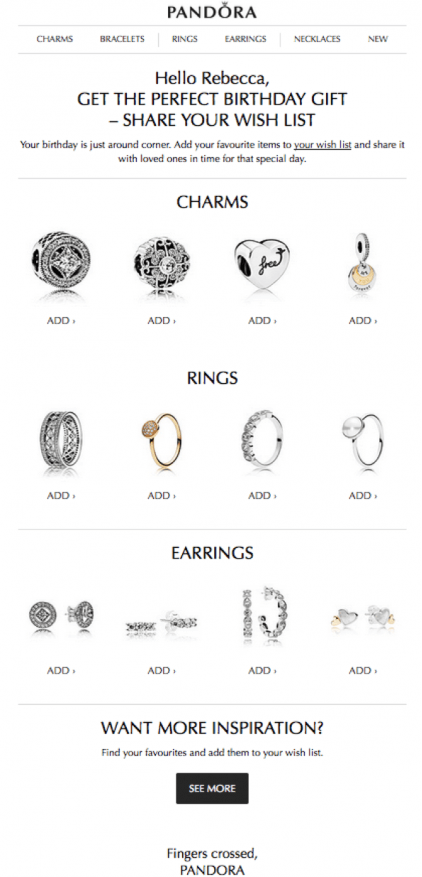 6. Make it mysterious
This might be a little unexpected all by itself.
Experian's research shows that the most successful birthday email offer is the mystery offer, bringing in over 500% more revenue per email than any discount or other birthday offer.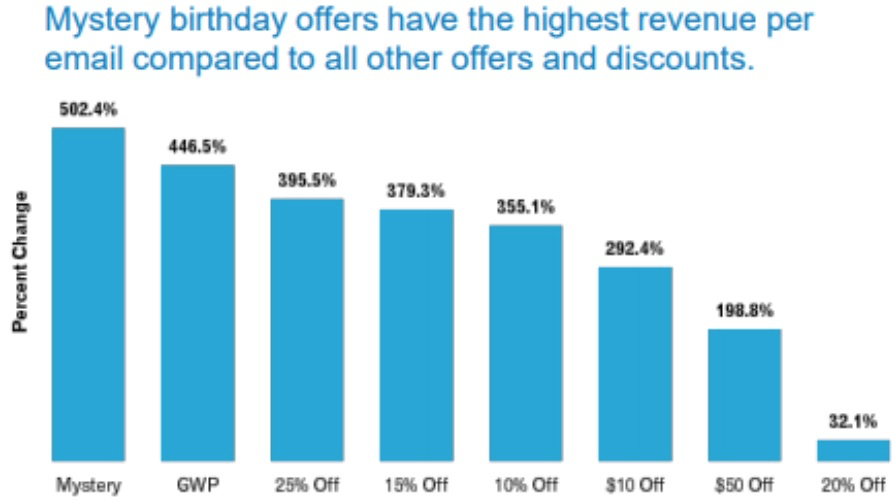 7. Make it more than a one-off
The most successful birthday email marketing campaigns don't rely on just one shot during the customer's birthday. You can create a
birthday email drip campaign
by:
Sending an email suggesting that the recipient share his or her gift wishlist with friends and family
Following up with a late birthday email or a reminder email
Following up with a week-long or month-long series of birthday wishes
Birchbox worked this like a pro with a Birthday Month drip campaign: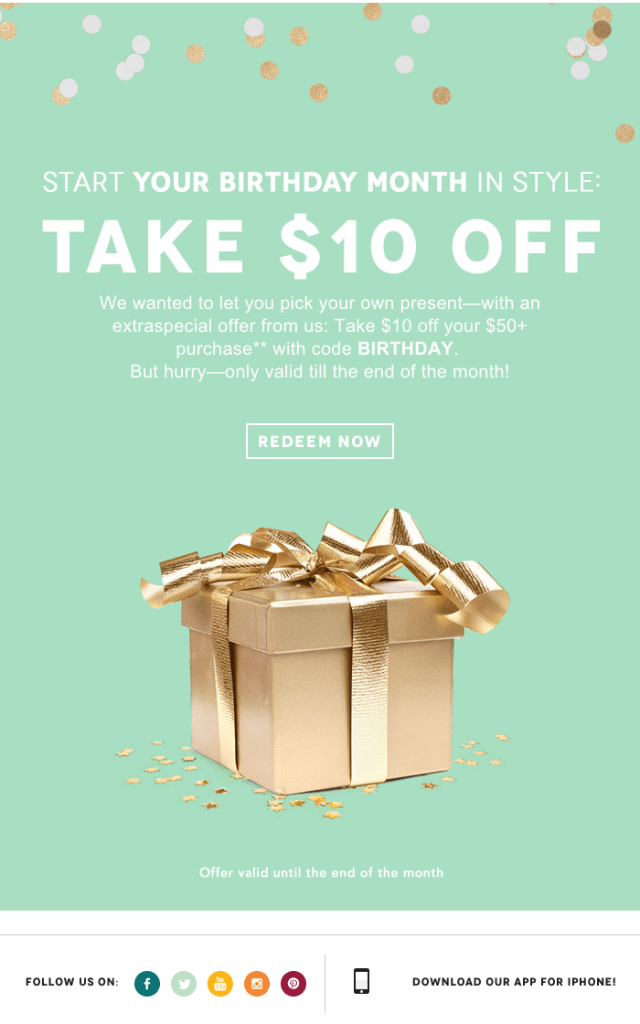 Birthday Emails that Conquer All
When you do them right, birthday emails can hit all the right notes. Now that these tips and examples have gotten your creative juices flowing, you can supercharge your email marketing service by setting up your own birthday email campaign.
---
Experian research
: https://www.experian.com/assets/marketing-services/white-papers/ccm-birthday-emails-best-practices-guide.pdf
IMAGE
Experian graph and charts
: https://www.experian.com/assets/marketing-services/white-papers/ccm-birthday-emails-best-practices-guide.pdf