If I ask you to think of a terrible ad, I'm sure that there's at least one that comes to mind. Be it racist, sexist, homophobic, or just plain ridiculous, companies have been creating garbage ads from the beginning of marketing.
While it's sometimes fun to take pleasure in the failures of others, you want to avoid making one of these embarrassing blunders yourself. As a brand, you want to get your name out there, but not because you upset an entire group of people.
By taking a look at all the terrible ads of recent years, we've put together a list of the six worst offenders. Ads so bad, you'll be asking yourself:
"What the hell were they thinking?"
From those that missed the mark to those who were easily misinterpreted or just flat-out offensive, here's our list of the biggest fails in video marketing. Oh yeah, we also include lessons and pro tips so you can learn something too.
#1: Heineken's "Lighter is Better" Beer Ad

You'd think that brands, now more than ever, would be sensitive to the issue of race. Well, you'd think so anyways.
Heineken apparently didn't realize the seriousness of this issue. Or, at the very least, was totally oblivious with the release of its 2018 ad promoting light beer.
The ad begins with a light-skinned bartender noticing a woman who seems unhappy with her drink. He slides a Heineken Light across the bar, passing several dark-skinned patrons, and landing in front of the light-skinned woman. The ad ends with the catchphrase "Sometimes, Lighter Is Better."
Yikes.
While we may never know if the intent of the ad was meant in any way to be racist or if it was just a poorly-casted mistake, the backlash was swift. Soon after its release, Chance the Rapper slammed the ad as "terribly racist" to his millions of followers, after which it was quickly pulled by the company.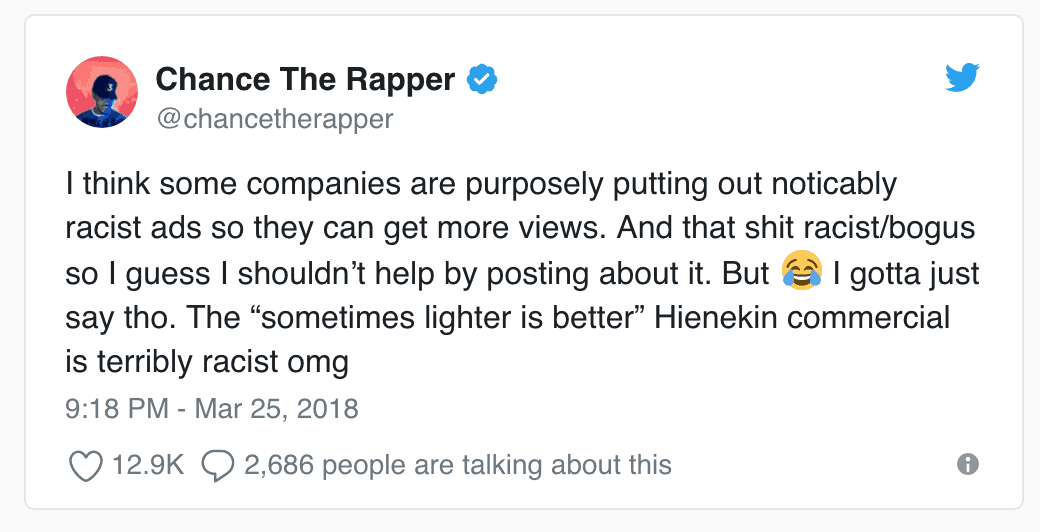 What Marketers Can Learn
This ad just goes to show how important having a diverse marketing team is. While many may never have noticed the blatant mistake, people of color who live in the U.S.—where the ad was broadcasted—were far more likely to see the racial undertones.
There's a chance this would have gone unnoticed in other countries, where racial tensions aren't as high. But in a country like the U.S., it's extra important to be careful when it comes to issues of race—and for good reason, given the country's history.
Had Heineken run the ad by more Americans of color, it's far more likely that the offensive nature of the ad would have been caught well in advance.
Pro Tip: Not everyone has the budget to do a bunch of focus groups in a variety of test markets, and that's okay. There are a bunch of free or low-cost marketing research tools that you can access online. To get responses, you can post your surveys on Reddit or Facebook groups. Just be sure to go beyond your own friends and colleagues.
#2: Dodge Ram's Martin Luther King Jr. Super Bowl Ad

During the 2018 Super Bowl, the truck manufacturer Dodge Ram thought that it would be a good idea to use a 1968 sermon—known as "The Drum Major Instinct"—from the late Martin Luther King Jr.
Ironically enough, during this same sermon, Reverend King advised his audience not to spend too much on their vehicles:
"Do you ever see people buy cars that they can't even begin to buy in terms of their income? You've seen people riding around in Cadillacs and Chryslers who don't earn enough to have a good T-Model Ford."
While the managers of King's estate approved the use of the speech, many found its use for the purpose of selling trucks to be incredibly tone-deaf.
Throughout the ad, there are clips of people working, struggling, and performing heroic acts. At first, this comes off as rather inspirational. The ad ends with the tagline "Built to Serve," above the Dodge Ram logo.
The ad was widely criticized across social media. People were furious that the company would use the words of a civil rights hero to market a product.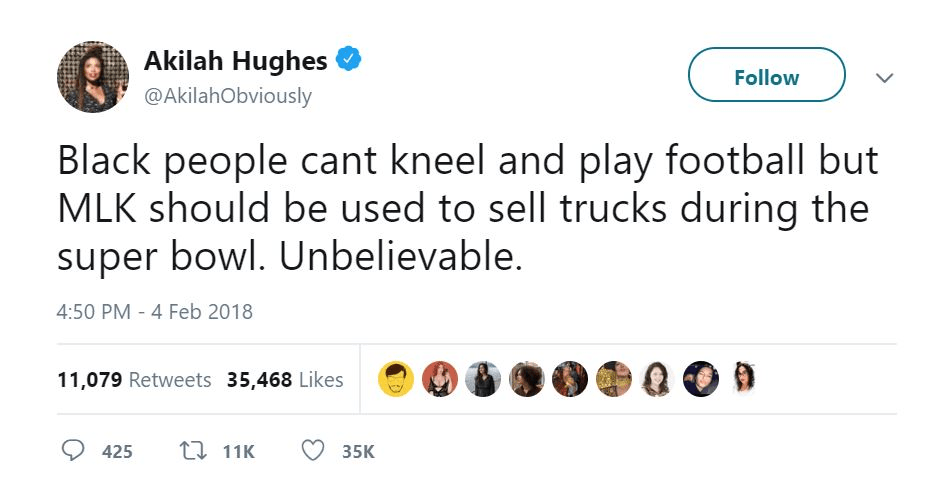 What Marketers Can Learn
Using your advertisements to elicit emotions from your intended audience can be a powerful marketing tool. That said, it's important to remember that the public is intelligent enough to know that it's marketing.
Using the words of a man who died protecting the rights of others to sell a product comes off as insensitive at best, and downright offensive at worst.
Bottom line? Know your audience. And if you're trying to elicit a strong emotion in your marketing, it's best to make sure that the emotion isn't outrage.
Pro Tip: Put some of your ad budget toward market and industry research. This will help make sure that there are no "last minute surprises" that pop up when your ad is airing. For example, someone absolutely should have read MLK's full speech before using it for the commercial. Then the marketing team would have known that it was actually anti-consumerism.
#3: McDonald's Dead Dad Fish Filet Ad

I honestly have no idea what the marketing team over at McDonald's was thinking when they created this ridiculous commercial.
This awful, awful ad shows a boy talking with his mom about his dead father. It ends with the two enjoying a fish filet sandwich, which, according to the ad, was one of his father's favorite foods.
I'm just going to pause for a second to let that all sink in.
Unsurprisingly, the use of a personal tragedy to sell sandwiches was poorly received by many. The fast-food giant was pressured to remove the ad from the U.K. market where it was aired.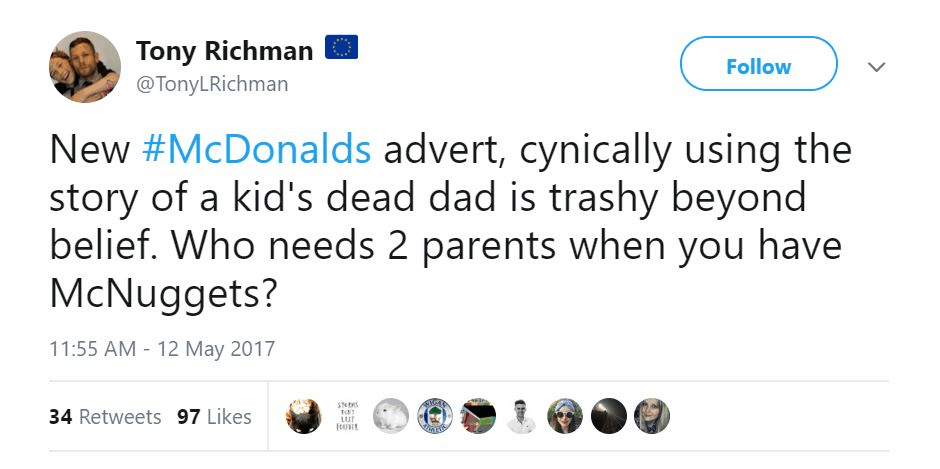 What Marketers Can Learn
Using a tragedy—be it real or fictional—usually isn't a good idea in advertising. There are men, women, and children across the world who have either lost a partner or parent, or know someone who has. It's unlikely that these people would appreciate the use of something so deeply personal as a way to sell a product.
Don't make the same mistake. When testing your ad, it's a good idea to not only get feedback from your target audience, but also from the types of people who are shown in your advertisement. Doing so could save you a lot of heartache and criticism down the line.
Pro Tip: Consider releasing your ad to a small test market before it's seen by the masses. Do this before any additional social media promotion or PR. The idea is to get a sense of the public response before the point of no return.
#4: Facebook's Devastated Puerto Rico VR Ad

When Facebook CEO Mark Zuckerberg wanted to show-off Facebook's new virtual reality technology, he thought that exploring Puerto Rico—which had recently been devastated by Hurricane Maria—would be a great opportunity to do so.
Spoiler alert: it wasn't.
It's clear that this new technology could be really helpful when it comes to bringing attention to newsworthy events. But this was not the right place or time. Many found this video to be incredibly insensitive to those who were affected by the natural disaster.
In one especially cringe-worthy moment, the cartoon avatars—Mark Zuckerberg and Facebook Head of VR Rachel Franklin—laugh and give one another a virtual "high five" while standing in front of the flooded homes of the hurricane's victims.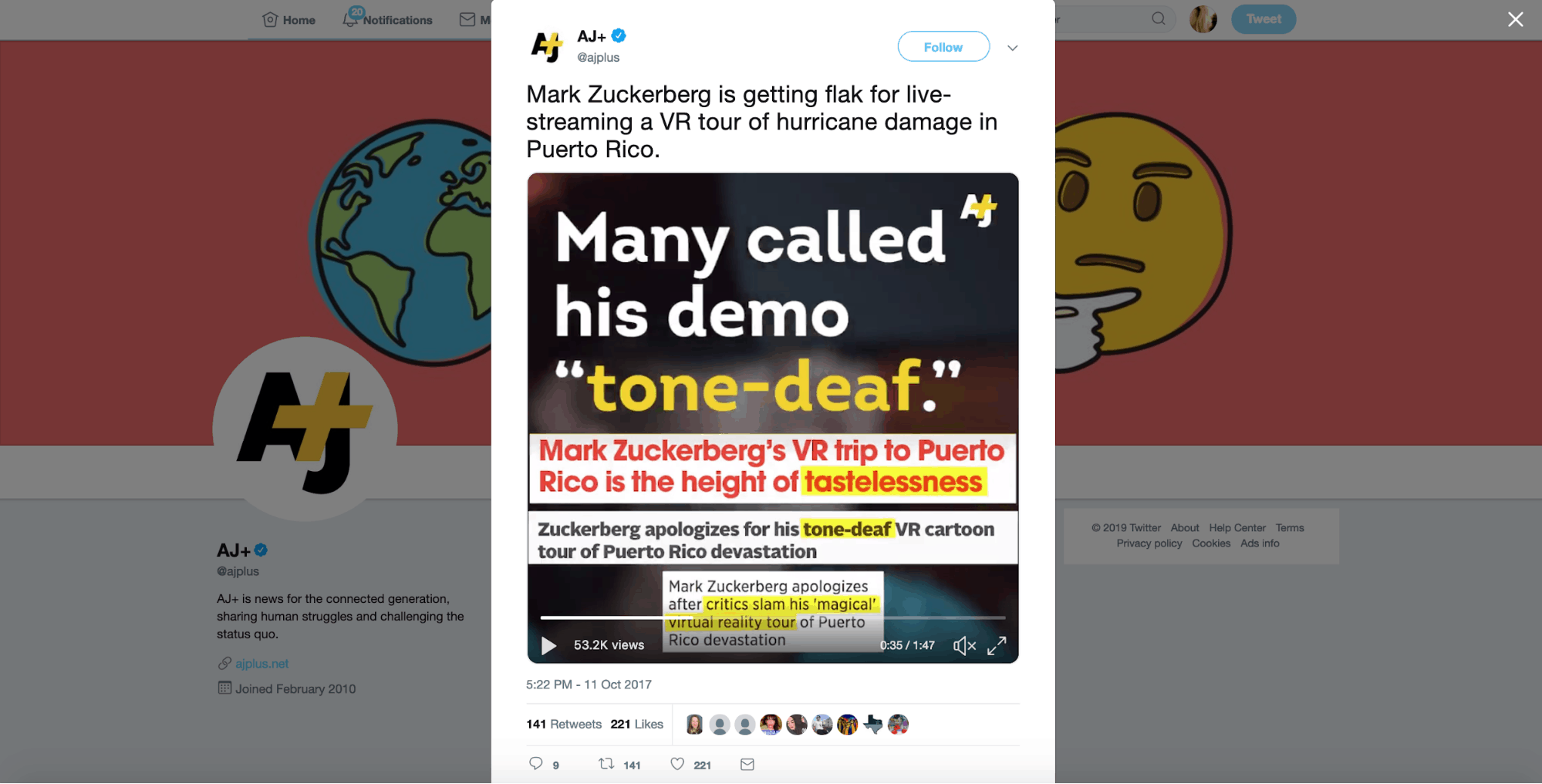 What Marketers Can Learn
The use of a tragedy to market your product is wrong on so many levels. If you ever want to show-off your new technology, you probably shouldn't do so while smiling and laughing as a cartoon avatar in front of destroyed homes in a disaster zone. (For instance.)
This really shouldn't even have to be said. But, apparently for the folks over at Facebook, it does. As a marketer, you need to be empathetic. Consider the situation from your audience's eyes and think about how it could possibly be perceived—or misperceived.
Pro Tip: If you do make a marketing blunder, be swift about your apology. Hopefully, you'll never make a mistake to this horrifying degree. But if you do, going silent—or worse, being defensive—will just make things more difficult.
#5: Pepsi's Kendall Jenner and Protesters Ad

This Pepsi ad shows a group of protesters—intended to mirror the Black Lives Matter movement—marching through the streets. At the same time, viewers see Kendall Jenner in the middle of a photo shoot. As the crowd passes the model, she removes a blonde wig and dismissively hands it to a baffled black woman and joins the demonstration. She then approaches a police officer and hands him a Pepsi, effectively bringing the two groups together.
Wow. Thanks for fixing America, Kendall.
This ad attempted, rather poorly, to capitalize on the divisive atmosphere within the U.S. after the 2016 election. This was a time when many people of color were losing their lives at the hands of overly aggressive police officers.
The use of such a serious issue to sell soda was widely criticized, prompting Pepsi to quickly remove the cringe-inducing ad from circulation. Good call.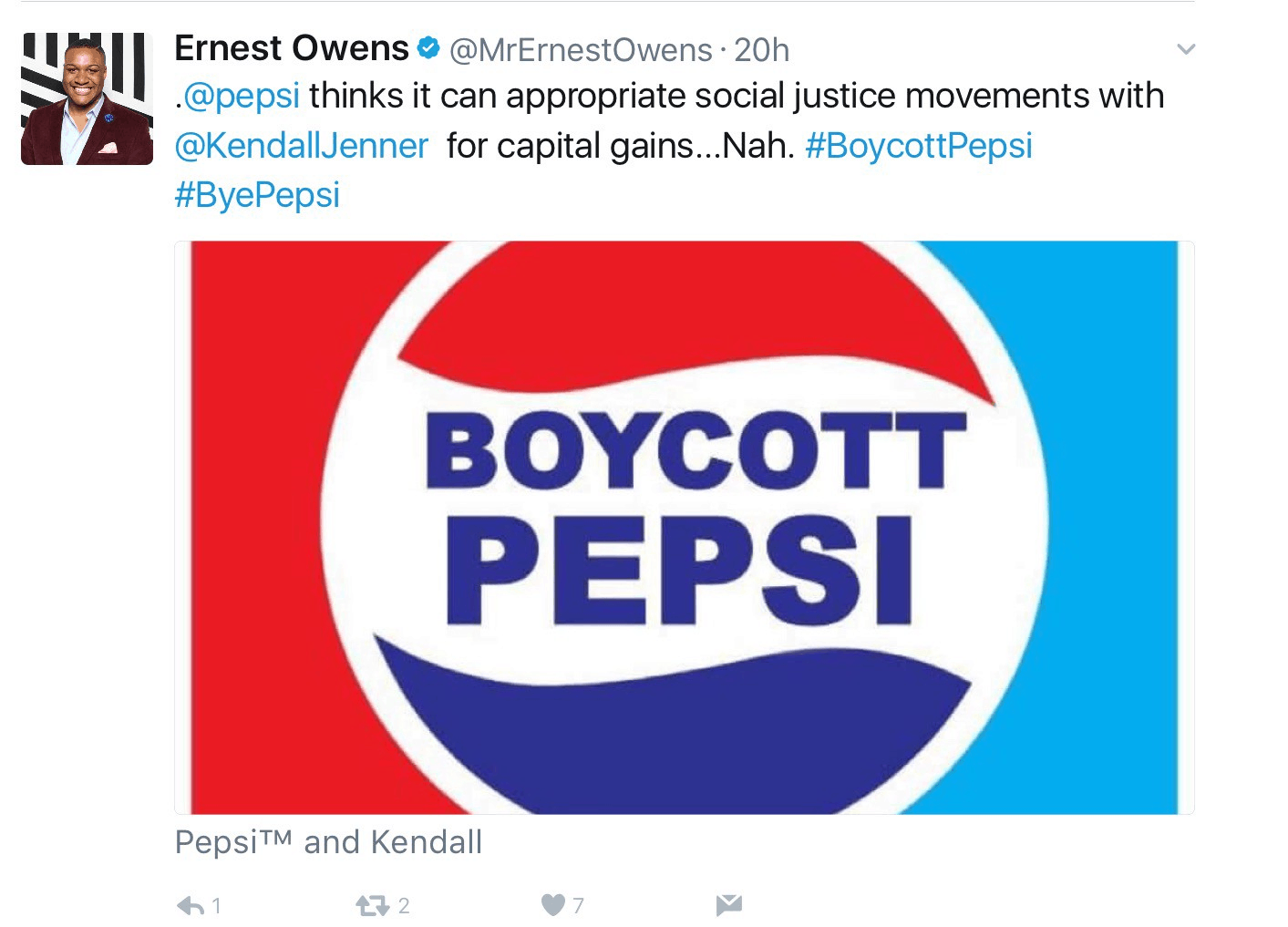 What Marketers Can Learn
Marketers need to be careful when trying to use serious social issues to sell their products. While this can be done successfully (Nike's Colin Kaepernick and Gillette's toxic masculinity ad campaigns come to mind), it's important that it's done with a bit more class.
This, again, goes to show how important it is to have a diverse team of marketers when creating a campaign that touches on sensitive issues. The ad, which was assembled by an all-white team, seemed to minimize issues that are incredibly serious to many people of color.
To avoid an embarrassing mistake, and any subsequent boycotts, make certain that any ads that focus on major issues don't alienate the very groups of people that you are trying to reach. Consumers aren't stupid, and will be turned off by this tactic if done poorly.
Pro Tip: Video ads are expensive to produce and to air. If you have an idea for an ad that you think might be controversial, try it out with print or social media first. If it is poorly received, at least you won't have blown your entire ad budget.
#6: Audi's Bride Inspection Ad

This commercial, which was broadcast in China, not only manages to be sexist, but racist as well. Way to go Audi!
The ad shows a wedding between a Chinese couple. During the ceremony, the groom's mother runs up to the bride and inspects her like a piece of property. The mother seems satisfied, but then gives a disapproving look at the woman's chest, suggesting that the bride's breasts may not be large enough for her beloved son.
The ad is blatantly sexist, comparing women to used cars (the ad was meant to promote used Audis). It also perpetuates the stereotype that Chinese mothers-in-law dominate their sons and their passive wives.
I really don't think I need to go into any further detail on this one. If you can't see the problem, then marketing may not be the best field for you.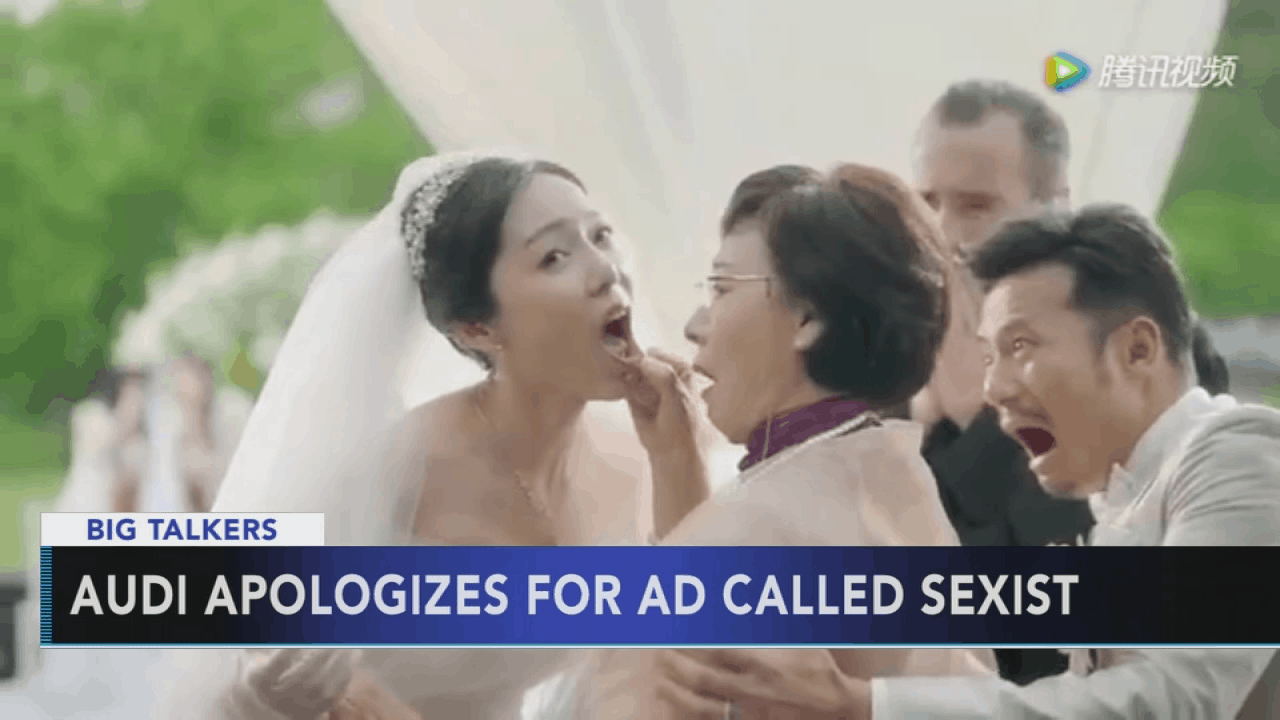 What Marketers Can Learn
When creating your ads, it's probably a bad idea to alienate half of the world's population in the process. (Duh?) Women buy cars, and—just a hunch—I'm guessing most don't like to be compared to a used piece of property.
The use of offensive stereotypes should also be avoided. This really shouldn't have to be said, but, apparently the marketing team over at Audi never got the message.
Pro Tip: When you are planning a new ad campaign, make sure that it's aligned with your brand voice and values. There are times when it may be tempting to do or say something because it is trendy or seems funny, but consider whether it truly makes sense for you and your audience. Going off-brand will at best confuse your audience, and at worse enrage them.
Making Sure Your Ads Are Well-Received
Sometimes it's difficult to know how exactly your ads are going to be received. Something that's intended to be funny could be offensive, and something you consider to be neutral could incite a boycott.
Even experienced and careful marketers make mistakes from time to time, but there are ways to make sure that your ads never show up on a list like this.
First of all, know your audience. Taking a social stance, using a racy joke, or just being flat out ridiculous can all be effective marketing tactics. But, when done poorly, can not only hurt your brand's image, but also damage your bottom-line.
When creating a campaign, ask yourself the following:
How will my target audience react to this ad?
Can this ad be interpreted as racist, homophobic, sexist, or otherwise offensive?
Does this ad trivialize issues that many take seriously?
Is the message of this ad clear, or could it be misinterpreted?
Will this ad alienate the very people that you're trying to reach?
Also, I can't stress enough how important it is to have a diverse team of marketers when addressing these questions. While the ad may seem fine to you, it could be deeply offensive to those within different cultural, sexual, or racial groups.
You can't be expected to understand the struggles faced by every social group, so those with different backgrounds should be included in your marketing decisions. While awful ads are probably always going to exist—it's important to make sure you aren't the one behind them.
---
Sources:
https ://adage.com/article/cmo-strategy/heineken-light-s-lighter-ad-mistake/312887/
https ://www.washingtonpost.com/news/acts-of-faith/wp/2018/02/04/super-bowl-dodge-commercial-draws-backlash-for-using-a-sermon-from-the-rev-martin-luther-king-jr/?noredirect=on&utm_term=.2345c9307415
https ://www.mirror.co.uk/news/world-news/team-behind-controversial-pepsi-ad-10169148
Image Credits:
https ://urbanleak.com/wp-content/uploads/2018/03/Screen-Shot-2018-03-26-at-5.03.30-PM.png
https ://twitter.com/AkilahObviously/status/960314571222286338?ref_src=twsrc%5Etfw%7Ctwcamp%5Etweetembed%7Ctwterm%5E960314571222286338&ref_url=https%3A%2F%2Fwww.huffingtonpost.com%2Fentry%2Fdodge-super-bowl-martin-luther-king_us_5a77abade4b0905433b58d89
https ://twitter.com/tonylrichman/status/863105454561517569
https ://cdn.vox-cdn.com/thumbor/s4mln6b4AltB-ajVkCwzFWiyUUc=/0x0:2880×1620/1200×800/filters:focal(1210×580:1670×1040)/cdn.vox-cdn.com/uploads/chorus_image/image/57074507/zpr.0.png
https ://cdn-images-1.medium.com/max/1413/1*pm2vgr2RcV_U4o_iB_PxBg.jpeg
https ://cdn.abcotvs.com/dip/images/2233987_071917-wpvi-audi-sexist-ad-43pm-video.jpg