successful
video portfolio requires even more. Not all builders offer the necessary tools for a successful video portfolio, like high-quality video playback and ample storage space. And even those that do often
lack the powerful customization and interactivity tools you'll need to set yourself apart from the competition
. I made it my mission to test the top website builders and find which ones have what it really takes to build a client-winning video portfolio. Though I found several that impressed me, Wix easily rose to the top. No other builder matched
Wix's incredible combination of design freedom, ease of use, and stunning range of premade portfolio templates.
Short on Time? These Are the Best Website Builders for Video Portfolios in 2023
Wix – The perfect mix of customizability and ease of use to get the exact video portfolio that you want.
SITE123 – Simple interface with beginner-friendly multimedia tools to get a video portfolio online quickly.
Squarespace – Stylish design options and advanced marketing tools for professional and minimalistic video portfolios.
What We Look For in the Best Website Builders for Video Portfolios
Besides being all-around high-quality builders, I made sure that the options on this list offered the niche tools necessary to create a high-quality video portfolio site. I also made sure that the builders I selected met these criteria:
Storage space and hosting options. You don't need me to tell you that HD and Ultra HD video use a ton of storage space, and you're going to want to include several examples of your work. Sure, these builders offer the choice to host videos from external platforms such as YouTube or Vimeo, but self-hosted videos give you greater flexibility to personalize the viewing experience to your brand.
Smooth playback experience. I only included builders that offer quick loading speeds and video players with high-quality playback options. That also means that the builders on this list offer the necessary bandwidth to stream HD videos.
Ease of use. You don't need any previous web design experience to create a site that's up to your standards. Though some might be easier to use, every builder on my list could be mastered by anyone with a little practice.
High customization. All video work is carefully planned to fit a certain aesthetic, so it's only reasonable that you'll want an online portfolio that also fits that aesthetic. While the level of customization varies throughout my list, all these builders offer enough options to let you create a portfolio that's truly yours.
High-quality templates. A good template is a great way to get a head start to your dream portfolio. These builders all offer quality templates with a varied list of styles. Double points if they offer video portfolio templates.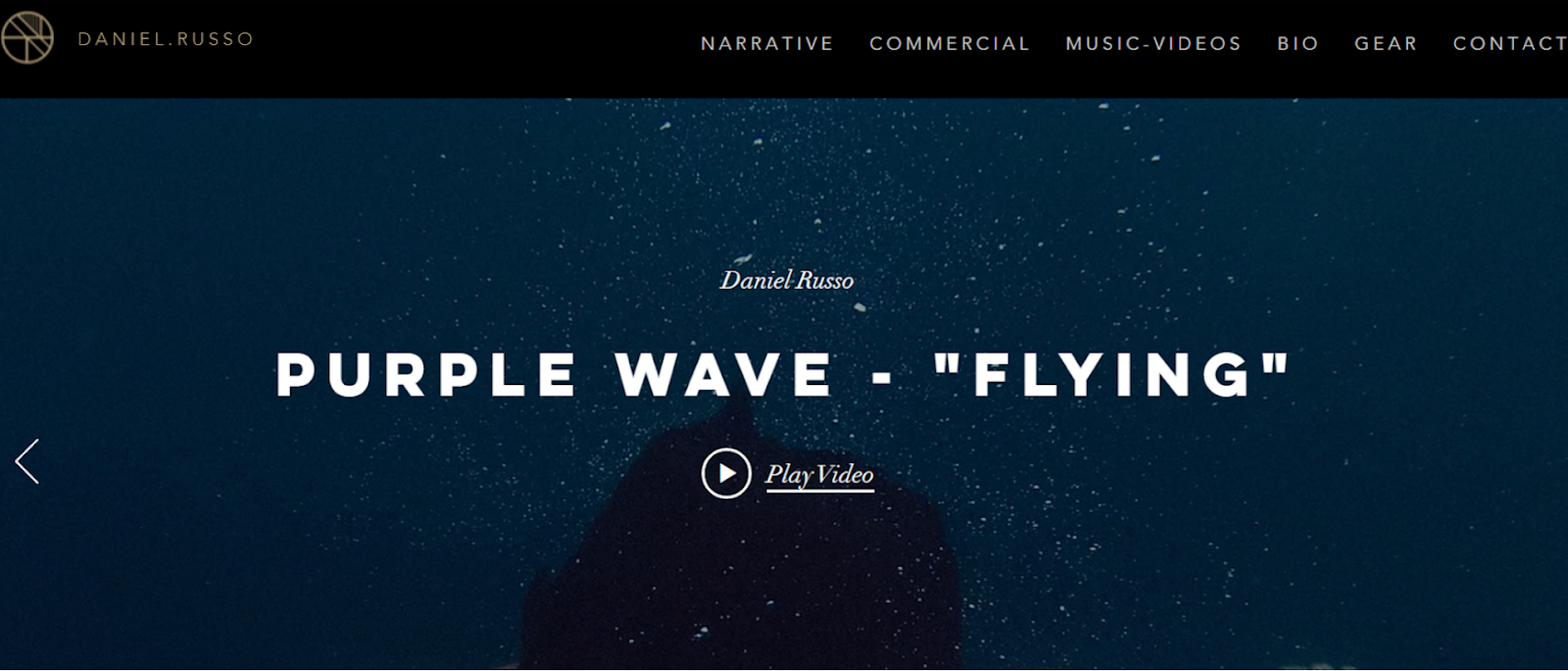 If you pride yourself on having an immediately identifiable unique style, you'll probably want your portfolio to capture that style perfectly.
Thanks to its intuitive drag-and-drop editor, Wix gives you the creative freedom to design your site exactly how you want
. This customization doesn't come at the cost of ease of use, either. Even if you've never used Wix before, it takes almost no time to learn.
Wix also offers a multitude of creative ways to add videos to your site
, like video carousels, transparent and masked videos, and dynamic video boxes. You can also embed videos from a variety of platforms like YouTube and Vimeo.
Though you could create a quality portfolio with any plan, I recommend the Pro plan.
It comes with 50GB of storage space, capacity for 2 hours of self-hosted video, and useful tools like visitor analytics and an SEO booster. You also get a free domain for the first year, which is crucial to add credibility to your brand.
Features
Inspired video portfolio templates. Wix offers an astounding number of templates that cover a variety of niches and industries, including 40 high-quality templates specially designed for video portfolios.
App market. Besides its massive selection of features, Wix offers hundreds of third-party and proprietary apps that range from advanced image editing to professional-looking customer testimonials.
Analytics. Starting from the Unlimited plan and up, you get free access for a year to the visitor analytics app, which gives you actionable information about which parts of your site are drawing your visitor's interest. You can then use this information to make sure that your portfolio is as effective as possible.
Mobile editing. With Wix, you can edit the mobile and desktop versions of your site separately. Though that means a little extra work, it also gives you full control over your portfolio's look – regardless of where it's seen.
Read our expert Wix review for more details
.
Free Plan Available?

✔

Available Templates
800+
Hi-Res Video Upload?

✔

Starting Price

$

0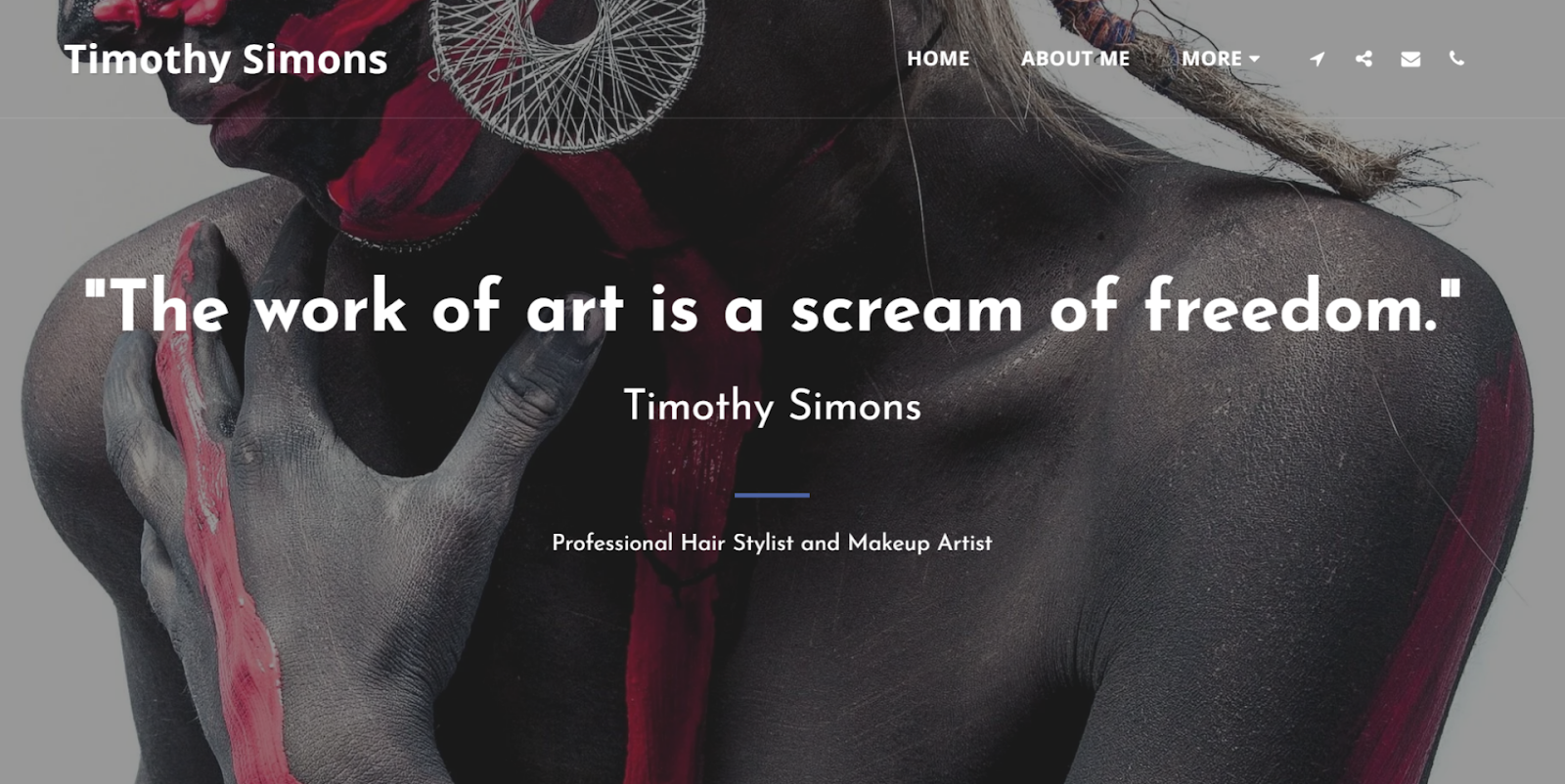 With 84 simple but well-designed templates and an editor that provides simple tools to customize the overall structure of your site (including font and color schemes), SITE123 aims to have your website up and running as quickly as possible.
It might not be as customizable as Wix, but it's ideal if you need to get a simple portfolio online ASAP.
That doesn't mean that it can't support a high-quality portfolio, though.
SITE123 offers an excellent video player
 and it's incredibly easy to integrate a customized contact form to your site. You can use the free plan to take SITE123 out for a trial run and plan the overview of your site, but you won't get most of SITE123's coolest features. If you decide that it's the right choice for your portfolio, then
the Premium plan is definitively the way to go
, as it removes SITE123's branding, allows you to connect to a custom domain, and gives you a hefty 10GB of storage.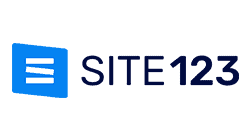 This Black Friday/Cyber Monday, SITE123 is 50 % OFF!
Save 50 % when you sign up for SITE123's annual plan
76 users used this coupon!
Features
Multilingual features. SITE123 offers fantastic multilingual integration features that can help you connect with potential clients from all over the world.
Marketing tools. SITE123 offers plenty of tools to help you market and grow your site, including Hotjar analytics integration and newsletter tools.
24/7 support. As easy as SITE123 is to use, you might still need help from time to time. Thankfully, you'll have access to 24/7 live chat support to help you resolve any issues.
Free image gallery. SITE123 offers thousands of royalty-free images you can use to customize your site.
See our full SITE123 review for more features
.
Free Plan Available?

✔

Available Templates
84
Hi-Res Video Upload?

✔

Starting Price

$

0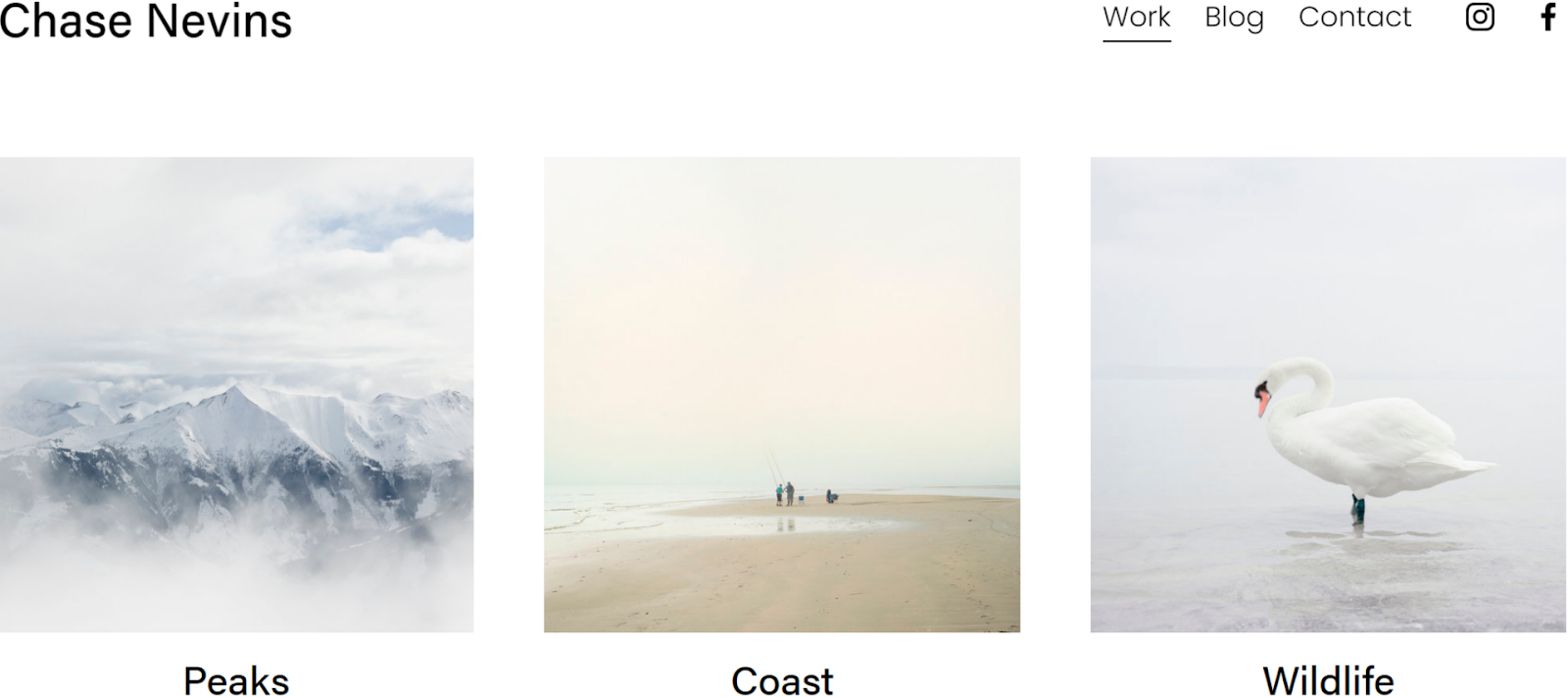 Squarespace is one of the most popular website builders for visual portfolios, and there's a good reason for that:
Squarespace's selection of award-winning templates
 and simple drag-and-drop editor makes it ideal for visually striking, minimalistic sites.
While it doesn't provide the same level of customization as Wix, it still gives you more than enough tools to make a unique portfolio. To edit your site in Squarespace, you can add, remove, and rearrange "sections" on your site. Each section is a large, single-purpose part of your website, which you can then edit with custom content blocks (for example, video, button, or text).
Blocks are specially designed to make multimedia content "pop" while giving your site a cohesive structure
. If you have a specific idea for your website design, the Squarespace Blueprint feature lets you choose sections, colors, and fonts one at a time to build your own template from scratch. This focus on media doesn't come at the cost of loading speed either.
Squarespace is optimized for the fastest possible speeds
by removing "junk" code and constantly updating its server technology
.
Using Google PageSpeed Insights, I tested several video-heavy portfolios built with Squarespace and they all scored over 70 (out of 100) on desktop.
For most portfolios, I recommend going with the Business Plan
, as it offers access to premium integrations, visitor analytics, and a free professional email address for one year.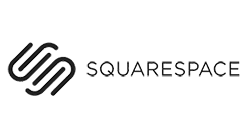 Save up to 30 % on your Squarespace plan today!
Plus get a free domain for one year!
1031 users used this coupon!
Features
Stunning templates. Though it doesn't have any video-specific templates, Squarespace offers over 25 visual portfolio templates. If you're in the market for something unique, Squarespace allows you to install thousands of third-party templates from all over the web.
Video gallery tools. Even if you don't choose a template specifically designed for portfolios, Squarespace allows you to easily add responsive galleries to present your videos in impressive and creative ways.
Marketing and SEO tools. Squarespace includes advanced SEO tools to help you rank higher in search engine results. You can also install hundreds of different free and paid extensions that allow you to create email campaigns, integrate to social media, and more.
Advanced e-commerce tools. If you have a self-backed project or brand-specific merch, Squarespace provides an intuitive e-commerce interface that allows you to easily sell products directly from your site.
Read our expert Squarespace review for more
.
Free Plan Available?

✘

Available Templates
140+
Hi-Res Video Upload?

✔

Starting Price

$

16.00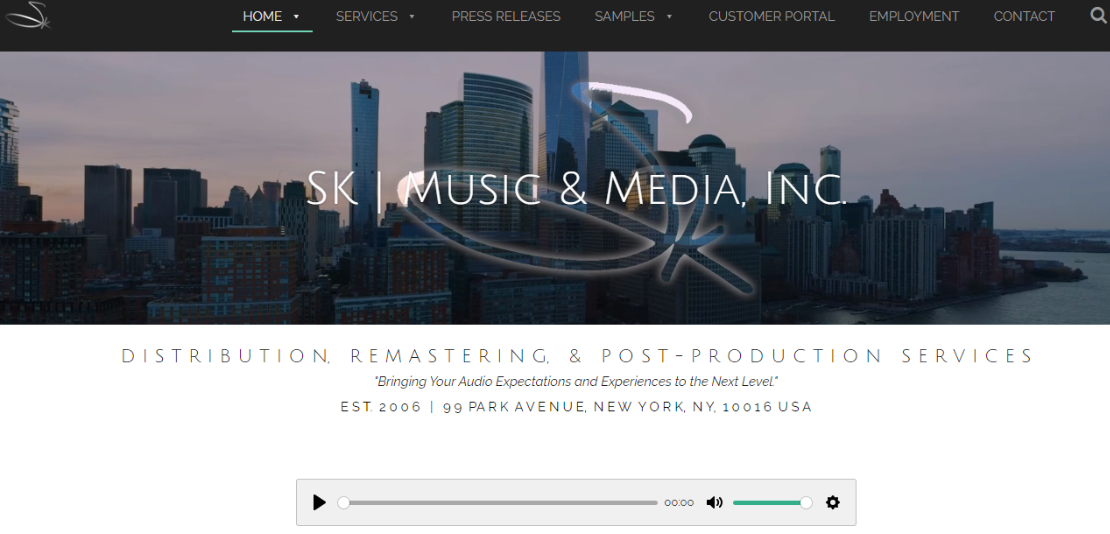 Webador's interface is easy to navigate even if you're a newbie. You get a decent selection of customization widgets, such as slideshows and photo albums, and
every element you place onto your page automatically snaps to a grid, ensuring your layout stays clean and attractive
. The only downside to this interface is that it lacks the editing flexibility of some other builders on this list. What I really like about Webador is how it makes direct communication easy, with an effective set of tools to boost visitor engagement. In addition to widgets like social buttons and digital maps,
you can add a five-star rating system and a comment box anywhere on your site to encourage discussions
between your current or prospective clients. Webador's free plan includes unlimited storage for images, access to all templates, and blogging tools. That said, you'll be stuck with Webador's subdomain and ads.
I recommend trying out the Pro plan
, as it offers better value with a forever free domain, unlimited photo albums, customizable forms, and more.
Features
Built-in audio and video players. Webador includes its own video player, designed to integrate seamlessly with your website and provide a high-quality playback experience on desktop and mobile devices. Also, if you're a musician, you'll appreciate Webador's audio player that lets you upload your own MP3 files.
Blogging platform. Webador's flexible blog editor lets you easily craft and manage a blog, empowering you to establish a more personal rapport with potential clients and keep them up-to-date about your upcoming projects. You can categorize your posts, allow readers to leave comments, adjust your blog's SEO features, and more.
Custom forms. Webador allows you to collect client information by creating custom forms. You can modify the field type (e.g. checkbox or multiple choice), add uploads, customize the confirmation message, and more.
Detailed statistics. Webador's reports provide information on your visitors' geographic location, device used, and most visited pages, helping you identify what to focus on to attract more clients.
Read our in-depth Webador review
to learn more.
Free Plan Available?

✔

Available Templates
50+
Hi-Res Video Upload?

✔

Starting Price

$

4.00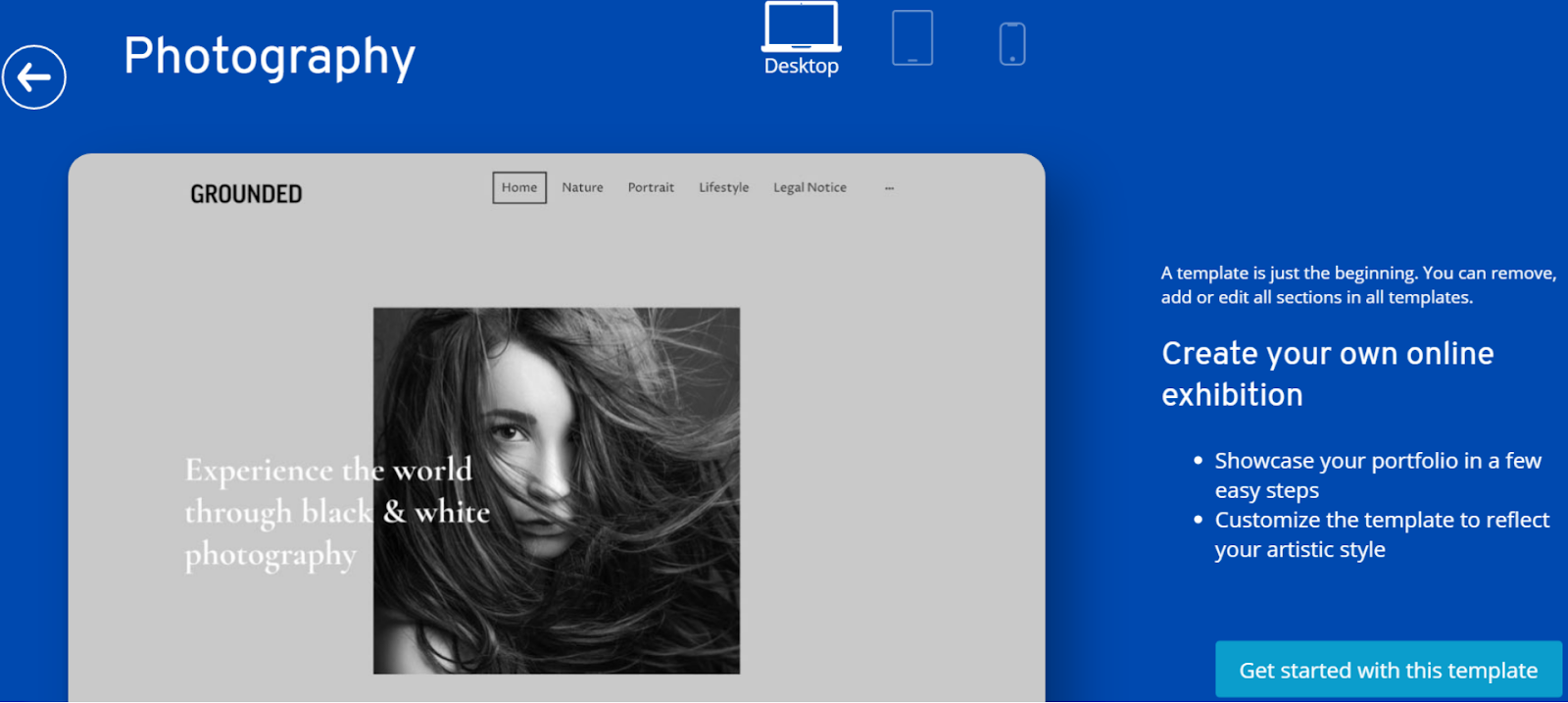 IONOS MyWebsite Now is a great builder for single-page portfolios with modern layouts.
On the Starter plan, customization is limited, as it only lets you edit each section with a few premade options. However, on the Plus plan, you get a more flexible editor to rearrange sections and add more content elements, such as image sliders and animations. IONOS delivers a quick and easy building experience at a great price. In fact, it's one of the best choices if you're on a budget – you can build a video portfolio with a custom domain for as little as
$
6.00
per month. Also, if you're in a hurry, IONOS's AI tools can lend you a hand. All you need to do is answer a few questions about your business, and IONOS will create a fully customizable website with text and images. Its price isn't the only thing that makes this builder a good choice, either.
IONOS offers advanced marketing and SEO tools to help you reach (and impress) as many clients as possible.
While IONOS's templates are relatively simple, the pay-off is that they're highly optimized for fast loading speeds.
Features
Quick load speeds. After conducting tests on a random sample of 20 websites created with IONOS, I discovered that each website consistently achieved a score above 75 on Google's PageSpeed Insights, indicating fast loading times. However, it's important to note that load times can vary significantly between different websites and their desktop and mobile versions.
Website performance checker. IONOS offers a proprietary tool to help you analyze your website's speed, security, SEO ranking, and more.
Optimized SEO. IONOS offers integration with RankingCoach, which is specialized software designed to help you rank higher on search engines and direct more traffic to your site.
Additional IONOS features. Although not included with the website builder, websites made with IONOS can be seamlessly integrated with other IONOS services such as its domain registry and business email hosting.
Read our IONOS review for pricing details
.
Free Plan Available?

✘

Available Templates
23
Hi-Res Video Upload?

✔

Starting Price

$

6.00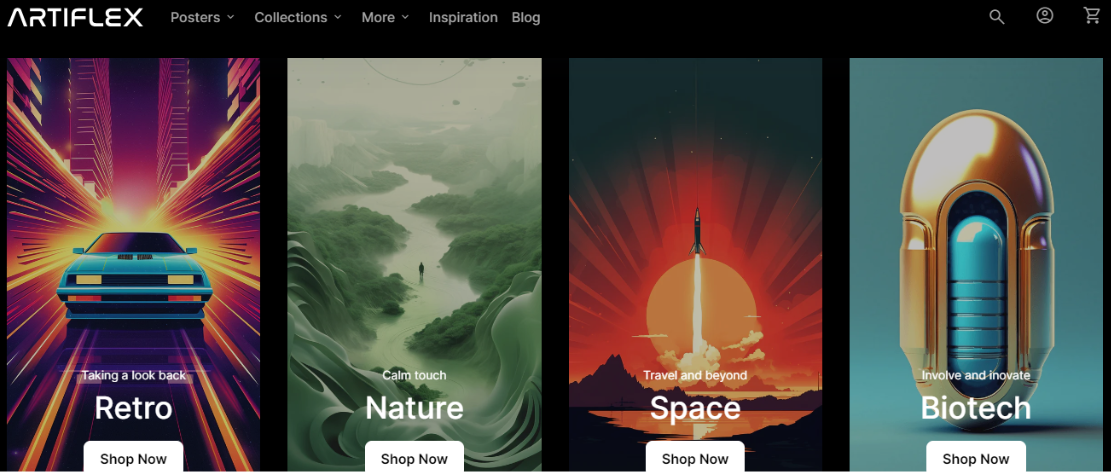 If you plan to sell physical products or digital art, Shopify is an excellent choice for integrating online store tools to your portfolio. You get
top-notch templates with built-in features such as slideshows and image zoom to put your products in the spotlight
. The most attractive designs don't come cheap, but even the free options have useful features like sticky headers (for easy navigation) and social media integrations. Shopify doesn't offer advanced editing options, but it provides a simple, beginner-friendly interface that lets you
easily customize your store's look, add products, and set up payment methods
. You even get in-app guidance with steps for completing your online store setup. One of Shopify's biggest strengths is its
huge app store that counts over 8,000 free and paid integrations
you can use to extend your portfolio's functionality. For instance, the free Promo Video Maker offers customizable templates and music integration to help you create compelling videos you can upload directly to your social media. Another standout is the Vidjet app that lets you create shoppable videos by adding elements such as
Add to Cart
buttons.
Features
Multi-channel selling. In addition to selling from your portfolio website, Shopify allows you to sell from other channels, such as Amazon, Instagram, and TikTok. You can manage all channels from your Shopify dashboard, which helps streamline your operations and saves you time.
In-house email marketing. With Shopify's built-in email marketing tool, you can sell up to 10,000 monthly emails for free to keep your customers informed on your latest projects. You can use prebuilt email templates that automatically pull your store logo and colors, maintaining brand consistency.
Variety of payment methods. Shopify gives you access to over 100 third-party payment gateways you can integrate to your portfolio to receive online payments. Also, depending on where your business is located, you may be able to use Shopify Payments, the company's proprietary payment solution, which eliminates transaction fees.
Accessible features. Shopify makes most of its features available even on the cheapest plan, such as unlimited products, multi-channel selling, and discount codes. Though Shopify doesn't have a free plan, you can use its free trial to see if it's right for you.
Find out more about Shopify in
our comprehensive review
.
Free Plan Available?

✘

Available Templates
140+
Hi-Res Video Upload?

✔

Starting Price

$

29.00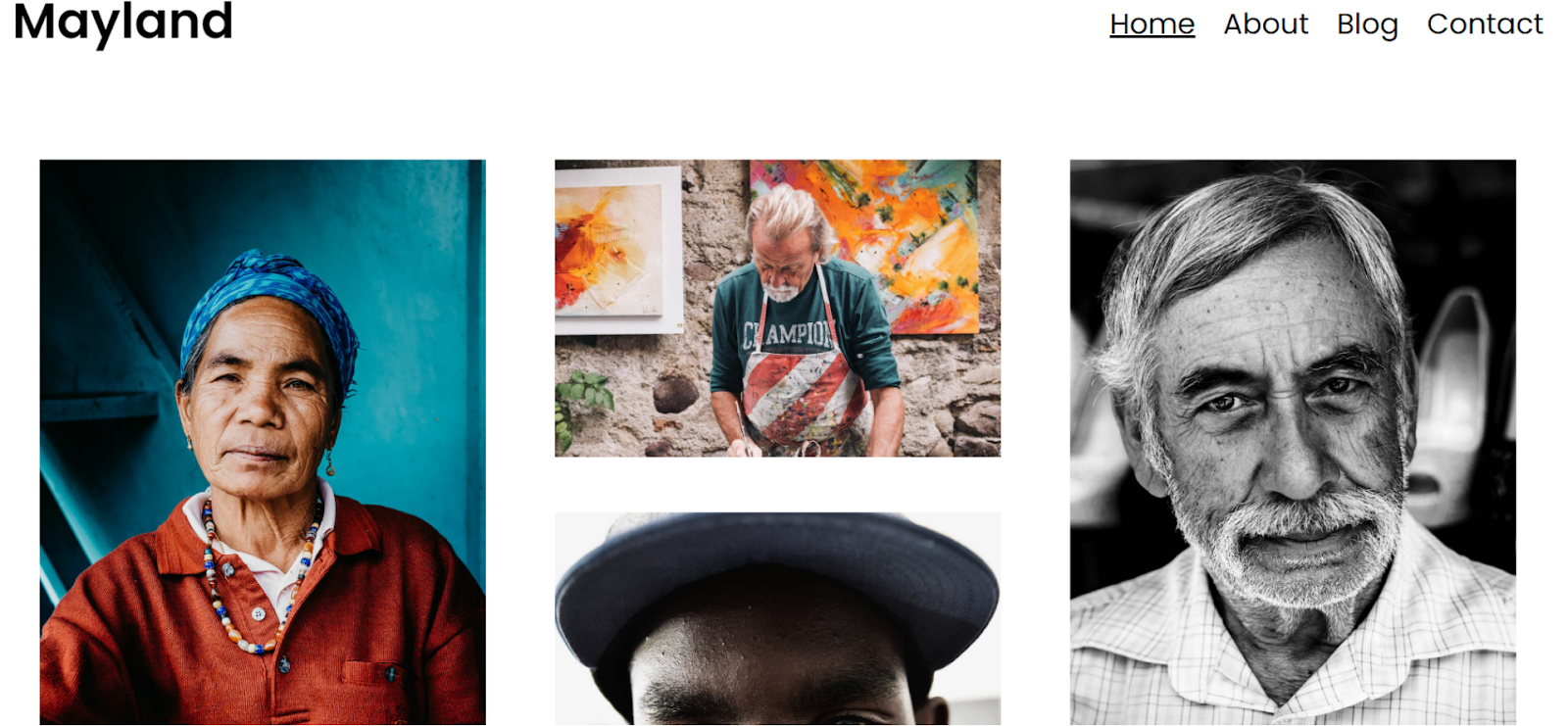 I can almost bet that in your research, you've come across WordPress.
Both the content management platform WordPress.org and the self-hosted website builder WordPress.com are powerful tools.
WordPress.com also happens to be one of the best platforms to scale a website.
WordPress.com is practically unlimited in its web-building capabilities.
The reason it's so low on this list, however, is that unless you have some prior experience with website building, you might find that this platform comes with a steep learning curve.
Pro Tip.
If you want all the flexibility of a WordPress.com site, but you don't want to spend hours upon hours learning how to use it,
you can find professional designers that can help you create an amazing website for as little as $5 on Fiverr.
Also,
you're going to want to use third-party plugins to make the most out of WordPress.com
, and you can only do that with the Business plan and up. Still, if you're willing to invest some time and money into it,
WordPress.com could be an ideal builder for getting the exact online video portfolio you want.
Features
Thousands of third-party plugins. There are thousands of third-party WordPress plugins that can integrate high-quality video playback, customizable YouTube and Vimeo galleries, powerful viewership analytics, and just about any other functionality that you can imagine into your site.
VideoPress media player. WordPress includes its own proprietary video player called VideoPress. VideoPress is designed to integrate seamlessly with your website and provides a high-quality playback experience.
Video portfolio themes. Not only does WordPress offer hundreds of free and premium high-quality themes, but you can find hundreds of themes made specifically for video portfolios on sites like ThemeForest.
Custom code editing. WordPress allows you to add your own custom code to any theme. This means that you can have full control over virtually every aspect of your site with a little know-how.
Read our detailed WordPress.com review for more
.
Free Plan Available?

✔

Available Templates
200+
Hi-Res Video Upload?

✔

Starting Price

$

4.00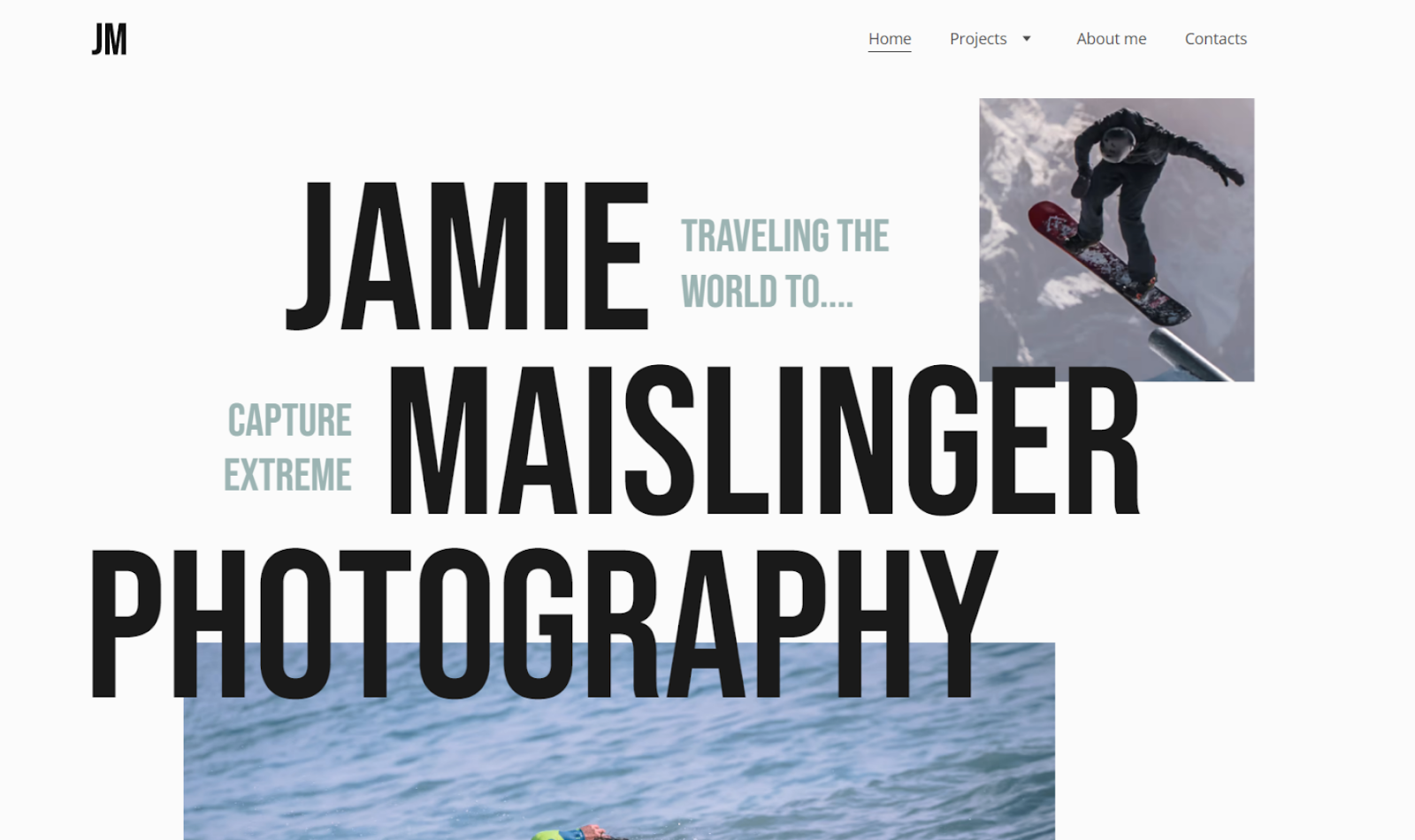 Hostinger Website Builder is a good choice if you want to create a sleek, single-page portfolio in a matter of minutes.
In fact, Hostinger is one of the more intuitive website builders out there.
Part of what makes it so easy to use is its friendly user interface (UI). The other part is its amazing suite of AI tools. You can use Hostinger's machine learning technologies to design a logo or slogan for your site, as well as generate custom "about me" and legal text.
You can even let Hostinger's AI design your site.
When you sign up with Hostinger, simply click on the "inspire me" button at the template selection page. Hostinger will ask you some questions about your site preferences and generate two distinct versions of your site which you can then fine-tune to your heart's content. Hostinger might not offer a free plan like Wix, but
the Website plan is affordable offers great value.
For just
$
2.61
per month, you get access to every one of Hostinger's AI and design tools, as well as visitor remarketing, useful SEO tools, and tons of social media integrations.
Features
AI heatmap. Want to know which parts of your site are more effective? Or which examples of your work are drawing more attention? Hostinger provides a powerful AI-powered heatmap that lets you know which parts of your site are capturing your visitors' attention.
Strong blogging tools. Hostinger provides user-friendly tools for crafting and managing a blog, empowering you to establish a more personal rapport with potential clients and keep them up-to-date about your upcoming projects. Through Hostinger, you have the option to leverage an AI text generator for crafting a foundation for your posts, further enhancing the convenience of the process.
Unlimited storage space. Regardless of which plan you choose, Hostinger offers unlimited storage. That means that you can upload as much content as you want without fear of running out of space.
Social media integrations. Hostinger allows you to directly connect your site to instant messaging platforms like WhatsApp and Messenger. This makes it all the easier for potential clients to get in touch with you in real time.
Learn more with our expert Hostinger review
.
Free Plan Available?

✘

Available Templates
100+
Hi-Res Video Upload?

✔

Starting Price

$

2.49
How Do I Make a Video Portfolio Website?
I know – the idea of creating a truly compelling video portfolio on your own seems daunting. But with the right tools, you can execute your vision even if you don't have a technical background. Using a platform like Wix will make your job a lot easier, as you'll get a powerful yet beginner-friendly editor that lets you design a website exactly the way you want it. Here are a few simple steps to follow to build your video portfolio with Wix:
Step 1
: Head to Wix's homepage and click the
Get Started
button at the bottom of the screen. You can sign up via email or connect with an existing Facebook or Google account.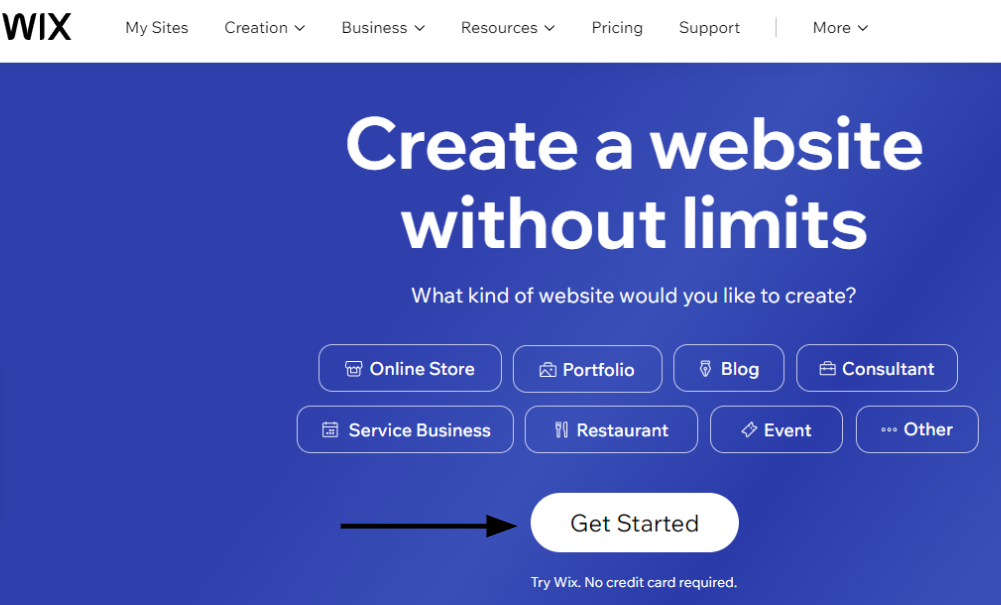 Step 2
: Once you've signed up, Wix will ask you a few questions about your business, such as the type of website you want to create and the apps you want to add. You can answer the questions to speed up the process, or skip this step and set up everything from your dashboard later.
Step 3
: After answering Wix's questions, you'll land on your dashboard. There you'll see an overview of the steps you need to take to build your website, from connecting a domain to adding projects to your portfolio. From here, you can pick and customize your template by clicking the
Design Site
button at the top-right corner of your screen.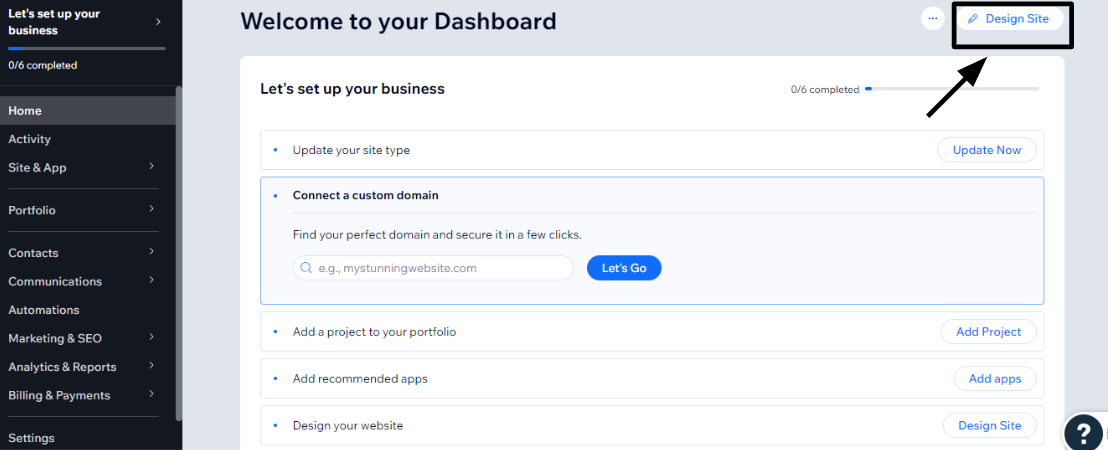 Step 4
: When you click the
Design Site
button, you'll be taken to Wix's template library with over 900 designs you can use. Once you've decided on a template, you can customize it by changing colors, adding pages and sections, or elements such as images, videos, and buttons.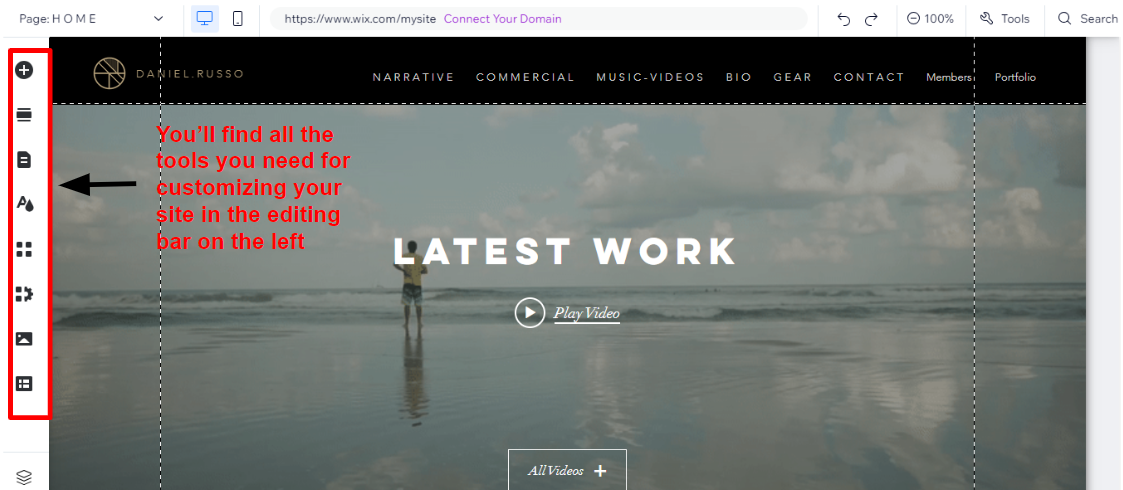 Step 5:
As you're customizing your site, you can preview all the changes you make. Once you're satisfied with your video portfolio's look, simply hit the
Publish
button from the editing interface and that's it!
Choose the Best Website Builder for Online Video Portfolios to Capture Your Talent
A quality video portfolio website has the potential to showcase your talent globally and discover new, exciting opportunities. Selecting the appropriate builder is all it takes to craft a site as distinctive as your work.
If you want full creative control over your website, Wix is my top choice
. Its drag-and-drop editor gives you tons of control without ever becoming intimidating or hard to use.
If
your priority is to create an effective portfolio as quickly and easily as possible, I recommend SITE123
. Its streamlined templates and intuitive editor allow you to create visually compelling sites in a matter of minutes. Finally,
if you want to create a visually stunning site that lets your work do all the talking, Squarespace is the way to go
. Its designer templates and block editor help you create visually striking sites that are bound to impress potential clients.
For a quick comparison of my top choices, check out the table below.
Free Plan
Best Feature
Best For
Starting Price
Wix

✔

Incredibly customizable
Full creative control over your portfolio

$

0

SITE123

✔

Fastest set-up experience
Getting your portfolio online quickly

$

0

Squarespace

✘

Hundreds of stunning templates
Elegant and minimalist portfolios

$

16.00

Webador

✔

Built-in media streaming tools
Boosting visitor engagement

$

4.00

IONOS

✘

Fast loading speeds and a reasonable price
Creating a professional-looking website on a budget

$

6.00

Shopify

✘

Powerful online store tools
Extensive third-party functionality

$

29.00

WordPress.com

✔

Thousands of third-party plugins to optimize your portfolio
Those with some experience in web design

$

4.00

Hostinger Website Builder

✘

Intuitive website builder with powerful AI tools
Maximizing your engagement
FAQ
Do I need a portfolio website for my videos?
A good portfolio website is crucial for any creative trying to grow their audience and find new opportunities. That goes double for anyone with video samples. The good news is that creating a website that matches your distinctive style is easier than you think. For instance, Squarespace gives you a variety of top-quality portfolio templates that do most of the work for you. Plus, they're easy to customize to suit different needs.
What is the best portfolio website builder?
While it might sound obvious, the ideal portfolio website builder is the one that best fits your needs. You may favor a builder that offers extensive creative control, even if it involves a bit of a learning curve. Alternatively, you might prefer a website builder that enables you to publish your portfolio online swiftly. In my opinion, Wix combines powerful self-hosted tools for video playback and great customizability with an intuitive editor, which makes it the best choice for most video portfolios.
Can I build a portfolio site for free?
You certainly can. Website builders like Wix, and Webador all offer free plans that allow you to build and publish a portfolio without having to pay a cent. That said, you won't be able to choose a custom domain name and your site will display ads, which doesn't exactly scream "professional." If you're on a budget, I recommend SITE123, as it offers a simple but useful website builder for very cheap.
How do I make a good video portfolio?
You should start by highlighting the videos that you're most proud of – these should be the ones that you feel best represent your personal style and are ]available in high-definition. Also, make sure that potential clients or fans of your work can easily contact you. In terms of building your video portfolio, any of the above site builders can help you get started. If you're looking for more options, check out our list of the top website builders in 2023.