While all the builders on my list will get the job done, my personal favorite is Squarespace. It has the best-looking templates around, and all the tools you could possibly need to build your website, integrated straight into its editor (so you don't have to look for them elsewhere). You can take advantage of
Squarespace's 30% discount on annual plans
to save on your subscription.
These days, most website builders will allow you to display video on your site, but
that doesn't automatically make them a good choice for a video portfolio
. You need a website builder that can present your videos in their best light, so your potential clients can see what you're all about.
Some builders don't even give you enough storage space
for more than a couple of minutes of high-quality video. And you also need a builder that provides fast enough loading speeds for smooth viewing, or else what's the point? To test the major website builders on the market,
I built a demo site on each one and uploaded my own videos
to see what they would look like online. I also tested some additional features these builders offer, like built-in video players and marketing tools. Now, I bring you this list of
my five favorite website builders for video portfolios
.
Short on Time? Here Are the Best Website Builders for Video Portfolios in February 2023
Wix – Free video player apps, 40 templates specifically designed for video portfolio websites, and cool animation effects
Squarespace – Clean and professional template designs and excellent built-in marketing tools for your video portfolio
SITE123 – The easiest to use; great if you need to get your portfolio online in a hurry
Jump down to see other website builders we recommend | Comparison table | FAQ
What We Look For in the Best Website Builders for Video Portfolios
Maximum storage space – Since you're going to be uploading a lot of video content to your site, you need a website builder that gives you a ton of storage space but still doesn't blow your budget.
Ease of use – You should be able to upload videos to your website or embed videos from sites like YouTube without complication.
Reliable video playback – One of the most important things to take into consideration when building a website is having a reliable video player. A slow player can decrease page loading speed and videos may not load properly, meaning your visitors click away, frustrated, instead of viewing your work smoothly.
Attractive portfolio templates – There are some great portfolio templates out there, however, not all of them are built to highlight videos specifically. You need a template with features that draw attention to your videos, first and foremost.
The best thing about Wix is that whether you start with a dedicated video portfolio template or any of the other 900+ templates it offers, you can customize every single element of your site. You can easily change everything from colors to fonts, to the exact place of each content section on the page.
This gives your portfolio better chances of standing out in an over-flooded industry.
40 video portfolio template options – Wix's video templates aren't only designed with aesthetics in mind, they also come with built-in functionality. For your homepage, you can choose a template that displays a full-screen video, or choose from a variety of gallery styles that show multiple videos side-by-side.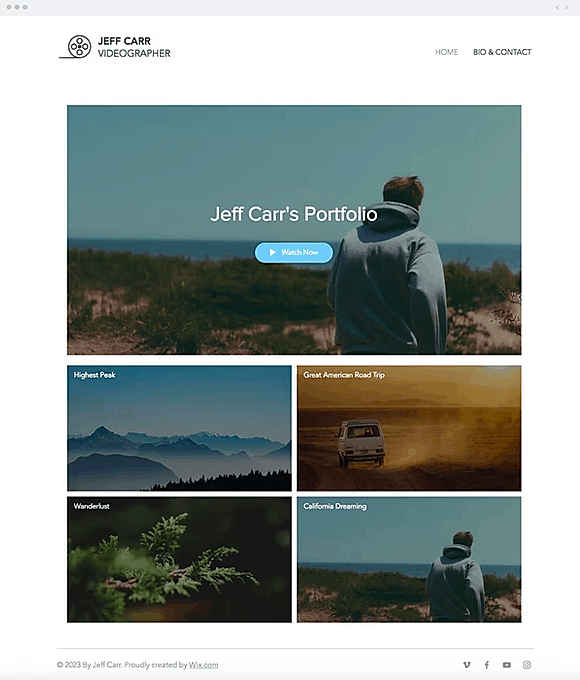 High-res video uploads – Wix allows you to upload videos directly to your site with their Single Video Player. The maximum size for each upload is 1GB. You can then customize the player size and frame rate, as well as select whether you want your video to autoplay when a page loads and/or play on a loop. There's even a section to add a description, which also helps your website's SEO.
Advanced contact forms – Contact forms have two main functions. They allow visitors to easily get in touch with you and they allow you to gather more details about your audience. Using Wix's Contact Form by POWr plugin is the best way to create a customized form. You can add custom elements, such as images, multiple-choice questions, a dropdown menu, and more. You can receive attachments from visitors, collect user data, and even connect the plugin to your Mailchimp account if you have one.
Learn about other useful features in our
in-depth Wix review
. Just keep Wix's storage limits in mind.
The free plan
will only let you upload up to 500MB. On the VIP plan, you're capped to a maximum of two hours of video, and on the Business VIP plan, you get five hours. However,
there's no limit to how many videos you can embed
, so you can use external platforms like YouTube or Vimeo to save storage space.
Summary
Free plan available?
Yes
Number of templates
900+
Hi-res video upload?
Yes
Built-in video player?
Yes
Price of cheapest paid plan

$

16.00

per month
Squarespace is a popular website builder for videographers due to its collection of professionally designed templates.
You can add videos to different areas of your website, such as video blocks, gallery pages, cover pages, banners, and more.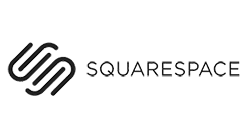 Save up to 30 % on your Squarespace plan today!
Plus get a free domain for one year!
1031 users used this coupon!
Let's take a look at Squarespace's best features for videographers:
Video gallery to present your portfolio – Don't worry if you find a template that isn't specifically built as a video portfolio. You can add a gallery block that allows you to display your media in a grid, slideshow, carousel, or stacked format.
Affordable plan with tons of storage – Squarespace's Personal Plan comes with all the features you'll need to get started, including mobile optimization, SEO tools, and unlimited storage.
While Squarespace doesn't have a free plan like the other builders on this list, it does have a
14-day free trial
 that allows you to check out all the different features. Learn more about the platform in our
expert Squarespace review
. Unlike Wix, Squarespace doesn't let you upload videos to your website. However, it does allow for embedding from four popular external hosting services: YouTube, Vimeo, Animoto, and Wistia.
Summary
Free plan available?
No, but there's a 14-day free trial
Number of templates
100+
Hi-res video upload?
No, embed only
Built-in video player?
Yes
Price of cheapest paid plan

$

16.00

 per month
SITE123 is a straightforward website builder that has excellent video portfolio options.
It allows you to get your video portfolio online quickly and easily.
Here are some great features you'll get with SITE123:
Beginner-friendly website builder – If you're just getting started as a videographer, or you're a student looking to display your work, the SITE123 builder makes it easy to jump in and start using right away. You could even have your video portfolio up and running within an hour.
Clean and simple templates – A few basic tweaks to the SITE123 templates can have them set up for videos in no time. You can replace the homepage or banner image with a video to capture a visitor's attention and add a gallery for other videos.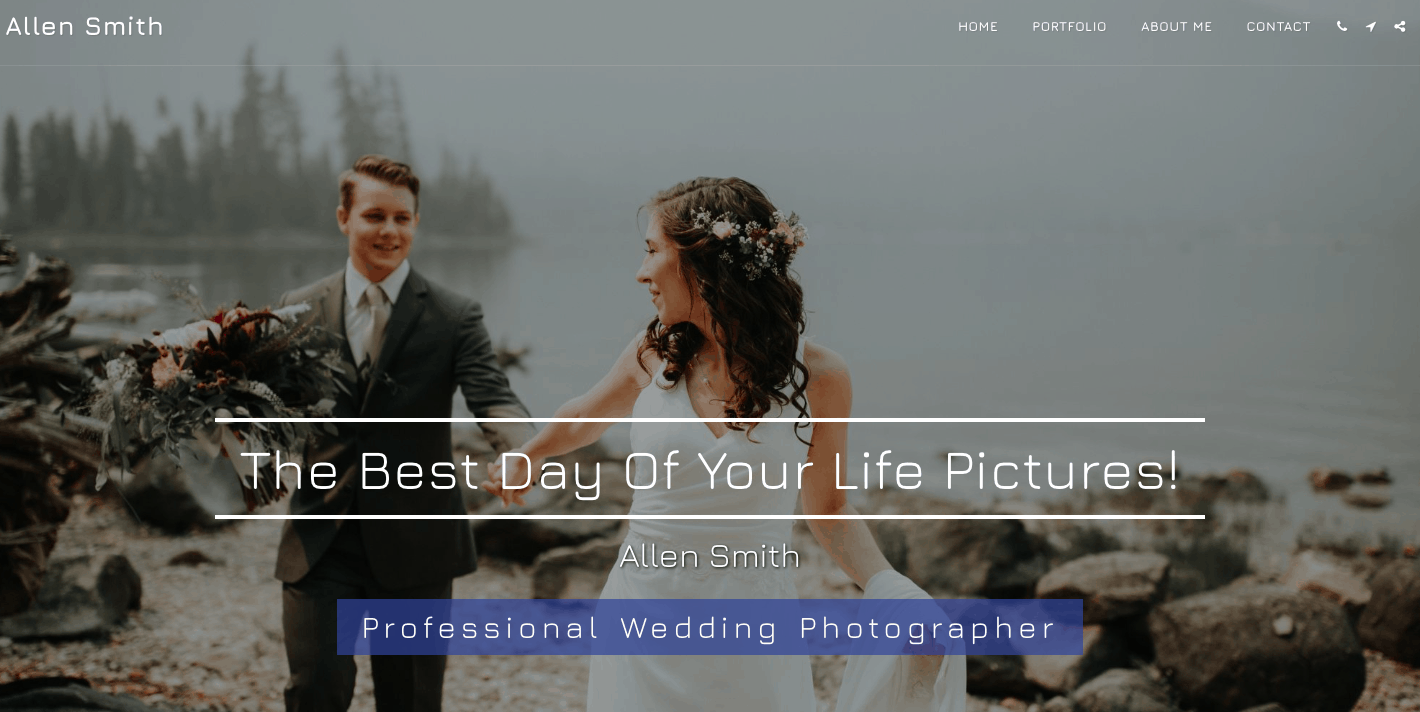 Easy-to-use contact forms – The 123 Contactform plugin is a helpful tool to create a customized form. You can drag and drop fields, split your form into more than one page, add multilingual options, and integrate third-party apps to harness the data you gather.
Read our
full SITE123 review
 to learn about the other features it offers. While you can embed videos from YouTube and Vimeo into your SITE123 website, you may prefer to upload the videos directly to your site. Just know that you have an upload restriction of 100MB per video, making SITE123 most suitable for personal portfolios.
Summary
Free plan available?
Yes
Number of templates
200+
Hi-res video upload?
Yes
Built-in video player?
Yes
Price of cheapest paid plan

$

12.80

 per month
GoDaddy is a beginner-friendly website builder that lets you upload your own videos or import them from a URL (YouTube and Vimeo).
While it offers unlimited storage on all paid plans, there are limitations in terms of how much media you can upload without having to pay extra.
For example, you can upload 3 videos or 5 GB directly into your Media Library. If you want to upload more, you need to upgrade to a paid Vimeo account. GoDaddy has a
strong set of email marketing tools
. You get polished, mobile-friendly templates, automatic email campaigns, unlimited image storage, and the ability to send up to 25,000 emails per month, depending on the plan you choose.
There's a good selection of portfolio templates in the Photography section
, which you can customize further by adding image galleries (carousel and grid), newsletter sign-up forms, a blog, a calendar, and more. Here's what I particularly like about GoDaddy:
Appointment booking. You can allow your visitors to set up one-time or recurring appointments.

Mobile app. You can edit the desktop and mobile versions of your site independently.
External reviews. It's super easy to display reviews from sites like Facebook, Google MyBusiness, Yelp, and Yotpo.
WhatsApp chat button. Visitors can send direct messages to your phone via WhatsApp.
GoDaddy has a free plan
, but it isn't available everywhere, and you can't connect a custom domain. However, there is also a
one-month free trial
so that you can test the platform before committing. Read more about GoDaddy's site builder features in our
in-depth review
.
Summary
Free plan available?

Yes

Number of templates
100+
Hi-res video uploads?

Yes

Built-in video player?

Yes

Price of cheapest paid plan

$

6.99
WordPress.com enables you to personalize your website more than any other website builder on this list.
Greater personalization leads to more control over every element. However, learning how to do this will take time and effort. Here are some WordPress.com features you'll find useful:
Video-specific portfolio themes – The out-of-the-box themes provided by WordPress.com are more suited to photo blogs than portfolio websites. However, you won't have a problem finding a theme created for video portfolios on third-party marketplaces like ThemeForest. For example, the Reel Story theme gives you a video background and a built-in portfolio module, and it's also mobile-responsive.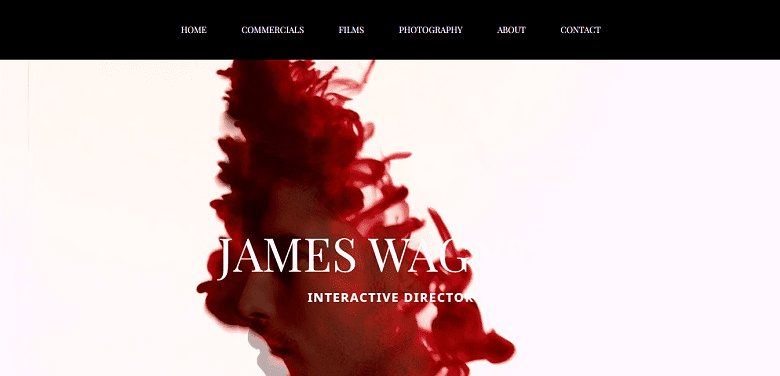 Multiple video player options – There are several plugins available for both embedding and hosting videos. For example, The Video Gallery WordPress Plugin is great for customization and responsiveness, while the Spider Video Player is useful if you want support for both HTML5 and Flash videos.
Advanced video SEO tools – Yoast's Video SEO for WordPress plugin includes features that will help your videos rank on Google's video carousel or video tab.
One thing to consider is that you'll need to upgrade to a Business Plan, at the very least, to make use of all the plugins, third-party themes, and get adequate storage space. If you're still not sure it's worth the investment, read our
in-depth WordPress.com review
 to get the full picture.
Summary
Free plan available?
Yes
Number of templates
300+
Hi-res video upload?
Yes
Built-in video player?
Yes
Price of cheapest paid plan

$

45.00

 per month
Build a Video Portfolio That Stands Out
Each website builder on this list could help you launch a stunning video portfolio. The one you choose depends on your unique needs. If you're just getting started on your videography journey, then a simple drag-and-drop website builder is more than enough. For this, I recommend using
Wix
or
Squarespace
. They both have video portfolio templates that will meet your needs. You can also make minor customizations to these templates to suit your style. If you need something with more customization options that will scale with your business,
WordPress.com
 is the way to go. The table below shows an overview of each website builder's features and strong points so that you can make an informed decision about the one that is right for you.
Max Storage Space
Embedded or Hosted Videos
Standout Feature
Wix

20GB-50GB

(VIP & Business VIP plans)

Both
40 dedicated templates for video portfolios
Squarespace
Unlimited
Embedded only
Smooth template designs and great built-in marketing tools
SITE123

10GB

(Premium plan)

Both
The easiest builder to use for a simple website
GoDaddy Website Builde

Unlimited

Both

AI tools can create a basic site for you

WordPress.com

200 GB

(Business & eCommerce plans)

Both, but hosted works best with plugins
Many video-player plugins for customization
FAQ
How do I make a good videographer portfolio?
A videographer portfolio is your opportunity to show off your best work. You should start by selecting the videos that you are most proud of – these should be the ones that you feel best represent your personal style and are of the highest quality. You should make sure that potential clients or fans can easily get in contact with you. Finally, it's always a good idea to proofread your portfolio site and make sure that it is polished and professional. In terms of building your videographer portfolio, any of the above site builders can help you get started. If you are looking for more options, check out our list of the top website builders in 2023.
What is the best portfolio website builder?
It's impossible to definitively say which website builder is best for your videographer portfolio – that will depend on your personal needs and level of knowledge. Wix is a very intuitive site builder, in case you need to get something up as soon as possible. If you have some background building websites, WordPress.com offers almost endless functionality with its third-party plugins. Squarespace arguably has the best templates, but there isn't a free option (although there are good deals to be had).
Can I build a portfolio site for free? 
It is possible to build a portfolio site for free – but there are some things that you'll be giving up. For example, if you build a free site on Wix, your site will have Wix branding, an assigned URL (e.g., username.wixsite.com), and a storage cap of 500MB.You could always start with a free plan, and if you decide you need to upgrade, just make sure that you check out our latest deals and coupons so you pay the lowest possible price.