and
price –
my picks start as low as $20
. But that raises some key questions. How closely do price and quality relate to one another?
Can you get a high-quality website for a low price or do you have to budget more?
To find out,
I chose three highly rated freelance website developers on Fiverr at a range of prices
. I sent each one the same instructions and asked them to build a one-page website for a brand I'm testing out. Curious to see which website developer offered the best value? See how they performed in my test. Plus,
browse my round-up of the top 10 website developers for hire listed below
.
Hiring 3 WordPress Developers to Test
In my search for the best WordPress website developer, I browsed Fiverr for designers at three different price points. One was a low-priced gig because I wanted to find out if getting a professional website for $20 was too good to be true. Another was a mid-range creator, and the final one was an experienced design team with high-end pricing.
The $20 Website: Does Price Equal Quality?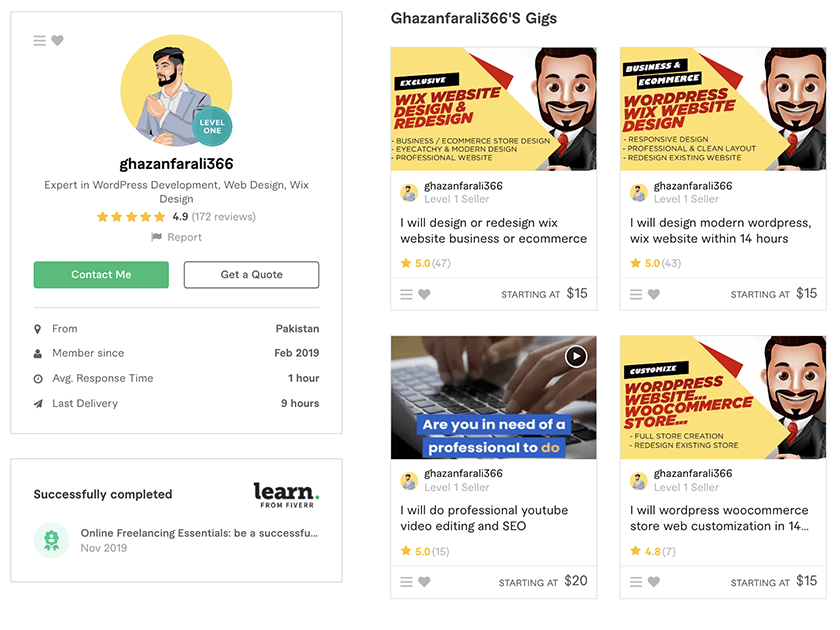 With more than 150 reviews, a 4.9-star rating, and prices starting at just $20, Level 1 Seller ghazanfarali366 easily stood out from the competition.
I booked their basic package for $20, which included a single-page WordPress site with responsive design and up to five plugins.
 The package also came with unlimited revisions and one-day delivery.
The $50 Website: Do You Get More for Twice the Price?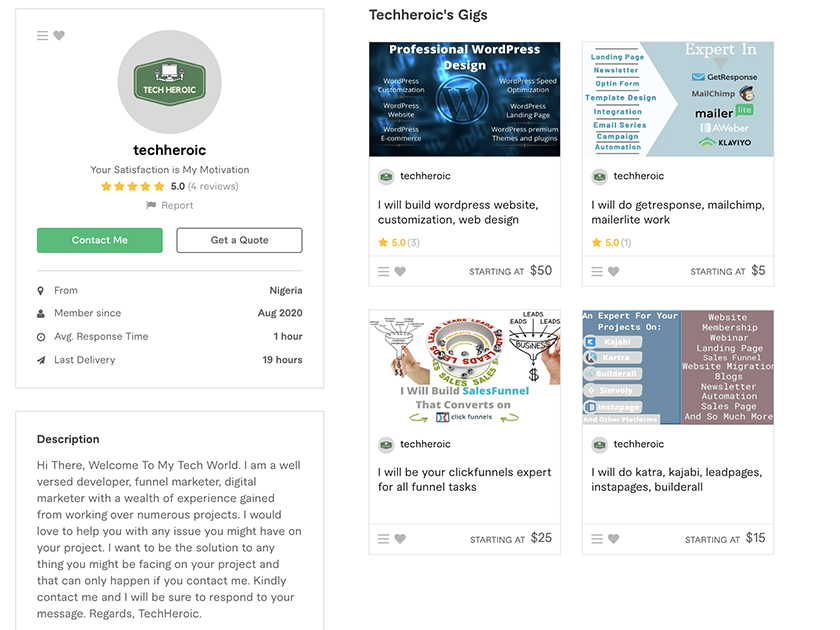 Although techheroic had fewer reviews, their five-star rating and depth of experience looked promising.
I booked their basic gig
, which included
a responsive WordPress site with up to three pages and unlimited revisions
 to get the design just right. This gig was basically identical to the $20 option. Although the $50 website came with the option to have more pages, I requested the same one-page website from each seller.
The $150 Website: Is It Really Worth the Premium Price?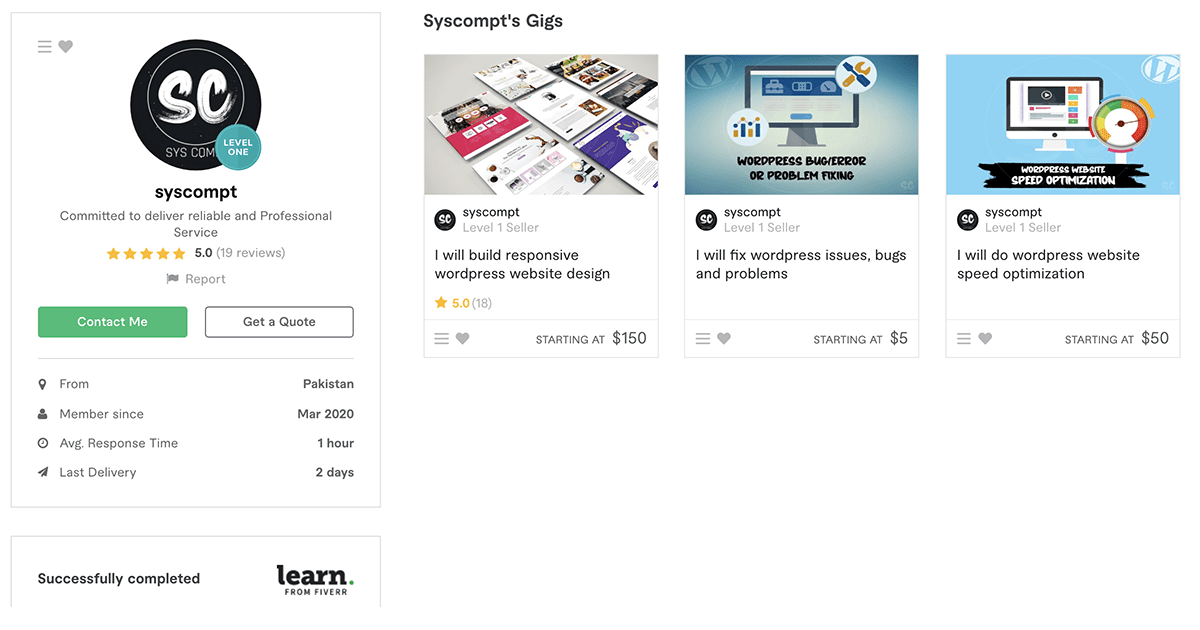 Deciding to work with Level 1 Seller syscompt was easy, as they're a small, experienced team of web developers with a five-star rating. I opted for
their
$150
basic starter package
, which included responsive WordPress design, up to three pages, and five plugins. Unlike the lower-priced options,
they also offer to optimize for speed and security and integrate social media and email marketing tools
.
My Experience Working With These Fiverr Freelancers
Each of the freelancers had similar requirements for getting started. I provided a simple brief outlining what I wanted: a responsive one-page WordPress website with an image slider, a services area, and an about section. The brief also requested a fitness-themed design, provided brand colors, and asked to use placeholder images and copy. The two lower-priced freelancers asked that you message them before booking the gig.
Although the back-and-forth messaging meant the process took a little longer, the freelancers had a lot of good questions that ensured the gigs ran smoothly after starting.
For example, the $20 freelancer (
ghazanfarali366
) asked to be added to my WordPress team so they could see what they were working with before taking the job.
The $150 freelancer (syscompt) allowed immediate bookings
, which made the process much more efficient. Plus, even though the gig had a five-day turnaround,
I received the final website design within two days
. It was a bonus as the gig didn't technically include speedy delivery, While I didn't make revision requests after delivery, the $50 freelancer (
techheroic
) asked for my input before submitting the final product and they were able to adjust the color scheme before delivering the site.
Comparing the Final Results
Because I asked the freelancers to build a site using the free version of WordPress, I knew there would be some limits to what they could do. For example, you can't install custom themes, add plugins, or incorporate a ton of colors. So while I didn't expect anything incredibly advanced, the overall results were impressive.
The $20 WordPress Developer
You could easily mistake the $20 option for a higher-priced website.
 The freelancer followed the brief to the letter and the design includes all the essential elements. It even has the pink and purple brand colors and the fitness theme I requested. After adding actual content, this site could easily go live. Although it's a one-page site, the top navigation is great for jumping visitors to the right section of the page. I didn't ask for this functionality, but it was a nice bonus. Also, this freelancer worked incredibly quickly. I booked a 12-hour gig, and
they finished building the site in under six hours
.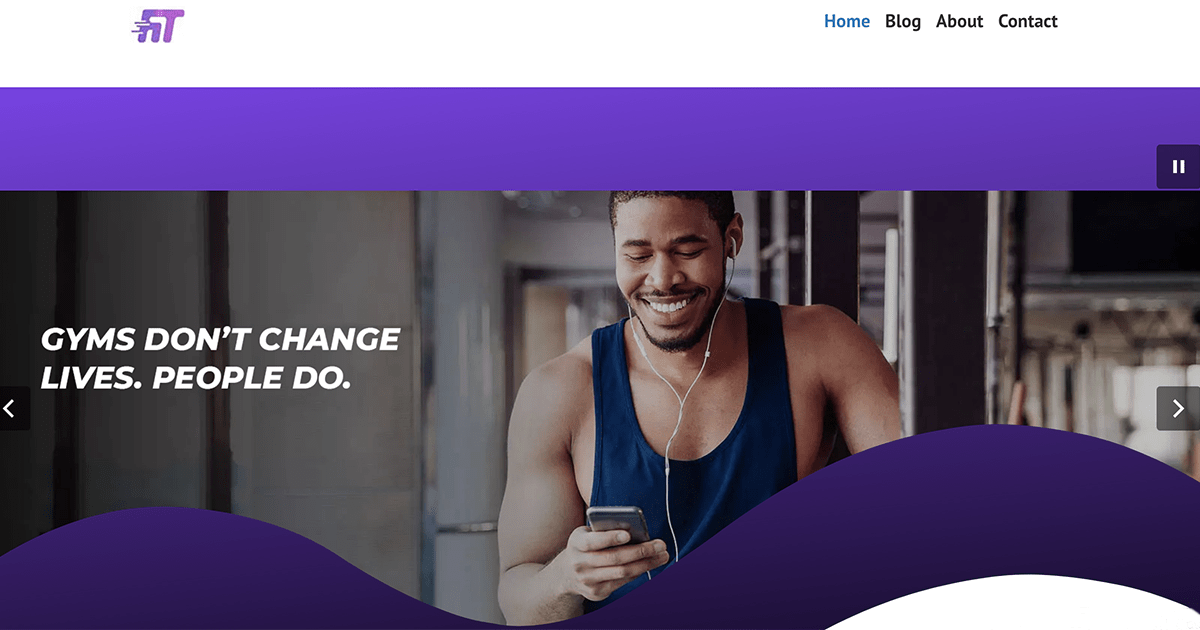 The $50 WordPress Developer
I would choose the $20 option over the $50 site.
 Although it has all the main elements – the image slider, services, and about section – the $50 design looks less professional. The colors aren't quite right either, as the freelancer had some issues with the limiting free version of WordPress. However, of the three,
this freelancer's communication was the most thorough
. Before booking, they summarized all of our messages to clarify the order. After booking the gig, they messaged me to confirm it was okay to delete the content on the site. Later, they checked in about the color scheme issue and asked me to review the site before delivery.
They also delivered the site a day ahead of schedule
, and I appreciated their promptness.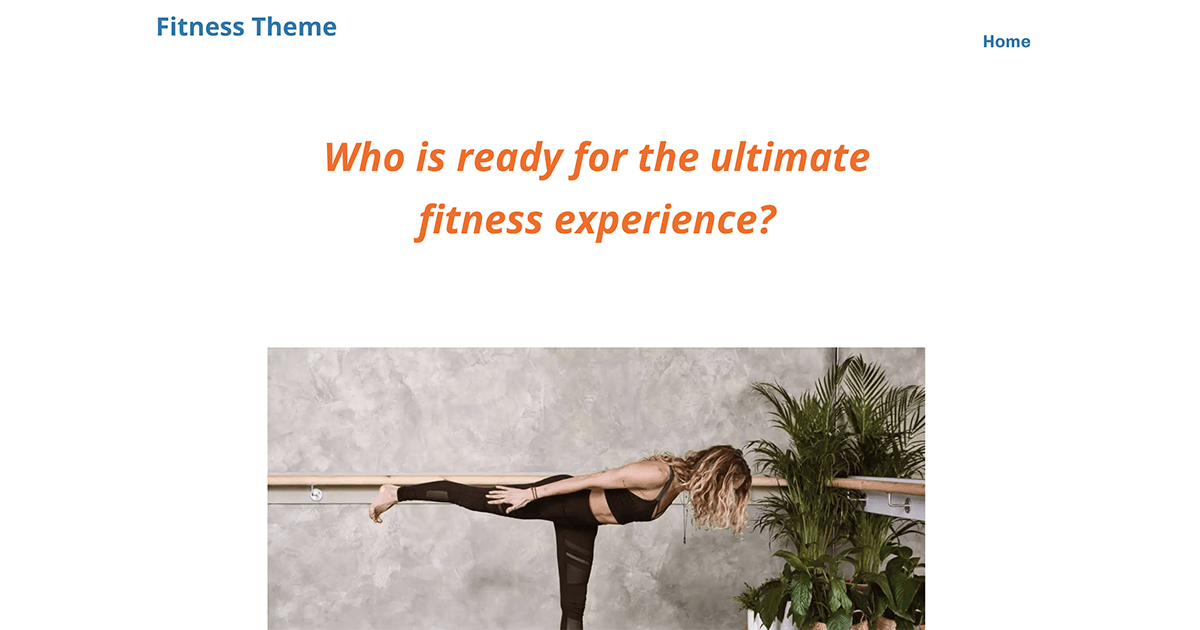 The $150 WordPress Developer
The $150 option is one instance where paying more gets you a premium product.
 The design is high-quality, and the site has a bright, dynamic look that reinforces the fitness brand. It also has a couple of extras, like client testimonials, a contact form, and social media icons, which help make the site more useful to visitors. After learning I was using free WordPress hosting,
this freelancer recommended a different hosting plan so they could provide a better site design with more functionality
. Even though I wanted to stay with the limited, free plan, they still managed to create a professional design I would be happy to publish.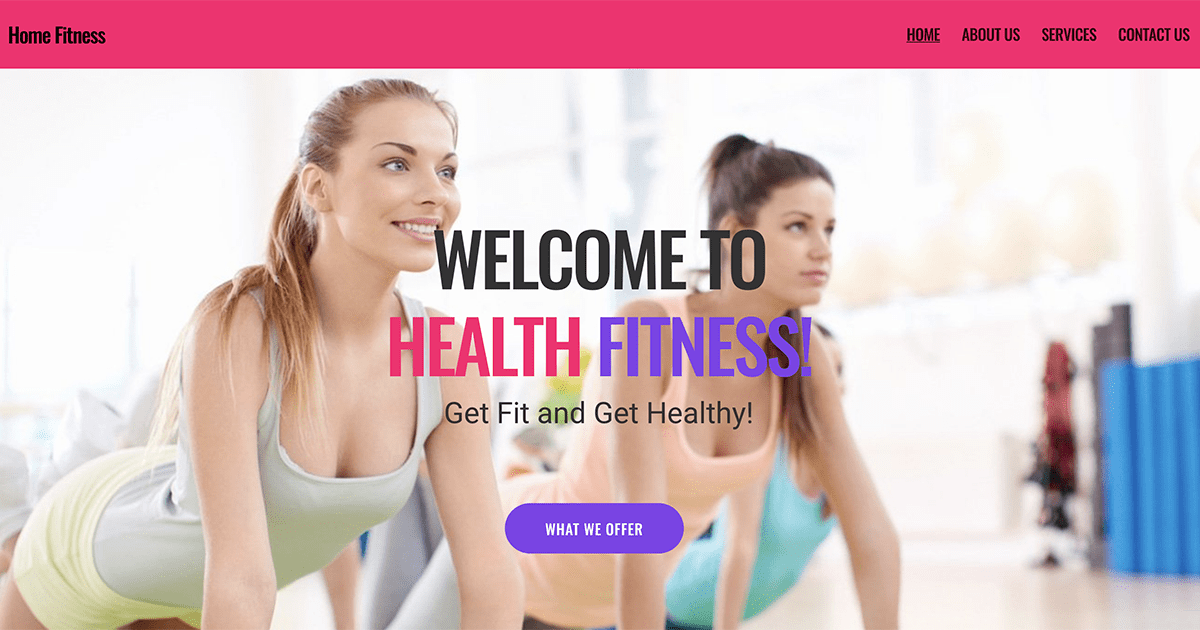 Ultimately,
you can get a professional WordPress website developed with a Fiverr seller no matter what you want to spend
. If I were on a tight budget, I'd be pleased with the $20 option, which checks all the boxes and was completed about 12 hours after booking.
Yet if you have more room in your budget, it can be worth spending more to get a better design and service.
 The $150 option looks the most high-end and has more functionality than the other options. Despite being a more complex project, this premium freelancer was also the fastest to respond, so the entire project from start to finish was done in less than two days.
Hiring Freelance WordPress Developers on Fiverr
If you need to build a WordPress site for your business or blog, I recommend hiring a freelancer through Fiverr. Here's why:
Hire a web designer on any budget. On Fiverr, website developer jobs start at $5 and go up to hundreds of dollars. No matter how much you can spend on the project, you'll find a gig to match.
Vet freelancers before you hire. Every seller on Fiverr has reviews from past clients, so it's crucial to check them to ensure the seller possesses the qualities you desire, such as good communication or a fast turnaround, unless you decide to engage a brand-new freelancer on the platform.
Choose a gig that includes exactly what you need. Just want a simple one-page site? Or are you looking for a more complex design with tons of integrations? Fiverr has a huge range of freelancers offering a variety of services, including some that would surprise you.
Customize your order. Although freelancers on Fiverr offer set packages, they also accept custom quotes. If you need a website with more features or more quickly, you can ask for a personalized offer, and if you want to know more about this process, we've gone through it in our in-depth Fiverr review.
The 10 Best WordPress Developers in 2023
There are countless freelance WordPress professionals on Fiverr, but I've narrowed down my picks to a top 10.
My number one choice is
syscompt
because they offer high-quality web design with speedy turnaround times. I also recommend these nine freelance WordPress developers:
FAQ
Can you really get a WordPress developer for $20 on Fiverr?
Yes. Although the rate seems incredibly low, on Fiverr you can hire a freelancer to build a WordPress website for as little as $20. Based on the results from my test, you can expect quick, high-quality work for this price. Of course, that's not all you can get for $20. Fiverr has plenty of other categories – including weird ones like this that I'd love to test out.
Is the most expensive option always going to provide the best results?
Not always. Although I preferred the most expensive website designer in my test, this isn't always the case. For example, check out our Fiverr logo design review, where we tested out multiple logo designers at varying price points – the results were very surprising.
When does Fiverr charge you?
Fiverr charges you when you book a gig. First, you choose the seller and package you want. Next, you review optional extras and select a payment method. Then you confirm the payment and start the gig. While you pay upfront, the seller only gets paid when you accept the final delivery.
Is Fiverr easy to use?
Fiverr is super easy to use – you can see exactly what we thought in our expert Fiverr review. You can browse various categories, such as WordPress website creation or landing page creation. To find the right seller, you can filter by service options, budget, or delivery time. You can also sort by seller location, language, or level. When you find a seller who meets your needs, you can book the gig, send a project brief, and confirm the timeline with a few clicks.
Which is better – Fiverr or Upwork?
While both platforms let you hire freelancers for creative and technical work, Fiverr is better than Upwork. Fiverr offers a wider range of price points, starting at just $5. Also, Fiverr delivers more value, whether you choose a cheaper option or you book a more expensive gig.