Most web hosts claim that their plans are optimized for WordPress, but this isn't always the case.
In fact, you'll find this is often just an excuse to put a higher price tag on regular shared hosting with a few extra features.
The best WordPress hosts provide much more than that. They give you an infrastructure that is built for performance from the ground up. They also keep your website safe without charging extra for security, and they provide specialized support – including automatic updates – for WordPress. With so many hosts claiming to be the best for WordPress, how do you decide which one is right for you (and how do you know you're really getting a good deal?)
I've done the research so you don't have to! I put dozens of hosts to the test and rated them based on pricing, performance, features, security, and more.
There are hosts on this list to suit every budget and need. Most have at least some kind of managed WordPress features. What they all have in common is that their performance is great.
In a hurry? These are the best WordPress hosting services in 2023:
Kinsta – fully managed WordPress hosting with a user-friendly dashboard and the best speeds in the industry
Liquid Web – reliable WordPress hosting with automatic plugin updates, as well as premium caching and security
InterServer – affordable cloud VPS hosting specifically optimized for WordPress
What We Look For in the Best WordPress Hosting Providers
To find the best WordPress hosting platform, we built and hosted similar WordPress websites with dozens of providers. During our tests, we prioritized these features:
Managed WordPress Features. I looked for hosts that offer WordPress tools like automated updates and backups, built-in caching, specialized tech support, and enhanced security. Some of these hosts offer fully managed WordPress hosting plans and take care of all the maintenance for you. If you prefer to do things on your own, you'll also find some unmanaged options on this list.
Speed. I focused on hosts with servers optimized for WordPress to deliver the best possible page loading speeds, since WordPress is known to have an impact on how quickly websites load.
Security. One of WordPress' biggest flaws is its security vulnerabilities. I looked for hosts that are proactive and offer security features designed to make WordPress more secure.
Pricing. Managed WordPress hosting can be expensive, but there is a solution for every budget. In my list, I've included only those hosts that offer the right balance of features and affordability and provide excellent value for your money.
Kinsta offers a complete WordPress hosting service with a proven track record of outstanding performance.
Having tested its speed and uptime for several months
, I can safely say that if you want the absolute best WordPress hosting provider, Kinsta is it.
You can choose between an impressive number of data center locations for each of your websites.
 These include several states in the US as well as Canada, Brazil, the UK, the Netherlands, India, Japan, Australia, and more.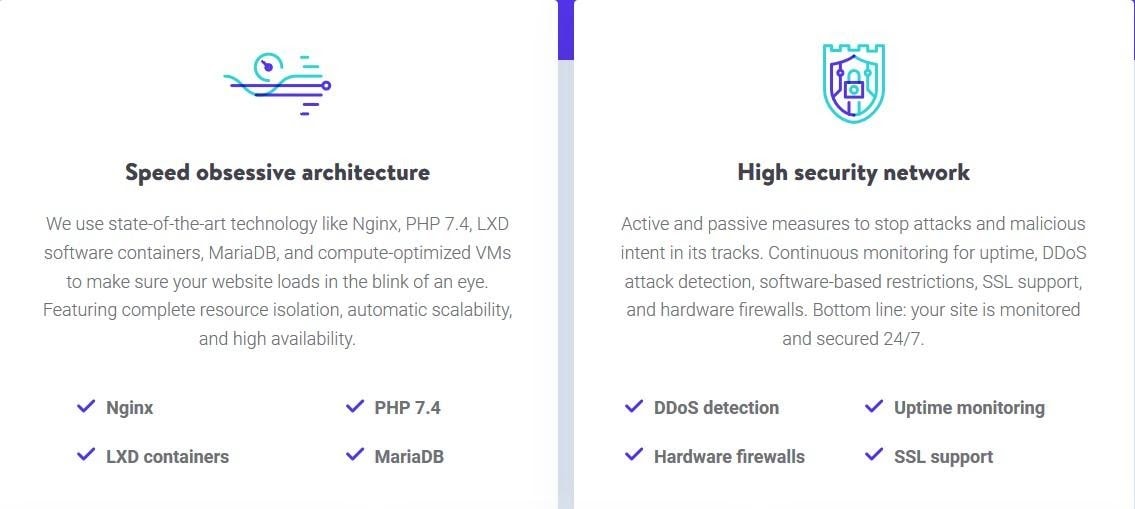 The entry-level Starter plan includes one WordPress website, 10GB of SSD storage, and managed WordPress features.
You also get automatic daily backups and you can receive up to 25,000 website visitors each month. Kinsta's biggest downside is its (very) expensive plans that are up to five times the cost of the cheapest host on our list. However, if your budget allows it, this host is worth every penny. It's incredibly fast, reliable, and still easy to use.
WordPress Hosting Features:
Caching Plugin. As well as server-level caching, Kinsta pre-installs its own premium WordPress caching plugin that automatically caches your webpages and runs in the background without you needing to do a thing. In addition, the tech team monitors your website's performance and lets you know if there are any other optimizations you can do.
Built on WordPress-optimized servers. Kinsta's hosting uses specifically optimized servers deployed on the Google Cloud Platform (GCP) for the best possible speeds and reliability. NGINX and other optimization features add an extra speed boost to your website.
MyKinsta control panel. Designed to make managing multiple WordPress websites as easy as possible, the MyKinsta control panel enables you to create new websites, check for plugin updates, and create staging areas so you can make changes to your website without interrupting your website visitors' experience.
Hack fix guarantee. WordPress is known to be more vulnerable to malware but Kinsta's hack protection enhances your website security. Kinsta adds extra server-level security and guarantees to clean up your website if it gets infected with malware.
Managed WordPress Features
Yes – fully managed
Built-In Caching
Proprietary cache plugin (managed)
Storage Space
10GB to 250GB
Bandwidth
25,000 to 3,000,000 monthly visits
Uptime Guarantee
99.9%
Pricing

$

24.00
Liquid Web has some of the most comprehensive managed WordPress plans on this list.
Aside from generous resources, each plan gives you two premium WordPress plugins, iThemes Sync and iThemes Security Pro, for free. You also get automated updates and backups, as well as specialized support. In addition,
Liquid Web promises to keep your website online at all times.
 Its managed WordPress plans are hosted in the cloud and backed by an impressive 100% uptime guarantee with 1,000% compensation for downtime. That's pretty much unheard of in the web hosting industry.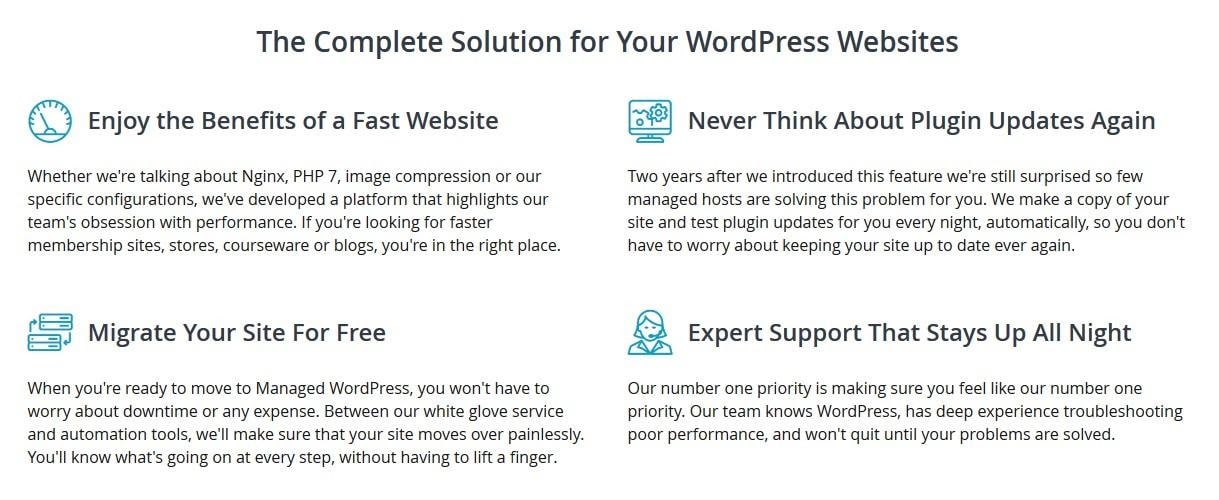 While Liquid Web is known to be pricey,
its entry-level Spark plan is actually cheaper than some of the others on this list and gives you great value for your money.
You get one website, 15GB of SSD storage, 2TB of bandwidth, a free website builder plugin for WordPress, and unlimited email.
You can see a full list of features in our in-depth review
.
WordPress is automatically installed during checkout, and there are plenty of tools to help you manage your website and resources.
 One thing I (and my colleagues) really like is how Liquid Web's proprietary WordPress dashboard is clean and polished, so you don't have to spend ages staring at it before you find the options you're looking for. There's also a no-credit-card-required
14-day free trial
, so you can try Liquid Web risk-free before you commit to a plan.
WordPress Hosting Features:
Automatic plugin updates. Most managed WordPress hosts have automatic core updates, but Liquid Web also takes care of your plugins. What's more, the updates are done using a copy of your website, and they only go live once the tech team is sure that the changes are safe.
Image optimization plugin. You can use this tool to quickly resize and rename images on your website. The optimizations can drastically reduce page loading times for WordPress websites, boost your SEO, and improve your users' experience.
Managed WooCommerce plans. If you want to build your online store with WordPress and WooCommerce, these plans are the way to go. Automatic backups and updates, WooCommerce support, image compression, server optimizations, the Astra Pro theme, and other essential plugins are all included.
iThemes Security Pro. This is one of the best security plugins for WordPress, and it's included for free on all plans. You get a malware scanner, a strong password generator, file change detection, a security grade report, database backups, and more – all neatly integrated into your security dashboard.
Managed WordPress Features
Yes – fully managed
Built-In Caching
Cache Enabler plugin
Storage Space
15GB to 800GB
Bandwidth
2TB to 10TB (soft cap)
Uptime Guarantee
100%
Pricing

$

15.83
InterServer is the cheapest WordPress hosting provider on my list, but make no mistake, it's an excellent option. It offers WordPress VPS (Virtual Private Server) hosting at little more than the cost of shared hosting.
Hosted on cloud servers and fully optimized for WordPress,
InterServer's VPS plans
 are customizable to match your website's needs.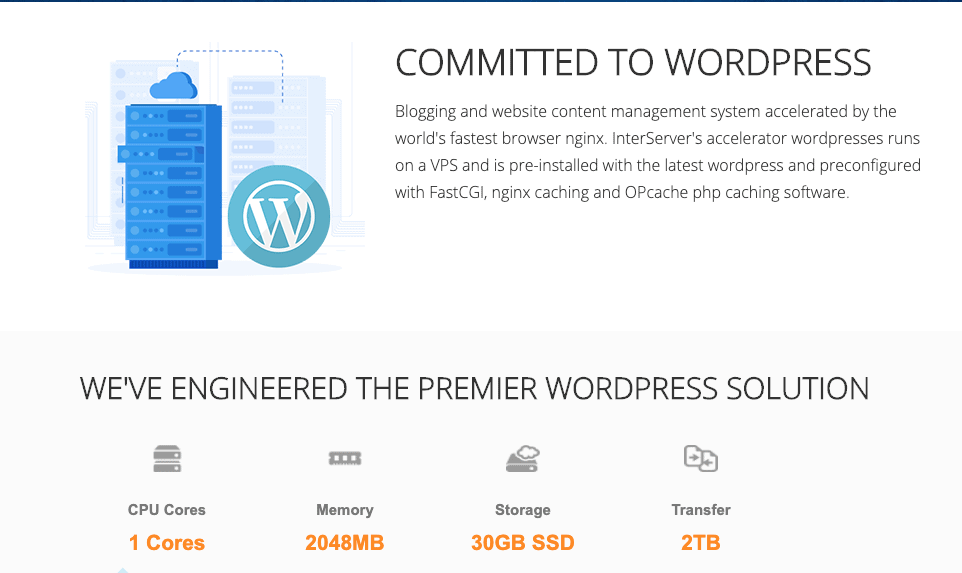 You can, of course, choose InterServer's standard plan, which allows you to install WordPress using Softaculous.
My colleague put InterServer through some pretty intensive testing and the results were good
. Storage and bandwidth are unlimited on the standard shared hosting plan, but honestly, I'd still recommend WordPress VPS.
WordPress Hosting Features:
Optimized for WordPress. InterServer uses the latest technology including NGINX and FastCGI to deliver the best possible speeds for WordPress websites.
Caching plugin. The WP Fastest Cache plugin is pre-installed and ready to go. You can easily turn it on from the dashboard, and it'll take care of things such as GZIP compression and browser caching for you.
Automatic updates and backups. InterServer will keep your WordPress installation up to date, and create backups of your website on a daily basis. If needed, you can restore a previous version of your website with a couple of clicks.
InterShield security. You don't have to worry about WordPress' security vulnerabilities thanks to the free InterShield security suite. You get a malware scanner, DDoS protection, and a machine learning firewall. You're also covered by InterServer's insurance policy, which states that if your website gets hacked, the tech team will clean it up for you.
Managed WordPress Features
Automatic updates and backups
Built-In Caching
Caching plugin with WordPress VPS
Storage Space
From 30GB to unlimited
Bandwidth
From 2TB to unlimited
Uptime Guarantee
99.9%
Pricing

$

2.50
GreenGeeks is an excellent and affordable WordPress hosting solution that's perfect for beginners. What I love most about it is its outstanding customer support.
Available 24/7 through live chat, support tickets, and phone, the tech agents are not only polite and knowledgeable, but they are also willing to go the extra mile to help you set up your WordPress website.
For instance, when I asked an agent to help me optimize my website, they actually did everything for me. They installed and configured the right plugins, and explained the changes in detail.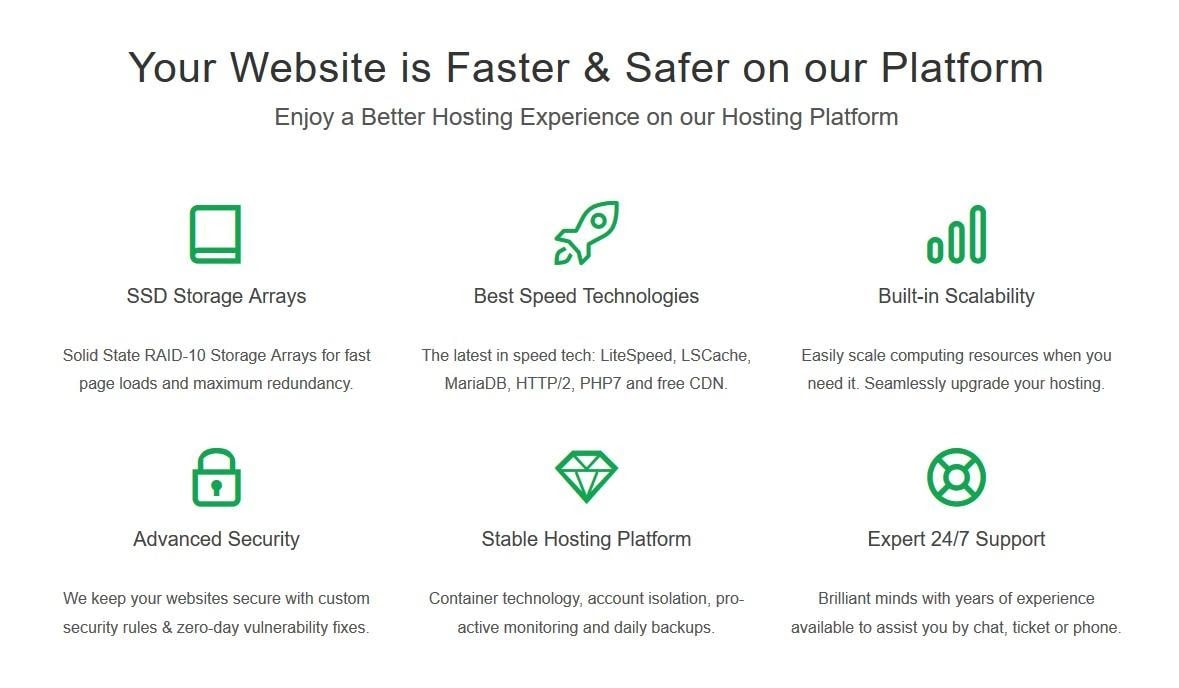 The entry-level Lite plan is very affordable compared to other services on my list, and it includes one website plus unlimited storage space, bandwidth, and email.
Don't be fooled by the separate page for WordPress hosting plans, however – these are identical plans to the shared hosting plans on the main hosting page.
GreenGeeks doesn't have special WordPress hosting plans, but its shared hosting plans benefit from features like LiteSpeed that make it a good option for WordPress. When we tested GreenGeeks, its performance was a little inconsistent, but mostly fast
.
GreenGeeks WordPress Hosting
A free domain name is included with some hosting plans from GreenGeeks
While you work on your site,
GreenGeeks takes care of security and other backend details for you.
Backups are created daily, so you never have to worry about losing your website to a malicious attack.
It's also worth noting that your account is completely isolated from others.
Even though your website is hosted in a shared environment, GreenGeeks' container-based infrastructure ensures that your neighbors can't take up your resources or spread security threats to your account.
WordPress Hosting Features:
Optimized servers. GreenGeeks uses the LiteSpeed web server, which is arguably the best technology for WordPress websites. You get a decent amount of server resources even on the entry-level plan, but if you need more power, you can quickly add CPU and RAM from your dashboard.
LiteSpeed Caching plugin. This tool is super easy to use, and it can drastically decrease page loading times for your WordPress website. You can find it in your dashboard, and turn it on with just one click.
Integrated CDN. Depending on your data center location, your WordPress website will perform differently for visitors from different regions. Cloudflare is a content delivery network (CDN) that stores cached versions of your site on dozens of servers for faster delivery around the world.
Automatic updates. These aren't set up by default, but you can schedule them through the one-click installer.
Managed WordPress Features
Automatic updates
Built-In Caching
LiteSpeed cache manager
Storage Space
Unmetered
Bandwidth
Unmetered
Uptime Guarantee
99.9%
Pricing

$

2.95
Like Kinsta, WP Engine is a fully managed WordPress service.
 It isn't as fast, but it does have a user-friendly dashboard that any beginner can navigate, and it comes with impressive extras like the Genesis framework and dozens of premium themes.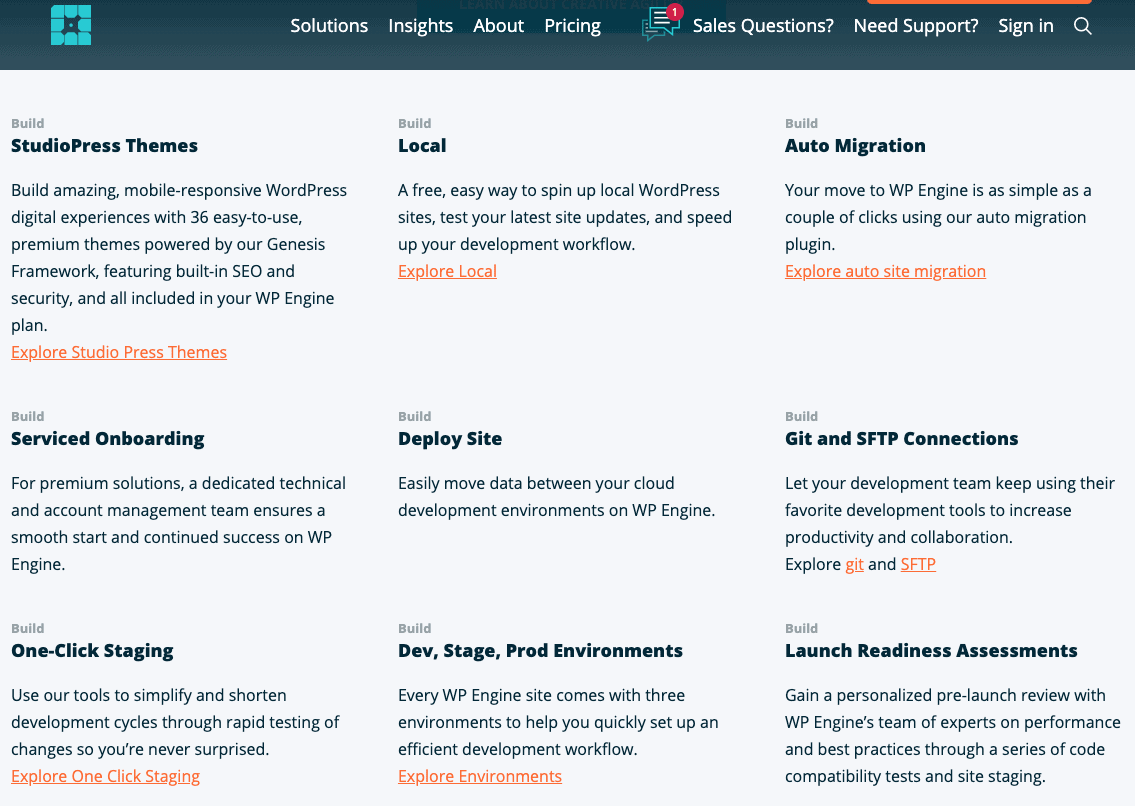 The entry-level Startup plan gives you one website, 10GB of SSD storage space, 50GB of bandwidth, and the entire set of features that WP Engine has to offer.
 You'll never have to pay extra to unlock an essential tool.
WP Engine is also a great solution for high-traffic websites.
The platform is built on Google Cloud Platform and Amazon Web Services servers, which means that you can expect outstanding loading speeds and uptime.
 WP Engine's proprietary EverCache is designed to improve your site's performance even more. WP Engine, being a fully managed service, handles the majority of maintenance tasks on your behalf. You won't need to be concerned about aspects such as website security or updates to the WordPress core and plugins. In fact, one of the standout features of WP Engine is its exceptional security measures, which encompass daily malware scanning – a characteristic I particularly appreciate.
Features:
The Genesis Framework. This premium WordPress suite includes 36 StudioPress themes, a simple but powerful drag-and-drop interface, built-in SEO, and website security. This suite of freebies is worth over $2000!
One-click staging. If you need to add a new feature to your website, testing it live can be risky. With WP Engine you don't have to, because you get a one-click staging tool to help you clone your site, safely implement any new features, and only deploy once you're sure there are no issues.
Collaborative tools. You can easily add more users to your account to help you design and optimize a WordPress website. You can also take advantage of the platform's Git integration and dedicated dev environments to set up an effective development workflow.
Ownership transfers. If you're a developer who frequently works with WordPress, this feature can save you a lot of time. Once a website is launched, you can easily transfer ownership and billing to your client. You can stay on as a collaborator in case you need to make changes or updates.
To find out more, read our full WP Engine review
.
Managed WordPress Features
Yes – fully managed
Built-In Caching
Proprietary EverCache plugin
Storage Space
10GB to 1TB
Bandwidth
50GB to 400GB
Uptime Guarantee
99.95%
Pricing

$

20.00
Which WordPress Provider Is Right for You?
Sometimes, selecting the ideal WordPress host for your website might give you the sensation of walking a tightrope, attempting to balance affordability and features. However, this doesn't have to remain the case. Each of the hosts listed here ensures top-notch performance, catering to various budgetary considerations. Furthermore, you generally won't be required to opt for a costly plan solely to access the necessary WordPress features. If you're still struggling to make up your mind, here are my recommendations:
If speed and reliability are your top priorities, I'd go with Kinsta.
 Its servers are specifically optimized for WordPress, so you can expect outstanding performance even on the entry-level plan. You'll also enjoy the MyKinsta dashboard, which makes it super easy to manage multiple WordPress websites.
If you want even more WordPress tools, you can go with Liquid Web.
 Each plan comes with automatic core and plugin updates, as well as iThemes Sync and iThemes Security Pro, two premium WordPress plugins that make it easier to manage and secure your websites.
As a developer or small agency, I'd choose WP Engine.
 It's certainly not the cheapest provider, but features like the Genesis Framework and its premium WordPress themes add a lot of value to its plans. Both
 InterServer and GreenGeeks are budget-friendly options
best suited for low- to medium-traffic sites.
InterServer gives you an affordable VPS preconfigured for WordPress,
while GreenGeeks has excellent WordPress support for beginners.
Standout Feature
Best For
Starting Price
Kinsta
#1 fastest managed WordPress platform according to our tests
High-traffic websites that load quickly

$

24.00

Liquid Web
Best uptime guarantee and virtually unlimited bandwidth
Websites that must stay online at all times

$

15.83

InterServer
Incredibly cheap managed WordPress hosting with unlimited domains and resources
Low- to medium-traffic websites

$

6.00

GreenGeeks
Exceptional customer support for low-cost hosting
WordPress beginners

$

2.95

WP Engine
Easy-to-use developer tools and an excellent framework for WordPress
Web developers and agencies

$

20.00
FAQ
What is the best WordPress hosting provider?
If your budget can stretch a little, Kinsta is the best WordPress hosting provider according to our tests. Kinsta consistently came out on top during our speed benchmarks. In addition, plenty of resources, a polished dashboard, and other extra features are included even in its entry-level plan. You can see how Kinsta did against other popular hosts in our comparison of the best web hosting services. If you haven't got an almost-bottomless budget, then Interserver's WordPress VPS plans are incredibly affordable. They're not managed like Kinsta, but you can take advantage of automatic updates.
What should I look for in a WordPress hosting service?
When we're testing and ranking WordPress hosts, we look for features like optimized servers and other speed-boosting features like caching plugins. We also like hosts with enhanced security features (that you don't have to pay extra for!) One-click installers are available with almost all hosts, but we also look for managed WordPress features like automatic updates and backups. Fully managed hosting services take care of everything for you. I recommend Liquid Web.
Is managed WordPress hosting expensive?
It's definitely more costly than shared hosting plans, but the features, such as staging areas, managed security features, and 24/7 expert support justify the cost. Liquid Web is slightly lower in cost than WP Engine and Kinsta. You can also check out our coupon page to find the very best WordPress hosting deals. If you like the idea of managed hosting, but your budget won't stretch that far, some hosts, like Interserver, include managed WordPress features like automatic updates through 1-click installers like Softaculous and Installatron. For more options, you can check out our list of the best managed WordPress hosting services.
Do I really need specialized WordPress hosting?
It depends. At the very least, you need hosting that's either optimized for WordPress or runs on a speedy OS like LiteSpeed. Most regular hosts have one-click installers for WordPress, and you can set up updates and backups yourself. GreenGeeks' regular hosting plans allow you to control automatic updates through the Softaculous installer, for example. Fully managed WordPress hosting services do have some big benefits, though. As well as fully optimized servers and automated updates, you get bonuses like daily backups, enhanced security, and tools to make your website run faster. It's not essential, but it makes running your website easier. One instance when you probably do need specialized WordPress hosting is if you have a high-traffic or mission-critical website. Premium WordPress hosts have platforms that are specifically designed for WordPress, which results in better performance. Some, like WP Engine, come with a lot of WordPress freebies, too.