According to Forbes, WordPress is used by more than 60 million websites, including 30.6% of the top 10 million websites. It is safe to say that WordPress is the most popular website management system in the world at this moment.
To use it, WordPress must be installed on a web server. This means that the hosting service running your WordPress installation is one of the main factors for the success of your website. When choosing one, keep in mind these important factors:
Speed – or "load time"
Uptime – it should be at least 99.94%
Customer support – to help you with WordPress-related questions.
Out of so many WordPress hosting providers out there, how do you choose the best one for you? Here are our top five WordPress hosting providers.
WordPress Hosting Providers – Our Top Picks:
Hostinger – Great for beginners, with excellent prices and reliable customer service
WP Engine – Managed WordPress hosting with an uptime guarantee of 99.99%
A2 Hosting – Green hosting with turbo servers and high-performance infrastructure
FastComet – Affordable, easy-to-use SSD hosting
SiteGround – User-friendly managed WordPress and WooCommerce hosting
Hostinger is a WordPress hosting provider founded in 2004 and based in Lithuania. With almost 30 million customers around the world, they're quickly becoming one of the most popular shared and WordPress hosting providers. They offer various payment terms, but in general, the longer the period you purchase your plan for, the lower the monthly fees you pay.
With their basic plan, Hostinger offers relatively affordable WordPress services loaded with features such as one-click installations, developer access, 24/7 support, enhanced security, and a 30-day money-back guarantee. When purchasing one of Hostinger's premium plans, users get better WordPress-optimized speeds, unlimited bandwidth, and free SSL certificates.
What I liked most was the quick response time from Hostinger's customer support, their ease of use, inexpensive pricing, and good security and privacy with BitNinja – an all-in-one real-time protection suite preventing malware, XXS, DDoS, script injection, and other automated attacks. BitNinja comes with all their plans.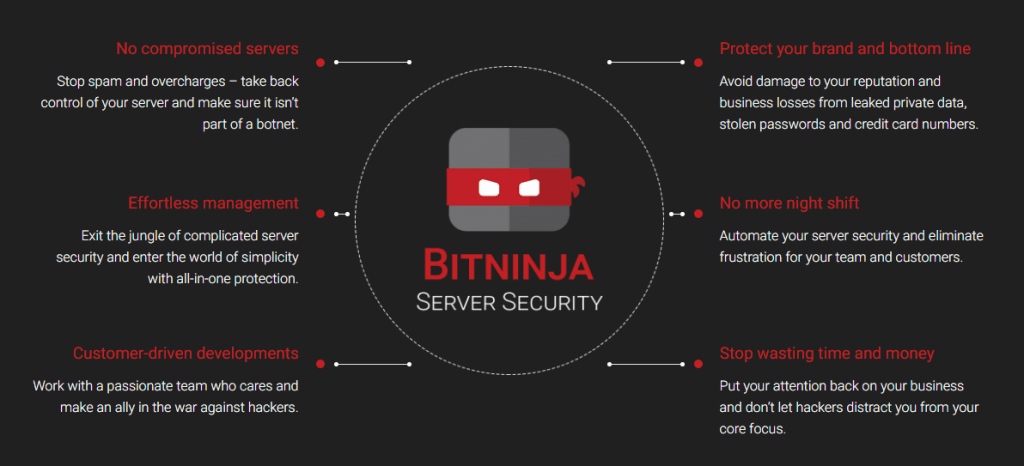 What they could have done better is to offer a greater variety of plans and provide the opportunity to access live chat with customer support without having to be logged in first.
This product is best suited for small business owners, as it is available at a fraction of the price of other leading WordPress hosting providers. Despite this, they take security seriously and provide their users with plenty of security options to keep their data safe.
Visit our review page to learn what real users think of Hostinger.
WP Engine is one of the leading web hosting services focusing on managed WordPress hosting — meaning it frees up valuable time for you to attend to other business matters. The company is based in Austin, Texas. They offer four plans and an industry-leading 60-day money-back guarantee.
Not only do you get a stunning uptime guarantee of 99.99% from WP Engine, but their system also serves media in a way that increases website loading speeds and availability. Plus, their servers automatically detect when they need to be refreshed and does so on their own. Additionally, WP Engine has configured their servers to provide optimal loading speeds for your website, because they generally spread resource requests across multiple servers so no single server is overloaded.
WP Engine has the following stand-out features:
Overview tab that includes DNS information, site visitor analytics, bandwidth usage, storage usage, and so on
24/7 customer support
Backups occurring daily and after every installation
The "Add Install" feature – users with "Full" or "Owner" access to the account can add another installation of WordPress
URL-specific security – empower specific pages with added security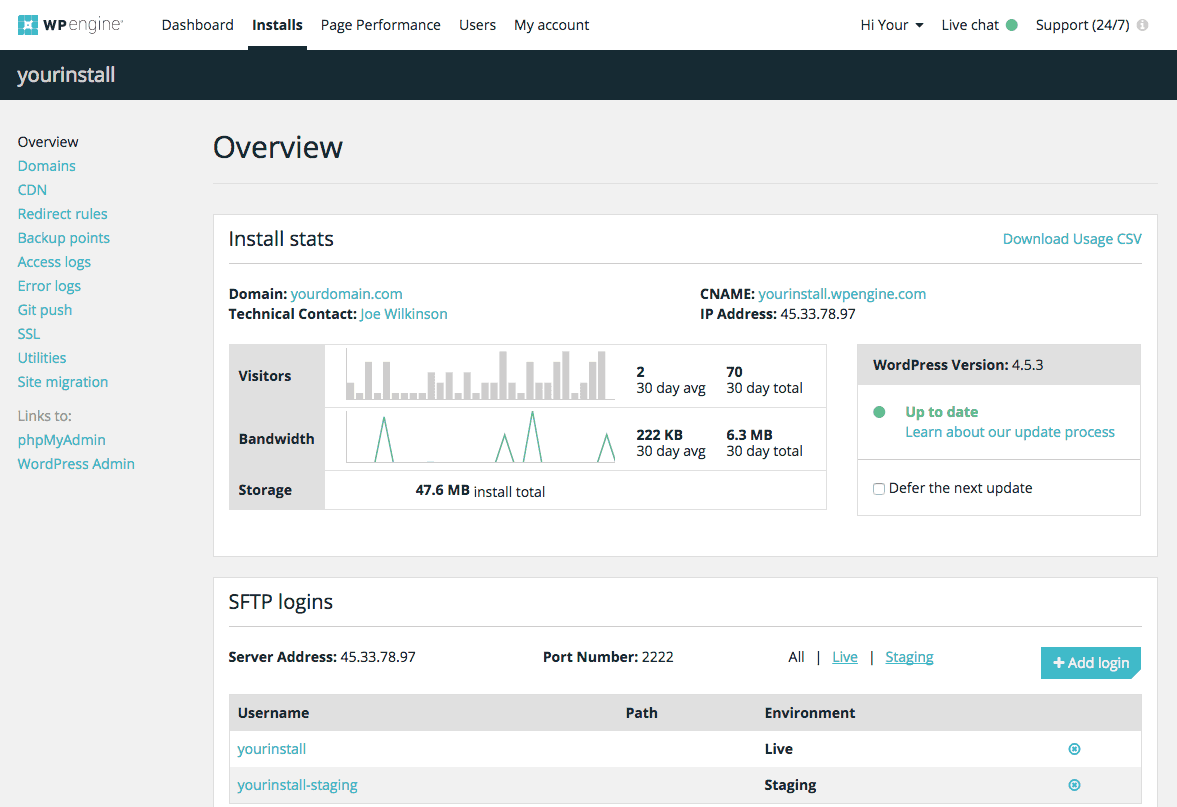 I liked the option of testing adjustments and experimenting on the website before making it live, as well as the built-in site caching and one-click data restores. What I did not like was the challenge in obtaining email hosting through WP Engine; you'll need to use a third party for this service. Additionally, their analytics platform can sometimes count bots as actual visits.
A business that has limited time for WordPress operations and can allocate a larger budget for quality managed hosting services may find that WP Engine is exactly what they need. They're more expensive than other hosting providers, but with their top-notch security and 24/7 support, their prices are not unreasonable for fully-managed WordPress hosting.
Read all about WP Engine in our expert review.
A2 Hosting, founded in 2003, is an eco-friendly hosting provider. They're also said to be one of the fastest and most reliable providers of a variety of hosting services such as:
Blog hosting
CRM hosting
Managed hosting
E-commerce hosting
Forum hosting
Wiki hosting
Social media hosting
A2 Hosting has data centers located in Europe, Asia, and the United States.
They have user-friendly central control panel management for all your domains in one place, where you can manage emails, backups, website statistics, files, bandwidth usage, and much more.
Some of the best features of A2 Hosting is that on certain plans they offer unlimited domains and unlimited MySQL and MSSQL databases and that there's a free shared SSL certificate on all hosting plans. They provide free website migration and DNS management, and their servers feature CloudFlare's CDN.
What I wasn't a fan of when it comes to A2 Hosting is that they do not offer free domain registrations – unlike most of their competitors. Also, all backups older than 30 days in customer accounts may be removed at their discretion. Plus, when you downgrade your account, site migration becomes a chargeable service, and you may be subject to a downgrade charge.
Another one of A2 Hosting's major drawbacks is that their live chat support is not available 24/7. Their support team is rather small, so when their support representatives are assisting other customers, they tend to be unreachable and advise their clients to contact them via email instead.
A2 Hosting wouldn't be a good option for you if you need to host more than one WordPress website – especially with their Lite plan, which is heavily capped. (In fact, the Lite plan is suitable for only one website with no additional use cases.) But if that's not an issue for you and speed is crucial to your business, choose A2 Hosting as it has been proven that they have 20 times faster website loading speeds and 99.99% average uptime.
Want to know more about A2 Hosting? Read our in-depth review.
FastComet's headquarters are in San Francisco, but they serve a customer base in over 80 countries with servers located in eight major cities including Tokyo, Singapore, Dallas, Frankfurt, and London.
The pros of using FastComet for your WordPress hosting are:
Strong uptime – tests report an average of 99.98%
Fast and personal support
45-day money back guarantee
Daily back-ups – especially important with WordPress
Free CloudFlare CDN
Free migrations
Free domain for life
Transparent pricing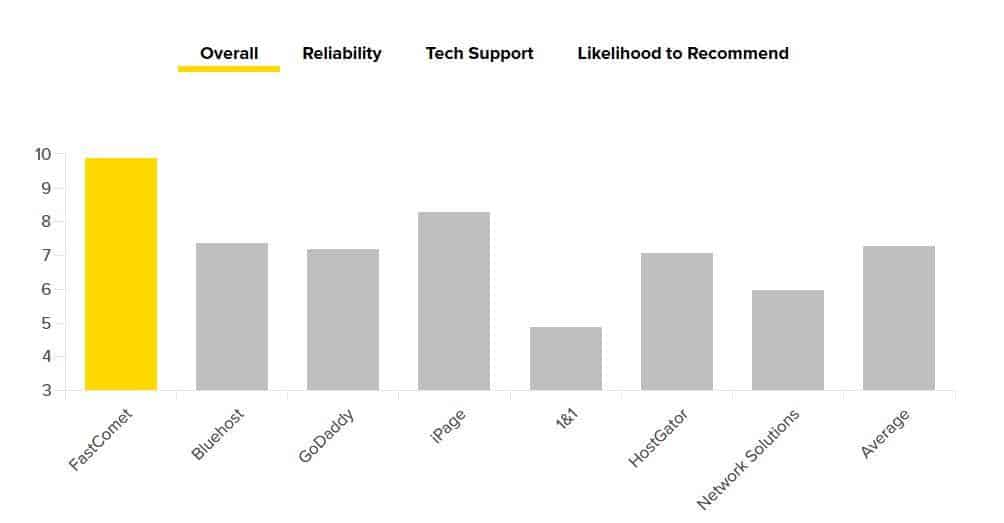 The biggest con is that there are users who have concerns about FastComet's server speeds, which they have reported to be almost three times slower (an average of 1083ms) than what FastComet advertises (395ms).
In summary, if speed is not a big consideration for your business, then with strong uptime, free domain registration, easy sign-up, and fast account activation, FastComet might be the right WordPress host for you. If this is not convincing enough, then take into consideration that they have real people with real photos reaching out to help in live chat pop-ups – so you know you're not dealing with chatbots or some third-world call center barely paying minimum wage.
Curious about FastComet? Learn more in our expert review.
SiteGround has served almost a million customers since it was founded in 2004. They have servers in London, Amsterdam, Chicago, and Singapore. Besides managed WordPress hosting, they also offer cloud hosting, shared hosting, and dedicated hosting.
SiteGround guarantees 99.9% uptime, averaged over a 12-month period – if they fail to provide this, they'll return credit to your hosting account. They have their own customer account area called the "User's Area," which offers detailed information about your plan and provides easy access to the support portal and ticket system.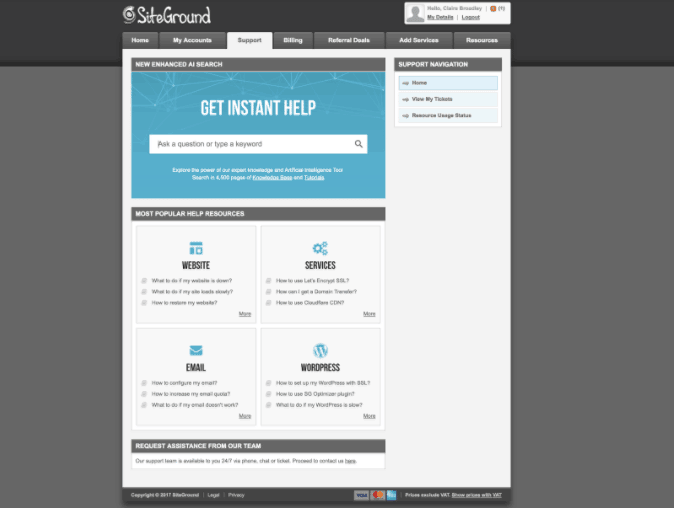 My favorite SiteGround features are the high uptime, daily backups, user-friendliness, and many free add-ons. Our least favorite SiteGround features are the significantly higher price tags and limited storage space.
No matter what type of hosting you choose, SiteGround includes managed WordPress hosting with all of their plans. SiteGround is perfect for business owners who wish to use a hosting provider recommended by WordPress, as SiteGround is one of the three (besides DreamHost and Bluehost) that have the WordPress seal of approval.
This means that they have fulfilled several WordPress recommendations and requirements for hosting their software. For instance, all of their plans include single-click installations, automatic updates to the WordPress Core, command line management (WP-CLI), three layers of caching for performance (SuperCacher), and a website staging area. So perhaps paying a higher price for all of these features makes sense.
Learn more about SiteGround in our in-depth review.
So, Which One Is The Right One…to Host Your WordPress Website?
You are now probably feeling overwhelmed with all these different hosting providers — maybe in the past, you might've even made a mistake and chosen the wrong one. We've all been there! To help you out with your decision, take the following steps when choosing your new WordPress hosting provider:
Determine your budget
Do your research and read others' reviews
Avoid new and untested hosting providers
Be aware of marketing tricks, such as:
– 100% uptime guarantees
– fee for the first vs remaining months
– setup fees
– support fees
– coupons
Check out which plugins are used
Find out if there's a free trial or a money back guarantee
Taking into consideration all the tips above is definitely a step in the right direction. Good luck!
---
Forbes: https://www.forbes.com/sites/jjcolao/2012/09/05/the-internets-mother-tongue/#30847b69f6f7