choose a website builder that offers a wide variety of templates
and an easy-to-use platform. This allows you to customize your website to suit your style and create an appealing site with little to no design experience. I explored dozens of platforms to see which ones truly make the process straightforward and gathered them on this list.
I also made a point to include only builders that offer free plans or trials.
And
since they work online, you don't need to install any new software on your Mac
. You just use your regular web browser, like Safari or Chrome, so it works great whether you have a simple MacBook Air, a more powerful MacBook Pro, or even if you're using your iPad or iPhone. Through my research,
Wix stood out thanks to its vast collection of professional and pretty-looking templates,
beginner-friendly interface, and feature-rich free plan. Whether you want to start a blog or open an online store, Wix can help you create a Mac website with minimal effort.
Short on Time? These Are the Best Website Builders for Mac in 2023
Wix – A stellar website builder for Mac offering over 900 free templates for any type of project.
SITE123 – Easy-to-use Mac builder for websites that look just as good on your iPhone.
Squarespace – Minimalistic and elegant designer-made templates for Mac.
What We Look For in the Best Website Builders for Mac
During my in-depth testing of different website builders, I focused on specific features that would help you enjoy a simple and hassle-free experience as a Mac user. Here are the key features I prioritized:
Intuitive Interface. A top-tier website builder should be straightforward to navigate and use. A clear, intuitive interface ensures you won't waste time fumbling around. I've chosen options that provide this level of simplicity so you can focus on crafting your site.
Mac Compatibility. Your website builder should work seamlessly on Mac. I've ensured every recommendation works well on iOS, allowing you to work without interruptions.
Customization. A website builder should offer rich customization options. Every service I suggest provides you with various design and function choices. For example, you can add your company branding or design your own logo to create a visually appealing website that resonates with your vision.
Responsive Customer Support. It's crucial to have a responsive customer support team when you're using a new digital tool. The platforms I've spotlighted prioritize your experience, offering quick and efficient assistance.
Mobile App. The best website builders should have dedicated apps for iPhones and iPads. This feature ensures you can edit, update, or check on your site wherever you are, right from your Apple device.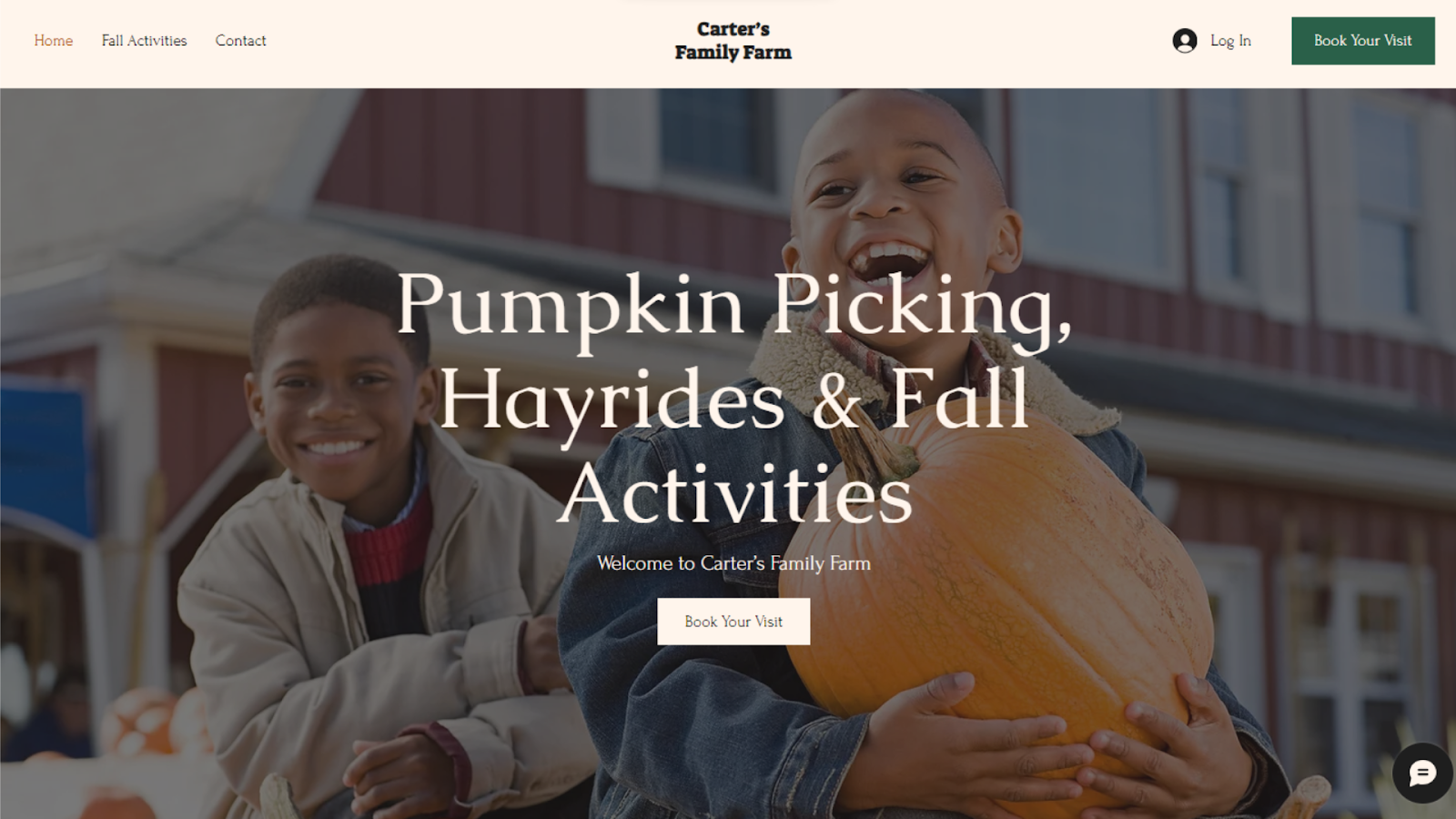 Wix's easy setup process and
huge template library of 900+ website templates
are ideal if you're just starting out. Its seamless interface is especially attractive to Mac users and makes customizing your chosen template even easier. On a personal note, I started using Wix back in high school and feel like while it's added so many new features, its user-friendliness remains unchanged.
Wix's AI-powered editor is pretty useful.
Instead of sifting through endless design choices, this smart editor (called ADI for Artificial Design Intelligence) gets to know a bit about what you want by asking simple questions. Then, it suggests the best design fit for your needs. It's like having a helpful friend guide you through the design process, ensuring your site looks great without the stress. As for costs,
Wix offers a very generous free plan
 packed with enough features to get you started,
including the mobile editor, the template library, and full customization features. But if you're considering taking things up a notch, the paid plan doesn't just give you more tools and storage. It also throws in a free domain for the first year. That's a nice touch for giving your site a professional edge.
Features
Multilingual accessibility. When building your website, working in a language you're comfortable with is essential. You can set up your account in over 20 languages, like English, Turkish, Hindi, and Japanese. Your website can be displayed in 35+ languages, catering to audiences from Hebrew to Hungarian speakers.
SEO tools. Wix's basic paid plan offers a thorough "SEO Setup Checklist" for optimization called Wix SEO Wiz. It helps ensure your site is pretty and easy to find on search engines like Google. Higher-tier plans add features like advanced SEO tools and ad removal, while choosing the top plan gets you a personal SEO evaluation by the Wix team.
Password-protected pages. You can easily lock certain pages with a password if you want more privacy on your site. This way, you decide who sees what on your Wix website.
Wix app market. With a large app selection, you can easily add tools like appointment booking, live chat, email marketing, and social media integration. It's a simple way to add more functions to your website without knowing any HTML.
Read our expert Wix review for more details.
Free plan or trial
Free plan
iOS mobile app

✔

Number of free templates
900+
Starting price on the paid plan

$

16.00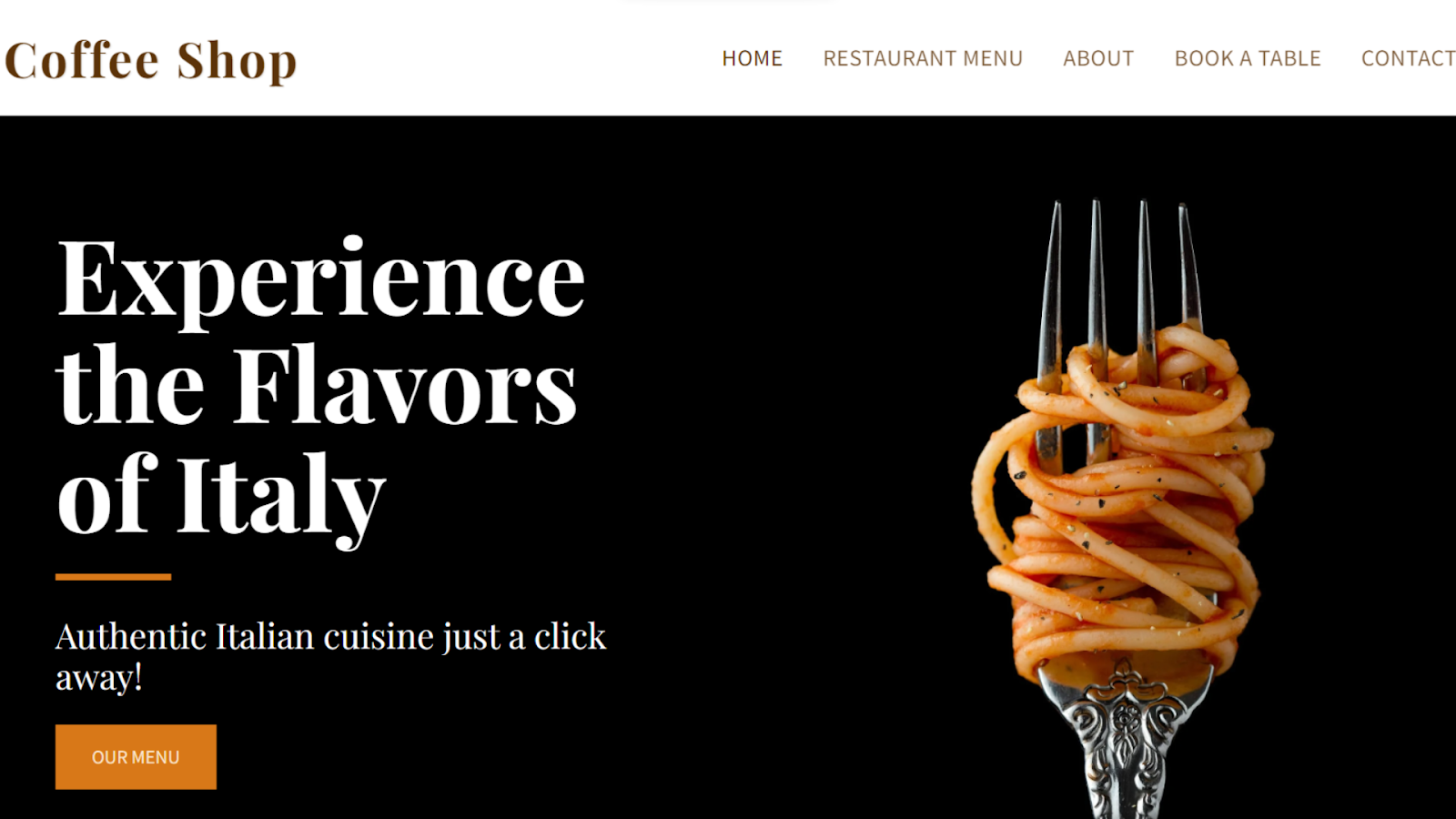 As a Mac user, you're already accustomed to user-friendly platforms and smooth experiences. SITE123 ensures you get just that, especially if you're on a budget. If you want something quick and easy,
SITE123 offers the best free plan
.
With three effortless steps – select, design, and publish – your website can go live in under an hour. The free package doesn't skimp on essentials, either. You can quickly
create contact forms, showcase image galleries, and start a blog.
You can also manage appointment bookings – features often tucked behind a paywall in other builders. If, later on, you fancy sprucing things up a bit more, you can always upgrade to a paid plan. This allows for richer design customizations beyond the premade templates, including a wider font selection to add your unique touch. Websites created with SITE123 are fully responsive,
ensuring a seamless appearance and functionality on all Apple devices.
Unlike some sites that may appear disorganized or improperly sized on a smaller screen, SITE123 websites automatically adjust to fit the screen of any device, whether it's a MacBook, iPad, or iPhone.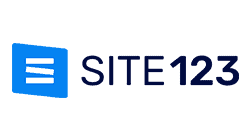 Get a FREE domain + hosting with any SITE123 annual plan!
This exclusive offer is only available for your first purchase.
31 users used this coupon!
Features
24/7 assistance and guided tour. From the moment you start on SITE123, a "guided tour" introduces you to the editing tools, complemented by helpful videos and tutorials. If you have any questions, the non-stop live chat is available in English and 16 other languages and has very short response times.
Intuitive editor. Even though it lacks Wix's drag-and-drop functionality, SITE123 offers a straightforward editing bar. This allows you to easily manage site pages, upload media, adjust design elements, and even add e-commerce blocks.
Top-notch security for all. Safety and security shouldn't be a premium feature. SITE123 ensures that even websites on its free plan are SSL encrypted. This instills trust in your visitors and ensures that their data is transmitted securely – a must-have in today's digital age.
No extra fees for e-commerce. If you're diving into the e-commerce world, SITE123 ensures you get the full value from your sales. Unlike some platforms that deduct a commission, SITE123 lets you retain your earnings, only subtracting the usual transaction fees set by payment providers.
Read my colleague's SITE123 review for more details.
Free plan or trial
Free plan
iOS mobile app
Only in browser
Number of free templates
80+
Starting price on the paid plan

$

12.80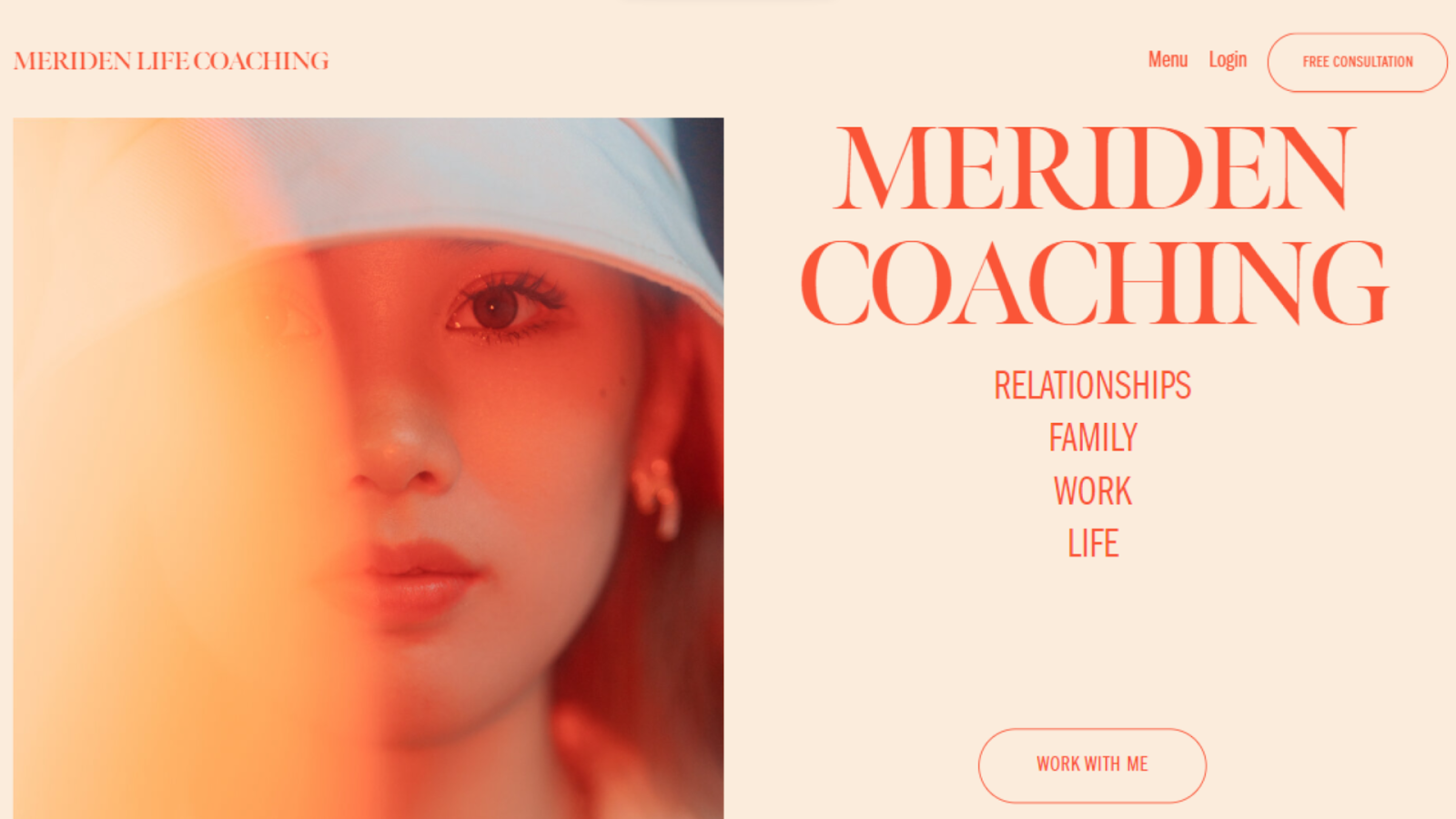 When it comes to top-tier website templates, Squarespace truly shines for Mac users. The platform offers
many visually striking and user-friendly templates.
Whether setting up an online store, showcasing your portfolio, or starting a blog,
Squarespace's beautiful designer-made templates
 ensure you look polished and reflect your brand's personality. Plus, all templates look great on iPhone and iPad since they're all mobile-responsive. Speaking of high-quality visuals, Squarespace's partnership with Unsplash is a game-changer. This partnership provides
immediate access to many professional, royalty-free images,
saving you from scouting the web or struggling with licensing issues. Another feature of Squarespace that I think is particularly useful if you're new to website building is its inline editing. You don't have to juggle between complex dashboards and preview windows. With Squarespace,
you edit right on your page, seeing changes as you make them.
It's simple and efficient, and there are no surprises when you hit the publish button.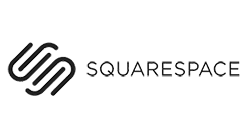 Save up to 30 % on your Squarespace plan today!
Plus get a free domain for one year!
1031 users used this coupon!
Features
Customizable templates. With Squarespace's intuitive drag-and-drop builder, you can easily customize content layouts. The grid arrangement guides you to ensure it all looks evenly spaced. This way, you can design pages that align with your vision and look consistent without needing to delve into code.
Great knowledge center. Whether you're troubleshooting an issue or seeking creative inspiration, Squarespace's knowledge hub is a valuable resource. Filled with in-depth articles, video tutorials, and step-by-step guides, it's your go-to resource for all things web design.
Integrated marketing tools. With Squarespace, you can extend your reach beyond just a stunning website using a suite of email and social marketing tools. You can craft compelling newsletters, engage with followers, and amplify your brand's online visibility. There's even a logo maker you can use directly on Squarespace.
Advanced e-commerce capabilities. Squarespace isn't just about looks – it's also about functionality. With its integrated e-commerce tools, you can effortlessly set up an online store, manage inventory, and process payments, making it a one-stop shop for selling products or services online.
Read our expert Squarespace review for more details.
Free plan or trial
Free 14-day trial
iOS mobile app

✔

Number of free templates
160+
Starting price on the paid plan

$

16.00

[-]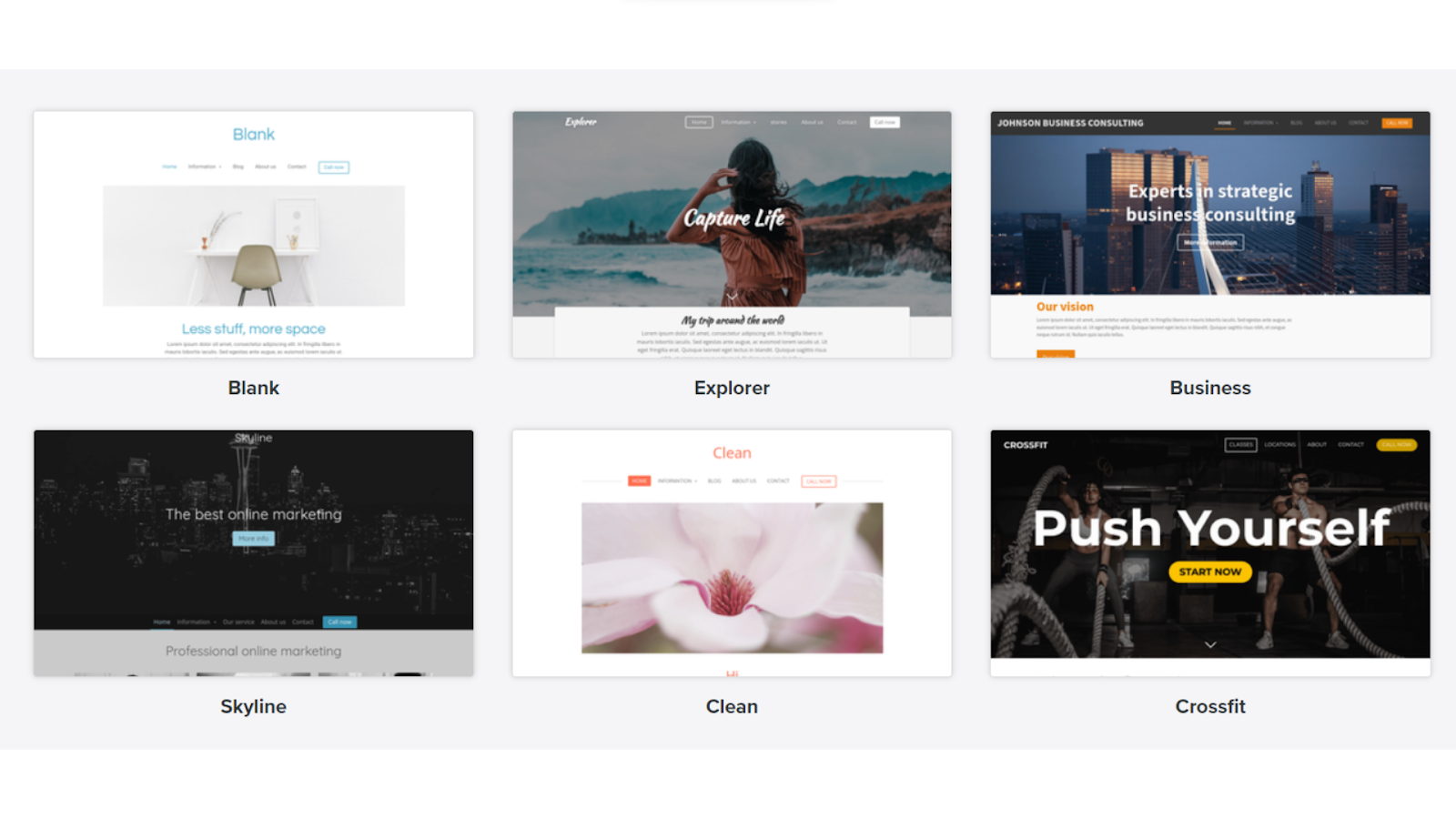 Webador is a top pick if you're looking for an easy-to-use Mac website builder. The platform is intuitive, allowing you to
create and publish a site in just 10 minutes.
Its user-friendly interface is paired with a responsive drag-and-drop editor, so you can see changes as you make them, ensuring your site looks exactly how you want it to.
With Webador, simplicity doesn't come at the expense of functionality.
Beyond the standard tools, it effortlessly provides essentials like headings and images. What truly distinguishes it are its unique features: you can place a comments box anywhere on your site, integrate a digital map, and engage visitors with a rating system. What's more, Webador allows you to easily optimize SEO settings, ensuring better visibility on Google searches. If you're just starting out and aren't ready to invest financially,
Webador's free plan offers unlimited storage, pages, and access to all 55+ templates.
While this might seem limited next to Wix's 900+ free templates, it's still a valuable starting point. However, if you're aiming for your own domain name, a personal mailbox, or e-commerce capabilities, you'll need to upgrade to a paid plan.
Features
Detailed help center. Webador's support center goes beyond just technical platform support. It provides guidance on website-building basics, including topics like design best practices and SEO optimization. To help you understand better, it also has images and video tutorials.
Communication and sharing. Webador incorporates features that help you connect with your audience. This includes built-in social media icons, various sharing tools, and functionalities such as audio and video players. There's also a document-sharing system, and the platform's file download system accommodates files up to 200MB.
Comprehensive e-commerce tools. Webador presents a suite of e-commerce tools that assist you in altering product details, tracking orders, setting up discounts, and managing tax information. A great advantage is the lack of transaction fees, so Webador is a cost-friendly environment if you're selling a limited product range. However, to take advantage of all the e-commerce tools, you must be on the top-tier paid plan.
Blogging capabilities. With Webador, you gain access to a what-you-see-is-what-you-get blog editor, allowing for a flexible blogging experience. The accompanying blog widget helps you streamline post management, make SEO tweaks, and adjust post visibility settings.
Read our expert Webador review for more details.
Free plan or trial
Free plan, free 3-month trial for paid plans
iOS mobile app
Only in browser
Number of free templates
55+
Starting price on the paid plan

$

4.00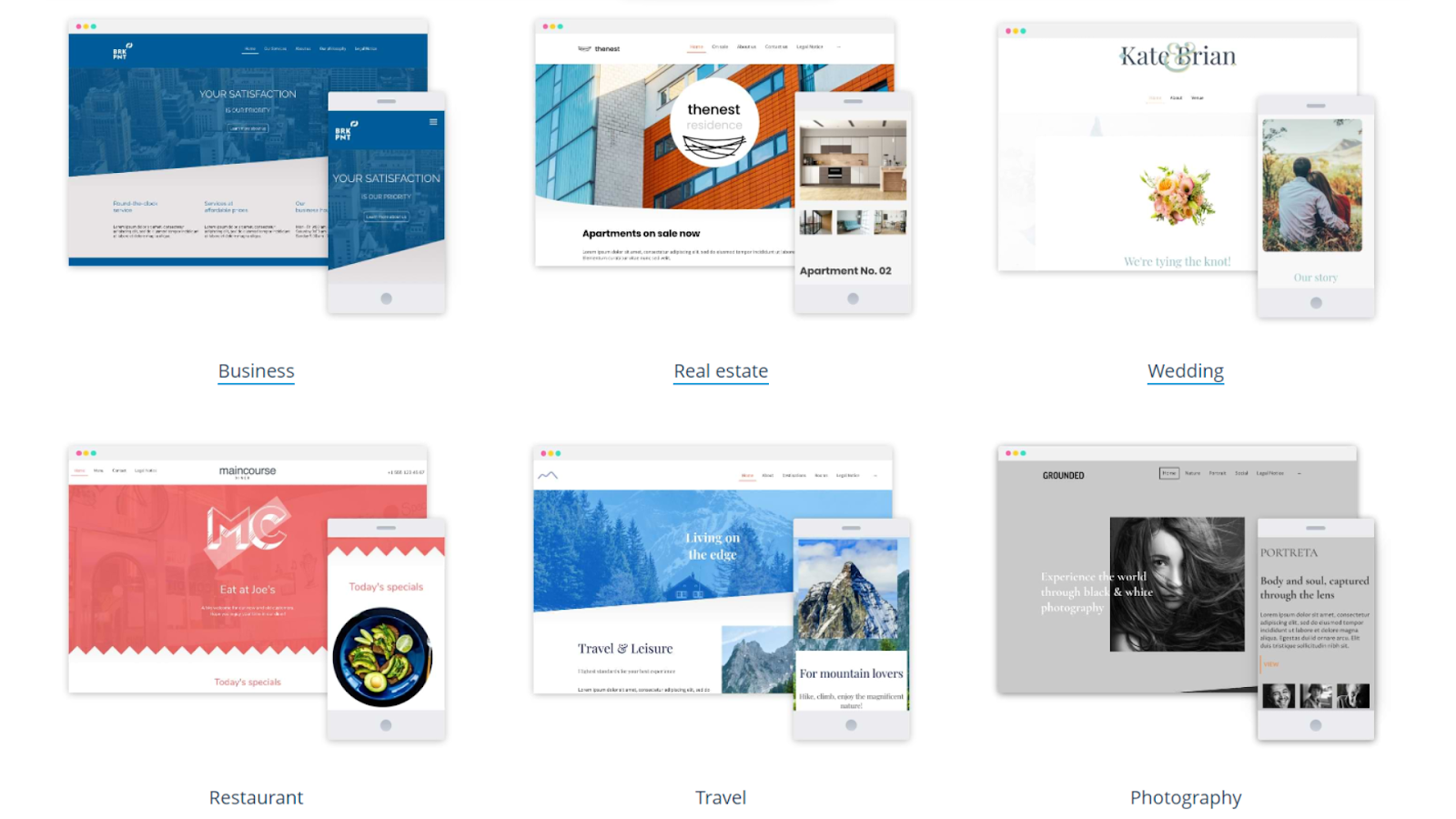 If you're a Mac user drawn to the platform for its simplicity, you might find the IONOS website builder resonating with what you cherish in Apple's design. It provides
a clean interface, intuitive features, and no-nonsense functionality.
With its drag-and-drop editor, you'll find building a website on IONOS as straightforward as navigating your MacBook or iMac. Plus, it offers dedicated phone support if you have any trouble. But what might truly grab your attention about IONOS? The price point. It hands you tools and features that rival premium services but at
a price that's friendlier on the pocket.
You'll appreciate the advanced email hosting solution, easy domain management, integration capabilities, and security certificates. However, if you want advanced customization, IONOS might come up a bit short. While a local bakery might find it quick to set up a basic storefront using IONOS templates, a digital artist aiming for a cutting-edge portfolio site with interactive features might find the platform restrictive. In that case, Squarespace's designer-made templates might be a better choice.
Features
Condensed template selection. IONOS offers a few templates, with only around 25 designs available (one per industry, from restaurant to fashion). However, these templates are attractive, modern, and mobile-friendly, ensuring your website looks professional.
Speedy website creation. IONOS allows you to make a Mac website quickly but has style customization limitations. While you can assemble pages using pre-designed content blocks, there's no full drag-and-drop functionality. This option suits basic website needs with a need for speed.
Free domain and email. IONOS offers a free domain for one year with all plans, ensuring your website has a professional web address. Plus, you get a free email account that works seamlessly with your domain, whether purchased through IONOS or elsewhere, for a complete online presence solution.
Basic but valuable e-commerce tools. IONOS offers an affordable Online Store Starter plan packed with e-commerce essentials such as inventory management, tax settings, and even the ability to sell on major platforms like Facebook and Amazon.
Read our expert IONOS review for more details.
Free plan or trial
Free plan
iOS mobile app

✔

Number of free templates
24
Starting price on the paid plan

$

6.00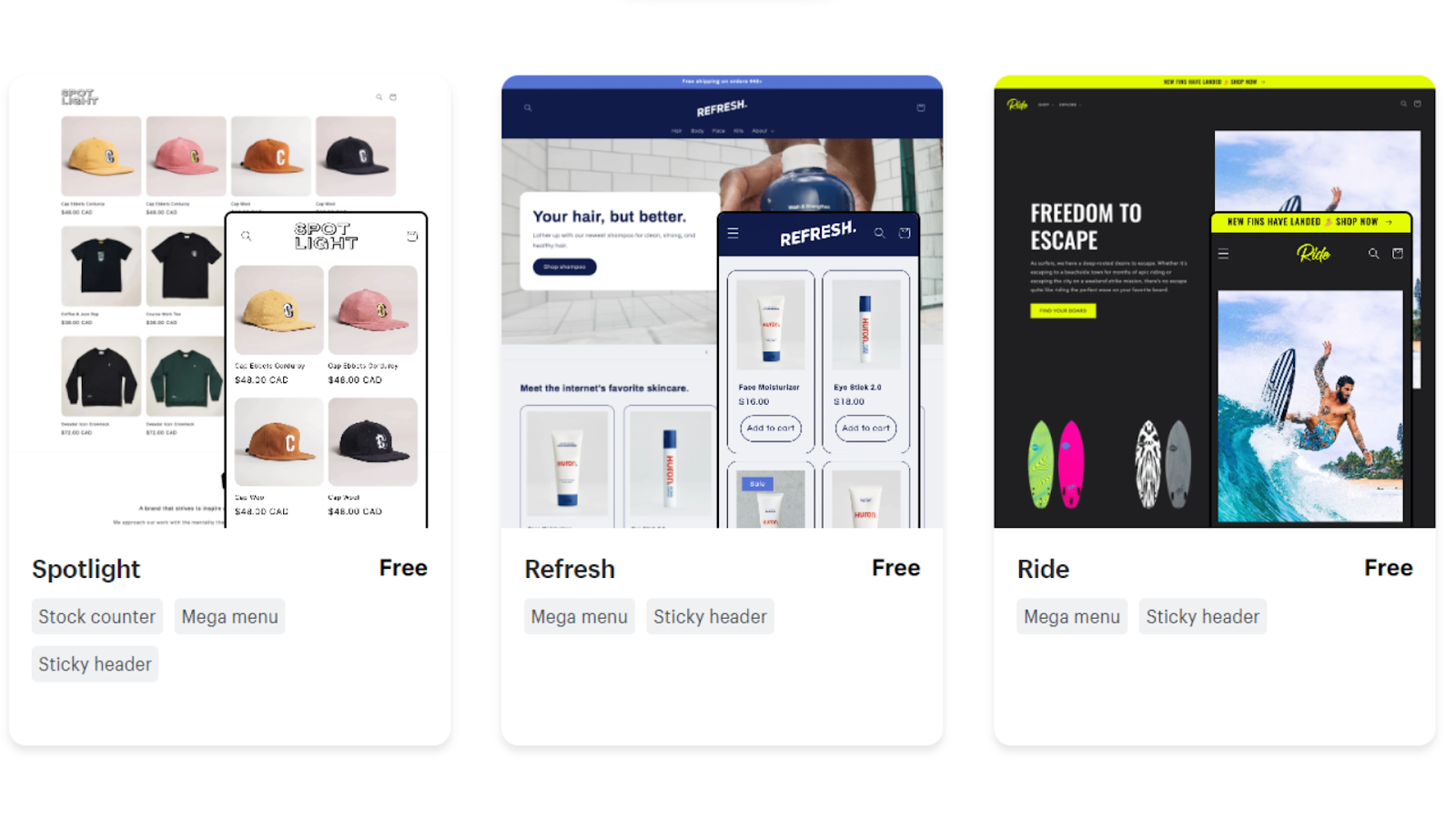 If you want to create a dedicated online store from your Mac, Shopify's themes offer visually stunning and professionally designed options. Packed with
built-in features like discounts, product recommendations, and capturing your customers' emails,
they help enhance the shopping experience. Each theme is optimized for fast loading, mobile-friendliness, and seamless checkout. Shopify excels in multi-channel integration. It seamlessly extends your sales reach across various channels, including social media platforms like Facebook, Instagram, and major marketplaces like Amazon and eBay. Shopify can help expand your brand's visibility, attract more sales, and recapture lost sales with abandoned cart tools – all from
a user-friendly dashboard.
While Shopify has many great features, many come at an additional price.
As your store grows, you might need more tools for better inventory management, subscription services, or advanced marketing. Each of these might have monthly fees. So, while Shopify starts off affordable, costs can rise with added extras.
Features
Fast server response time. Shopify has a reliable hosting infrastructure that makes your online stores load quickly. This provides a smooth shopping experience for your customers and reduces bounce rates.
Staff & customer accounts. Shopify allows you to create multiple staff accounts with varying levels of access and permissions. This helps you delegate tasks and manage your online store more efficiently. Your customers can also create accounts to shop on your website.
Dropshipping tools. Shopify has built-in features and integrations for dropshipping, making it a great choice if your business relies on third-party suppliers. You can also automate order fulfillment and inventory management through Shopify.
Product Management. With Shopify, you can easily add product images (with automatic resizing and optimization), craft detailed descriptions (including weight, size, and color), manage inventory with the integrated editor and order tracker, and either add products individually or bulk-import from sources like Excel or eBay.
Read our expert Shopify review for more details.
Free plan or trial
Free trial
iOS mobile app

✔

Number of free templates
12 (150+ paid)
Starting price on the paid plan

$

5.00
Other Notable Website Builders for Mac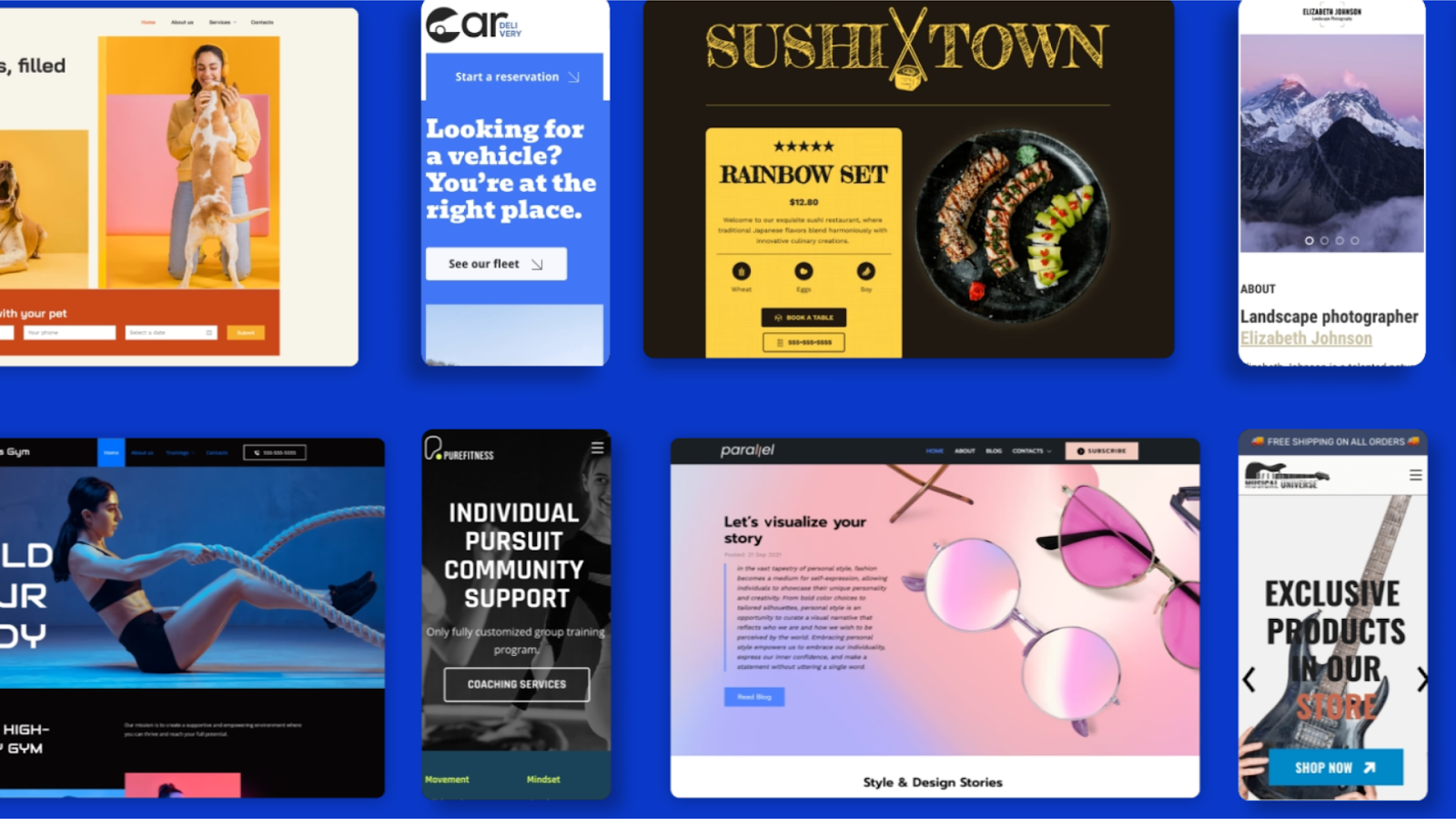 If you're new to the digital landscape, Web.com offers a welcoming introduction. Its straightforward solutions and user-friendly website builder make launching an online presence quite easy. However, as you become more adept and seek intricate customization, Web.com may not fully meet those advanced needs.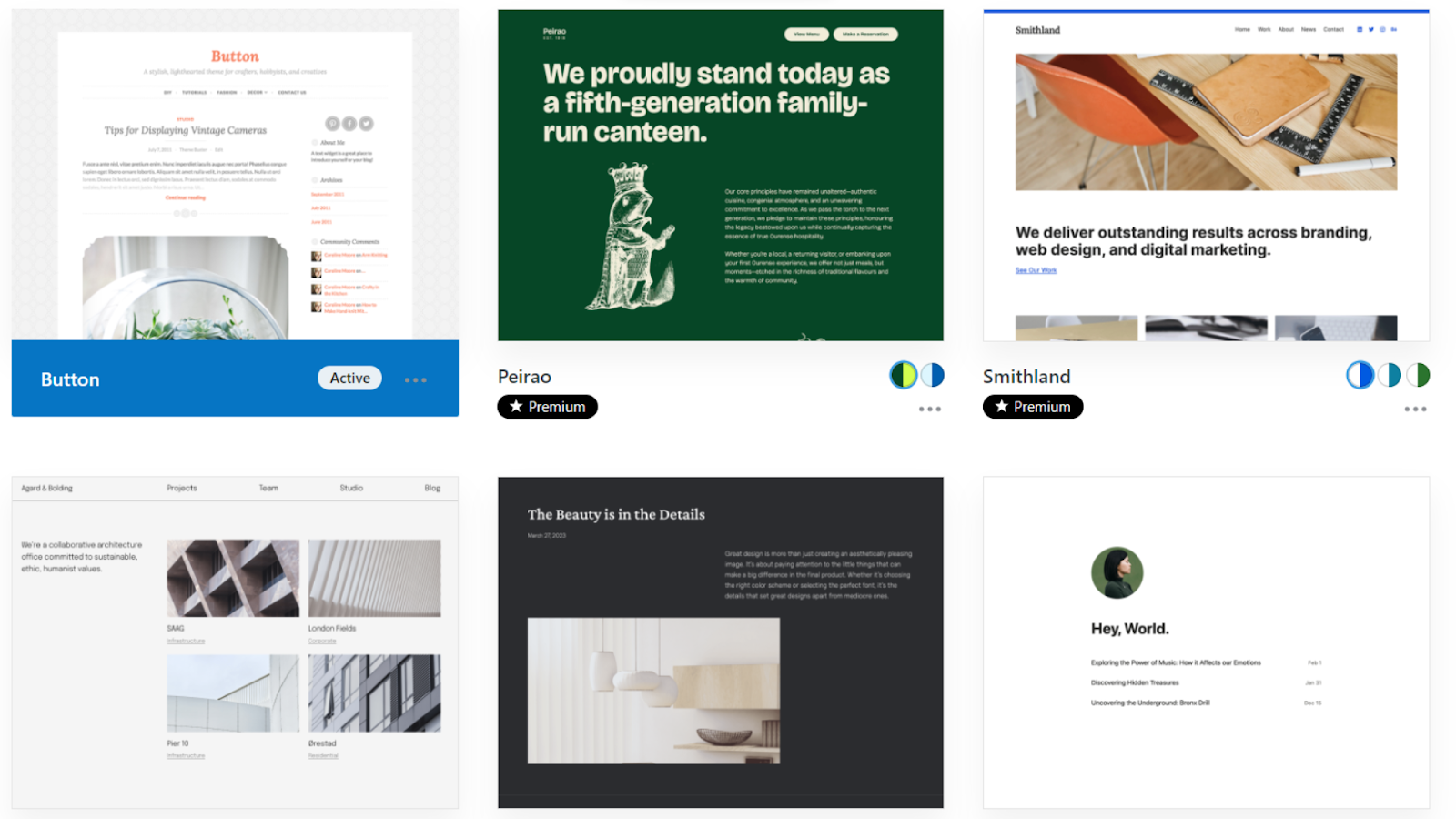 With WordPress.com, you tap into the renowned flexibility of the WordPress ecosystem without the hassle of self-hosting. The platform's vast array of plugins and themes ensures you can tailor your site to your exact preferences. But be prepared: if you're a first-time user, there's a learning curve to mastering its many features. For example, the abundance of plugin options can be overwhelming for newcomers, especially when discerning which are essential and how to configure them properly.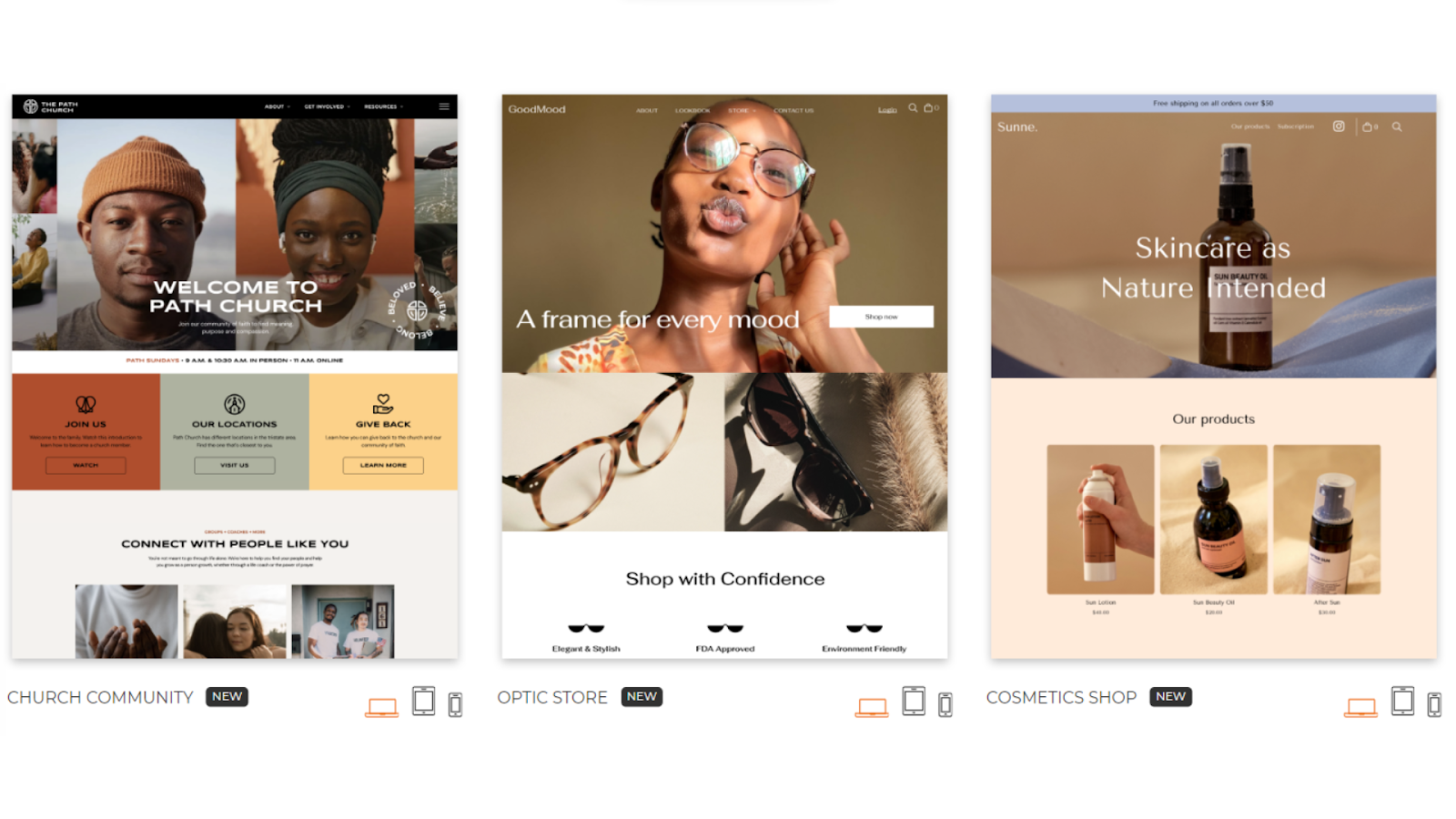 Aimed at web professionals and digital agencies, Duda emphasizes collaboration and responsive design. You'll find crafting mobile-friendly sites a breeze, with tools designed for client management and teamwork. However, this level of specialization and advanced features come with a price tag that can feel a bit steep. Duda isn't the best choice if you're on a limited budget.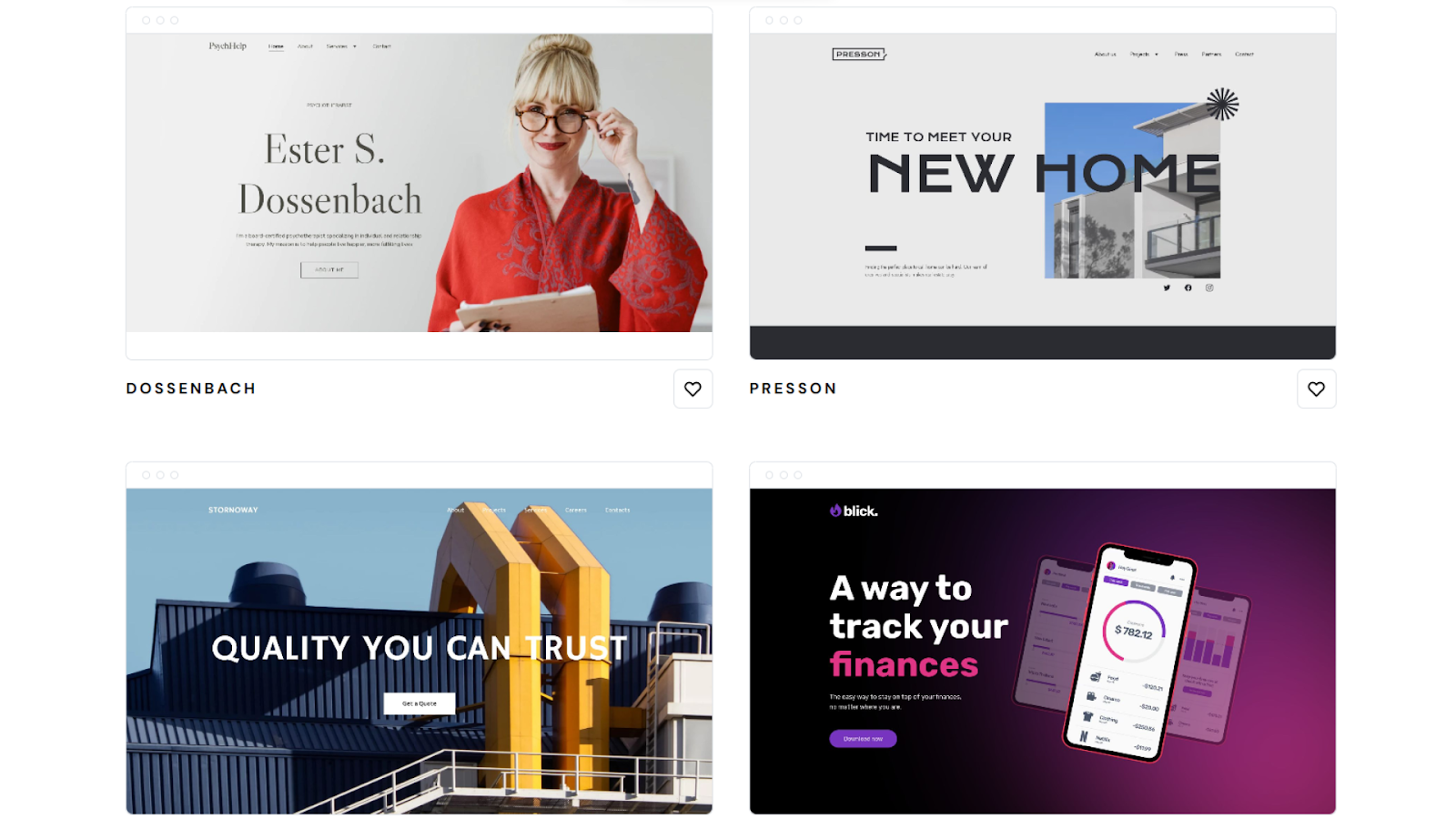 Hostinger promises simplicity without breaking the bank. You'll benefit from its integrated hosting and site-building solution – perfect for an all-in-one approach. Yet, its design options and template variety may be limiting if you want a truly unique website aesthetic. I also don't like how Hostinger's editor and rigid grid layout restrict overall creative control.
These Are the Best Website Builders for Mac
For Mac users navigating the world of website builders, it's important to identify platforms that offer both compatibility and functionality to suit your specific needs. Here's a concise breakdown based on my findings:
If your primary focus is a wide variety of design options, Wix stands out with a massive selection of over 900 free templates.
Mac users can easily find a design that aligns closely with their vision. With its customized design suggestions and user-friendly interface, the AI-powered ADI editor helps you get started with no hassle.
If you value intuitive design and efficient processes, SITE123 is a great solution.
It offers a straightforward approach and an array of essential features even in its free plan. Whether you're looking to quickly launch a website or ensure optimal viewing across all Apple devices, SITE123 offers a seamless, user-centric experience. Alternatively,
Squarespace is a better fit
 if you prioritize premium templates and direct editing capabilities. With its connection to Unsplash, which provides beautiful royalty-free images, it's perfect for Mac users looking to showcase their work or content in an aesthetically pleasing way.
For a clear overview of how these platforms stack up, check out the summary comparison table below:
Free Plan or Trial
Best Feature
Best For
Starting Price
Wix
✔
Huge collection of free templates
Mac users who are new to web design

$

16.00

SITE123
✔
Websites optimized for mobile-viewing
Mac users who want quick results

$

12.80

Squarespace
✔
Beautiful designer-made free templates
Mac users who value design

$

16.00

Webador
✔
Wide variety of quality widgets
Mac users who value simplicity

$

4.00

IONOS
✔
Affordable plans
Mac users on a budget

$

6.00

Shopify
✔
Advanced e-commerce capabilities
Mac users who want to run an online store

$

5.00
FAQ
What's the best web design software for Mac?
Wix is a versatile cloud-based website builder that provides an intuitive drag-and-drop interface, making it easy for users to create professional-looking sites without any coding experience. Given its web-based nature, Wix is fully compatible with Mac systems and offers a mobile app for iOS. This app allows you to manage and update your sites directly from your phone.
Can I create a website with my phone?
Yes, you can build a website using your mobile device, including your iPhone or iPad. Many modern website builders, including Wix, offer mobile-friendly interfaces or dedicated apps that allow you to design and manage your site directly from your phone.
Is Wix good for Mac?
Absolutely! Wix is web-based, which means it's perfect for Mac users. You only need a web browser (Safari, Chrome, or whichever you prefer) and an internet connection.
Can I build my own website for free?
Yes, it's entirely possible to build a website for free. Many platforms, like Wix and SITE23, offer free versions. While these versions might have some limitations, like branded domains or advertisements on your site, they still provide an excellent opportunity for you and your business to establish an online presence without initial investment.
What is the best free app for making websites?
The top free apps or platforms for making websites are Wix, Site123, and Squarespace. While Squarespace is known for its premium plans, its trial version offers a taste of its beautiful designs and robust tools. On the other hand, Wix and Site123 provide free versions, allowing you to create and publish websites without upfront costs. Check out our list of the 12 Best Free Website Builders in 2023 for more alternatives.