While all the builders on my list will get the job done, my personal favorite is Squarespace. It has the best-looking templates around, and all the tools you could possibly need to build your website, integrated straight into its editor (so you don't have to look for them elsewhere). You can take advantage of
Squarespace's 30% discount on annual plans
 to save on your subscription.
Searching for a website builder as a Mac user used to mean finding, downloading, and installing a piece of Mac-specific software, then starting to build your website from scratch. Nowadays, luckily, you don't need to know a scrap of code to create a website, because online web builders take care of all the fiddly technical work for you.
Since they are all based online, these kinds of web builders work equally well on Macs and PCs
. All you need is an internet connection. But with so many different builders on offer, choosing the right one can be a difficult task. That's why I've done the hard work for you. Taking advantage of my over five years of experience in digital content creation, I put some of the biggest website builders through the wringer to find out which ones offer the best features for Mac users.
All of the website builders featured on this list are online hosted, meaning no software, no downloads, and no apps
. Read on to find out what I learned and see which website builder is the best for you.
Short on Time? These are the Best Website Builders for Mac in February 2023:
Wix – Offers by far the most preset templates and virtually unlimited customization options, making it perfect if you have a very specific website design in mind.
Squarespace – These gorgeous template designs will appeal to every Mac user, as will the high-quality third-party integrations.
SITE123 – Gives plenty of flexible pricing options, making sure you don't pay for stuff you don't need.
Jump down to see 2 other website builders we recommend |Comparison table |FAQ

What We Look For in the Best Website Builders for Mac
With all of these web builders being hosted online, they work just as well on Macs as on PCs. So, to separate the great web builders from the good, I've focused on the aspects that matter most to Mac users:
Well-designed templates: If you're an Apple fan, chances are design is very, very important to you. Only the web builders with the most attractive template designs made it onto this list.
Customization options: But great templates aren't everything. If your website is going to truly reflect your good taste, it needs to be ultra-customizable. These builders all allow you to customize your site's look and design – to varying degrees.
On-the-go editing: You don't want to be tied down a desktop or even your Macbook. I've highlighted which of these web builders offer on-the-go editing options, allowing you to make changes to your website from your iPhone or iPad.
Ease of use: If you're using an online web builder rather than dedicated Mac software, you're probably not super confident with code. Building your website with one of these platforms will be quick and easy, and requires virtually zero technical knowledge.
Affordable plans: Dedicated Mac web design software can be expensive. All of these web builders come with affordable plans – and premium features that are worth the extra cost.
Wix has long been plenty of people's go-to website builder – thanks to its
huge selection of templates
, virtually unending customization options and rich selection of features
 – and it offers plenty to tempt Mac users as well. With over 500 crisp, modern designs on offer (think clean, white spaces, eye-catching full- width photographs, and bold typography),
Wix has the largest selection of ready-to-go templates of all of the builders on this list
(or off this list, for that matter). If you can't find the design you want on Wix, you're probably not going to find it anywhere.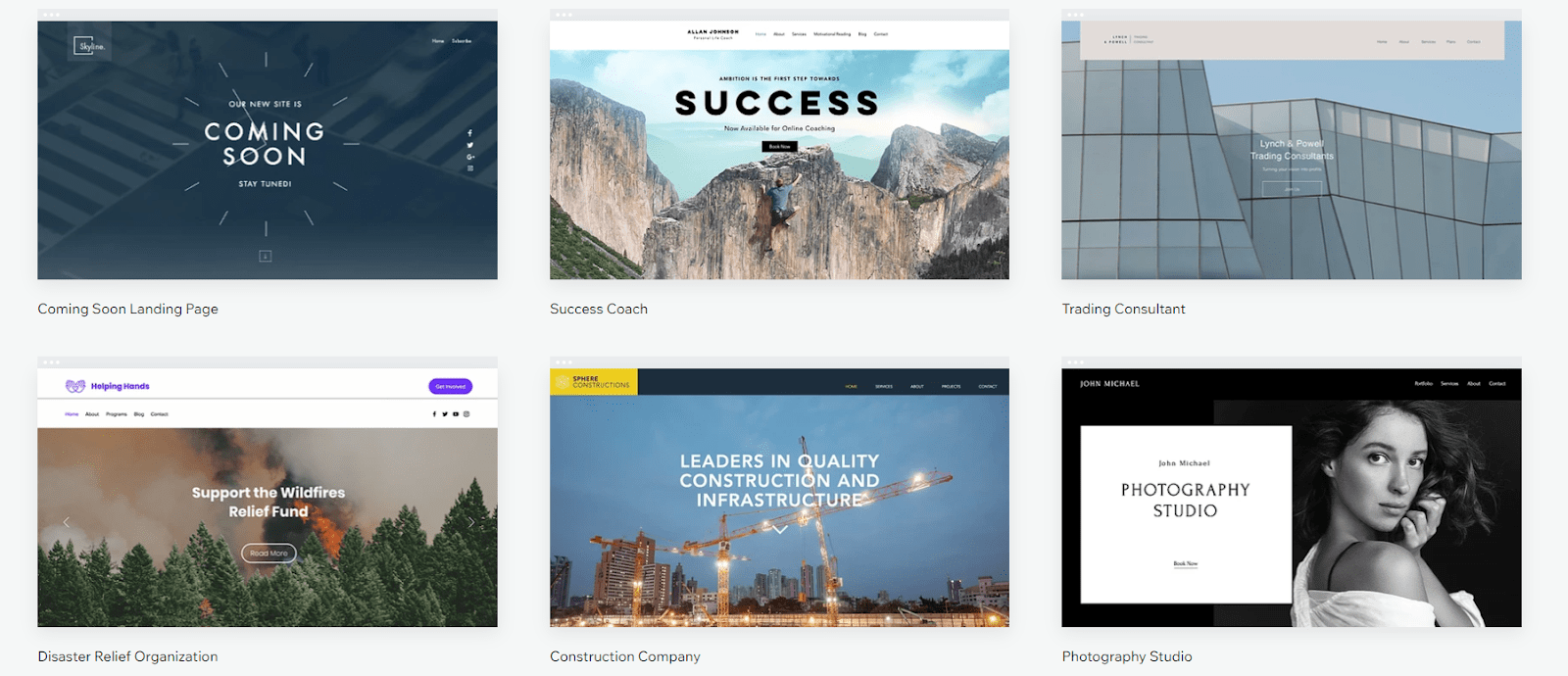 But even that wouldn't necessarily be a problem, because
Wix offers its users far more creative freedom than most other web builders out there
. All of its templates are totally customizable, meaning it's easy to change just about anything – from colors and fonts right down to the core site structure. The Wix App Market also offers more than 300 apps (some free, some paid) that allow you to transform your site with additional functionality – although it is missing some of the key Apple integrations offered by builders like Squarespace, such as Apple News and Apple Pay.
Wix is one of the best tools out there for beginners
, featuring an easy-to-use, intuitive drag-and-drop editor that would make it perfectly possible for even a complete beginner to have a functioning website up and running in a few hours. And if that's not easy enough, the ADI (Artificial Design Intelligence) feature can get you started with just a few simple questions.
Wix also offers a mobile app that's available on iOS
 (so you can download it on both your iPhone and your iPad). It lets you:
Create and edit your website
Manage your online store
Write and share blog posts
Take bookings and payments
Live chat with visitors
Track business analytics
One slightly frustrating feature is that, while Wix templates are described as "mobile-friendly", their ultra-customizability means that they're not automatically mobile responsive.
 If you make significant changes to your initial template, you will need to use the separate mobile editor view to make adjustments
. Not a deal breaker, but good to know. Wix offers different plans to suit all budgets. The free plan is one of the most generous out there, including all of the Wix templates and the free logo maker. However, it does have storage and bandwidth limitations and you'll have to use a Wix subdomain and branding on your website. If you choose to upgrade, the premium plans are all reasonably priced and come with a lot of perks.
Read more about Wix in our expert review
.
Number of templates
500+
Customizability
Virtually unending customization options
Free plan available?
Yes – includes 500MB storage and 500MB bandwidth
Mobile app?
Yes – offers virtually full functionality
Starting price of paid plan

$

16.00
2. Squarespace – The Best Designs
If you're a fan of Macs (and let's face it, if you're reading this, you must be), you'll love Squarespace's template designs, which are as close as you can get to that clean, stylish minimalism that Apple products are famous for. But let's make this clear straight away – Squarespace doesn't offer a free plan (although it does have
a free 14-day trial
).
It's a premium service, designed for people who want good-looking, highly-professional websites, and don't mind paying a little extra for the privilege
. The only downside is that Squarespace is so convinced in the quality of its designs that it doesn't give you as much freedom as other web builders. Squarespace lets you choose from their
60+ (gorgeous) preset templates
 and customize them as you like. If you change your mind, you can alter the design at any time. All the templates are automatically mobile responsive as well.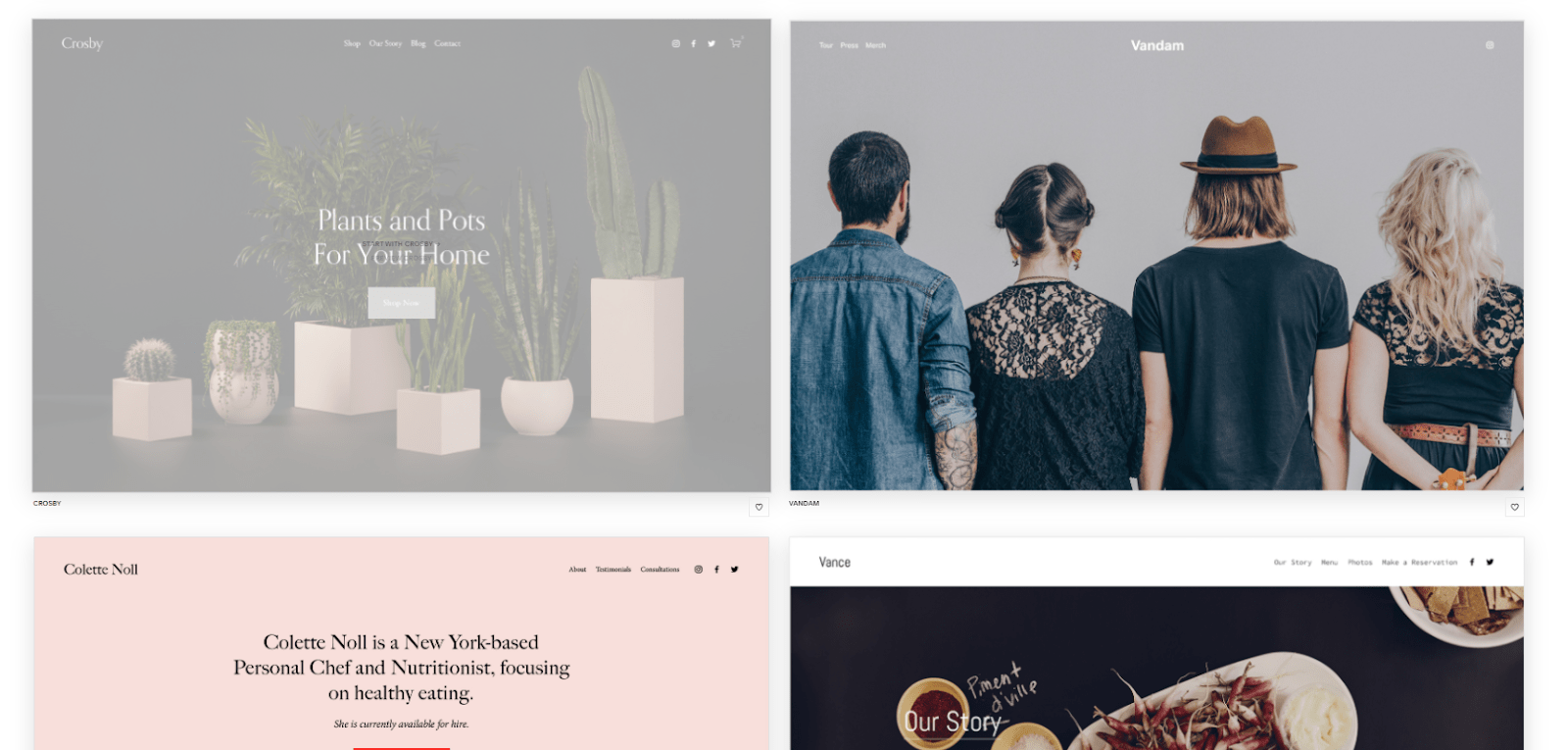 In theory, Squarespace's custom drag-and-drop editor is very easy to use. Lots of people on the internet agree. Maybe my brain's wired the wrong way, but
 I just didn't find it as intuitive or simple as the Wix editor
. It took me a long time, for instance, to work out how to change the fonts on my dummy Squarespace site. But, once you get your head around it, you can start customizing and adding blocks to your page wherever you like (within limits – you can't just put anything anywhere – it's how Squarespace keeps its sites well-proportioned and mobile responsive). Unlike Wix,
Squarespace doesn't offer a separate app market, but it still has lots of options for adding additional functionality
thanks to its wide selection of third-party integrations. You can choose from things like:
Google Maps
Restaurant bookings
Video blocks
Google AMP
Apple Pay, PayPal, Stripe and Square
Customer feedback
Invoicing
Adobe and Google Fonts
G Suite
Dropbox
Mailchimp
Flickr
Apple News
You can also do all of this on the Squarespace iOS app, which lets you edit your website from any mobile device, as well as add and edit pages, add blog posts, upload images, create and send email campaigns, and edit basic site settings. There are a few things, however, that you can't do on the app, such as manage your billing settings or edit the footers on your website. As I already mentioned,
with no free plan, Squarespace definitely isn't the cheapest web builder on the market
. But the quality of the templates and the high number of powerful integrations, in my opinion, make the extra cost well worth it.
Read our expert Squarespace review for more info
.
Number of templates
60+
Customizability
Slightly more limited to ensure mobile-friendliness, but still plenty of creative control
Free plan available?
No, only a 14-day free trial
Mobile app?
Yes, but some edits are only possible on a computer
Starting price of paid plan

$

16.00
Compared to the other options on this list, SITE123's free plan is probably one of the most generous – and if you choose to upgrade, the higher-tier plans offer good value for money.
But SITE123 trades off ease of use for limited creative freedom
, so if you have a very specific website design in mind, it might not be the best option for you. SITE123's
180+ website templates
 all come with the free plan and are all automatically mobile responsive.
The simplified editor is very easy to use
, allowing you to quickly edit your website within the confines of the template – within reason; you can't just drag things wherever you like, but that's not necessarily a problem if design isn't your strong point. SITE123 emphasizes speed over full creative control.
This lack of creative control is one of the major drawbacks of SITE123
. Although you can use all of the templates on the free plan, they are only available in their most basic form – meaning you are limited to only making small changes to fonts, colors, and other design options. To unlock more customization options, you have to upgrade to the paid plan, which is a bit of a bummer, since most of the other builders on this list give you all this for free. Another major drawback is that
all SITE123 templates look pretty similar
 – with large images, centered headlines, and parallax scrolling. You can make small changes to individual components, but a complete overhaul of your site's design is pretty tricky. So, take a look through the SITE123 template library and, if these aesthetics aren't doing it for you, it's best to move on. It's also good to know that SITE123 doesn't offer a mobile app, so if being able to edit on-the-go is a deal breaker for you, you should probably look elsewhere.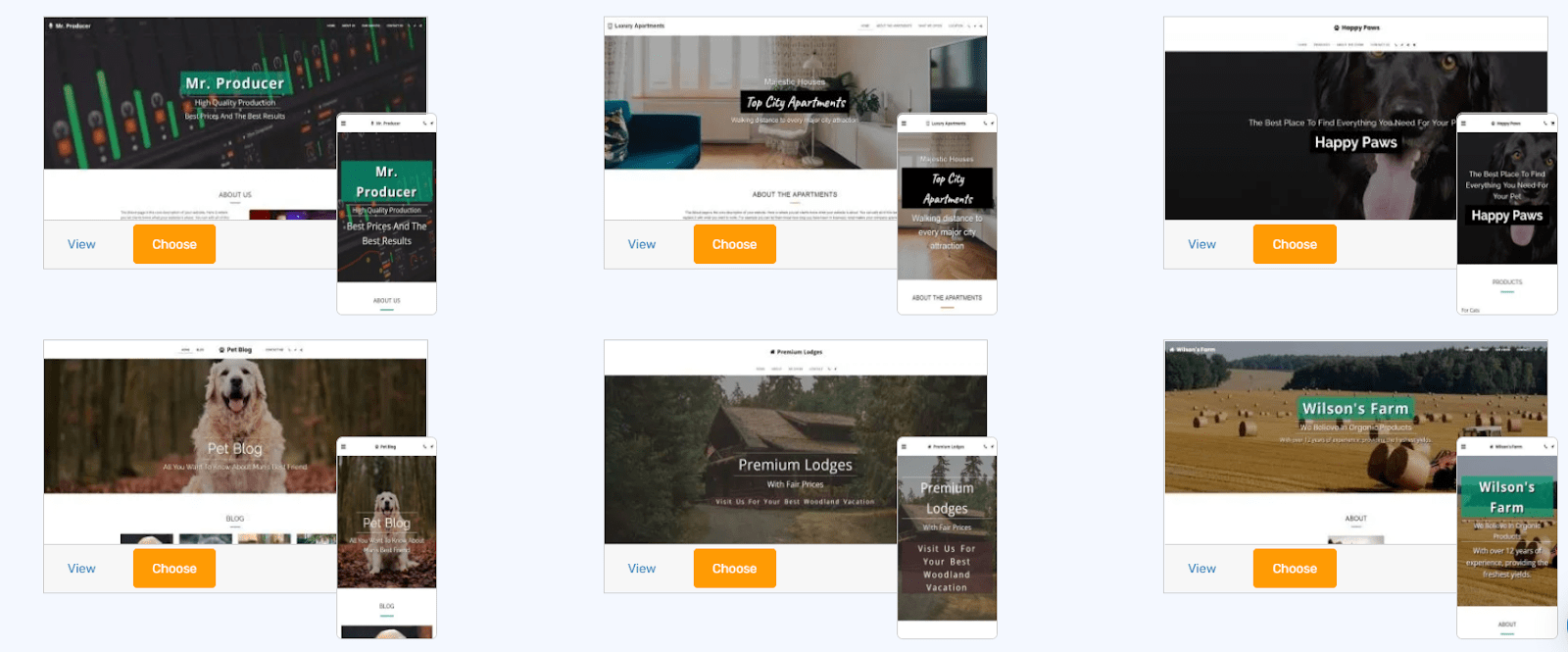 Still, you can actually build a pretty decent website on SITE123 using only the free options
, which include contact forms, images, blog pages, and appointment booking. SSL/HTTPS encryptions and even e-commerce features are included – although you can't accept online payments or create your own domain. SITE123 also has an app market, but you have to upgrade to a premium plan to access it, and it is missing some of the Apple-specific add-ons offered by other vendors on this list. If you want more than what's available on the free plan,
SITE123 offers fairly flexible pricing
, meaning you only really have to pay for exactly what you need. The free plan gives you the bare minimum (although the 1GB bandwidth is double what you get with
a Wix free plan
). Upgrading gives you more storage and bandwidth, as well as a custom domain, email addresses, and access to plugins and extra e-commerce features – although you should note that SITE123 does not offer Apple Pay support. The most basic paid plan offers 10GB of storage, over three times as much as comparably-priced Wix plans.
Read our expert SITE123 review for more info
.
Number of templates
180+
Customizability
Limited customizability, especially with the free plan
Free plan available?
Yes – includes 500MB storage and 1GB bandwidth
Mobile app?
No
Starting price of paid plan

$

12.80
GoDaddy may not be the most stylish or powerful site builder out there, but it's super easy to use. With an intuitive editor and guided business tools, chances are you'll have a decent website up and running in no time, even if you're a newbie.
But while GoDaddy excels when it comes to ease of use and personalized guidance, it lacks some fancier features, like flexible customization options and an app market
.
GoDaddy's template selection counts over 100 designs
, spread across 13 categories. The designs aren't as sleek as the ones offered by Squarespace, but all templates are mobile-responsive, and you can preview them on desktop and mobile. The great thing about GoDaddy is the assistance you get from the start –
the builder suggests a template for you, and it even pre-loads it with relevant stock photos based on your industry
. However, when it comes to personalizing your site, you get fewer options.
Although there are hundreds of ready-made content blocks you can add to your pages, you can't do much to customize their design. For example, you can only choose a primary and secondary font for the entire site, while some other builders let you edit every element of your page separately. Nonetheless, you'll have no trouble navigating the point-and-click editor, which comes with some useful features. One example is the automatic backups and Site History tab, which allows you to save changes and restore previous versions of your site.
You can also edit your site from any mobile device using the GoDaddy app, available for Android and iOS.
Speaking of apps, it's important to mention that GoDaddy doesn't have an app market like Wix.  Instead,
it offers a few built-in integrations
, such as OpenTable for restaurant reservations, the ability to display reviews on Zillow, and the option to show posts from your Instagram Business profile. That said, GoDaddy has some useful in-house business tools. For example,
GoDaddy Insight
analyzes your industry and suggests how to improve your site, while the
Search Engine Visibility
tool helps you optimize your site for SEO. When it comes to pricing,
GoDaddy has a free plan that's only available in the US and a couple of other regions – for everyone else, there's a one-month free trial
to test the platform before you decide to commit. You can choose from four paid plans: Basic, Standard, Premium, and Ecommerce.
All plans include features like on-the-go editing, guidance and analytics, and email marketing,
while the higher-tiered plans give you access to an unlimited number of social media platforms and recurring appointments.
Read more about GoDaddy Website Builder in our expert review.
Number of templates

100+

Customizability

Simple point-and-click editor, few customization options

Free plan available?

Yes – it includes 24/7 customer support and limited social and email marketing

Mobile app?

Yes, with pretty much full functionality

Starting price of paid plan

$

6.99
If you have visitors coming to your website from all over the world, you'll love Webnode's multilingual feature.
This relatively unique option to translate your website into 20 different languages is arguably one of Webnode's best selling points
. But that's not all that's on offer.
Webnode also has a generous selection of approximately 100 well-designed templates
, covering an array of different website niches and trending, like Squarespace's templates, to that sort of Apple-esque minimalism. All are also automatically mobile-optimized, although the Webnode mobile editor is a bit clunky compared to the one offered by Wix and Weebly.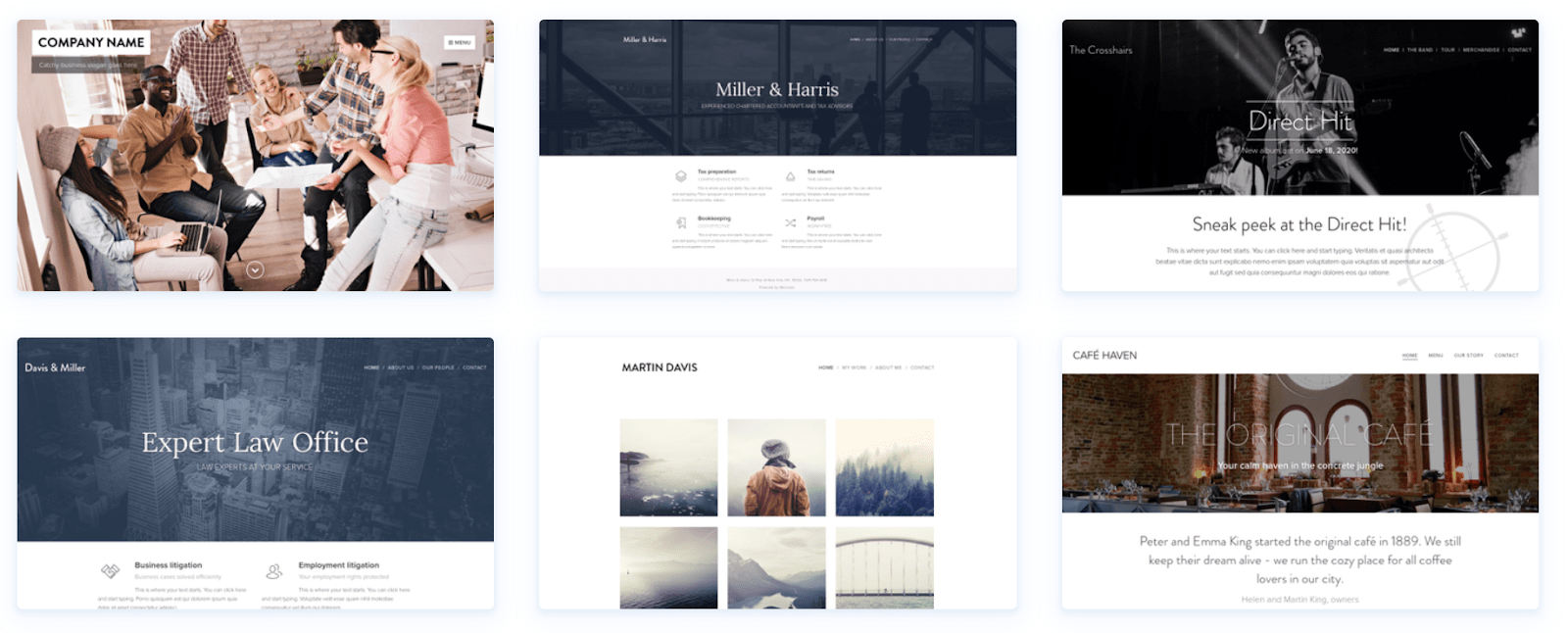 "Clunky" is probably not what the developers were intending when they put together the Webnode drag-and-drop editor – but unfortunately that's the word that springs to mind. Once you get to grips with the basics, it does get easier, but, like with the Squarespace editor, I had a few issues.
I just didn't find it as intuitive as the editors offered by some of the other web builders on this list
. Webnode doesn't offer a mobile app for on-the-go editing, either. However, clunkiness aside, Webnode more than makes up for this with its vast array of customization options, with content blocks galore, including:
Image galleries
Text boxes
Web forms
Social media buttons
Background colors
YouTube videos
Google and Bing Maps integrations
Apple App Store Reviews
Although it doesn't come with the multilingual option,
Webnode's free plan is pretty generous
 – including reliable hosting, customer support, and an unlimited number of pages. It also won't bombard your visitors with advertisements – which is pretty rare in the world of free website builders. The next plan up comes with the option to connect a custom domain, extra storage and bandwidth, and premium custom support. You have to upgrade to the Standard plan to get rid of the Webnode branding.
Read our expert Webnode review for more info
.
Number of templates
100+
Customizability
Good customization options
Free plan available?
Yes – includes 100MB storage, 1GB bandwidth, and no ads
Mobile app?
No
Starting price of paid plan

$

3.90
Conclusion
Choosing a website builder as a Mac user depends on what your priorities are – whether you're looking for great designs at the expense of everything else, or more customization options.
If design is your be all and end all, and you're not worried about cost, I'd go for Squarespace
, simply because its premium designs and powerful integrations are worth the slightly higher price tag. On the other hand, if you want to pay less but still want all the power,
Wix
 offers a great selection of templates, additional functionality, and as close to full creative control as it gets
. That's why it's at the top of our list of
the best website builders for 2023
.
Builder
Stand-out feature
Wix

More templates than any other builder
Easy-to-use, intuitive editor with full customizability & great mobile app

Squarespace

Gorgeous templates
Good number of third-party integrations

SITE123

Flexible pricing
Relatively generous free plan

GoDaddy

Great AI tools to help you get started

Built-in business tools for SEO, email marketing, and more

Webnode

Multilingual website option
Professional-looking, well-designed templates
FAQ
What do professionals use to build websites?
Typically, professional web designers build websites manually, writing out HTML and CSS code by hand in a text editor. Smaller businesses might, however, engage the services of a web builder like those featured on this list – simply because they are convenient and offer good value for money. You can learn how to build your website in 2023 with our complete step-by-step guide.
Is Dreamweaver a good website builder?
Dreamweaver is a great tool for building websites – as long as you have the technical knowledge to be able to use it effectively. That means you need a good understanding of HTML, JavaScript, and CSS. If you're just starting out with your first website, a more beginner-friendly option might be more appropriate. Take a look at our list of the top web builders for 2023 to help you choose.
Is WordPress better than Wix?
While WordPress is ideal for creating more complex sites, it does represent a much steeper learning-curve than a website builder like Wix. Wix is much easier to use, but it doesn't offer the same level of flexibility as WordPress. If you're a complete beginner, I'd recommend getting started with Wix. Regardless of which builder you choose, make sure you visit our coupon page to ensure you're getting the best deal.