Few international hosts have data centers in the region, and local providers can be surprisingly slow.
How do I know? I've spent a few months testing both Indian and international hosts as part of Website Planet's massive web hosting comparison project. This is what I found.
Some local providers look good on paper, but when I put their servers to the test, they were either slow or unreliable – or both.
 Several international hosts with no data centers in India achieved better results in this region.
Other local hosts delivered outstanding performance, but their strange billing and refund policies put me off.
 For example, a few providers expected me to prove that their servers were slow before they would issue a refund. This is not so much a money-back guarantee as it is a money-back if-we-feel-like-it. Still, I didn't give up.
Eventually, I came across a few excellent providers for Indian websites, and some of them had very generous entry-level plans.
Take a closer look below.
What We Tested in Ranking the Best Web Hosts for India
All hosts, whether local or international, claim to offer outstanding speeds and uptime at affordable prices. I had to sign up with each provider to get first-hand experience. This is what I looked for:
Features. Most hosts give you enough storage space and bandwidth, but what about other essential features like SSL certificates, automatic backups, and integrated caching?
Ease of use. I looked for providers that made it easy to sign up for a plan and launch a website. My goal was to make sure that even a beginner could get online in a matter of hours without paying a developer.
Performance. I hosted a proper website (with text, images, and a few widgets) using each provider. Over several months, I ran multiple benchmarks to test the speed and uptime of each site.
Support. I contacted the hosts on my list through live chat, tickets, and phone, where possible. I rated the availability, waiting time, and helpfulness of their support services.
Pricing. The lowest price won't always be your main consideration, which is why I've focused on hosts that give you good value for your money. I also kept an eye out for hidden costs and steep renewal fees.
This is just a quick preview of everything we tested in this huge web comparison project for Website Planet. I'll go into more details later on, but for now, here are the best web hosts for India.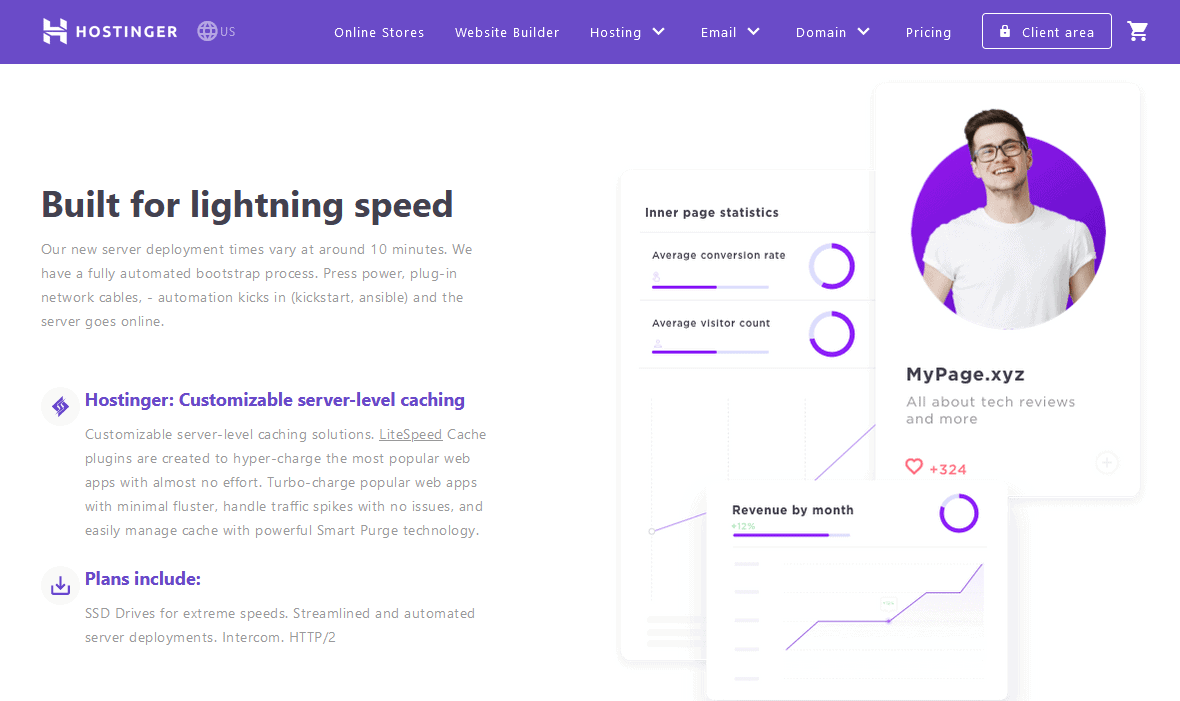 For a personal blog, portfolio, or business landing page, Hostinger is the perfect fit.
 It's super-affordable, and it gives you lots of storage space and bandwidth, a free SSL certificate, automatic backups, and several performance optimizations, all on the
entry-level plan
.
But can a provider this cheap offer decent performance? I had my doubts, which is why I put Hostinger through some
rigorous testing
. As it turns out, good hosting doesn't have to be expensive.
Uptime was excellent, scoring 99.99% over three months of testing.
Although Hostinger is not a local Indian provider, it does have an impressive number of data centers, with two nearby locations in Singapore and Indonesia.
According to my tests, you can expect excellent loading speeds in India from either of these two data centers.
A free domain name is included with some hosting plans from Hostinger
Features:
Simple control panel. Hostinger's hPanel is better organized and easier to navigate than the classic cPanel used by most hosts. A one-click installer for WordPress is included, so it's easy to get started.
WordPress-optimized servers. Hostinger uses the LiteSpeed web server to speed up PHP-based websites (like the ones you build with WordPress). This also gives you access to LiteSpeed's caching plugin, which can further improve your website's performance with little to no effort on your part.
Automatic WordPress updates. You no longer have to worry about new versions of WordPress or your existing plugins. Once you switch on auto-updates, Hostinger will patch your software for you.
Free email hosting. You get a professional email address "@yourdomain" with the cheapest plan. More expensive plans give you up to 100 addresses.
Server locations
Singapore, Indonesia, the UK, the Netherlands, Lithuania, the US, Brazil
Free SSL certificate

✔

Money-back guarantee
30 days
Types of hosting
Shared, VPS, cloud
Pricing

$

1.99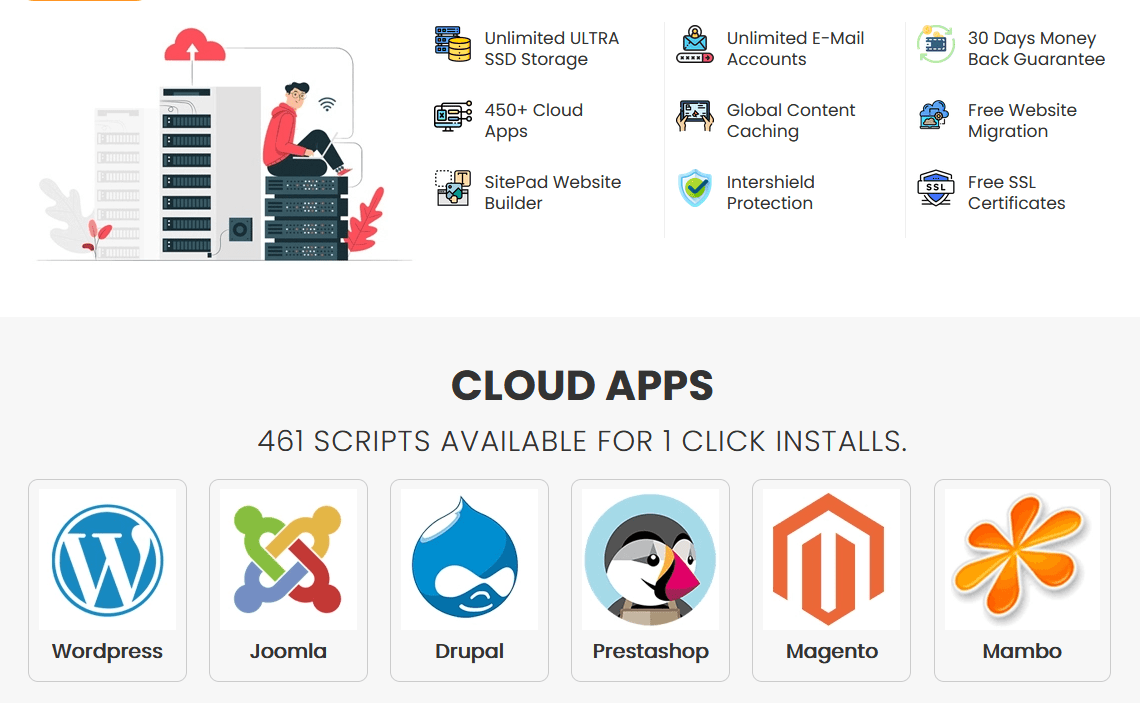 With InterServer, you don't have to pay for several years up front to get the best price.
The annual Standard shared hosting plan is very affordable, and it gives you everything you could possibly want from a web host:
unlimited websites, storage space, bandwidth, and email accounts. Most providers let you host one or maybe two domains on their cheapest plans.
With InterServer, you can host several low-traffic websites, each with its own domain.
The downside is that InterServer's data centers are all located in the US, which isn't optimal for an Indian audience.
But even so, InterServer delivers faster loading speeds in India than most local hosts I've tested, and is far more reliable in terms of uptime.
 Just remember to enable access to the free CDN (content delivery network) from your dashboard.
Features:
400+ apps. You can use the included Softaculous to quickly install WordPress, as well as hundreds of other apps for your website. From galleries, to contact forms, to shopping carts, everything is available in just a few clicks.
LiteSpeed web server. Compared to the older Apache server used by most other hosts, LiteSpeed is faster and more stable. It also comes with one of the best caching plugins in the industry.
InterShield Security. InterServer takes care of firewalls, malware detection, and DDoS protection for you. If your website is ever hacked despite these measures, the tech team will fix it.
Huge mailboxes. InterServer gives you an unlimited number of email addresses, each with 25GB of storage. That's enough storage to archive about 20 years' worth of business correspondence.
Server locations
The US
Free SSL certificate

✔

Money-back guarantee
30 days
Types of hosting
Shared, cloud VPS, dedicated servers
Pricing

$

2.50

Hostinger and InterServer are great options for simple websites, but if you have lots of visitors every day, you need something more powerful. Enter Liquid Web.
This cloud provider offers a level of performance and stability that shared hosting services can't match.
Its plans include managed WordPress with or without WooCommerce, Magento hosting, and various other VPS, cloud, and dedicated options, which makes it a great option for online stores and enterprise customers. Although Liquid Web is significantly more expensive than other hosts on this list, it's actually cheaper than most premium hosting services. And, unlike other providers, it doesn't cap your monthly visits.
When people flock to your website during a sales promotion, you don't have to worry about traffic or overage fees.
It does state bandwidth limits, but this is simply to prevent abuse of the service. What's more, Liquid Web's cloud servers can take
a lot
of heat. If other providers throttle your bandwidth when your traffic surges,
Liquid Web gives you more resources so that your site continues to run smoothly.
 It's costly, but if you can afford it, this superior service is worth every penny.
Features:
Managed updates. Liquid Web doesn't simply update your WordPress core software or plugins whenever there are updates available. The tech team creates a clone of your website first, and makes sure the upgrades don't break it. If everything works well, the patches are then applied.
One-click staging. This tool lets you clone your site in order to safely test changes before you publish them. It's a great way to experiment with new layouts or features without disrupting your live site.
WordPress site builder. The Lite version of Beaver Builder is included in all plans. The site builder has a neat drag-and-drop interface you can use to greatly simplify WordPress.
Expert support. Liquid Web's tech support agents have in-depth knowledge of WordPress and other supported CMSs. They'll help you fix poor performance, as well as any other issues you might have with your hosting.
Server locations
The Netherlands, the US
Free SSL certificate

✔

Money-back guarantee
No, but you get a 14-day free trial
Types of hosting
Shared, VPS, cloud, dedicated servers
Pricing

$

15.83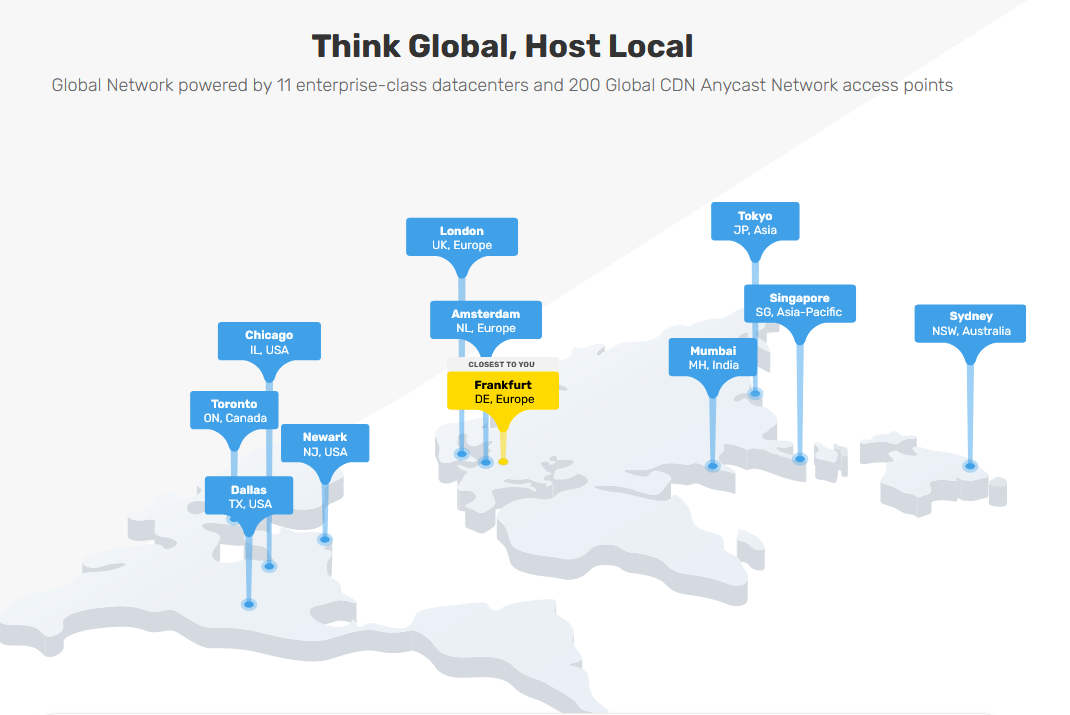 Only a handful of international hosts have data centers in India, and according to my tests, FastComet is the best of the bunch.
 Its performance in the region is considerably better than that of most local providers, and its shared hosting plans cover all the most important features. For example,
the entry-level FastCloud plan gives you lots of storage space and bandwidth, plus a free SSL certificate, automatic backups, and built-in server optimizations.
 The best caching solutions are locked behind the FastCloud Extra plan, but even without them, you can expect fast loading speeds for visitors near your data center. Customer support is also very good.
Support agents are available 24/7, and they are almost always able and willing to help.
 The service is slightly more expensive than the average local provider, but if you want to host your website as near to your audience as possible, it's one of your best options.
Features:
Guaranteed resources. Unlike most shared hosting providers, FastComet guarantees your website will always have access to a decent amount of CPU and RAM. Other users on the same server can't use your resources.
Isolated accounts. FastComet uses CloudLinux and CageFS security to isolate each account on its servers. Your website is safer, because security threats can't spread from one account to another.
ModSecurity manager. The popular ModSecurity firewall is preinstalled and configured with custom rules for you. It runs automatically to protect your website and your site visitors.
Automatic app updates. The Softaculous auto-installer is included in every plan, so you can easily set up automatic updates for your CMS (content management system) of choice.
Server locations
India, Europe, the US, Canada, Australia, Singapore, Japan
Free SSL certificate

✔

Money-back guarantee
45 days
Types of hosting
Shared, cloud VPS, dedicated servers
Pricing

$

2.19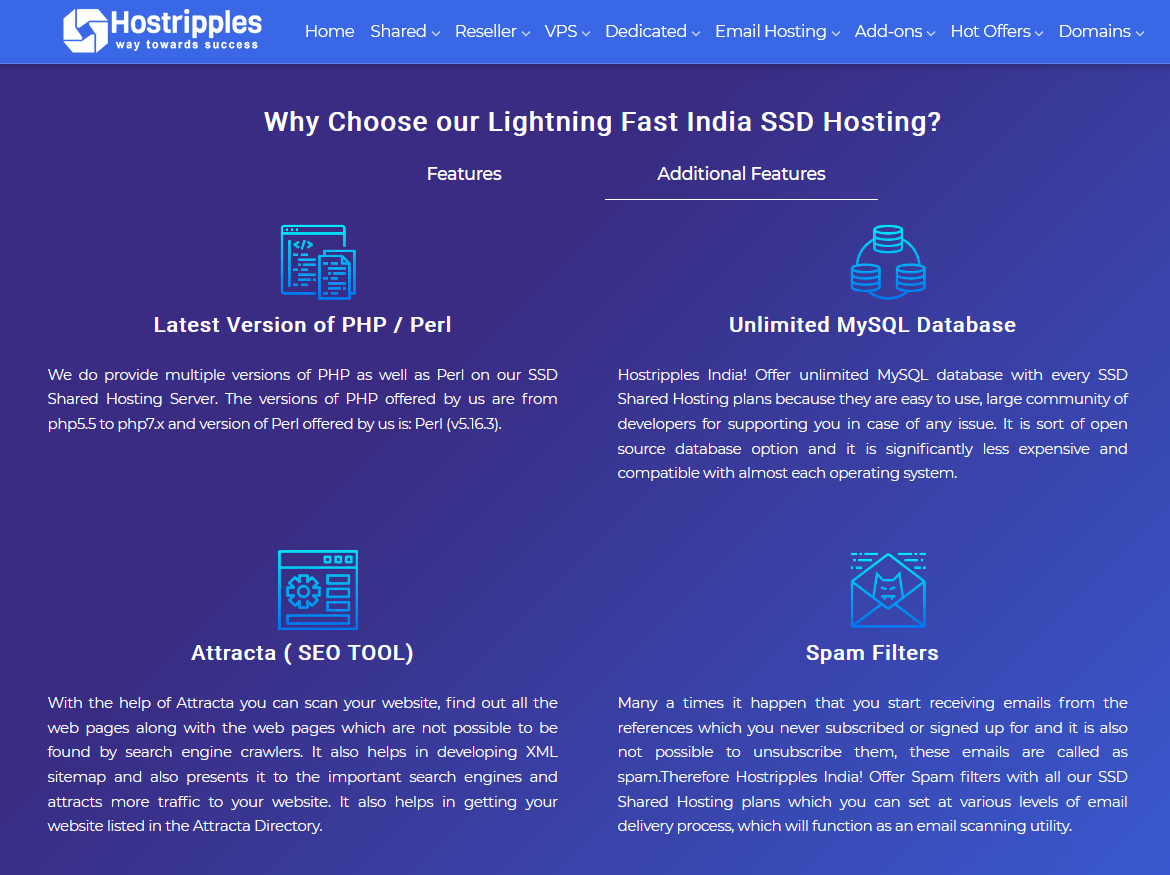 Hostripples is generous with storage space and bandwidth, and it gives you almost all the essential features at no extra cost.
 An SSL certificate is included
in every plan
 alongside email hosting and spam protection. You don't get automatic backups unless you pay extra, but you can take manual backups using cPanel. The provider's main data centers are in India, but it also has servers in the US, the UK, and Poland. According to Sucuri Load Time Tester,
its global performance is excellent compared to that of other local hosts,
 which makes it a great choice if you have a mix of local and international website visitors. However…
Hostripples delivered disappointing loading speeds in India.
 On average, it delivered slower speeds than international hosts like Hostinger or InterServer, even though neither of these has servers in the region. Overall, Hostripples is OK for a personal site, but if you want to host a business portfolio or an online store, you'll likely need a service with faster performance.
Features:
Weebly website builder. Weebly is one of the easiest ways to create a website quickly. The free version of this drag-and-drop builder is set up for you by default, but you can add more features during checkout.
SEO tools. You get the free SEO package from Attracta, which includes a sitemap generator, on-demand website audits, and a backlink placement tool. These components are preinstalled for you.
Quick support. Hostripples is one of the few local hosts with actual 24/7 support through live chat, phone, and tickets. I bombarded them with questions at every hour of the day (and night), and I never had to wait for more than a minute to get a competent reply.
Real money-back guarantee. You have 30 days to try the service and request a full refund – no questions asked. You'd be surprised to see how many local providers skip this feature.
Server locations
India, the UK, Poland, the US
Free SSL certificate

✔

Money-back guarantee
30 days
Types of hosting
Shared, VPS, dedicated servers
Pricing

$

1.96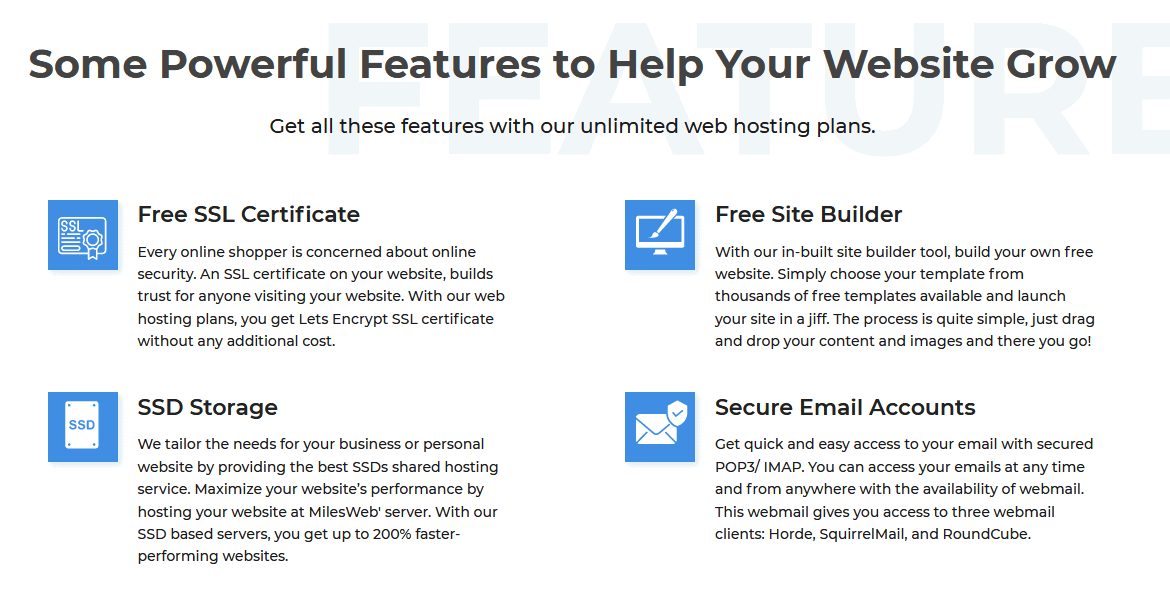 MilesWeb is one of the best-performing Indian hosts I tested.
According to GTmetrix, it's almost as fast as Hostinger, and way ahead of other local providers.
 Loading speeds dropped
when I tested it
from outside the region, but if most of your website visitors are in India, that's not something you'll have to worry about. The
entry-level Tyro plan
 is incredibly cheap during the first term, and it comes with unlimited bandwidth, a free SSL certificate, and generous email hosting.
However, storage space is limited to just 1GB, and there are no automatic backups.
There is a backup tool, but oddly,
MilesWeb deletes all backups every Sunday, so you have to download them to your PC if you want to keep them for longer than that.
There's also no real way to get your money back if you decide to cancel. There is a 30-day money-back guarantee, but depending on how you've paid for your hosting,
the refund might consist of credits rather than actual money.
 Ugh.
A free domain name is included with some hosting plans from MilesWeb
Features:
Website builders. SitePad and Site Publisher, two drag-and-drop builders with dozens of themes each, are included in every plan. If you don't want to use WordPress, you can use either of these tools to create a professional-looking site.
Marketgoo SEO. What good is excellent content if no one can find it online? Marketgoo can't replace an SEO expert, but it gives you plenty of starter tips on how best to optimize your website for search engines.
Malware scanner. Tucked away in your control panel, you'll find a virus scanner that you can use for free. It's a handy tool to have, especially if you suspect that your website may have been compromised.
Support that goes the extra mile. MilesWeb gave me step-by-step instructions to install WordPress and set up my domain. This was a welcome change from the DIY links I received from most other hosts.
Server locations
India, Singapore, the UK, the US, Canada, Australia
Free SSL certificate

✔

Money-back guarantee
30 bays (but refunds are sometimes issued in credits)
Types of hosting
Shared, cloud, VPS, dedicated servers
Pricing

$

1.50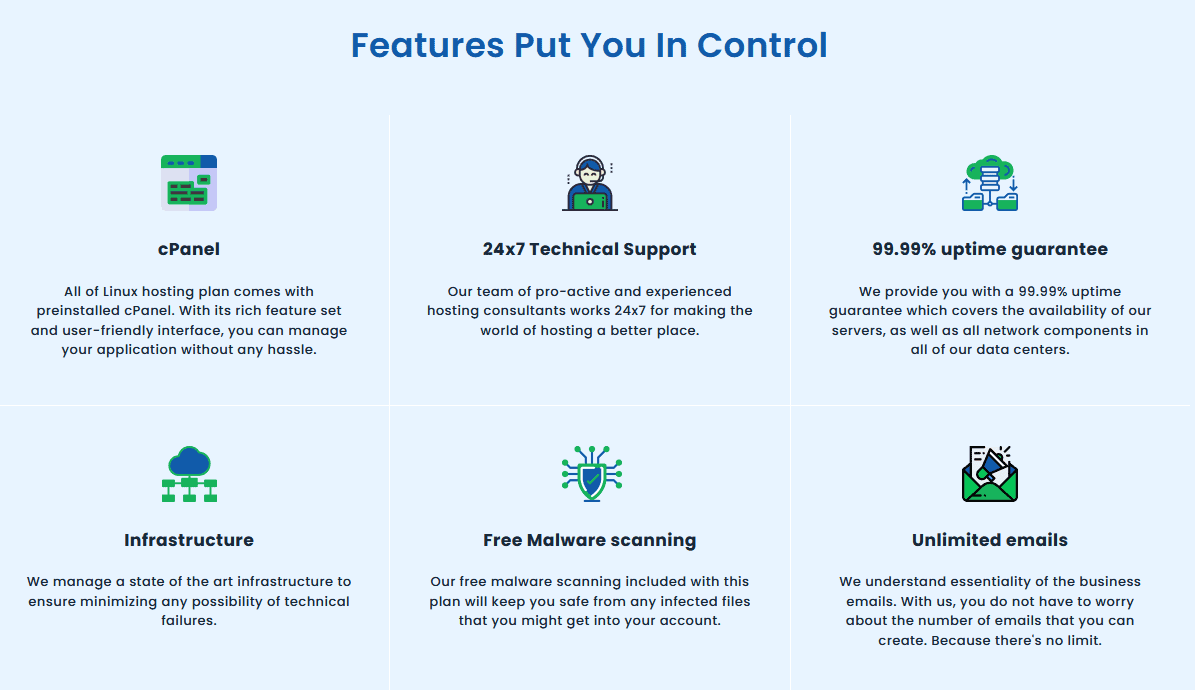 Host IT Smart looks good at a glance:
it's super-cheap, it has monthly shared hosting plans, and it gives you all the basics you need to run a website.
 Plus, it's a provider with a clean, modern website and a nice vibe overall, so I was looking forward to trying it out. Sadly, the results were…meh.
Host IT Smart is one of the slowest Indian providers I tested, with an average page loading time of over 3 seconds.
 It also failed to meet the 99.99% uptime guarantee advertised on its website (it didn't even reach the standard 99.9%). I wanted to know if I could get compensation for the excessive downtime, so I looked into the provider's Terms of Service.
But as it turns out, there's no mention of an uptime guarantee.
If you want to host a simple site at a very low price, you could give Host IT Smart a try. But for a professional website, I'd look elsewhere.
Host IT Smart Web Hosting
Features:
cPanel & Softaculous. The tried-and-tested cPanel might take a while to get used to, but don't be intimidated. You only need to learn a handful of its functions to set up a website, and Softaculous makes it easy to install WordPress or any other CMS.
Unlimited resources. You get unlimited storage space, bandwidth, and email, even on the entry-level plan. You can only host one website, so you'll probably only use a small portion of these resources, but still, it's nice to have plenty of room to grow.
Free SSL. This is the first thing I want to see on a host's features list. An SSL certificate keeps your visitors' information safe, and it gives your site a tiny SEO boost.
Cheap AWS support. If you want to host a complex or high-traffic website, you can provision an AWS server through Host IT Smart. The provider manages the cloud infrastructure for you, while you focus on your business.
Server locations
India, the US
Free SSL certificate

✔

Money-back guarantee
30 days
Types of hosting
Shared, cloud, VPS, dedicated servers
Pricing

$

1.50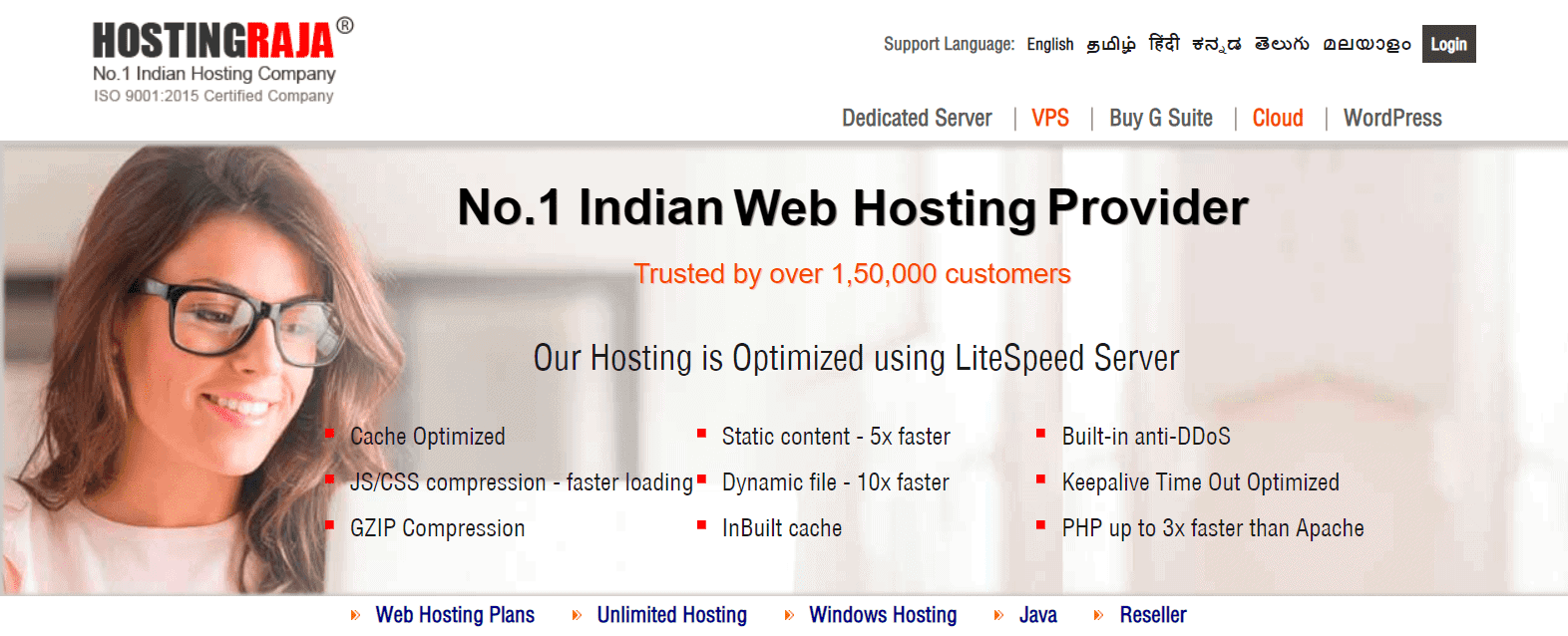 Hosting Raja is, hands down, the fastest Indian host on my list.
 It's also one of the cheapest providers I tried, and its WordPress plans offer some impressive features that I didn't find anywhere else. That said, the regular shared hosting plans are very
basic, and I uncovered some serious issues with uptime and support during my tests. On its website, Hosting Raja claims to offer a 99.9% uptime guarantee, which is standard. However, the provider's actual Terms of Service guarantee is only for
99%
 uptime. That's a big
difference. Plus,
I recorded my uptime
 with Hosting Raja for several months, and the average was well under 99.9%.
 My website was offline for roughly one hour per week.
Hosting Raja also advertises a 30-day money-back guarantee, but you'll only get a refund if you can prove that you've had a "technical issue,"
whatever that means. I tried to discuss this with customer support, but I never got an actual reply through live chat. All in all, I'd say you're better off with a slightly slower host that has better uptime and support.
Features:
Automatic backups. Hosting Raja creates backups of your website on a monthly basis. That's not a great offer, but it's better than nothing. You also get on-demand backups through cPanel.
Easy-to-use site builders. SitePad and Site Publisher are both included in every plan. The available templates won't win any design awards, but they look OK in a minimalistic sort of way.
Loading time guarantee. This unique feature is included with all Hosting Raja WordPress plans. That said, the guarantee is a rather meagre 3 seconds for the Silver plan and 2 seconds for the Platinum. Plus, given the provider's iffy policies, I'm not sure you'll get any compensation if it fails to meet these standards.
Integrated caching. Hosting Raja preinstalls WP Super Cache on its WordPress VPS plans. You can also ask the tech team to optimize your website's performance for free, but my experience with support was awful, so I wouldn't count on great results.
Server locations
India
Free SSL certificate

✔

Money-back guarantee
30 days (if you can prove you had a technical issue)
Types of hosting
Shared, cloud, VPS, dedicated servers
Pricing

$

1.15

HostSoch offers a lot of features that make it look good on paper.
Apart from the entry-level Starter plan, all of its packages include unlimited storage space and bandwidth, a free domain, an SSL certificate, and decent security tools.
So far, so good. But I lost all my enthusiasm when
I tested its performance
.
On average, my website took almost 5 seconds to load, and no matter what I tried, I couldn't speed it up.
 Performance was better outside of the region, but if you have a local audience, that won't help.
Also, uptime was well under the 99.9% industry standard, and when I went digging in HostSoch's Terms of Service, I found no explicit uptime guarantee.
 In other words, I couldn't get compensation for poor service. There's no money-back guarantee either, so I'd think twice before signing up with this provider.
Features:
Free domain for life. Most hosts give you a free domain for one year, but with HostSoch, your domain stays free for as long as you are a client. The offer isn't available on the Starter plan, though.
Cloudflare integration. The CDN is built into your dashboard, so it's easy to turn on. That said, I wouldn't expect it to work miracles. It'll speed up loading of static assets around the world, but total site loading times will likely still be far too high in India.
Server-side security. HostSoch uses the ModSecurity firewall to keep your website and its visitors protected. You also get a free SSL certificate and a malware scanner, and you can buy the SiteLock add-on for additional security tools.
Automatic backups. It's difficult to say for sure whether your website is backed up daily, weekly, or monthly because HostSoch makes different statements about this all over its site. The Terms of Service say you get weekly backups, though, so that's probably the case.
Server locations
India
Free SSL certificate

✔

Money-back guarantee

✘

Types of hosting
Shared, dedicated servers
Pricing

$

1.33
Top Hosts for India – Full Comparison
If you want to compare two or more hosts at a glance, take a look at the table below. I've included all the essential information about each provider's entry-level plan:
Hostinger
InterServer
Liquid Web
FastComet
Hostripples
MilesWeb
Host IT Smart
Hosting Raja
HostSoch
Disk Space
30GB
Unlimited
15GB
15GB
20GB
1GB
Unlimited
100GB
1GB
Bandwidth
100GB
Unlimited
2TB
30GB
Unlimited
Unlimited
Unlimited
20GB
5GB
SSL

✔

✔

✔

✔

✔

✔

✔

✔

✔

Backups

✔

✔

✔

✔

✘

✘

✘

✔

✔

Free domains

✘

✘

✘

✘

✘

✔

✘

✘

✘

Number of emails
1
Unlimited
Unlimited
Unlimited
Unlimited
10
Unlimited
50
10
CDN

✘

Cloudflare
Nexcess CDN
Cloudflare
Cloudflare
Cloudflare

✘

✘

Cloudflare
Caching

✔

✔

✔

✘

✘

✘

✘

✘

✘

Data center locations
EU, NA, SA, Asia
NA
EU, NA
EU, NA, Asia, Australia
EU, NA, Asia
EU, NA, Asia
NA, Asia
Asia
Asia
GTmetrix speed
1.56s
1.94s
1.82s
1.85s
3.4s
1.6s
3.8s
1.4s
4.7s
Uptime score
99.997%
99.953%
99.998%
99.882%
99.98%
99.966%
99.831%
99.4%
99.849%
Uptime guarantee
99.9%
99.9%
100%
99.9%

✘

✘

99.99%
99%

✘

Support channels
Live chat, tickets
Live chat, tickets, phone
Tickets, phone
Live chat, tickets, phone
Live chat, tickets, phone
Live chat, tickets, phone
Live chat, tickets, phone, WhatsApp
Live chat, tickets, phone
Live chat, tickets, phone
Support hours
24/7
24/7
24/7
24/7
24/7
24/7
24/7
24/7
24/7
Payment options
Credit card, PayPal, crypto
Credit card, PayPal
Credit card
Credit card, PayPal
Credit card, PayPal, Bitcoin
Credit card, PayPal
Credit card, PayPal
Credit card
Credit card, PayPal
Money-back guarantee
30 days
30 days
14-day trial
45 days
30 days
30 days (credits)
30 days
30 days (if you demonstrate technical difficulties

✘

Starting price

$

1.99

$

2.50

$

15.83

$

2.19

$

1.96

$

1.50

$

1.50

$

1.15

$

1.33

Overall score
4.8
4.5
4.8
4.7
4.7
4.5
4.2
3.9
3.5
Our Testing Process in Detail
This was one of the biggest web hosting comparison projects our team at Website Planet has ever done, so there's a lot to talk about. That said, I won't hold it against you if you don't care about the specifics – feel free to
skip straight to my recommendations
.
Features
To rank each provider in this category, we looked for several key things you need to reliably host a website.
We wanted to see these features included in all plans, even the entry-level ones:
Enough storage space and bandwidth for at least one website
A one-click installer for WordPress
A free SSL certificate
Automatic backups
Built-in caching
International hosts tick most of these boxes.
For example, Hostinger and InterServer give you all of these features on their lowest-tier plans so you don't have to spend any extra money on add-ons.
All of the local hosts on our list offer free SSL certificates, which is a big plus,
but most of them don't include automatic backups or any form of caching on their cheapest plans. In some cases, you can buy backups separately, but as far as caching is concerned, you'll have to find and install plugins to speed up your site.
Ease of Use
I wanted to make sure that anyone – even a complete beginner – could sign up with these hosts, connect a domain, and launch a professional website.
Most providers did very well in this category, but I'd say Liquid Web offered the best user experience.
 The proprietary control panel was a pleasure to use, and the host took care of website optimization for me.
In contrast, Hosting Raja makes site and account management unnecessarily difficult.
 Its website is unclear when it comes to essential information like the uptime guarantee, and customer support didn't offer much additional help. Buying a domain and setting up WordPress was easy enough, but I still can't recommend this host to beginners.
Performance
Most reviewers prefer using a blank website to assess a host's performance because it is quicker and requires less time than deploying actual content. However, this approach does not provide an accurate depiction of the hosting experience with a specific provider.
Instead of using a blank site, we built a fully-functional landing page for each host that we tried.
 Then, we used several tools to test the site's speed, global performance, and uptime. In many cases, the results surprised us. For example,
Hostinger
 delivered impressive loading speeds around the world, despite the fact that its entry-level plan is very inexpensive.
 Strangely, many local hosts were very slow in India, but did unexpectedly well in other regions. This is definitely something to keep in mind if speed is important to you.
Support
All hosts advertise "award-winning" customer support, but over the years, I've found that many of these claims are completely bogus.
To rank providers in this category, we got in touch with tech support over all available channels, at different times of the day.
 Some hosts went the extra mile to help us, while others were impossible to reach.
Liquid Web, FastComet, Hostripples, and MilesWeb were all very quick to respond whenever we contacted them.
 The tech agents were polite, as well as eager and able to help. InterServer's live chat support was staffed by amateurs with very little knowledge of web hosting, so we had to use tickets to get competent help.
Hosting
Raja was even worse: agents were rarely available to chat at all, and when they were, they would tell me to get in touch with support for an answer.
 Huh? I thought that's what I was doing.
Pricing
Headline prices may be attractive, but they don't give you the full story
. Hidden costs like SSL certificates or outrageous renewals can bump up a host's fees by a lot, so you have to be careful.
 For the purpose of this project, we ranked the providers on our list based on value for money rather than baseline cost.
Hostinger and InterServer were the two obvious winners here.
Hostinger offers its best prices if you sign up for a long-term plan, whereas InterServer has the best monthly subscription fee. Both give you everything you need to host a site, so you don't have to worry about additional costs.
Several Indian hosts, including MilesWeb and Host IT Smart, were also budget-priced, but they made compromises we didn't like.
 For instance, MilesWeb has some outrageous storage space restrictions on its cheapest plan, while Host IT Smart provided very slow loading speeds.
Which Host Should You Choose for Your Indian Website?
There are several exceptional options on my list, but you have to weigh them against your specific needs. These are my recommendations:
Hostinger has two important advantages in its corner – it's incredibly cheap, and it's
really
fast. Because its main focus is shared hosting, it wouldn't be my first choice for a high-traffic website. But if you want to host a personal blog, a business landing page, or a small online store,
Hostinger is the perfect fit
.
InterServer is a great choice if you want to host several small websites in one place. The
Standard shared hosting plan
supports an unlimited number of domains, and it comes at a very low monthly cost.
There's no need to pay up front for several years of hosting just to get a good deal. 
Liquid Web is unlike any other provider on this list. For one, it's significantly more expensive. But if you can afford it,
Liquid Web
 offers the kind of stability and speed that a large online store needs in order to grow. It also gives you more time to focus on your business by taking care of back-end optimization for you.
If you want to host your website on a server in India, you have a couple of options. You could go with a local Indian host and risk having to deal with slow speeds and unreliable uptime, or you could opt for FastComet. While it isn't as fast as some of the other international providers on my list, FastComet has a data center in Mumbai, and it's far more reliable than many local hosts.
If you'd rather go with a local provider,
Hostripples is your best bet
.
 It's not the fastest host out there, but it includes most of the features you need for free, and its uptime is reliable. It also has quick and effective customer support, which is more than I can say for other popular Indian hosts. The 30-day money-back guarantee is real, so you can try it out and get a refund if it doesn't suit you.
FAQ
Which is the best host for India?
That depends on what you need, but I can point you in the right direction. For a simple website, Hostinger would be my first recommendation: it's cheap, it's fast, and it's very easy to work with. It isn't a local Indian host, but it does have two nearby data centers in Singapore and Indonesia. For a more complex project (like an online store, for example), I'd go with Liquid Web. Its managed e-commerce plans include lots of premium features, and a level of performance other hosts can't match.
How much should I pay for hosting in India?
If you just want to host a personal blog, a small portfolio, or a business landing page – not much. Hostinger's entry-level plan costs less than $1 per month, and it gives you everything you need for a simple website. Several local hosts – including Hostripples and MilesWeb – are also super-cheap, but they tend to compromise on performance. Before you sign up, make sure to check our coupons page to get the best possible deal.
Is Bluehost good for websites in India?
This might come as a surprise, but no: Bluehost isn't a great option for Indian websites. Compared to other international hosts, it's very expensive and its features are mediocre at best. Performance is OK in North America, but given that Bluehost only has servers in the US, your website visitors in India will probably have to put up with some terrible loading speeds. You may want to take a look at our list of the best web hosting services for more options. You'll find a solution for every budget.
Which is the most reliable host in India?
Most of the Indian providers I've tested failed to deliver 99.9% uptime. Hostripples and MilesWeb were two notable exceptions, but their loading speeds were slow in the region. If I were you, I'd go with a more reliable international host like Hostinger so you don't have to compromise on either speed or uptime.