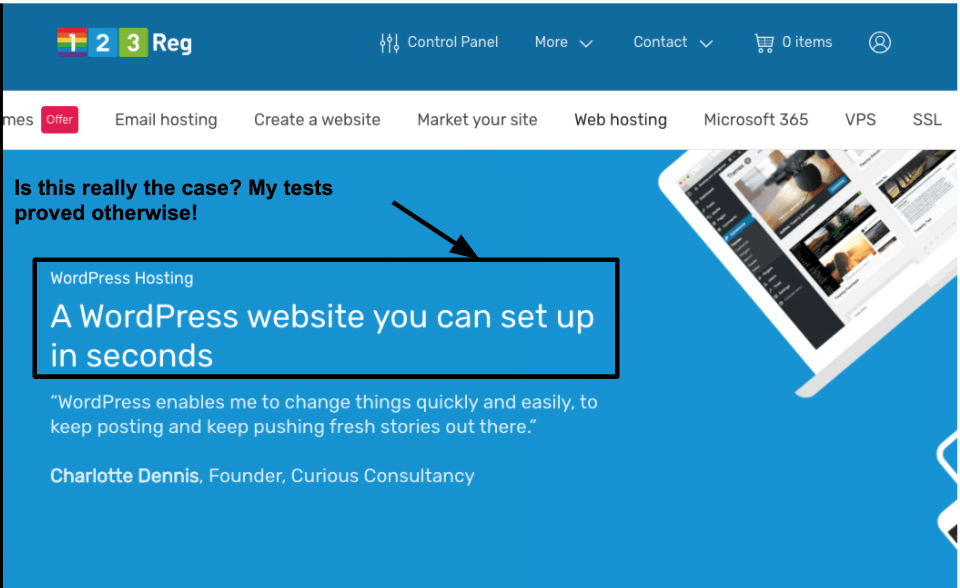 WordPress Hosting that Fails to Impress
123 Reg offers a whole host (no pun intended!) of different business solutions, including email hosting, a website builder, Microsoft 365, and marketing tools. What I'm really interested in, though, is its web hosting services – particularly its WordPress hosting plans. Though 123 Reg is better known for its domain name registration resources, its web hosting services supposedly rival other UK-based providers.
Does 123 Reg live up to expectations? The short answer has to be a simple "not really." Its features are okay, but when I put it to the test, I found some disappointing performance results and issues with the free domain that's included in the WordPress hosting plans. It's not the worst host I've tested, but it's not one of my recommendations, either. 123Reg isn't a match for a brand like Hostinger, which offers excellent performance, and has servers in the UK.
123 Reg does tick the boxes I'm looking for from a WordPress hosting plan, though, so it's not all bad news. It throws in some of the features you're likely to find with managed WordPress hosting plans, such as automatic updates and backup and restore. It's generous with storage, but its plans are more expensive than those available from its competitors.
Although it's a UK-based company, there's no clear information about where exactly its data centres are located. I called to ask and was given the vague answer of "in the UK," which makes me a little dubious. Since I discovered that some other UK hosts I've reviewed don't actually have UK-based servers, I find 123 Reg's reticence about its data centres rather suspicious.
To find out how 123 Reg compares to other industry competitors, I signed up for their Business WordPress hosting plan – testing out everything from page loading speeds to customer support.