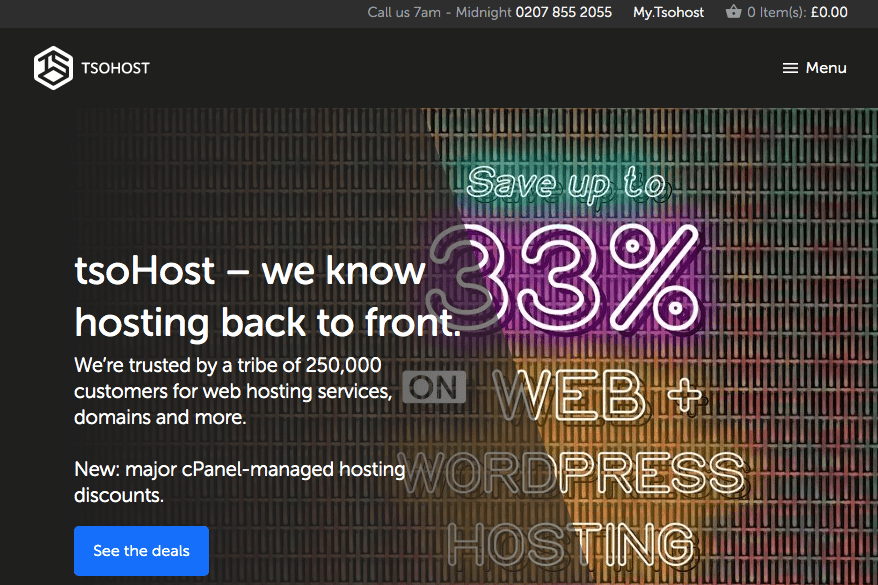 Cloud-Based Web Hosting for WordPress and More
tsoHost is one of many smaller web hosting companies that have been overshadowed by bigger, international web hosting providers (with equally bigger advertising budgets!). Just because it doesn't pop up at the top of recommended web host lists doesn't necessarily mean it's not a top choice… or does it?
During my thorough testing of tsoHost, I encountered some pretty big issues concerning the hosting services advertised compared to what you actually get. It's not all bad, but there are definitely some things you need to know before you consider signing up.
tsoHost is based in the UK, but its shared hosting plans offer a choice of four data centres, in Amsterdam, Strasbourg, North America, and Asia (no location specified). That means that as well as being ideal for a visitor base in the UK and Northern Europe, tsoHost also works well if you have an international target audience. The default/recommended data centre is Strasbourg, but you can request a different one.
There is a range of hosting types to choose from, including shared (cPanel) hosting, managed WordPress hosting, VPS (virtual private server) hosting, and dedicated server hosting – so no matter how big or small your business or blog is, tsoHost has a type of hosting to suit.  
A word of caution, however: tsoHost claims to offer cloud hosting, but when I questioned this with the support team, it turns out that its servers use CloudLinux, which is NOT actual cloud hosting. Rather, CloudLinux is an operating system that web hosts can use on shared hosting servers to give you some of the benefits of cloud hosting (such as better reliability and allocated resources).
My review focuses on the Economy hosting plan that I signed up for, and I put every aspect of tsoHost's service to the test. Over three months, I evaluated features, conducted in-depth performance tests, and contacted customer support to bring you a hands-on lowdown on what tsoHost is really like to host with.
The TL;DR of my experience with tsoHost is simple: it's an average host with customer service that responds quickly, but it lacks some of the value-added features that other hosts (such as eUKHost ) offer. I also found its performance to be lacking, especially compared to Hostinger, which scored much higher in our performance tests .