Launched in 1997, Easyspace is one of the first hosting services that's still around.
However, they've managed to stay on top of this constantly changing industry to remain relevant. As a U.K.-based company with all of their staff, facilities, and servers located in-country, you'll get the best performance if you are a U.K. website targeting a U.K. audience.
With shared hosting, VPS hosting, dedicated servers, cloud-based servers, and other services, there is something for everyone.
Features and Ease of Use
As you might expect from such an experienced hosting provider, all the essential features are covered, such as:
Domain registration
Webmail
SQL database management
Choice of operating system (Linux, Windows, or NGINX)
SSL Certificates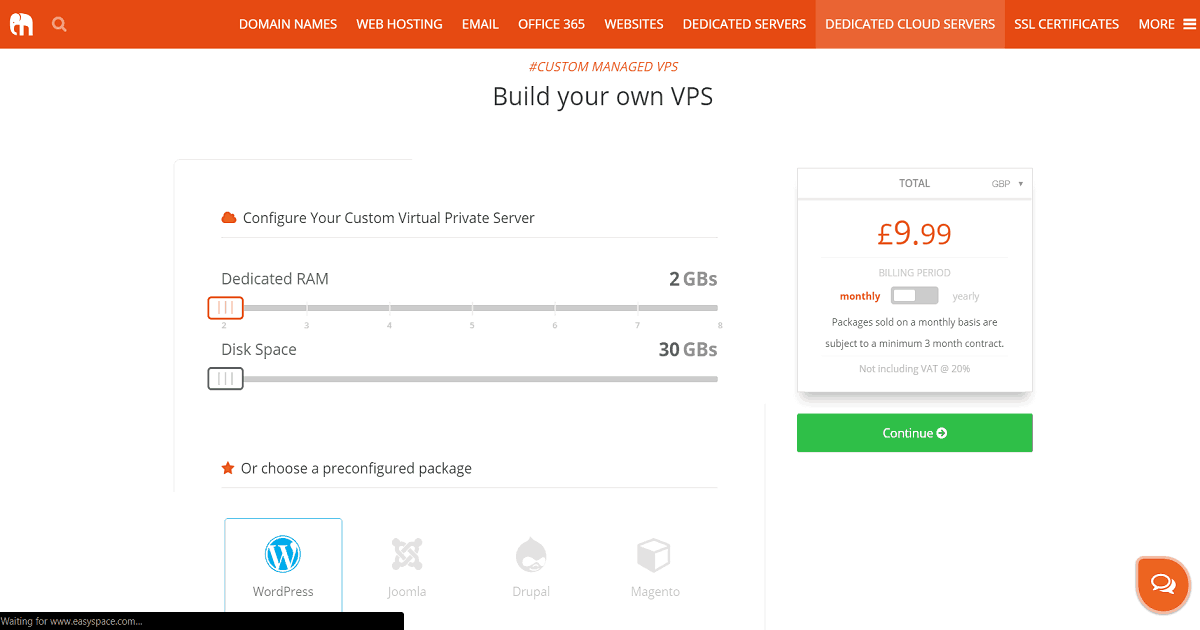 Some of their less common offerings include:
Instant WordPress website: With this plan, you will have a fully-managed WordPress installation ready to go as soon as you sign up
WHOIS Privacy: You can add on this feature for an extra monthly fee
Plenty of integrations, apps, and tools: Use Joomla! or WordPress to build your website, find suppliers via Alibaba or Upwork, or integrate with SurveyMonkey, Dropbox, and so on.
Although it doesn't look too bad, the management panel for Easyspace is not the best. It's a little confusing and it's hard to find specific features. For example, you won't find most of your actual hosting settings under "managed hosting." Rather, you'll need to dig a little deeper. At least the process of setting up your website is quick with limited upsells.
Pricing and Support
Easyspace provides a whole bunch of services, each with their own set of pricing plans. However, the ones of most interest to most people would be their three web hosting packages:
Standard hosting: This is their most affordable plan. Its main limitations are 10 GB of storage space and a maximum of 25 email boxes. You'll also need to pay extra for IMAP mailboxes, backups, a mobile website builder, and the security pack addon
Premium hosting: This plan improves on the previous one with unlimited storage space, more email space, and 50 IMAP mailboxes. The goMobi mobile website builder and backup functionality are also included for free.
WordPress hosting: You get almost the exact same features as the Premium plan. However, you'll need to pay extra for access to the goMobi mobile website builder.
All other features come packaged in all pricing plans, including unlimited bandwidth, a 100% network uptime guarantee, and Google AdWords credit.
They also offer a number of dedicated server packages. You can choose between pre-built servers that are ready to go, or put together your own package by choosing the features you want. You can also choose between custom VPS or cloud-based hosting services.
Our first impression of Easyspace's support wasn't great. They can take rather long to respond to technical queries and it can take you half a day to get a response. However, once they do get in touch, the staff seem very knowledgeable and provide detailed explanations. The online help documentation can also be confusing to navigate. Phone support is for U.K. clients only.